This creamy Pesto Pasta Salad is easy to make and a delight to eat! Fresh and colorful, this salad can be made ahead of time and is the perfect side dish to serve at summer parties or to take to a pot luck.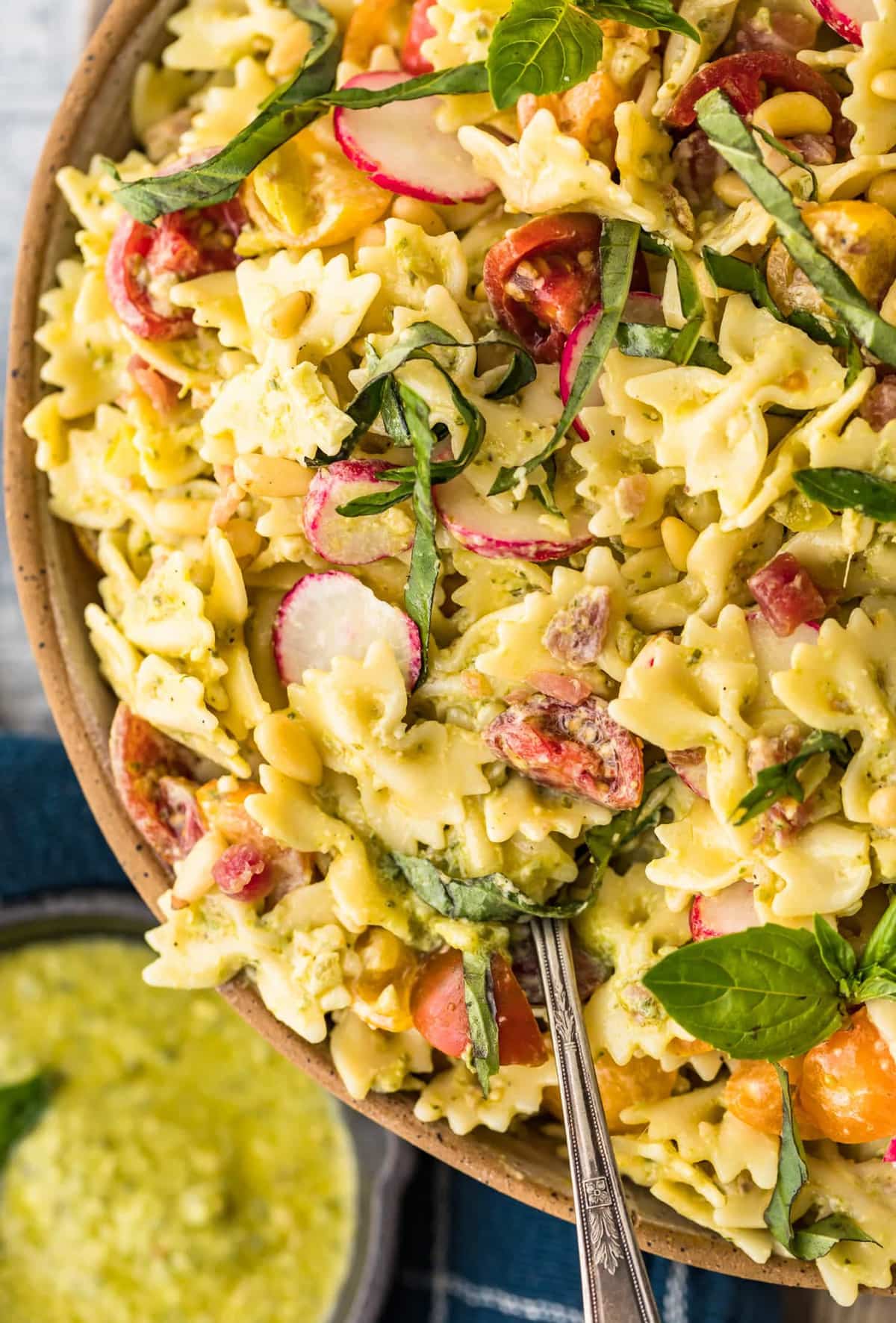 Best Pesto Pasta Salad Recipe
Pesto and pasta is one of the most comforting and tastebud pleasing meals, so easy to make and full of herby deliciousness! Just because it's summer, doesn't mean you can't still enjoy those flavors – this cold pesto pasta salad is perfect to serve when the sun is shining!
How to make Pesto Pasta Salad
Cook the pasta to al-dente, per package directions. Drain and rinse the pasta with cold water to stop the cooking; shake off excess liquid. Line a large rimmed baking sheet with paper towels. Pour the cooked pasta onto the paper towels to let the pasta dry about 15-20 minutes.
While the pasta cooks, whisk together the pesto, mayonnaise and black pepper. Keep the sauce refrigerated until ready to use.
After the pasta has cooled and dried, transfer it to a large mixing bowl. Add prosciutto, pepperoncini, radish slices, 3/4ths of the tomatoes, 2 tablespoons pine nuts, ¼ cup shaved Parmigiana and 1 tablespoon chopped basil. Toss to combine.
Pour the Pesto/Mayonnaise sauce over the salad and gently mix until all ingredients are coated.
To serve, place the salad on a serving platter and sprinkle with the remaining tomatoes, pine nuts, shaved Parmigiana and basil.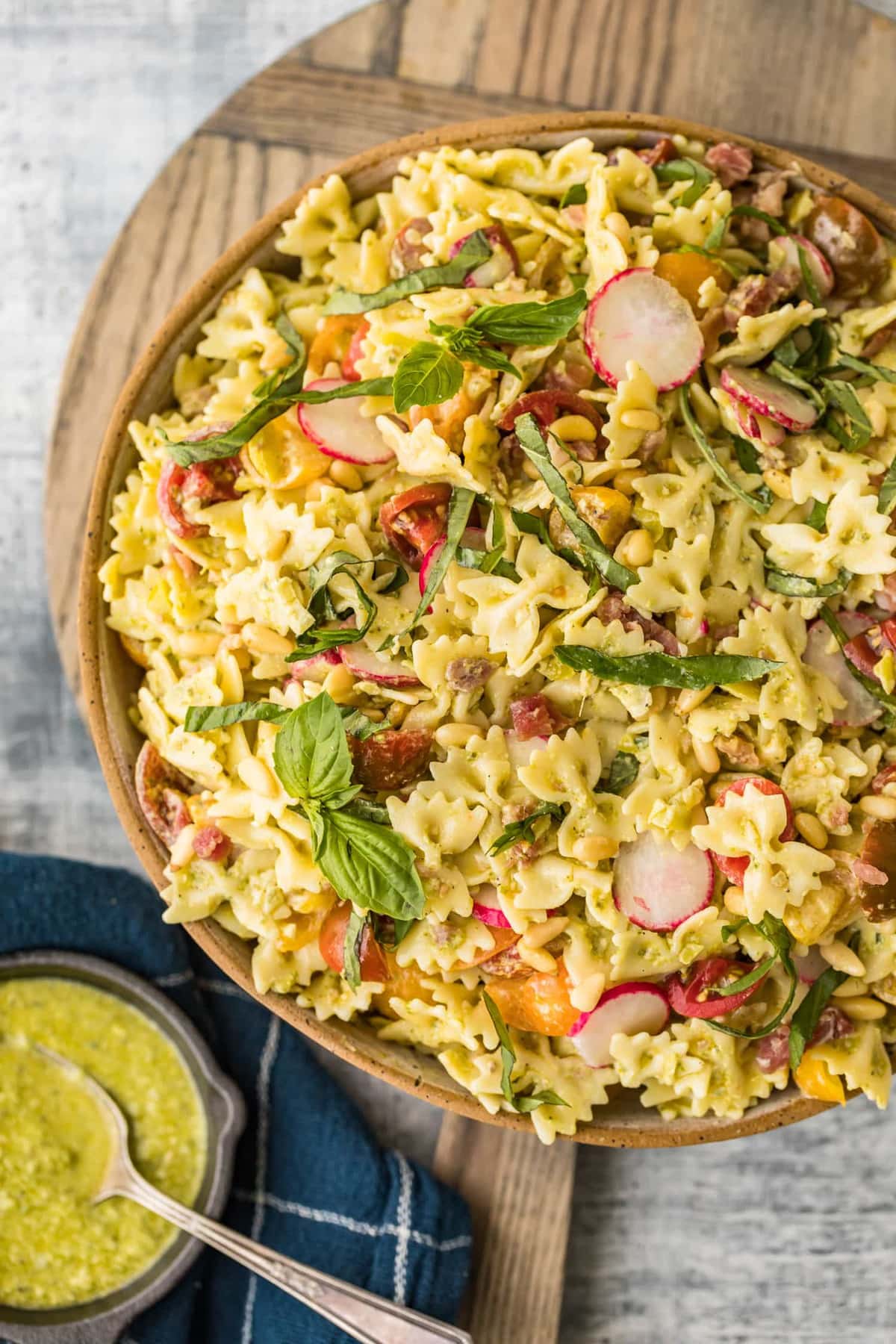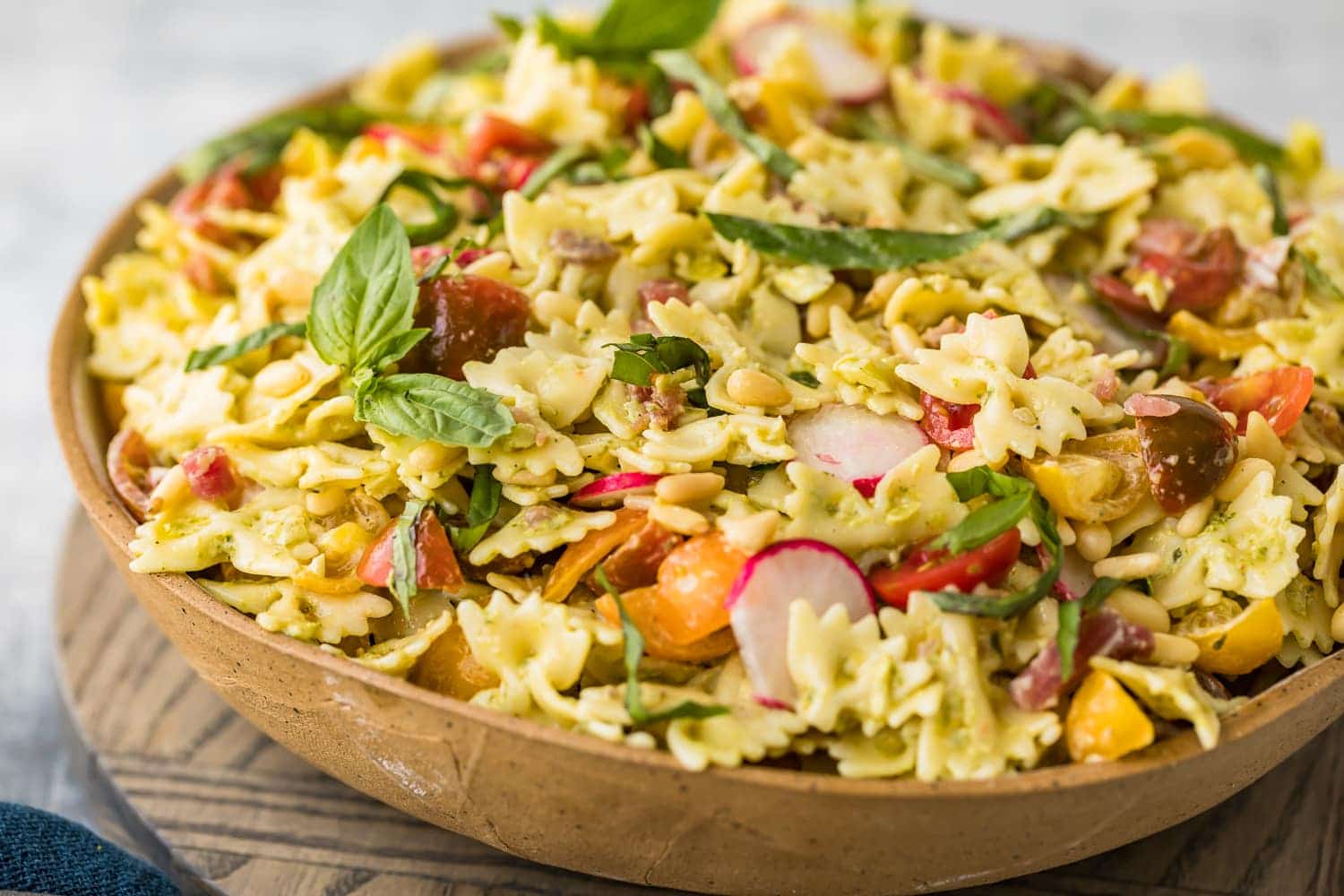 Creamy Dressing Recipe
The dressing for this cold pasta salad is to die for, but it's so simple! Your favorite store bought pesto mixed with some mayo, makes for the perfect creamy dressing that is packed full of flavor and it really couldn't get any simpler!
You can of course make a batch of homemade pesto – this recipe would work really well!
Pesto Pasta Salad is perfect for a main or a side dish
This cold pasta salad is a great make ahead dish, and will be at home at any cookout alongside barbecued meats and a fresh green salad.
It will keep well, covered in the fridge for 3 to 4 days, so it's a great option for easy lunches throughout the week. Pine nuts, radishes and cured meats really help bulk up this pasta salad, so it's perfect to serve as a meal on hot summer days.
More Recipes with Pesto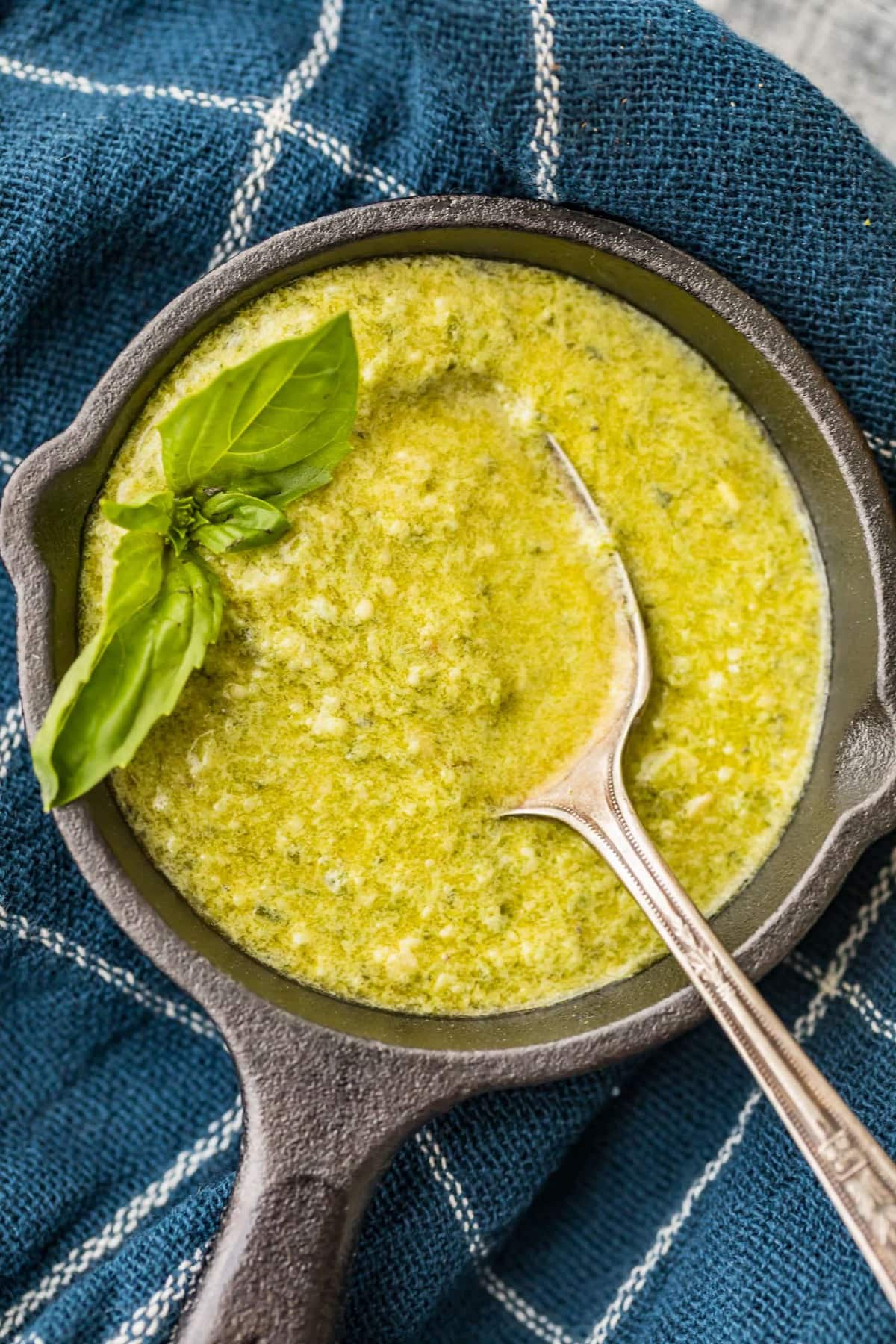 Can you eat pesto pasta cold?
This, for sure, this pesto pasta salad is a dish that is meant to be served cold, keep it stored in the fridge before serving. If you are craving a hot pasta dish, you could heat this up gently on the stove top or in the microwave. It may lose it's texture slightly, but it will still be delicious!
Leftovers can be stored covered in the fridge, I would advise against freezing it.
What to serve with Pesto Pasta Salad
The possibilities are endless! Pasta Salad is such a perfect and versatile side dish. Here are some of our favorite ways to pair this easy pasta salad recipe for Summer!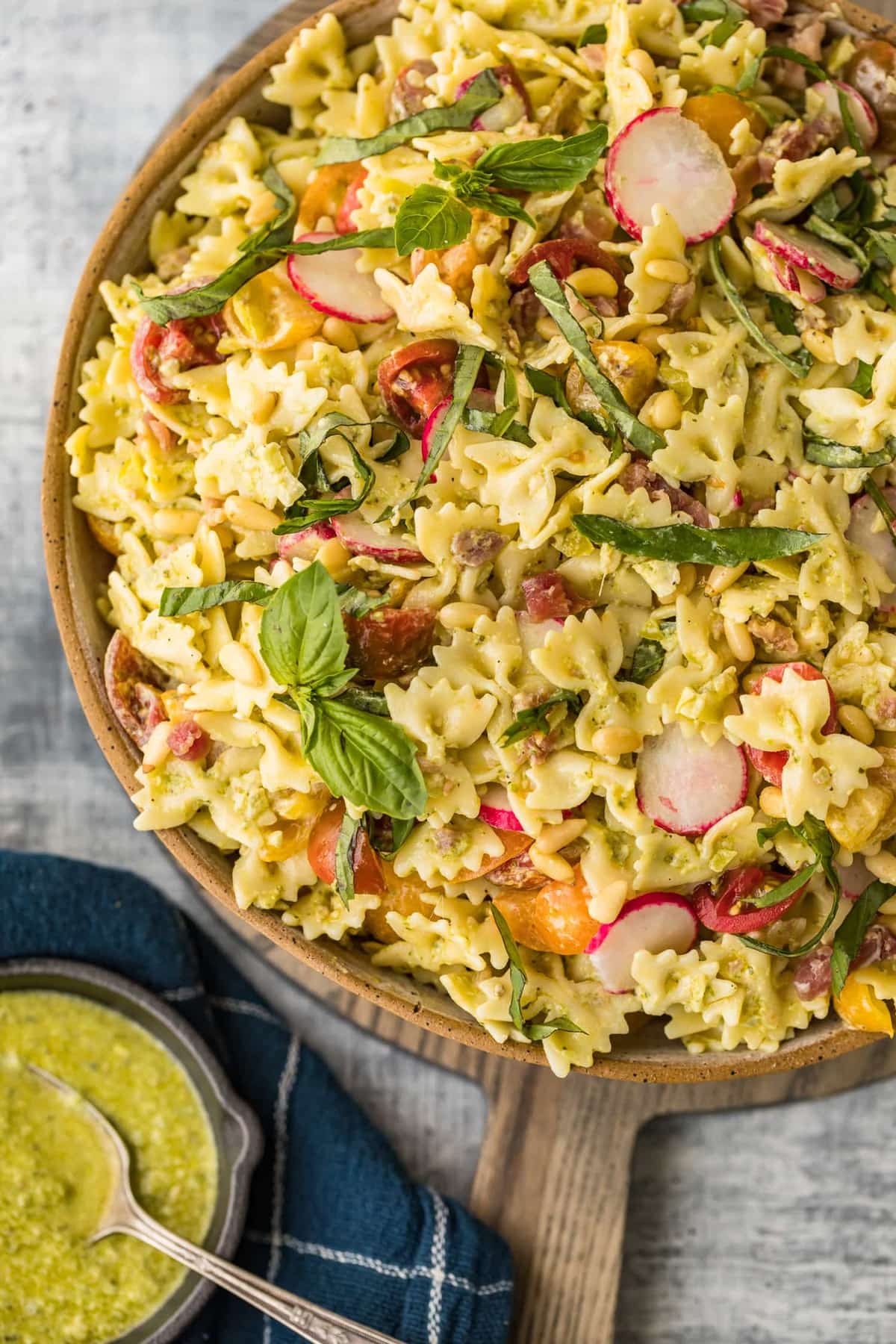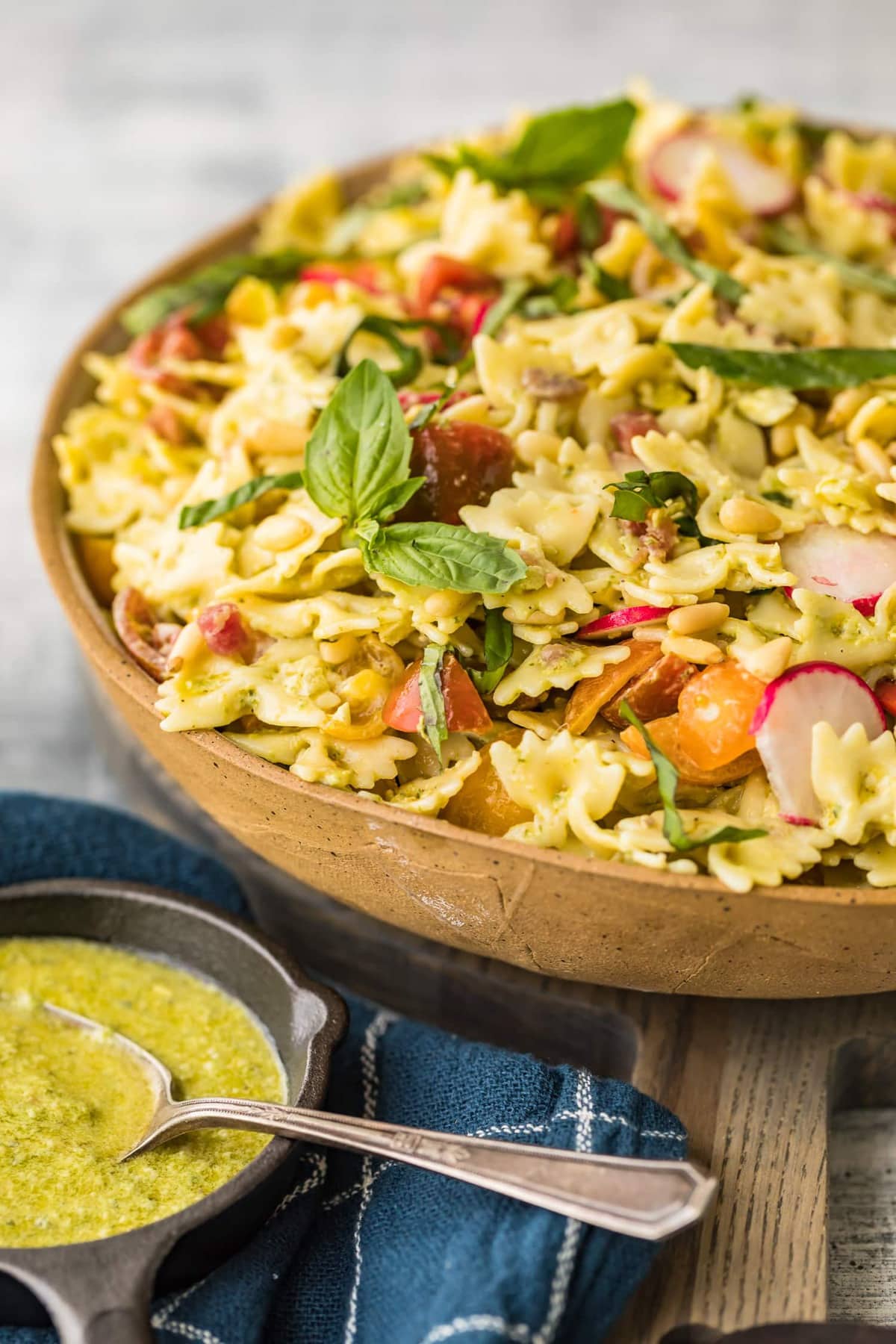 Top tips for making Pesto Pasta Salad
Cook the pasta al-dente.
Let the pasta cool fully before dressing it.
If you are making this ahead of time, you may need to add a little extra dressing before serving it, as the pasta will soak it up.
Use the freshest and best quality ingredients you can for the best flavor.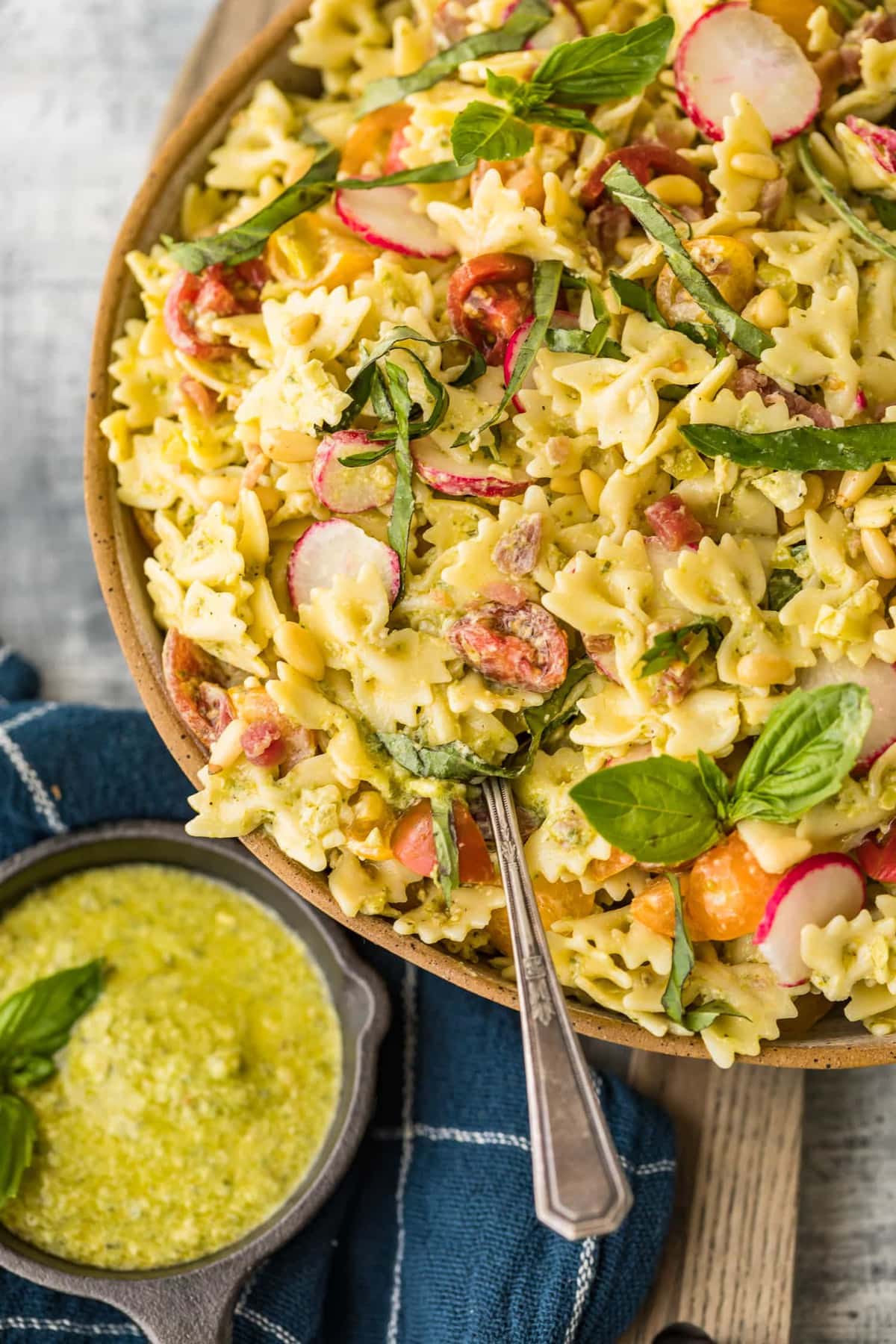 Be sure to check out these other tasty pasta salad recipes!