Buffalo Chicken Soup turns the delicious flavor of Buffalo chicken wings into soup form–and it's so amazing! Skinny Buffalo Chicken Soup has so much flavor and way fewer calories. Eating healthy doesn't mean you have to skip the flavor. Try this delicious soup recipe and see if you can guess the secret ingredient!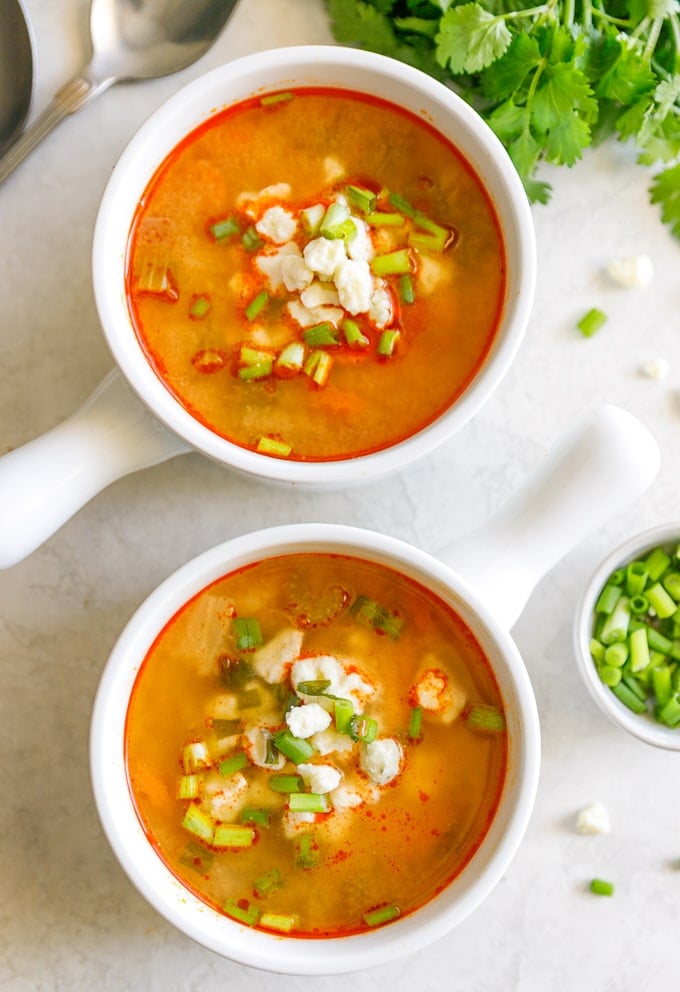 Skinny Buffalo Chicken Soup
Skinny Buffalo Chicken Soup is full of that classic Buffalo chicken flavor AND it's healthy. This is a great skinny soup recipe for fall!
This soup is the perfect way to get one of my all-time favorite flavor combinations: Buffalo sauce and chicken. Turning it into a skinny soup recipe just makes it all the better.
Why You'll Love Buffalo Chicken Soup
It's diet-friendly. Less than 200 calories and under 20 grams of carbs.
It's also delicious. If you love Buffalo wings, you'll love this soup.
It's perfect for football season. Tailgating and wings go hand in hand. This recipe tastes like a big batch of hot wings!
This Skinny Buffalo Chicken Soup recipe is full of flavor AND it's healthy. The best of both worlds!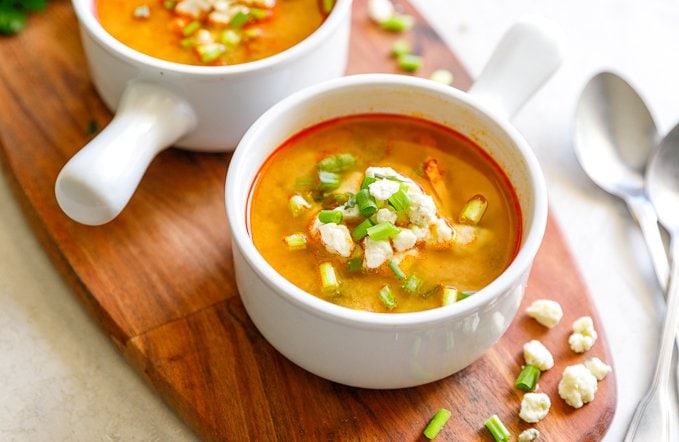 Buffalo Chicken Soup is kind of like magic. You can pretty much bet that something this delicious is not very good for you. It always happens!
But this recipe is the exception to that rule. It's so tasty that I'd gobble it down regardless of the calorie count. I love this that skinny soup version makes it healthy without ruining the flavor.
And speaking of magic, this recipe even has a secret ingredient…
I would have never thought of doing this on my own (thank you Jen!). The secret ingredient is cauliflower. Yes. Pureed cauliflower thickens the base of this soup to keep it super-low in calories, while not sacrificing any flavor. It's just absolutely amazing. I can't wait to try it with other soups to make them healthier with this genius idea.
How to Make Skinny Buffalo Chicken Soup
Boil cauliflower, water, ranch seasoning, chicken broth, and chicken stock in a soup kettle until very tender.
In a separate pan, sauté the celery, carrots, and onion.
Use an immersion blender to puree the cauliflower mixture until smooth. Stir in hot sauce.
Add the sautéed veggies and the rotisserie chicken pieces and heat thoroughly.
Garnish and serve!
Skinny Soup Recipes
Buffalo Chicken Soup recipe was one of the first skinny soup recipes I've made, but it won't be the last. Skinny soups are so great for simple meals because they're delicious, yet they keep the calories and carbs down.
I love cooking up soup for a deliciously warm dinner and I love that this soup is healthy without losing the flavor.
Try some of my other favorite skinny recipes: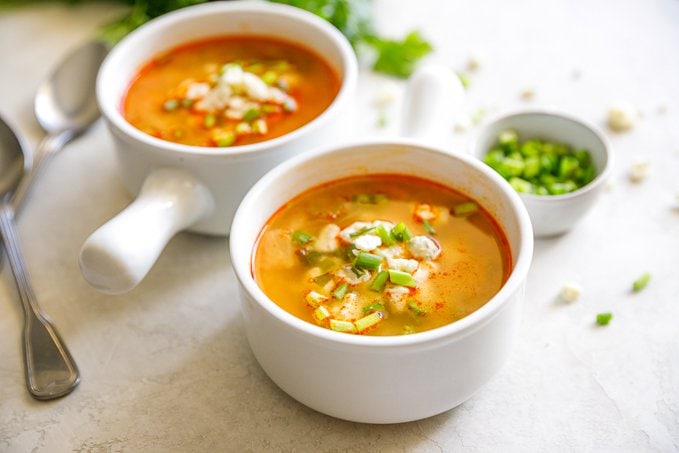 Skinny Buffalo Chicken Soup Recipe
The inspiration for this amazing soup came from another blogger.
I was lucky enough to meet Jen at a blog conference in St. Louis. Over the past year, she has lost 100 pounds. ONE HUNDRED POUNDS.
Jen has an amazing and motivational story to tell, and I hope you check out her blog (and she has an absolutely adorable daughter too)! You'll laugh, you'll cry, and you'll find some super creative and healthy recipes!
I changed very little about this recipe because it was just so perfect the way Jen wrote it (she also has really helpful step-by-step pics!). I used cooked rotisserie chicken to save time and used a combination of chicken stock and chicken broth. I would love to know how you make this recipe your own as well!
This is one of the most creative and delicious healthy recipes I have ever made! I'm going to be cooking this up all through the fall season.
HOW TO MAKE HOMEMADE BUFFALO SAUCE
You better believe we've got you covered! This recipe requires Buffalo sauce, and you can always buy it at the store– or you can make your own! Here is our favorite Homemade Buffalo Sauce Recipe.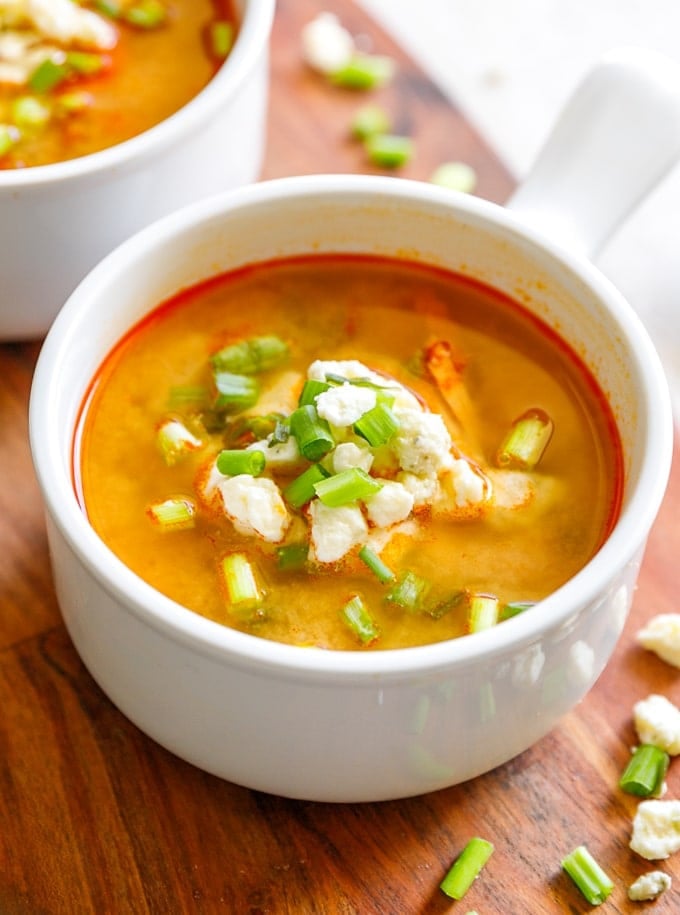 I'm so glad I made this Skinny Buffalo Chicken Soup recipe because it's one of my favorite soups now. It's flavorful AND healthy, so I don't feel guilty eating it all the time. I love having another skinny soup recipe to go to when I'm craving soup!
See the recipe card below for details on how to make Skinny Buffalo Chicken Soup. Enjoy!
If you like Buffalo Chicken Soup, try these other Buffalo chicken recipes: