These Crockpot Chicken Tacos are spicy, savory, and packed with flavorful shredded chicken and all your favorite toppings. Weeknight dinners just got easier! Grab your slow cooker and get ready for another great way to upgrade Taco Tuesday or Cinco de Mayo.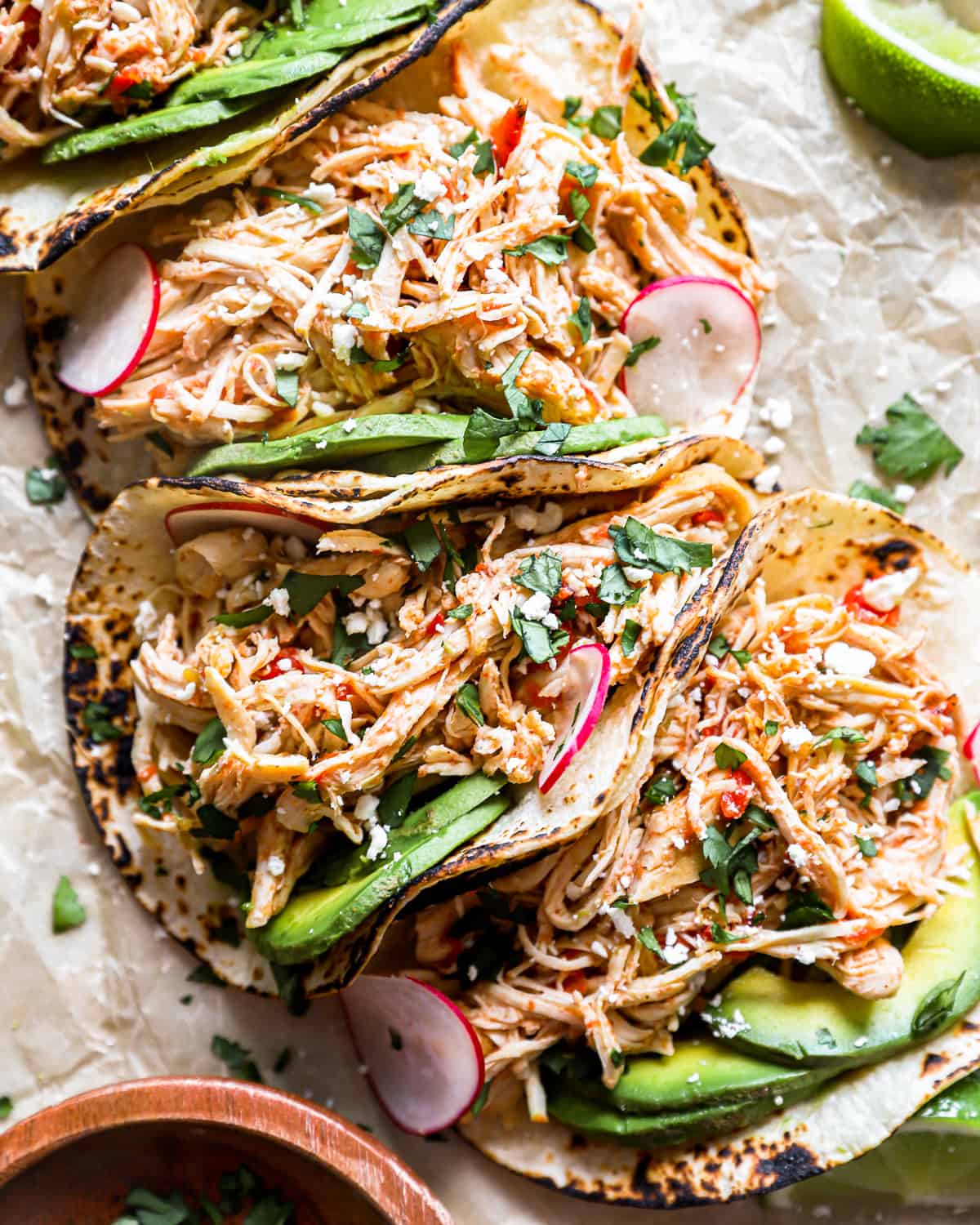 What's in Slow Cooker Chicken Tacos?
A simple Crockpot taco recipe made with tender shredded chicken and flavorful tomatoes, that can be easily doubled to use on any busy weeknight? Sign me up!
Chicken Breasts: I recommend using boneless, skinless chicken breasts for shredded chicken in a Crockpot, but you can also use boneless thighs.
Taco Seasoning: It has all your favorites like garlic powder, chili powder, and more.
Kosher Salt: To taste.
Fire Roasted Tomatoes: I love the sweet, smoky flavor that fire roasted tomatoes add to the taco meat.
Green Chiles: these add a mild spice.
Low-Sodium Chicken Broth: One of my favorite ways to infuse more flavor into a recipe.
Tortillas: This shredded chicken taco meat needs a place to go! I like using corn tortillas, but feel free to use any kind you like.
Variations on Crockpot Shredded Chicken Tacos
Make the best chicken tacos even better by mixing things up!
Set up a taco bar for the entire family! I love setting out corn tortillas, flour tortillas, refried beans, lettuce, cheese, taco sauce, and sour cream so that everyone can build their perfect bite.
Top them with blender salsa, salsa verde, guacamole, or pico de gallo!
Swap the fire roasted tomatoes for a jar of salsa, adobo sauce, or even enchilada sauce.
Into meal prep? Try using the shredded chicken in chicken enchiladas, a burrito bowl, taco salad, quesadillas, or a burrito.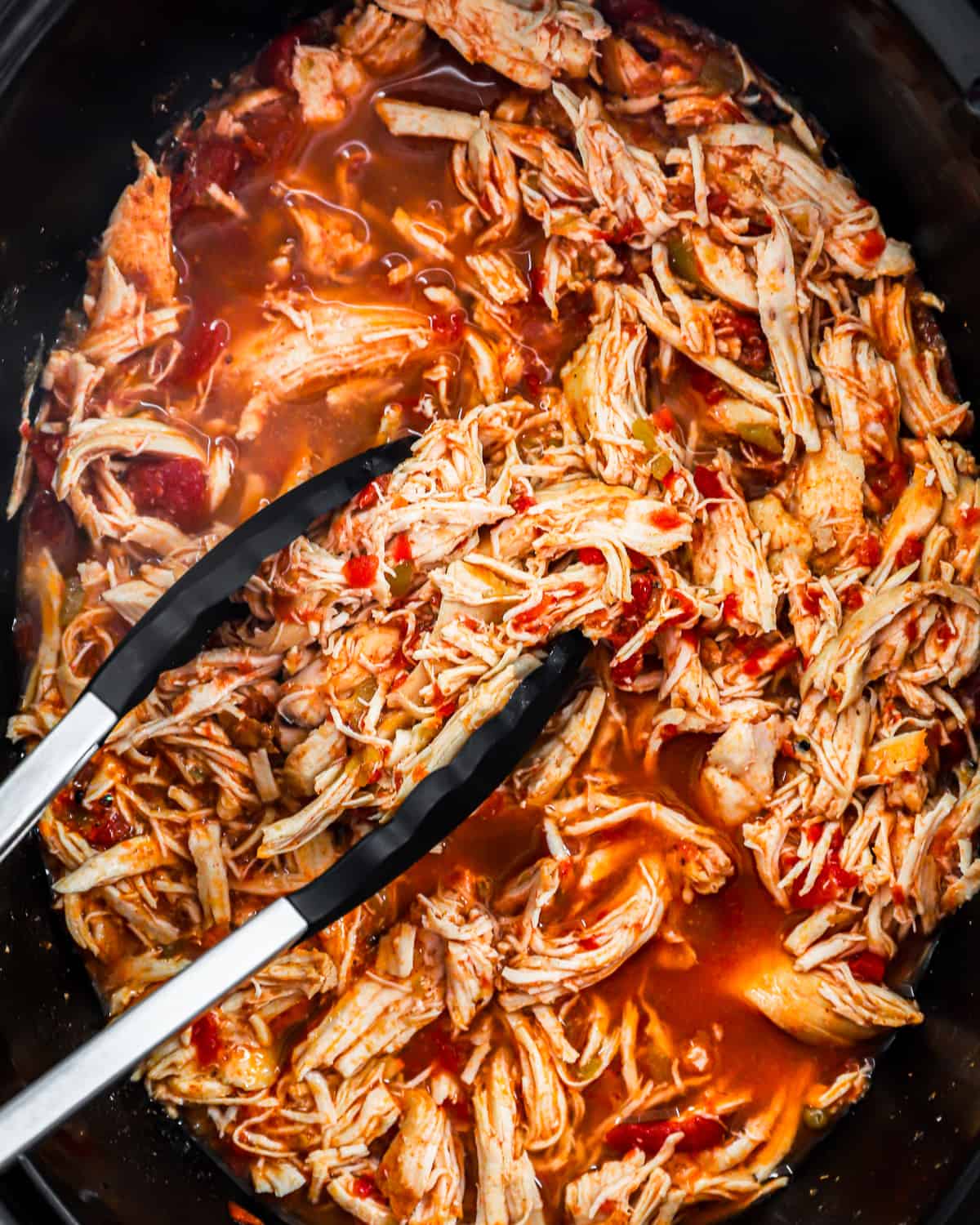 What kind of chicken should I use for these tacos?
You can use boneless, skinless chicken breasts or chicken thighs.
What size crockpot should I use?
Use a crockpot that is at least 6 quarts in size for the best results.
Can I cook this shredded chicken without a crockpot?
Yes! You can oven bake this shredded chicken in a covered Dutch oven at 300°F for 90 minutes.
Can I make my own taco seasoning?
Absolutely! Follow this quick and easy recipe and you'll always have some on hand!
What is the best way to shred chicken?
There are many easy ways to shred chicken. I usually use two forks, but you can also use meat shredding claws or even toss the meat in the bowl of a stand mixer and let it do the work for you!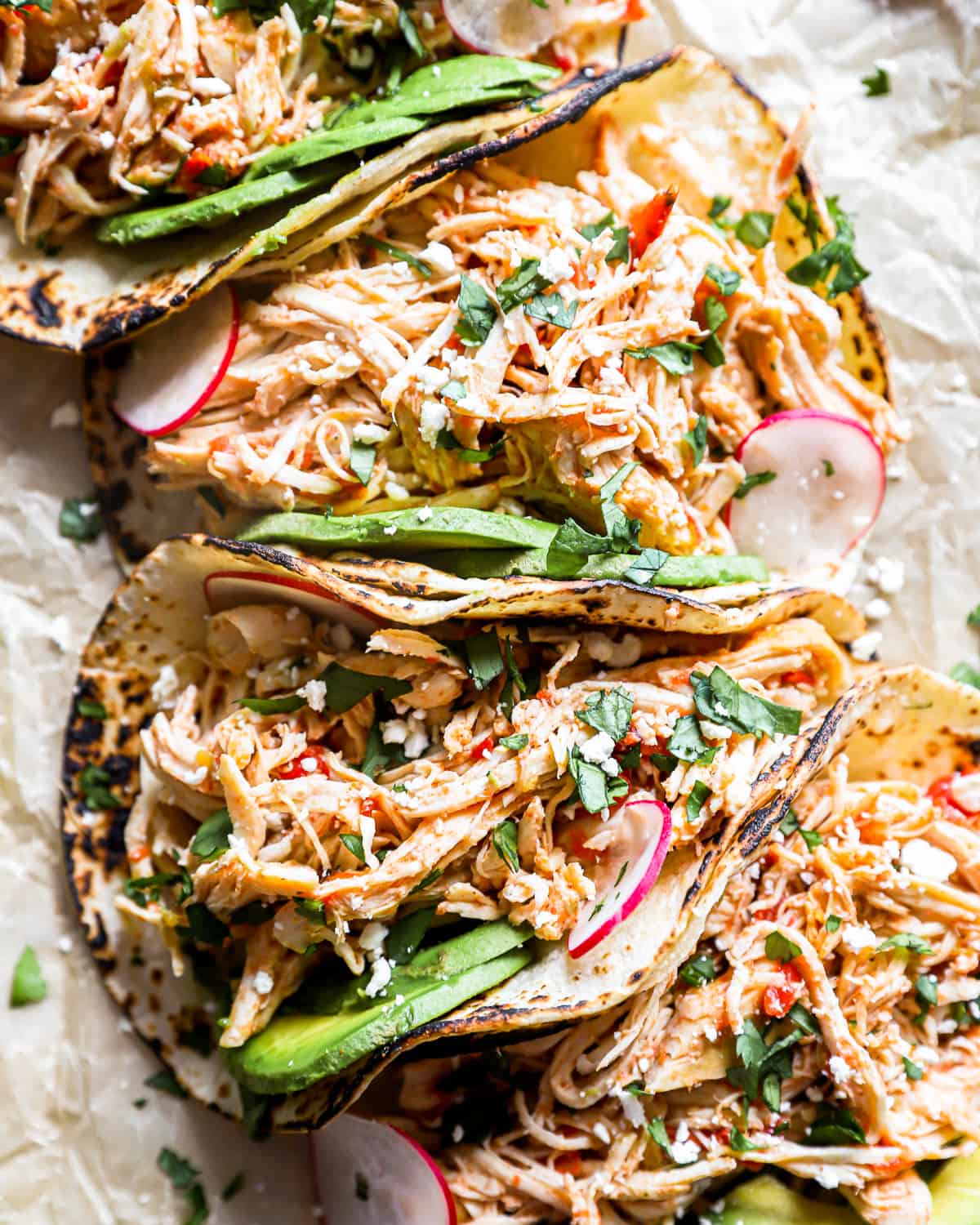 How to Store and Reheat Crockpot Taco Chicken
Store leftover crockpot chicken tacos in an airtight container in the refrigerator for up to 3 days. I recommend storing the chicken separately from the tortillas, and assembling after reheating the taco meat. Reheat the taco filling in the microwave in 30-second increments until warmed through.
How to Freeze Slow Cooker Shredded Chicken Tacos
Freeze crockpot chicken taco meat in an airtight container or Ziplock bag for up to 3 months. Let thaw overnight in the refrigerator before reheating.
What to Serve with Slow Cooker Tacos
Cinco de Mayo is coming up! I love serving these delicious and easy chicken tacos with a side of cilantro lime rice or tortilla chips and mango salsa. Make a double batch of agua fresca or frozen peach margaritas for a refreshing beverage. And of course, don't forget to bring lime wedges! Everything is better with an extra squeeze of lime juice.