Creamy and dreamy super easy Spicy Mango Margaritas are perfect for any Summer party! Cheers! I love frozen mango margaritas and this chili twist makes them extra delicious.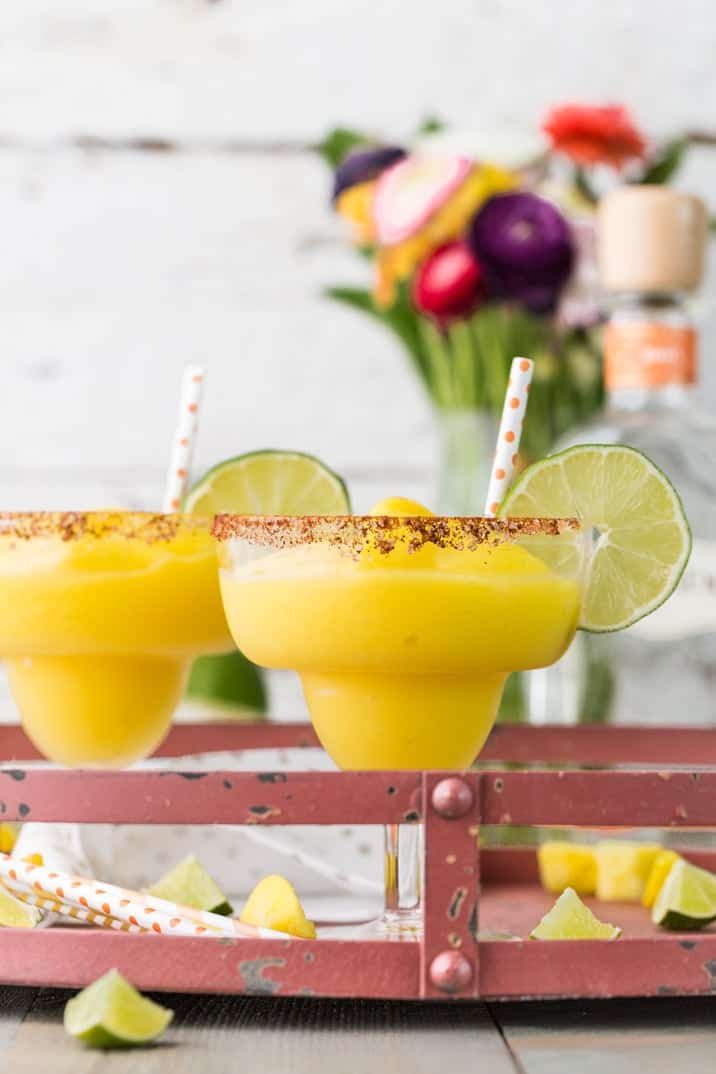 Spicy Mango Margaritas
There were so many things to love about my trip to San Diego last month. We had a Mexican food tour, lots of laughs, a boat cruise, and lots of margaritas! What goes better with Mexican food than margaritas!
The menus were full of delicious flavor combinations I had never heard of: Strawberry Basil Margaritas, Pineapple Jalapeño, and my personal favorite, Chili Mango Margaritas!
I love the subtle spicy vibes mixed with the tart and sweet mango. Oh, and I love that it's made in minutes. This great party drink could not be easier and it's perfect cocktail for Summer.
Be sure to try my Frozen Strawberry Margarita and Cucumber Jalapeno Margarita too!
Why you will love this recipe!
Perfect for a crowd: This recipe makes four drinks and it's easily doubled for a larger party. This is one delicious pitcher cocktail.
Easy to make alcohol free: Just skip the tequila for a delicious and refreshing mocktail.
Quick and easy: It takes a matter of minutes to make these drinks, just blend and pour!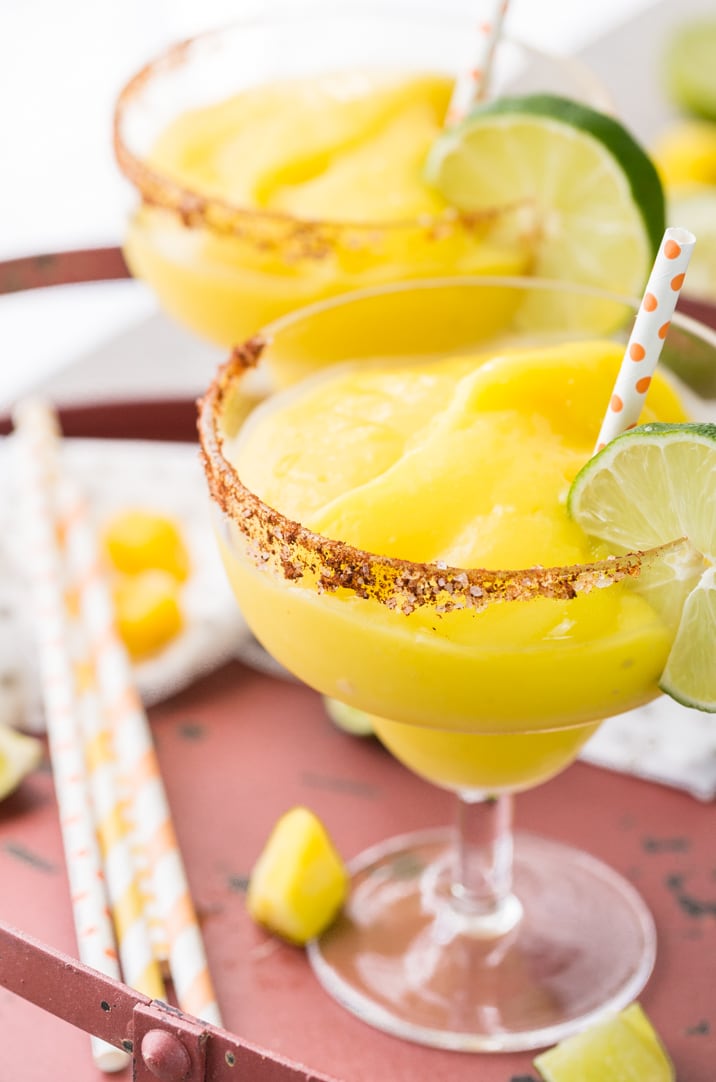 How to make chili mango margaritas
Be sure to scroll down for the full recipe!
Blend together the ingredients for the margarita.
Rim the glasses.
Pour, garnish and serve!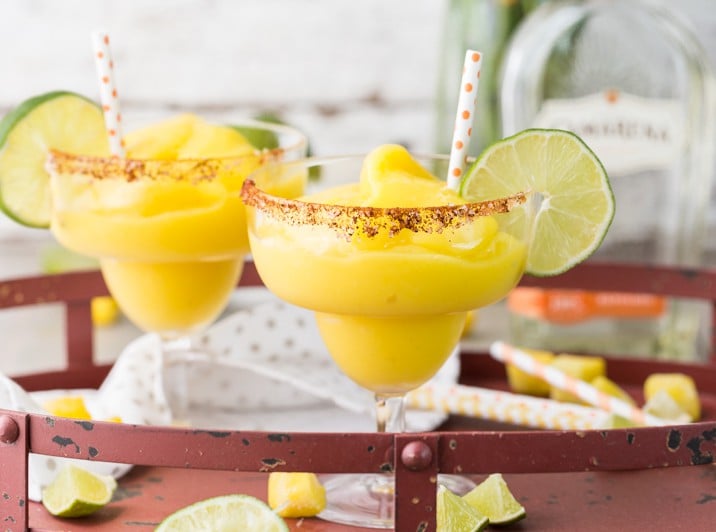 How spicy are they?
These mango margaritas definitely have a kick to them! There is hot sauce in the drink itself and chili powder is used to rim the glasses, so you get a nice tingle when you take a sip. You can easily adjust the spice level by the amount of hot sauce you add into the blender, and you can skip the chili rim if you need.
Can you make them ahead of time?
You can make frozen margaritas an hour or two ahead of time and keep in the fridge. But if you leave them for too long though, they will start to get thinner as the ice melts. You can freeze them and then just re-blend to break it down when you are ready to serve.
Can you use other frozen fruits?
Chili and mango work so well together in these margaritas, but you can easily mix these drinks up by swapping the mango for other frozen fruits if you like. Try pineapple for another citrusy option.
How to garnish
Rims are so important for margaritas, and this chili mango recipe is no different. Rub some fresh lime around each glass and them dip in a mix of salt and chili powder. I also like to garnish with a slice of fresh lime which adds a wonderful fresh aroma.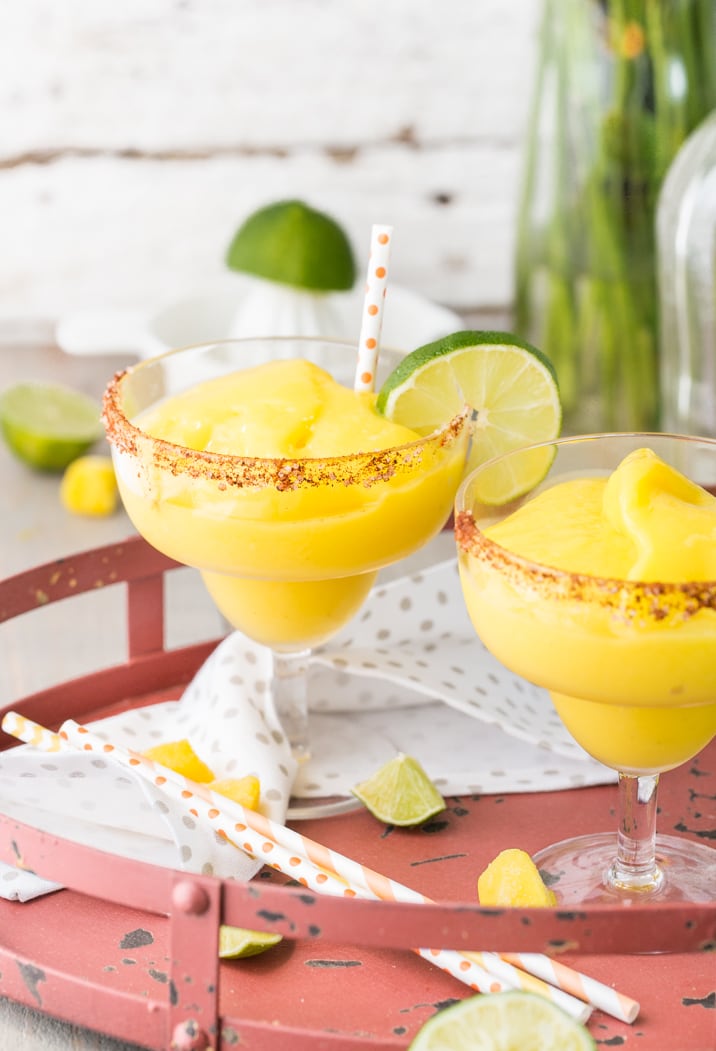 Recipe Notes and Tips
Use frozen mango to get a thick texture. You can use fresh but it's more work to prep them and they will have a runnier consistency.
Adjust the amount of added hot sauce in these chili mango margaritas to suit your tastes.
Drink responsibly and enjoy!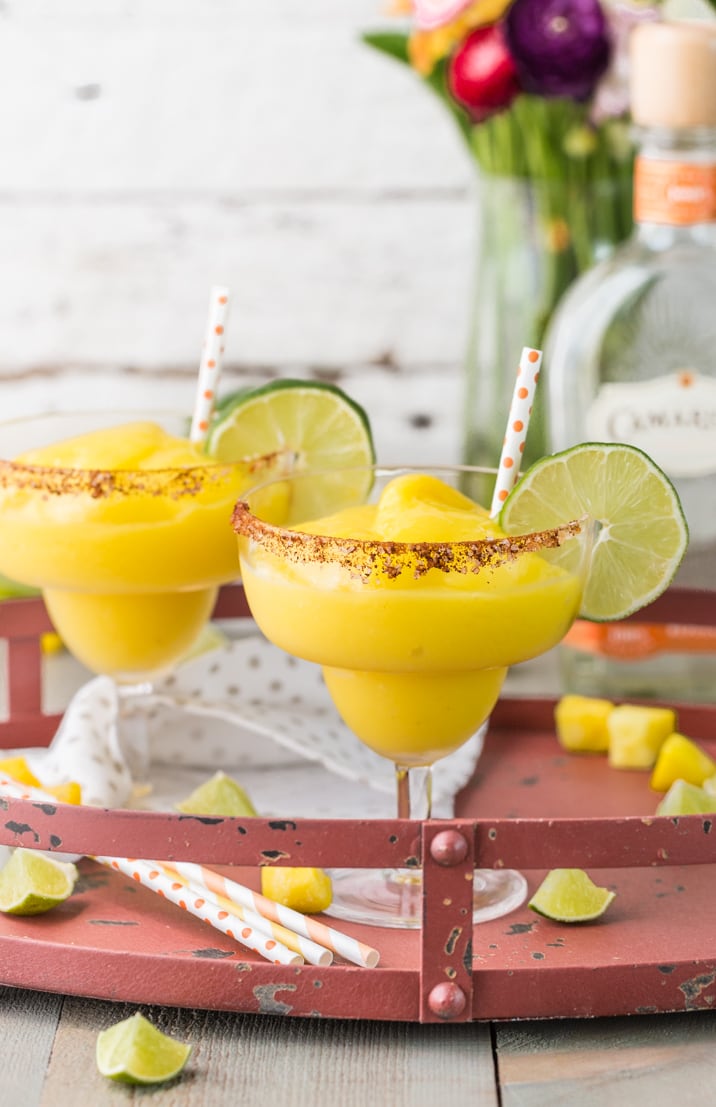 These chili mango margaritas are so wonderful, I'm going to be drinking all summer long! Perfectly sweet and zingy with just the right amount of spice, your party will definitely get started with these!
More Margarita Recipes