This Baked Oatmeal recipe is the perfect blend of strawberries and chocolate, for a special chocolate covered strawberry Valentine's Day breakfast! Take those sweet flavors and make breakfast in bed to start the day off right. This strawberry chocolate oatmeal is so easy and so tasty!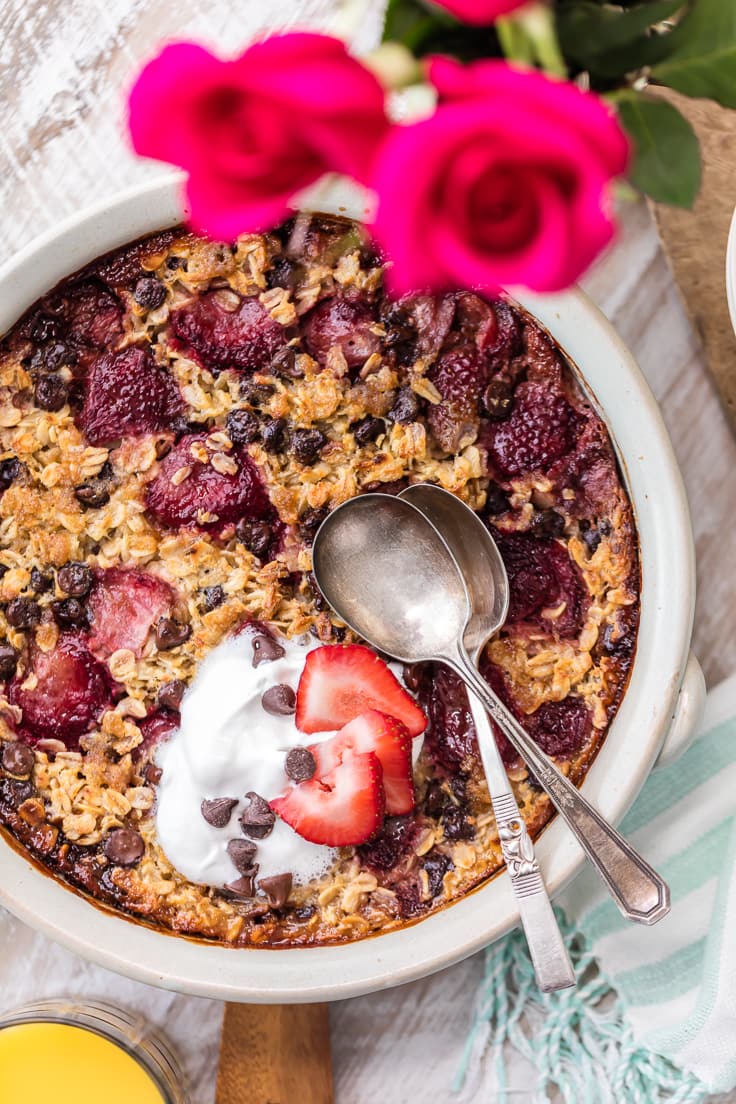 Baked Oatmeal Recipe
This Chocolate Covered Strawberry Baked Oatmeal recipe is the PERFECT Valentine's Day breakfast. Why wait for dessert when you can have strawberries and chocolate first thing in the morning?
Valentine's Day has always been one of my favorite holidays. While most people go out for a nice dinner and dessert, I think VDay should be celebrated all day long. The best way to do that is breakfast in bed with this delicious Chocolate Covered Strawberry Baked Oatmeal recipe!
Chocolate Covered Strawberries seem like a must-do on this special holiday, so I wanted to capture that flavor and put it into a beautiful Valentine's Day breakfast. This strawberry and chocolate oatmeal turned out so well, and it's so easy to make. And even though it tastes super decadent, baked oatmeal IS a healthier option, so devour this guilt-free!
Make this easy oatmeal recipe for you and your significant other, for the whole family, or for a much-needed Valentine's breakfast for one! Whether you share it or keep it to yourself, this chocolate and strawberry oatmeal is SO worth it.
Chocolate Covered Strawberry Baked Oatmeal is the PERFECT Valentine's Day Breakfast recipe!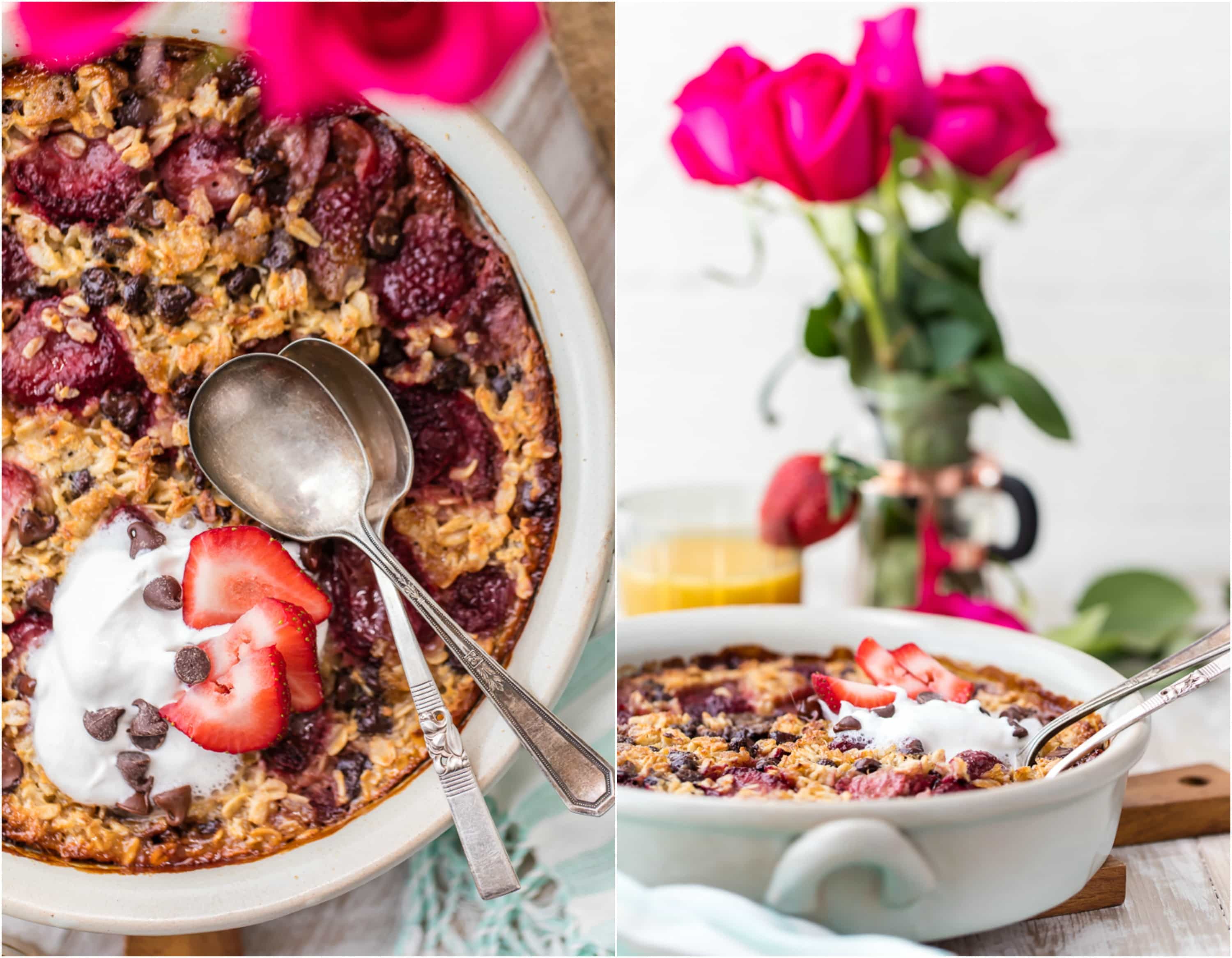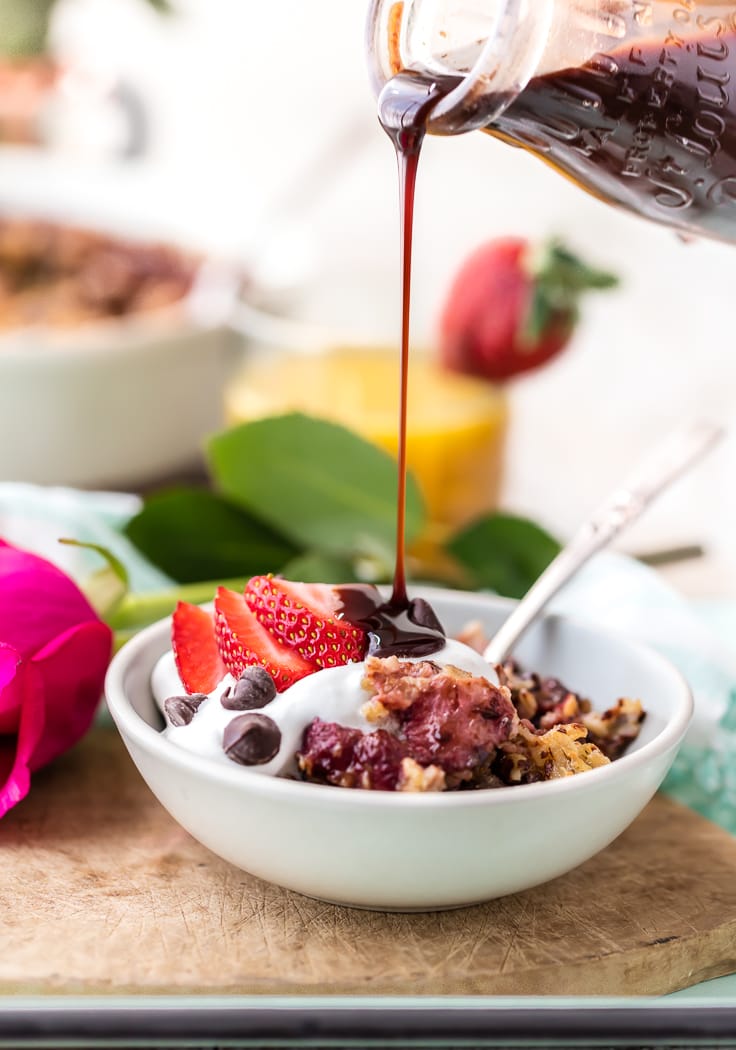 Strawberry Chocolate Oatmeal
You guys know I love easy breakfast recipes, and this Chocolate Covered Strawberry Baked Oatmeal recipe takes the cake! IT IS SO EASY! It's like a french toast casserole, but even easier. None of that wait time! This strawberry and chocolate oatmeal is ready from start to finish in under an hour. You will be on your way to a comforting, healthy yet decadent start to Valentine's Day in no time! I love how cozy this dish makes me feel. Yum!
Pat LOVES oatmeal and I always attributed it to him being the most boring eater ever. BUT this oatmeal recipe makes a breakfast that is anything but boring. It's filling, bright, and delicious. Is there anything sweeter than breakfast in bed? Food and sleep, my two favorite things. And chocolate-covered strawberries? Yes, please.
More Strawberry Chocolate treats to try: Chocolate Covered Strawberry Brownies and Chocolate Covered Strawberry Wine Smoothie
Valentine's Day Breakfast
I think VDay deserves more than just a night out for dinner. I want to wake up to a delicious Valentine's Day breakfast and keep it going all day. Chocolates, flowers, desserts, everything, coming at me the whole day. Maybe that's asking for a lot, but why shouldn't we pamper ourselves and our loved ones to the max?
This Chocolate Covered Strawberry Baked Oatmeal is EXACTLY what I want to be eating in the morning, and I love that it is still a healthy option too. Because I definitely need to leave room for desserts later on! There's nothing not to love about this chocolate strawberry oatmeal.
This makes a special breakfast for Mother's Day too, so keep this recipe on hand all year-round!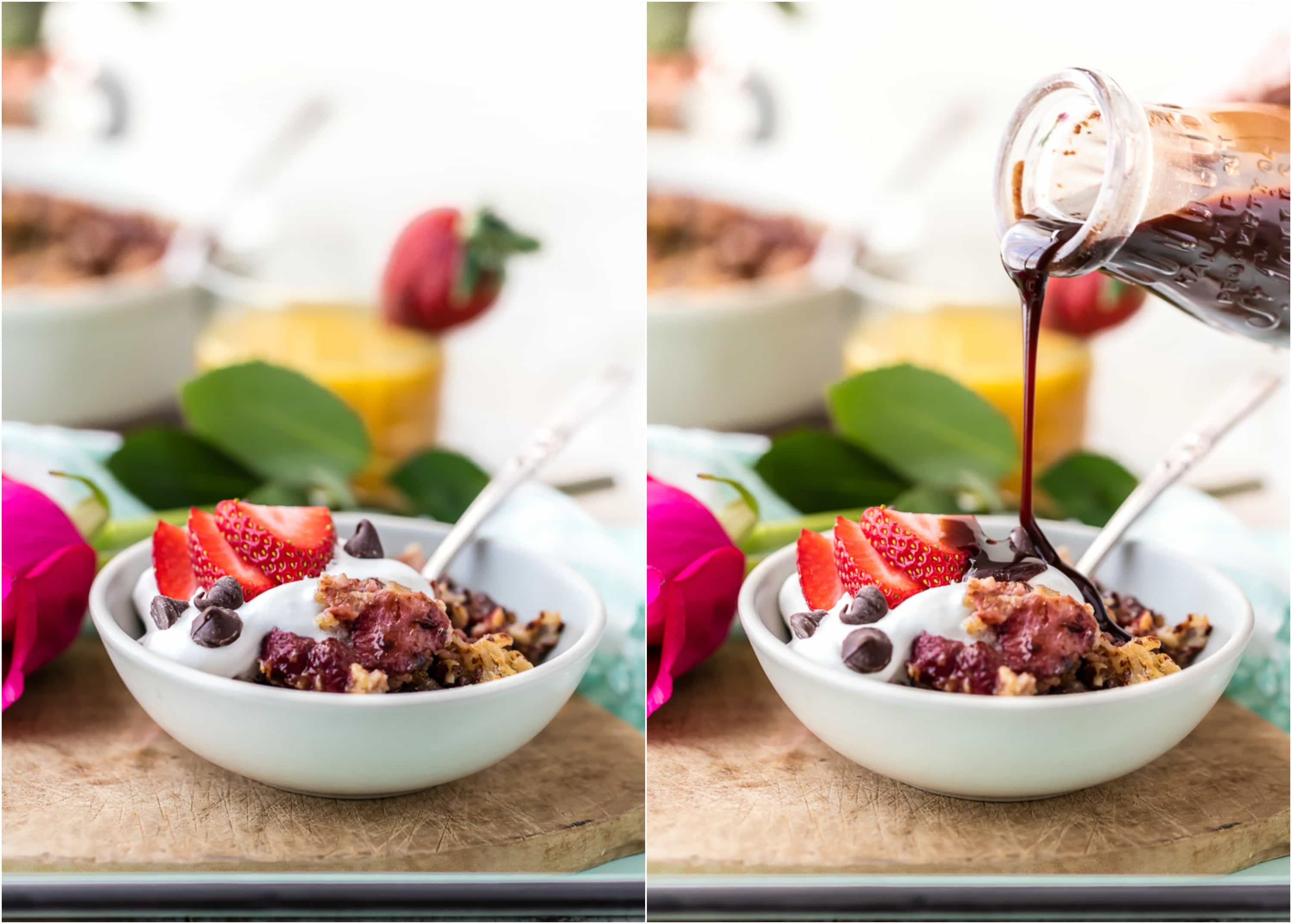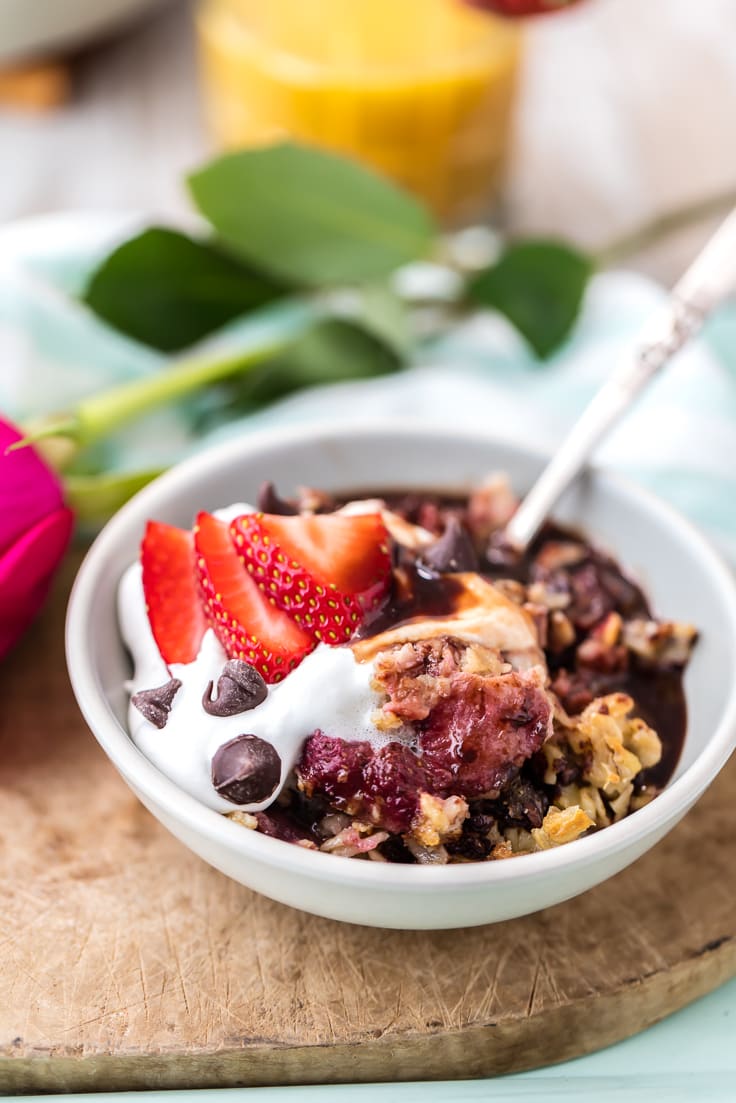 How to Make Strawberry Chocolate Baked Oatmeal
This baked oatmeal recipe is everyyyything I could want in a delicious breakfast. Strawberry and chocolate oatmeal, baked to perfection, topped with fruit, whipped cream, more chocolate…AND it's not totally awful for you? Sign me up!
How to make baked oatmeal:
In a large mixing bowl, stir together oats, brown sugar, baking powder, cinnamon, salt, strawberries, and chocolate chips.
Pour the oatmeal mixture into the prepared baking dish, and sprinkle chocolate chips on top.
Now whisk together milk, egg, butter, and vanilla. Pour this mixture evenly over the entire dish of oatmeal.
Bake the oatmeal for 40 minutes at 375°F.
When it's done baking, sprinkle on 2 tablespoons of brown sugar, then place it back in the oven and broil for about 2-3 minutes.
This baked strawberry chocolate oatmeal comes out the perfect texture, and it's just so tasty. Top with whipped cream, sliced strawberries, chocolate chips, or even some chocolate sauce. SO yum!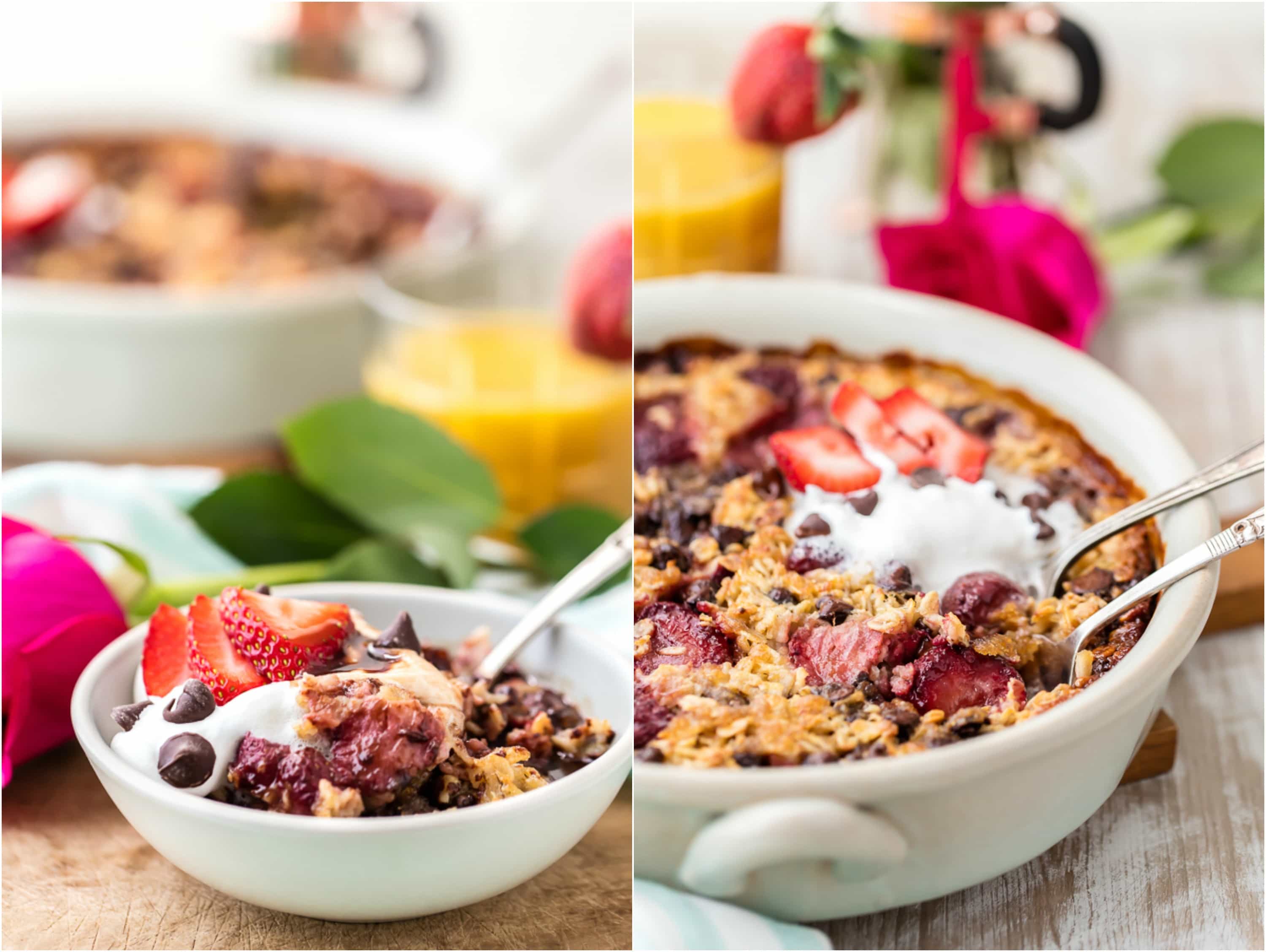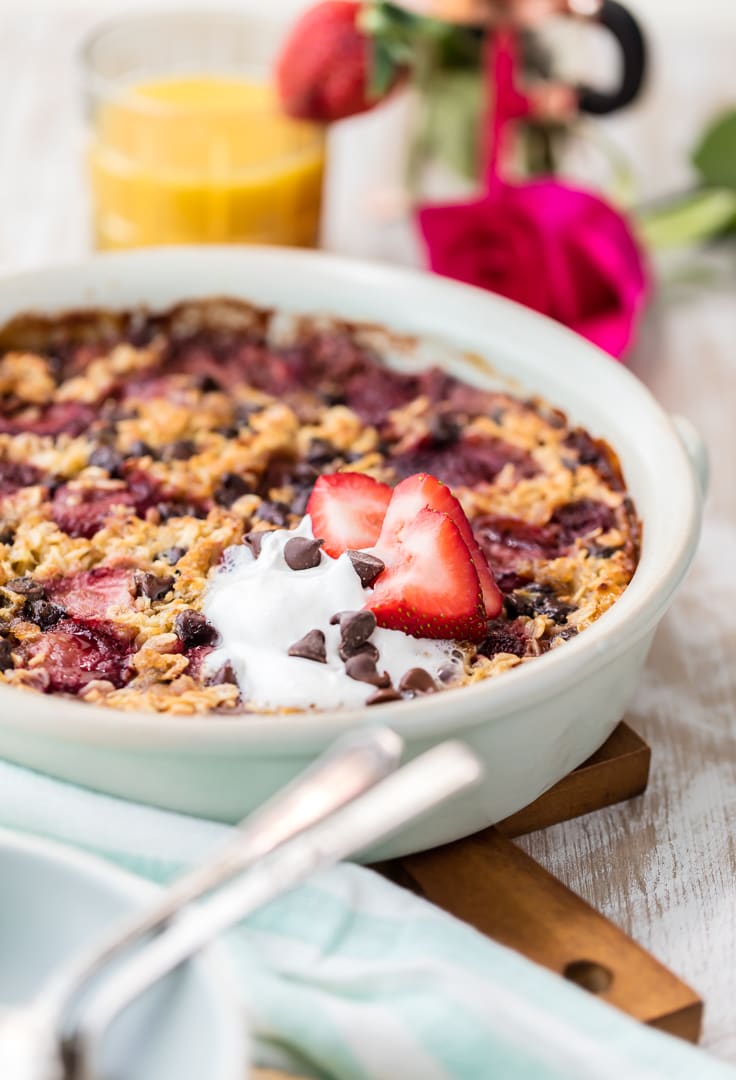 Chocolate Covered Strawberry Oatmeal baked to perfection. The BEST Valentine's Day breakfast, but I won't be opposed to eating this for breakfast any day of the year!
Watch the Video and See the recipe card for details on how to make Chocolate Covered Strawberry Baked Oatmeal. Enjoy!
If you like this baked oatmeal recipe, try some other favorite breakfast recipes: