Cinnamon Roll French Toast Bake, SO EASY IT'S RIDICULOUS! Loaded with cinnamon rolls, cream, eggs, vanilla, and everything good. Perfect Christmas Morning breakfast or holiday brunch easy recipe!! I make this every time we have guests. Can you blame me?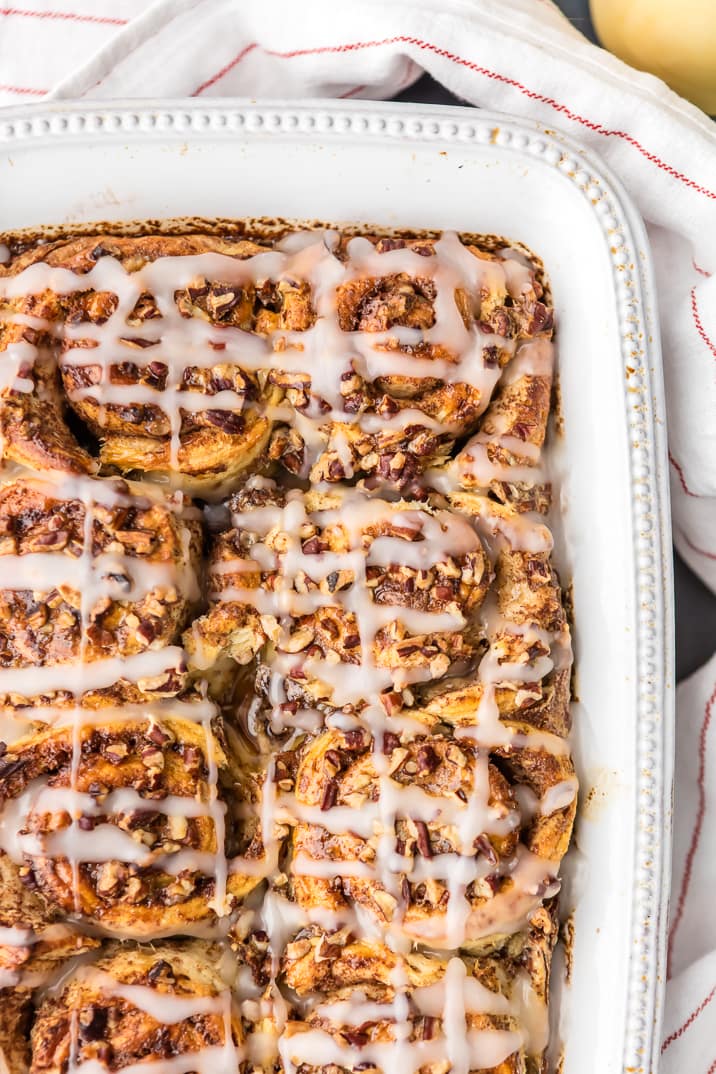 For those of you opposed to store-bought dough…LOOK AWAY NOW! This recipe totally uses store-bought cinnamon roll dough and I'm 100% okay with it. Some mornings you need something delicious and don't want to wake up at 6am. Some mornings you want something so comforting and beyond yum but you also want to sleep in until 8 before you even think about making breakfast. This is the recipe for those mornings. I actually think this recipe is perfect for Christmas morning. Wake up as you please, open presents with your loved ones, and then make a super simple breakfast that will KNOCK THEIR SOCKS OFF in less than 30 minutes start to finish. Sound good?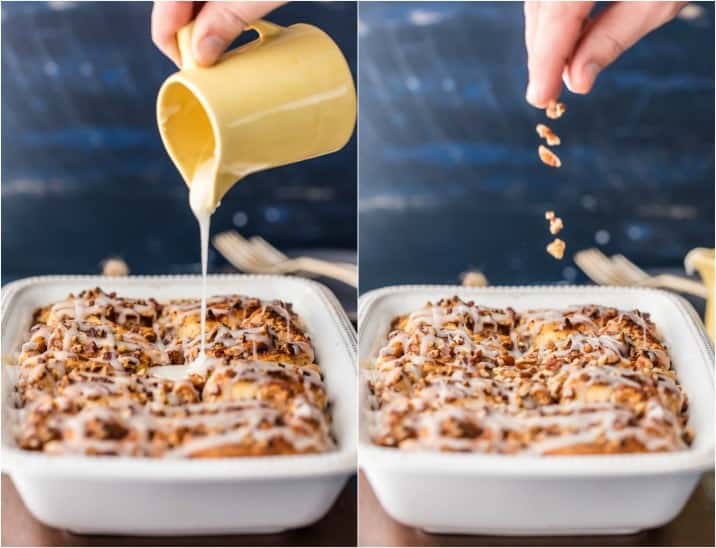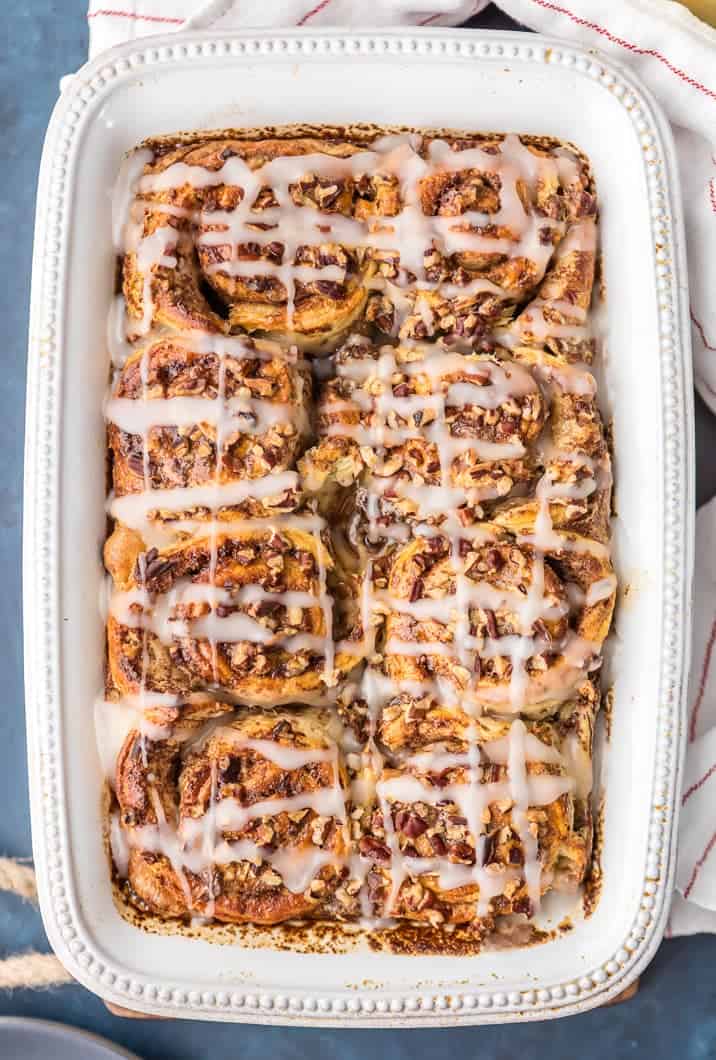 This recipe was created for all the anti-morning people out there. All the people that would rather be night owls than wake up at the crack of dawn. Real cinnamon rolls can be made another day. SUPER EASY CINNAMON ROLL FRENCH TOAST BAKE can be for today.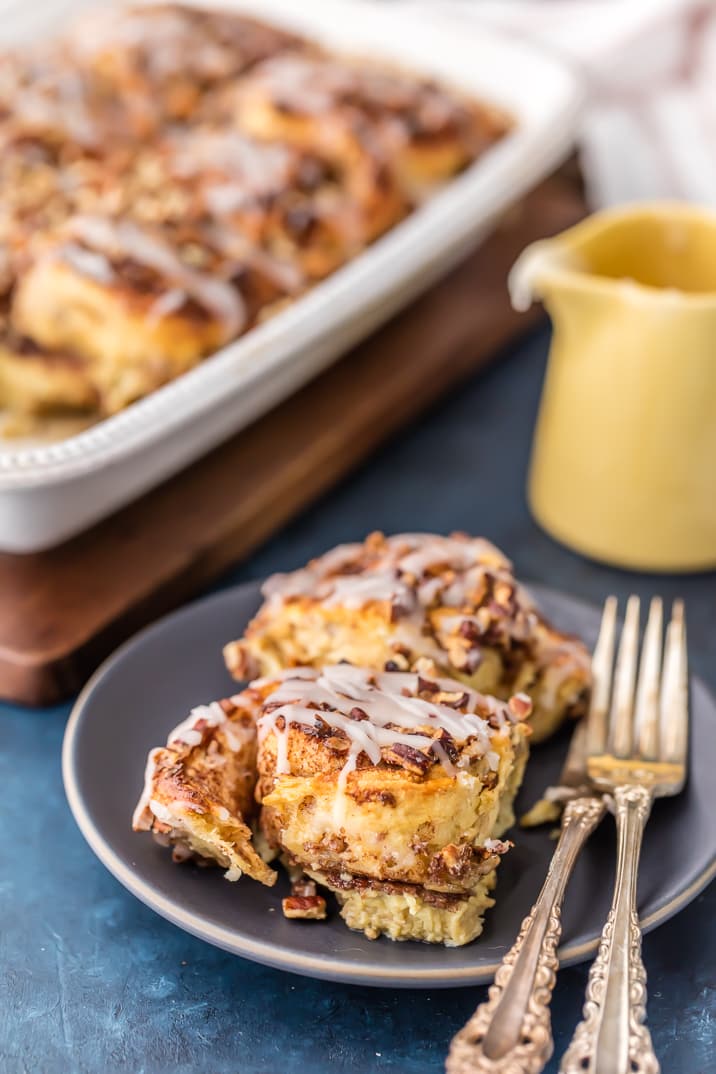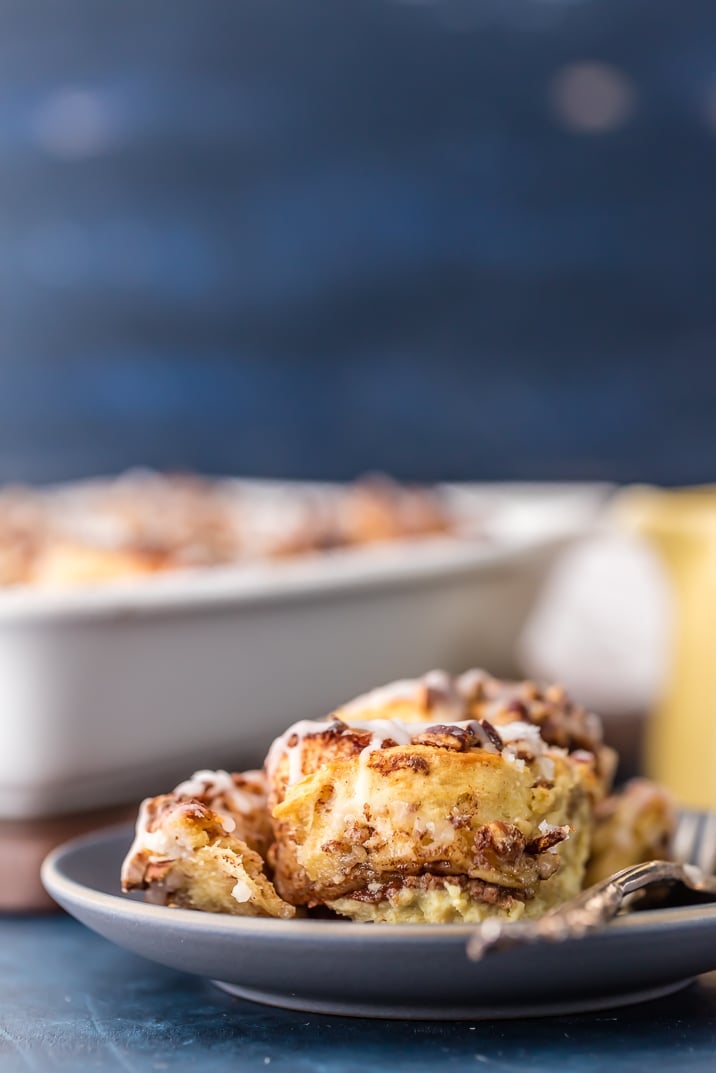 Sit back and enjoy the extra free time. Eat another cinnamon roll in that extra free time. You deserve it!
I adapted this cinnamon roll french toast recipe from one I found and fell in love with on Food.com.
Genius! Enjoy :)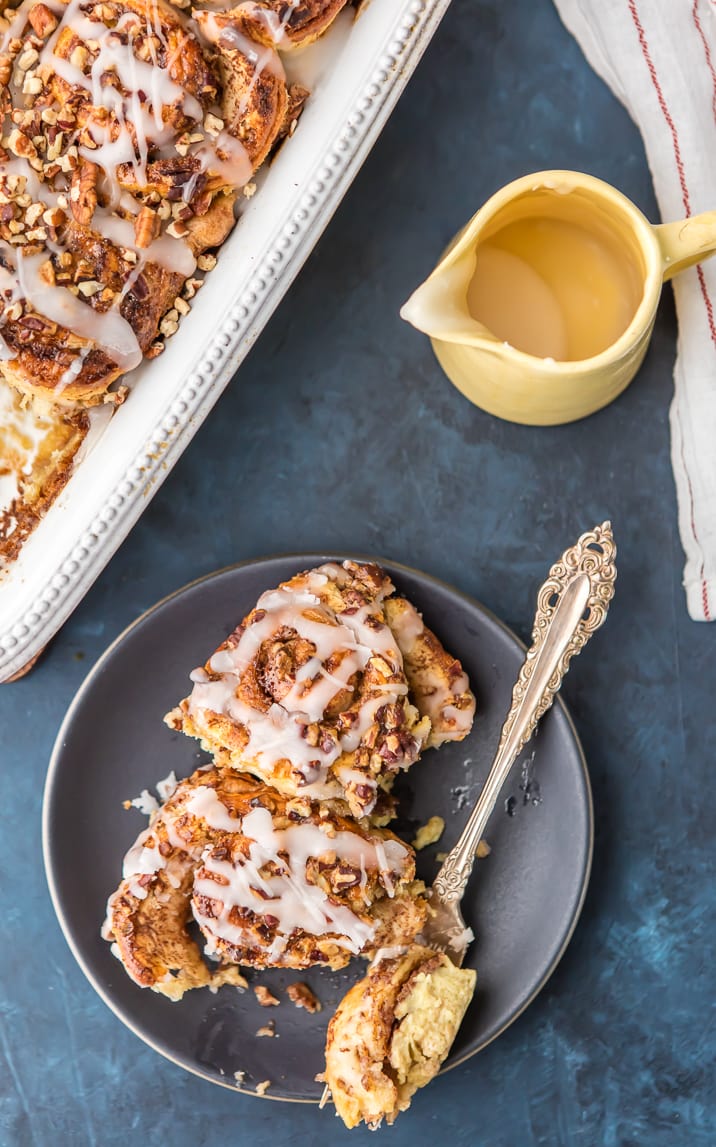 Ingredients
1/4 cup butter, melted
1 (12.4 ounce) can refrigerated cinnamon rolls
6 eggs
1/2 cup heavy cream
2 teaspoons cinnamon
2 teaspoons vanilla
1 cup chopped pecans
1 cup maple syrup, divided
frosting from the cinnamon rolls, warmed
Instructions
Preheat oven to 375F
Pour melted butter into 13x9-inch (3-quart) baking dish.
Cut dough into 8 rounds (if it's not already segmented into rounds) and place the cinnamon rolls into the bottom of the baking dish. Set icing aside.
In medium bowl, beat eggs.Add in cream, cinnamon and vanilla until well blended.
Pour egg mixture over rolls, it's okay if it completely covers the roll
Pour 1/2 cup maple syrup over the rolls and sprinkle with pecan bits.
Bake for 25 minutes or until golden brown.
Pour the extra 1/2 cup of maple syrup over the cooked rolls and drizzle with the warmed icing.
Enjoy!
7.6.4
1914
https://www.thecookierookie.com/cinnamon-roll-french-toast-bake/

JOIN OUR MAILING LIST
TO GET COOKING!
Subscibe to recieve all the latest, greatest, and EASIEST recipes sent straight to your email inbox. If we post something yummy, you'll be the first to know.