Cinnamon Roll French Toast Bake is the Easy French Toast Bake you've been searching for! This Cinnamon French Toast Bake is SO EASY IT'S RIDICULOUS! It's loaded with premade cinnamon rolls, cream, eggs, vanilla, and everything good. This Cinnamon Roll French Toast Casserole is the perfect Christmas Morning breakfast or holiday brunch easy recipe! I make this every time we have guests.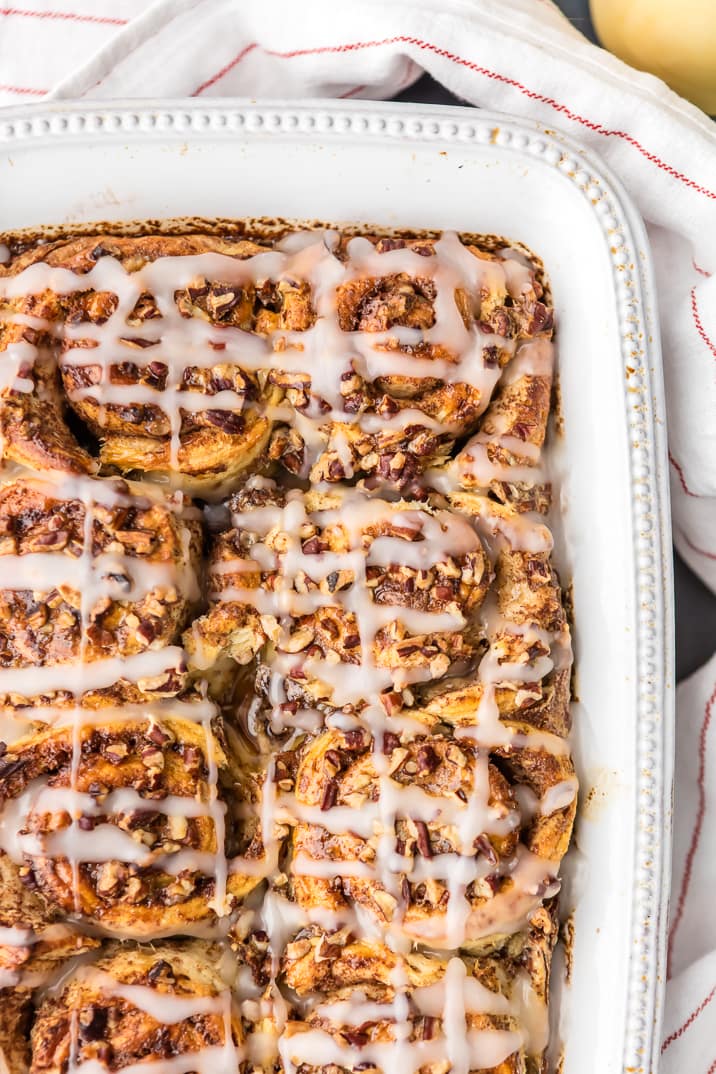 Cinnamon Roll French Toast Bake
Cinnamon Roll French Toast Bake is your family's new favorite easy breakfast recipe. This easy french toast bake is perfect for holidays too!
I can't get enough of this Cinnamon Roll French Toast Bake. For those of you opposed to store-bought dough…LOOK AWAY NOW! This Easy French Toast Bake recipe totally uses store-bought cinnamon roll dough and I'm 100% okay with it.
Some mornings you need something delicious, but you don't want to wake up at 6 am. Some mornings you want something so comforting and beyond delicious, but you also want to sleep in until 8 before you even think about making breakfast.
This Cinnamon Roll French Toast Casserole is the recipe for those mornings. I actually think this recipe is perfect for Christmas morning too. Wake up as you please, open presents with your loved ones, and then make a super simple Cinnamon Roll Casserole breakfast that will KNOCK THEIR SOCKS OFF in less than 30 minutes from start to finish. And let's not forget Easter Brunch!
This Cinnamon Roll French Toast Bake is one of our favorite Christmas morning breakfast recipes. It's an easy french toast bake that everyone will love!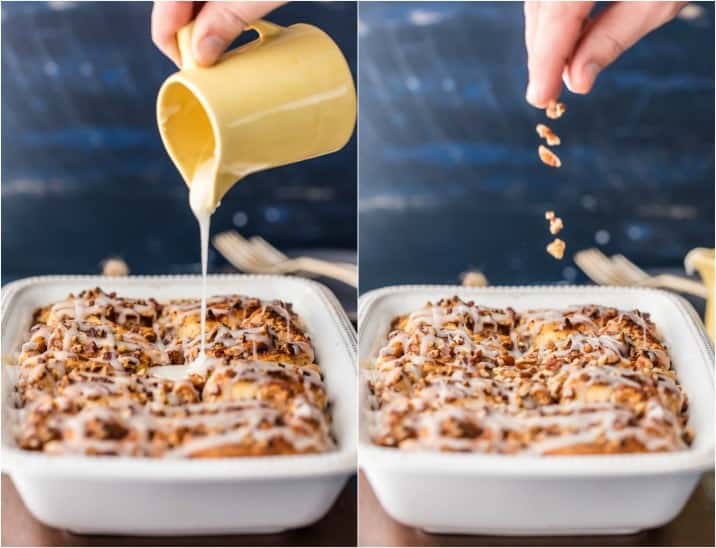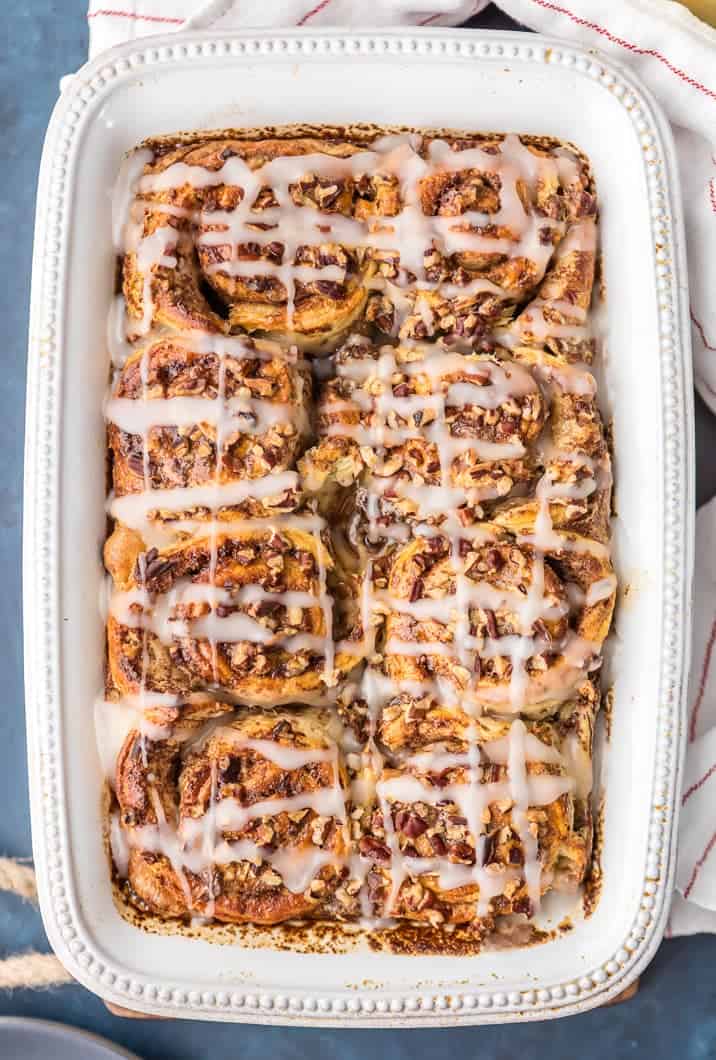 Easy French Toast Bake
Having this great and easy Cinnamon Roll French Toast Bake as a start to your mornings is sure to make for a delicious day. And if you make this on Christmas morning, everyone will love you! It's sweet, it's delicious, and it's so simple to make. No waking up early for this easy cinnamon roll bake!
I'm just always a fan of recipes that make mornings easy and fun. This breakfast is sure to please everyone from the adults down to the kids. It's a great holiday recipe but also perfect for any time of year. Saturday mornings are better with a delicious (SIMPLE) recipe!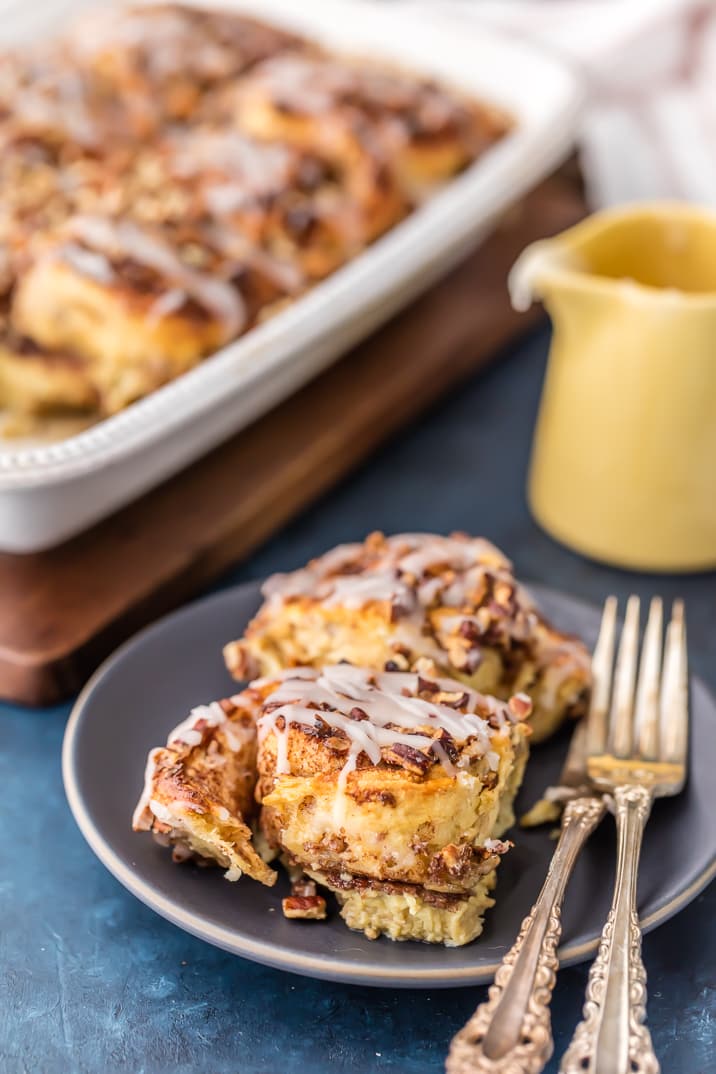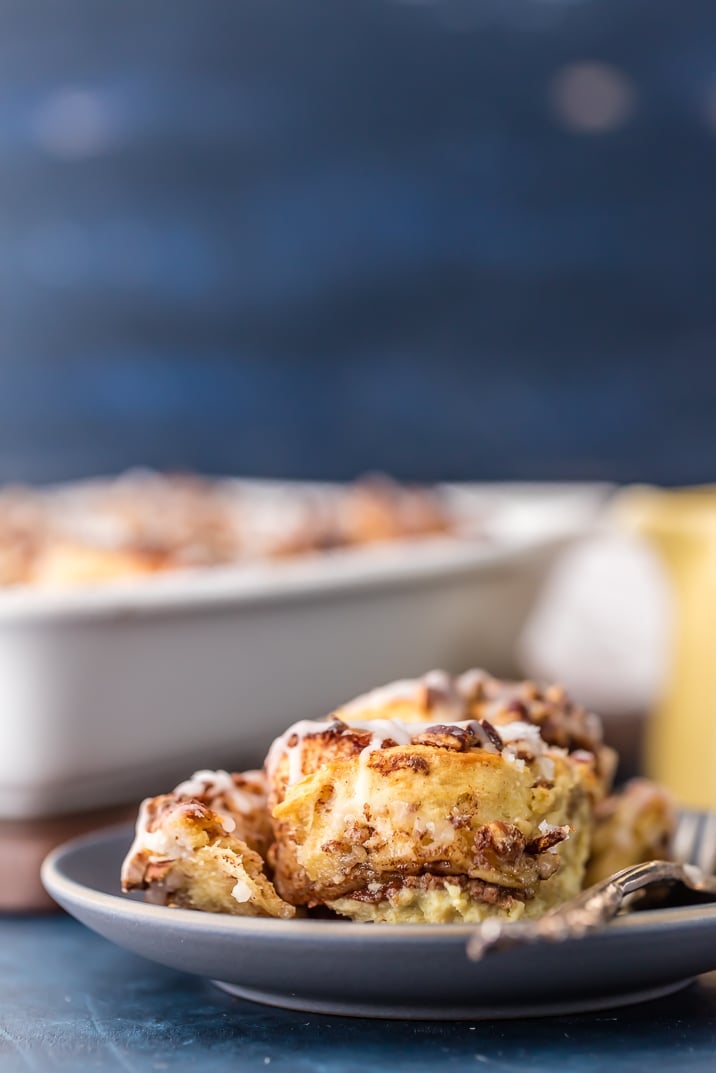 Making this cinnamon roll french toast bake is truly as simple as placing the premade cinnamon rolls in a baking dish and pouring your egg mixture over top. I use the icing that comes in the can of cinnamon rolls on top and sprinkle with toasted pecans once it's done. That's it! I told you this was an easy recipe!
If you prefer a more traditional Cinnamon Roll Casserole approach, you can chop up the premade rolls into cubes before placing in the pan. Easy peasy!
This easy french toast bake recipe was created for all the anti-morning people out there. All the people that would rather be night owls than wake up at the crack of dawn. Real cinnamon rolls can be made another day. SUPER EASY CINNAMON ROLL FRENCH TOAST BAKE can be for today.

Cinnamon Roll Casserole and Other Easy Breakfast Recipes
This Cinnamon Roll Casserole is a great complement to recipes like Ham and Cheese Breakfast Casserole or Easy Breakfast Pizza. Every savory breakfast needs a sweet companion! So if you've got a big family to feed or a bunch of guests over for the holidays, make sure you have plenty of food. I mean, you can never have too much food on the holidays!
I'm also a big believer that each and every morning needs a great beverage. If it's a fun girls' brunch you can make our favorite Sherbet Mimosas or Apple Cider Mimosas, or if you're dining with the kids you can make our Simple Mango Smoothie. I'm REALLY craving breakfast for dinner now!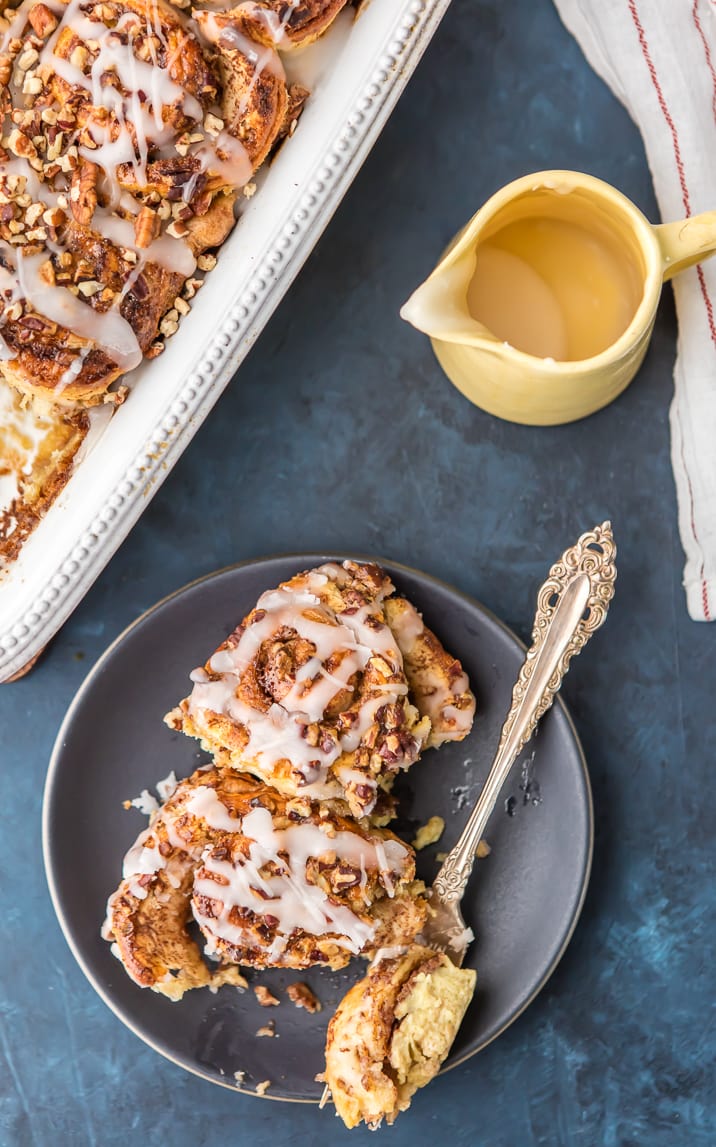 I know you and your family are going to absolutely LOVE this Cinnamon Roll French Toast Casserole. It's incredibly delicious and so much fun to eat. This easy french toast bake should make an appearance on Christmas morning!
Watch the Video and See the recipe card for details on how to make this Cinnamon Roll French Toast Bake. Enjoy!
If you like this easy cinnamon roll casserole, try these other easy breakfast recipes: