Chocolate Croissants are a sweet and delectable treat for breakfast! This SHEET PAN CHOCOLATE CROISSANT RECIPE is our favorite way to make a delicious breakfast for a crowd. It's such a fun and easy breakfast pastry that bakes right in your oven. These pastries are so flaky and chocolaty!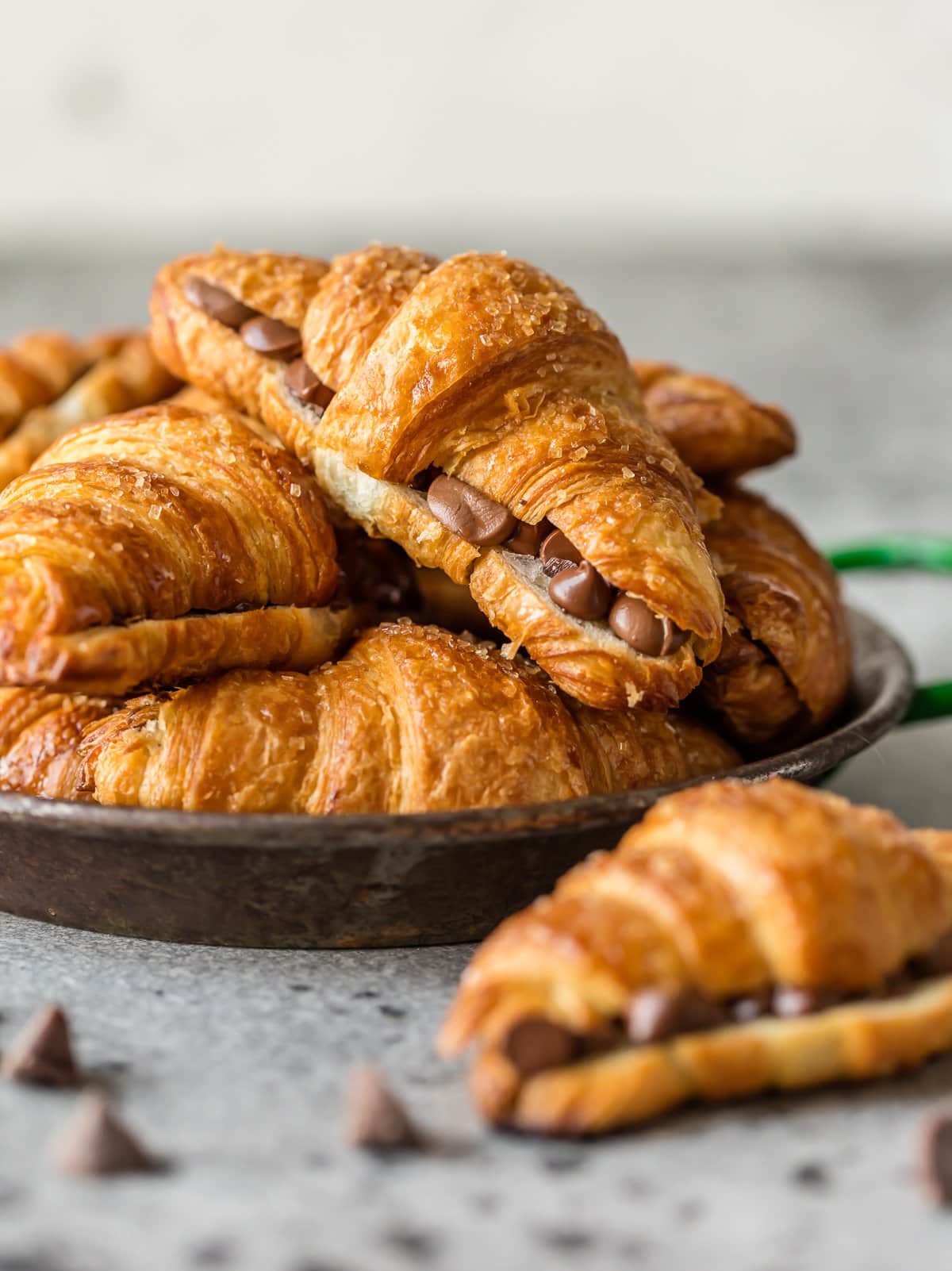 Chocolate Croissant Recipe
Chocolate Croissants are the perfect sweet treat for breakfast. This breakfast croissant recipe is so easy to make for just one or for a crowd of hungry people!
If you're looking for a super easy breakfast recipe, you've come to the right place! Think you can't make delicious ooey gooey pastries at home?! THINK AGAIN! This Sheet Pan Chocolate Croissant Recipe is about to blow your mind and leave you thinking "Now why haven't I tried that before?!"
This is nothing revolutionary and definitely not cooking from scratch, but in my world, there is nothing wrong with that.
My world is a world where I didn't even boil water until I was 30…so taking shortcuts to feed my family yummy treats is A-OKAY with me. This Chocolate Croissant Recipe is so fun, tasty, and most importantly SIMPLE! Bake up a ton on a sheet pan and call it a delicious day.
This is such a fun breakfast croissant recipe to share with guests, but I also like making up a bunch to save and grab throughout the week when I'm headed out the door in a hurry. These are great for breakfast but also make a fun snack or simple dessert.
Make this easy Chocolate Croissant recipe for a fun breakfast. Flaky, chocolaty goodness!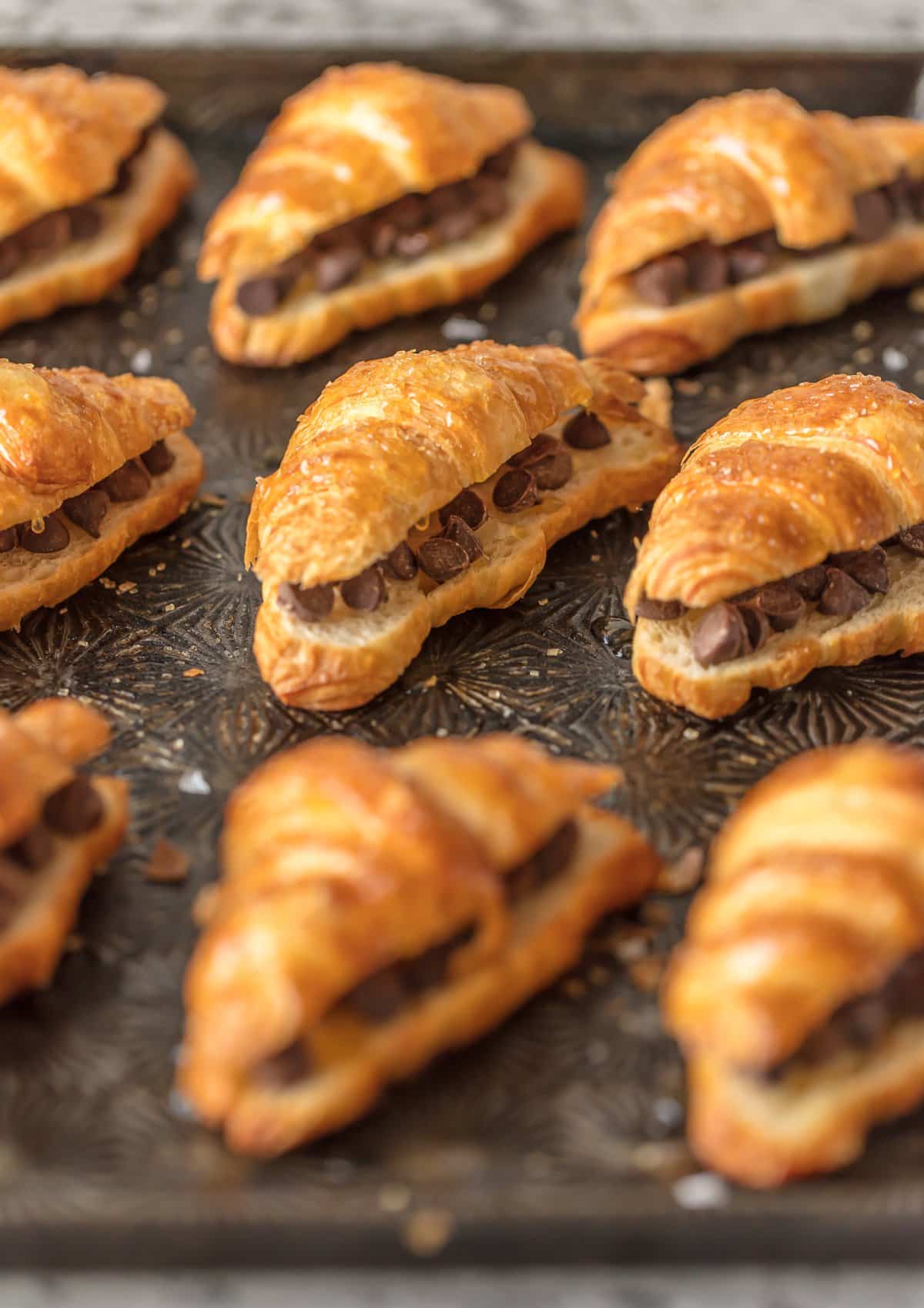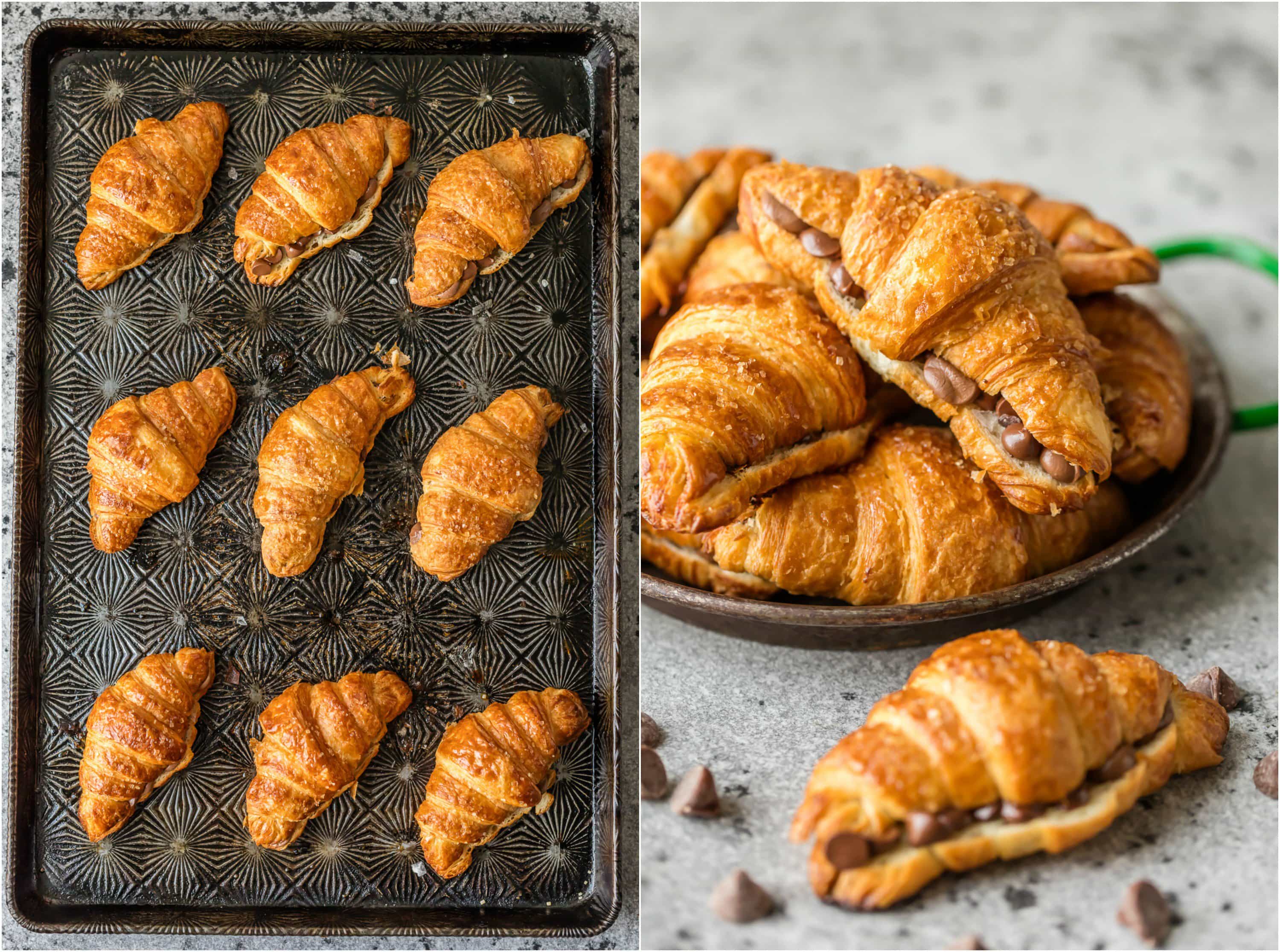 Breakfast Chocolate Croissants for a Crowd
Making breakfast for a lot of people at once is a special feat. You need something simple, delicious, and easy to make. Plus you have to be able to make A LOT at once.
When I need to feed a bunch of hungry people, I'll often turn to this Cheesy Breakfast Sliders recipe. But when everyone wants something sweet instead of savory. this amazing chocolate croissant recipe is at the top of my list!
Just throw a bunch of croissants on one pan, add the chocolate, bake, and they are ready to grab and go. This is a really nice breakfast to share on a weekend morning with out-of-town guests, for Christmas morning breakfast, Easter Sunday brunch, or just a nice treat for the family.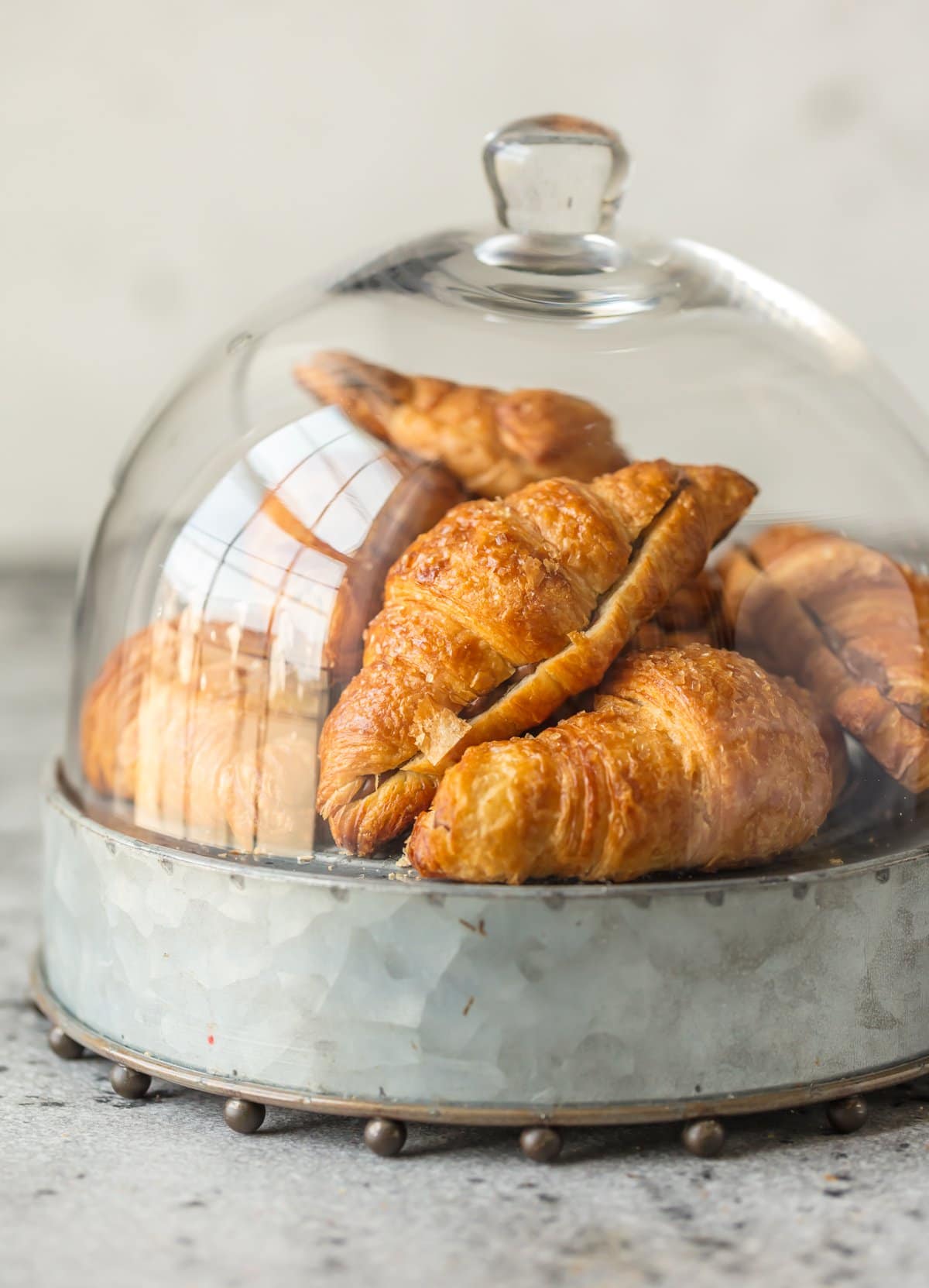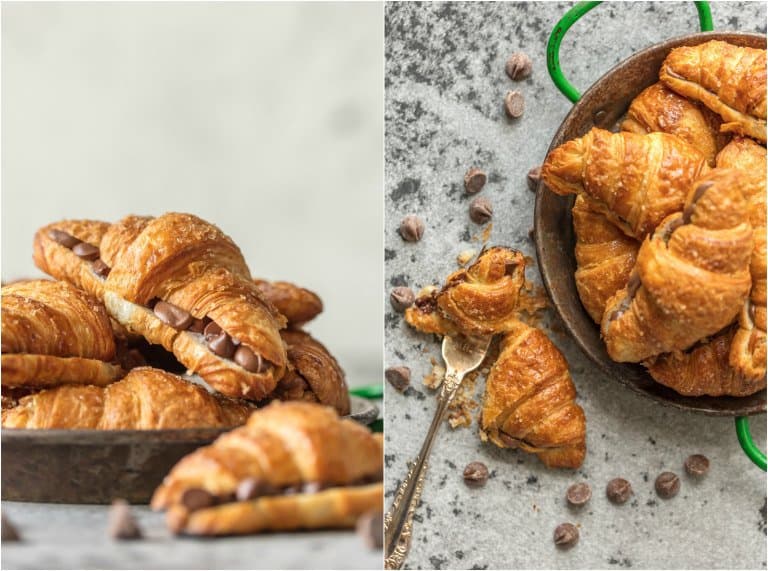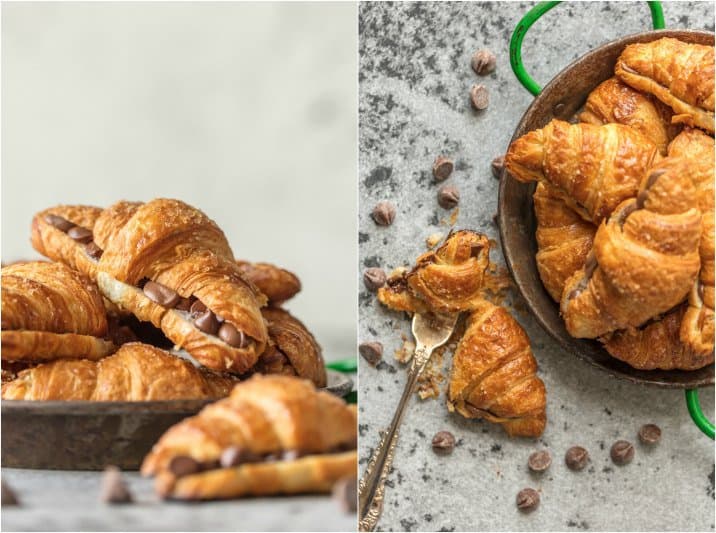 How to Make Chocolate Croissants
This Chocolate Croissant Recipe is so simple! I know we aren't cooking pastries from scratch here, but trust me, no one will care. These Chocolate Croissants are delicious served warm, or even served after cooling.
Keep them in a fun container on your counter and they're sure to be gone in no time!
You can jump to the recipe card for full ingredients & instructions!
Easy Chocolate Croissant Recipe:
Cut each mini croissant open, while still leaving the top & bottom half connected
Load them up with sea salt and chocolate chips
Brush the tops of the croissants with maple syrup and extra sugar
Bake them at 425°F for a quick 4-5 minutes (tops should be golden brown & chocolate melted)
Move them to a cooling rack while they cool. Serve warm or cold.
Figuring out this simple recipe for the perfect Chocolate Croissant has made me so happy. I've been snacking on them for days. I love heating them up in the microwave and having the perfect breakfast on the go. Can you blame me?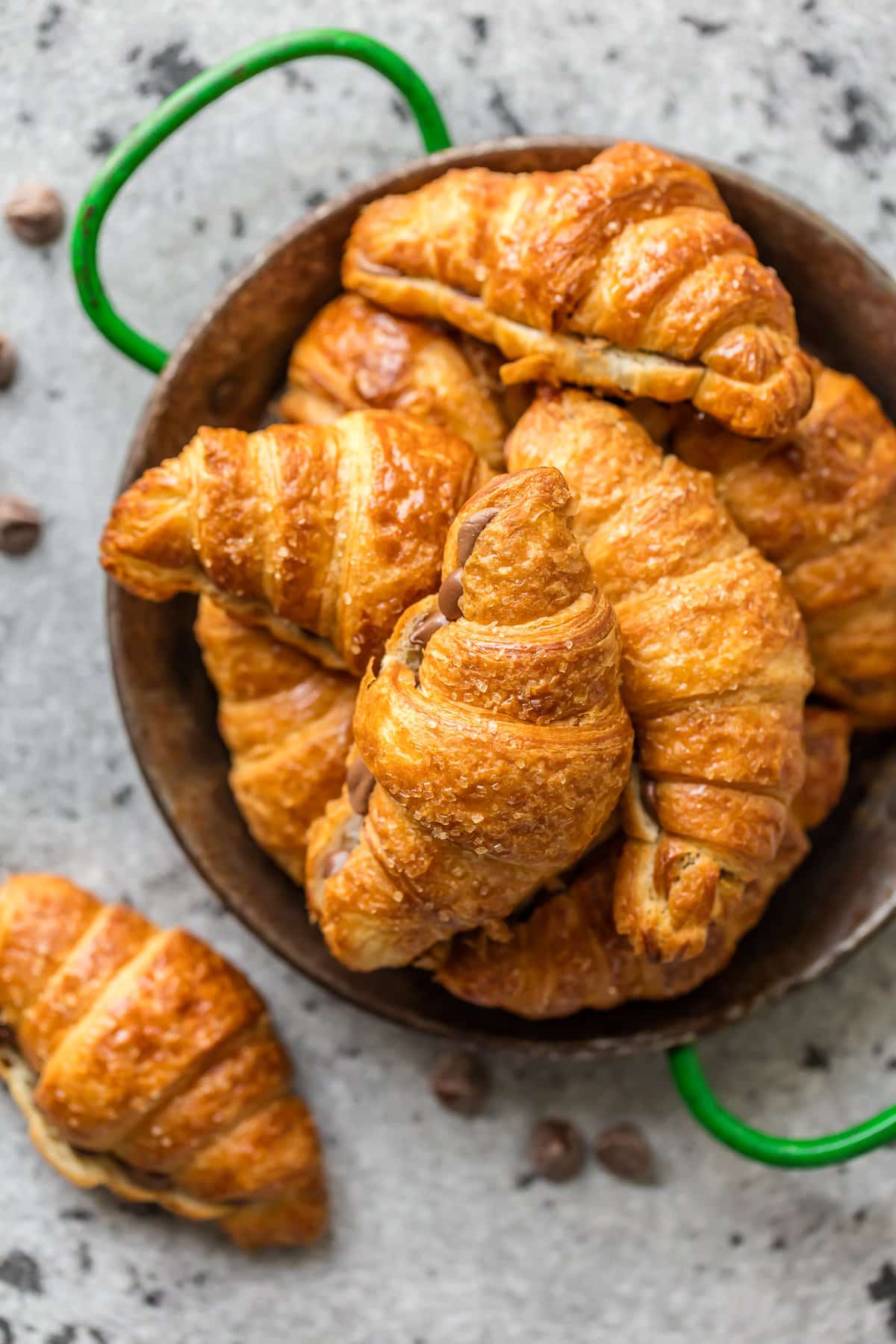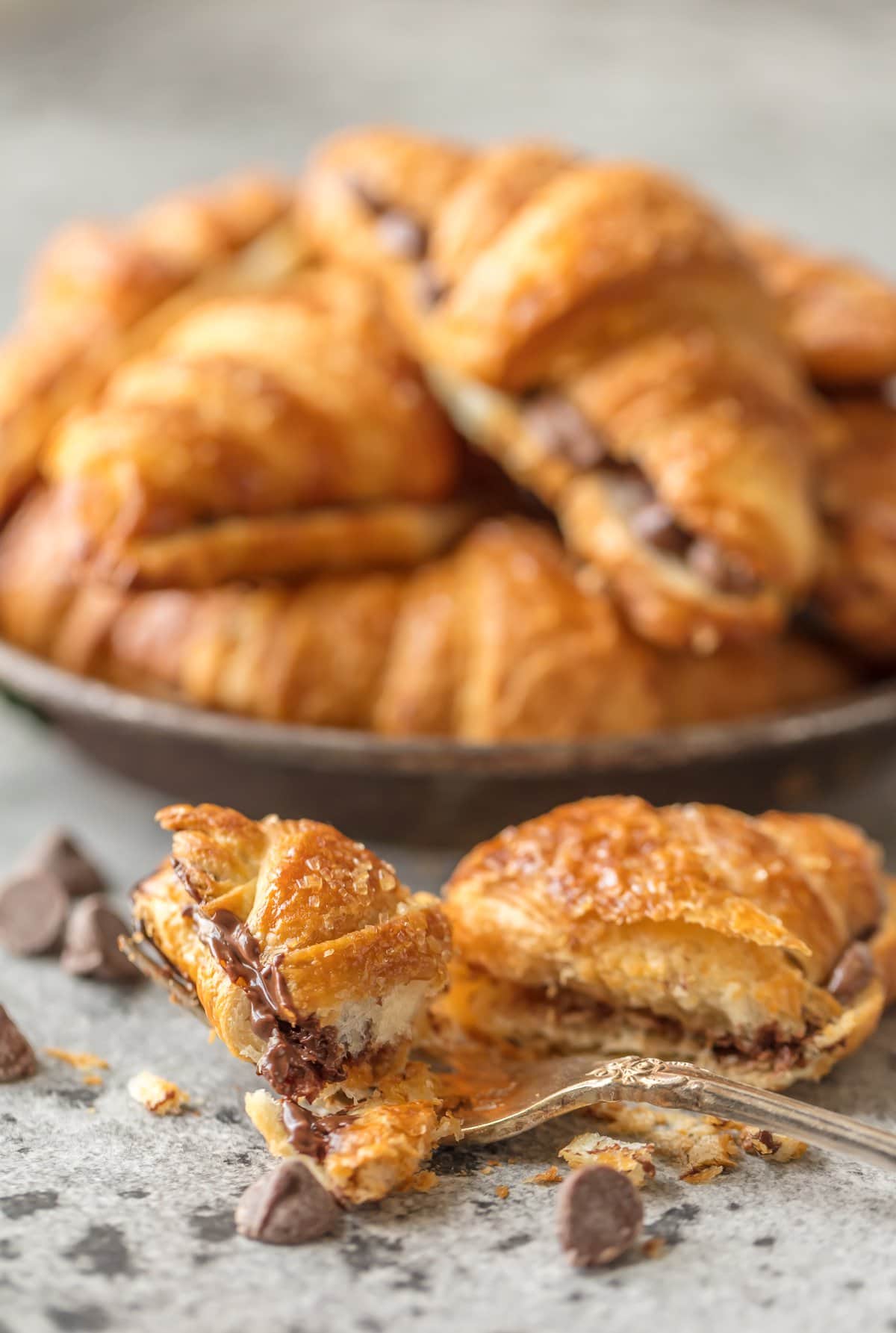 Waste no time in making this Sheet Pan Chocolate Croissant Recipe! You won't regret it. Its such a fun and easy hack to make breakfasts an utter delight.
More Easy Breakfast Recipes
After enjoying a chocolate croissant (or 4) be sure to check out these other fave easy breakfast recipes as well!
See All Breakfast
If you make this chocolate croissant recipe, be sure to let us know by uploading a photo in the comments or leaving a star rating. Hope you love this recipe!