This CILANTRO CHICKEN STIR-FRY is an easy, delicious, and HEALTHY dinner you can make in just minutes! So much flavor and none of the fuss. Loaded with chicken, peppers, onions, and cilantro…yum!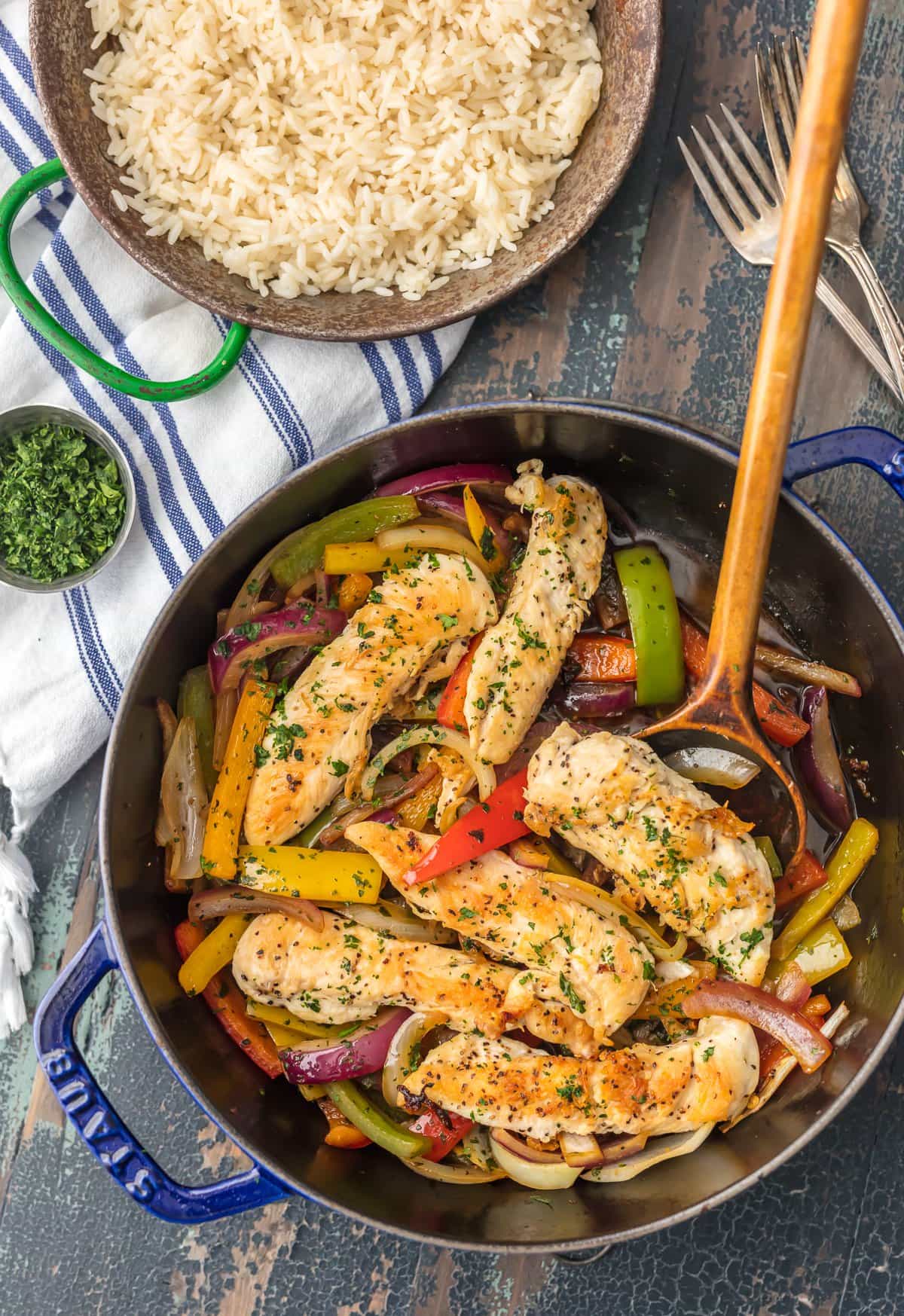 Life has been crazy busy lately, so I have been looking for the absolute easiest recipes I can find. I have always loved simple flavors and ingredients in recipes because I think it allows the taste buds to pop that much more. This CILANTRO CHICKEN STIR-FRY is just too easy and good to be true, and is packed with an explosion of flavor you have to taste to believe! It's made in minutes, perfect for dinner or even taking to work for lunch the next day. You can feel good about eating it because it is packed with veggies and herbs, just the way I love it. You ready for an easy meal the entire family will ask for again and again?? Step right up!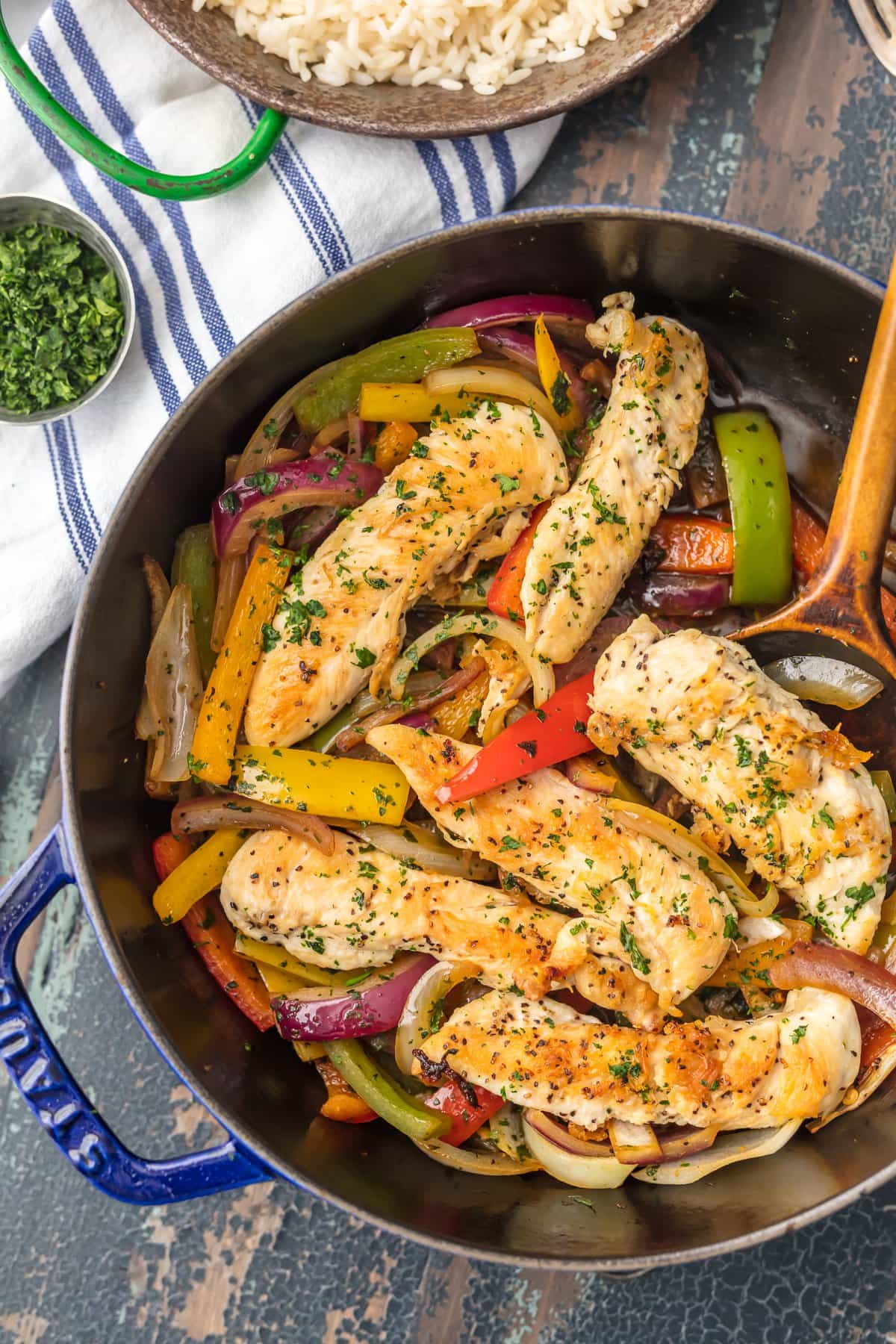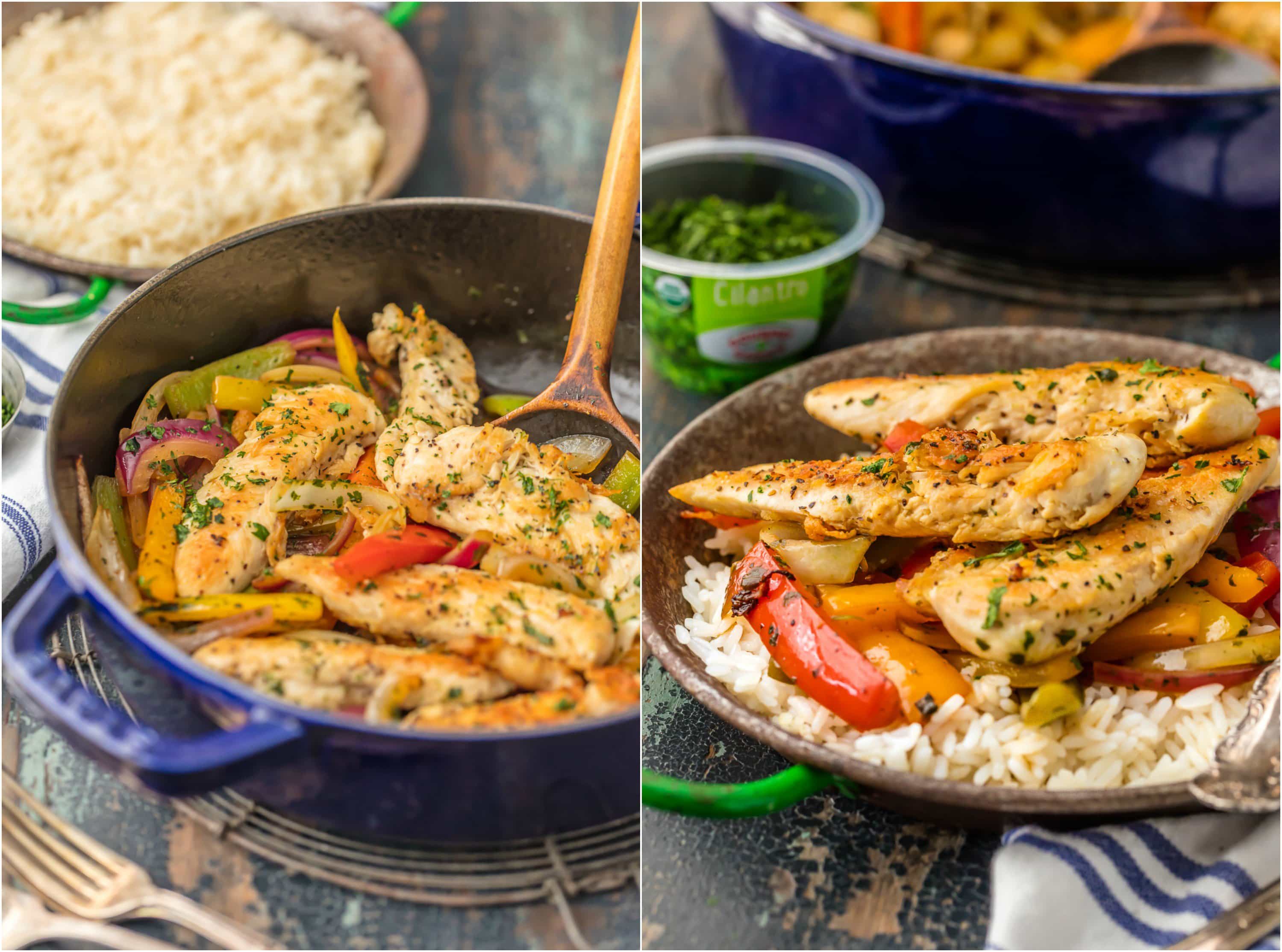 The secret to this Cilantro Chicken Stir-Fry is obviously the CILANTRO! I am a HUGE fan of cilantro and throw it into recipes every chance I get. I think it adds just the right zing to this fun dish. To make things even easier, this time I used Gourmet Garden Lightly Dried Herbs in the recipe, and I couldn't be more thrilled with the result. Have you tried this stuff?! YOU GUYS. The beauty of the lightly dried herbs is that they absolutely come to life and rehydrate during cooking; providing a convenient and simple way to freshen up your favorite dinners. You get the same aromas, texture, and flavor of fresh herbs with none of the fuss. (PLUS, they stay fresh in the fridge for up to FOUR WEEKS! Way longer than fresh herbs) They come in tons of varieties like Basil, Chili Pepper, Ginger, Parsley and Chives, but I knew Cilantro would be my go-to. I picked mine up at Kroger (the best!) and I think I have found my new ingredient obsession. There's a little giveaway at the end of this post so DO NOT MISS IT! You have just got to try Gourmet Garden!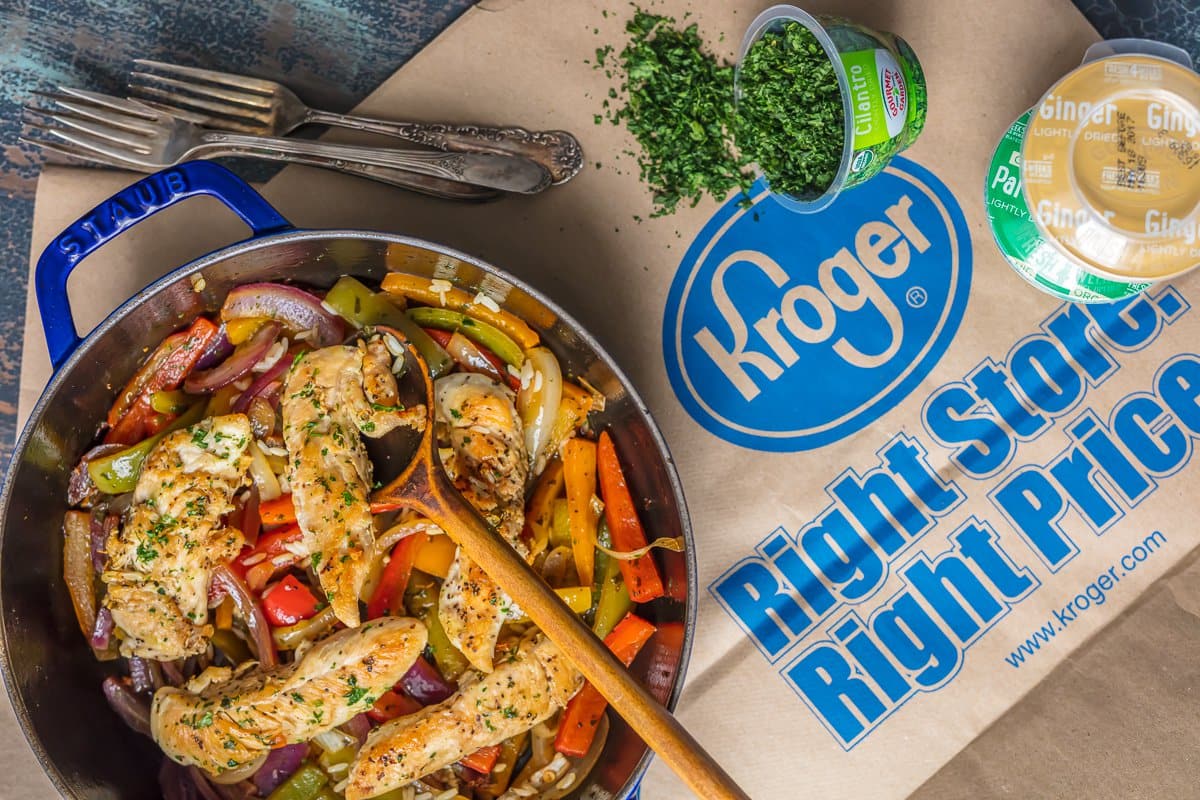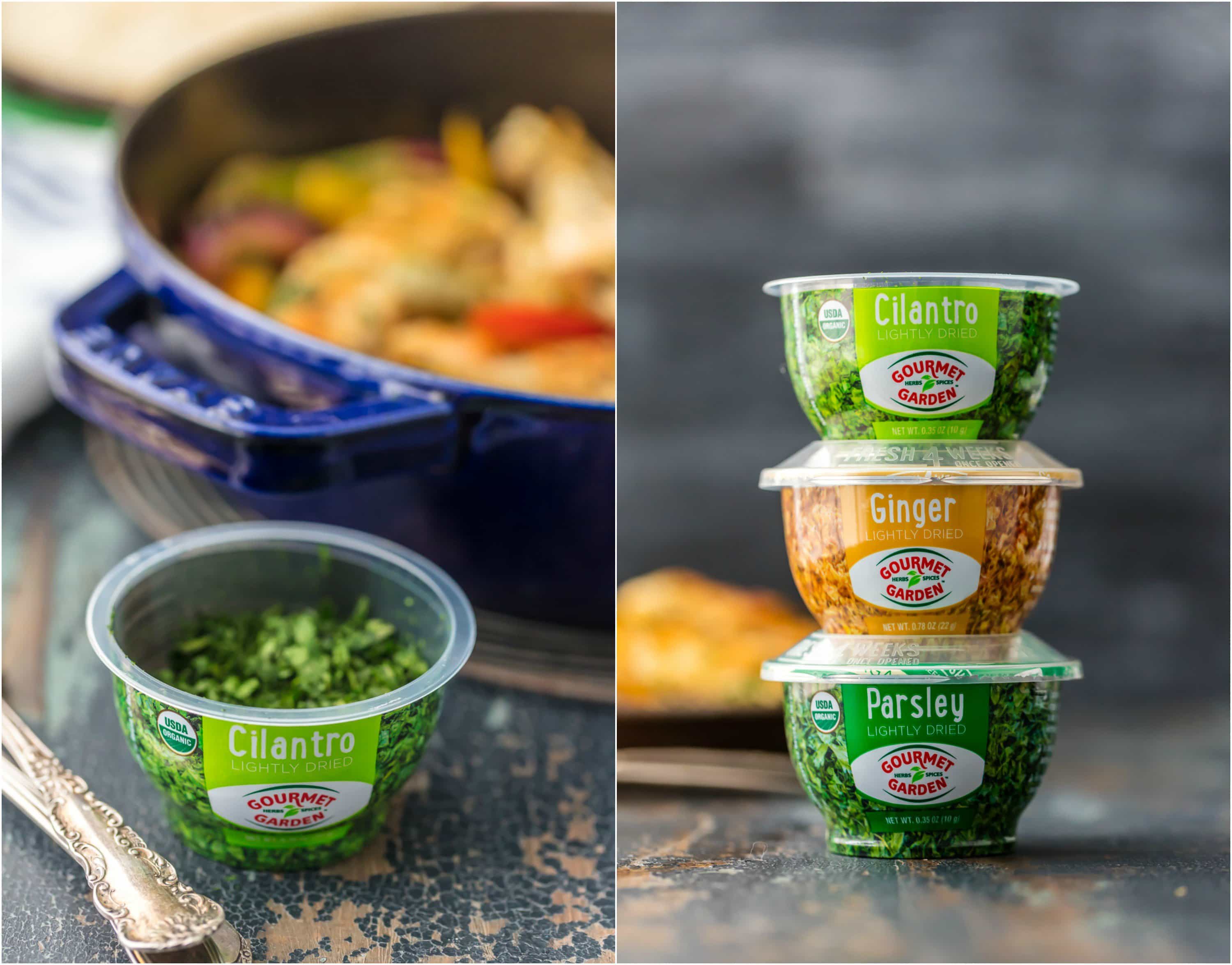 I can't wait for you guys to smell the steam coming off this Cilantro Chicken Stir-Fry as it cooks. My mouth is watering again just thinking about it! This is one of those easy and healthy staple dinners you'll make again and again.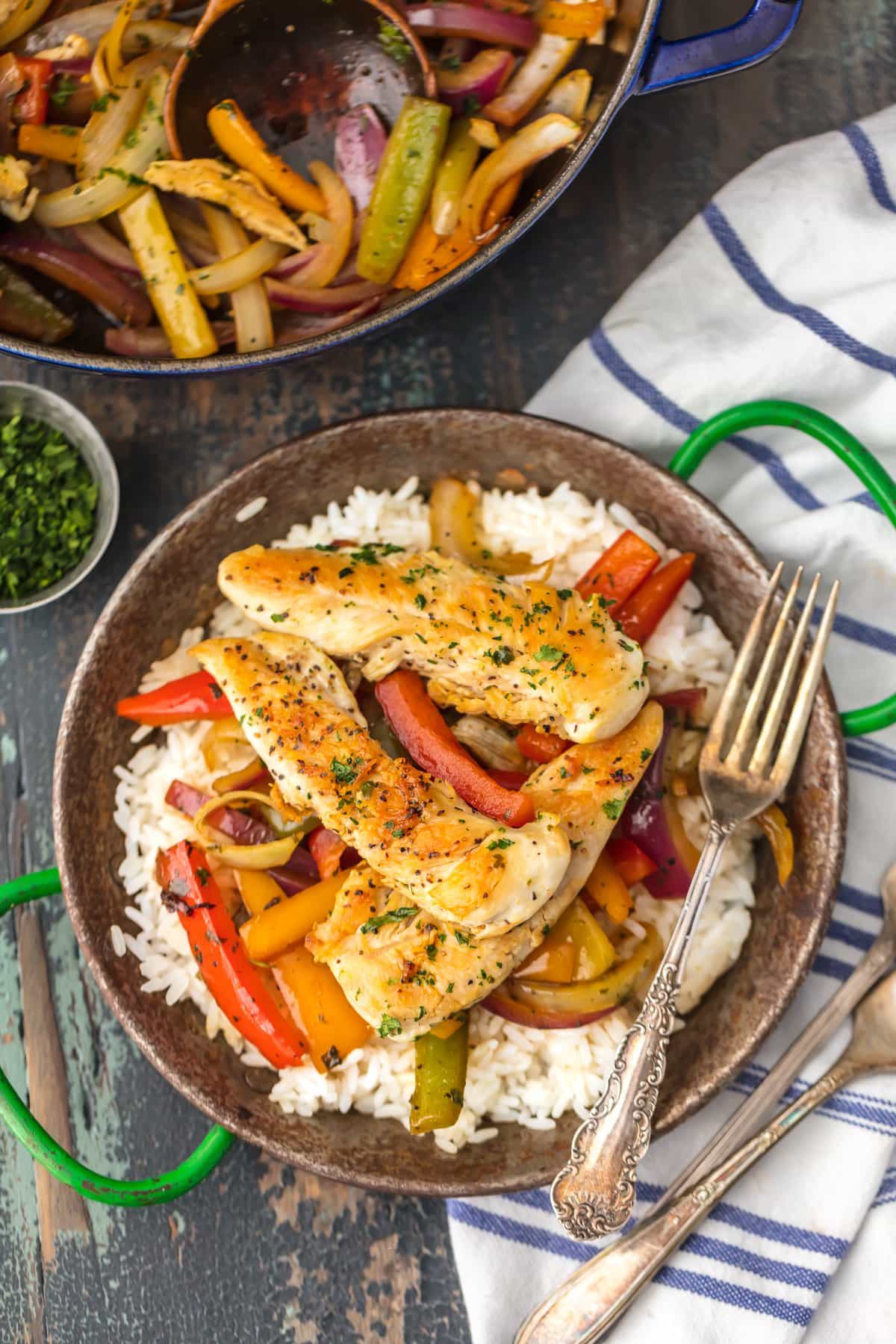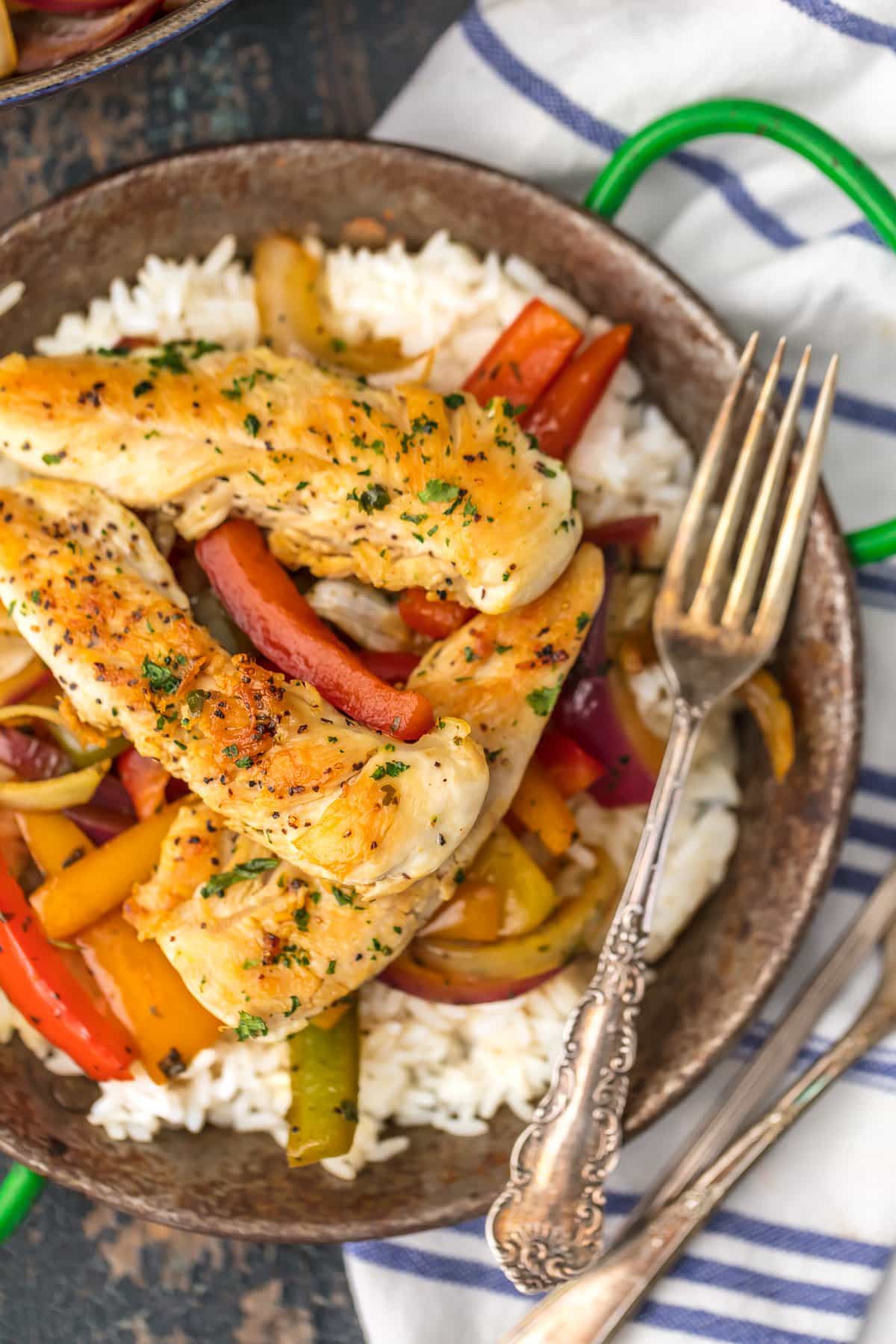 Serve over rice and you're instantly in favorite dinner Heaven. Let me know how you like it!
*****GIVEAWAY TIME!!!!! Kroger and Gourmet Garden generously want to give one of my readers a $50 Kroger gift card plus $20 in Gourmet Garden Vouchers! All you need to do is comment below for your chance to win. Bonus points for letting us know which flavor of lightly dried herbs would be your fave! A winner will be picked randomly by 2/17 and mailed their winnings! GOOD LUCK!*****
Cilantro Chicken Stir-Fry
15 minPrep Time
15 minCook Time
30 minTotal Time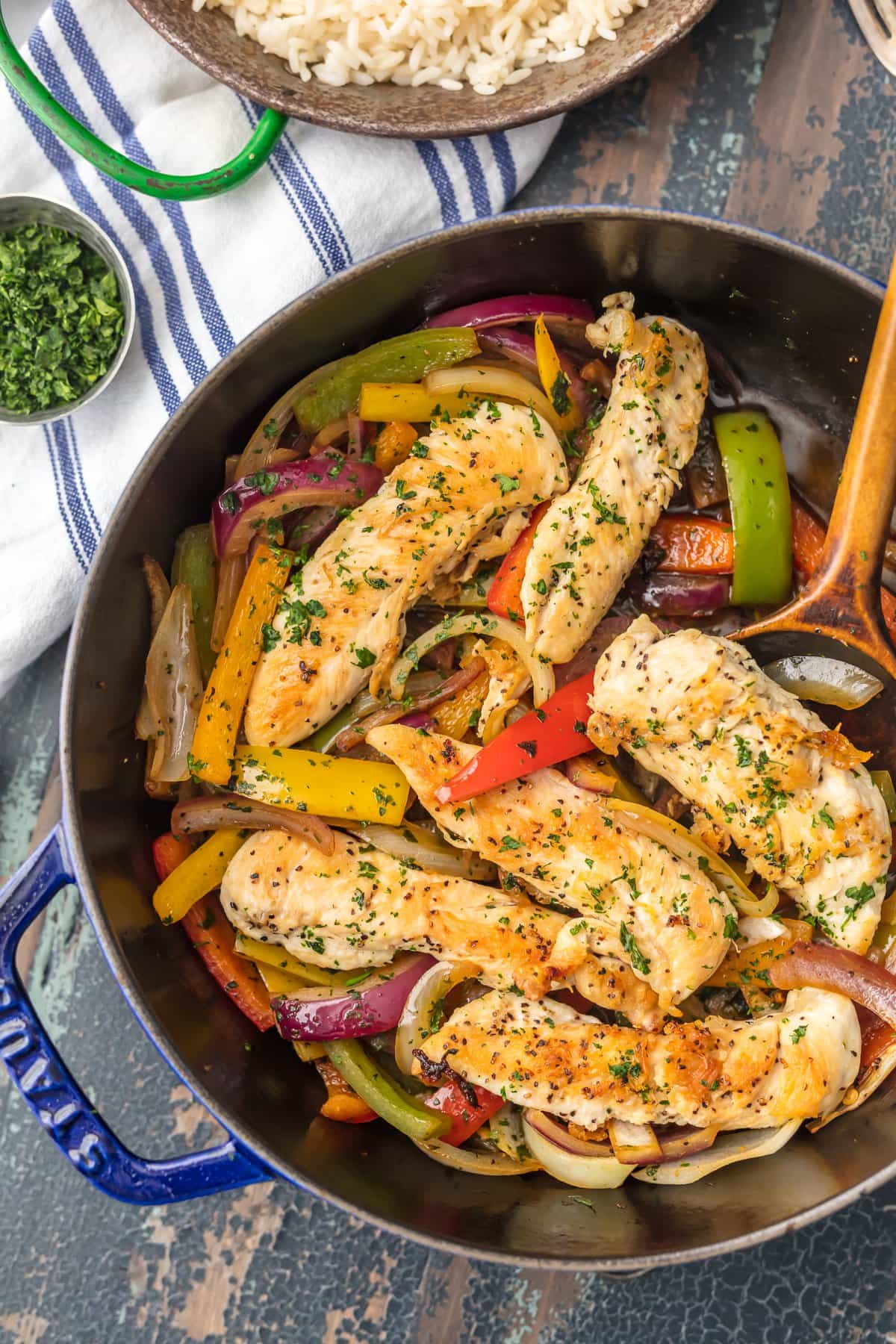 4.5 based on 2 review(s)
Ingredients
1 1/2 pounds boneless skinless chicken tenderloins (or breasts cut lengthwise)
salt and pepper to taste
4 tablespoons olive oil, divided
6 garlic cloves, minced
1/2 white onion, sliced
1/2 red onion, sliced
1 green bell pepper, sliced into thin strips
1 red bell pepper, sliced into thin strips
1 yellow or orange bell pepper, sliced into thin strips
2 tablespoons apple cider vinegar
3 tablespoons low sodium soy sauce
1/3 cup chicken broth
1 1/2 tablespoons Gourmet Garden Lightly Dried Cilantro
cooked rice for serving
Instructions
Dry your chicken on both sides with a paper towel and season with salt and pepper to taste.
Heat 2 tablespoons olive oil in a large skillet over medium high heat. Add in chicken and cook each side until brown, about 2-3 minutes per side or until nearly cooked through. Remove chicken from the skillet and set aside.
Add the remaining two tablespoons olive oil to the skillet along with the minced garlic. Stir to combine. Toss in all the veggies and stir while cooking until starting to brown and become tender.
Add in the vinegar, soy sauce, and chicken broth, and stir to combine. Allow to simmer down for about one minute, then toss in the cilantro and stir.
Return chicken to the skillet and nestle in the veggies, allowing to cook for 1-2 minutes more until chicken is fully cooked through and warmed.
Serve over rice and enjoy!
7.6.7
2380
https://www.thecookierookie.com/cilantro-chicken-stir-fry/
This is a sponsored conversation written by me on behalf of Gourmet Garden. The opinions and text are all mine.