This Vegetable Stir Fry recipe is filled with broccoli, mushrooms, peppers, carrots, and more covered in a delicious homemade sauce! The beauty of this recipe is that everyone will get their five servings of veggies without even realizing they're being healthy. Plus, the gorgeous colors delight your eyes as much as they delight your taste buds. Learn how to stir fry veggies for the perfect side dish for every meal.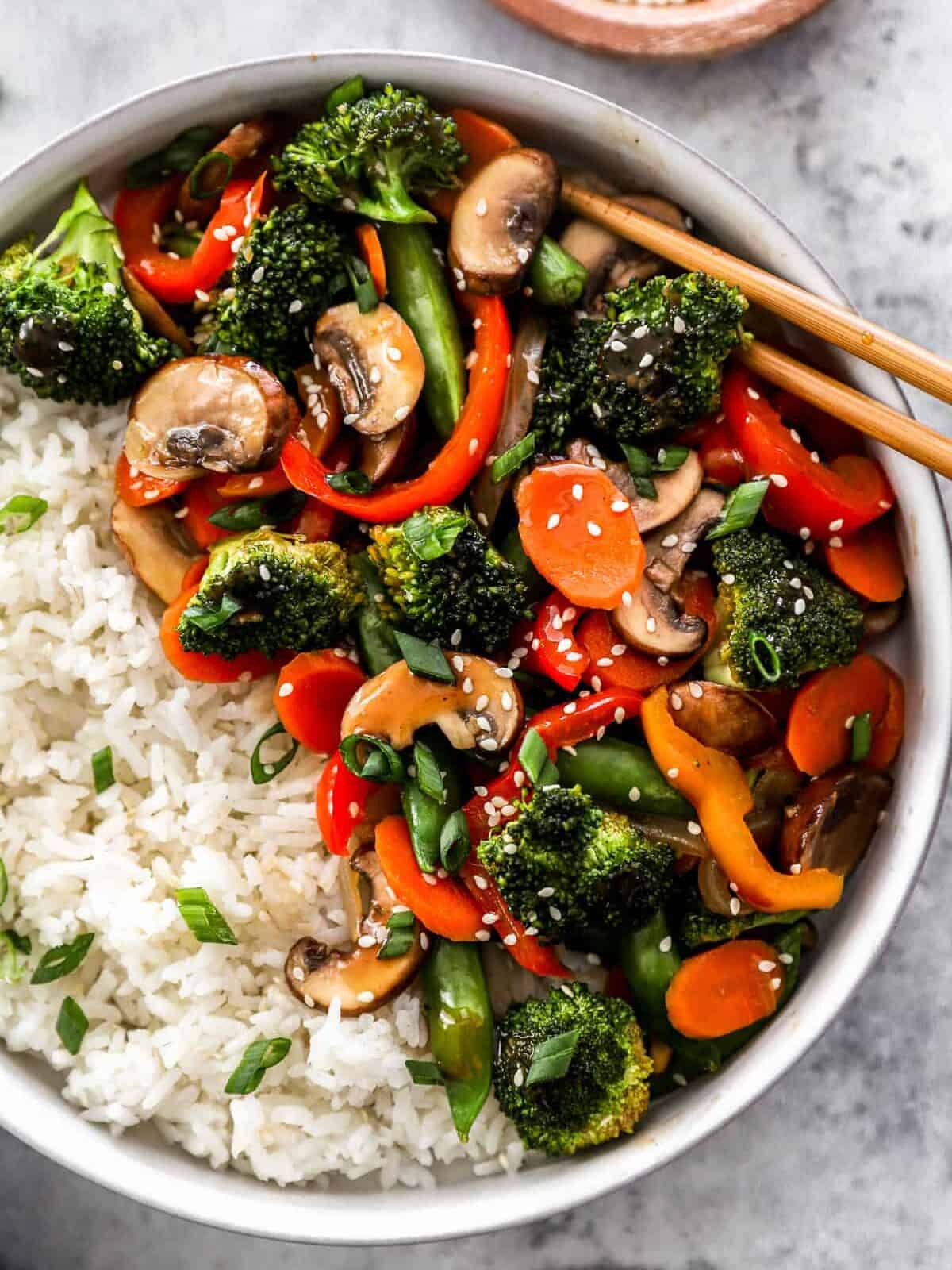 What's in Stir Fried Vegetables?
This veggie stir fry recipe is really more of a jumping-off point. Start here with the most delicious, flavorful sauce, and customize with your favorite vegetables.
Vegetables: I'm using mushrooms, sugar snap peas, carrots, bell peppers, and broccoli florets. But feel free to skip or add any veggies you like.
Soy Sauce: I'm using low-sodium, but your favorite is more than welcome.
Oyster Sauce: This sweet and salty sauce adds a delicious dimension.
Brown Sugar: This adds sweetness to the stir fry sauce. Maple syrup works as well.
Cornstarch: This thickens the sauce.
Sesame Oil: Adds a nutty and earthy note. You can adjust the amount to your taste.
Garlic: Mince, mince, mince!
Ginger: Fresh ginger is preferred, but ground ginger works too.
Olive Oil: Use this for the actual stir-frying.
White Rice: I love serving stir fry with white rice, but you can use your favorite rice or grain. Or skip it and just make the vegetables.
Variations on Vegetable Stir-Fry
There are so many ways to customize this easy vegetable stir fry recipe!
Swap out any of the veggies for your favorites. Try adding bok choy, green beans, edamame, asparagus, zucchini, yellow bell pepper, snow peas, baby corn, water chestnuts, or cauliflower.
Add some protein, like chicken, beef, pork, or tofu. We have amazing recipes for beef stir fry and chicken stir fry if you want to try!
For a spicy stir fry, add in some crushed red pepper flakes, gochujang, or chili oil crisp!
You can also serve this stir fry over brown rice, rice noodles, or leafy greens instead of white rice. And don't forget to top it all off with slices of fresh garlic and sesame seeds.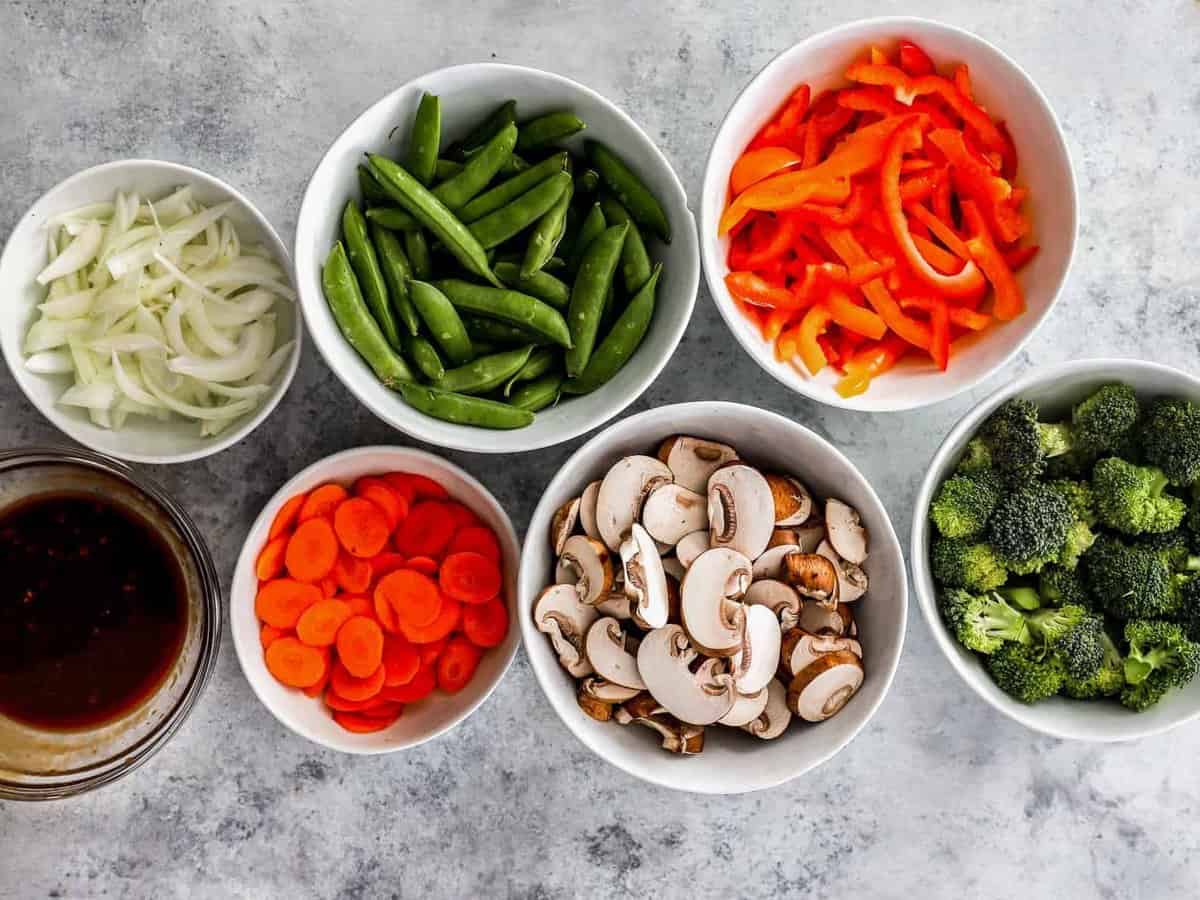 Is vegetable stir fry healthy?
Yes! This stir fry contains tons of different veggies that are packed with vitamins and nutrients. The sauces can be a bit high in sodium, but I always opt for the low-sodium versions to make this dish healthier.

What vegetables do you stir fry first?
Always start by stir frying the onions and harder veggies, like bell peppers and carrots. Mushrooms can be added in the middle of cooking. Stir fry the softer vegetables last, including the peas and broccoli, so that they don't turn mushy.
Can I use frozen vegetables?
Yes! Grab your favorite frozen mixed vegetables, and add them to the pan all at once. Stir fry just until thawed, then add the sauce.
What is the secret to a successful stir fry?
The most important thing when making a stir fry is to make sure not to overcrowd the pan. If the pan is overcrowded, the vegetables will steam rather than pan fry, leading to a mushier stir fry. I recommend using the largest pan (or wok!) you have for this dish.
Why is my vegetable stir fry lumpy?
If your vegetable stir fry seems lumpy, you may not have whisked the sauce together enough. The sauce contains cornstarch, a thickening agent that works best when dissolved in a cool or room-temperature liquid and added to a hot pan of food. If the cornstarch is not fully dissolved in the sauce first, it can clump up when exposed to heat, leading to a lumpy stir fry.
How to Store and Reheat Healthy Vegetable Stir Fry
Store leftover vegetable stir fry in an airtight container in the refrigerator for up to 5 days. Reheat gently in the microwave in 30-second intervals until hot.
This dish is a great meal prep idea because it's healthy and it stays fresh all week.
How to Freeze Stir Fried Vegetables
Freeze stir fried veggies whole or in individual portions in airtight containers or resealable bags for up to 3 months. Let thaw overnight in the refrigerator before reheating.
What to Serve with Easy Vegetable Stir Fry
So many veggies, and so many options to go with it. For appetizers, I like to go with fresh Crab Rangoon or crispy Egg Rolls. For the main course, I like pairing this with these spicy Korean Chicken Wings, or a refreshing Cucumber Salad. And I love pouring this stir fry over fluffy Basmati Rice, drizzled with yum yum sauce or sweet chili sauce.
It also makes the best side dish for dishes like Cashew Chicken, Honey Chicken, and Chicken Lettuce Wraps.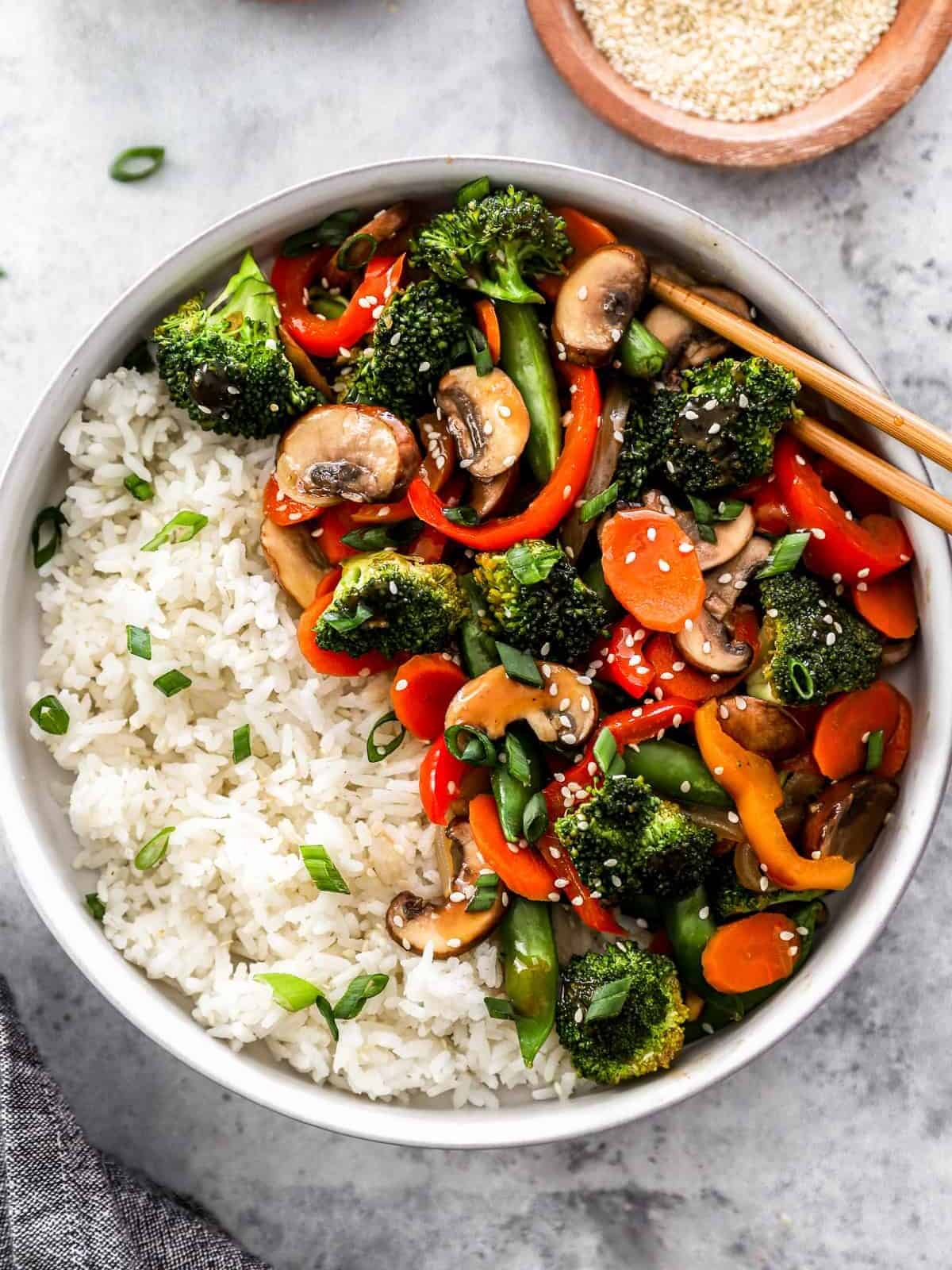 More Stir Fry Recipes We Love