This simple Grilled Corn on the Cob is so tasty and so easy to make! Cooking corn on the grill brings out its natural, delectable sweetness, so you only need a little bit of seasoning and butter to perfect it. It's the best side dish for burgers, steaks, and all your favorite grilled entrees.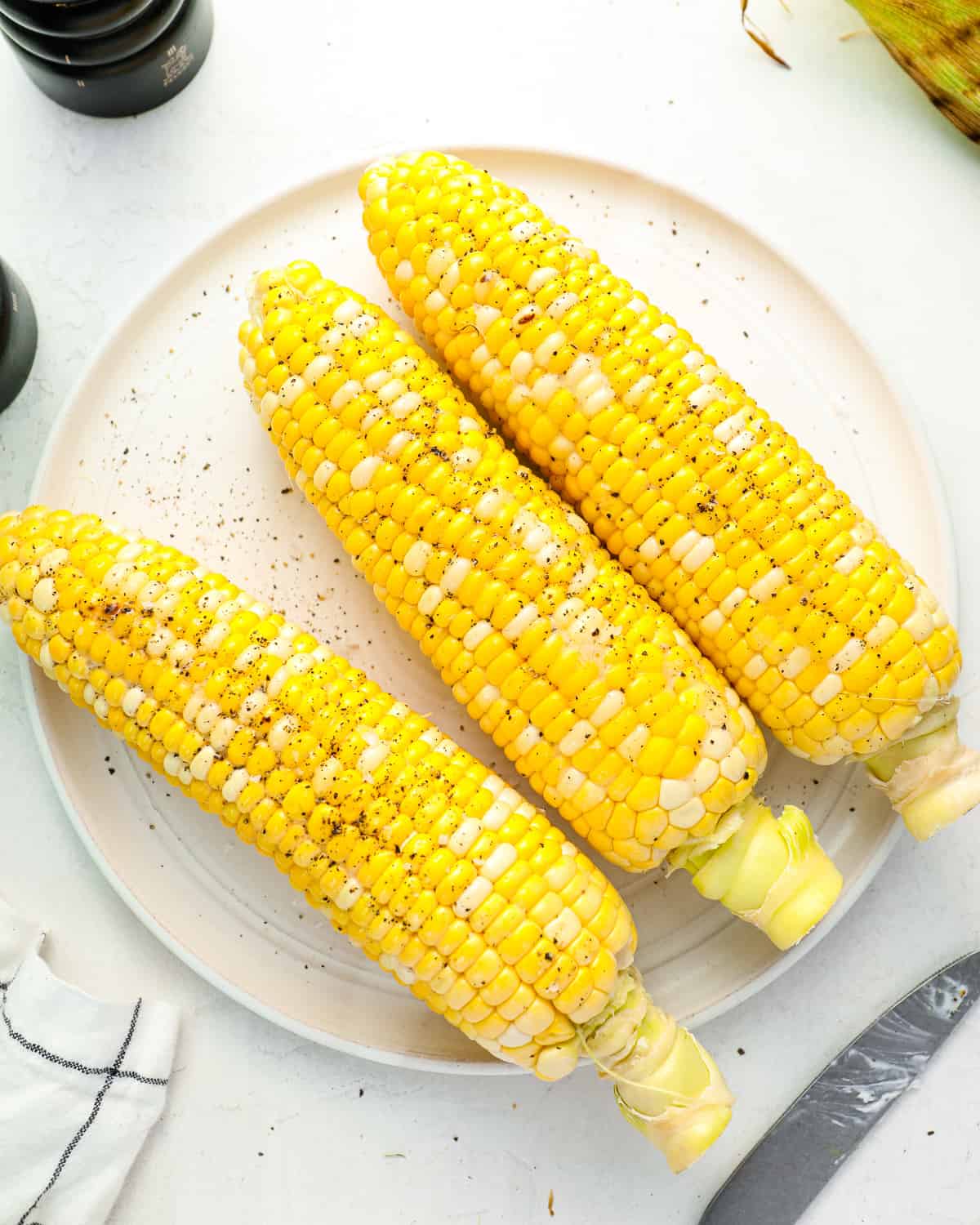 What's in this Grilled Corn recipe?
Buttery sweet corn on the cob gets a healthy dose of char and seasoning to create a perfectly balanced side dish.
Corn: There's nothing like fresh sweet corn! Gently pull back the top of the husk just enough to see the kernels. If they look plump and juicy, you've picked a good ear. If they look withered or deflated, choose another ear.
Kosher Salt: Seasons the corn as it soaks.
Ground Black Pepper: Adds a bit of spice to balance the sweetness of the corn.
Butter: If you want buttery grilled corn on the cob, add slabs of unsalted butter right after grilling.
Pro Tip: Soak the corn in salted water for 10-20 minutes for maximum flavor!
Variations on Grilled Corn on the Cob
This tender, grilled sweet corn pairs well simply with a little butter, salt, and pepper. Add a bit of your favorite seasoning, like ranch or Creole seasoning for a bit of a kick. A bit of honey butter would also be delicious! Top it with sour cream, cheese, and taco seasoning for an easy street corn!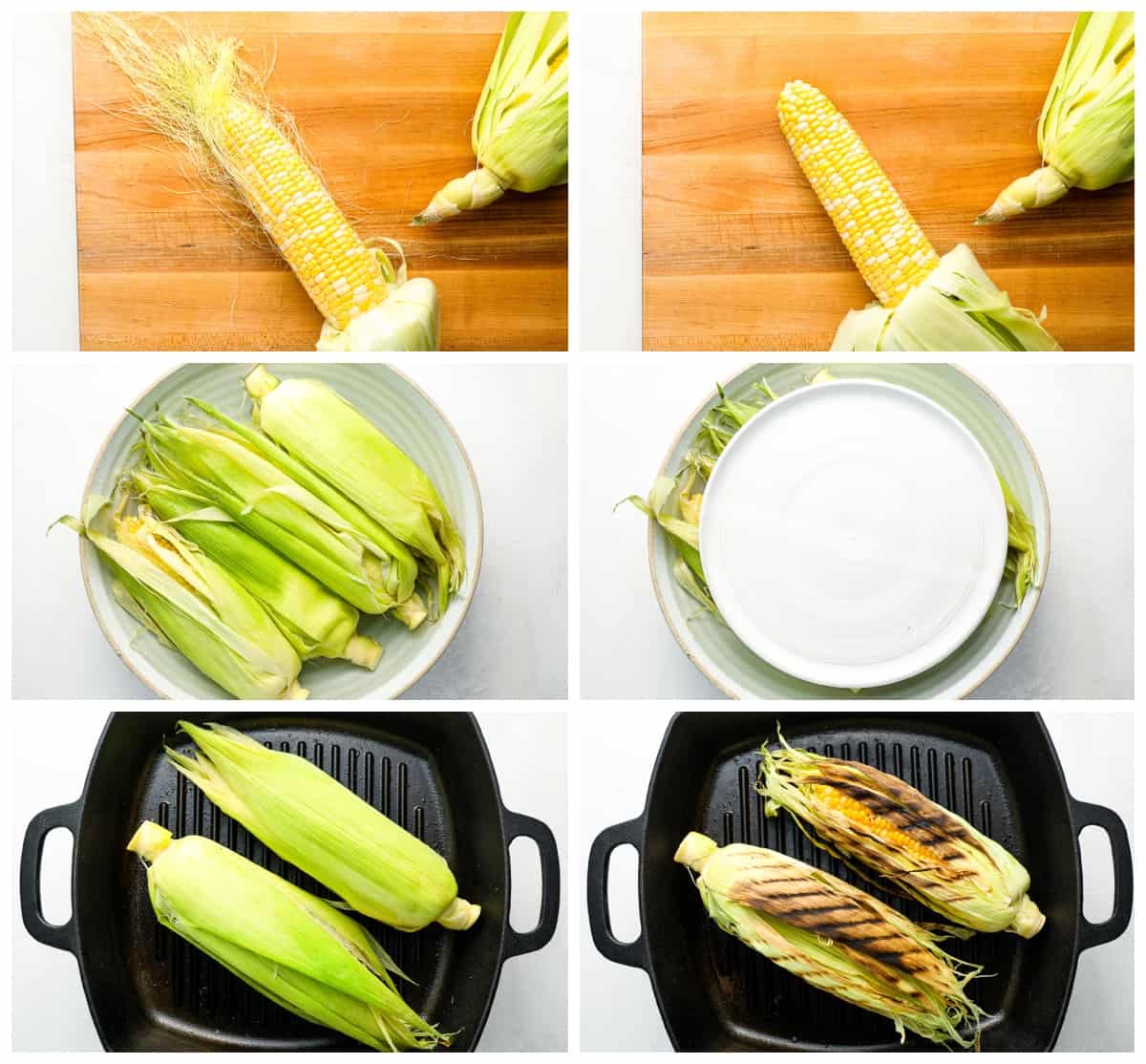 How long does corn take to cook on the grill?
It takes about 20 minutes to grill corn on the cob to perfection!
Is it better to grill corn in foil or not?
That's up to personal preference. Grilling corn on the cob in foil creates steam, keeping the corn moist as it cooks. This means there's no need to soak the corn before grilling it. However, grilling corn in the husks after soaking them also keeps the corn moist, and the salted water helps to season the corn!
How do you grill corn without drying it out?
To keep the corn from drying out on the grill, be sure to soak it in the husks for 10-20 minutes. This infuses it with extra moisture and flavor.
Can you overcook corn on the grill?
Yes, you can absolutely overcook corn on the grill. You want the corn tender and juicy, not mushy, so be sure to check on it and turn it often.
Do you salt corn before or after grilling?
I like to do a bit of both! Salting the soaking liquid helps to infuse the corn with flavor early on, and the extra salt at the end enhances the flavor!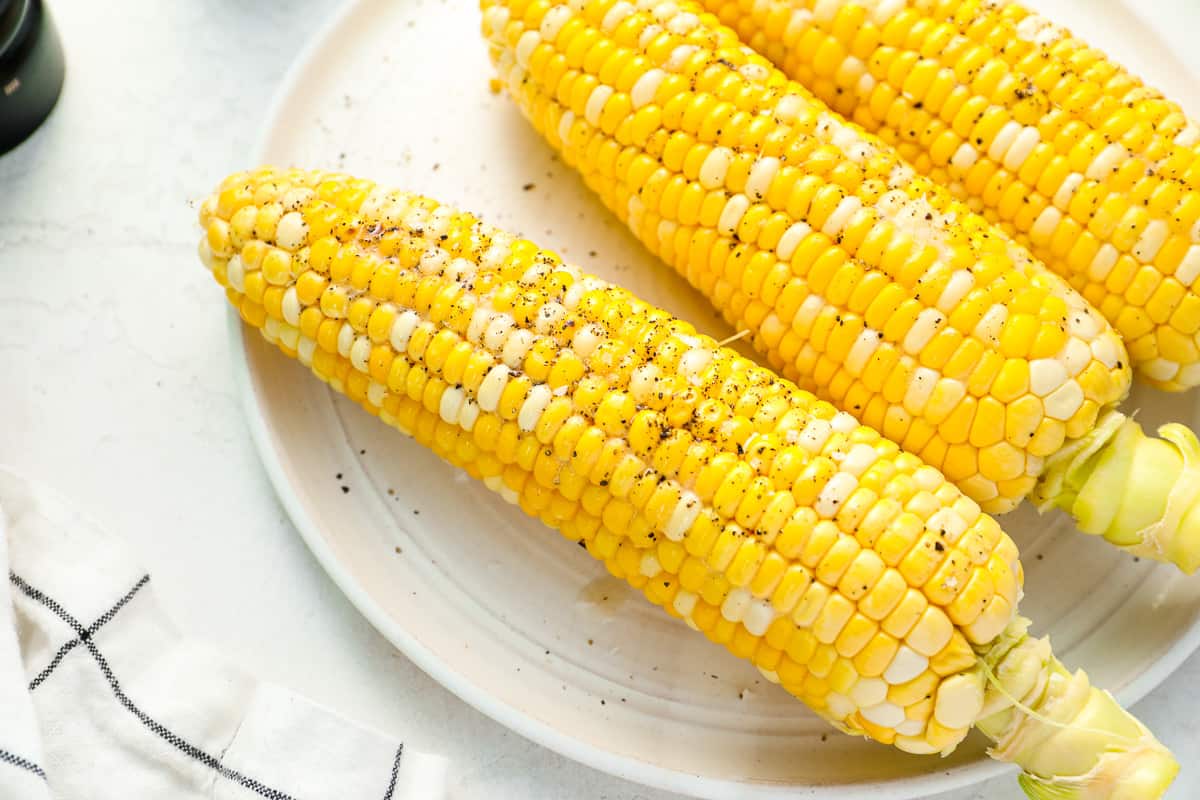 How to Store and Reheat
Store leftover grilled corn on the cob in an airtight container in the refrigerator for up to 5 days. Reheat in a 400°F oven in a covered baking dish with 2 tablespoons of water in the bottom for about 5 minutes.
How to Freeze
Freeze grilled corn tightly wrapped in plastic wrap in a Ziplock bag for up to 6 months. Let thaw overnight in the refrigerator before reheating. I like to cut the corn off the cob before freezing it so I have corn kernels ready for soups and stir-fries!
Serving Suggestions
This is the perfect simple side dish for grilling season! Grilled corn on the cob makes a great side to classics like BBQ chicken, St. Louis ribs, pork chops, grilled burgers, or grilled ribeyes.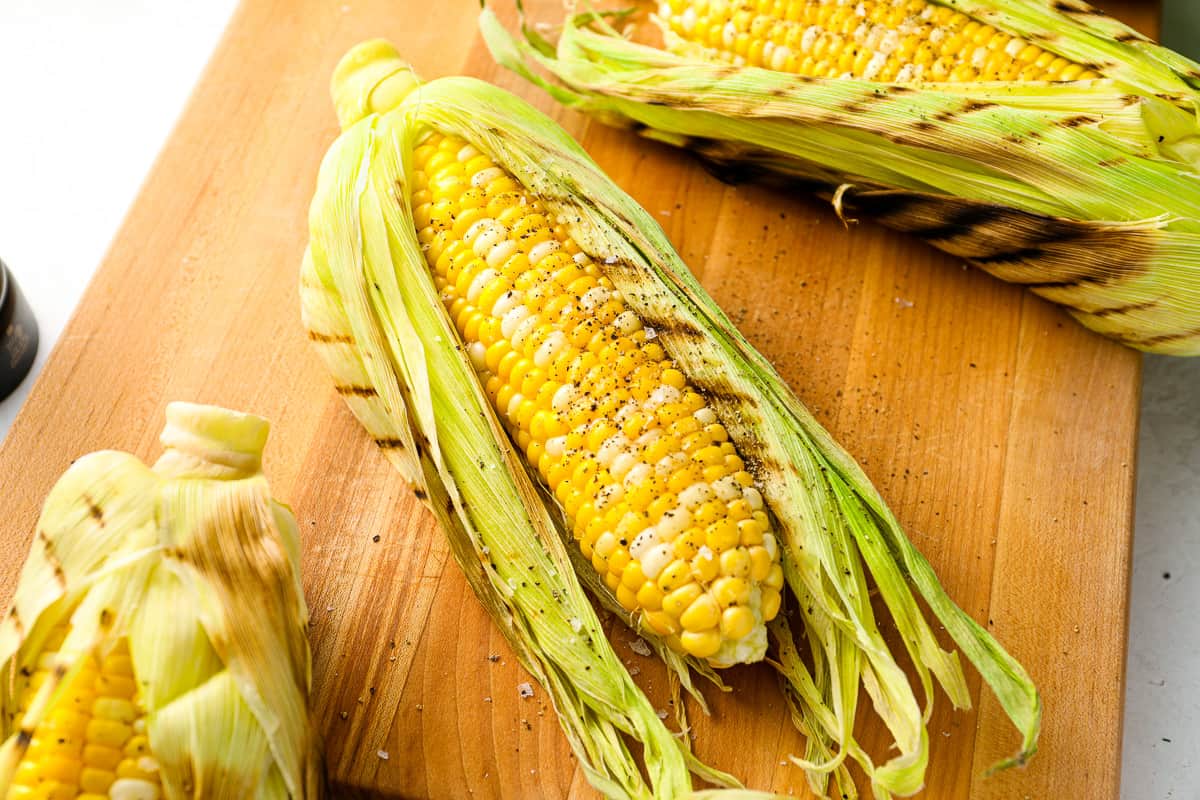 More Corn on the Cob Recipes We Love