This Grilled BBQ Chicken will be your new summer favorite! Seasoned with a lip-smacking blend of spices, use your favorite cut of chicken, and fire up the grill. It's perfect for parties or an easy weeknight dinner!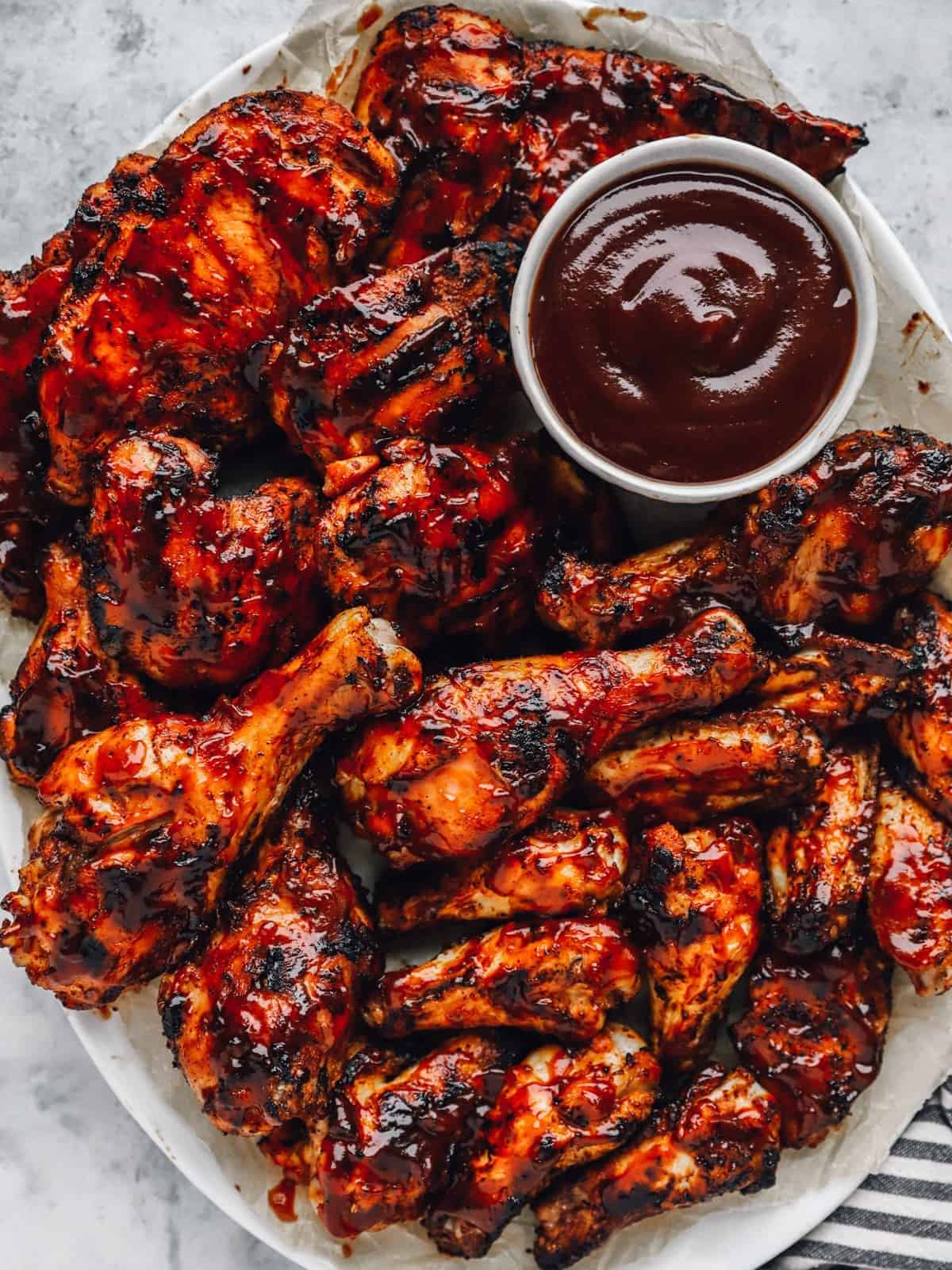 What's in Grilled BBQ Chicken?
Rubbed with a mouth-watering blend of spices, then slathered in BBQ sauce, this grilled chicken is finger-licking good!
Chicken: Any part of the chicken works here– breasts, thighs, drumsticks, or wings.
Spices: Chili powder, smoked paprika, kosher salt, onion powder, and garlic powder enhance the barbecue flavor of these wings.
Olive Oil: Helps the spices stick to the chicken.
Barbecue Sauce: Adds that perfect smoky-sweet flavor.
Pro Tip: Oil the grill grates thoroughly before adding the chicken. This prevents sticking and makes for easier cleanup later.
Variations on Grilled Barbecue Chicken
There are a few substitutions you can make if you don't have some of the recommended spices. If you don't have chili powder, use 3 teaspoons paprika, 1½ teaspoons cumin, and ¼ teaspoon cayenne. If you don't have smoked paprika, you can make your own by mixing 1⅓ teaspoons regular paprika and ⅔ teaspoon cumin.
Feel free to use your favorite store-bought or homemade barbecue sauce. Different regional sauces will yield different flavored wings. I used a tomato-based sauce for my wings, but you could use a vinegar-based, mustard-based, or mayonnaise-based sauce depending on your personal preference. Carolina Gold is another favorite of mine!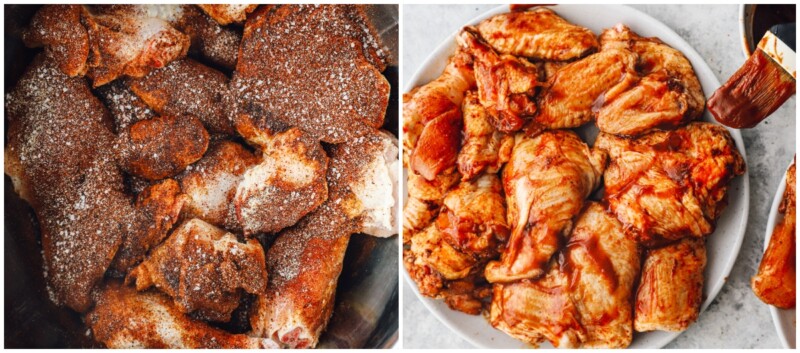 Should you season chicken before or during grilling?
You should thoroughly season the chicken before grilling for maximum flavor penetration!
What's the best temp to grill BBQ chicken?
You'll want to set your grill to medium-high heat, which is about 375-400°F.
Do you put barbecue sauce on chicken before grilling?
While you should put some sauce on the chicken before grilling, you don't want to slather it on, as this could cause the chicken to stick to the grates or caramelize too quickly. You can always baste more on during cooking.
Where should you place the chicken on the grill?
You want to grill the chicken over indirect heat, so do not place it directly over a flame. The inside of the chicken needs time to cook completely without burning the outside.
How long do you BBQ chicken on a gas grill?
That depends on the cut you choose! For breasts and thighs, 10-12 minutes should be sufficient. For drumsticks, aim for 30-35 minutes, and for wings, 20 minutes.
How often should you flip chicken on the grill?
Ideally, flip chicken breasts or thighs only once. This prevents them from falling apart and prevents the grill from losing too much heat. For drumsticks and wings, you'll want to flip and baste every few minutes.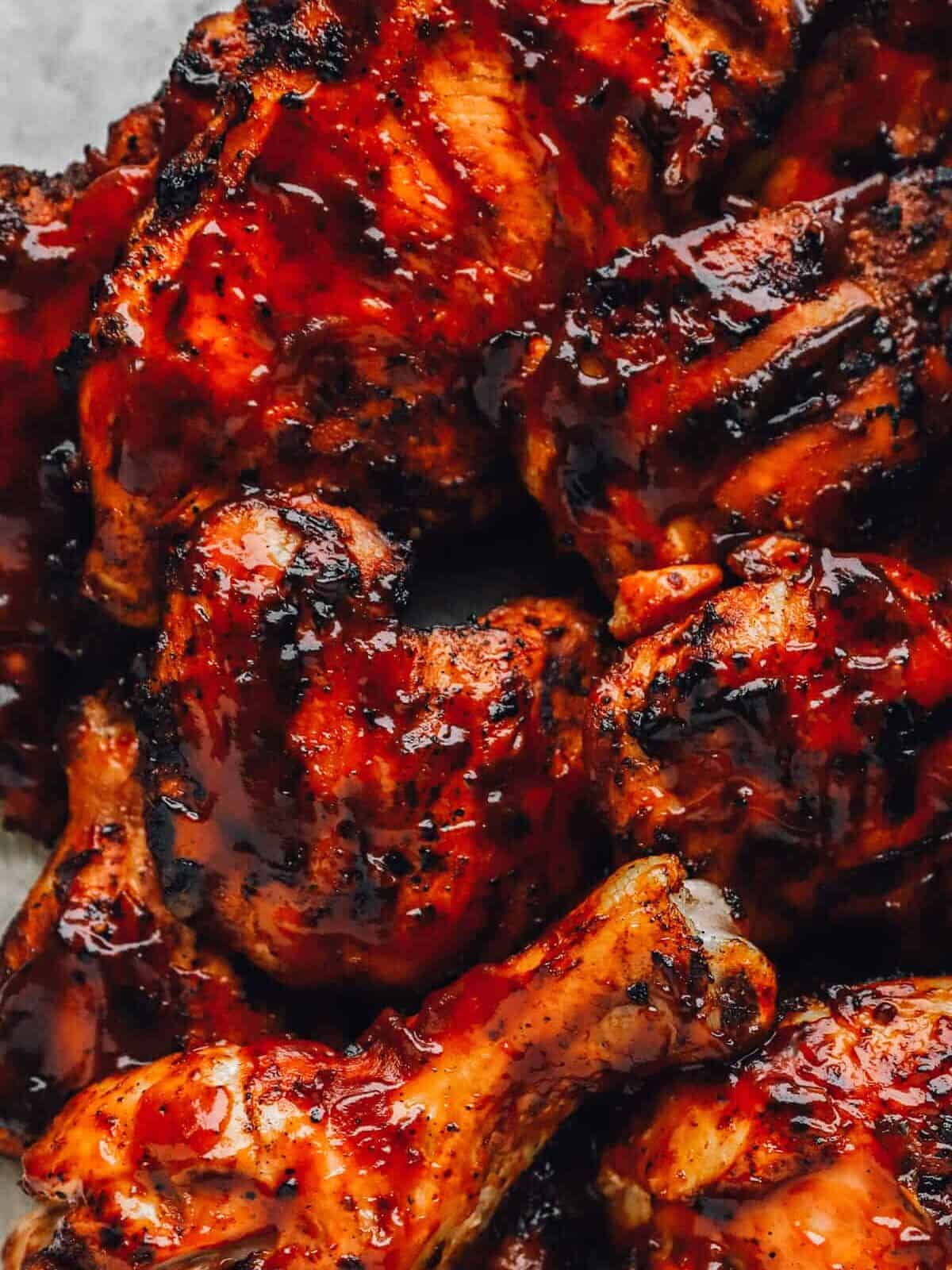 How to Store and Reheat BBQ Chicken
Store leftover BBQ grilled chicken in an airtight container in the refrigerator for up to 3 days. Gently reheat in the microwave, or place the chicken in a foil-covered baking dish with 1 cup chicken broth and heat in a 350°F oven for 15-20 minutes, or until 165°F internally. You can remove the foil in the last 5 minutes of baking, if desired.
How to Freeze
Freeze BBQ grilled chicken in a single layer on a parchment-lined baking sheet until solid, about 1-2 hours. Transfer to an airtight container or Ziplock bag and store for up to 3 months. Let thaw overnight in the refrigerator before reheating.
Serving Suggestions
This is such a versatile recipe! You can make it hearty with some filling sides, like coleslaw and oven baked beans, or keep it lighter with spicy grilled pineapple or a cucumber salad. Check out some of my favorite BBQ side dishes for more inspiration!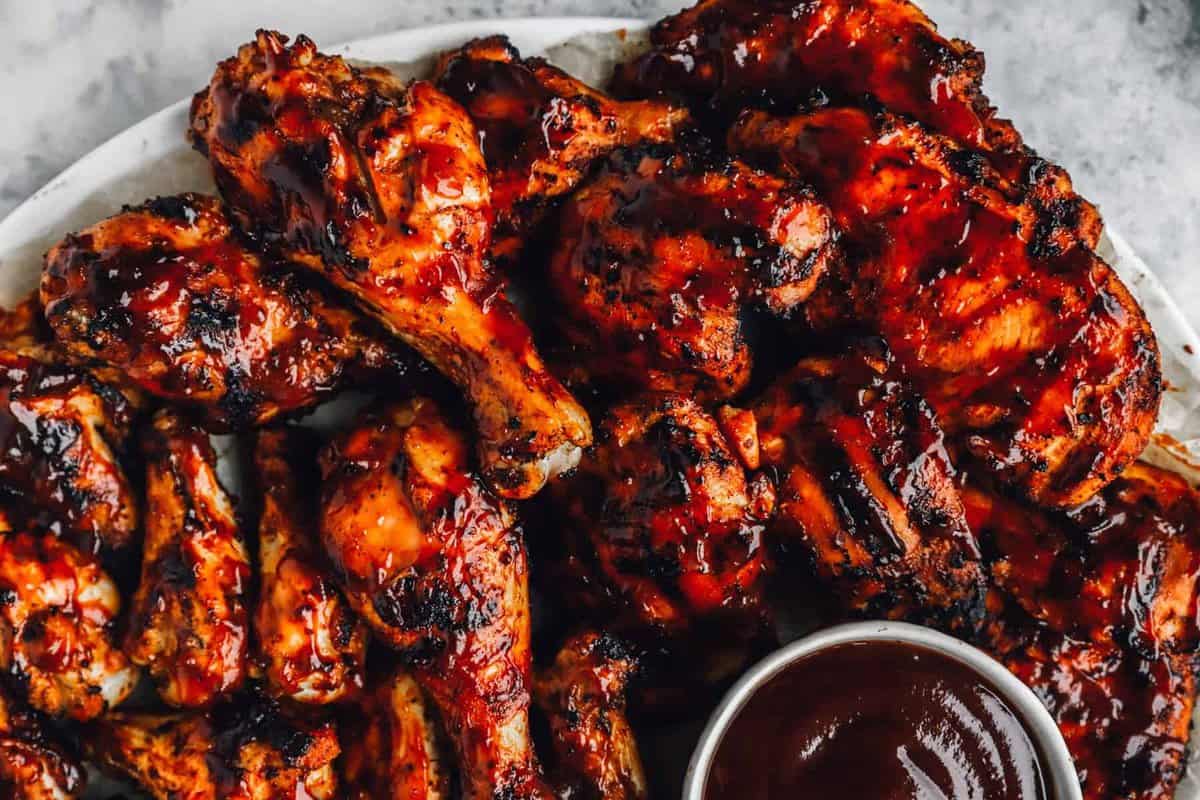 More BBQ Chicken Recipes We Love
More Chicken Recipes to Try
Chicken is our specialty! Have you tried these amazing chicken recipes? Let us know in the comments below. Add this Grilled BBQ Chicken to our list of all-time favorites.