Pecan Pie Bars are just like the pie, but in an easier to eat bar form. I'll take pecan pie any way I can get it, so these are a favorite. This pecan bars recipe is the perfect Christmas dessert, or just any time you need a special treat!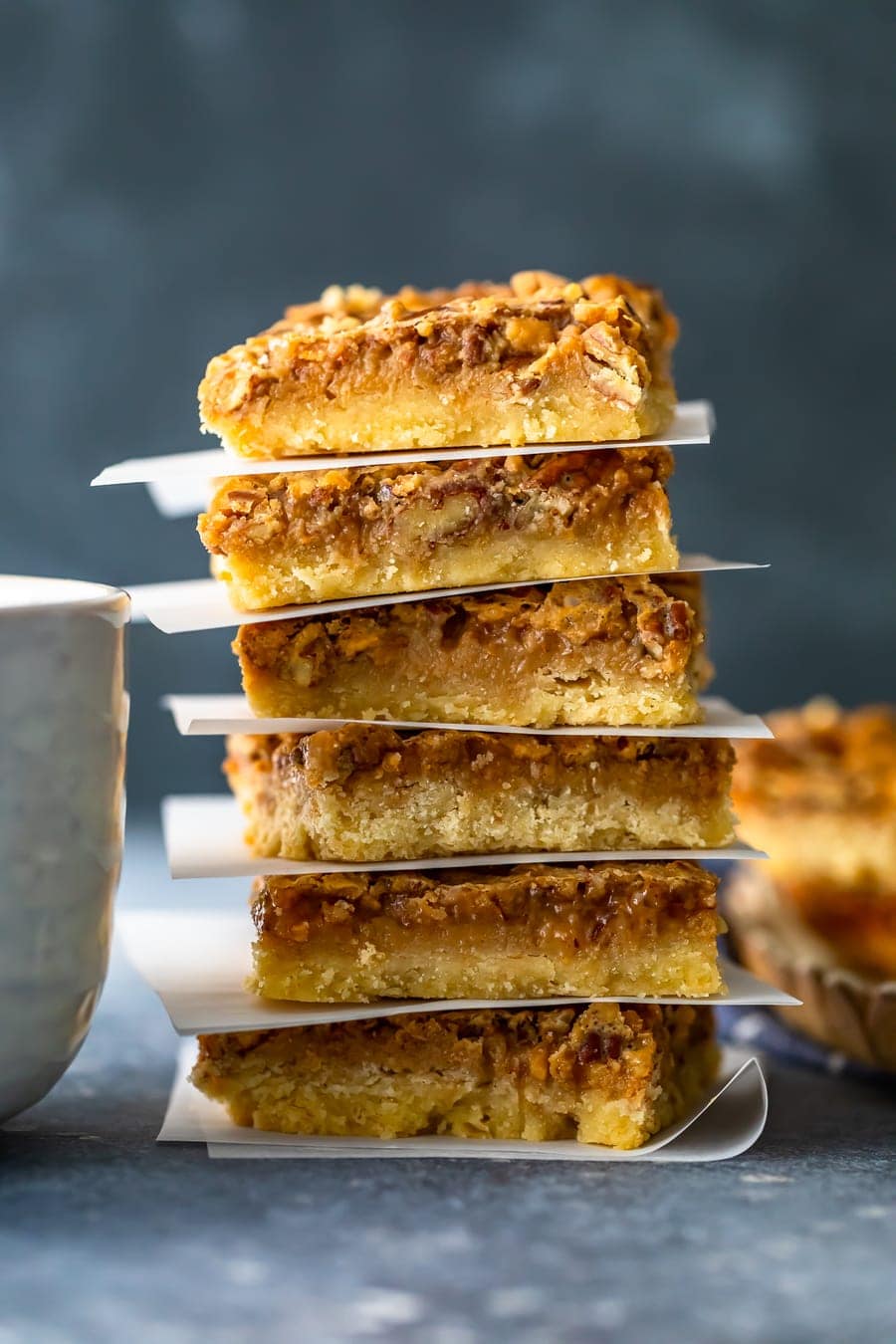 Pecan Pie Bars
Pecan Pie Bars are the perfect treat for the holidays. This pecan bars recipe is so tasty and so easy to make!
Pecan Pie is a favorite around here. It's such a classic dessert, it's hard to imagine the holiday season without it. Luckily, you never have to skip it–in fact, I'm just giving you another way to eat it with these Pecan Pie Bars!
Get that amazing flavor you love from the pie in an easy to eat (and easy to make) bar form. You still get the crust and the filling with this pecan bars recipe, but now you get to cut it into squares and eat it with your hands. These little treats are the perfect Christmas dessert or Thanksgiving dessert, and they're really great for parties. It's easy to make enough for all your guests, and you can just set them out for everyone to grab.
I really love the flavor of these pecan bars. They're definitely a new favorite holiday dessert that I know I'll be making over and over again!
This Pecan Pie Bars recipe is the best of both worlds. Get your pecan pie fix in an easy to eat bar form with these delicious pecan bars!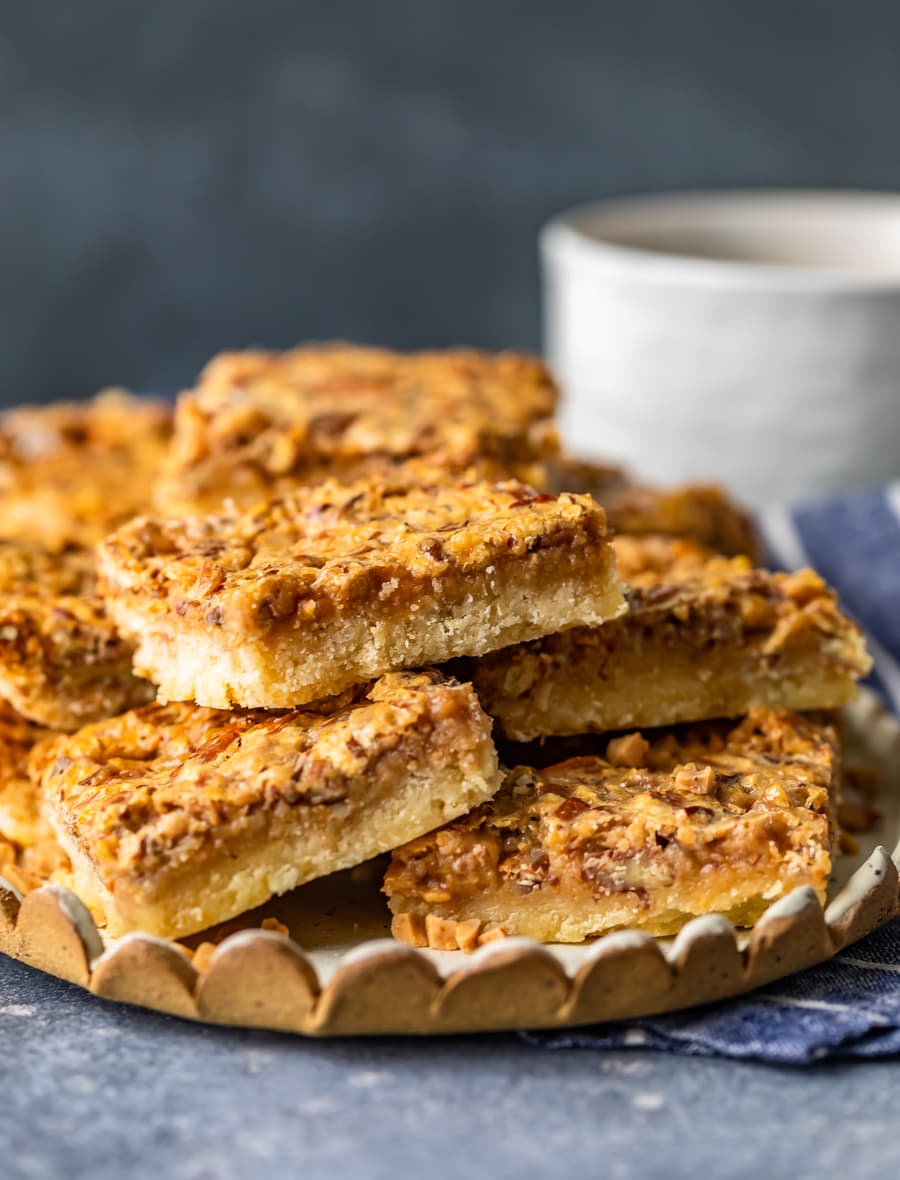 Easy Pecan Bars Recipe
This pecan bars recipe is so easy to make. A regular pecan pie is easy enough, especially if you use my Crock Pot Pecan Pie recipe. But sometimes making a whole pie can be a bit stressful, or just not quite right for the occasion. I love having things like cookies and bars or brownies at parties because they're so much easier to serve than pie.
You can just cut them, set them out, and let guests grab them as they please. So these pecan pie bars are the perfect way to serve that classic flavor to a lot of people without any hassle.
Pecan Pie Bars Ingredients:
Chopped Pecans
Sweetened Condensed Milk
English Toffee Bits (I used Heath Bits O' Brickle Toffee Bits)
Flour
Confectioner's Sugar
Salt
Unsalted Butter
Egg
Vanilla Extract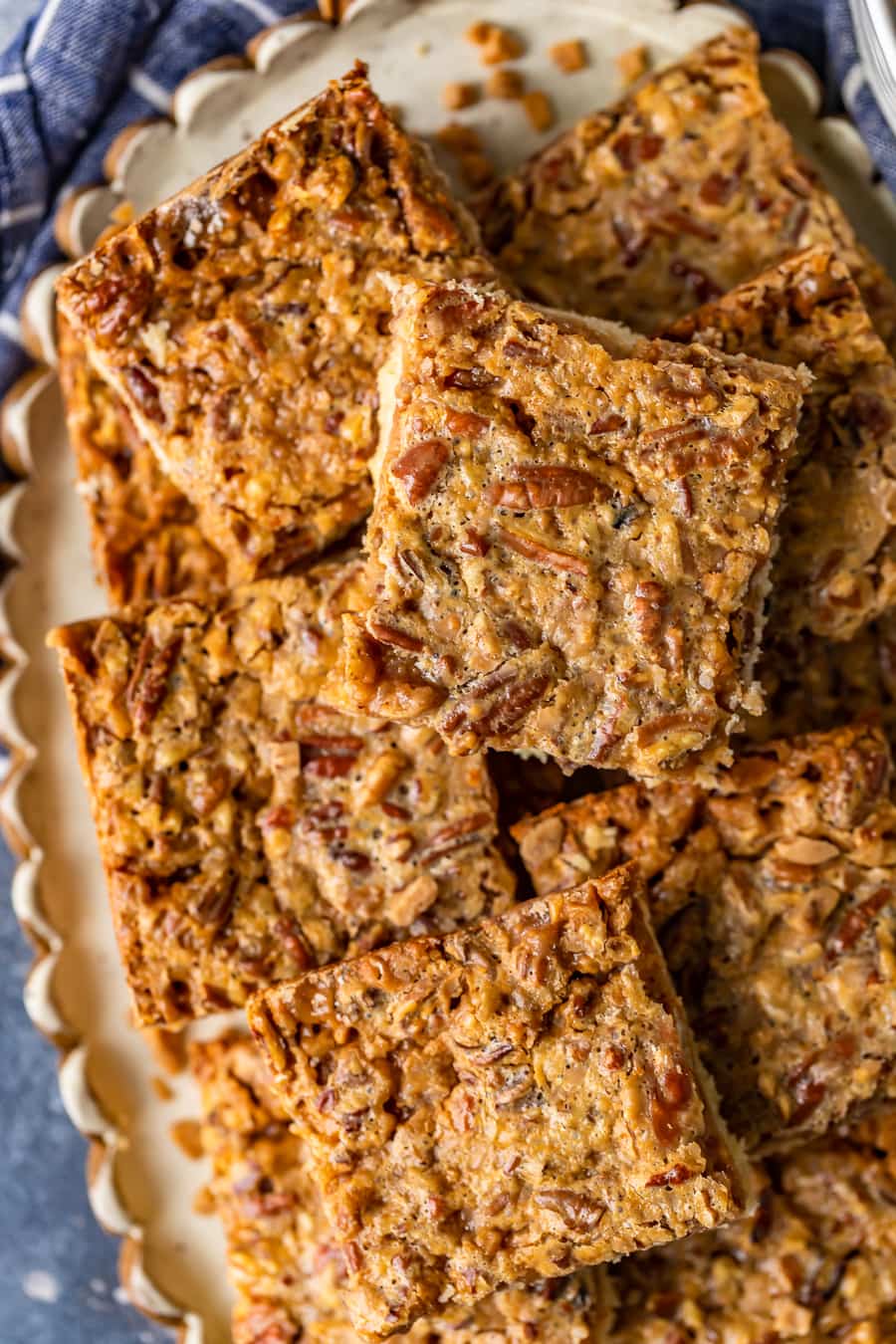 How to Make Pecan Pie Bars
I love this easy pecan pie bars recipe. It's simple and straightforward, and yet it turns into the most DELICIOUS dessert. Whether you're making a batch for a holiday party, for a little Christmas day dessert, or just for an every day treat, these pecan bars will do the trick!
How to make pecan bars:
Start by preparing the crust. Pulse the flour, salts, and sugar in a food processor, then add in the cold butter and mix until it forms a crumbly mixture.
Press the mixture into the prepared baking dish to form the crust, and bake for 15 minutes at 350°F.
While the crust is baking, move on to the pecan filling. Combine milk, egg, and vanilla in a mixing bowl. Then stir in the toffee bits and pecans.
Once the crust is done, stir the pecan mixture and spread it over the crust in an even layer.
Bake the pecan bars for about 25 minutes.
Let the pecan pie bars cool completely before cutting them. These taste great served at room temperature, cooled in the fridge, or heated up a bit. Basically, they taste good no matter what!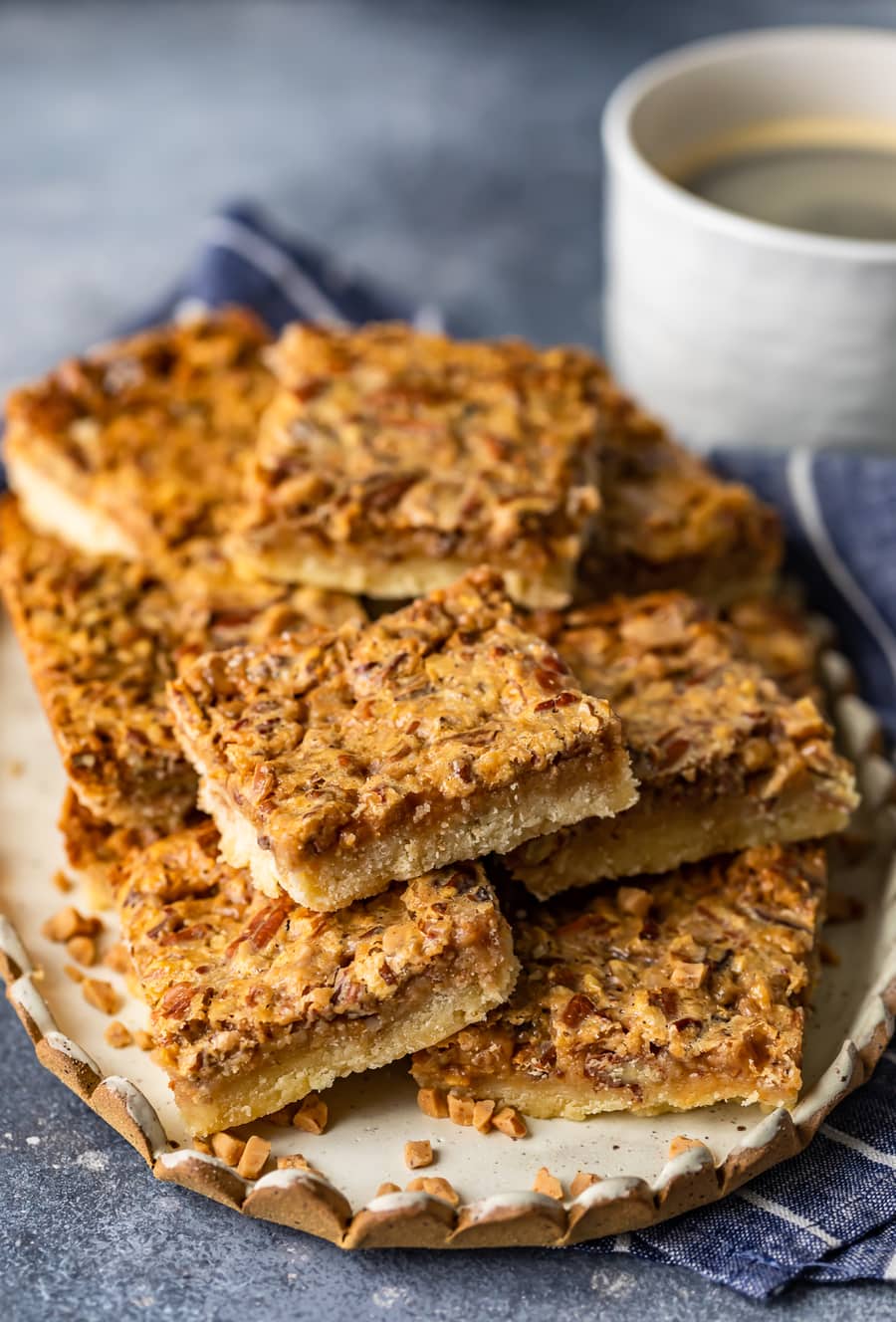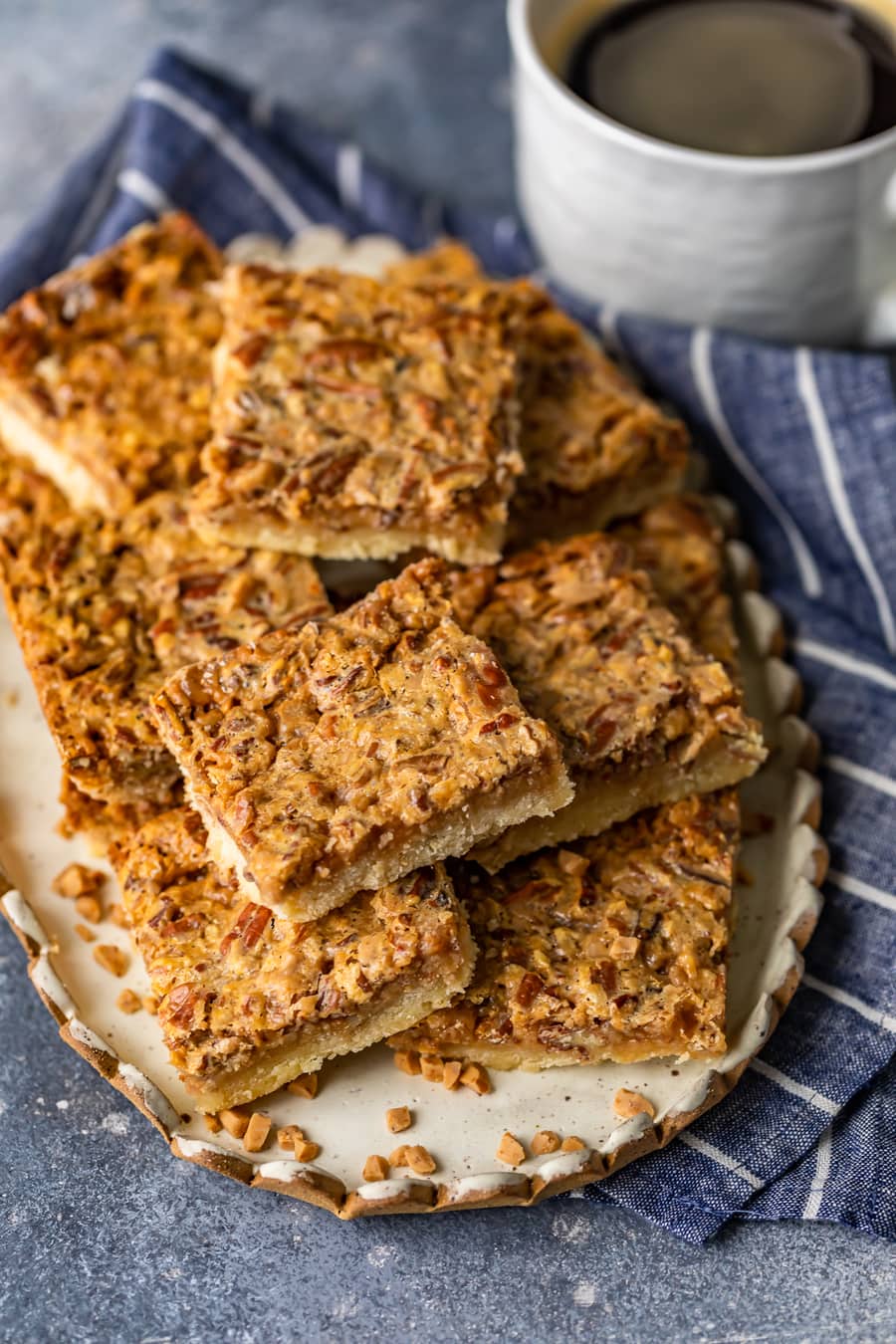 Do pecan pie bars need to be refrigerated?
Yes, you do need to refrigerate your pecan pie bars after baking. After slicing them into bars, place them in an airtight container or a resealable bag. They will keep in the fridge up to 3 weeks!
Can you freeze pecan bars?
If you have lots of pecan bars leftover, or if you just want to prepare them ahead of time, it is okay to freeze them. Once they've cooled, wrap them in plastic wrap (I recommend wrapping each one individually), and then place them all in a freezer safe bag. They will keep for a few months. Let them thaw in the refrigerator before serving.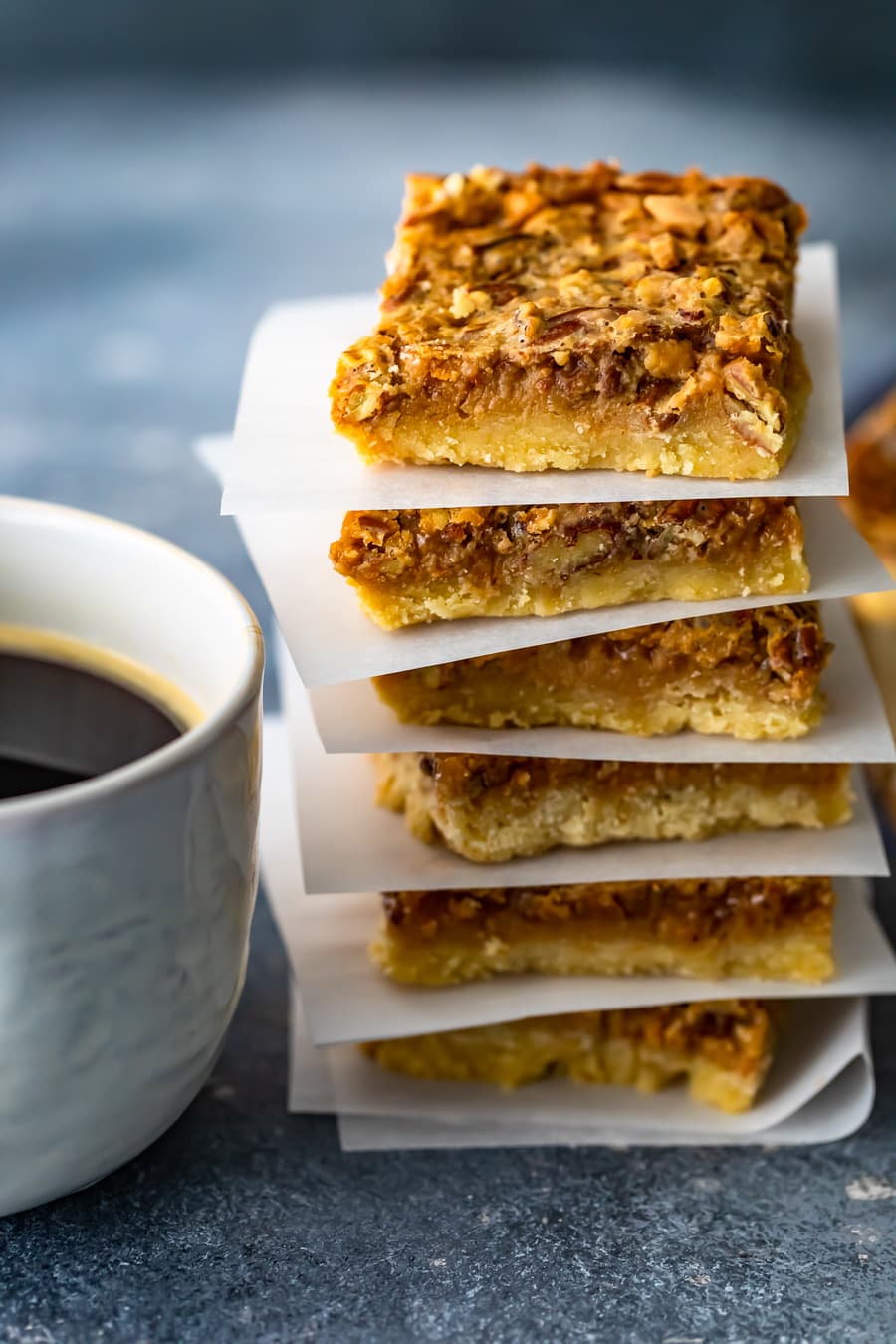 These pecan pie bars will blow you away. They're so moist and so delicious. If you like pecan pie, then you're going to love this pecan bars recipe!
See the recipe card below for details on how to make Pecan Pie Bars. Enjoy!
If you like this pecan bars recipe, try these other easy desserts for the holidays: