What's the secret to this baked and seasoned chicken breast recipe? It's all in the homemade dry spice rub! The mix of brown sugar, Italian seasoning, and paprika creates the most delectable flavor. This recipe is quick and easy, healthy, and simply one of the best chicken breast recipes for weeknight dinners or meal prep.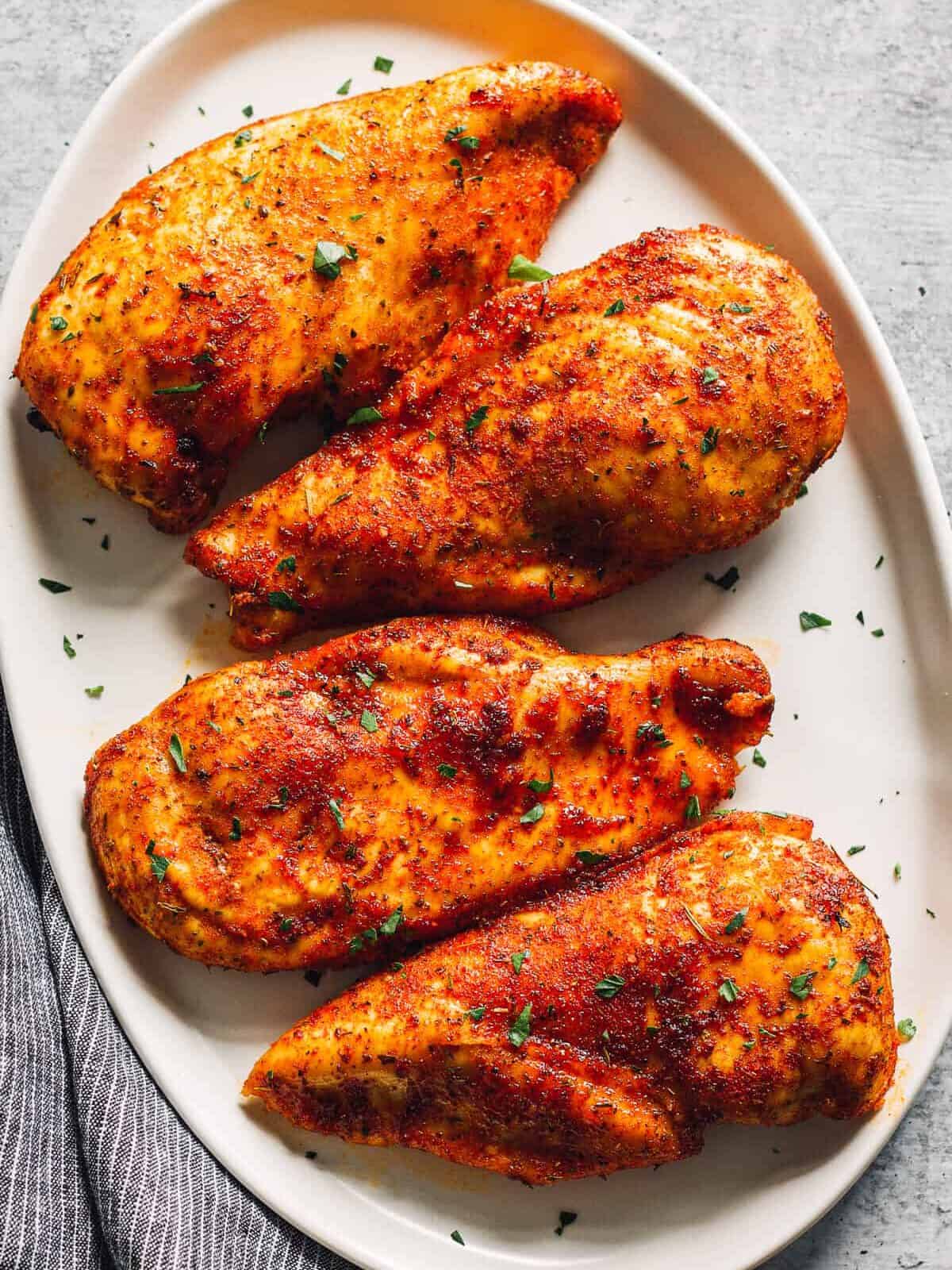 What's in this Baked Chicken Breast recipe?
I absolutely love baked chicken breast for weeknight dinners! This seasoned chicken breast recipe gets its flavor from the best chicken seasoning, which can be mixed together with a few staples from your pantry and spice cabinet.
Chicken Breasts: This recipe is for boneless, skinless chicken breasts. A healthy option that's quick and easy to cook for any dinner.
Brown Sugar: This dry chicken rub uses brown sugar for a deep flavor you're going to love.
Italian Seasoning: This blend is a mix of herbs like oregano, basil, thyme, rosemary, and marjoram. It adds the perfect savory, herb-y blend.
Paprika: A bit of paprika adds some depth. I like using sweet paprika, but you can use smoky or spicy paprika if you like more heat.
Garlic Powder: This adds a subdued garlic flavor.
Onion Powder: This adds a bit more savoriness to the spice rub.
Olive Oil: Olive oil helps to adhere the seasoning to the chicken breasts. It also helps to cook and crisp it up in the oven.
Salt & Pepper: A little bit of salt and pepper rounds out the chicken rub.
If you like, feel free to use this seasoned dry rub on bone-in chicken breasts, or chicken thighs.
How can I make this chicken breast dry rub spicier?
This seasoned chicken breast has a great herb-y, savory flavor. If you want to make it a little bit spicier, try adding smoked paprika, cayenne pepper, or red pepper flakes to the dry spice rub.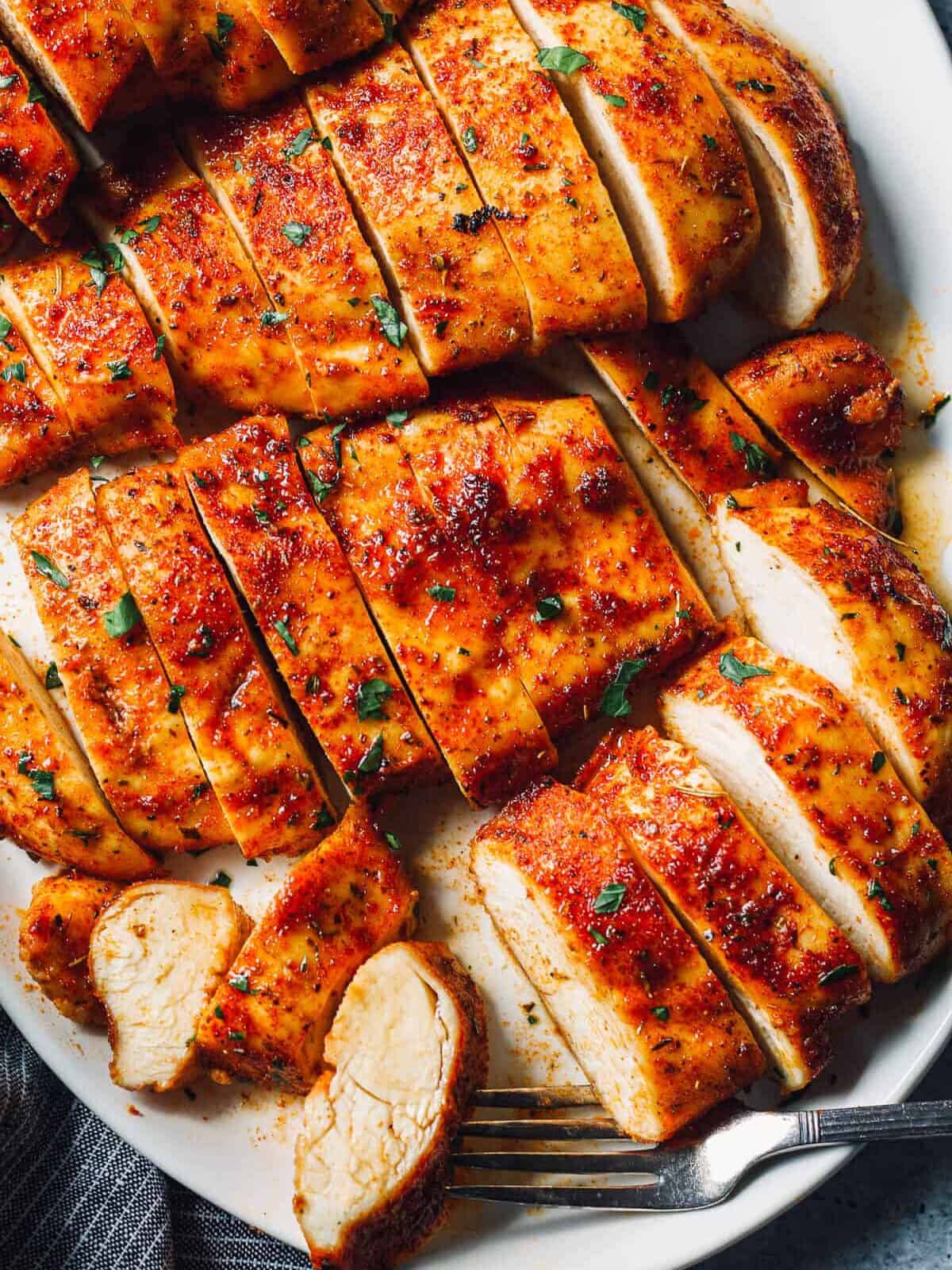 What temperature do you bake chicken breast?
Chicken breasts should be baked in an oven set to 400F. The internal temperature should reach 165F before consuming.
How long do you bake seasoned chicken breast?
Baking chicken breasts at 400F will take about 16-18 minutes.
Can I use frozen chicken breasts for this recipe?
Yes. I recommend defrosting chicken breasts overnight in the refrigerator before baking. While you can cook directly from frozen, you will need to increase the cooking time, and it can lead to drier chicken.
How do you keep chicken breast juicy in the oven?
Chicken breast tends to dry out quickly since it's lean meat (not much fat), so it's important not to overcook it. This is a quick recipe, so take it out out of the oven as soon as it reaches the right internal temp.
How do you get seasoning to stick to chicken breast?
Rub olive oil directly onto the chicken, and then rub the dry seasoning mix all over. The oil will keep it in place.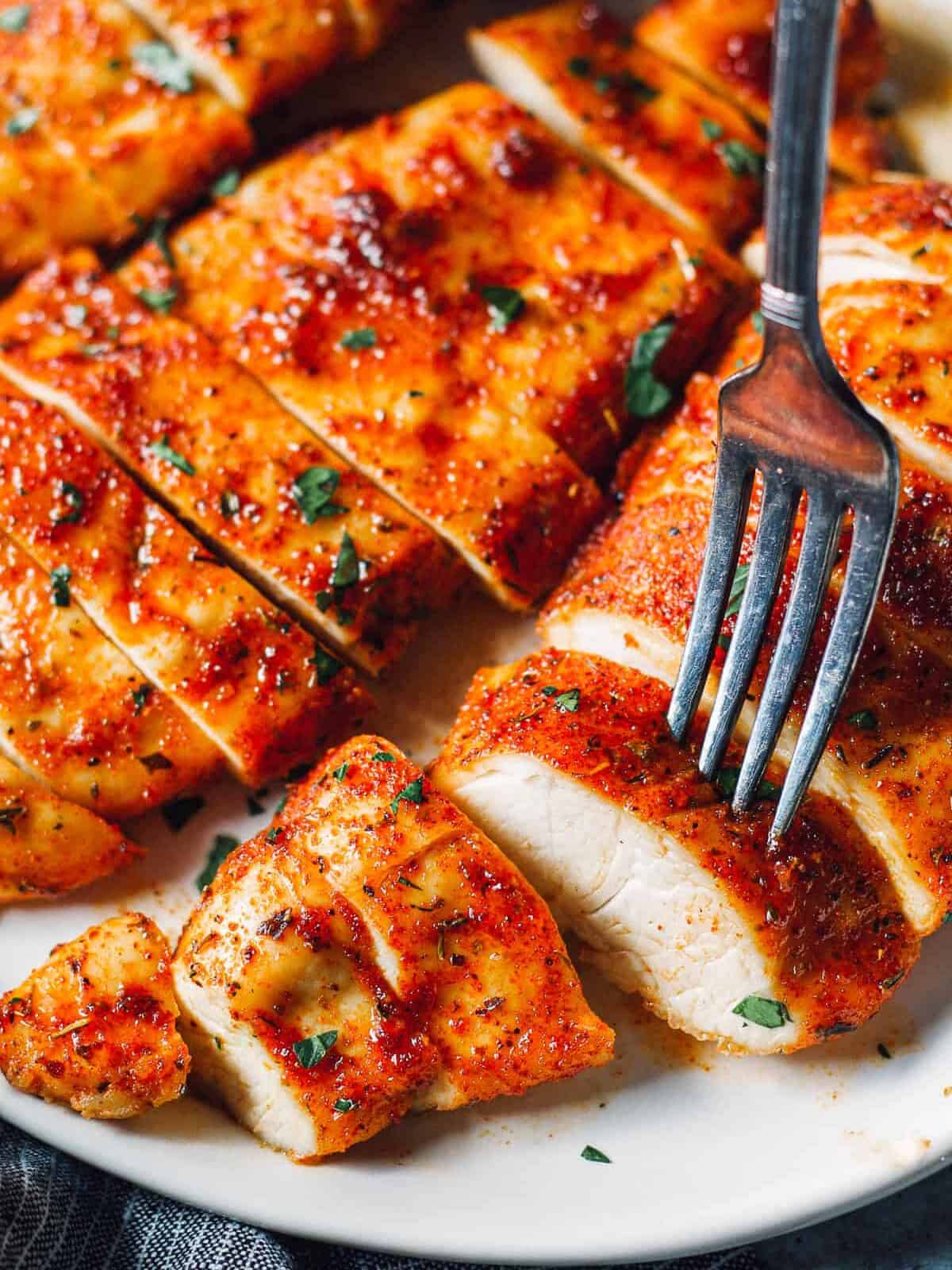 How to Store and Reheat Simple Baked Chicken
Store baked seasoned chicken breast in an airtight container, and keep in the refrigerator for up to 3 days. Reheat in the microwave, warming in 30-second intervals. Or reheat in the oven at 350F. Make sure the internal temperature reaches 165F when reheating.
This is a healthy meal prep idea, so be sure to make a few pieces for easy dinners or lunches throughout the week.
How to Freeze Baked Chicken Breast
Store leftovers in freezer-safe containers or resealable bags, and freeze up to 3 months. Defrost in the fridge overnight before reheating.
What to Serve with Seasoned Chicken Breast
A simple baked chicken breast can be served for any meal, with any side dishes you love. For regular weeknight dinners, add anything from roasted mushrooms and parmesan roasted potatoes, to creamed green beans, Air Fryer baked potatoes, or broccoli cheese casserole.
Or go super healthy (and tasty), and serve these with Instant pot rice and roasted Brussels sprouts.
If you make this recipe be sure to upload a photo in the comment section below or leave a rating. Enjoy! You can also jump to recipe.
More Simple Chicken Breast Recipes We Love