Colcannon potatoes are a traditional Irish dish that's so easy to make. Mashed potatoes are mixed with kale, bacon, butter, green onions, and cream for a delicious side dish. Serve it with corned beef, pork, or any savory main dish for a comforting dinner.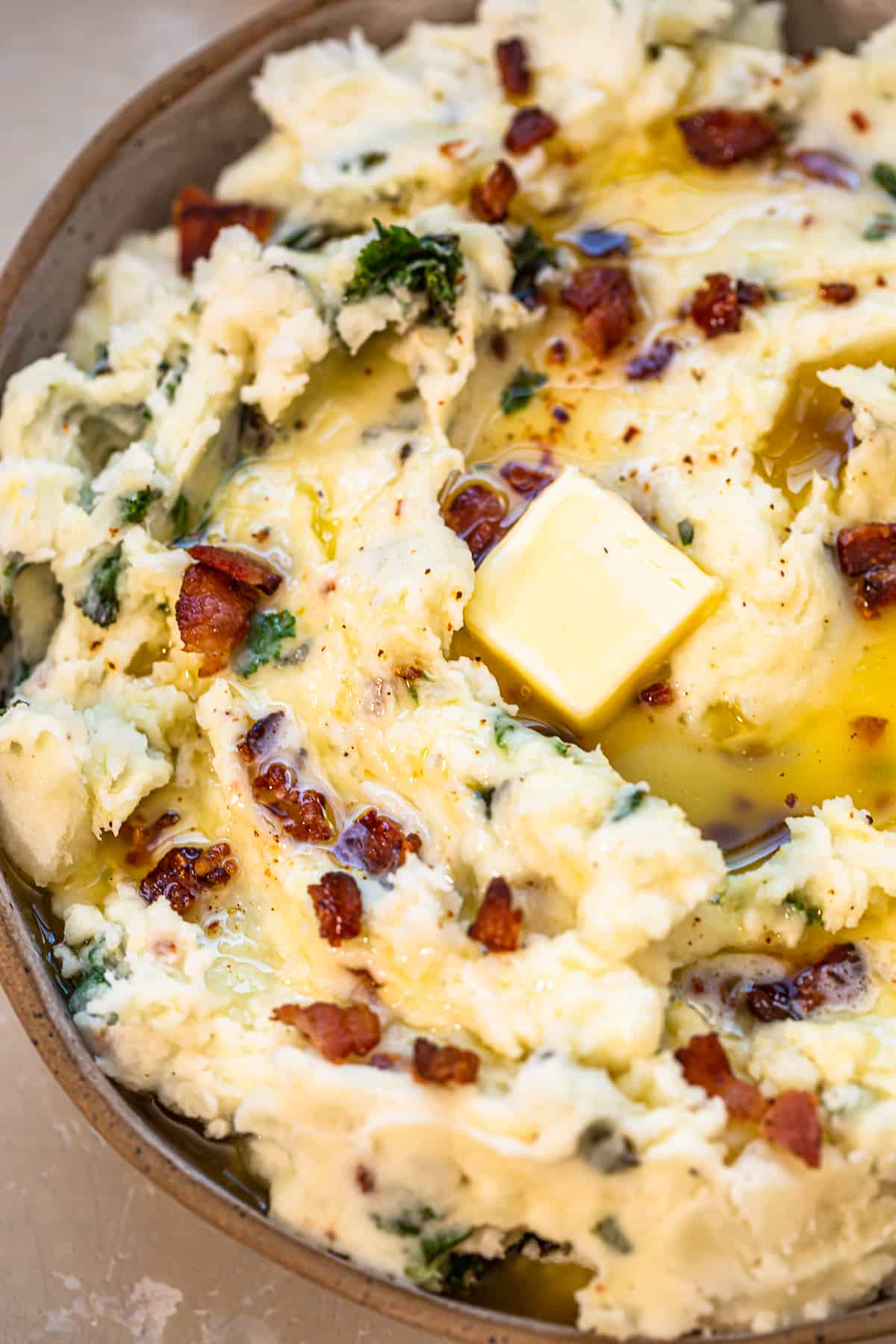 What is Colcannon made of?
You only need a handful of ingredients to make this delicious, creamy Irish potato recipe. It's the best side dish for so many main dishes, and especially great for your St. Patrick's Day dinner.
Potatoes: Russet potatoes are best for boiling and mashing. You could also use Yukon Gold or white potatoes.
Kale: Kale has a great texture that holds up well when cooked and mashed into the potatoes.
Butter: Butter adds lots of rich flavor.
Heavy Cream: This makes the potatoes super creamy and smooth.
Green Onions: This add a bit of color, texture, and a subtle onion flavor.
Bacon Crumbles: Cook and crumble the bacon beforehand, as it's added at the end as a mix-in.
Can I use cabbage in colcannon potatoes instead?
Absolutely! Cabbage is another traditional option for these Irish mashed potatoes, so feel free to substitute it for the kale. Just follow the same instructions with chopped cabbage.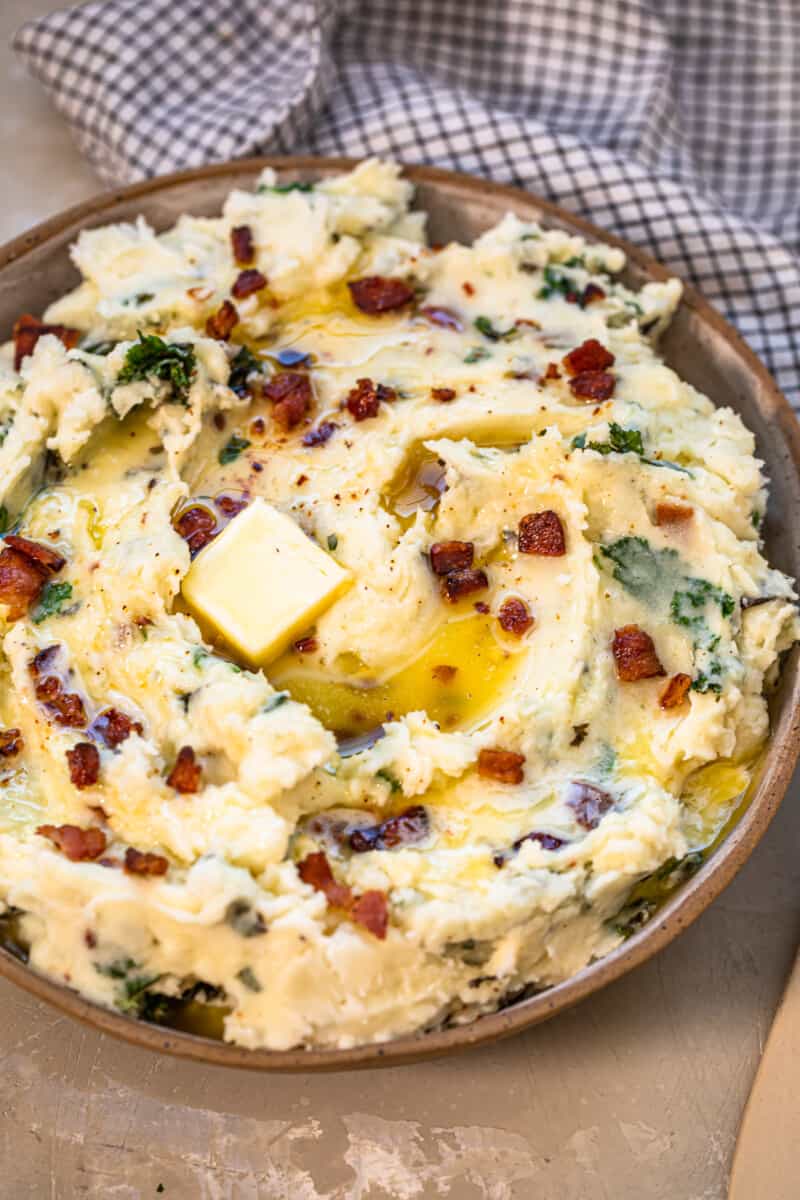 What are colcannon potatoes?
Colcannon is a traditional Irish potato recipe. It combines creamy mashed potatoes with cabbage or kale, along with bacon and lots of butter.
How long does it take to boil potatoes?
It takes about 20 minutes to boil russet potatoes until tender enough to mash.
Why are my potatoes sticky?
Don't let the potatoes boil too long, and don't overwork them when mashing and mixing ingredients. Otherwise they might get gluey or sticky.
What's the best way to mash potatoes?
Using a potato masher is my preferred way to mash boiled potatoes, since it creates the best texture. This also allows you to mix in the other ingredients as you mash. If you prefer, you can use a mixer to mash/cream the potatoes, then fold in the ingredients.
How to Store Irish Mashed Potatoes
Colcannon potatoes store and reheat really well, so keep those leftovers. Keep them in an airtight container and store them in the refrigerator up to 3 days. Reheat in the microwave or on the stovetop. I like to mix in a bit more cream while reheating to refresh the texture.
I recommend cooking and crumbling the bacon ahead of time, and keeping it in the fridge until ready to use.
I don't recommend freezing because potatoes tend to get grainy when frozen and reheated.
What to Serve with Colcannon Potatoes
These creamy mashed potatoes with kale and bacon make a great side dish for your favorite Irish recipes. Serve it with corned beef and cabbage or this corned beef casserole. It also pairs well with this honey mustard pork chops and turkey meatloaf.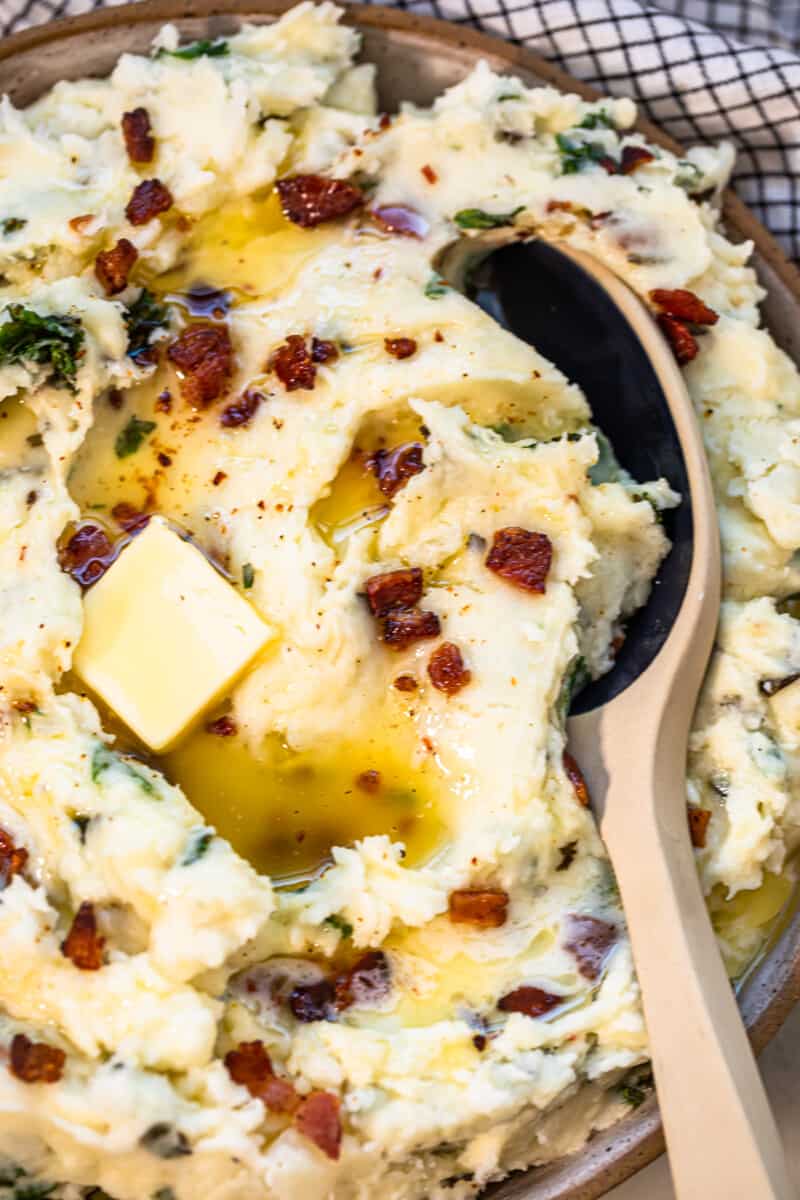 If you make this recipe be sure to upload a photo in the comment section below or leave a rating. Enjoy! You can also jump to recipe.
More Mashed Potato Recipes We Love