COOKIES AND CREAM POPCORN is SO easy and delicious! This Oreo White Chocolate Popcorn is perfect for a night in while binge-watching your favorite series on Netflix. I love this sweet popcorn recipe for tailgating, parties, or just a simple dessert at home. Sweet and Salty for the win!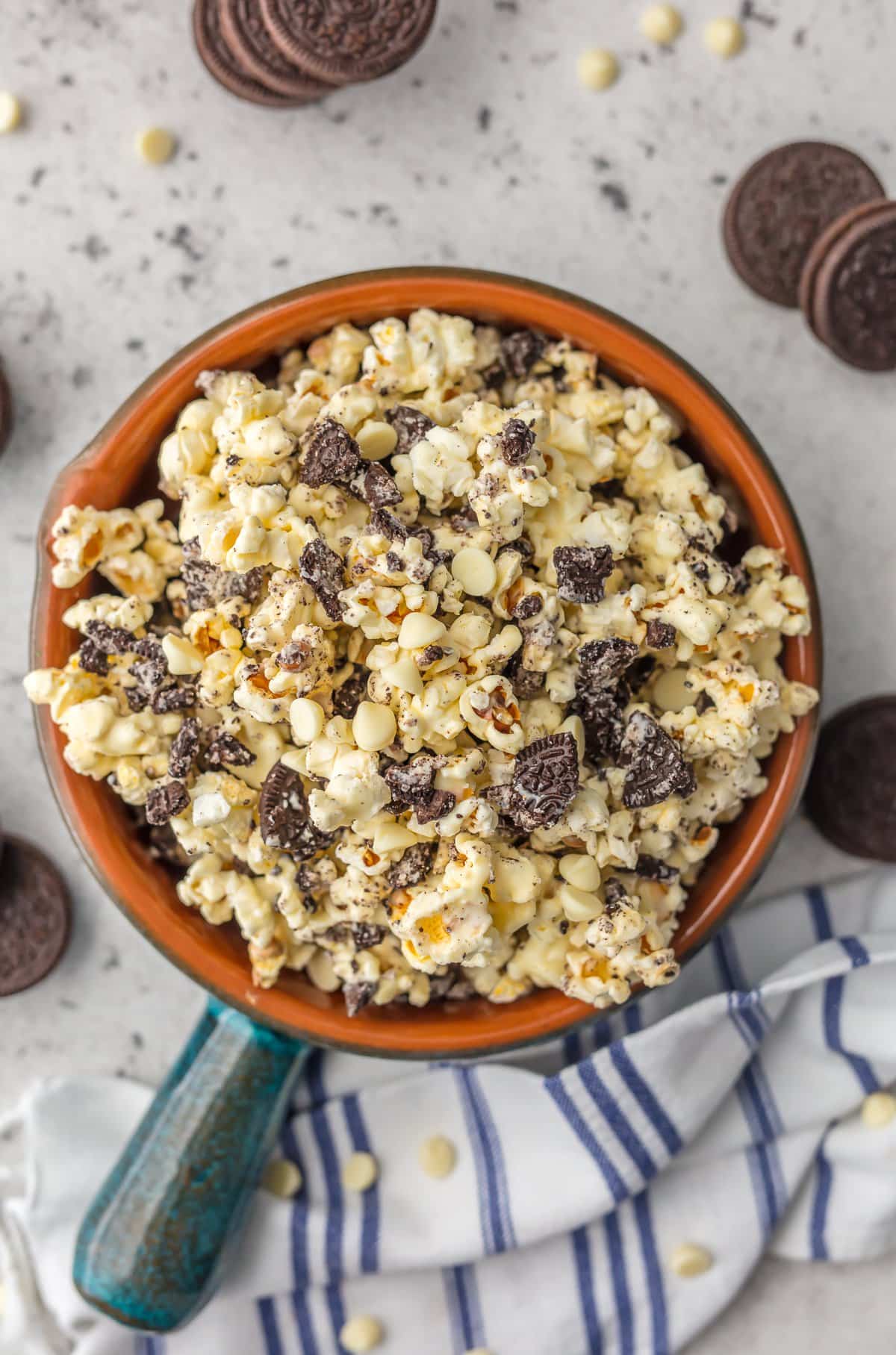 Easy Cookies and Cream Popcorn
This Oreo White Chocolate Popcorn recipe is perfect for snacking while watching movies at home!
Can you believe I've never posted just a simple and fun popcorn recipe on The Cookie Rookie??! What have I been thinking? We are a family that LOVES Netflix, binge watching our favorite shows, and going to movies, and popcorn is a big part of that equation.
A fun snack while enjoying the boob tube is a MUST! Our favorite fun popcorn recipe lately has been this COOKIES AND CREAM POPCORN.
It's one of the few recipes that Pat requests time and time again, and that just warms my heart! I feel silly even making a full post on it, because it's THAT EASY. It's simply popping some corn, coating it in white chocolate, and sprinkling in some crushed cookies. Is this real life?!
This white chocolate oreo popcorn is perfect for snacking while you binge-watch the latest season of your favorite show, and it's super easy to make. WIN!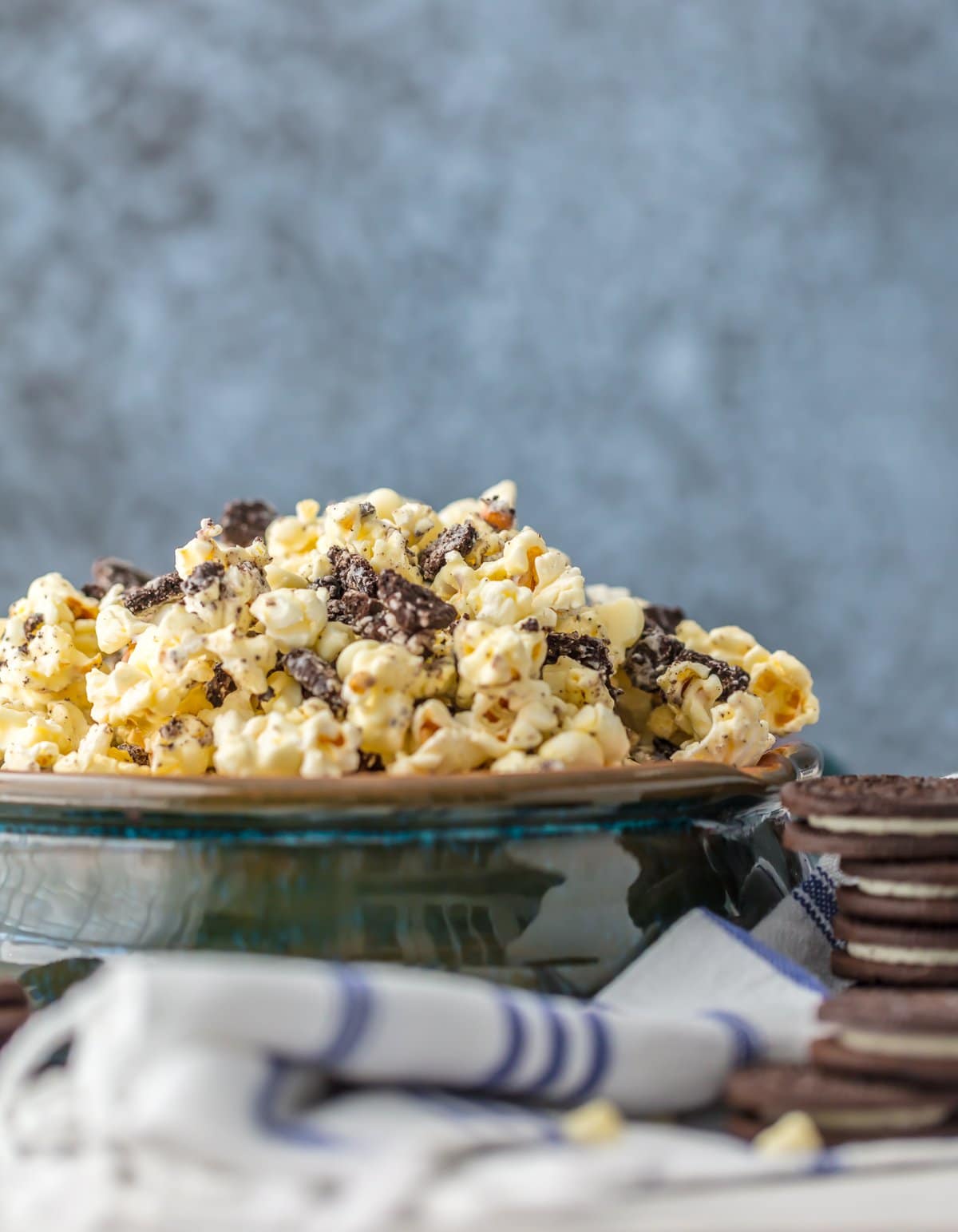 Oreo White Chocolate Popcorn
Every time we make this Oreo and white chocolate popcorn, we make an extra LARGE batch and keep some in an airtight container for snacking throughout the week.
Something about the simple flavors of cookies and cream just keeps me coming back for more! For a slightly healthier version you could use almond bark, and it's equally as delicious.
You could switch things up with other chocolate flavors, or different cookie varieties…the sky is the limit! This is a fun snack recipe to play with and make just perfect for your family and friends.
Easy and Fun Popcorn Recipe
I love to make this Cookies and Cream Popcorn with my sweet niece and nephew, ages 4 and 2. They love to help and its simple enough that they can take part.
Fun Aunt Becky for the win! You guys know I'm always looking for ways to butter those two up so that they want to keep coming over and loving on us. They're the cutest, and of course they devoured this white chocolate Oreo popcorn!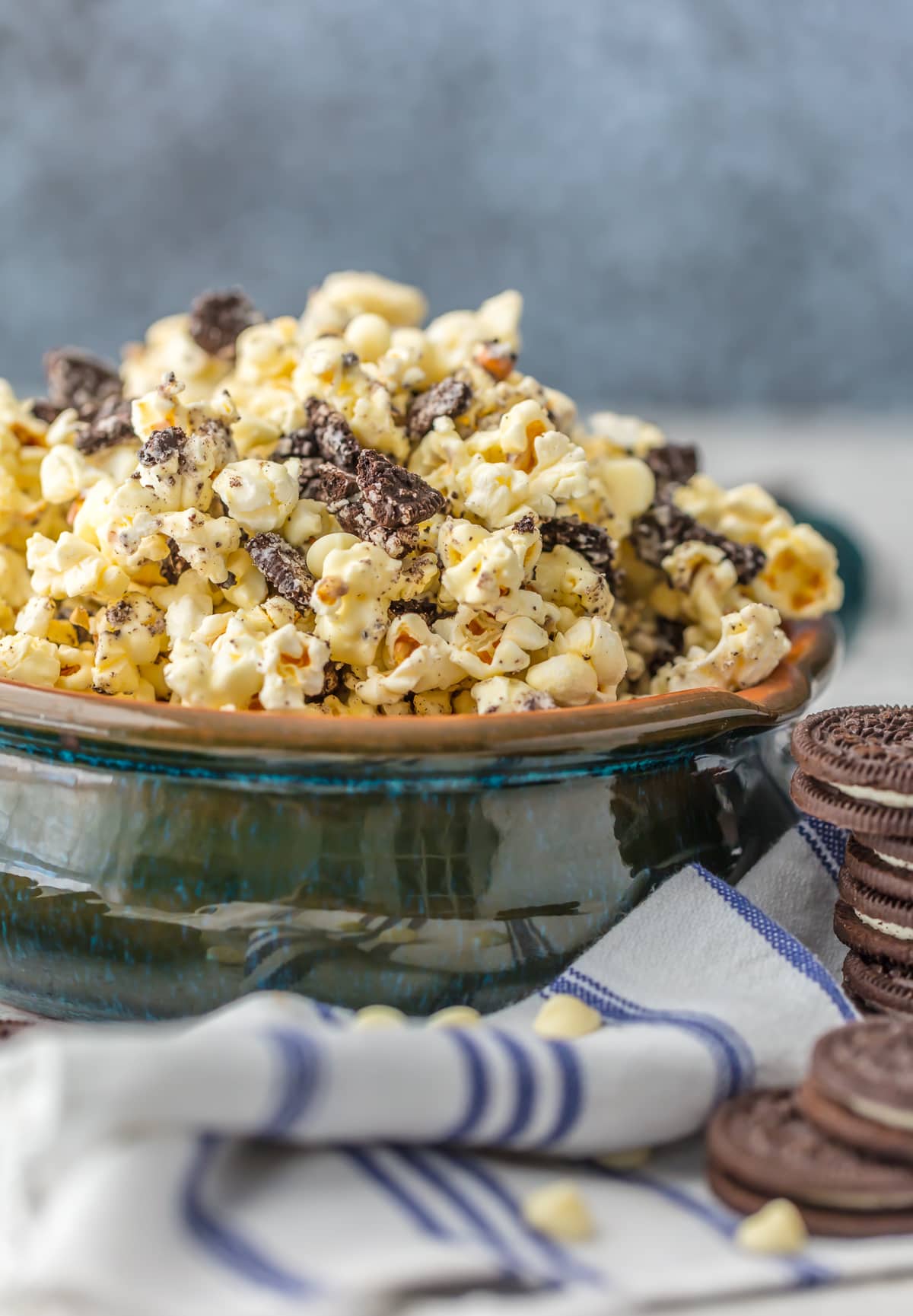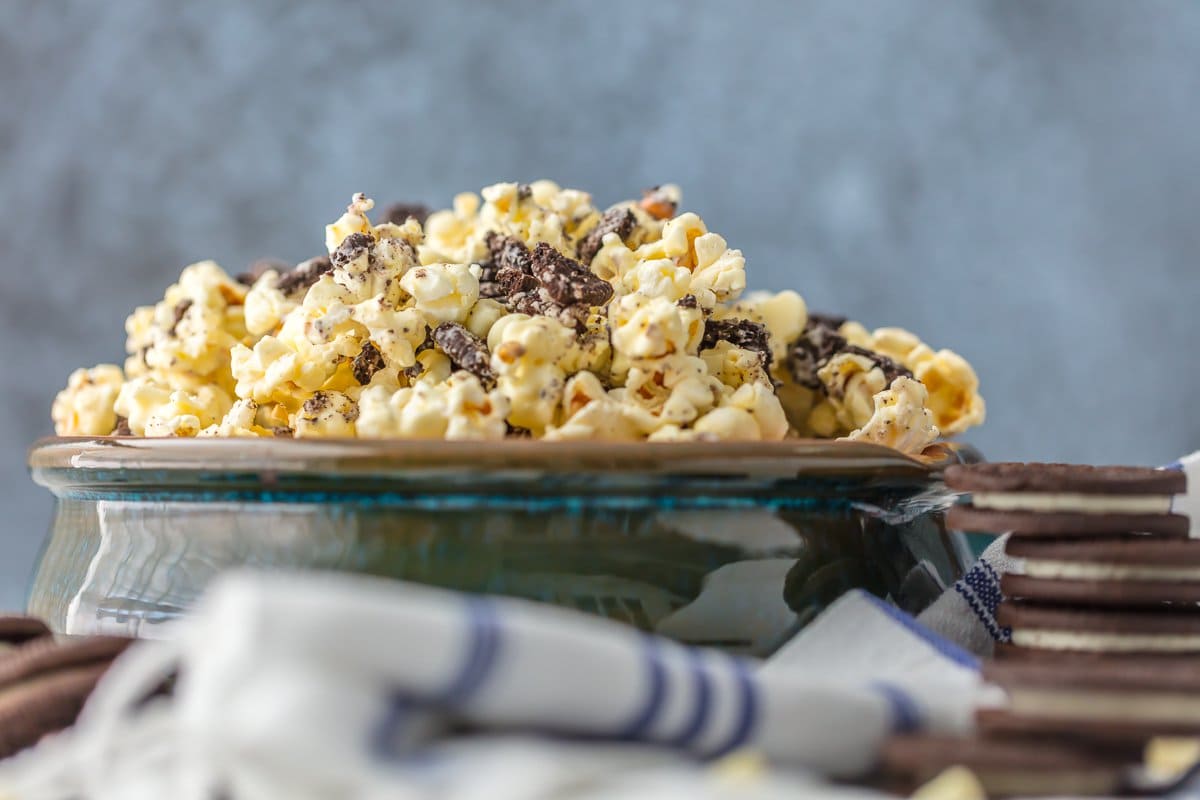 How to Make Cookies and Cream Popcorn
I absolutely love the sweet and salty flavor combination of this Cookies and Cream Popcorn! The richness of the white chocolate, the chocolaty crunch of the Oreo crumbles, and the saltiness of the buttery popcorn…so yummy!
You just need a bag of microwave popcorn (or you can pop your own kernels), some cookies to crumble, and white chocolate chips to melt. Mix it all together to get this sweet popcorn recipe!
Prepare popcorn and set aside in a large bowl
In microwave safe bowl, heat oil and white chocolate chips. Heat in 30 seconds intervals, stirring between each interval, until fully melted (about 1 1/2 minutes total)
Pour white chocolate over popcorn and stir it in to fully coat
Spread popcorn out on a baking sheet and sprinkle crumbled cookies and white chocolate chips throughout
Put in the refrigerator for about 20 minutes to let the chocolate harden
Pour the Oreo and white chocolate popcorn into a bowl to eat right away, or put it into an airtight container to save it for later. See the recipe card below for full instructions.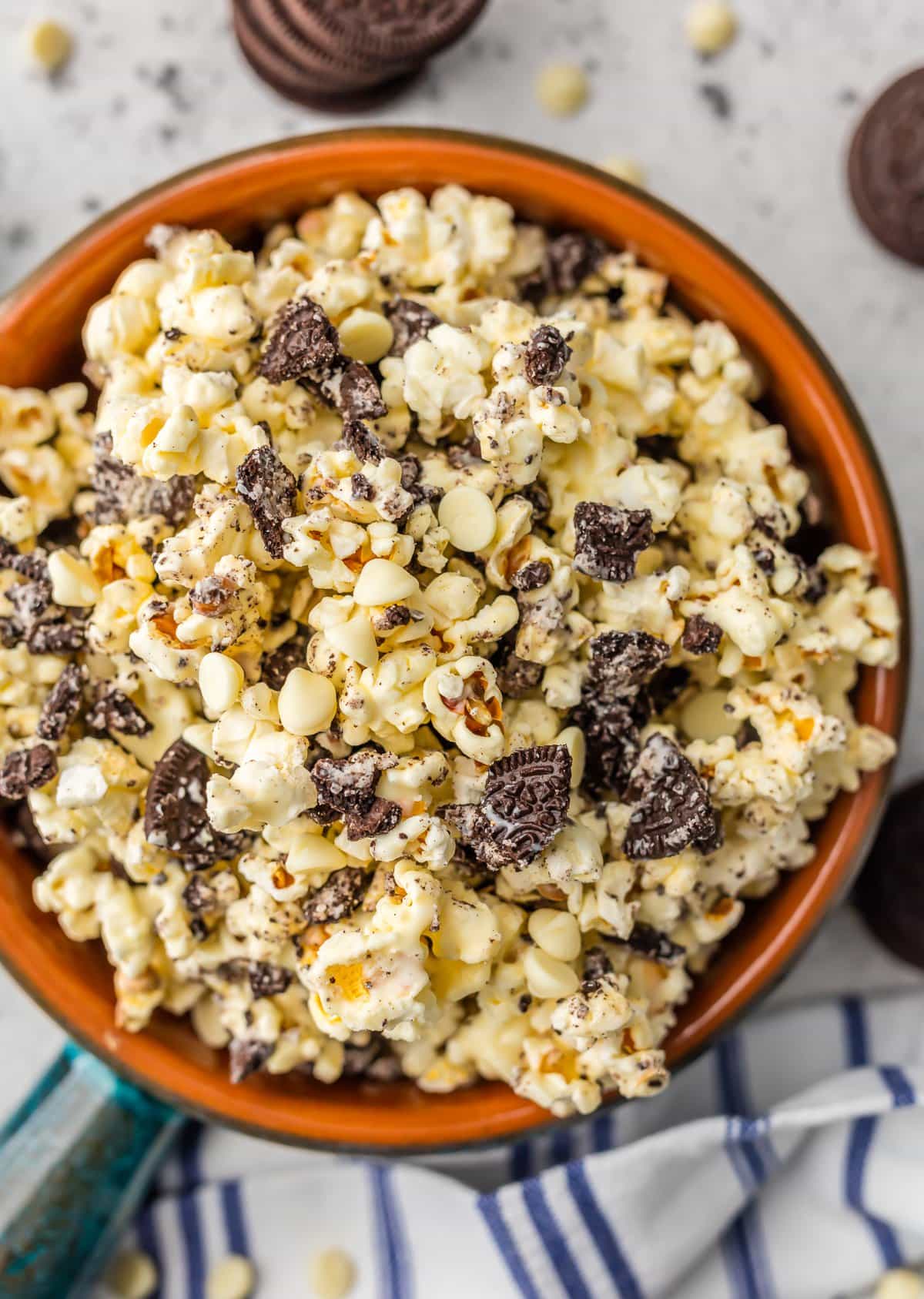 I know you guys will love this Cookies and Cream popcorn as much as we do! It's sweet and salt and oh so delicious. This Oreo White Chocolate Popcorn recipe is the perfect thing to snack on while watching movies at home or catching up on your favorite show.
And I love that you can save it to snack on all week long! So make a batch of this sweet popcorn, fire up that Netflix, and get to snacking!
And if you love popcorn (of course you do!), make sure to try this Homemade Kettle Corn recipe, and this DIY Popcorn Salt.
Here are some other tasty snacks and desserts too: