I'm living for these FETA AND SUN-DRIED TOMATO CHICKEN BURGERS! Make them by grilling on the stovetop or outdoors once the weather cooperates for the ultimate good for you comfort food. The Mediterranean flavor combo on these sandwiches is out of this world, especially when topped with an easy pesto mayo. YUM!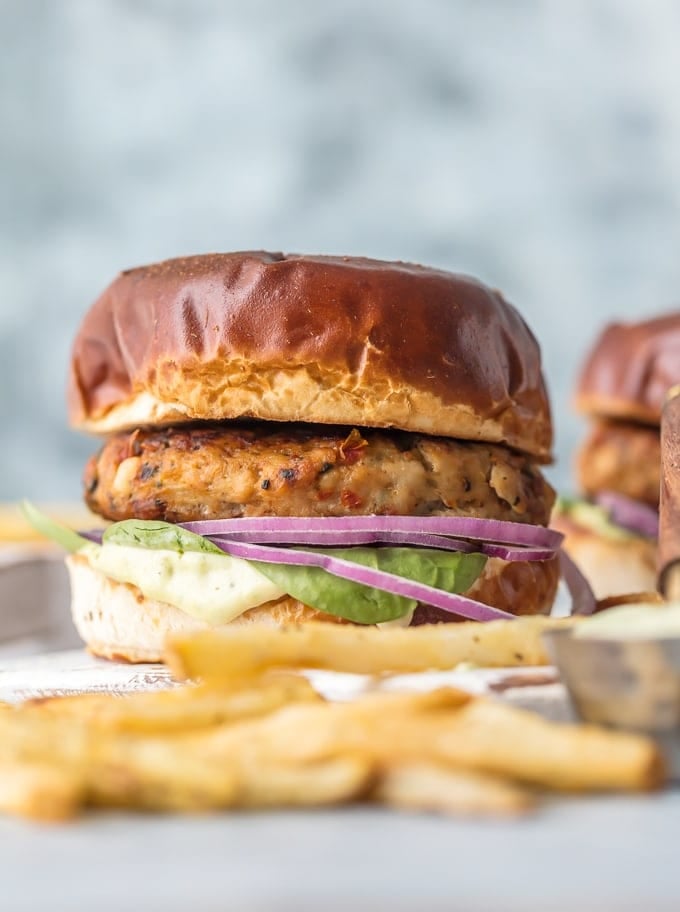 Can you tell that I'm counting down the days to warmer weather? STL has been pretty cold and rainy lately, and I'm all kinds of over it. With Summer on the brain, Mom and I came up with these delicious and perfect Feta and Sun-Dried Tomato Chicken Burgers with Pesto Mayo. I just love love love the Mediterranean flavor combo, the easy prep and styling, and that they're better for you than the typical juicy burger. This is the kind of meal that kids to adults will LOVE and that you can feel good about. Win win!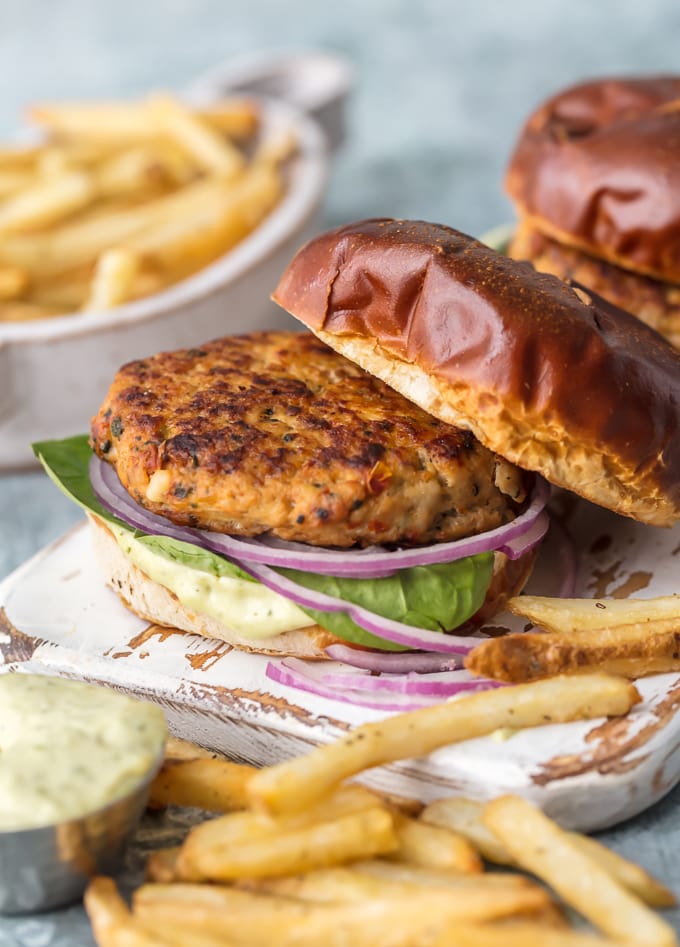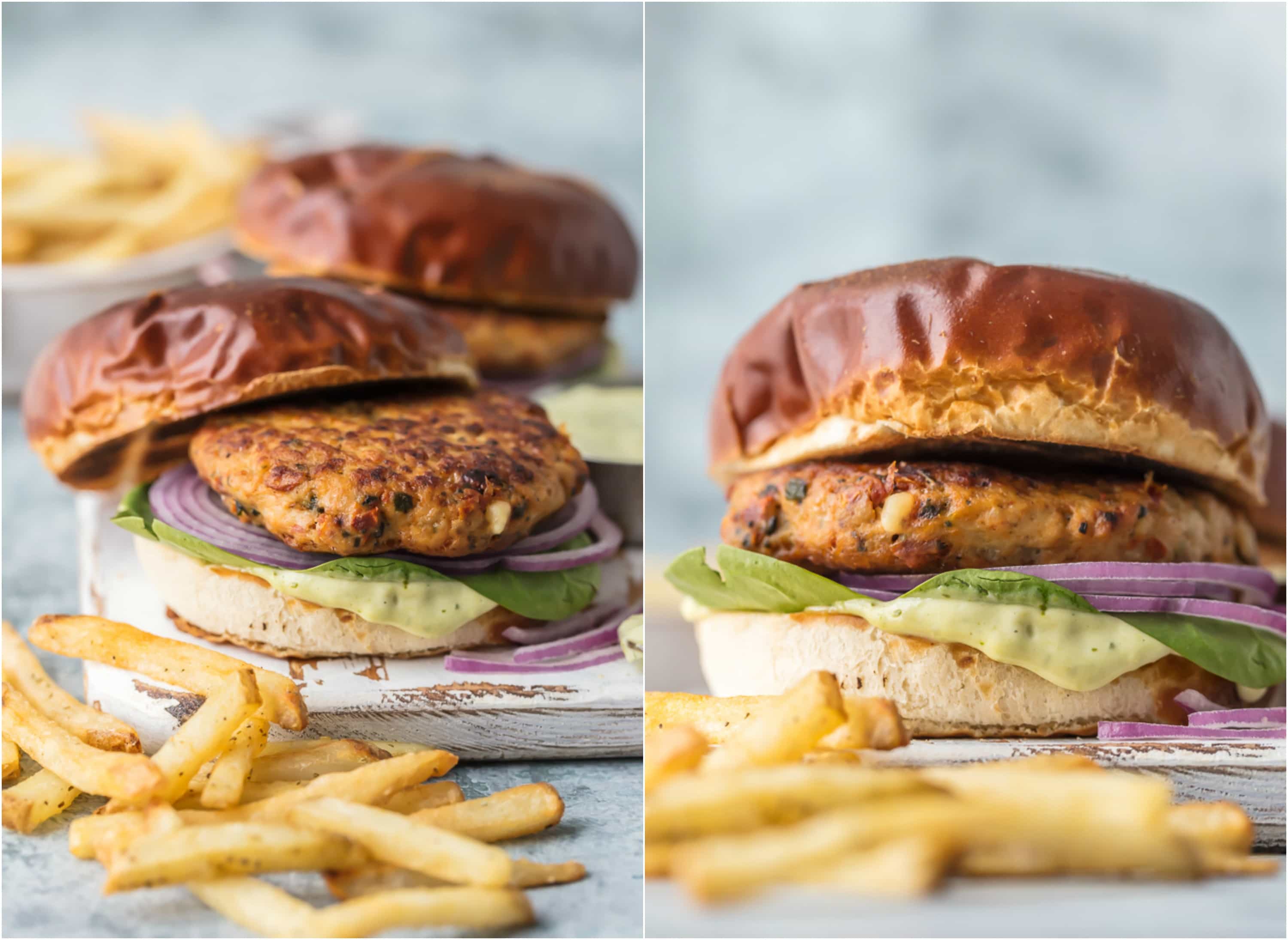 There's so much flavor packed into the actual chicken burger patty that you don't need to add much else to be ready to eat. We did a simple pesto mayo (A MUST), fresh spinach, and red onion, That's it. You could add cheese if you want, which you know I never feel is a bad idea, but it's not necessary. There's feta in the burger baby! SCORE! These just taste like a bright and vibrant Summer day. Day dreaming while eating dinner.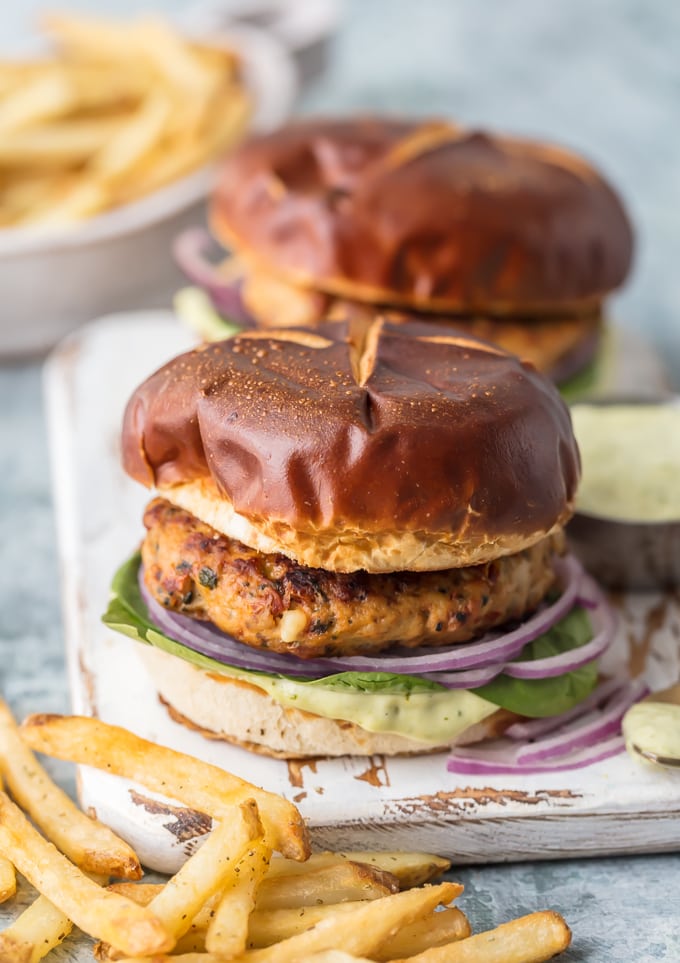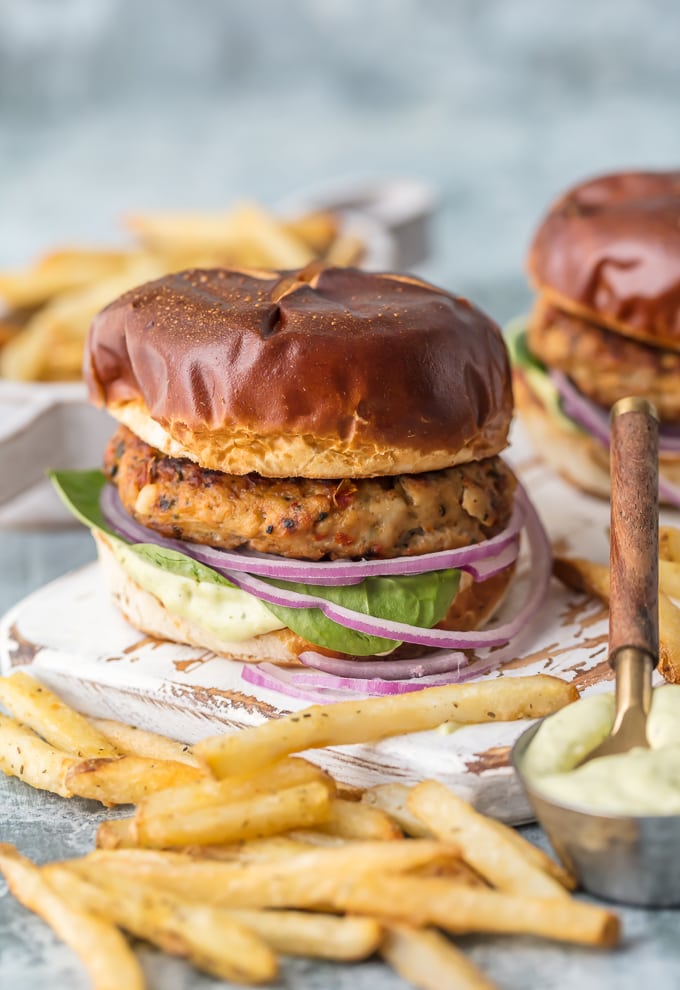 I was feeling extra lazy so I just baked up some premade fries as a side. We love Alexia Rosemary Fries (not sponsored…just a personal favorite). They go with EVERYTHING and I love the little extra punch of flavor. They paired perfectly with these Feta and Sun-Dried Tomato Chicken Burgers! And I dipped them in extra Pesto Mayo. And it was Ammmmmmmmmmmazing.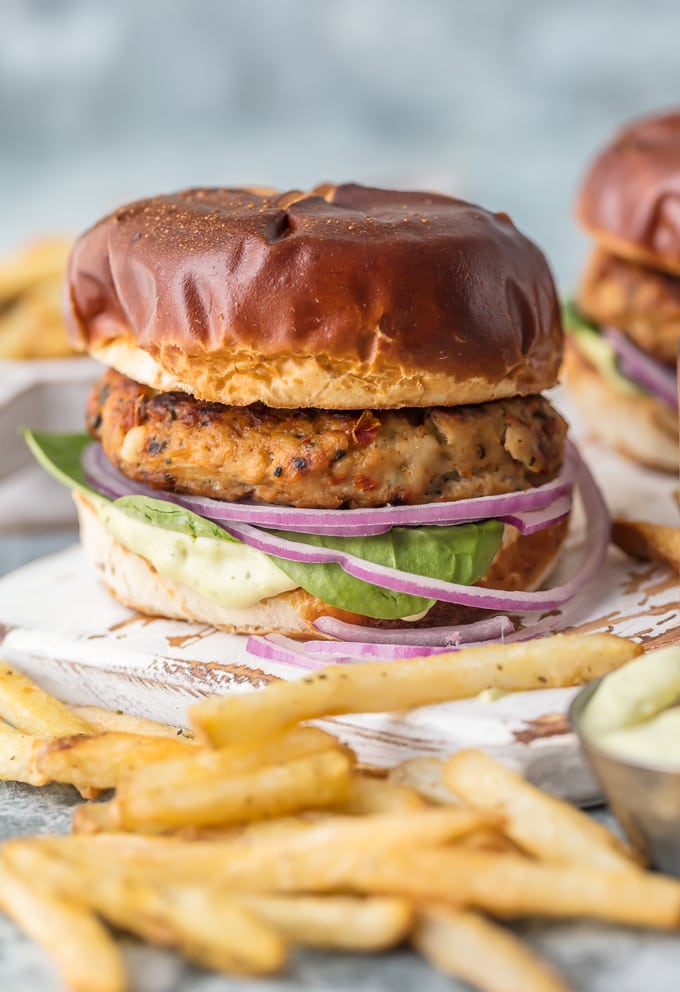 If you need me I'll not only be pretending it's Summer, I'll also be pretending I'm laying out by a pool. And that I have skin that doesn't burn in 50 degree heat.
Enjoy!
Feta and Sun-Dried Tomato Chicken Burgers with Pesto Mayo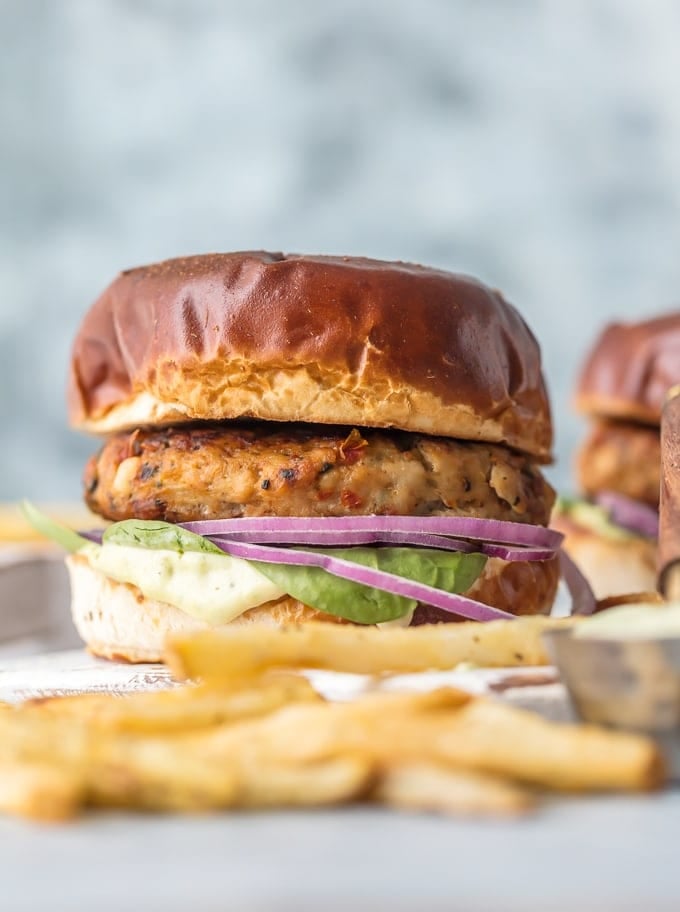 5 based on 1 review(s)
Ingredients
For the Burgers:

1 pound ground chicken or turkey *See note
2 ounces crumbled feta cheese
1/3 cup chopped oil-packed sun-dried tomatoes, drained with oil reserved
1 tablespoon chopped fresh basil
¾ teaspoon kosher
½ teaspoon ground black pepper
1-2 tablespoons oil from the sun-dried tomatoes
4 pretzel buns, insides lightly toasted

For the Basil Mayonnaise:

¼ cup mayonnaise
3 tablespoons basil pesto (homemade or store-bought)
2 tablespoons sour cream

Burger Toppings/Garnishes:

Spinach or Lettuce leaves
Sliced fresh tomatoes
Red onion slices
Avocado slices
Instructions
For the Burgers:

In a large mixing bowl, mix ground chicken, feta cheese, sun-dried tomatoes, basil, salt and pepper. Mix gently until ingredients are just combined. Divide into 4 equal portions and pat each portion into a 1-inch burger.
Heat skillet over medium heat and add 1-2 tablespoons reserved packing oil from the tomatoes. Heat the oil until it sheens and set the burgers in the skillet. Cook until lightly seared on first side, 4 minutes. Flip the burgers and continue cooking until opposite side has a nice light sear, an additional 3-4 minutes. Flip the burgers over (again) and partially cover the skillet. Reduce the heat to low and cook until the burgers are cooked through and register 160°F when tested with a meat thermometer.
While the burgers cook, mix the mayonnaise ingredients together, in a medium mixing bowl, and set aside.
To serve, spread a thin layer of the Basil Mayonnaise on the inside of both halves of the buns. Place the burger on the bottom bun and top with burger garnishes of your choice.
Enjoy!
Notes
*For this recipe it is important to use ground chicken and not ground chicken breasts (which can be labeled 99% fat-free). The burgers won't be as moist. Ground Turkey also works well.
7.6.7
2548
https://www.thecookierookie.com/feta-and-sun-dried-tomato-chicken-burgers-with-pesto-mayo/