Chicken Burgers with Feta and Sun-Dried Tomato are one of my favorite healthy recipes to throw on the grill. I'm living for these FETA AND SUN-DRIED TOMATO CHICKEN BURGER RECIPE! Make these Ground Chicken Burgers by grilling on the stovetop or outdoors once the weather cooperates for the ultimate good for you comfort food. The Mediterranean flavor combo on these sandwiches is out of this world, especially when topped with an easy pesto mayo.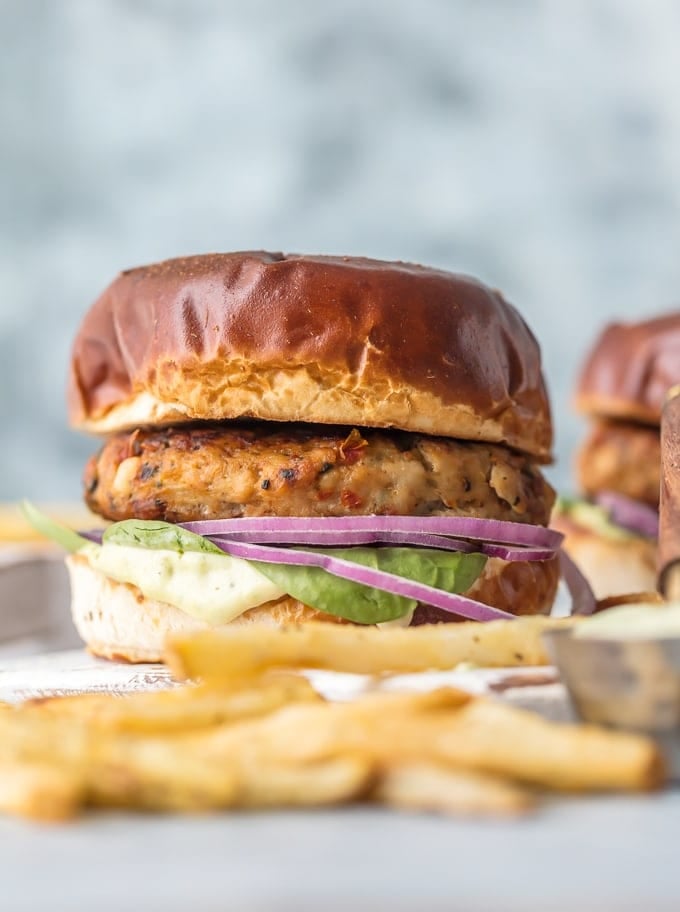 Grilled Chicken Burgers
This Chicken Burger Recipe is making me have warm weather on the brain. Grilling and BBQs. Can you tell that I'm counting down the days to warmer weather? STL has been pretty cold and rainy lately, and I'm all kinds of over it. With Summer on the brain, Mom and I came up with these delicious and perfect Feta and Sun-Dried Tomato Chicken Burgers with Pesto Mayo.
I just love love love the Mediterranean flavor combo, the easy prep and styling, and that they're better for you than the typical juicy burger.
These Chicken Burgers are the kind of meal that kids to adults will LOVE and that you can feel good about. Win win!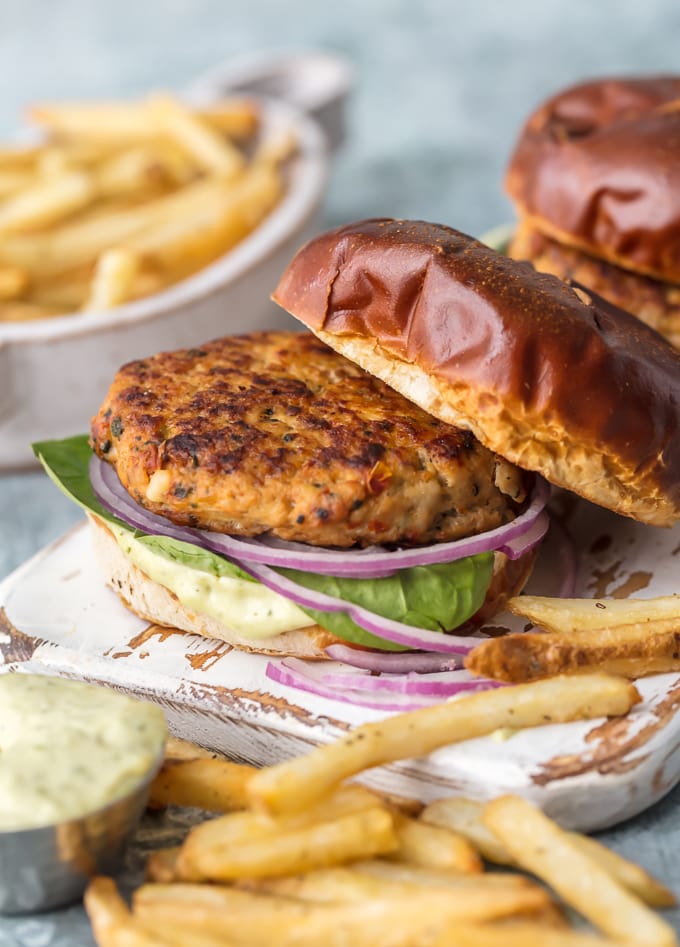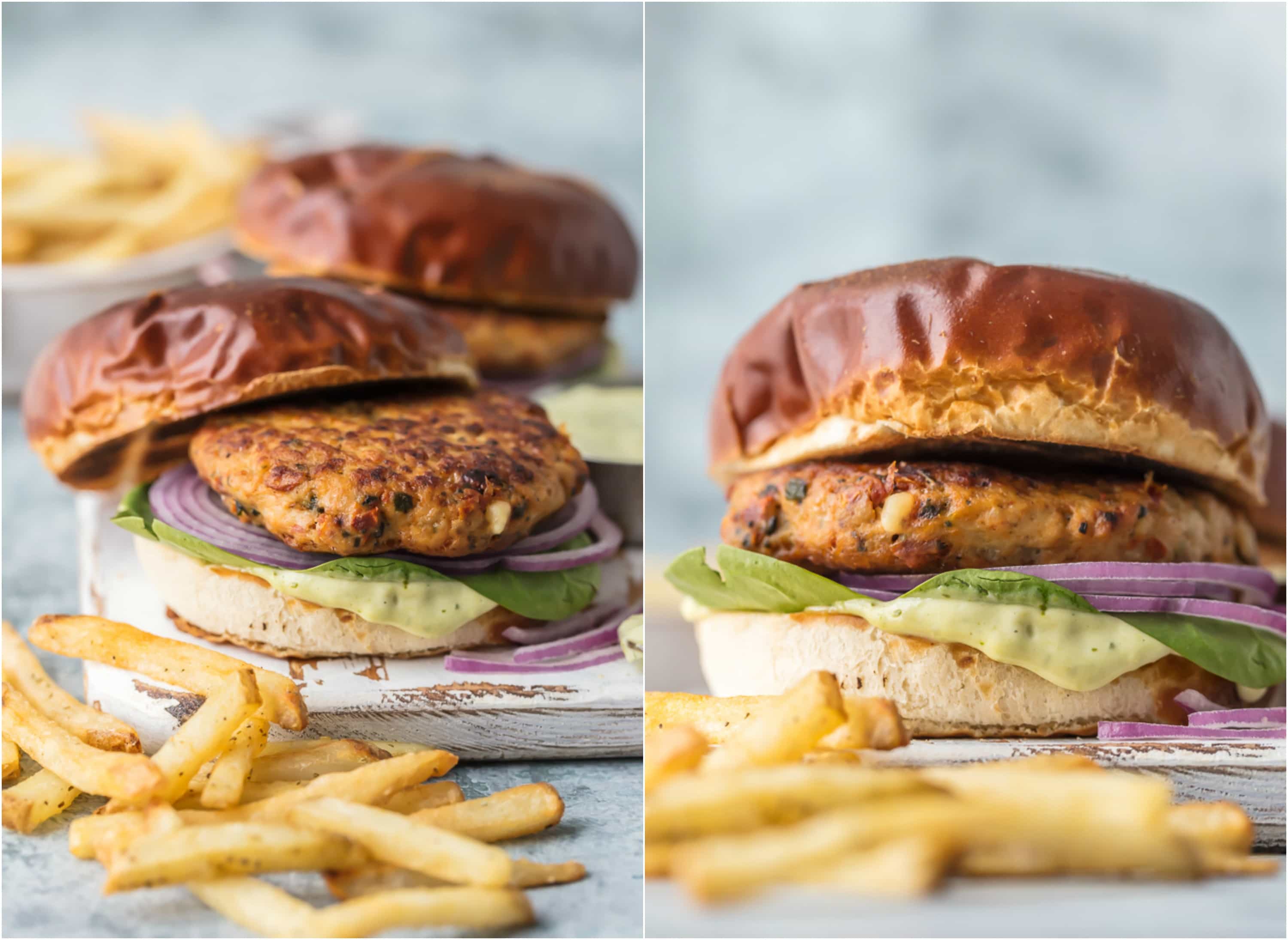 Ground Chicken Burgers are the new Turkey Burger!
There's so much flavor packed into the actual chicken burger patty that you don't need to add much else to be ready to eat. We did a simple pesto mayo (A MUST), fresh spinach, and red onion, That's it. You could add cheese if you want, which you know I never feel is a bad idea, but it's not necessary. There's feta in the burger baby! SCORE! These just taste like a bright and vibrant Summer day. Day dreaming while eating dinner.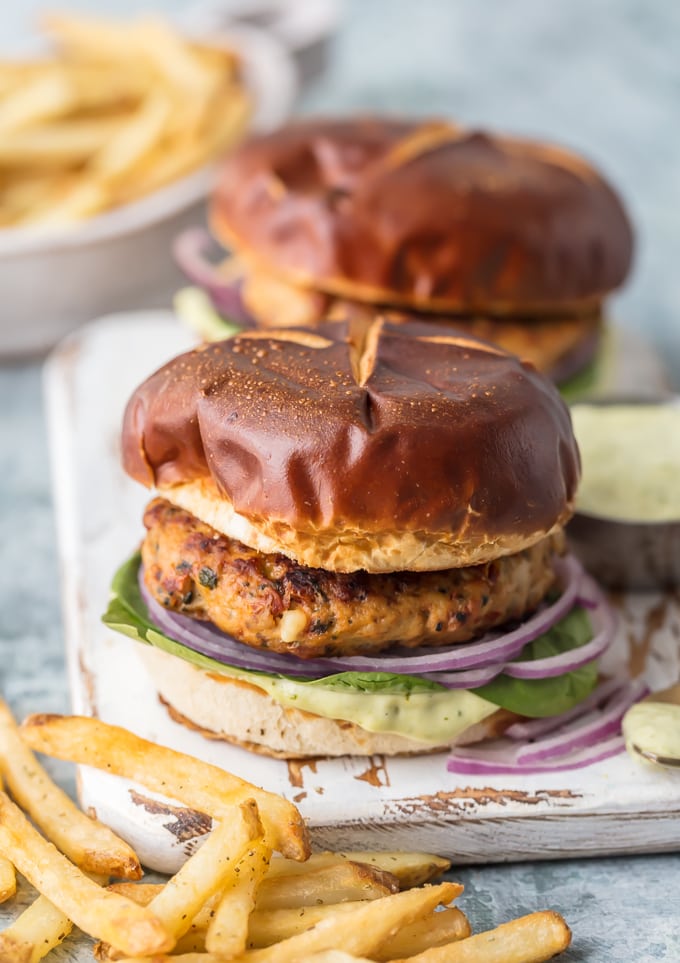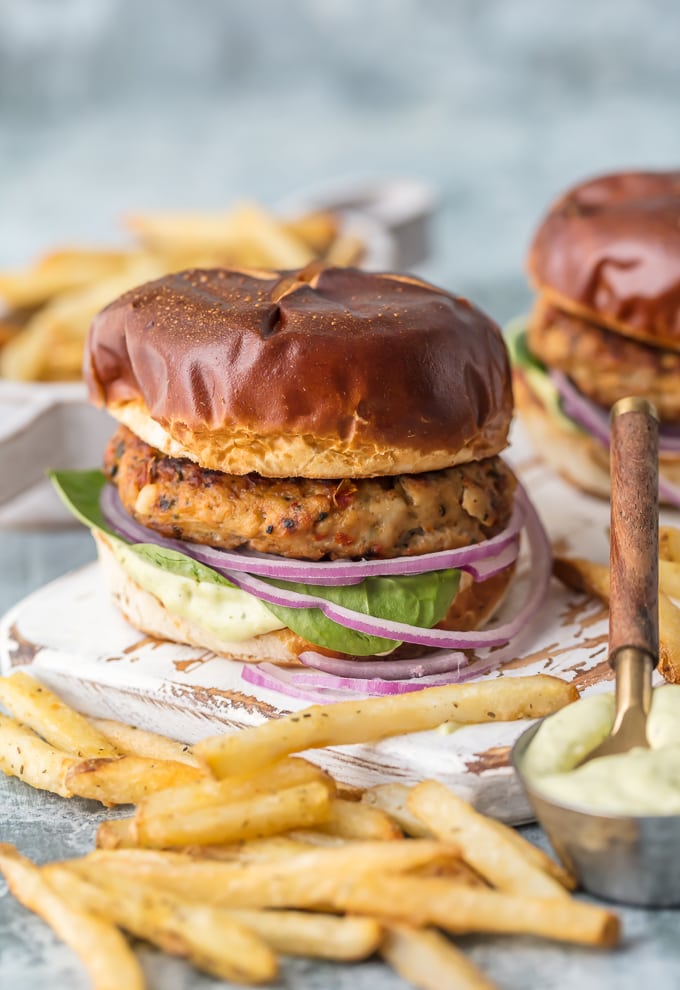 What to serve with this Chicken Burger Recipe:
The sky is the limit when pairing sides with these Chicken Burgers with Feta and Sun-Dried Tomatoes. I think they would be outstanding with our Parmesan Crusted Potatoes, Lemon Parmesan Broccoli, Grilled Lemon Butter Asparagus, or even something really healthy like Brussels Sprouts! Don't know them til you've tried them! Feel free to check out all of our side dishes and pick the perfect pairing!
I was feeling extra lazy so I just baked up some pre-made fries as a side. We love Alexia Rosemary Fries (not sponsored…just a personal favorite). They go with EVERYTHING and I love the little extra punch of flavor. They paired perfectly with these Feta and Sun-Dried Tomato Chicken Burgers! And I dipped them in extra Pesto Mayo. And it was amazing.
Find more of the BEST BURGER RECIPES in our guide. Chicken, turkey, beef, or veggie, we've got them all!
FREE CHICKEN EBOOK
The Cookie Rookie is practically famous for amazing Chicken Recipes, mostly due to these Chicken Burgers. We have so many other chicken favorites that I hope you check out, and even have a FREE EBOOK for subscribers (click to find out more). I'm here for all your easy chicken recipes needs!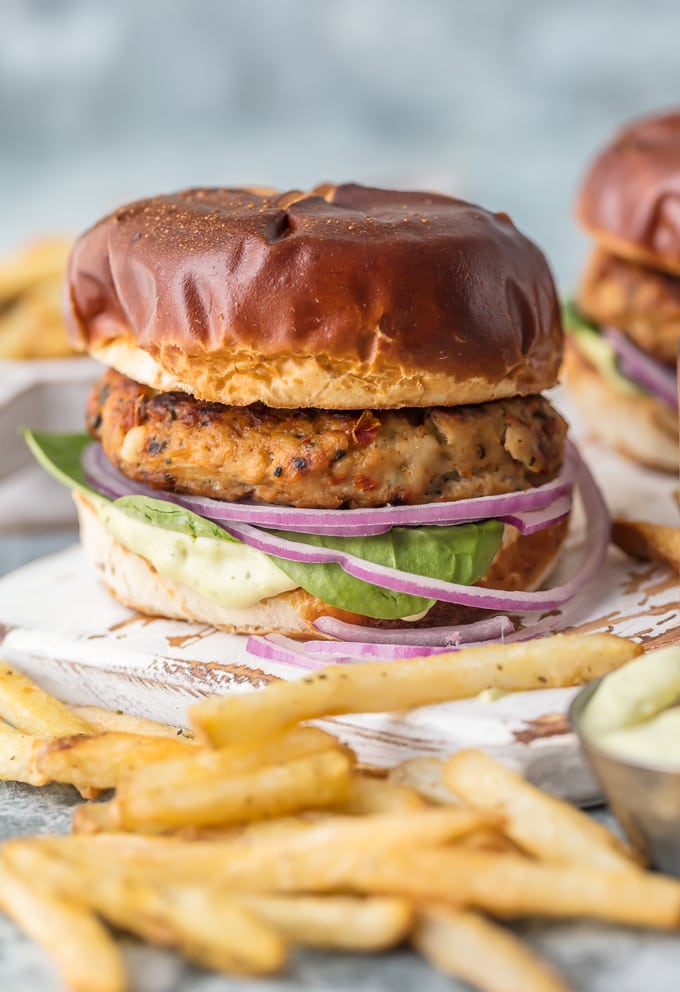 Is it a Chicken Sandwich or Burger?
A little google research tells me that a sandwich is served between two slices of bread, while a "burger" is served on a bun. So I'm calling this recipe Chicken Burgers! You can call it whichever you like, but I think we will all agree its totally delicious!
Are Ground Chicken Burgers Healthy?
Using ground chicken instead of ground beef is a healthier way to make a burger. Of course we loaded ours with feta cheese…but that's okay. They're still under 400 calories. Everything in moderation!
How do you make the Pesto Mayo for this Chicken Burger Recipe?
The Basil Pesto Mayo is a simple combination of mayonnaise, freshly chopped basil, and sour cream. It's beyond delicious and a must make addition to these Chicken Burgers!
If you need me I'll not only be pretending it's Summer, I'll also be pretending I'm laying out by a pool. And that I have skin that doesn't burn in 50 degree heat. Enjoy!
See the recipe card below for How to make Chicken Burgers with Feta and Sun-Dried Tomatoes!
AROUND THE WEB: Want more creative burger recipes for Summer? Buckle up! Spicy Kimchi Burgers, Sesame Salmon Burgers, and Buffalo Turkey Cheeseburger.