Follow this foolproof recipe for Poached Chicken, and it'll come out perfectly cooked every time! This method is so easy–you'll never have to worry about dry chicken again!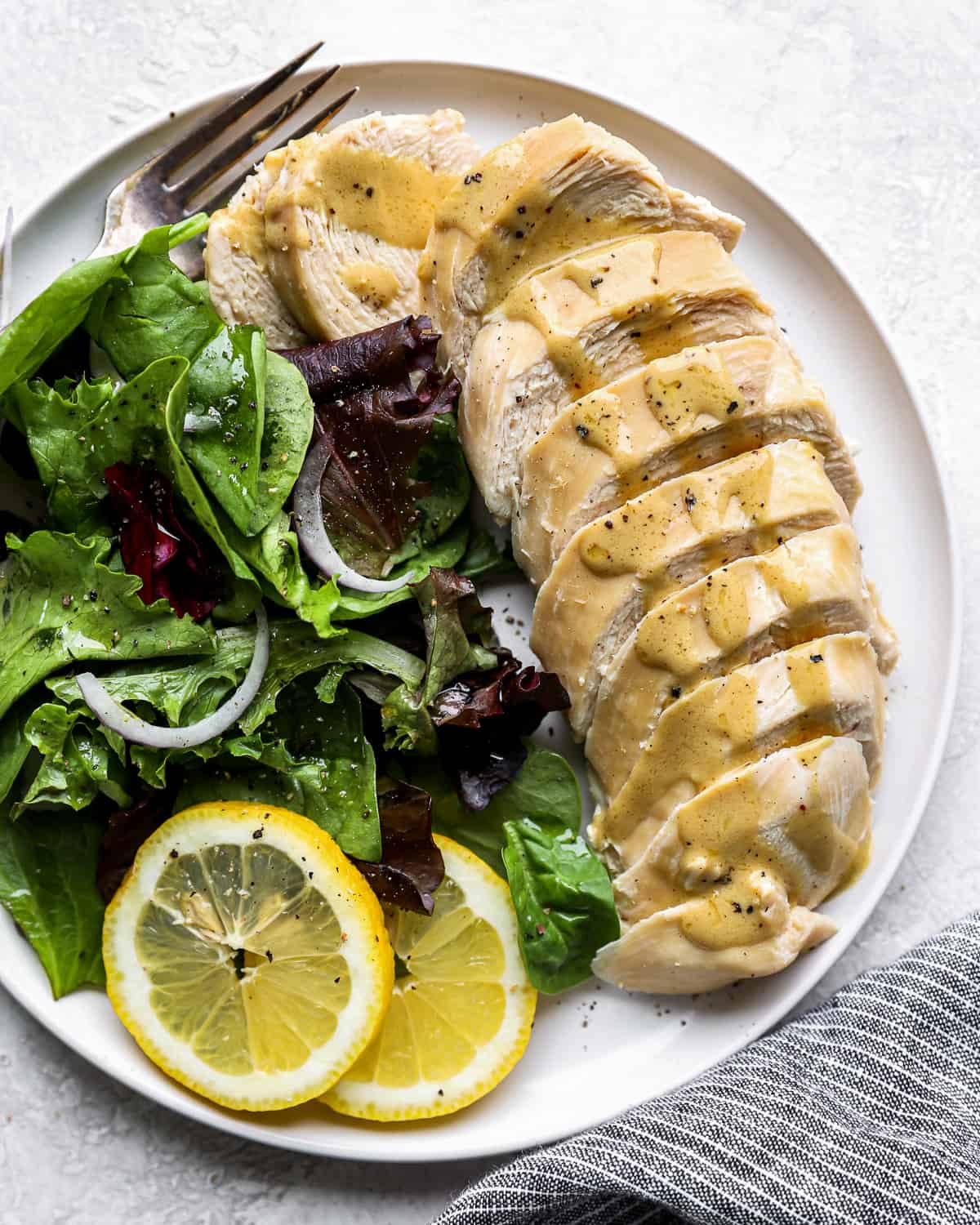 What's in Poached Chicken Breast?
The secret genius of poached chicken breasts is that it's nearly impossible to overcook them. That means juicy, moist, tender chicken every time. Talk about a foolproof recipe!
Chicken: Use 2 chicken breasts or 4 chicken thighs. The chicken can be boneless, skinless or bone-in, skin-on. Either option works great for poaching.
Aromatics: Choose 4-5 aromatics to add flavor to the chicken. 2 of my favorite combinations are: thyme, garlic, bay leaves, salt, and pepper or lemon, peppercorns, garlic, and salt.
Poaching Liquid: I like to use a combination of water and white wine or chicken broth.
Pro Tip: If using wine, pour it in first and add enough water or broth to cover the chicken about an inch.
Variations on Poached Chicken Breasts
Use any of your favorite aromatics to give this chicken more flavor. Thyme with garlic, bay leaves, salt, and pepper tastes amazing!
Another good combination for this recipe would be lemon with peppercorns, garlic, and salt.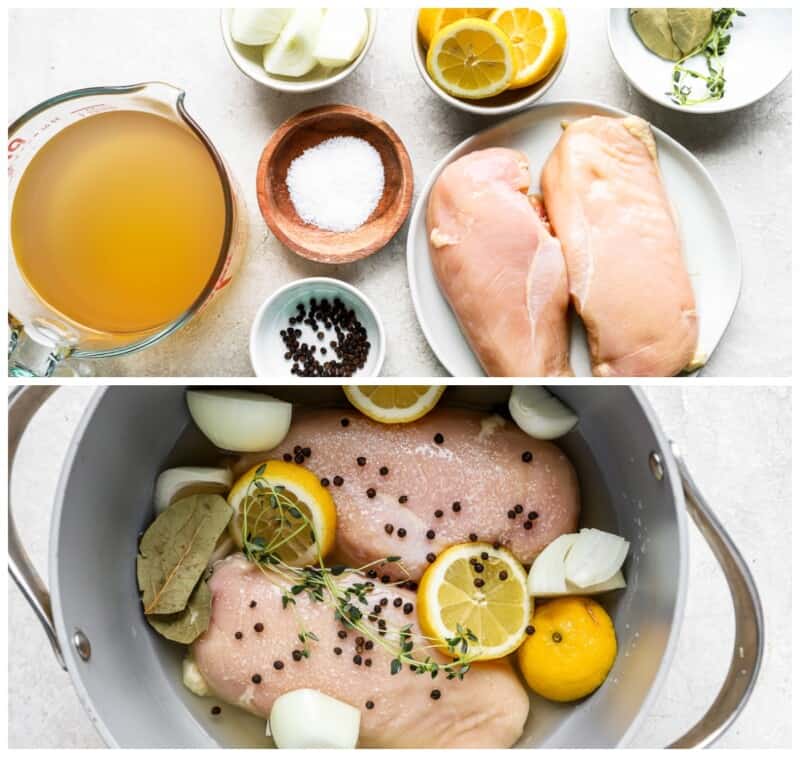 What is poached chicken?
Poaching is a type of cooking technique that involves boiling liquid and cooking the food (in this case, chicken) by allowing it to simmer in boiled, hot liquid.
Do you poach chicken in cold water?
You should always start with cold water and bring it to a boil. Starting in boiling hot water will result in unevenly-cooked chicken.
What kind of pot should I use for poaching chicken breast?
A Dutch Oven works great, because it holds in the heat of the boiled water, helping to cook through the chicken. You can use a different style of pot though, as long as it has a well-fitted lid.
What is the difference between boiling and poaching chicken?
Poaching and boiling start off the same, but when you poach chicken, you turn off the heat source as soon as the liquid reaches boiling (212°F) and allow it to slowly cook in the cooling water (temperature ranges from 140-180°F). When you boil chicken, you are maintaining that consistent 212°F for the entire process.
How long does it take to poach a boneless chicken breast?
It should take about 25 minutes total for the liquid to come to a boil and for the chicken to finish cooking.
Can you poach frozen chicken?
Yes! You'll want to bring the water to a boil, then keep it at a simmer for about 3 minutes. After that, you can turn off the heat source and allow the chicken to poach for about 12 minutes, or until the internal temperature reaches 165°F.
How do I know when the chicken is cooked through?
You'll need to use a meat thermometer to provide an accurate reading of the chicken's internal temperature. It should reach 165°F in the thickest part of the meat.
Why is my poached chicken rubbery?
If your chicken is rubbery, it has likely been overcooked. Make sure to check the internal temperature of your chicken throughout the cooking process, and remove it from the poaching liquid as soon as it reaches 165°F.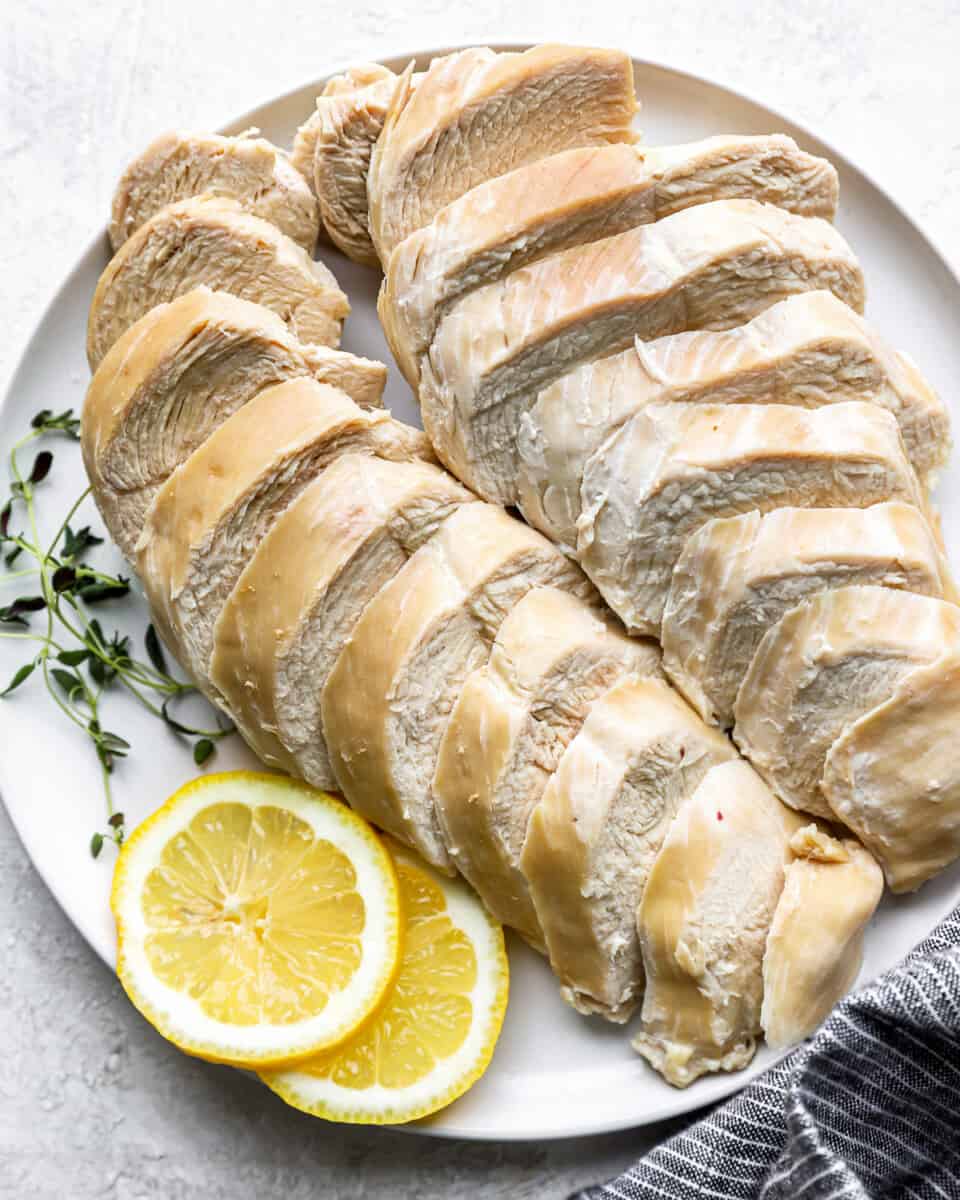 How to Store and Reheat
Store leftover poached chicken in an airtight container in the refrigerator for up to 3 days. Reheat in a large covered skillet with a little bit of water or chicken broth set over medium-high heat for about 10 minutes, or until warmed through.
How to Freeze
Freeze chicken in an airtight container or Ziplock bag for up to 3 months! It's great to have on hand when you need a quick meal. Simply let it thaw overnight in the refrigerator before reheating.
Serving Suggestions
Poached chicken breasts are so simple, which means it is an extremely versatile dish. Top it with my favorite mustard cream sauce and some greens (pictured) or serve it with your favorite sides, such as mashed potatoes, roasted broccoli, corn on the cob, and more.
You can also toss it into Fettuccine Alfredo, add it to chicken tacos, or use it to make homemade chicken salad!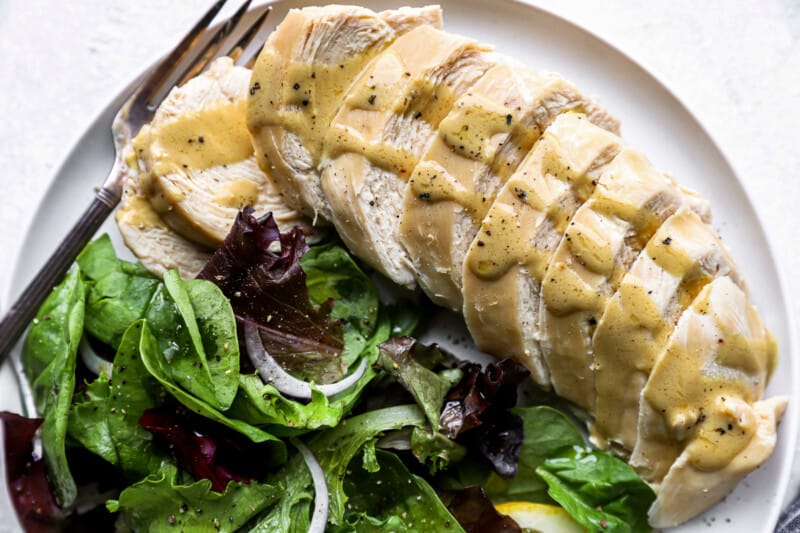 More Chicken Breast Recipes We Love