Follow this foolproof recipe for Poached Chicken Breasts, and they'll come out perfectly-cooked every time! This method is so easy–you'll never have to worry about dry chicken again!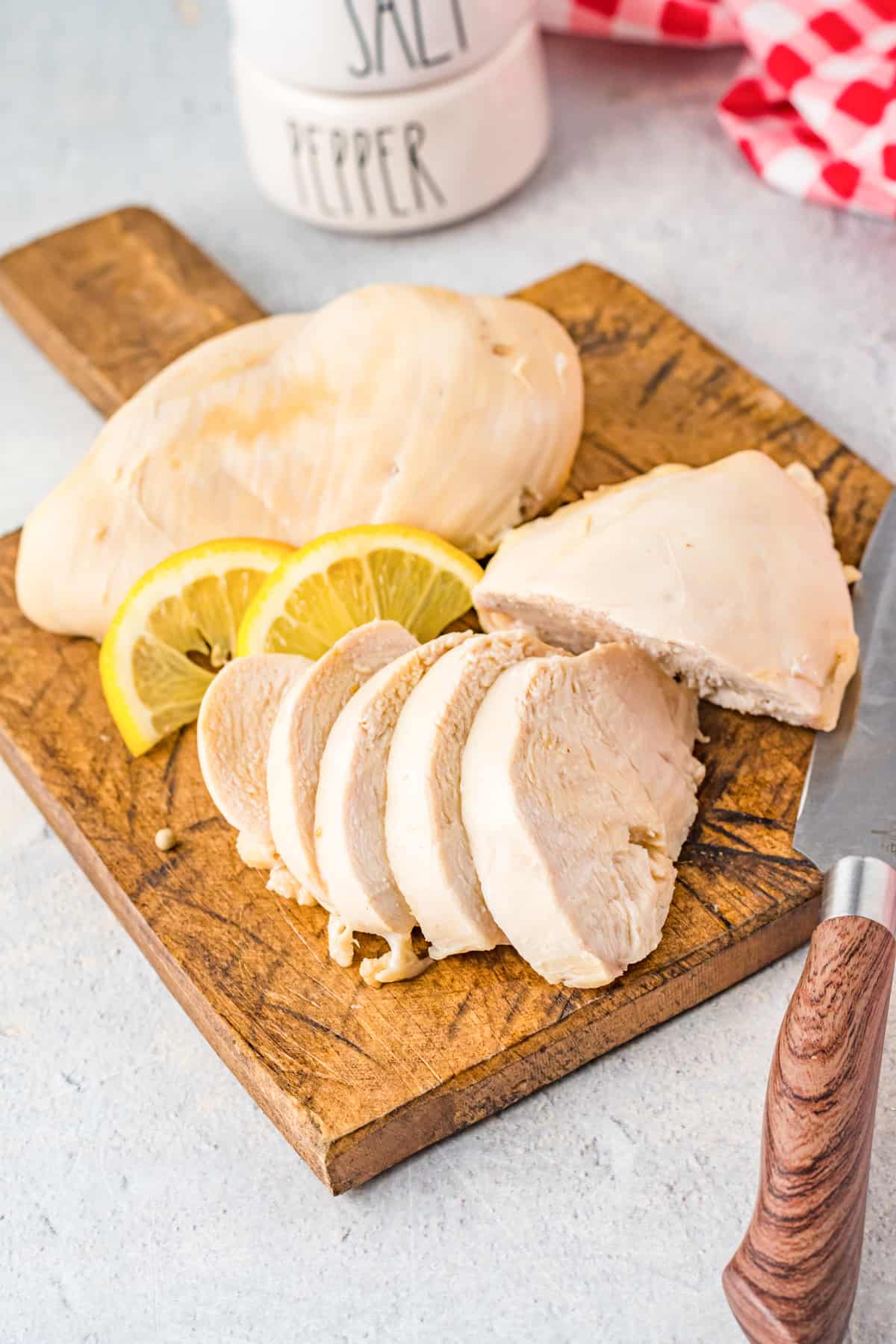 Perfectly Poached Chicken
Learn how to poach chicken breast for the most perfect chicken you'll ever eat! This method is so quick and easy, it'll be your new go-to for healthy, simple protein.
The secret genius of poached chicken breasts is that you can't overcook them. That means juicy, moist, tender chicken every time. Talk about a foolproof recipe!
Season it to your liking, serve it with your favorite sides, or use it for all types of recipes. It's a great option for weekly meal prep!
Why You'll Love this Easy Chicken Breast Recipe:
SUPER EASY: Who doesn't love a quick, simple meal that tastes good? If you're looking for something delicious and super easy, this is an excellent recipe to follow.
HEALTHY: Poached chicken is a great option for healthy cooking. It's light, simple, but still delicious.
VERSATILE: You can do a lot with this chicken! Serve it with all kinds of sides, like broccoli, a baked potato, or even some pasta.
Prepare the most delicious, juicy, and tender chicken you've ever tried with this easy recipe. Once you prepare your chicken this way, you'll never go back!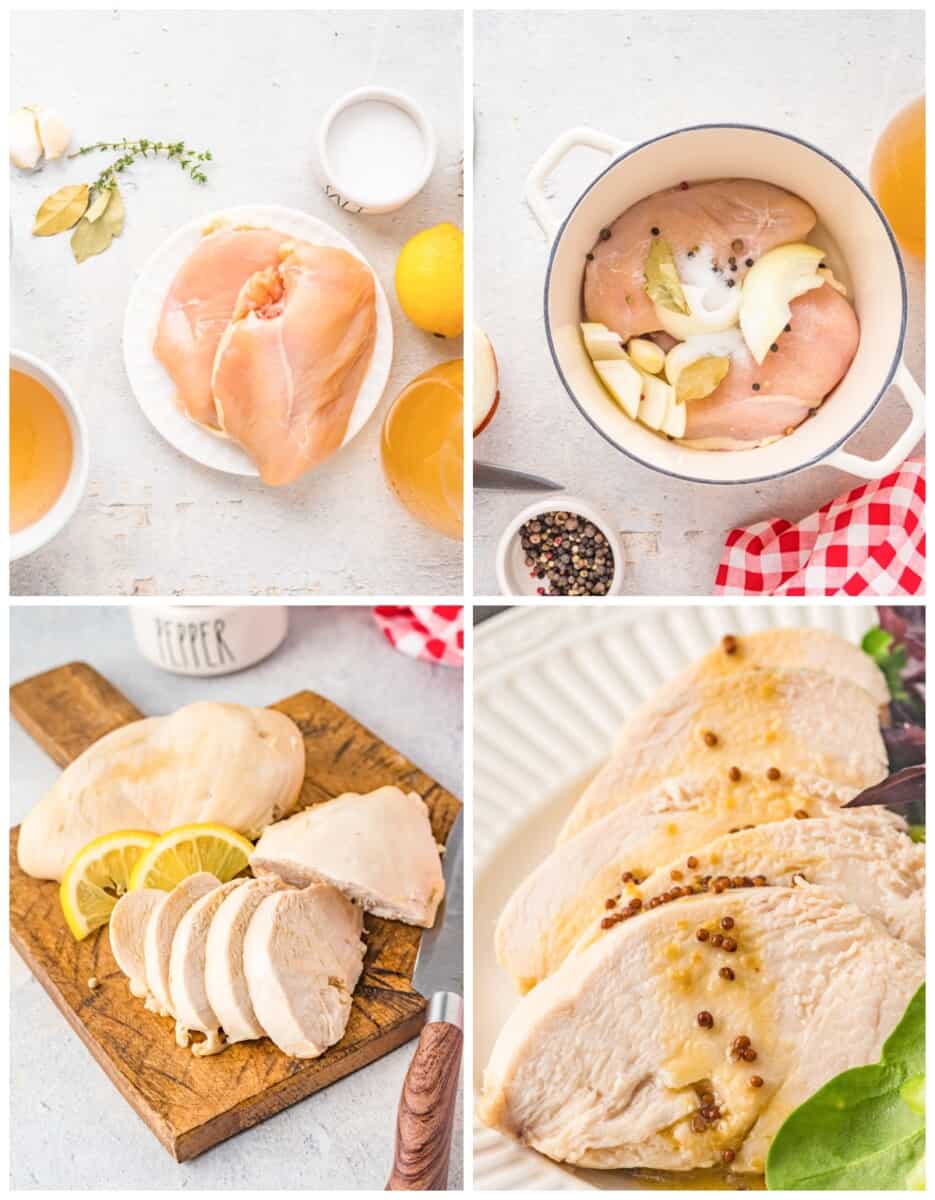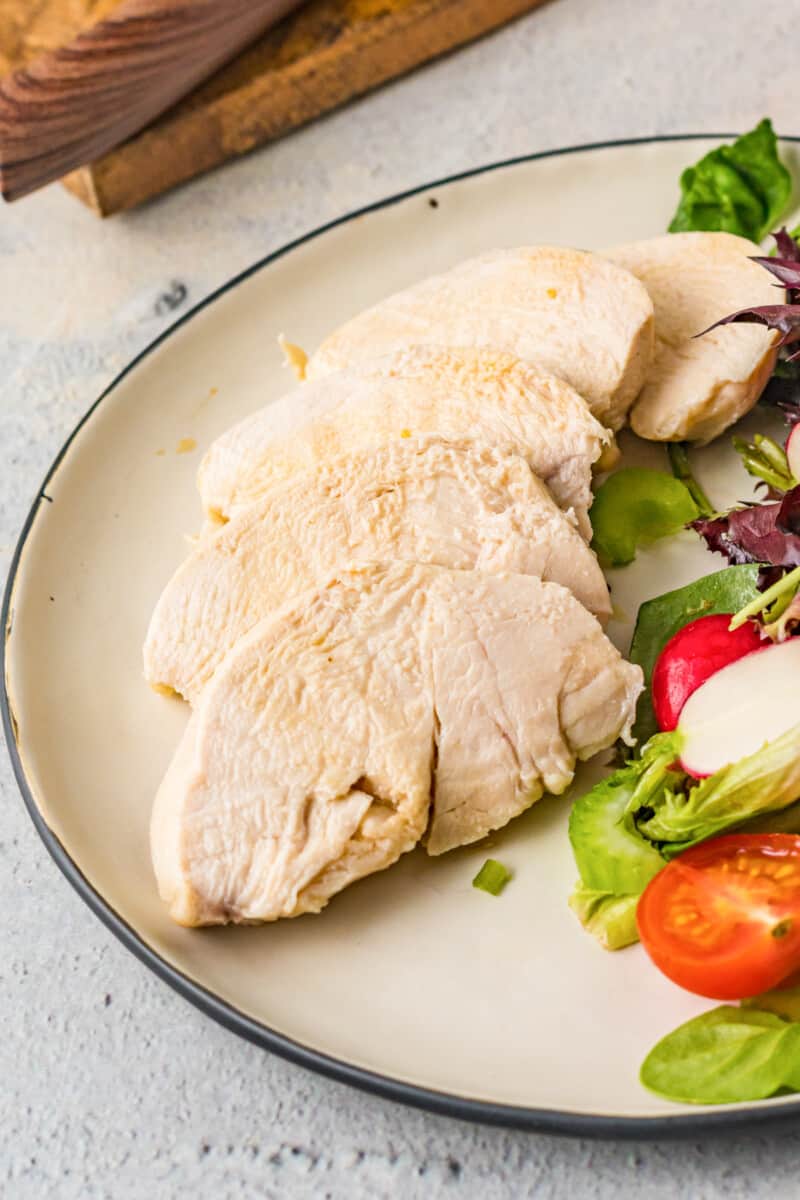 How to Poach Chicken Breasts
You can jump to the recipe card for full ingredients & instructions!
Put your chicken in a Dutch oven, grab your five aromatics, and place them in the pan.
Put the liquid of your choice, such as wine or broth, into the pan, covering the chicken.
Place your pan on the stove, bring your liquid to a boil on medium-low heat, and then turn off the heat once it comes to a boil.
Flip your chicken, cover the pan, and allow it to rest for 15 minutes. It will cook in the liquid.
Check your chicken with a thermometer and make sure it's cooked all the way through before placing it on a cutting board, letting it rest for five minutes, slicing, and serving it.
Ingredient Notes
Use any of your favorite aromatics to give this chicken more flavor. Thyme with garlic, bay leaves, salt, and pepper tastes amazing!
Another good combination for this recipe would be lemon with peppercorns, garlic, and salt.
If you'd like to use wine as your liquid, add it first and then add a bit of water or broth to cover your chicken.
You can prepare this poached chicken with boneless, skinless chicken breasts or chicken thighs, whichever you like best.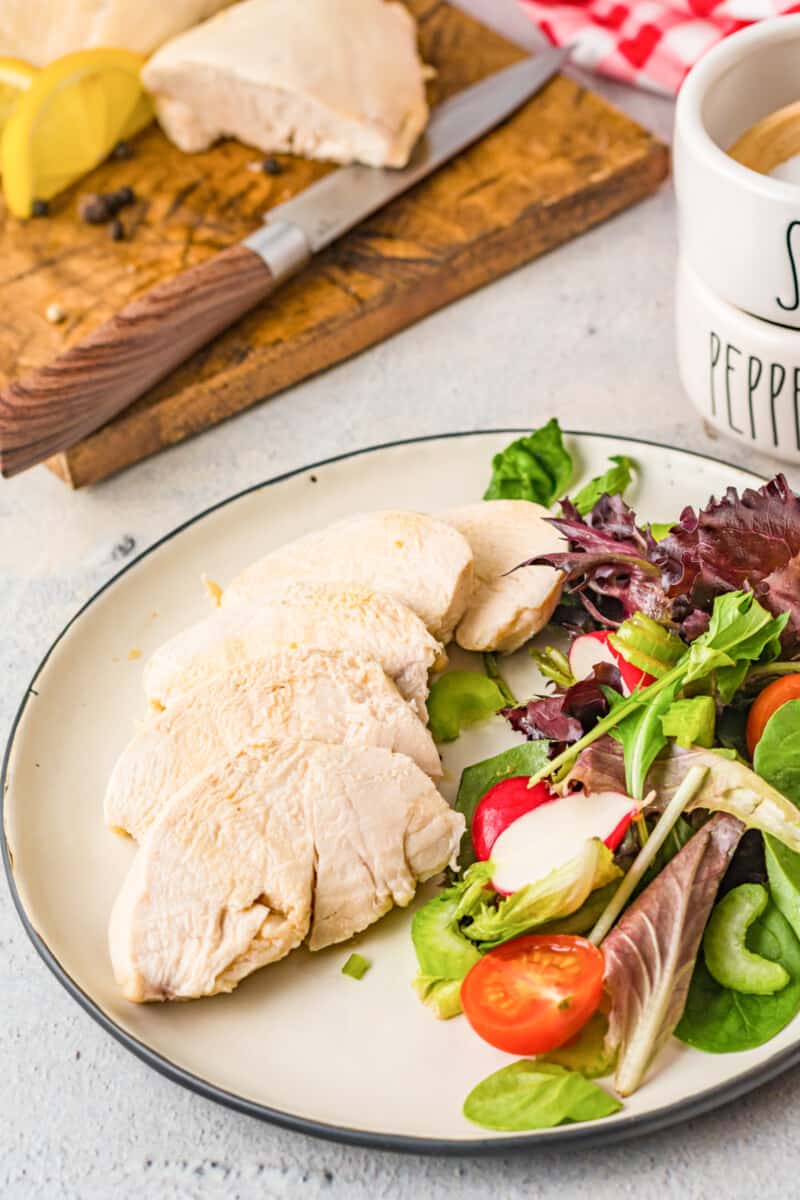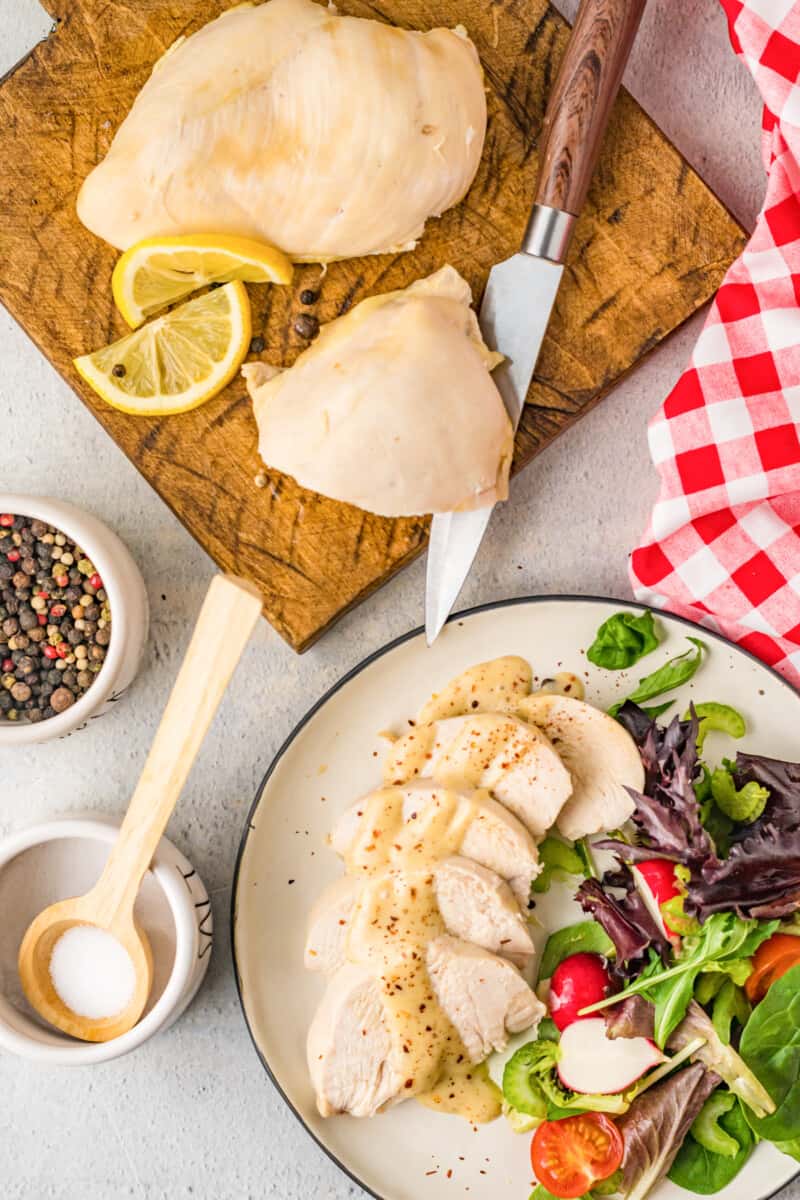 What is poaching?
Poaching is a type of cooking technique that involves boiling liquid and cooking the food (such as eggs or chicken) by allowing it to simmer in boiled, hot liquid.
What cut of chicken should I use?
Use chicken breasts or thighs. Make sure they're skinless and boneless for best results!
How do I know when the chicken is cooked through?
You'll need to use a meat thermometer to provide an accurate reading of the chicken's internal temperature. It should reach 165 degrees F in the thickest part of the meat.
How should I store poached chicken?
Place your poached chicken into an airtight container and keep it in the fridge. It will stay fresh in the fridge up to five days.
Serving Suggestions
Poached chicken breasts are so simple, which means it is an extremely versatile dish.
Enjoy the juiciest, most flavorful chicken. You'll love how simple and delicious this tastes when biting into it.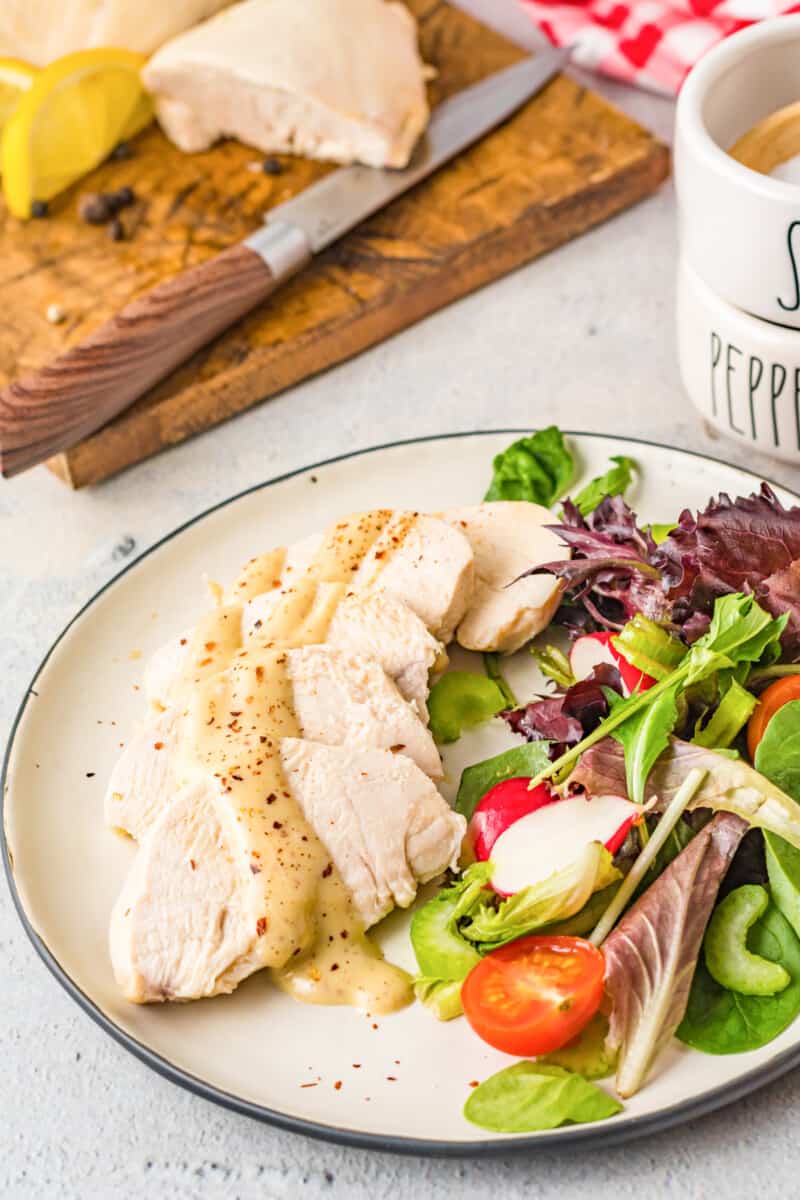 Tips!
Be sure to turn off the heat as soon as the liquid comes to a boil. You don't want to overcook the chicken, which will dry it out.
You can use all types of liquids when preparing this dish, including chicken broth, water, beef broth, or your favorite wine.
Freeze poached chicken for up to three months! It's great to have on hand when you need a quick meal.
When you're looking for a simple meal to make, this recipe is a good one to try. It's a straightforward recipe that takes little to no time to prepare.
What kind of pot should I use for poaching chicken breast?
A Dutch Oven works great, because it holds in the heat of the boiled water, helping to cook through the chicken. You can use a different style of pot though, as long as it has a well-fitted lid.
Can I double this recipe?
Absolutely. If you'd like to make more chicken to have plenty to go around and for leftovers, double this recipe.
What aromatic combinations do you recommend?
If you'd like to try something other than the two aromatic combinations mentioned above, combine cilantro with lime, pepper, and garlic for an incredible taste! You can really season poached chicken breasts however you like!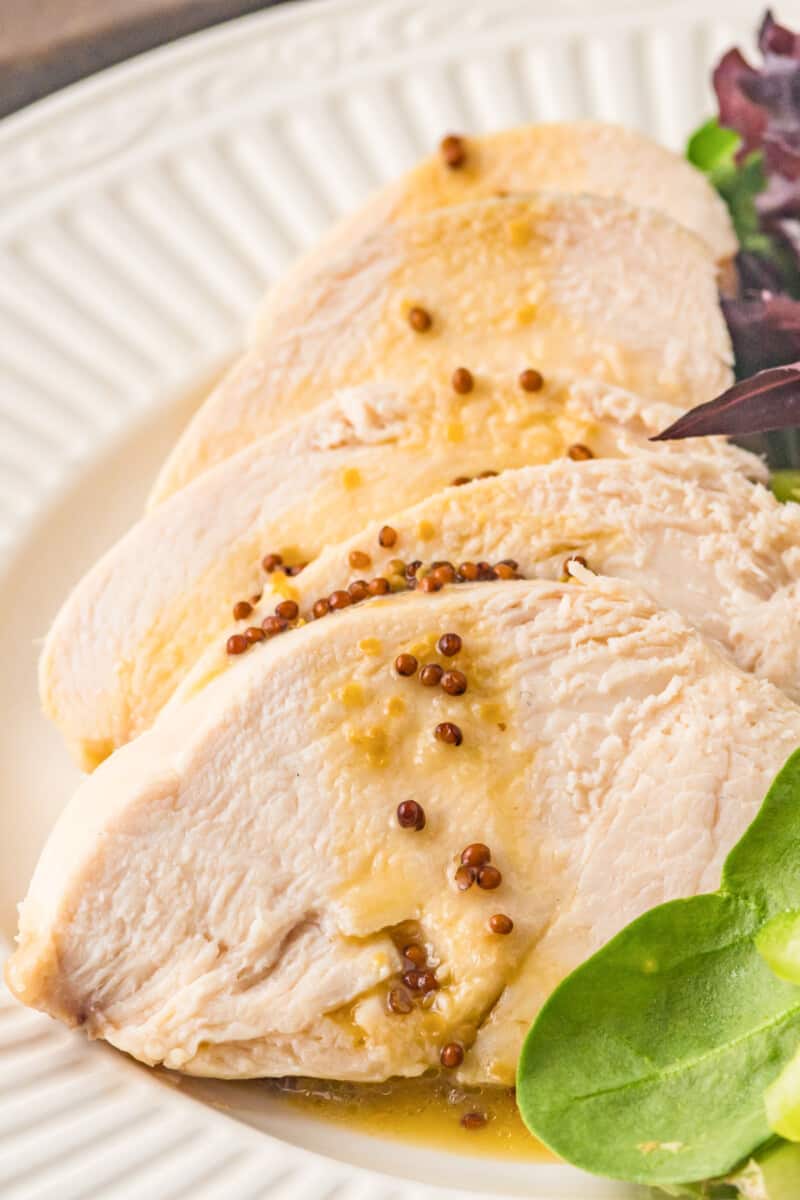 Learning how poach chicken breasts really changes the game. It's easy, it's delicious, and it's truly perfect! No better way to prepare some healthy protein for dinner.
If you make this recipe be sure to upload a photo in the comment section below or leave a rating. Enjoy! You can also jump to recipe.