Mix up your Mexican night with these delicious crispy turkey tacos! Simple and easy to make, seasoned ground turkey is added to tortillas before being fried to crispy perfection!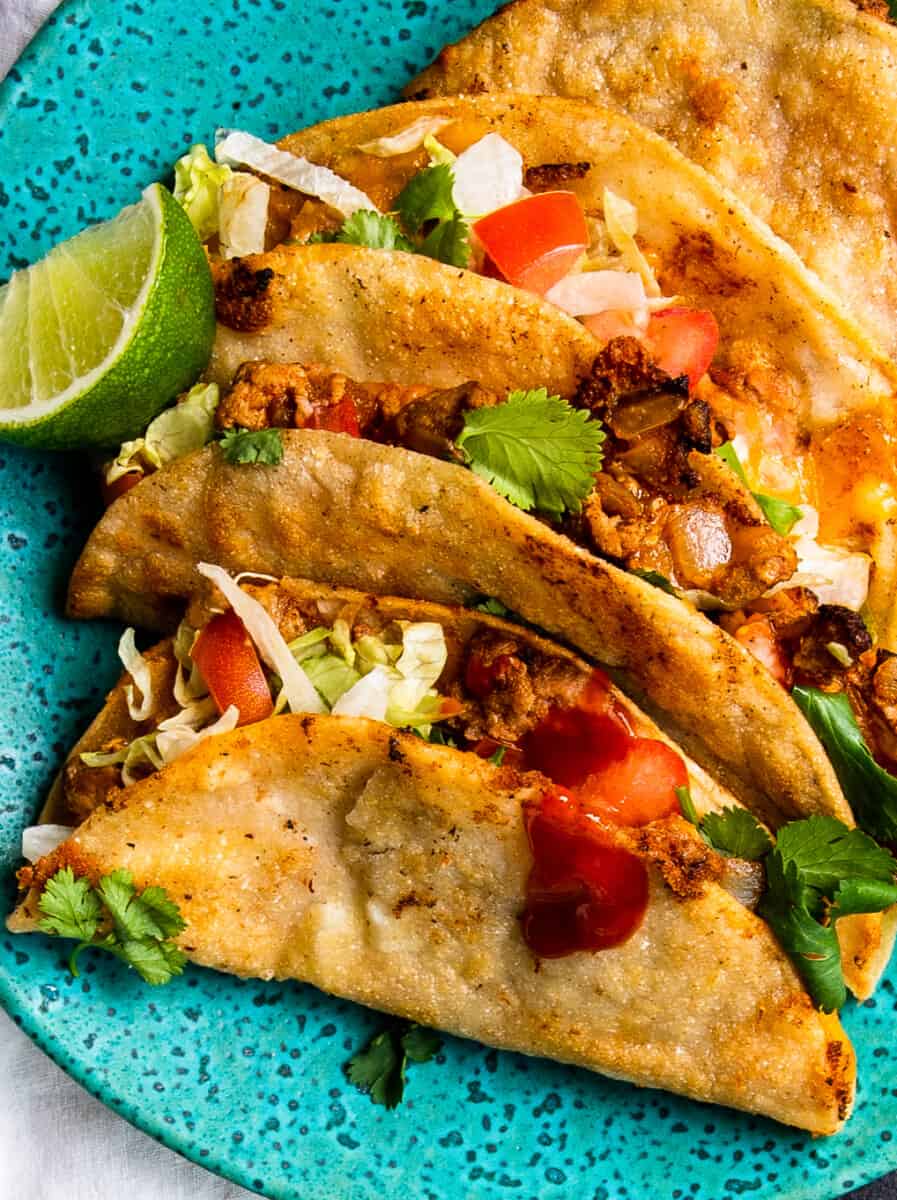 Cheesy Turkey Tacos Recipe
Taco Tuesday is definitely a thing in our house–in fact, it doesn't have to be Tuesday! They are such a great go to for a quick weeknight meal, and they are always a big hit.
These turkey tacos are are packed full of all of your favorite Mexican flavors, and the tortillas are quickly fried so that they are perfectly crispy!
Be sure to try my Shrimp Tacos and Ground Beef Tacos too!
Why you'll love this Easy Turkey Tacos recipe:
QUICK AND EASY: Ready to serve in less than 30 minutes, these turkey tacos are a delicious option after a long day.
SIMPLE INGREDIENTS: Just grab your usual taco ingredients and your favorite toppings, plus ground turkey, for one tasty bite.
CROWD PLEASER: These crispy tacos make for a great change to soft shell and they are super easy. Let everyone add their favorite toppings and you'll have lots of happy bellies!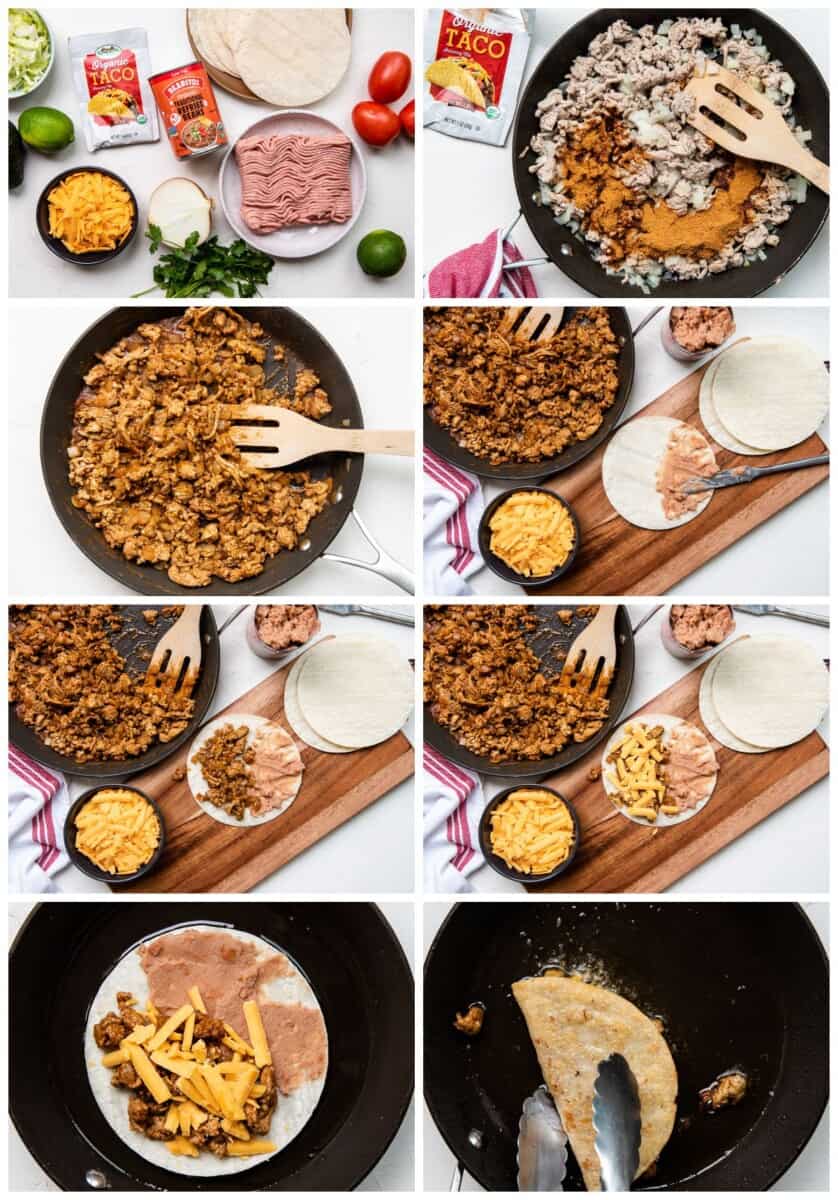 How to make Crispy Turkey Tacos (Skillet, Oven, and Air Fried Versions Below!)
You can jump to the recipe card for full ingredients & instructions!
Brown the turkey and soften the onion. Stir in the taco seasoning.
Place refried beans on a corn tortilla, top with some turkey mix and cheese.
Place the prepared tortilla (flat) into a hot skillet.
Once pliable, fold in half.
Cook on each side until brown and crispy.
Add your favorite toppings, sauces, or drizzle with taco sauce–and enjoy!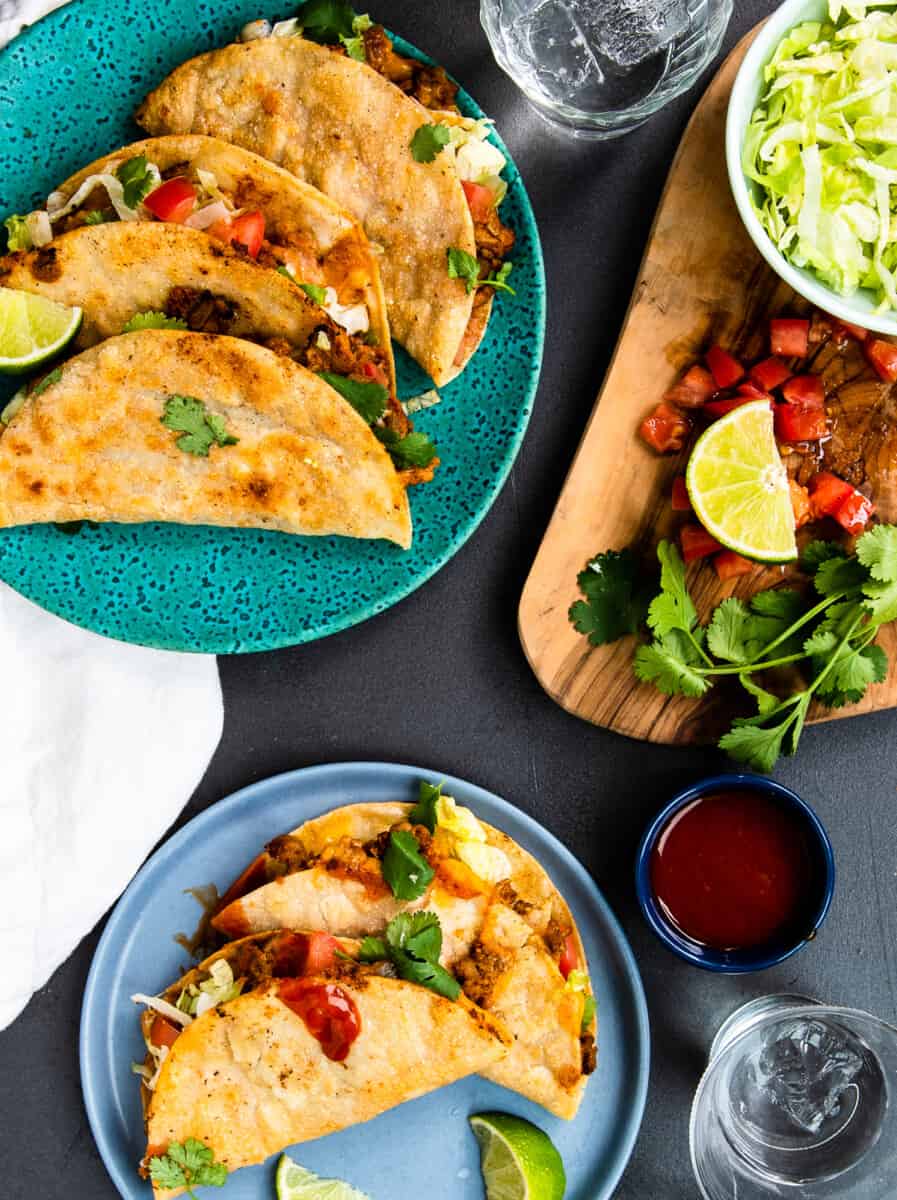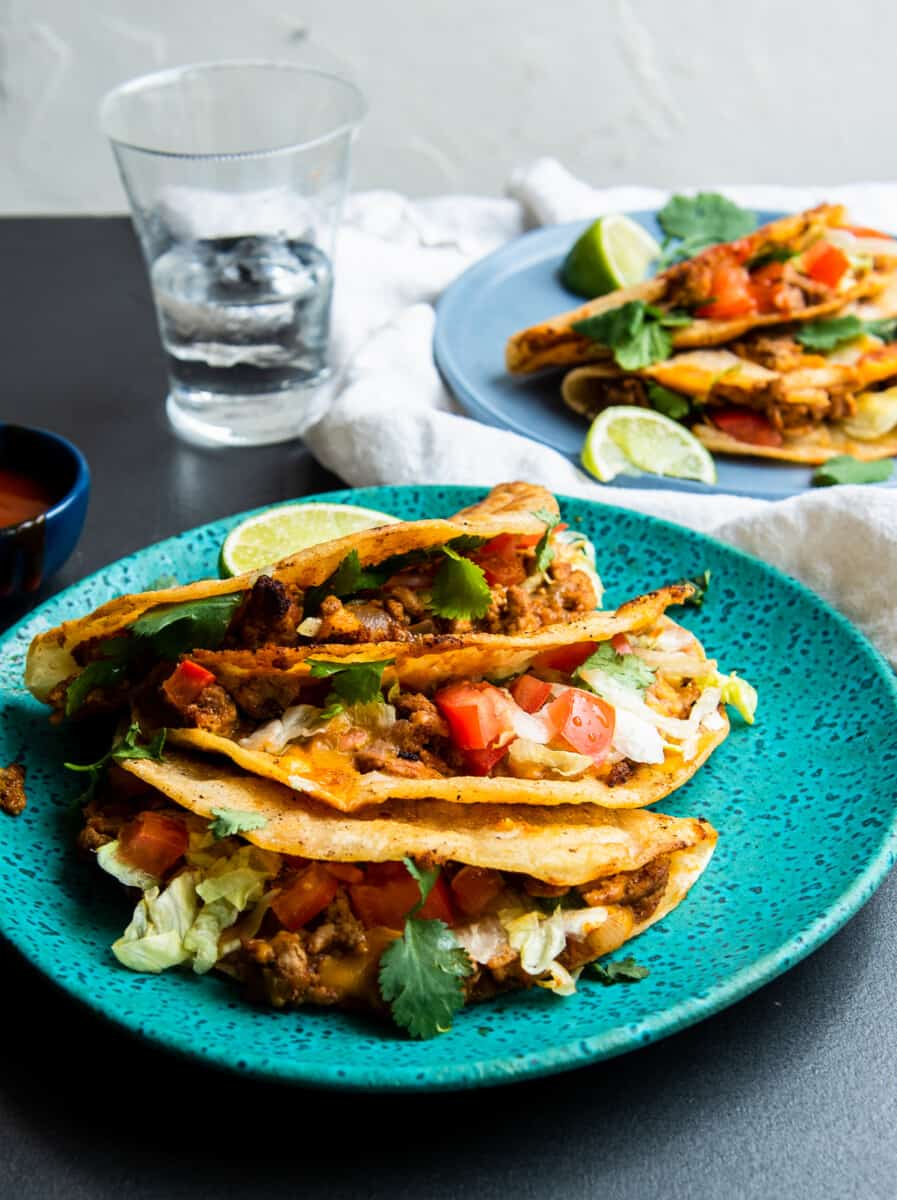 Can you make these with other meats?
The ground turkey is a great way to mix your taco nights up, but you can of course make this with ground chicken or ground beef if you prefer. Ground turkey is a great source of low fat protein, so I do like to swap it with beef every now and again.
Can you make them with flour tortillas?
I have found that corn tortillas work best for these fried crispy tacos. They have a bit more rigidity to them and hold their shape well, plus the natural flavors of the corn really come through. Flour tortillas will work if that's what you have, they just tend to puff up a bit more.
Can you make them ahead of time?
The fried crispy tortillas are best enjoyed as soon as you've made them, as they can start to get a little soft and chewy if they are left too long. You can easily make up the ground turkey filling ahead of time, and any leftovers will keep well in the fridge for up to 4 days.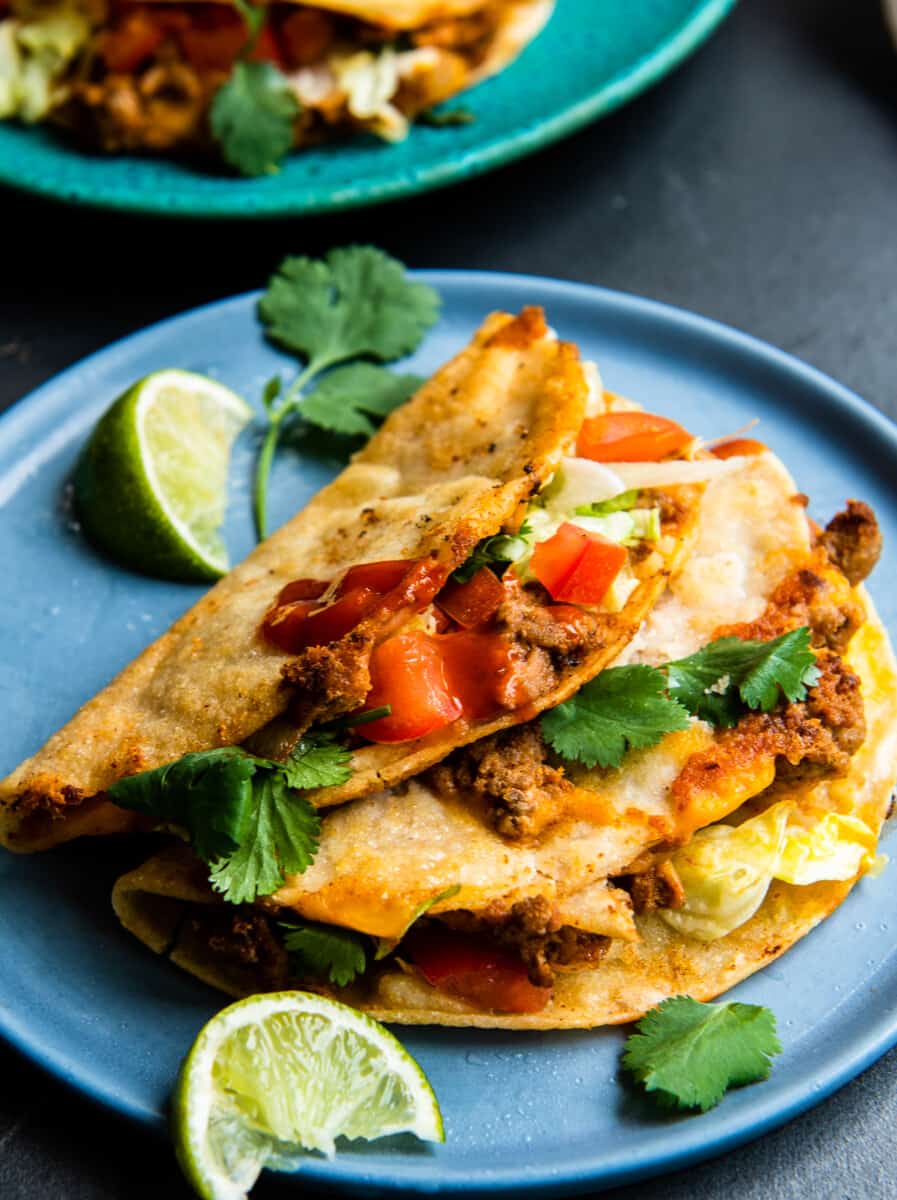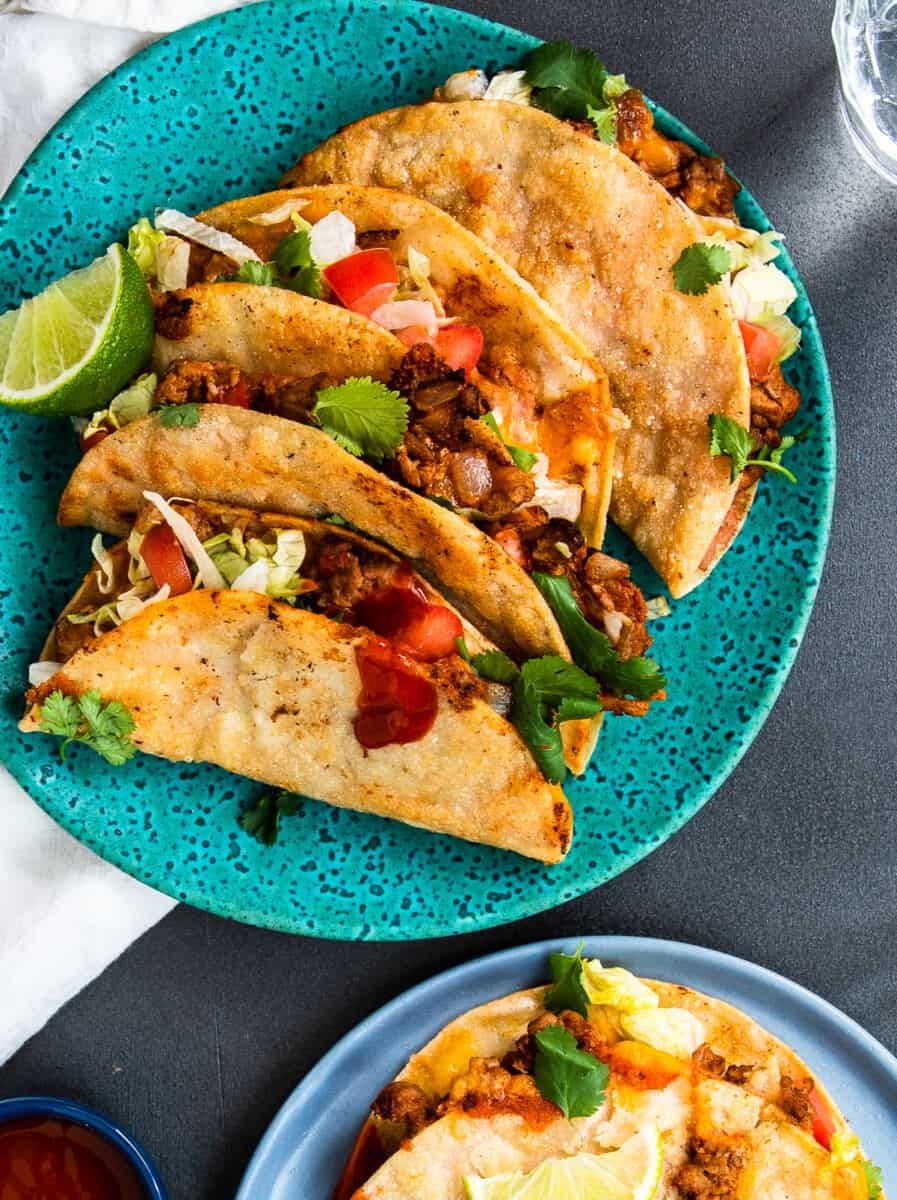 Tips!
Oven version: Preheat oven to 425°F. Warm the corn tortillas in the microwave or over an open flame to make them pliable. Quickly follow instruction 2 but fold the tacos in half. Place on a parchment lined baking sheet and bake for 5-8 minutes, flip, and continue baking for 5 minutes more.
Air fryer version: Preheat air fryer to 400°F. Warm the tortillas over an open flame or in the microwave to make them pliable. Spread beans evenly over the entire tortilla and top with meat and cheese. Folded tacos will not stay folded in the air fryer so you need to roll the taco. Place rolled tacos seam side down in the air fryer. Cook for 8-12 minutes until crispy.
These are the perfect tacos for Cinco de Mayo, taco night, or any time you need to feed a lot of people. Crispy and delicious!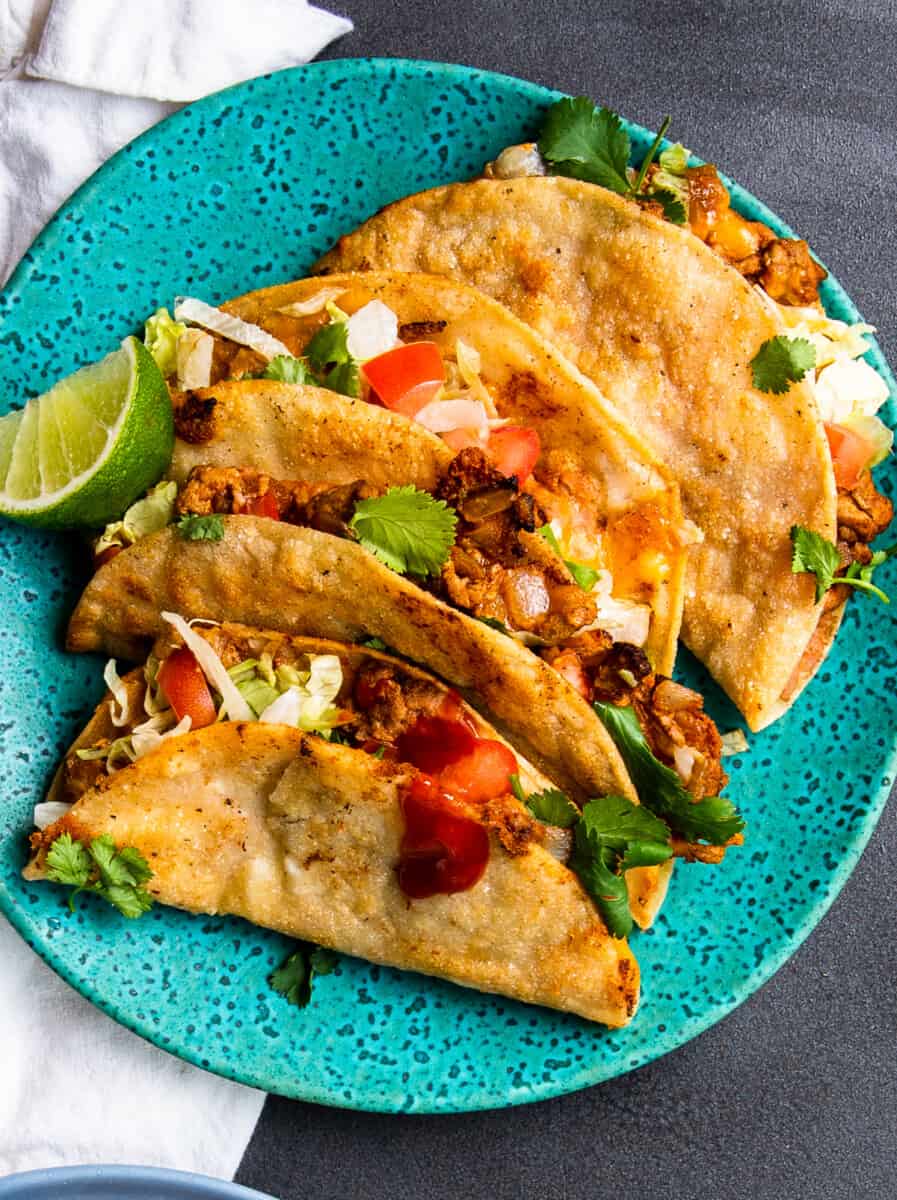 These crispy turkey tacos are a great way to liven up your usual taco night. Don't gorget to add all of your favorite toppings!
If you make this recipe be sure to upload a photo in the comment section below or leave a rating. Enjoy! You can also jump to recipe.