This simple tomato soup recipe made with canned tomatoes is seriously the best you are going to try! Served with cheesy crostini it's perfect comfort food. Easy to make, it's ready to enjoy in 30 minutes.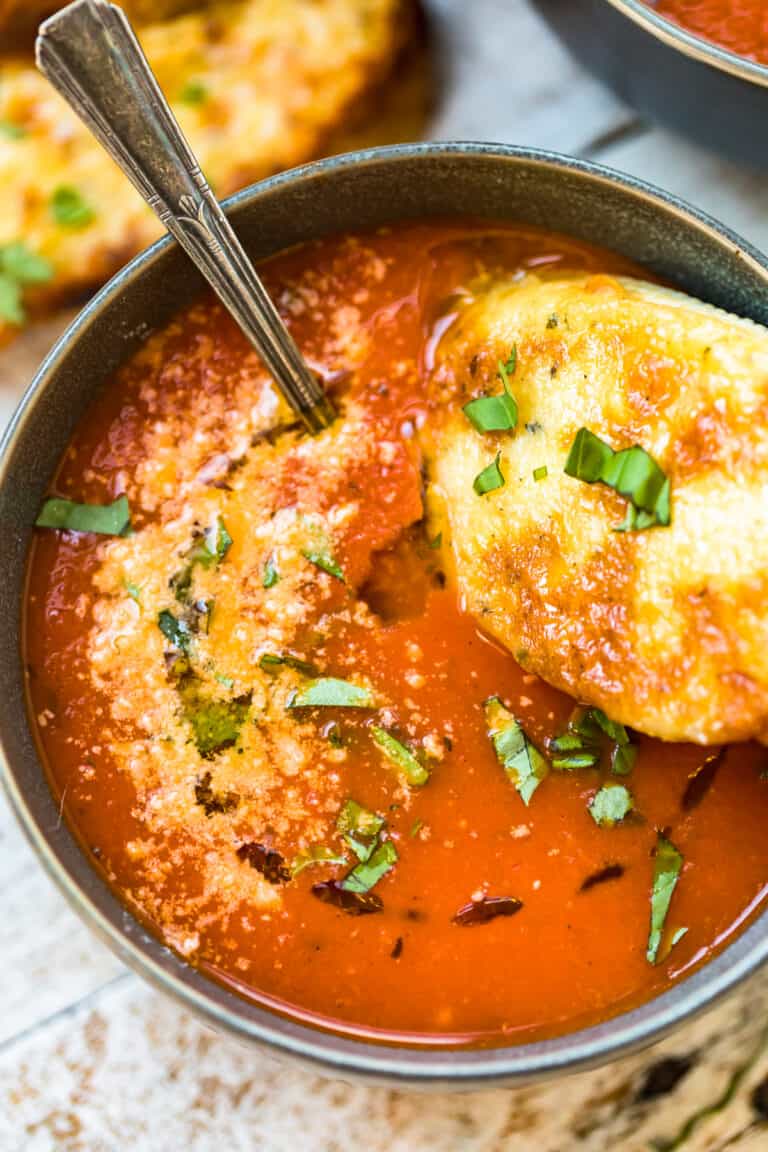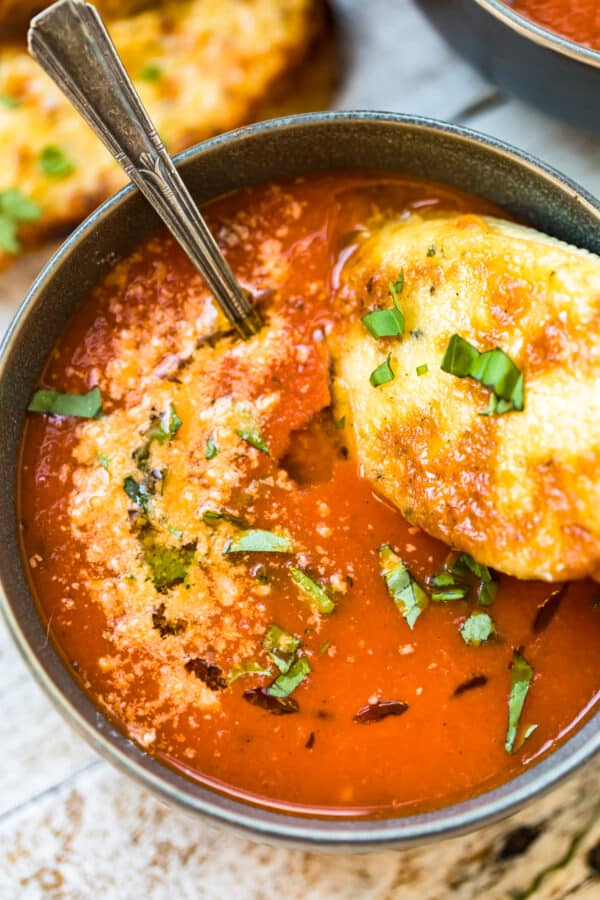 Easy Tomato Soup Recipe
There's really nothing much more comforting than a big steamy bowl of tomato soup, and my Mom's recipe really is the best! Full of rich flavors, it's the perfect lunch or appetizer, especially when served with the cheesiest of crostini!
Our version of Tomato Soup is made only with pantry staples and CANNED TOMATOES, meaning you can make it anytime and all throughout the year.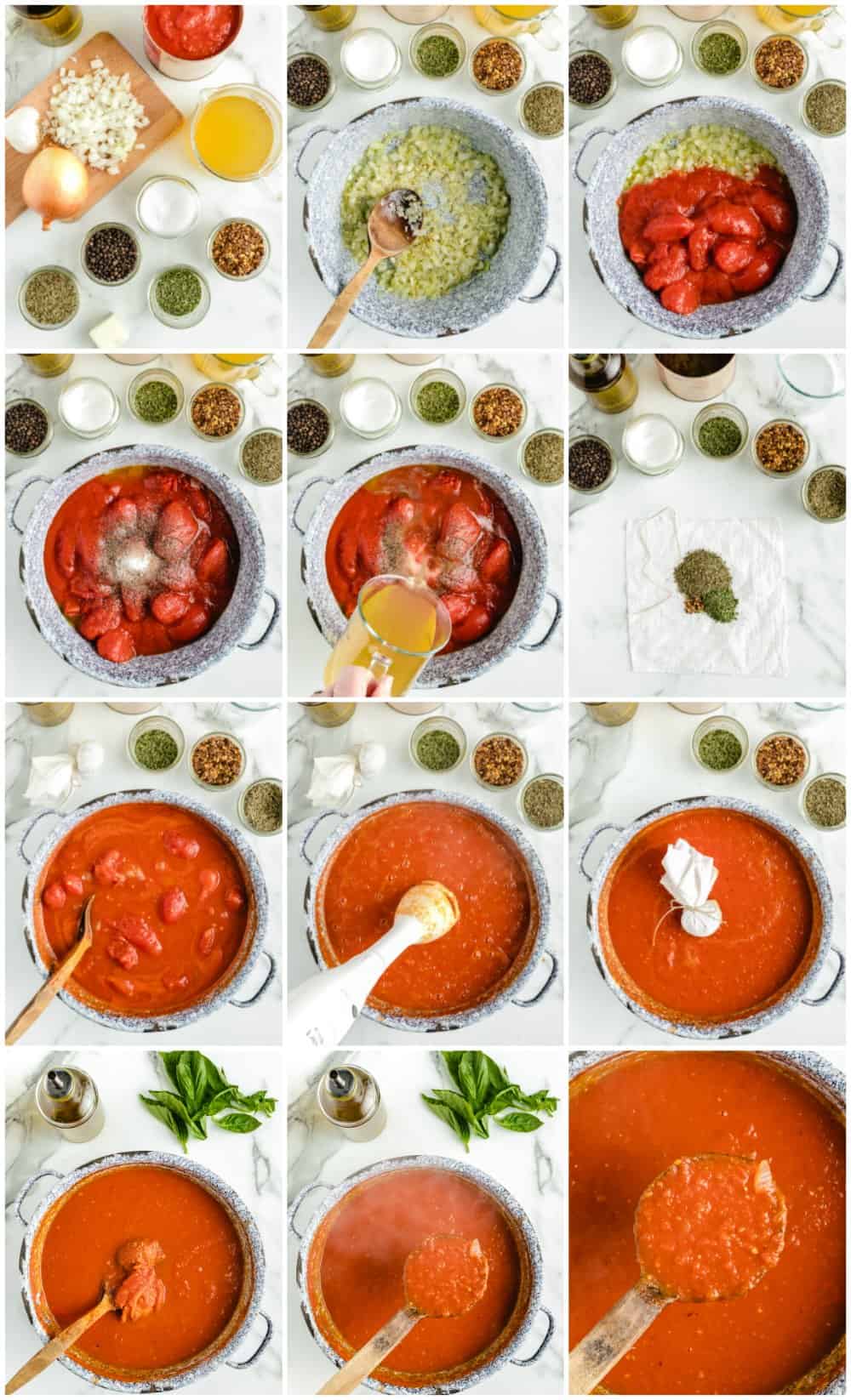 How to Make Tomato Soup
Be sure to scroll down to get the full recipe!
Prep: Gather your ingredients from the pantry, and chop the onions and garlic.
Make the soup: Cook the onions and garlic in the oil and add the tomatoes and stock. Bring to the boil.
Blend: Use an immersion or stand blender to blend the mixture until smooth.
Season: Place the herbs and red pepper flakes in a cheese cloth bag and place in the soup. Simmer uncovered.
Serve: Ladle the soup into bowls, drizzle with olive oil and garnish with fresh basil. Serve with cheesy crostini.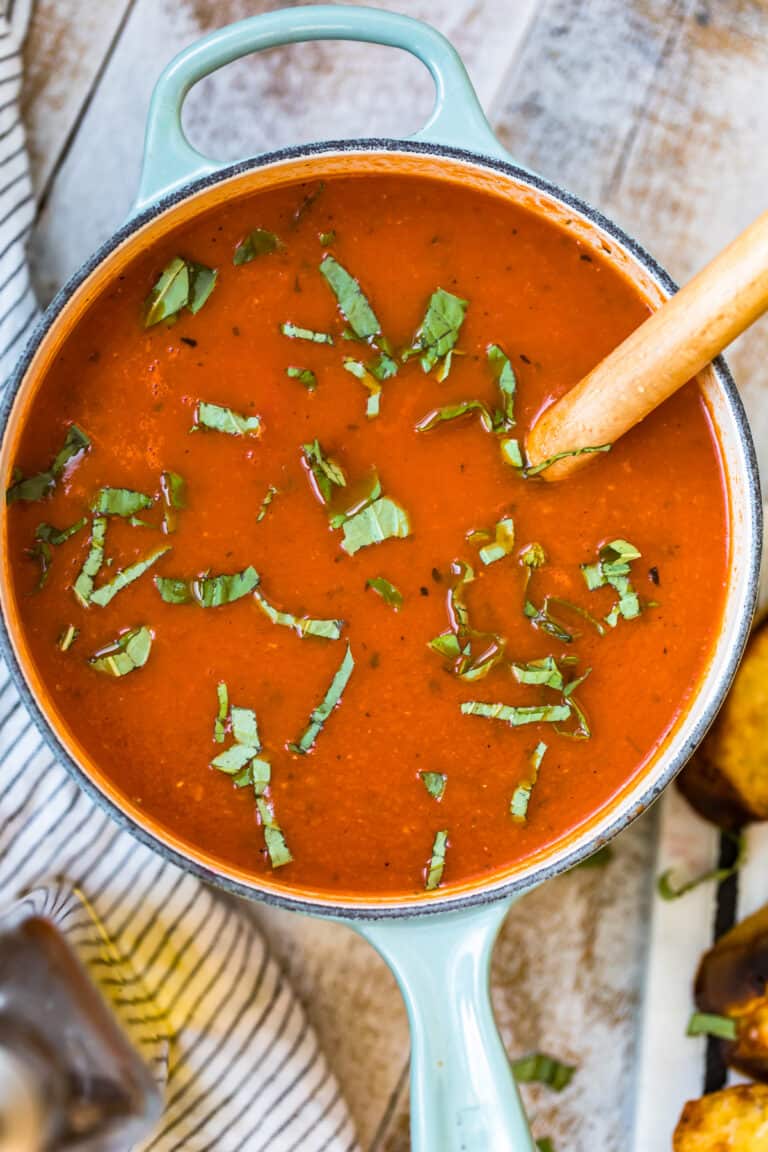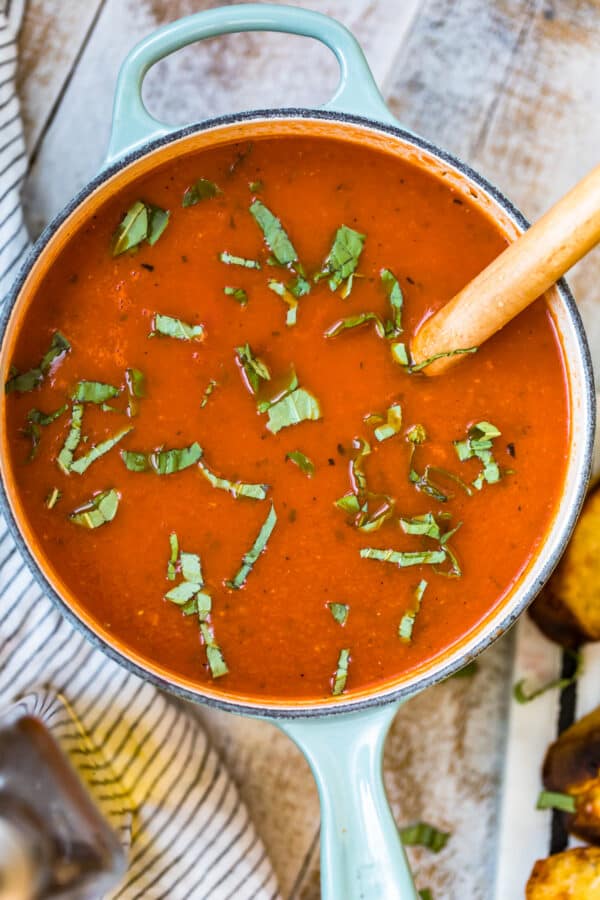 30 minute Tomato soup
One of the reasons that I love this soup so much is because it's ready in around 30 minutes.
Using flavorful canned tomatoes means it won't require a long cooking time, and it also creates a wonderfully rich soup and creamy soup!
Can you make it ahead of time?
Soup is a perfect option for meal prep and make ahead meals. Once you have made the tomato soup, let it cool to room temperature before transferring it to an airtight container. The soup will keep in the fridge for around 4 days.
You can also freeze the soup and it will keep for around 3 months. Thaw it in the fridge overnight or at room temperature.
You can reheat the soup in the microwave or on the stovetop.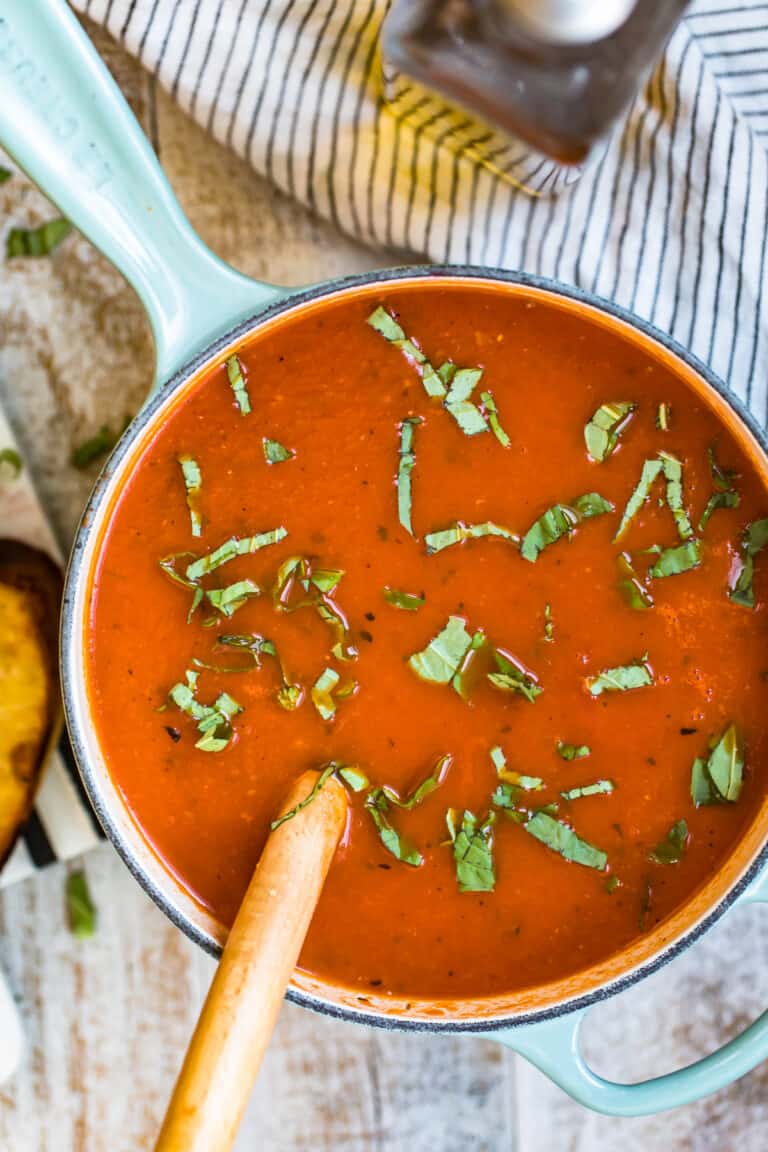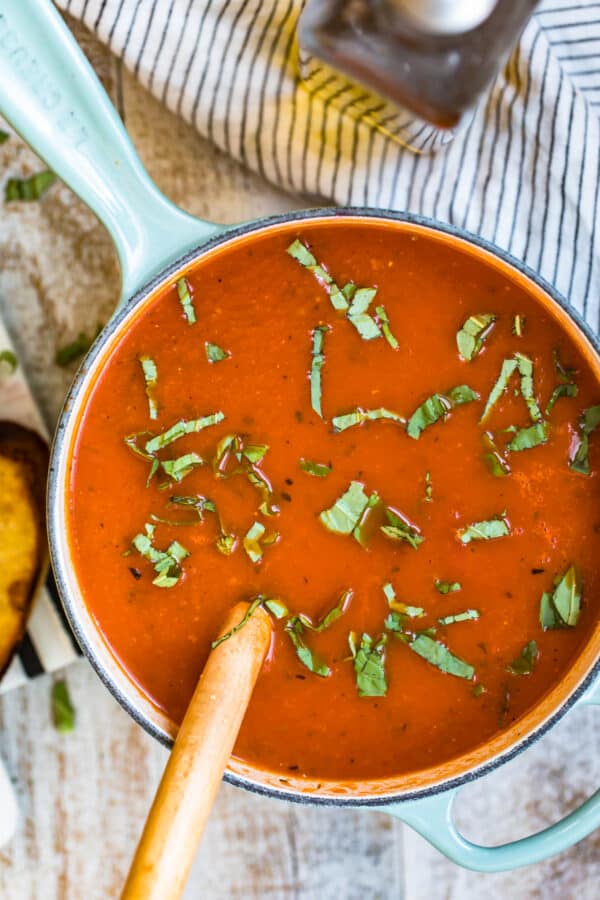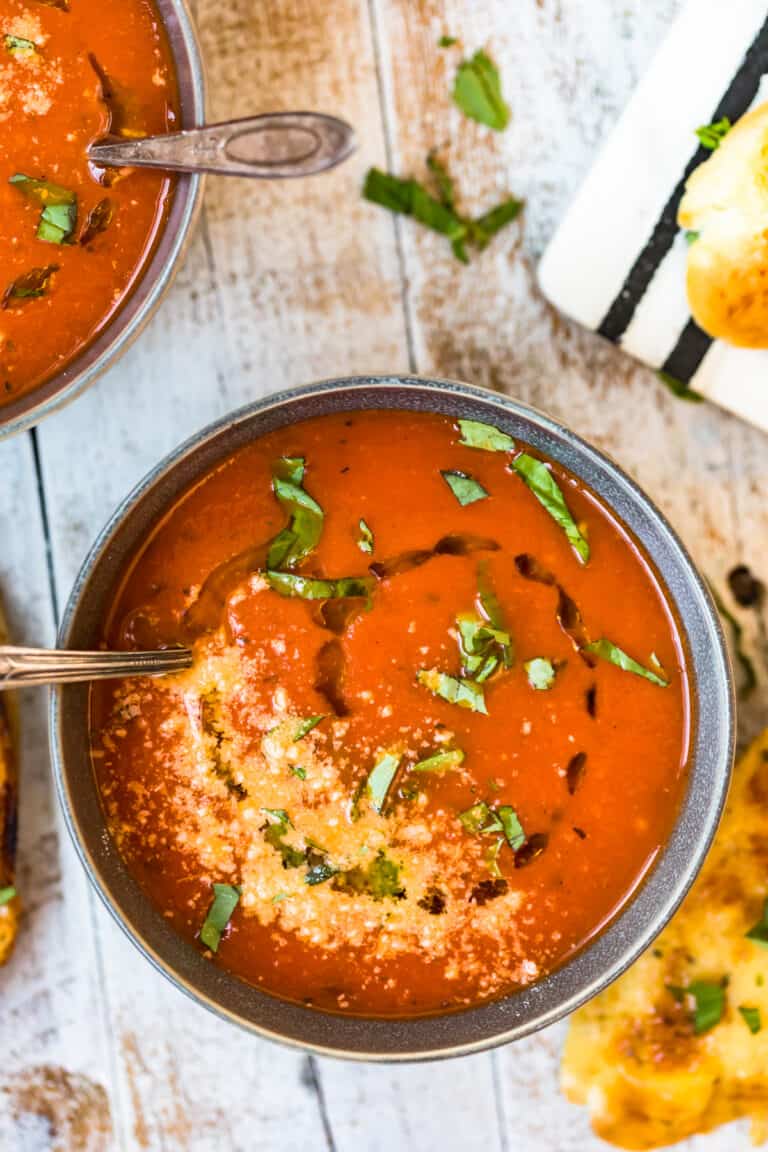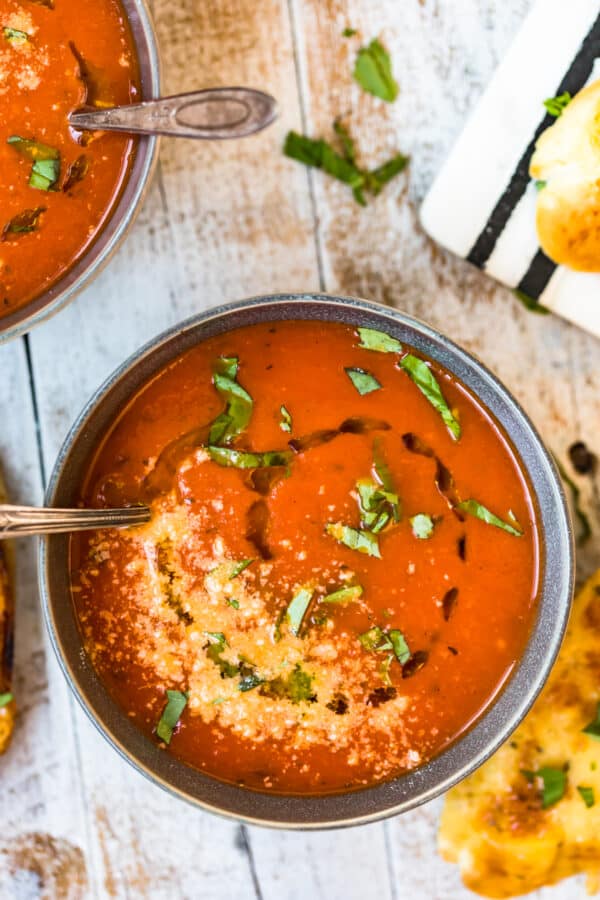 Why This Soup Is So Good!
Homemade tomato soup can sometimes be bland, but this recipe is so rich and tangy (thanks Mom!). This tomato soup is so well seasoned and the canned Marzano D.O.P tomatoes are a quick and easy way to make it super bold. No more watery tomato soup for us!
Serving Suggestions
I made the cheesiest crostini to go along with this creamy tomato soup and it's absolutely perfect! It's basically grilled cheese, but much fancier.
This is such a staple recipe in my house because it pairs well with so many dishes. Sometimes you just want a bowl of soup with crusty bread, sometimes you want to serve it with grilled cheese or another sandwich. It also makes a great pre-dinner soup and complements a lot of my favorite chicken recipes.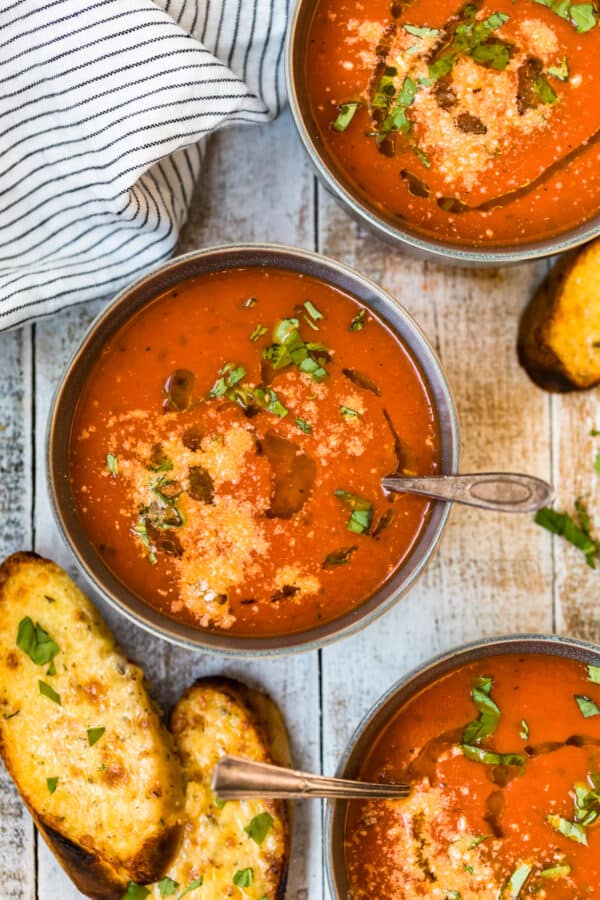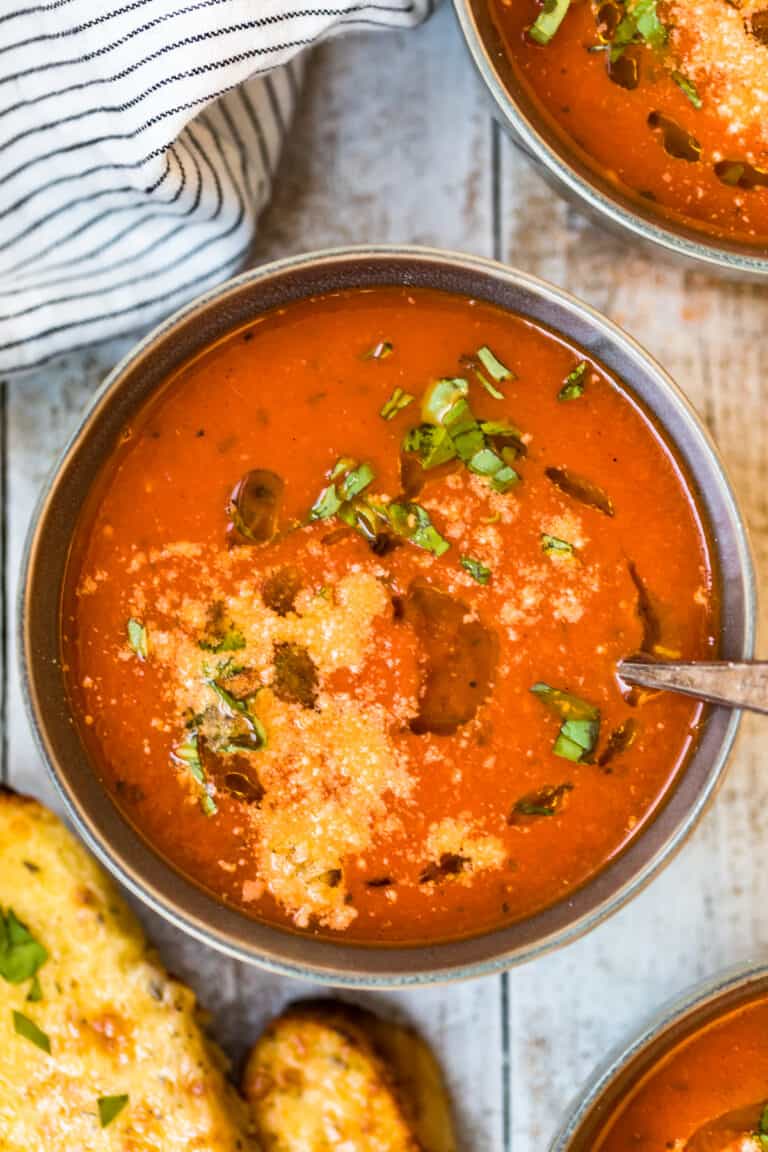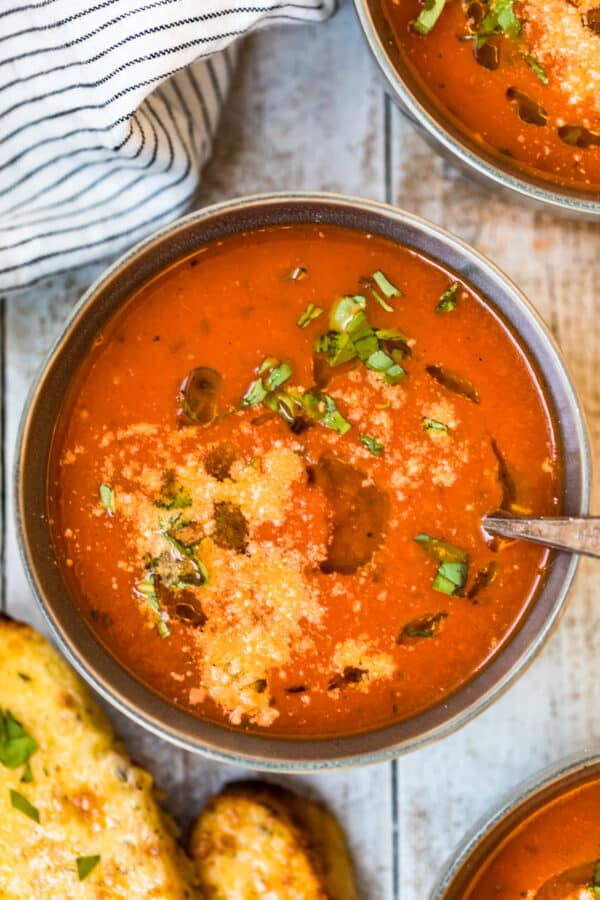 Tips and Notes
Be sure to use canned Marzano D.O.P tomatoes. They add so much flavor without the need for long simmering times.
You can skip the blending if you prefer a chunkier tomato soup. If you want to blend it you the easiest way is to use an immersion blender. Alternatively you can ladle the soup into a stand blender in batches.
Make a double batch! This soup keeps really well and is great for freezer meals!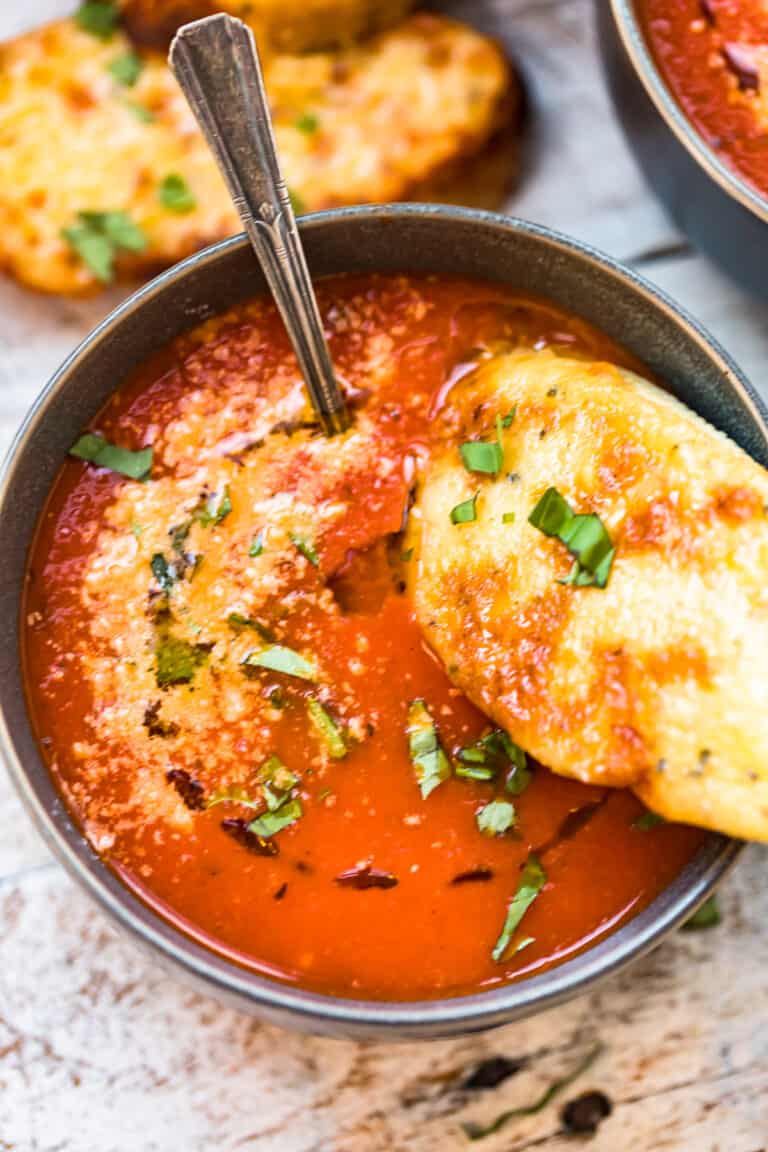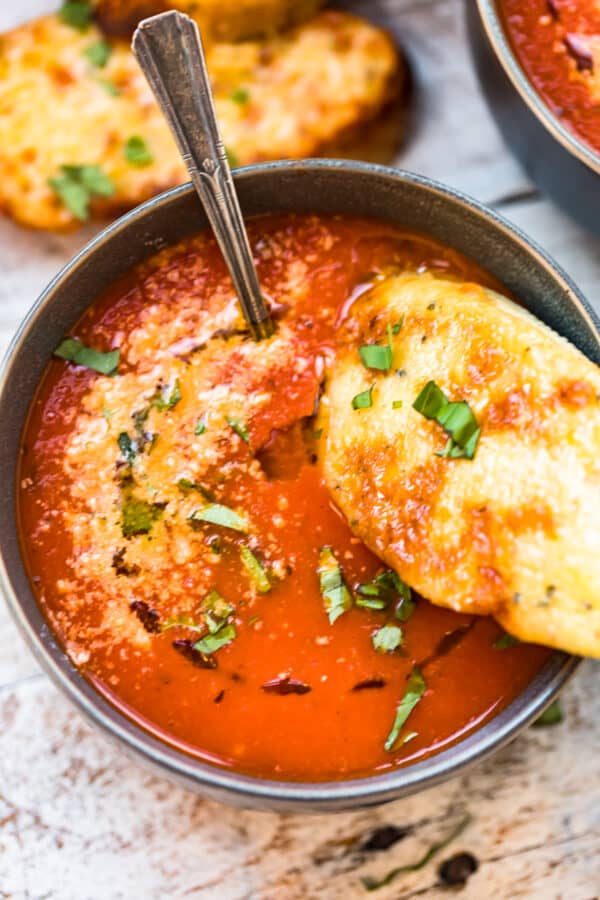 If you make this recipe be sure to upload a photo in the comment section below or leave a rating. Enjoy!