Crockpot Taco Soup features plenty of ground beef, black beans, corn, and more in a boldly flavored broth! This easy-to-make soup is concocted in the slow cooker with a medley of seasonings that make it seriously mouthwatering. Comfort food has never been easier or more flavor-packed!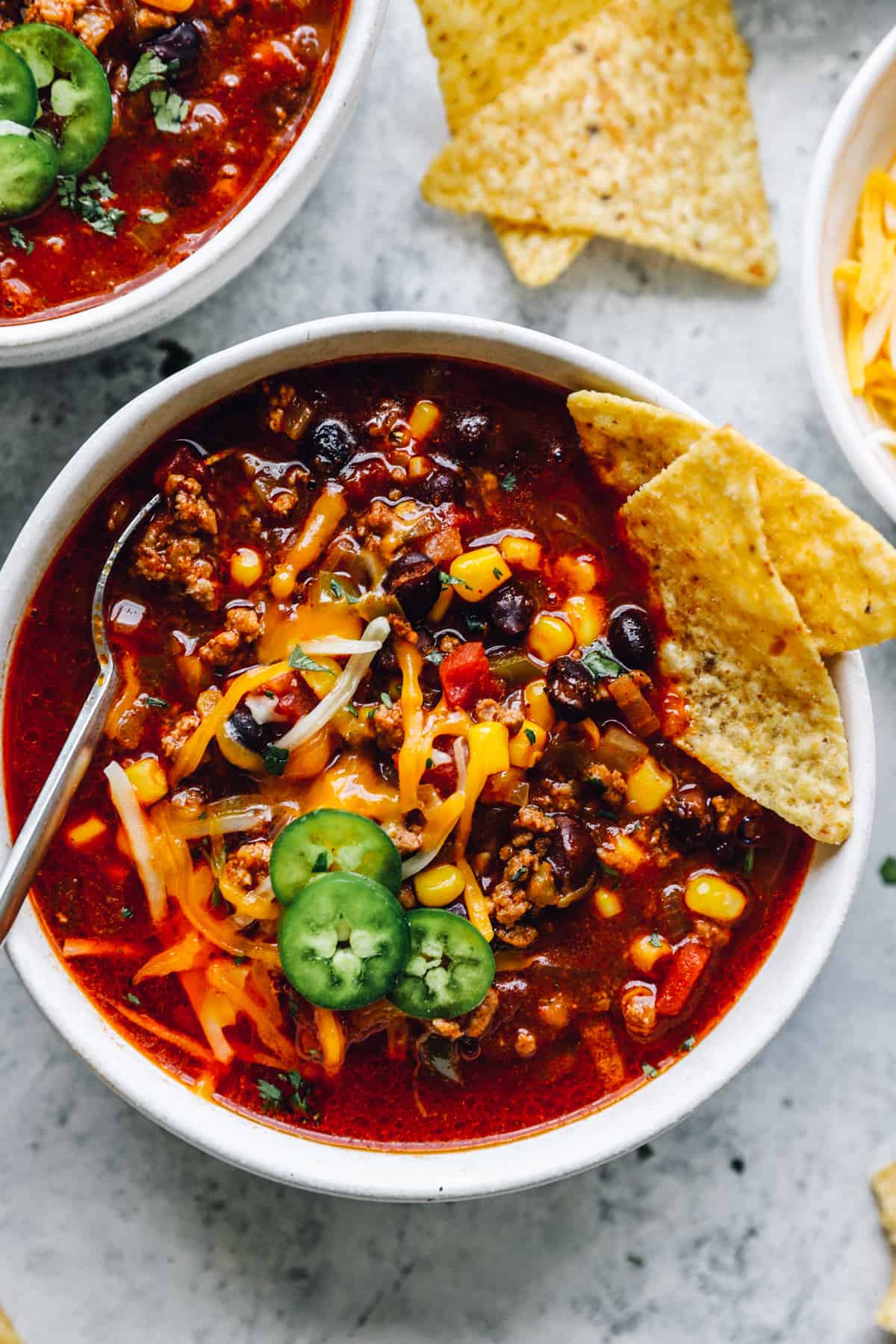 What's in this Recipe for Taco Soup?
The slow cooker does all the work, so you can sit back and relax while this taco soup cooks to perfection in about 4 hours. Paprika, chili powder, garlic powder and more make this soup deliciously flavor-packed.
Olive Oil: Helps the beef brown without burning. You can use any neutral oil here, such as canola or vegetable.
Ground Beef: I like to use 85%-lean ground beef here, as it has a good balance of fat. Make sure to drain off any excess grease to avoid an oily soup.
Onion: Use whatever kind of onion you have on hand– white, yellow, or sweet all work.
Beef Broth: Forms the base of this soup. You can use vegetable broth instead of beef broth, if you prefer.
Diced Tomatoes and Green Chiles: Add a rich tomatoey flavor and just a hint of spice.
Tomato Sauce: Deepens the tomato flavor of this soup.
Black Beans: Feel free to swap the black beans for kidney or pinto beans.
Corn Kernels: You can use fresh or frozen corn in this recipe. You do not need to thaw the frozen corn.
Spices: Chili powder, cumin, paprika, garlic powder, onion powder, and salt give this soup its complex flavor profile.
Lime: Adds a hint of freshness!
Pro Tip: You can use store-bought or homemade taco seasoning in place of all of the spices in a pinch!
Variations on Slow Cooker Taco Soup
You can use any ground meat you like, such as chicken or turkey, or use cooked shredded chicken or turkey instead.
For a milder soup, replace one or both cans of diced tomatoes and green chiles with regular diced tomatoes. You can also reduce the amount of chili powder.
For a spicier soup, increase the amount of chili powder, add a pinch of cayenne, or add some diced jalapeños!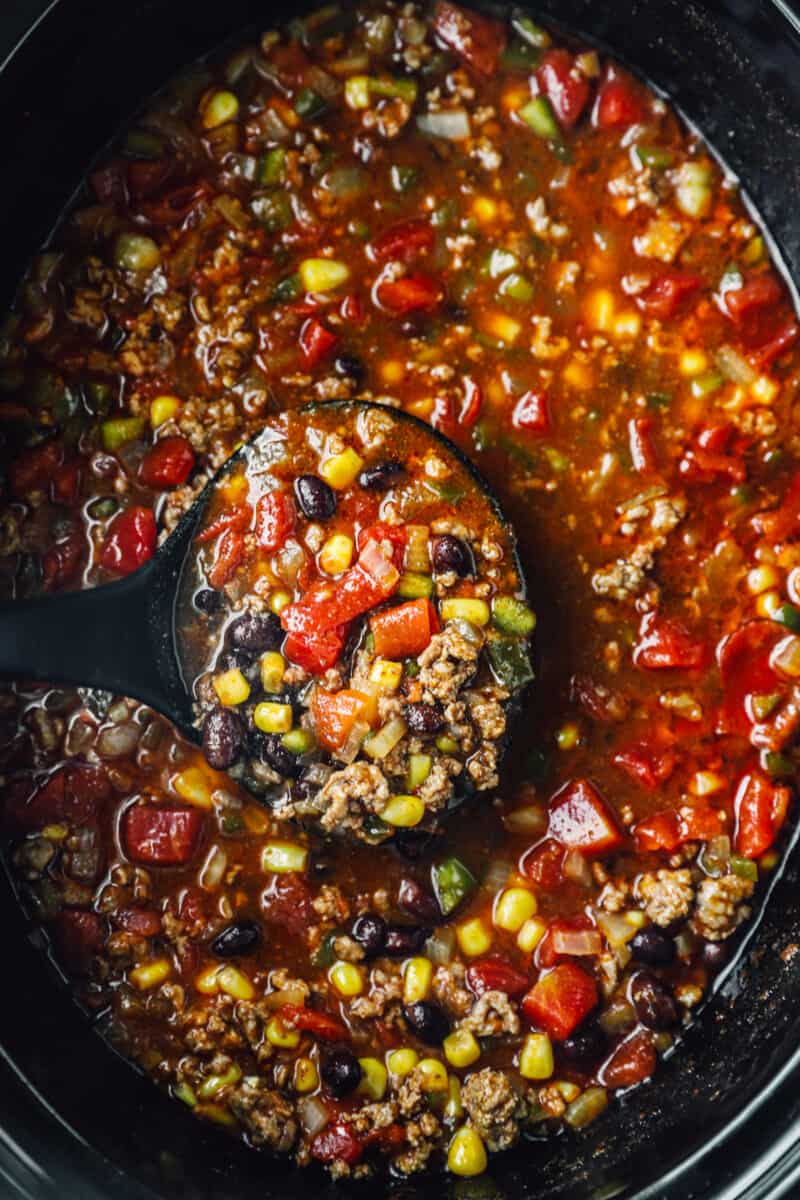 Is this soup spicy?
Crockpot taco soup can be as mild or as spicy as you'd like. To make it milder, swap the diced tomatoes and green chiles for regular diced tomatoes, and reduce the amount of chili powder to ½ teaspoon (or omit it completely!). To make it spicier, add more chili powder to taste, or add fresh or pickled jalapeños on top!
What is the best beef for crockpot taco soup?
I like to use ground beef that is lean, but not too lean. I used 80/20 ground beef in this recipe, but you could also use 85/15.
Can I make crockpot taco soup with a different kind of meat?
You sure can! Feel free to use ground chicken or turkey, or shredded cooked chicken or turkey!
How can I thicken taco soup?
To thicken this soup, make sure to drain the ground beef and all of the canned beans to avoid a thin soup. If you'd like to thicken this soup further, stir in 1-2 tablespoons of tomato paste before serving.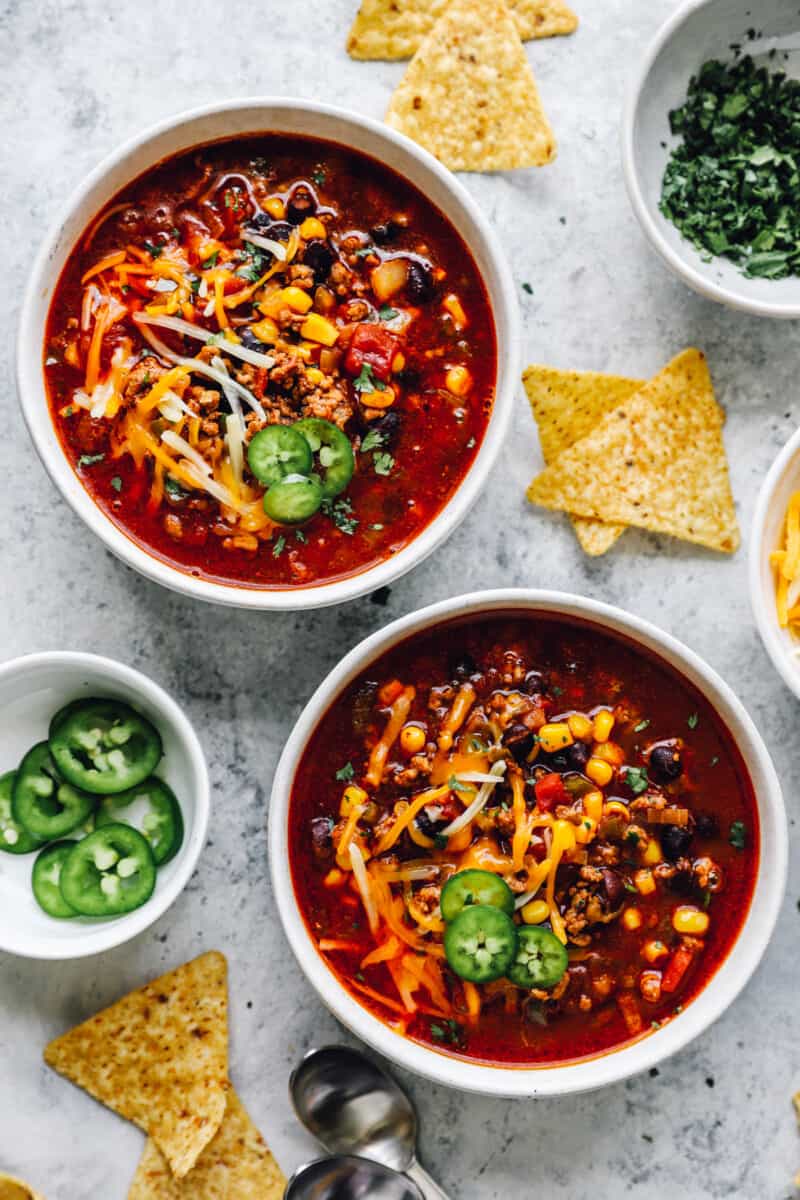 How to Make Ahead and Store
This crockpot taco soup can be made up to 2 days in advance of when you plan to serve it. Store the soup in an airtight container in the refrigerator until ready to reheat.
Store leftover crockpot taco soup in an airtight container in the refrigerator for up to 4 days.
How to Freeze and Reheat
Freeze crockpot taco soup in individual portions in airtight containers for up to 3 months. Let thaw overnight in the refrigerator before reheating gently in the microwave or on the stovetop until warmed through.
Serving Suggestions
Top off your slow cooker taco soup with chopped fresh cilantro, shredded cheese, tortilla chips or strips, sour cream, sliced green onion, fresh or pickled jalapeños, diced onion, hot sauce, sliced avocado, or guacamole.
Serve crockpot taco soup alongside Mexican stuffed peppers, chicken fajitas, carne asada fries, tamales, zucchini boats, or nachos supreme.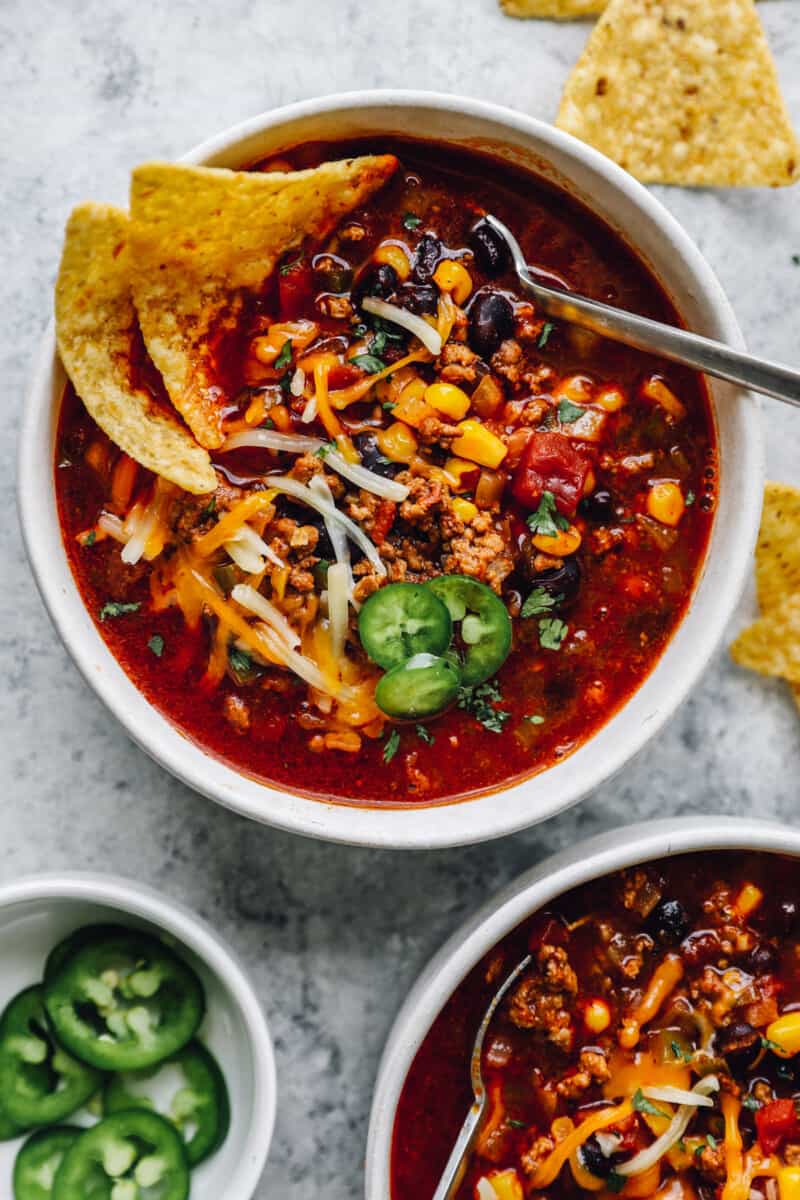 More Taco Soup Recipes We Love