Crockpot Taco Soup features plenty of ground beef, black beans, corn, and more in a boldly flavored broth! This easy to make soup is concocted in the slow cooker with a medley of seasonings that make it seriously mouthwatering. Comfort food has never been easier or more flavor packed!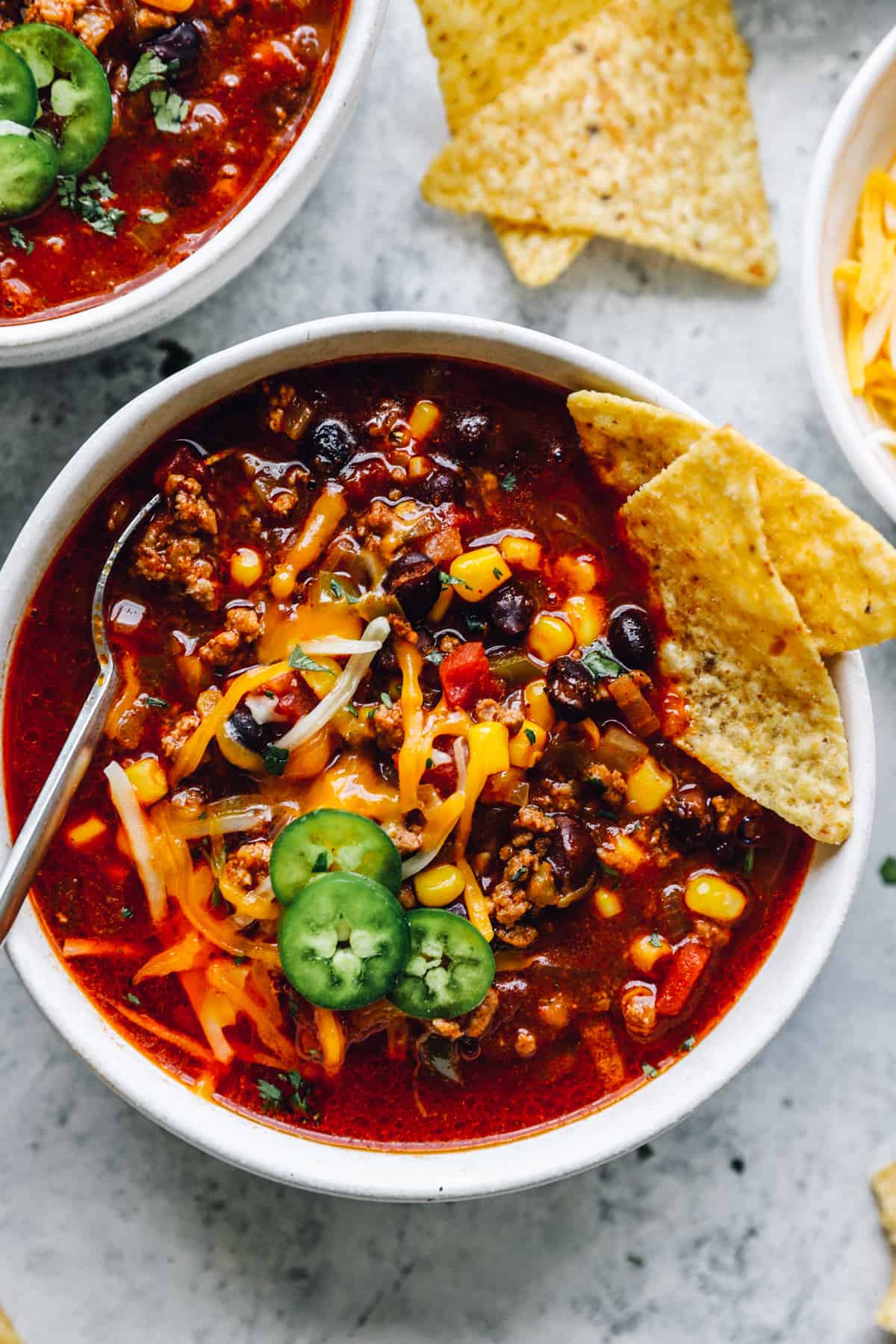 Slow Cooker Taco Soup
There are plenty of ways to warm up during the chilly fall and winter months, but my favorite way might just be with a big, hearty bowl of this Crockpot Taco Soup!
The slow cooker does all the work, so you can sit back and relax while the BEST soup cooks to perfection in about 4 hours. Paprika, chili powder, garlic powder and more make this soup deliciously flavor packed. It's not spicy, but it can easily be heated up with a little cayenne or crushed red pepper flakes!
A bowl of this soup tastes like eating delicious tacos, but even more comforting thanks to the broth. Yum!
Why You'll Love this Crockpot Taco Soup Recipe:
So Easy: Just cook the ground beef, then toss it into the Crockpot with the other ingredients and let it do all the work. It doesn't get easier than this!
Filling: Taco Soup is always the entree, never the side dish! It's packed with filling ingredients like ground beef and black beans, so you won't be hungry after you finish a big bowl.
Flavorful: The bouquet of seasonings make every last drop flavorful as can be. This soup is anything but bland!
Top off your slow cooker taco soup with cheese, jalapeños, cilantro, or whatever else your heart desires!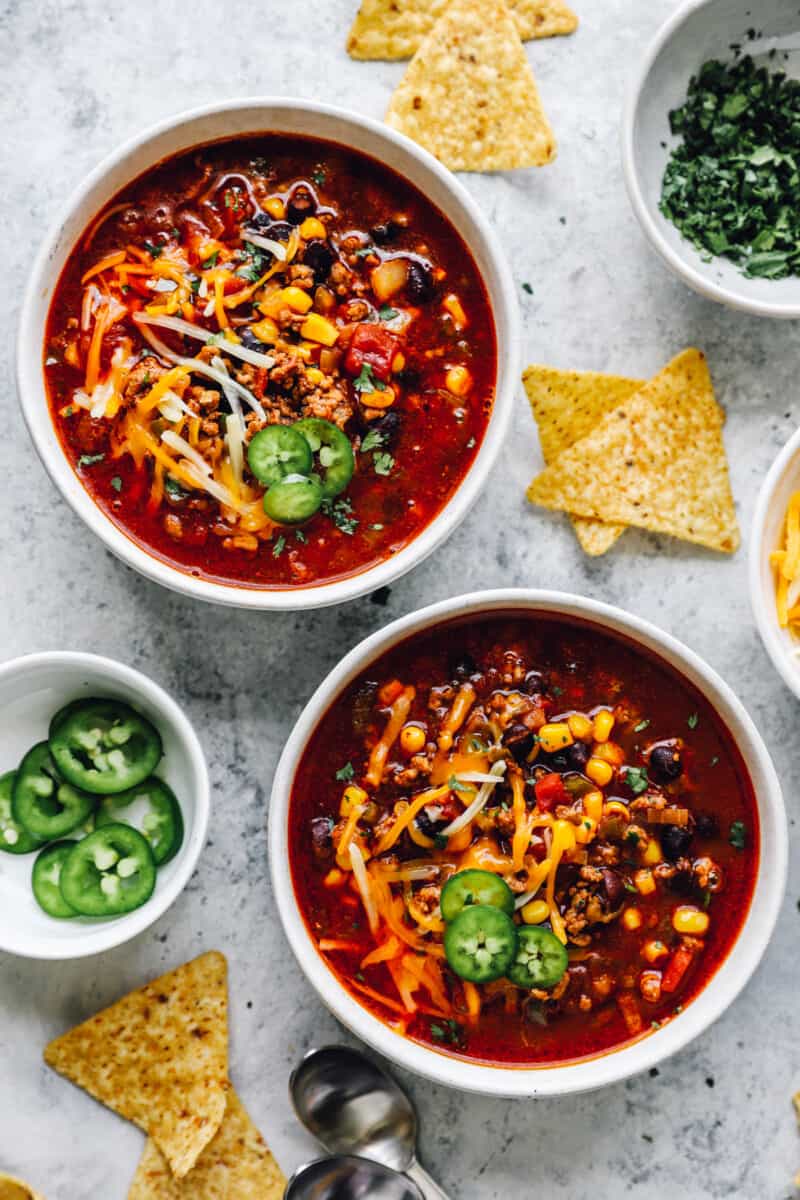 How to Make Crockpot Taco Soup
You can jump to the recipe card for full ingredients & instructions!
Cook the ground beef and onions on your stove top, then toss it into the Crockpot.
Stir in the remaining soup ingredients, cover, and cook.
Squeeze in some lime juice.
Serve up each bowl with your favorite toppings.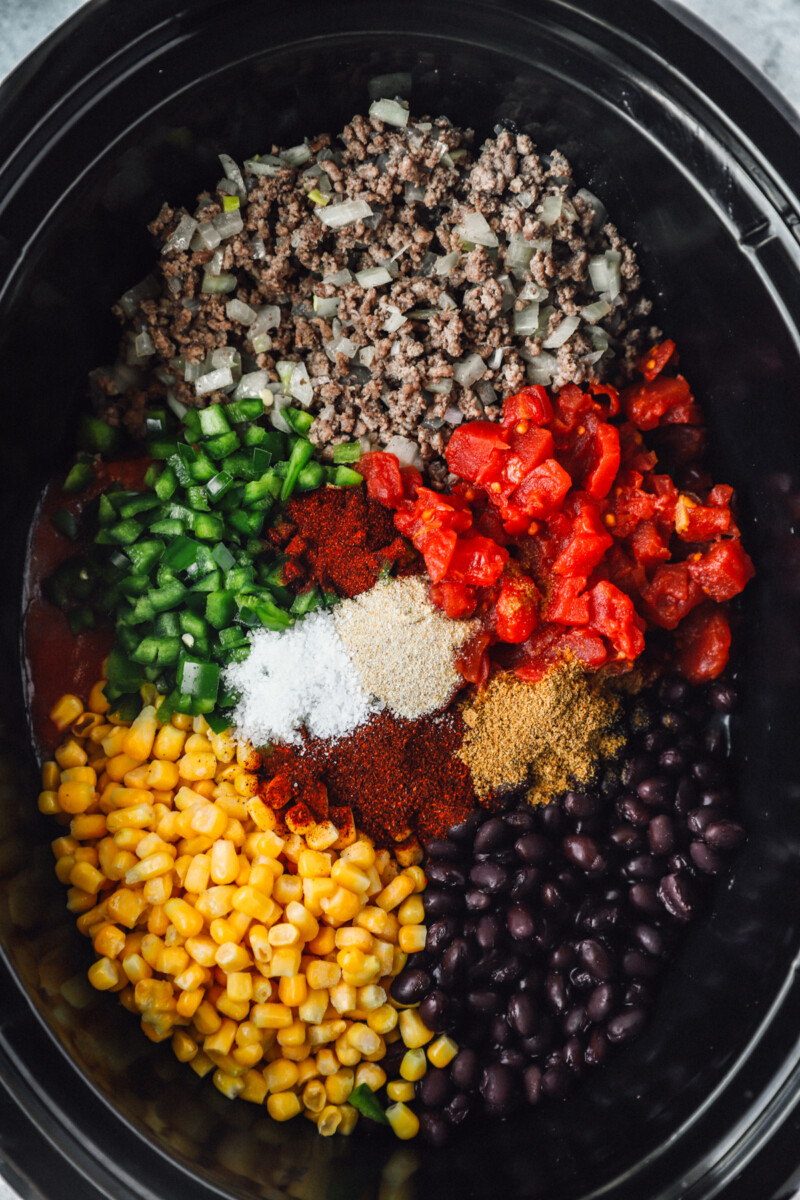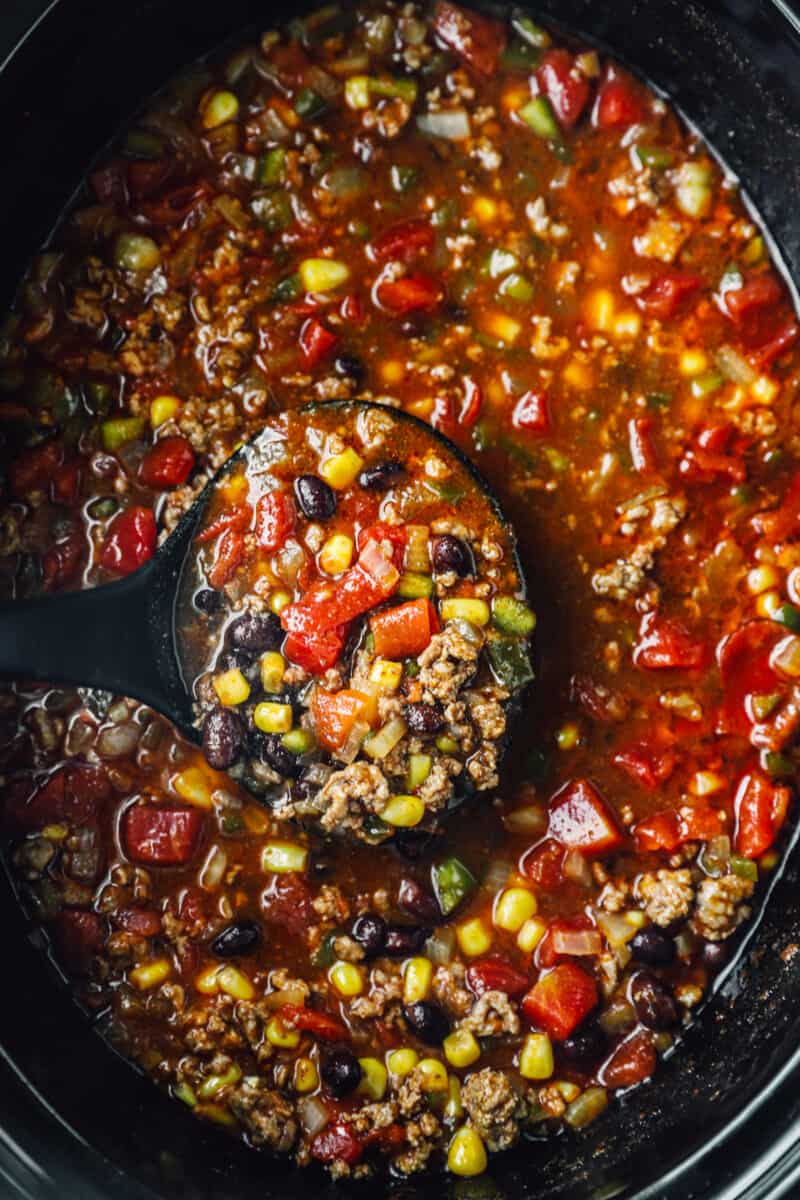 Is crockpot taco soup spicy?
Crockpot taco soup can be as mild or as spicy as you'd like. To make it milder, swap the diced tomatoes and green chiles for regular diced tomatoes, and reduce the amount of chili powder to ½ teaspoon (or omit it completely!). To make it spicier, add more chili powder to taste, or add fresh or pickled jalapeños on top!
What is the best beef for crockpot taco soup?
I like to use ground beef that is lean, but not too lean. I used 80/20 ground beef in this recipe, but you could also use 85/15.
Can I make crockpot taco soup with a different kind of meat?
You sure can! Feel free to use ground chicken or turkey, or shredded cooked chicken or turkey!
How can I thicken crockpot taco soup?
To thicken this soup, make sure to drain the ground beef and all of the canned beans to avoid a thin soup. If you'd like to thicken this soup further, stir in 1-2 tablespoons of tomato paste before serving.
On a cold winter's night, nothing warms me up quicker than a bowl of slow cooker Taco
Soup with extra cilantro on top! I have to admit, though, it's so good that I also eat it in the heat of summer as well. There's never a bad time to dig in!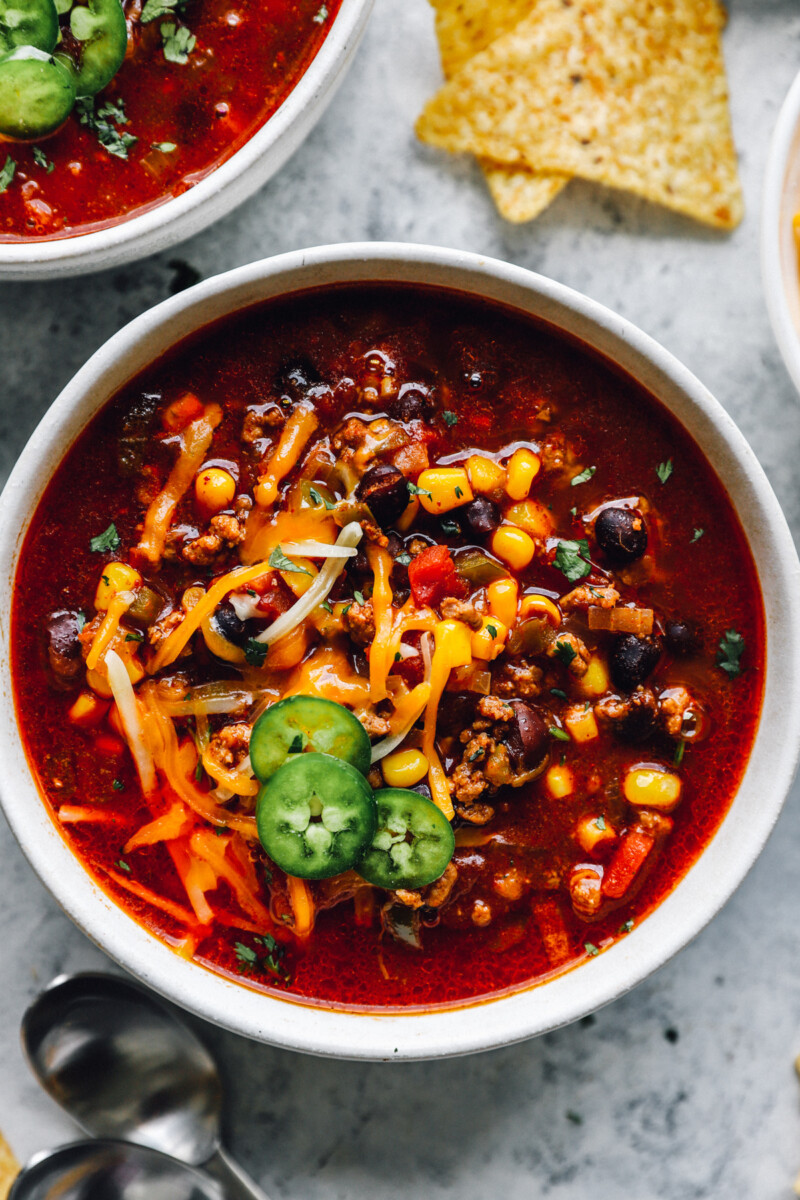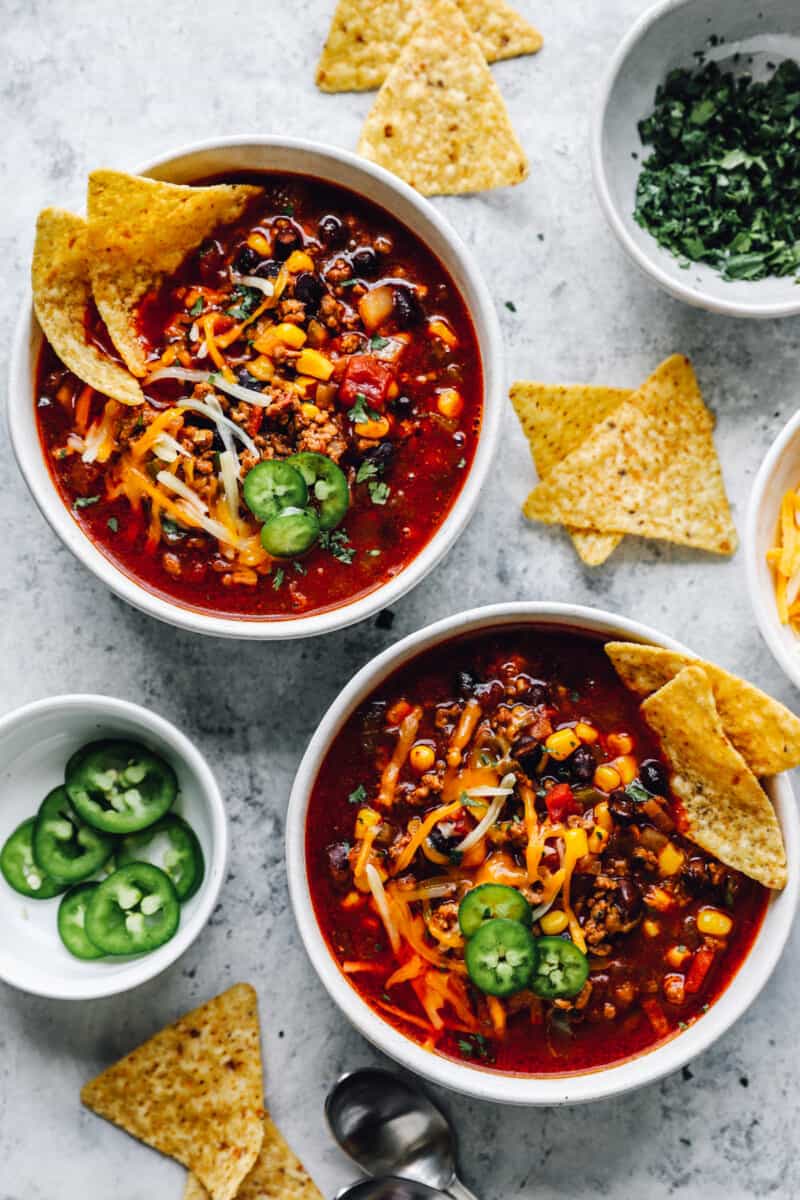 This easy Crockpot taco soup recipe freezes well, so make plenty, and save some for later (if you can)!
Make Ahead Instructions
This crockpot taco soup can be made up to 2 days in advance of when you plan to serve it. Store the soup in an airtight container in the refrigerator until ready to reheat.
Storage Instructions
Store leftover crockpot taco soup in an airtight container in the refrigerator for up to 4 days. Reheat gently in the microwave or on the stovetop until heated through.
Freezing Instructions
Freeze crockpot taco soup in individual portions in airtight containers for up to 3 months. Let thaw overnight in the refrigerator before reheating.
Substitutions
You can use any neutral oil to cook the meat, such as canola or vegetable.
You can use any ground meat you like, such as chicken or turkey, or use cooked shredded chicken or turkey instead.
Use whatever kind of onion you have on hand– white, yellow, or sweet all work.
You can use vegetable broth instead of beef broth, if you prefer.
For a milder soup, replace one or both cans of diced tomatoes and green chiles with regular diced tomatoes.
Feel free to swap the black beans for kidney or pinto beans.
You can use fresh or frozen corn in this recipe. You do not need to thaw the frozen corn.
For a milder soup, reduce the amount of chili powder; for a spicier soup, increase it.
Taco Soup Toppings
Chopped fresh cilantro
Shredded cheese
Tortilla chips or strips
Sour cream
Sliced green onion
Fresh or pickled jalapeños
Diced onion
Hot sauce
Sliced avocado
Tips for the Best Taco Soup
Use 80/20 or 85/15 ground beef for the best flavor.
Drain the fat from the meat after cooking to prevent your soup from becoming thin and oily.
If you'd like to control the sodium content, drain and rinse the beans before adding them to the soup to remove excess salt.
To further thicken the soup, stir in 1-2 tablespoons of tomato paste before serving.
The flavors in this soup get stronger the more it sits – I always like to make it the day before!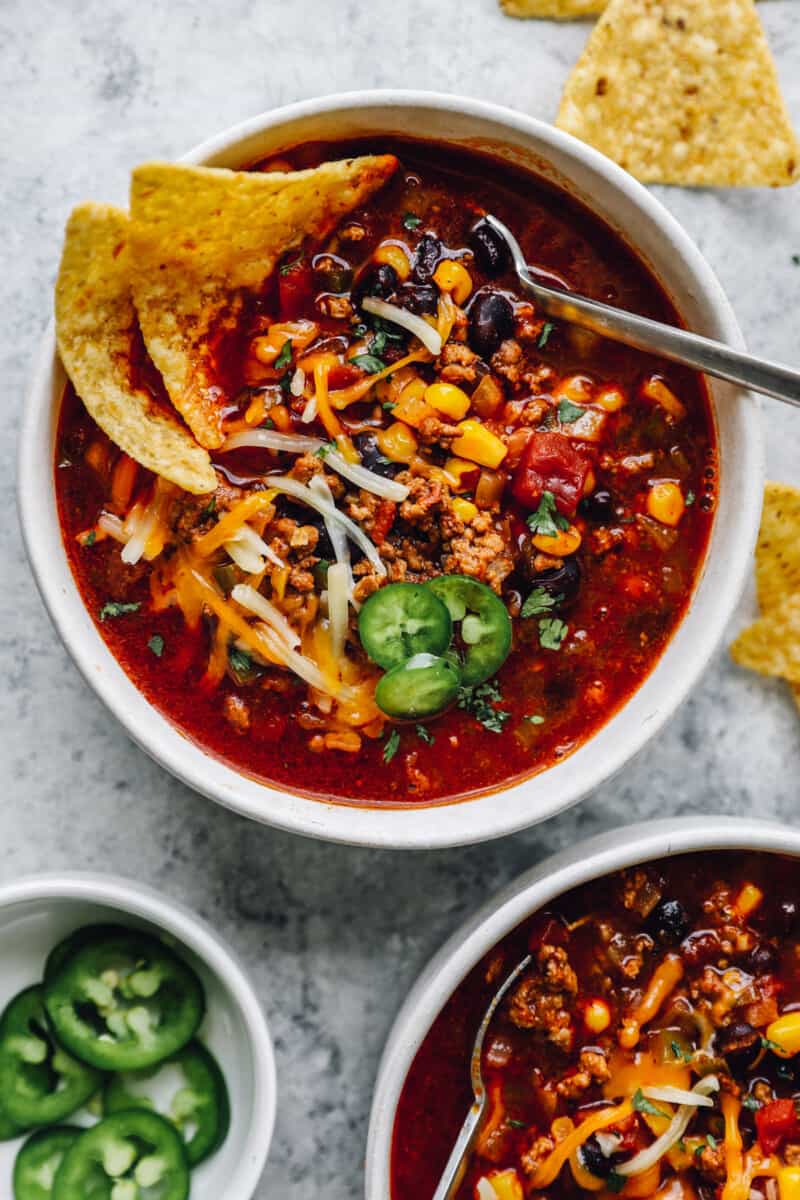 Homemade Taco Soup is so easy to cook in the Crockpot. Plus, the end results are so trustworthy – you always can count on this family favorite! Whether you like it mild or spicy, you'll love every last drop.
If you make this recipe be sure to upload a photo in the comment section below or leave a rating. Enjoy! You can also jump to recipe.