Delicious layers of pasta, meat sauce, and cheese, nothing beats making your favorite dish in the crock pot. This crock pot lasagna is quick, easy, and delicious! You may never go back to making it in your oven again.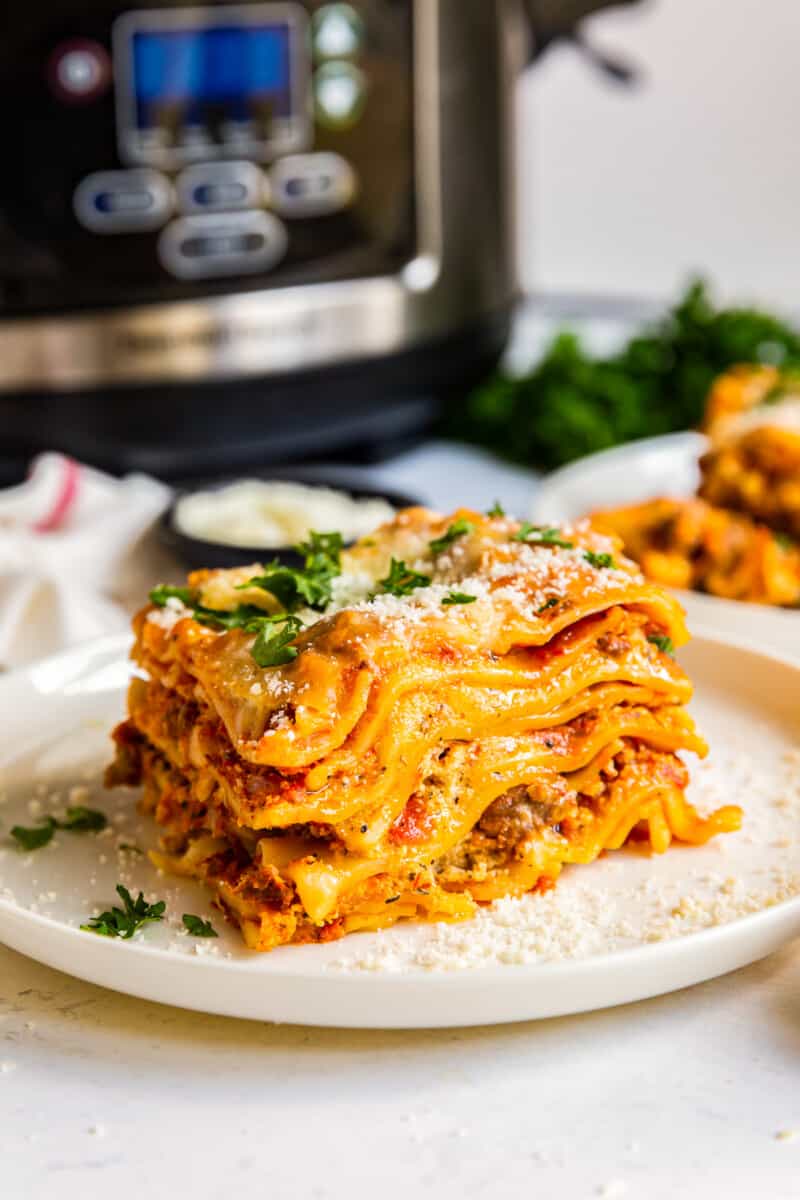 Easy Crockpot Lasagna Recipe
I'm always looking for new recipes to make in my crock pot, and this crock pot lasagna recipe has become one of my go-to week-day recipes. Quickly whip up some meat sauce on the stove top and layer everything in your slow cooker for a deliciously layered lasagna with tender noodles, creamy sauce, and lots of cheese.
Why you'll love this Slow Cooker Lasagna recipe:
Won't heat up the kitchen: I love this recipe because I can have homemade lasagna in the summertime without having to heat up my kitchen to have it.
Simple ingredients: Made with traditional lasagna ingredients, you'll be able to find everything you need at your local grocery store.
Easy to make: With your crock pot, this recipe is so easy to make. Throw it all in and come back in a few hours.
Easier than your oven lasagna recipe, you'll love how quick and easy it is to make crockpot lasagna!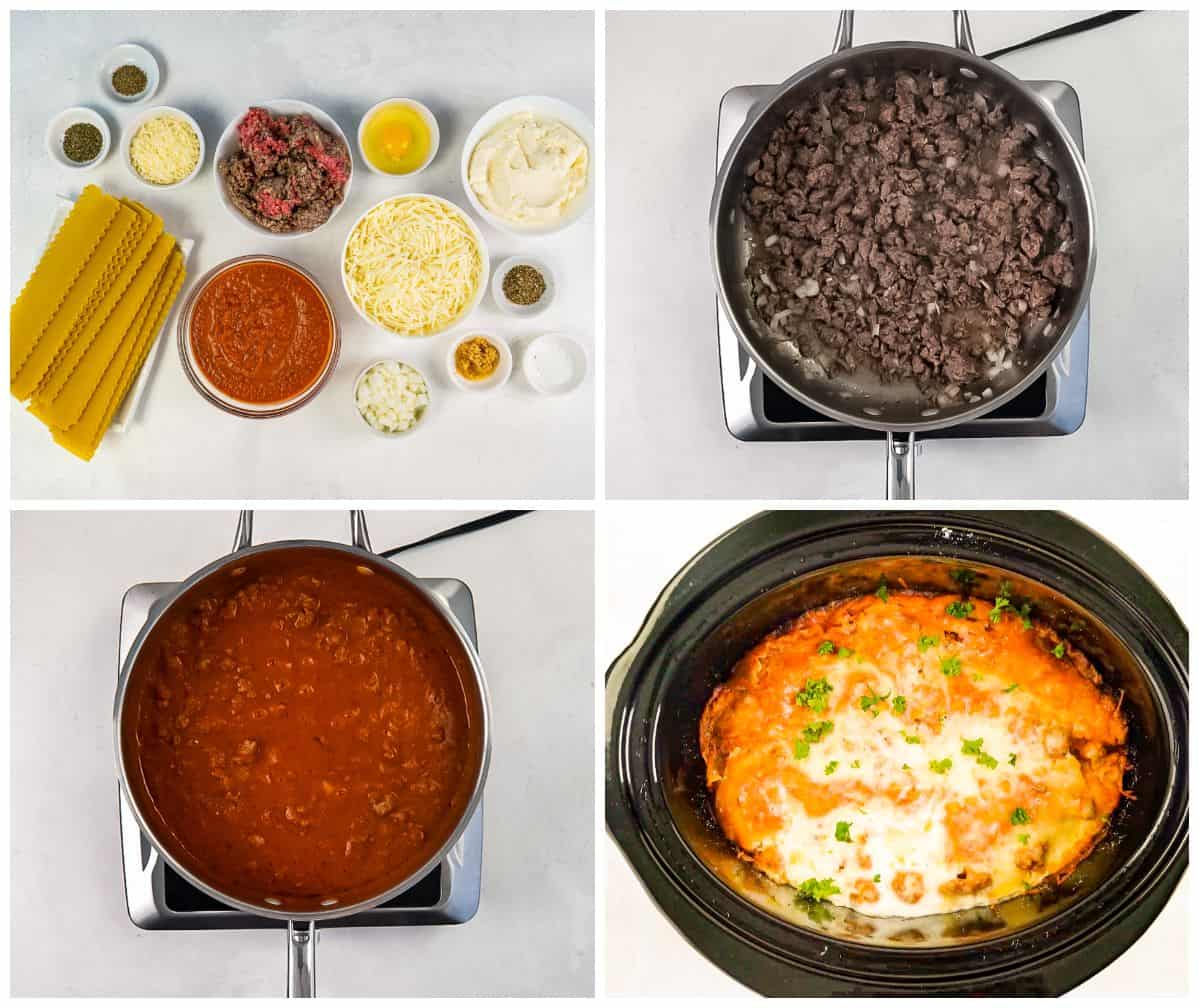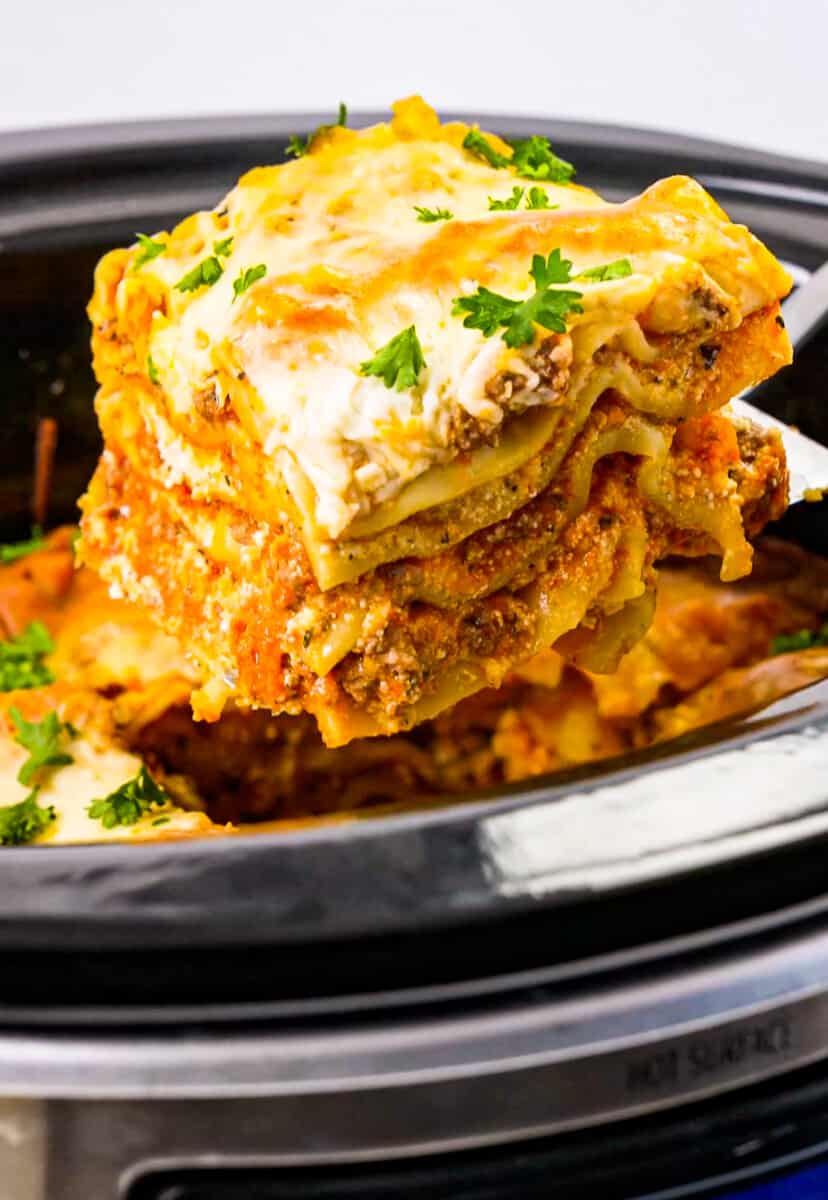 How to make Lasagna in a Crock Pot
You can jump to the recipe card for full ingredients & instructions!
First, spray your crock pot with non-stick cooking spray.
Brown the ground beef, onion, garlic, Italian seasoning, and salt for 5 minutes, until onions are softened.
Then, stir in the marinara sauce and ½ cup of water, and simmer for 5 minutes.
In a large bowl, combine the ricotta cheese, 1 cup mozzarella cheese, parmesan cheese, egg, basil, and pepper.
Spread 1 cup of meat sauce on the bottom of the crock pot, evenly. Then, top with 3 noodles, breaking them so they fit. Finally, spread a third of the cheese mixture on top.
Repeat step 5, two more times to create three layers. Sprinkle the remaining mozzarella cheese on top.
Cover and cook on low for 4 hours, until noodles are tender. Top with fresh basil, if desired.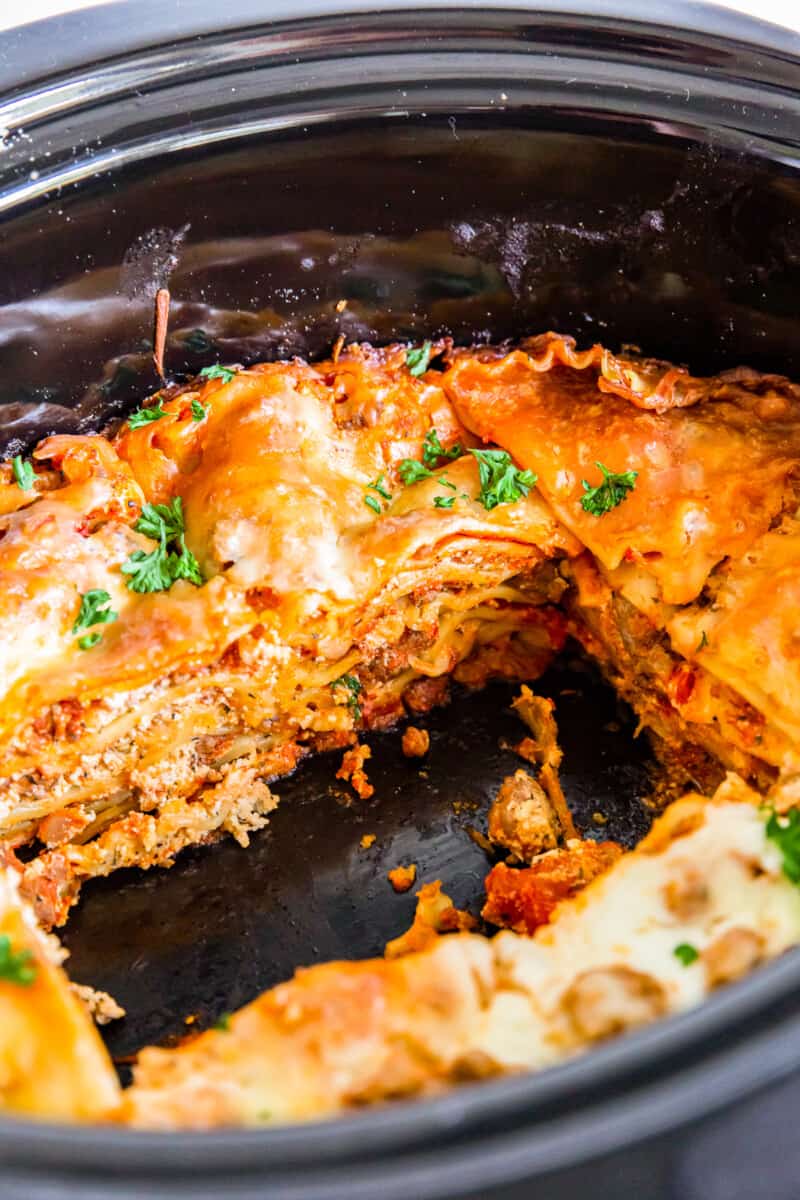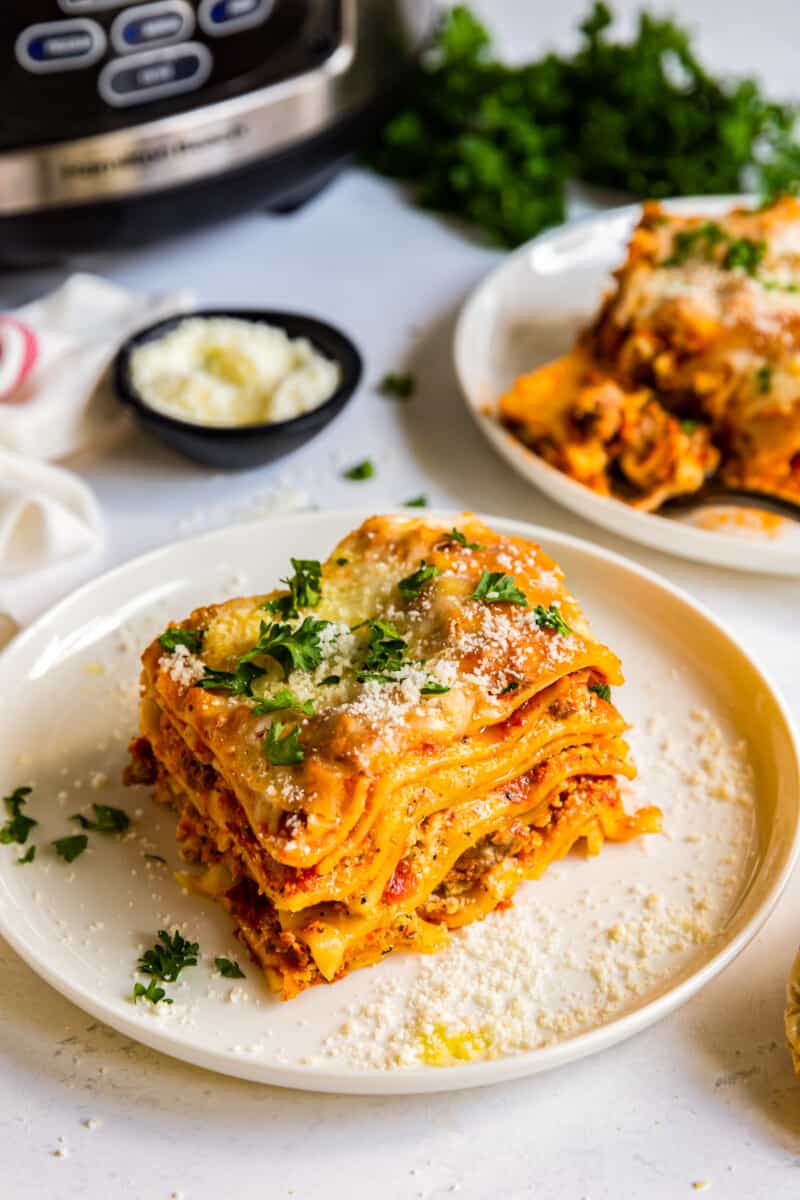 Can I put dry pasta in the slow cooker?
Yes, you can! In fact, that's exactly what you will be doing for this crock pot lasagna recipe. The uncooked noodles go straight into the crock pot, so you don't even have to boil them first. Just let the crock pot do the work.
How long does it take to cook pasta in the slow cooker?
It depends on what type of pasta you are making. Since we have 3-layers of noodles in this recipe, it will take about 4 hours on low for your pasta to become tender. You can check the noodles sooner to see if they are done. They should be soft and tender.
What is the best order to layer lasagna?
You want to layer your lasagna in a way that cooks the lasagna noodles most effectively. Because the noodles need water to soften, you want to make sure the lasagna noodles are always placed on top of the meat sauce.
How do you store leftover lasagna?
You can place any leftover lasagna in an airtight container and store it in the refrigerator. Properly stored lasagna will last for 3 to 5 days in the fridge. Additionally, you can wrap the lasagna in heavy duty aluminum foil or freezer wrap and store it in the freezer for up to 3-months.
Serving Suggestions
Lasagna is the perfect all-in-one meal solution. I like to serve it with a side of salad or some garlic bread. Here are a couple of my favorite side dishes:
Crock pot lasagna is the perfect busy weeknight meal. Serve it with or without sides for a quick and easy dinner!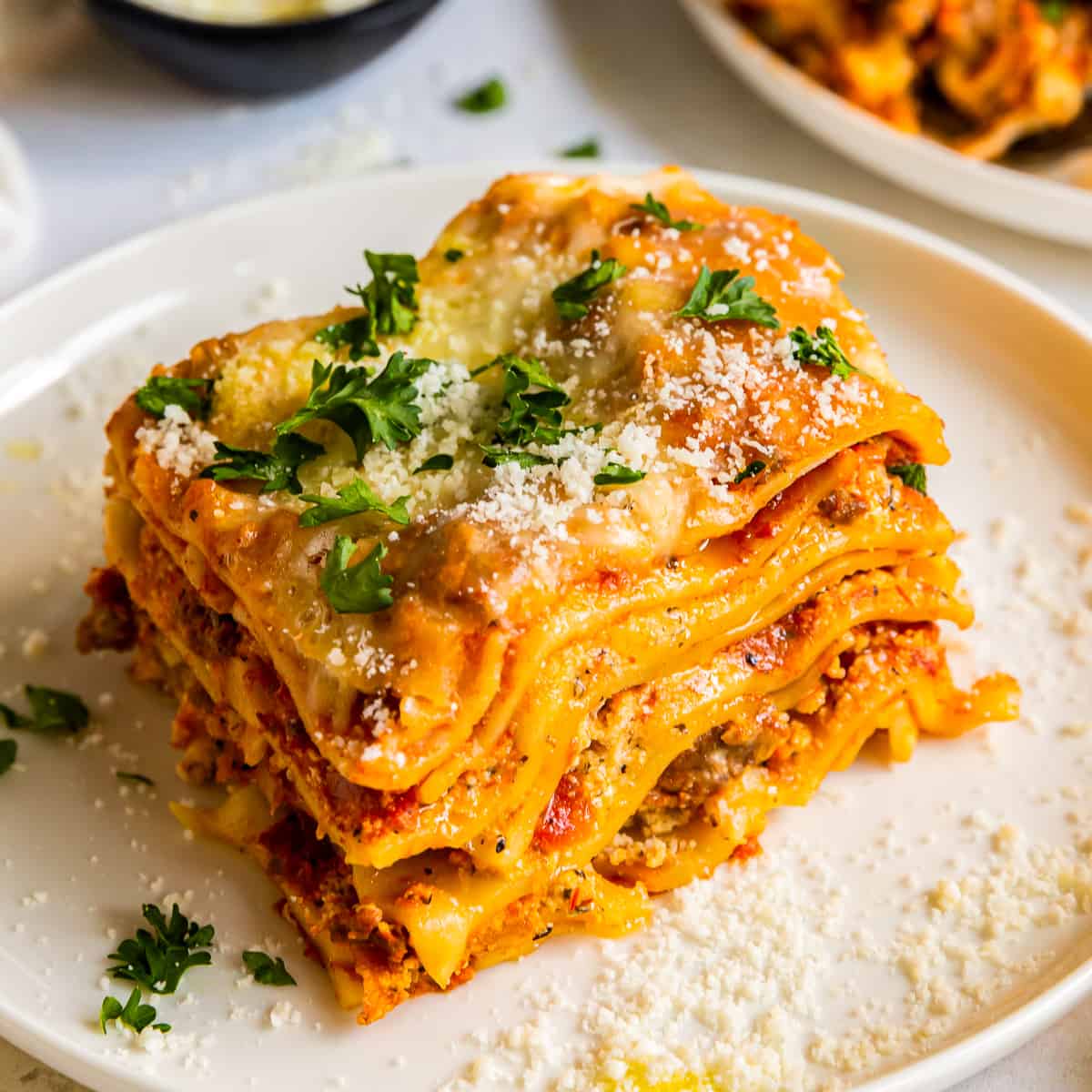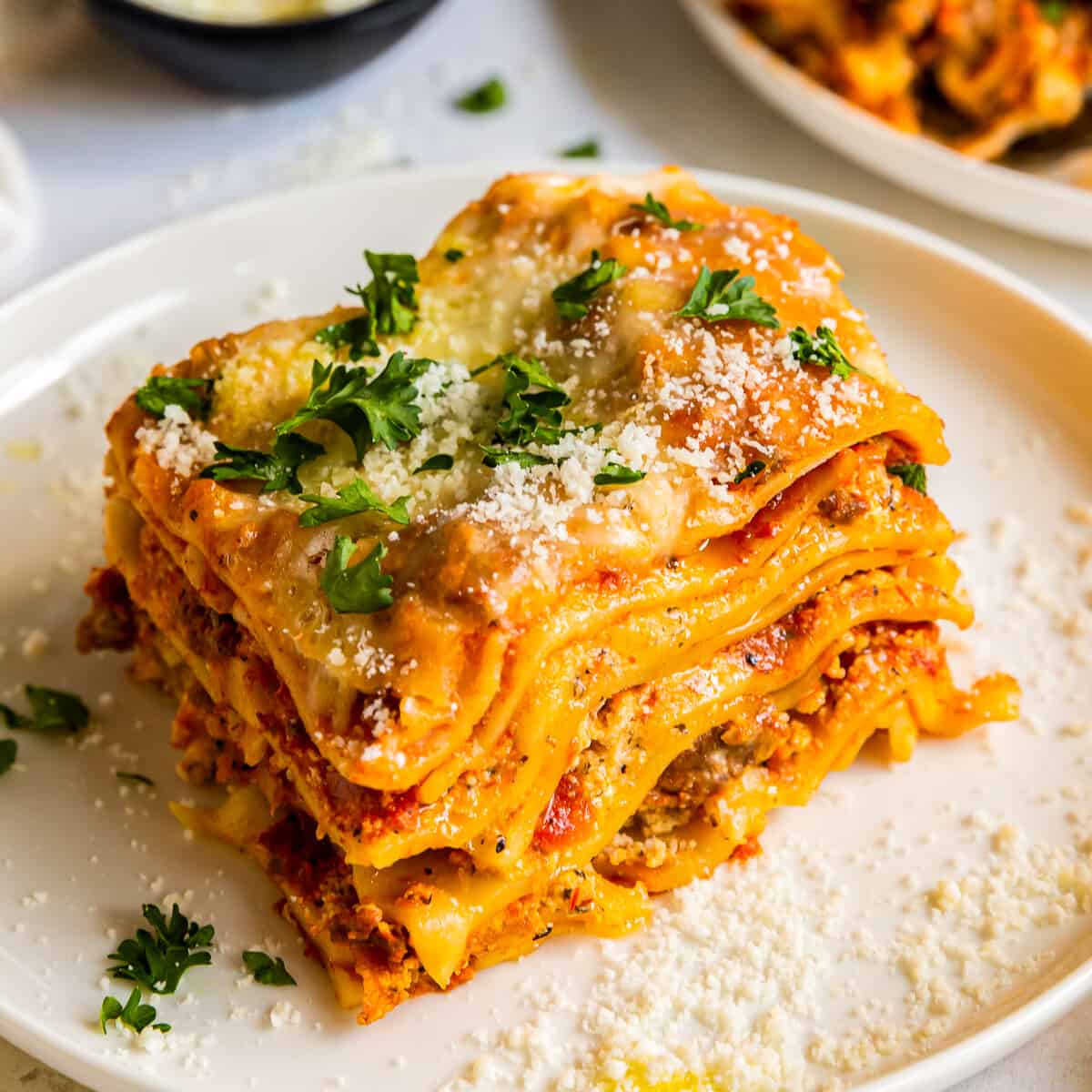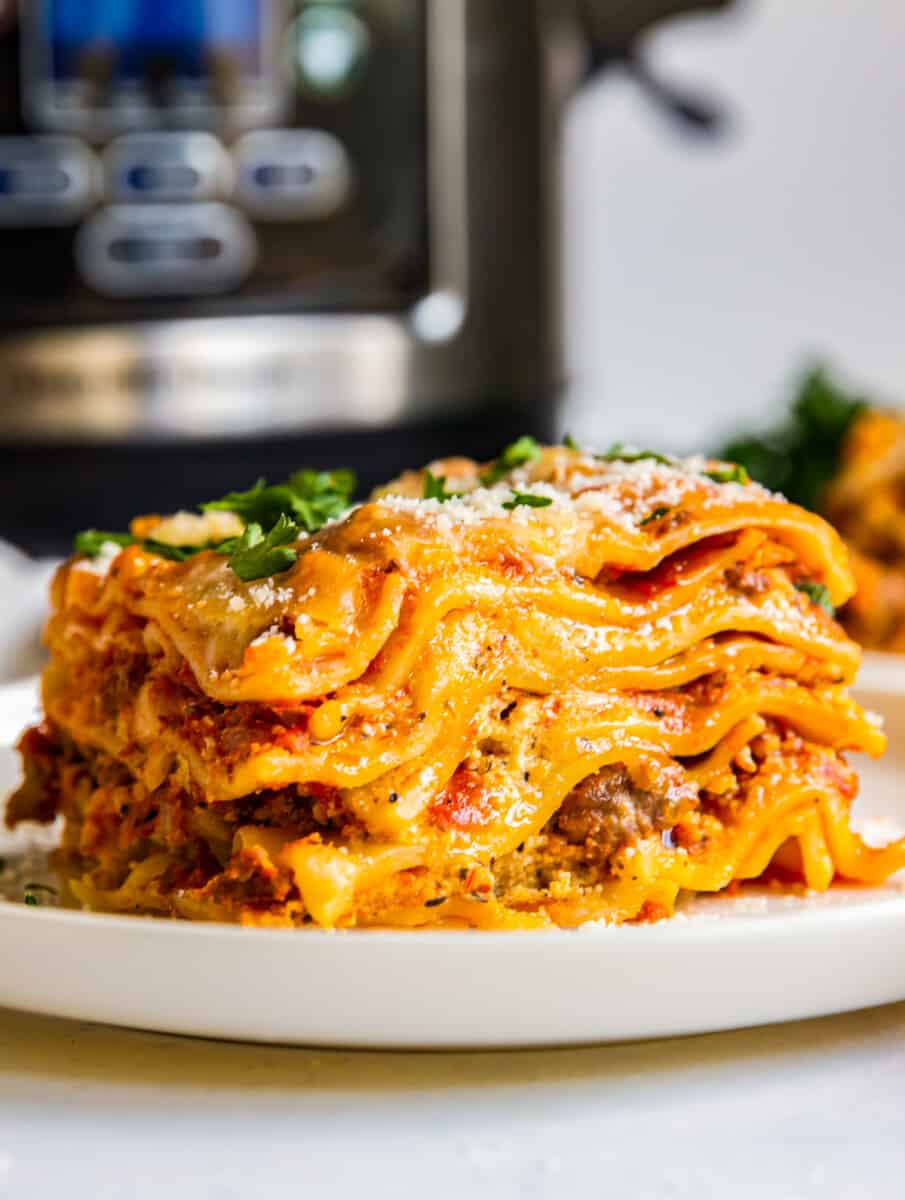 Tips!
Always use the no-boil noodles. They won't get soggy and will absorb extra liquid
Let the lasagna cool completely before serving. This will thicken the sauce and prevent the layers from falling apart. Let it rest for about 20-minutes.
You can substitute ricotta for small curd cottage cheese.
Use a 5-6 quart oval slow cooker for best results.
You can't get any easier than this crockpot lasagna! It's sure to become your new favorite way to make it!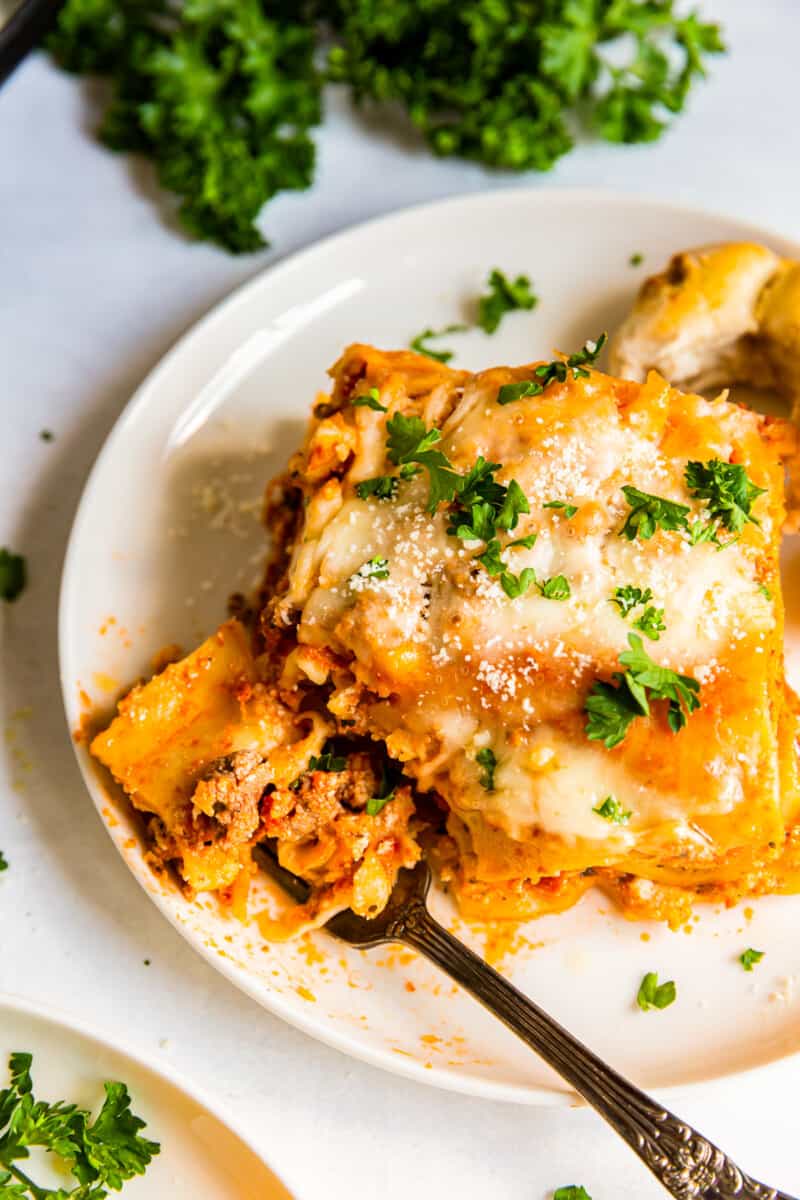 Wrap up paragraph closing out the recipe keywords etc.
More Lasagna Recipes we Love
If you make this recipe be sure to upload a photo in the comment section below or leave a rating. Enjoy! You can also jump to recipe.