This Chicken Alfredo Sandwich recipe is simple, easy, and delicious. One of my favorite sandwiches! It's a quick and easy crockpot meal the entire family will love, and it's perfect for game day too. Pulled chicken topped with sun-dried tomatoes, basil, and Parmesan. Perfection!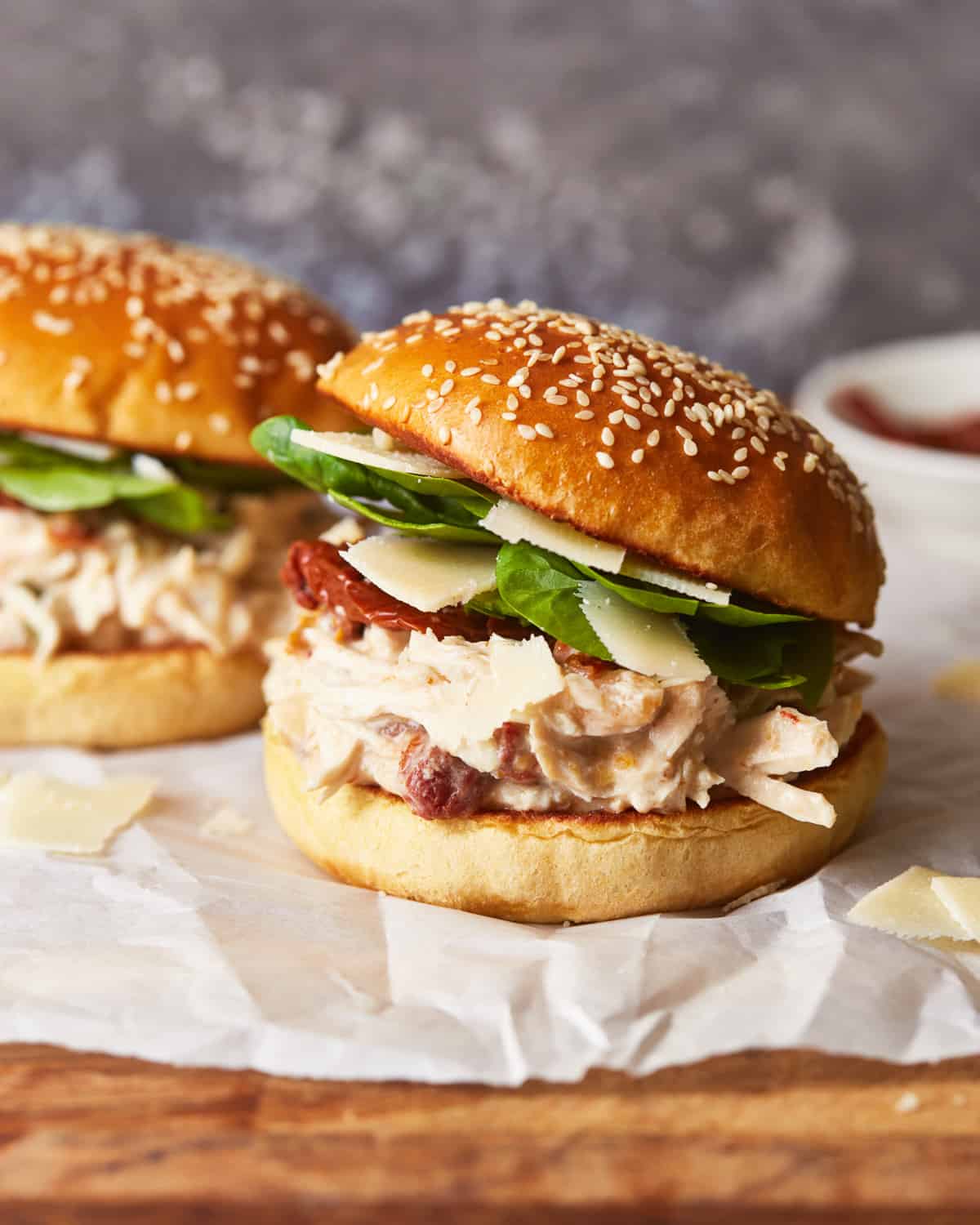 What's in this Alfredo Chicken Sandwich?
I just love chicken Alfredo in all forms, which is why a pulled chicken sandwich seemed like a no-brainer. Skip the pasta, just use that creamy sauce, go heavy on the chicken, and pile up those sandwiches!
Chicken: I used boneless, skinless chicken breasts, but thighs will also work.
Alfredo Sauce: Use your favorite brand, or try my homemade recipe!
Fresh Basil: Adds a pop of color and a fresh herbal flavor.
Onion: Adds a sweet and earthy flavor.
Garlic Powder: Adds an earthy flavor and a pungent aroma.
Sun-Dried Tomatoes: Add a rich umami flavor.
Parmesan Cheese: Adds saltiness and amps up the cheesy flavor.
Salt + Pepper: Enhances the natural flavor of the chicken.
Hamburger Buns: You'll need some hefty buns to hold these sandwiches together.
Pro Tip: If your sun-dried tomatoes are packed in oil, make sure to drain and rinse them thoroughly!
Variations on Pulled Chicken Alfredo
You can change up the taste of these chicken Alfredo sandwiches by swapping out the Parmesan for Pecorino Romano or Asiago cheese. For a spicier take on chicken Alfredo, add some crushed red pepper flakes.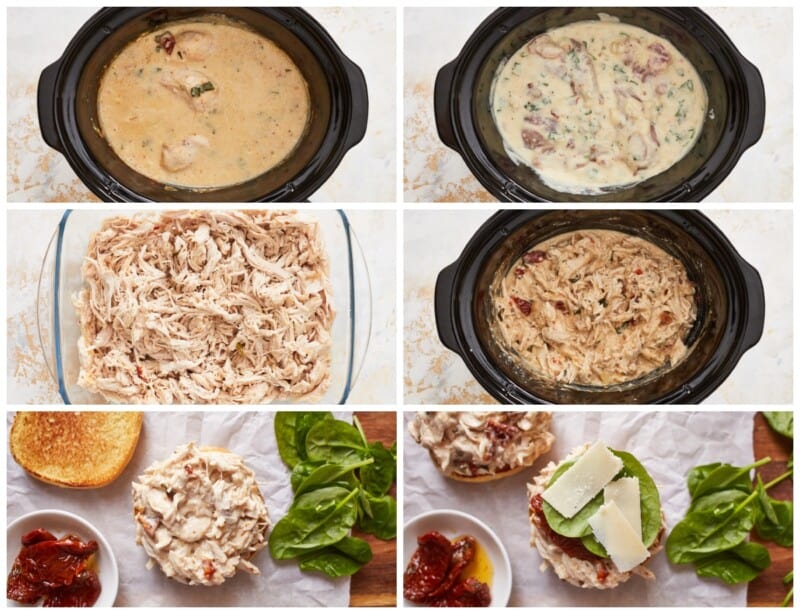 What is the best way to eat chicken Alfredo?
Oh, man. I love chicken Alfredo every which way, but this sandwich is climbing the ranks for my favorite!
What's the difference between shredded chicken and pulled chicken?
There is no difference! Shredding and pulling are interchangeable terms for the same thing.
Can you eat cold pulled chicken?
You sure can! So long as the chicken has been properly stored in the refrigerator, you can enjoy it cold, almost like a chicken salad sandwich.
Why is my pulled chicken tough?
If you cook the chicken for too long, it will turn out tough or rubbery. Make sure to cook the chicken until it reaches 165°F.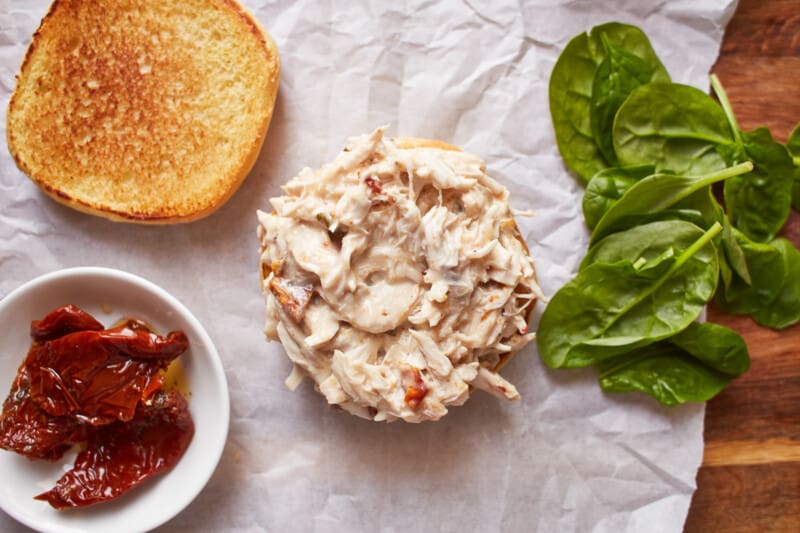 How to Store and Reheat
Store leftover chicken alfredo sandwiches in an airtight container in the refrigerator for up to 3 days. Reheat in 30-second increments in the microwave until warmed through. I recommend storing the meat and the buns separately to avoid soggy sandwiches. I do not recommend freezing these sandwiches.
Serving Suggestions
Serve these creamy sandwiches with a tasty Olive Garden salad and a side of lemon Parmesan broccoli or grilled asparagus. Or, skip the buns and serve the chicken over some homemade pasta. Yum!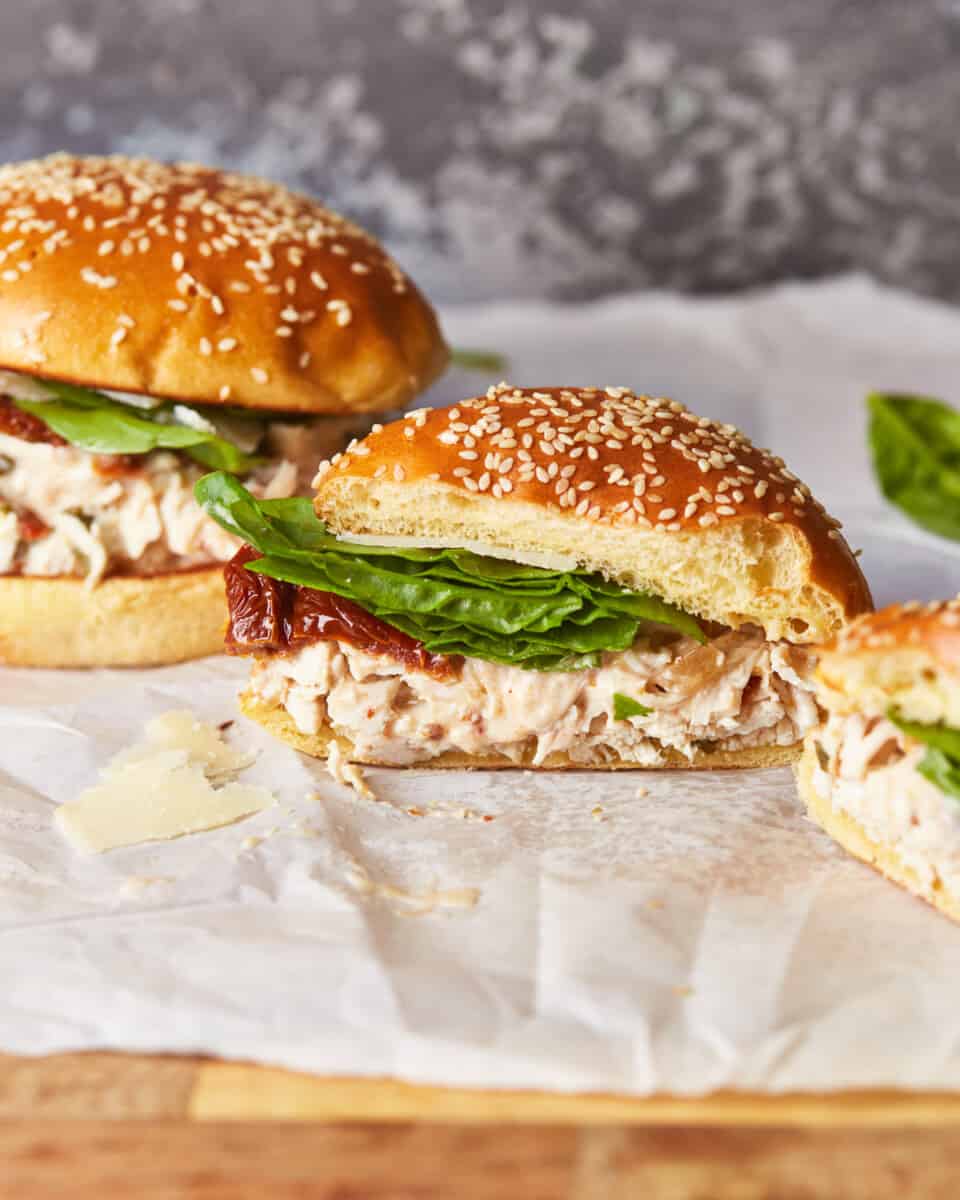 More Chicken Alfredo Recipes We Love