Crockpot Turkey Breast is one of the easiest ways to make a Thanksgiving turkey! This slow cooker turkey recipe guarantees succulent and juicy turkey every time, as well as freeing up space in your oven. This year, cook your turkey in a crockpot with vegetables, chicken broth, and plenty of herbs for great flavor and a stress-free holiday!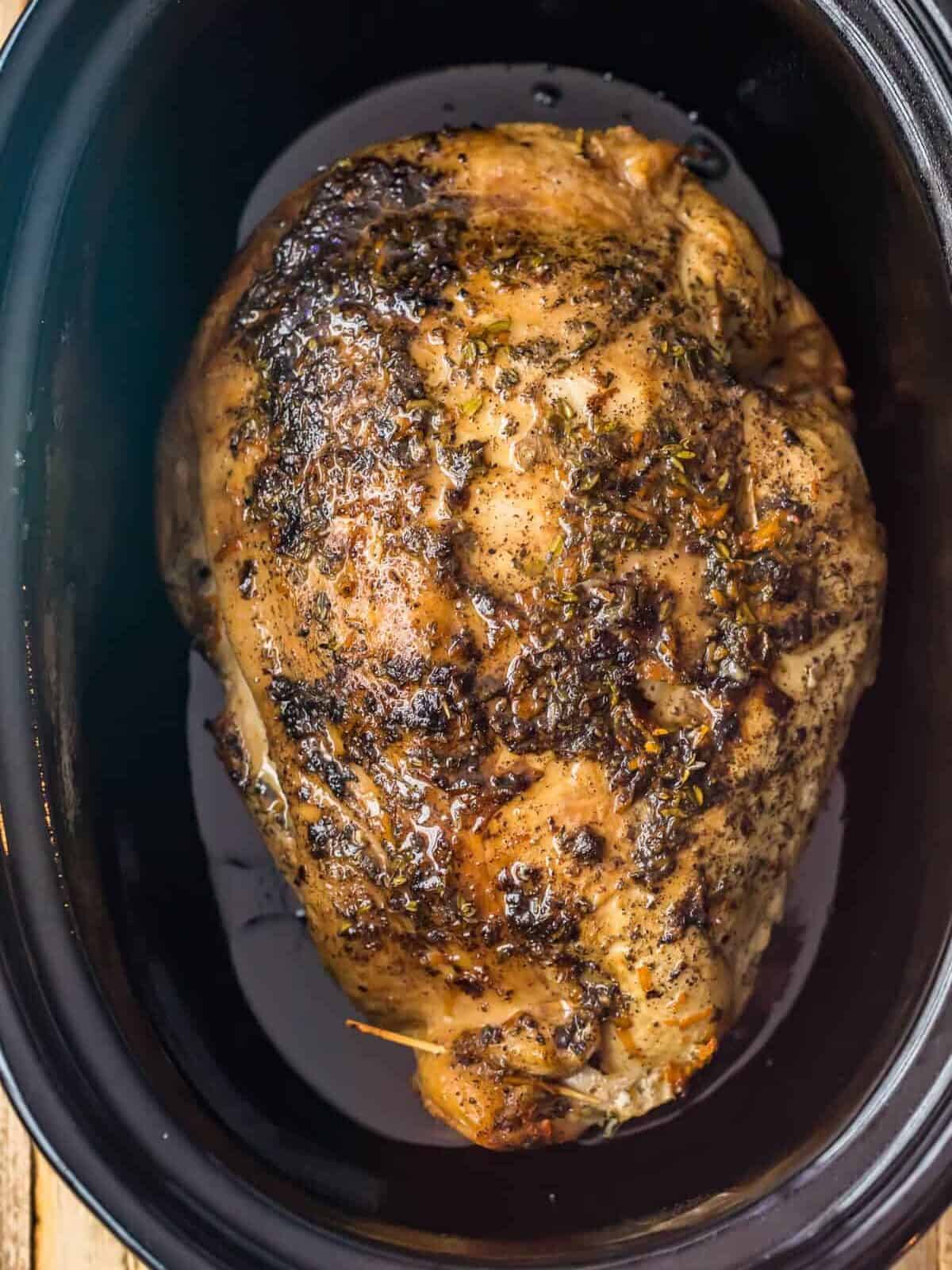 What's in this Crockpot Turkey Breast Recipe?
If you're planning your Thanksgiving menu and wondering if your oven is big enough for a whole turkey, then I have the perfect solution for you! Grab your Crockpot and get ready for the best turkey breast you'll ever make!
Apple Juice: Sweetens the brine while adding a subtle fruity flavor.
Cold Water: Forms the base of the brine.
Fresh Rosemary: Adds herbaceous flavor to the brine and the turkey.
Garlic: Adds an earthy flavor and a pungent aroma to the brine.
Kosher Salt: Enhances the natural flavor of the turkey.
Brown Sugar: Sweetens the brine.
Black Pepper: Whole peppercorns add a peppery aroma to the brine, and ground black pepper adds a peppery flavor to the turkey itself.
Bay Leaves: Infuse the brine with an herbaceous flavor.
Orange Peel/Zest: Adds a subtle citrus flavor to the brine and the turkey itself.
Turkey Breast: You'll need a 5-pound boneless turkey breast for this recipe. Make sure to thaw completely if frozen.
Dried Sage: Adds a classic Thanksgiving flavor to the turkey breast.
Veggies: Celery, yellow onions, and carrots infuse the turkey with a slightly sweet, earthy, and vegetal flavor as it cooks and make an easy side!
Chicken Broth: Helps keep the turkey moist as it cooks and adds a salty and umami flavor.
Pro Tip: Plan ahead! You'll need to brine the turkey for at least 8 hours before adding it to the crockpot.
Variations on Slow Cooker Turkey Breast
You could season this turkey breast with turkey rub, chicken seasoning, Creole seasoning, Italian seasoning, blackened seasoning, or herbs de Provence for a different flavor.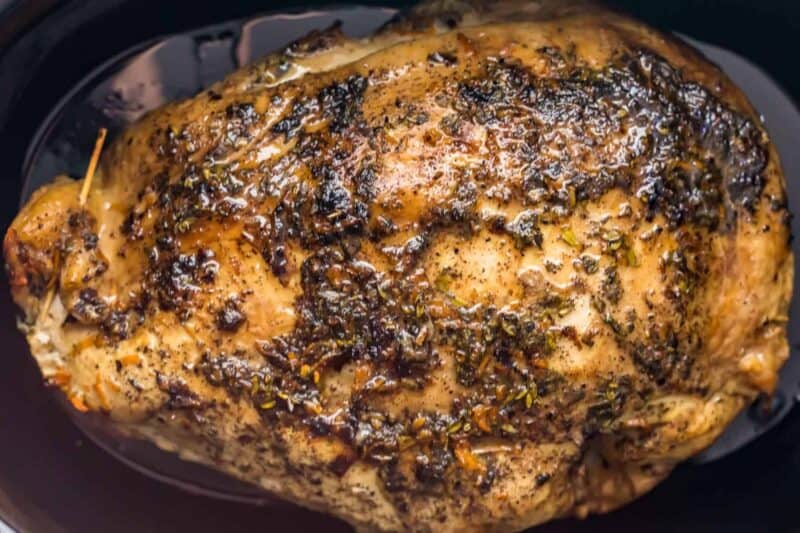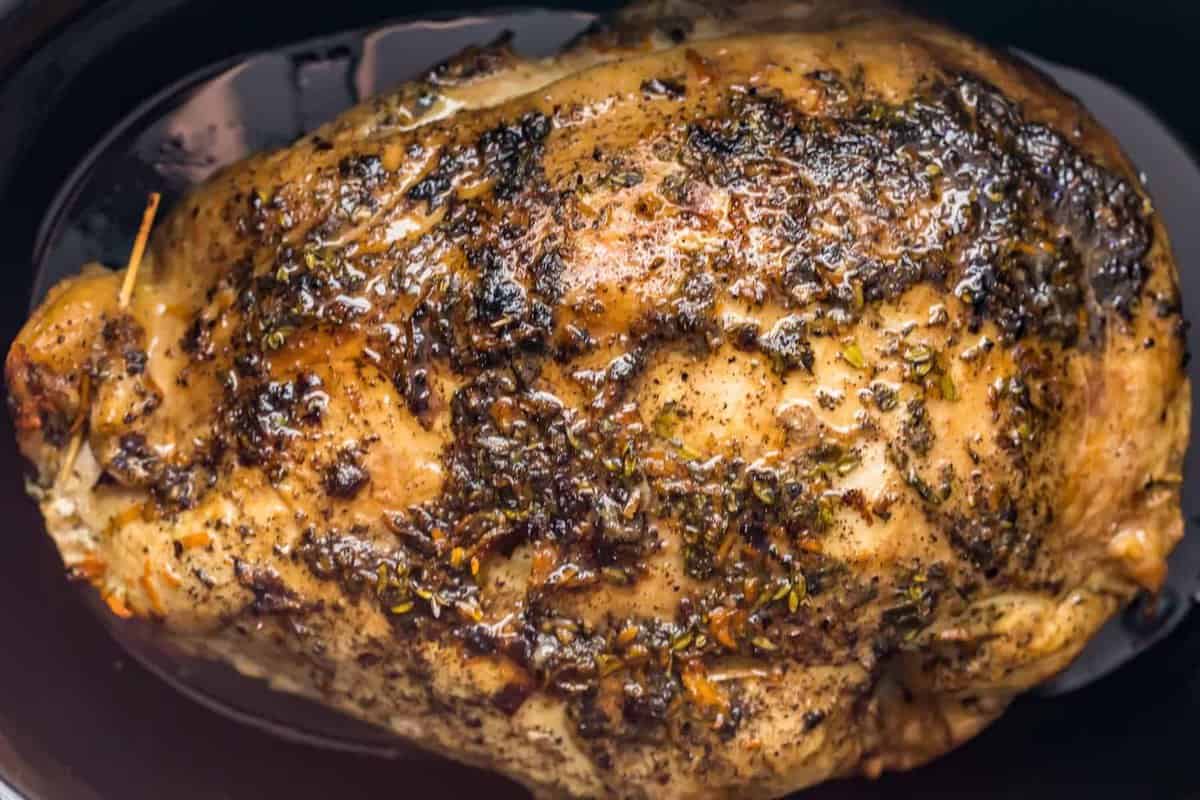 Is it safe to cook turkey in slow cooker?
Yes, it is just as safe to cook turkey in a crock pot as any typical cooking method. Just be sure to thaw the turkey breast before brining and cooking. Also, make sure the internal temperature reaches 165°F.
Should I use fresh or frozen turkey for this recipe?
You can use either one! If you use frozen, just be sure to thaw it before cooking.
Why use boneless turkey breast?
Getting a boneless turkey breast is so convenient. These are the perfect size for small gatherings, and they're so much easier to prepare, cook, and slice than bone-in or whole turkeys.
What size crockpot do I need?
With a 5-pound turkey and veggies to fill up the pot, I'd recommend a slow cooker that is at least 6 quarts.
How do you make a turkey juicy and not dry?
Turkey breast is a very lean cut of meat, which means it tends to dry out, leaving you with a bland Thanksgiving meal. But we can fight that! The brining process locks in moisture and it cooks in its own juices without the need to constantly baste it. This easy slow cooker turkey breast recipe is a great hands-off way of cooking your turkey while you get on with the rest of the feast. And you won't be left with dry turkey!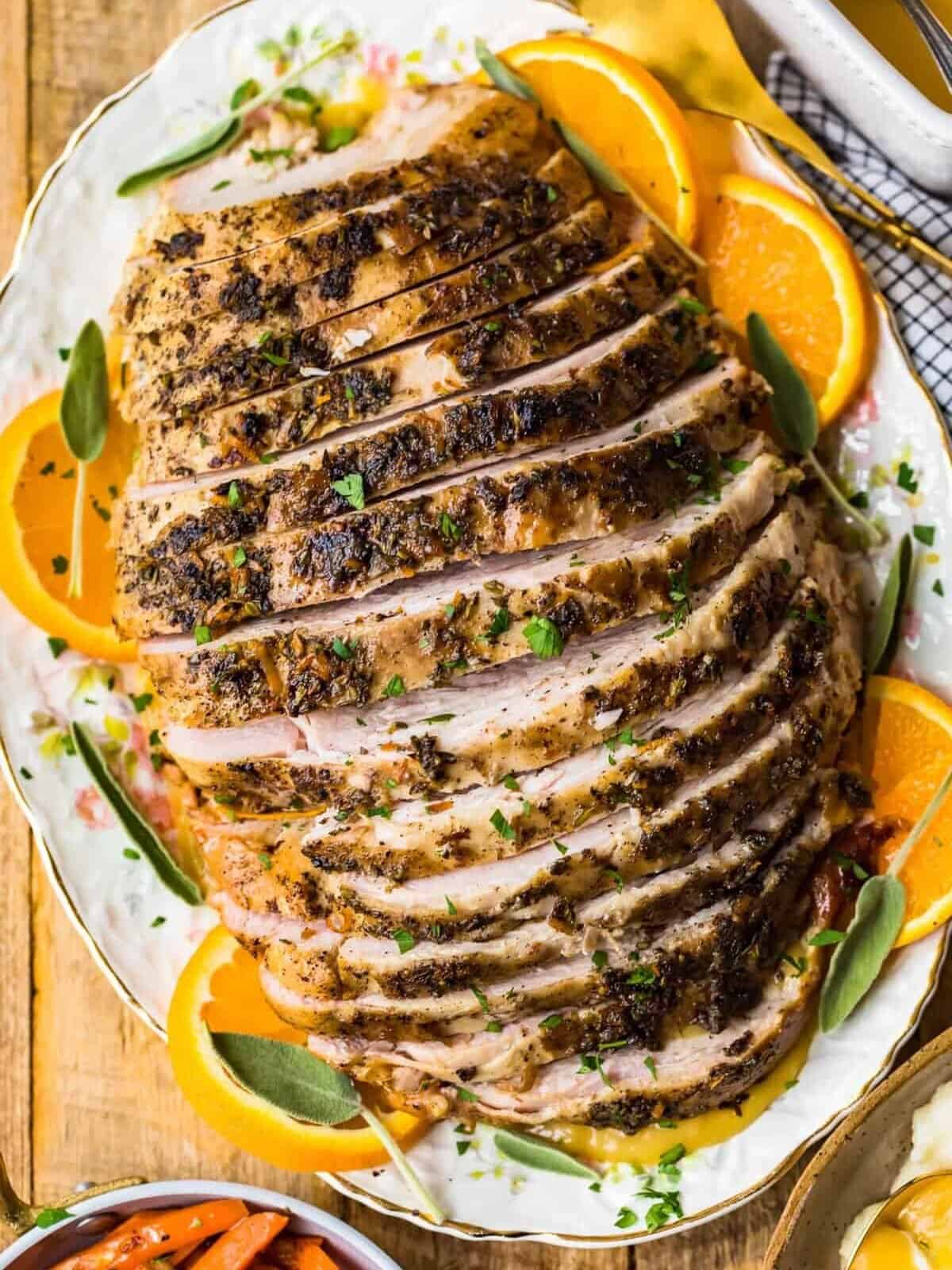 How to Store and Reheat
Store leftover crockpot turkey breast in an airtight container in the refrigerator for up to 3 days. To reheat, place the turkey in a baking pan with some turkey stock or pan drippings and bake at 350°F for about 30 minutes, or until warmed through.
How to Freeze
Freeze crockpot turkey breast in an airtight container for up to 3 months. Let thaw overnight in the refrigerator before reheating.
Serving Suggestions
Now that you're cooking the turkey in a slow cooker, you'll have time to focus on making some delicious side dishes. I love roasted Brussels sprouts, mashed potatoes, cranberry sauce, sweet potato casserole, or butternut squash stuffing!
5-Star Review
"I made this last year at Thanksgiving. It was my first time cooking turkey and it was absolutely wonderful!!!" – Kim
More Turkey Breast Recipes We Love