Making sloppy joes in the Crockpot is a hands-off way to get dinner ready tonight! Made with ground beef, brown sugar, mustard, and a host of lip-smacking seasonings, the mix comes out perfectly saucy. All whipped up in a slow cooker, serve it on buns and enjoy.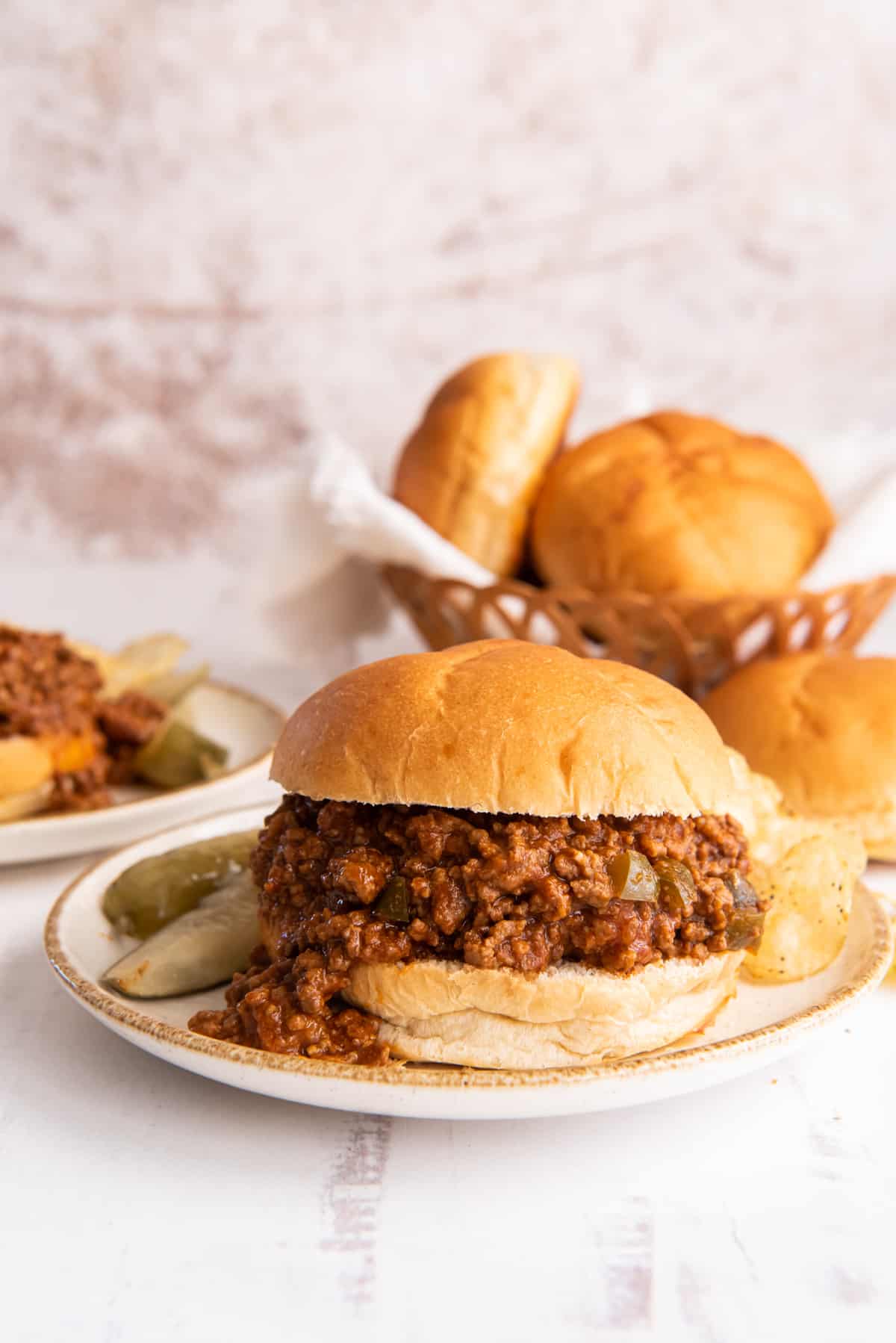 Sloppy Joes in the Crockpot
Crockpot sloppy joes are the easy way to feed the crowd! Juicy and loaded with flavor, it's a family favorite in our home.
Let the beef and sloppy Joe seasonings simmer away, then serve on soft buns – the kids (old and young!) will love them.
Looking for more crockpot recipes? Why not also try my Crockpot Beef and Noodles and my Crockpot BBQ Chicken.
Why You'll Love this Crockpot Sloppy Joe Recipe:
Savory: Made with a whole host of savory goodies, such as mustard, ketchup and Worcestershire sauce – this is super flavorful!
Kid-Friendly: Juicy, yummy, and sloppy means these sandwiches are pure joy for the little ones!
Easy: Made mainly with pantry staples, let the crockpot do the legwork on these sloppy joes.
Great for parties and crowds, you can whip up a big batch of sloppy joes in the slow cooker without the hassle.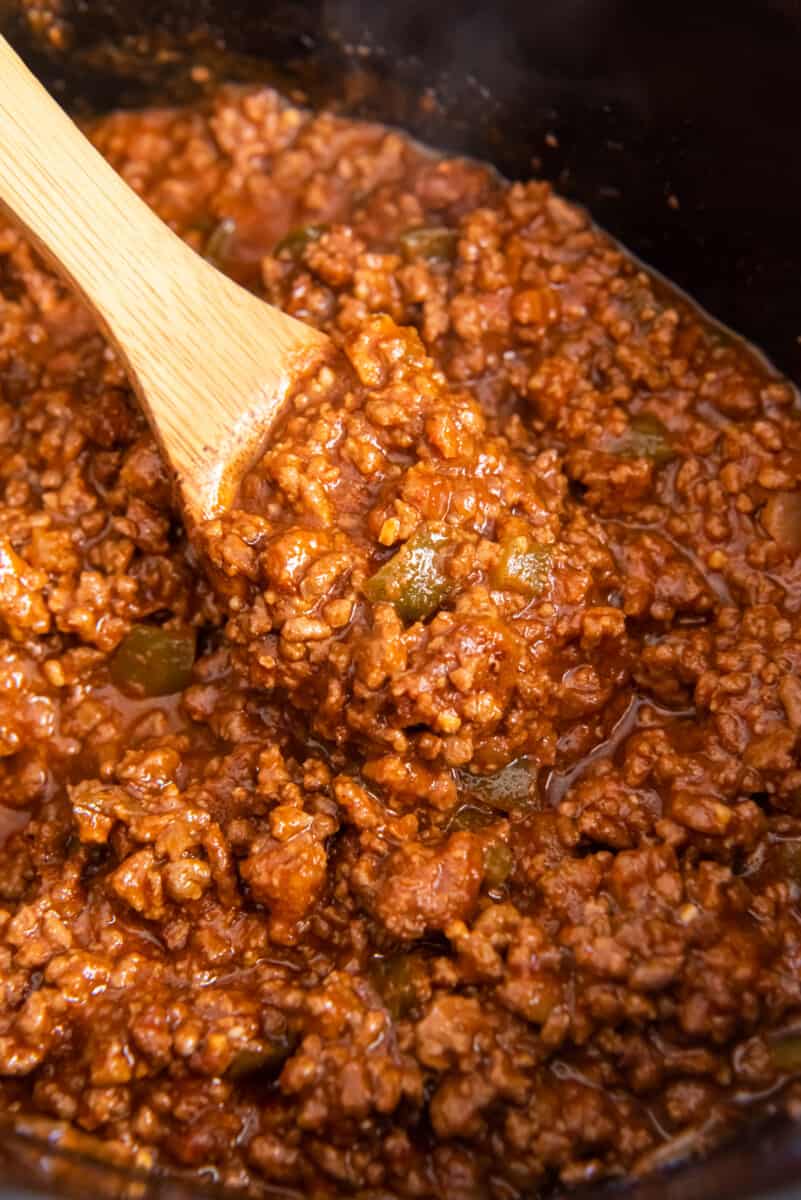 How to Make Crockpot Sloppy Joes
You can jump to the recipe card for full ingredients & instructions!
In a large skillet, brown and season the ground beef.
Add the ground beef to the crockpot with the remaining ingredients and cook.
Serve on hamburger rolls or sliders.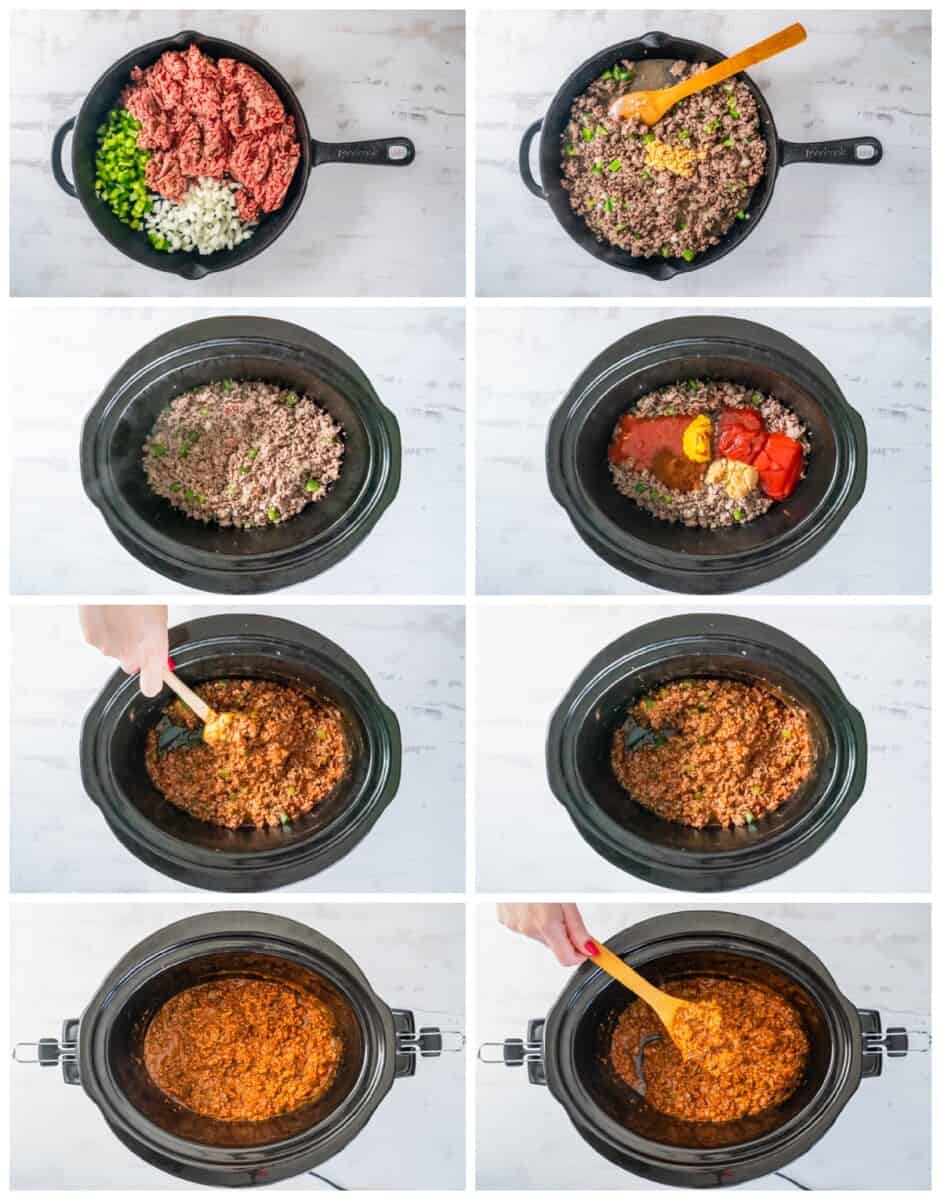 What are sloppy joes?
A sloppy joe is a sandwich consisting of a mixture of ground beef, onions, tomato sauce or ketchup, Worcestershire sauce, and other seasonings served on a hamburger bun.
Can I make crockpot sloppy joes with chicken or turkey instead of beef?
Yes! You can use any ground meat you'd like, such as chicken, turkey, or vegan meat crumbles. The sandwiches may have a slightly different taste, but the sauce is flavorful enough to compensate.
Do I have to brown the meat for sloppy joes before putting it in the crockpot?
Yes! Browning the meat adds a richer, deeper flavor to the dish.
Should I drain the fat from the meat for sloppy joes before putting it in the crockpot?
Yes, you should drain the fat before adding the meat to the crockpot. Otherwise, you'll end up with a loose, greasy sauce.
Can I make crockpot sloppy joes on the stovetop?
Absolutely! To make sloppy joes on the stovetop, brown the ground beef, onion, and pepper in a Dutch oven. Drain the excess grease and return the beef mixture to the Dutch oven. Stir in the rest of the ingredients and bring the mixture to a boil. Cover and reduce the heat to medium-low, allowing it to simmer for about 30 minutes.
Serving Suggestions
Homemade sloppy joes go well with so many sides. You can't go wrong with some simple potato chips or fries. Here are some other favorites:
Serve these up in burger buns, or slather this glorious meat sauce in some slider buns for an awesome game day treat.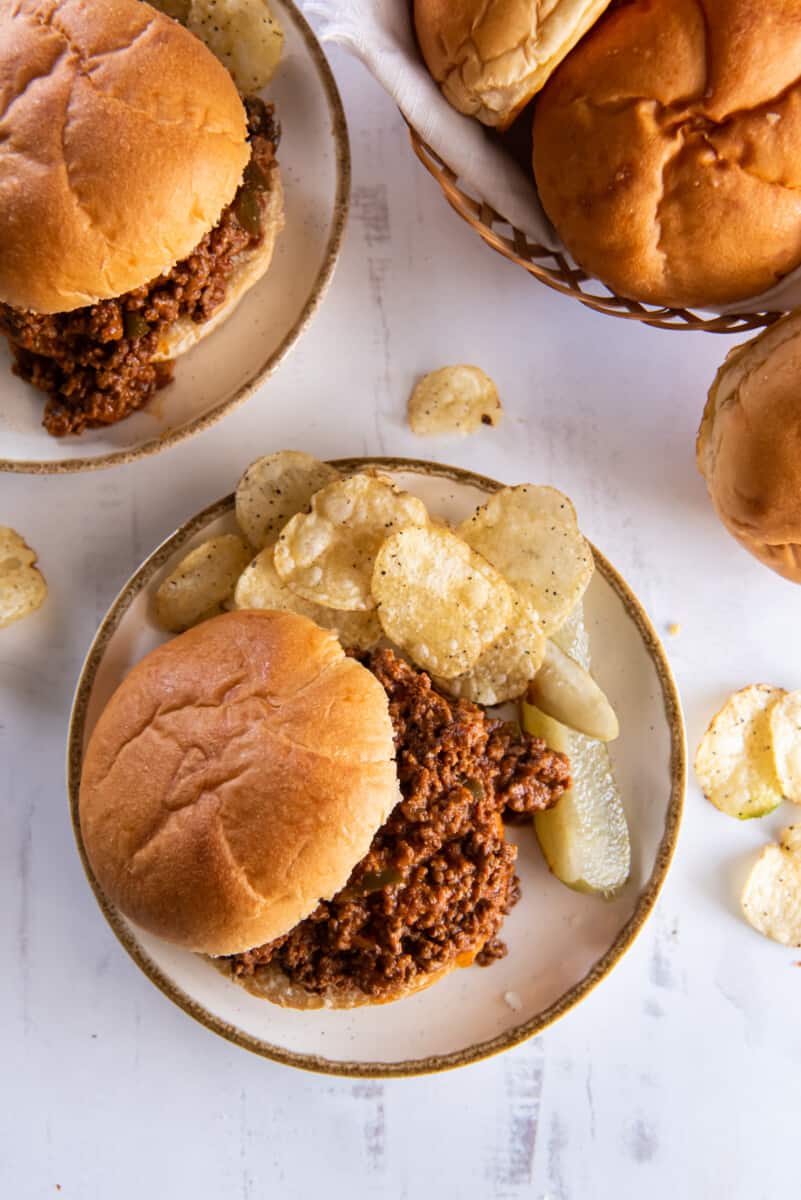 Make Ahead Instructions
Sloppy joes can be made up to 1 day ahead of when you plan to serve them. Store the meat separately from the buns.
Storage Instructions
Store leftover sloppy joes in an airtight container in the refrigerator for up to 3 days. Store the meat separately from the buns. Reheat the meat gently in the microwave or on the stovetop.
Freezing Instructions
Freeze sloppy joe meat in an airtight container or Ziplock bag for up to 3 months. Let thaw overnight in the refrigerator before reheating.
Scaling Down
This recipe can easily be halved to feed a smaller crowd.
Tips for Perfect Sloppy Joes
Brown the meat first. This adds a richer flavor to the sauce.
Drain the excess grease from the meat to keep the sauce from becoming runny or greasy.
Toast your buns. This will help prevent the sloppy joes from getting soggy too quickly.
Feel free to add toppings such as cheese, pickles, or raw chopped onion.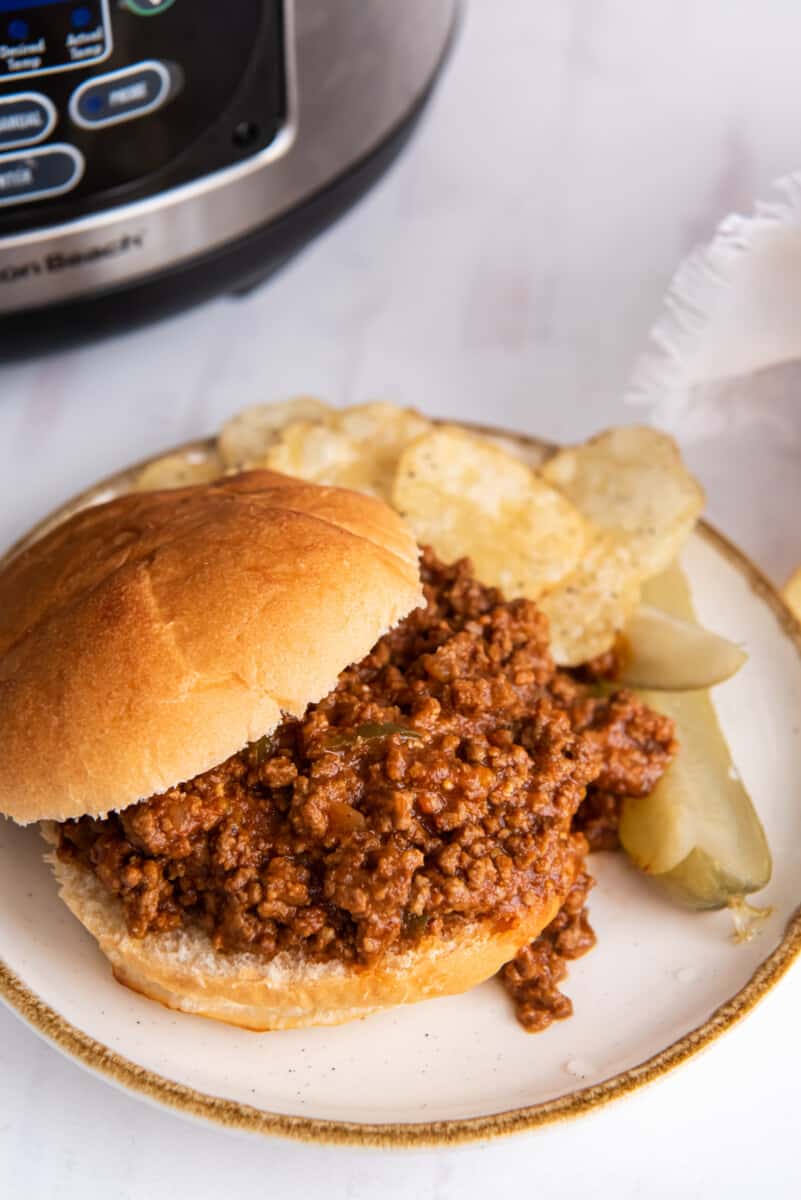 These crockpot sloppy joes are just pure joy! Perfect for birthdays, BBQs, or as an easy weeknight dinner, these delicious sandwiches are bound to please kids and adults alike! Whipped up in the slow cooker for maximum flavor, you'll never be stuck for an easy meal again!
If you make this recipe be sure to upload a photo in the comment section below or leave a rating. Enjoy! You can also jump to recipe.