Grilled Flank Steak is a quick and easy recipe that you can make for dinner all summer long. This flank steak recipe is so tender and flavorful, with a delicious cilantro lime steak butter to make it even better. Serve it with your favorite sides, or slice it up for fajitas!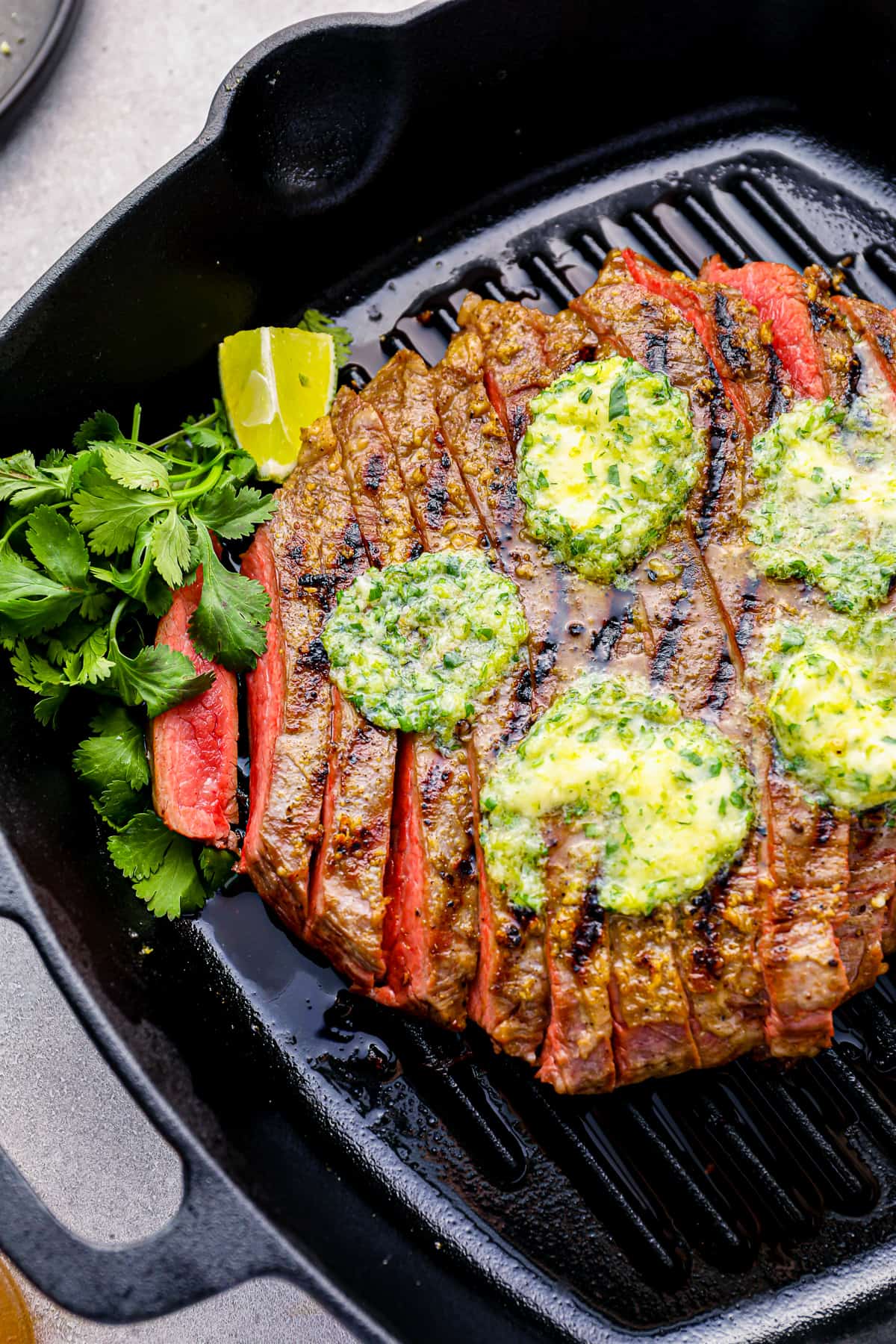 Grilled Flank Steak
This flank steak with cilantro lime butter is absolutely perfect for summer. Learn how to grill flank steak for a simple and delicious dinner!
The recipe is so quick and easy, but it still gives you a meal that you'll really want to savor. The cilantro lime steak butter melted on top just makes it extra amazing. It comes out so tender, flavorful, and juicy!
So grill up some steaks, add a side of grilled vegetables (grilled asparagus is one of my favorite things to pair with it), and enjoy!
Why You'll Love this Flank Steak Recipe:
PERFECTLY GRILLED: This steak is grilled to perfection in just a few minutes. It's a quick and easy recipe you can make any time!
FLAVORFUL: The cilantro lime steak butter adds so much flavor. Melt it over the steak for the most delicious taste!
TENDER: This flank steak is so tender when cooked just right. Slice it up for melt in your mouth goodness!
This grilled flank steak recipe is an easy way to make a great dinner! And it's perfect to slice up for steak fajitas, steak nachos, burritos, steak salad, and stir fry.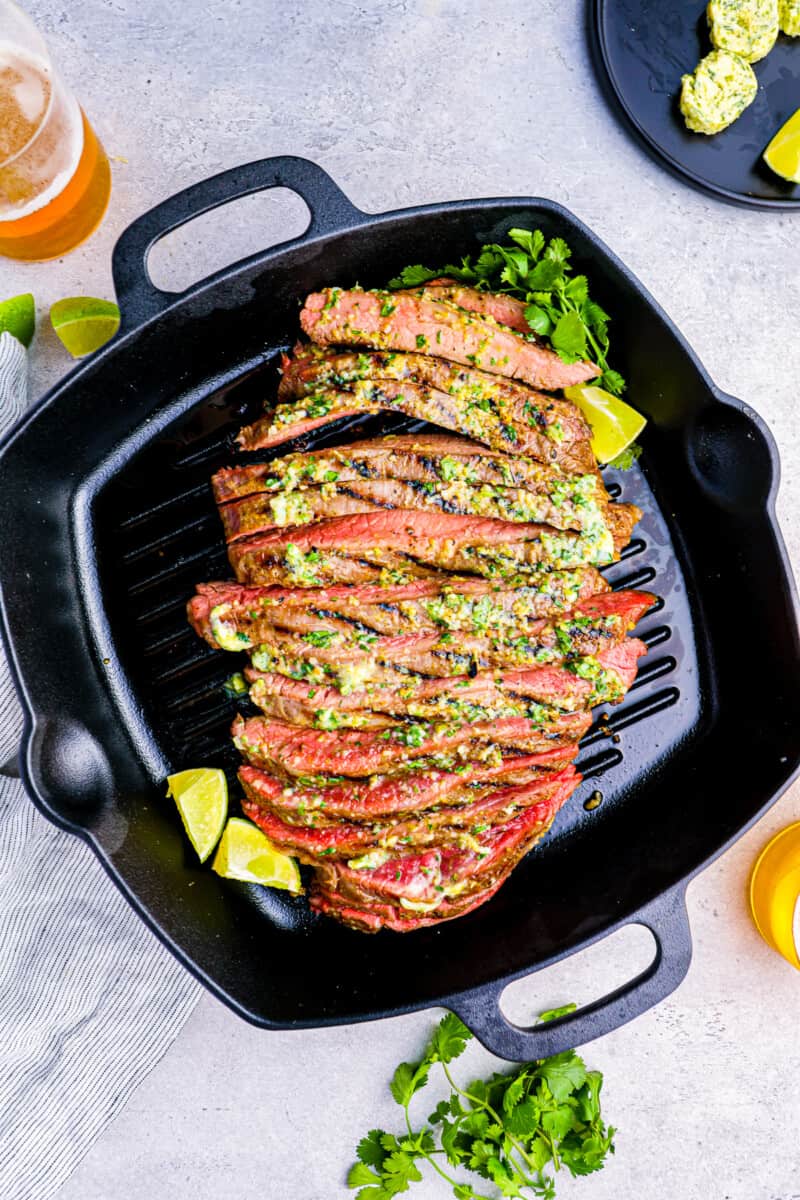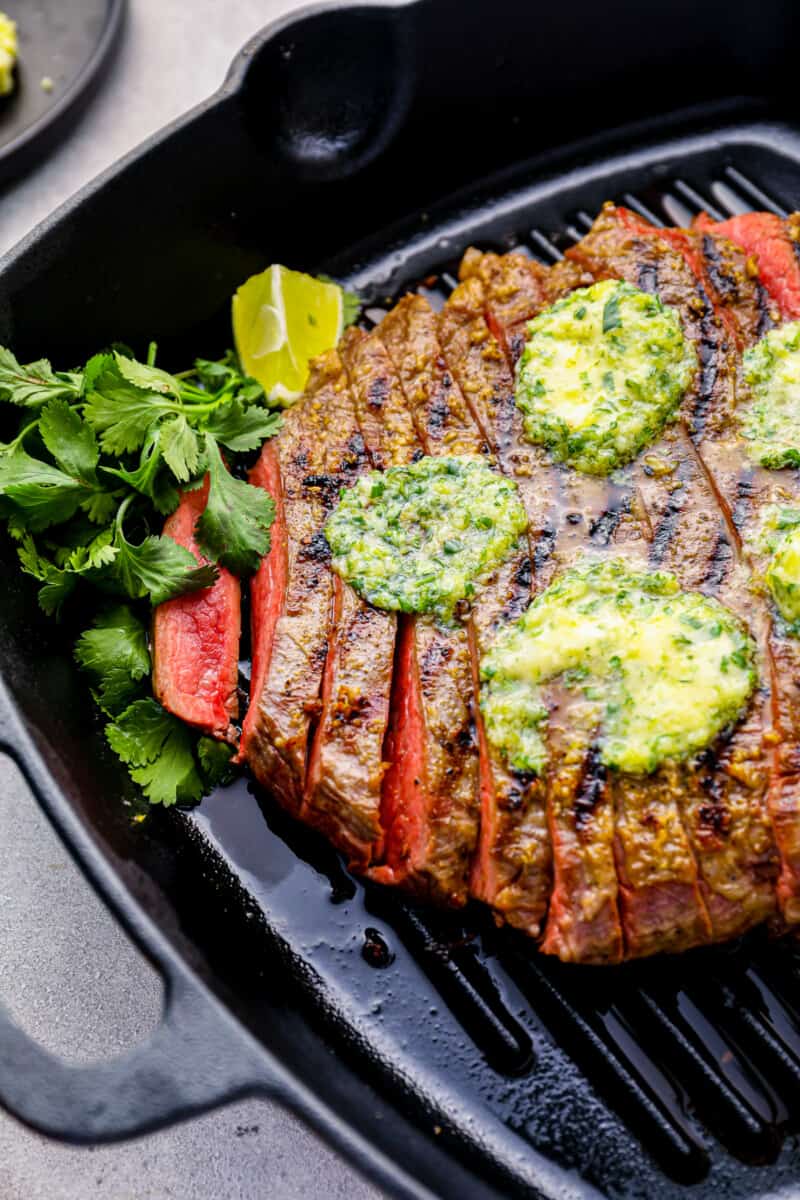 What is flank steak?
Flank steak is a cut of beef, cut from the flank of the cow (this is the lower abdominal area, just in front of the rear quarter). It's very lean (not a lot of fat), which means it's a relatively tough cut of meat, but it's filled with flavor. This is very similar to skirt steak. It's best to cut it against the grain to make it more tender, and it's often used in recipes that call for strips of steak.
Steak with Cilantro Lime Butter
Every type of steak has certain ways of cooking, cutting, or seasoning that make it just PERFECT. Flank steak needs to be cut a specific way to keep it tender (more on that below), and grilling it is such a great way to cook it. Because the flavor is so amazing, it doesn't need much help, but a few bits of seasonings, herbs, and this special cilantro lime butter really do make it perfect.
The cilantro lime steak butter adds so much extra flavor to this grilled flank steak recipe, and I absolutely love it! You've got cilantro, lime juice, and garlic combined into the perfect butter to melt over the steak before eating. Yum!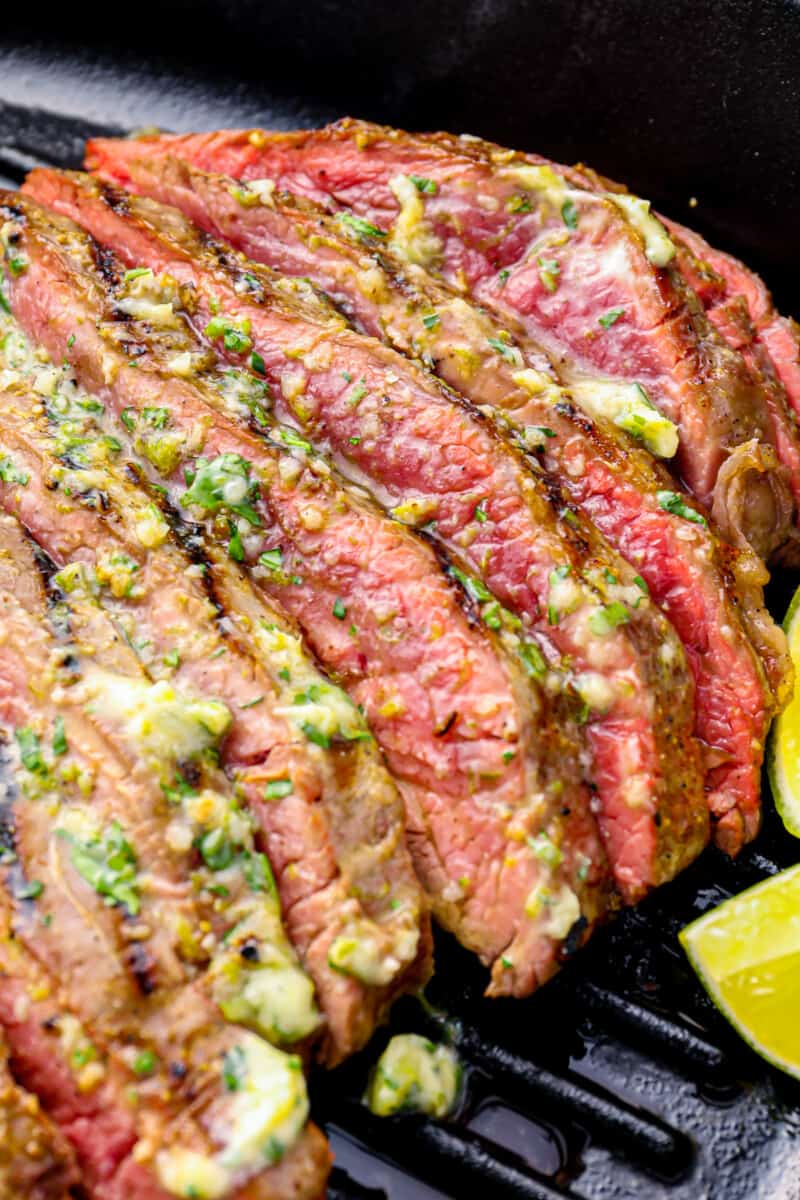 How to Grill Flank Steak
Be sure to see the recipe card below for full ingredients & instructions!
Start by making the cilantro lime butter, so that it's ready when your steak is done. Combine softened butter with other ingredients in a bowl, then form it into a log shape on plastic wrap. Wrap tightly and refrigerate.
Heat the grill and season the steak.
Grill flank steak for just a few minutes on each side, then let it rest.
Cut into thin slices, and place butter on top to let it melt over the steak.
Serve and enjoy!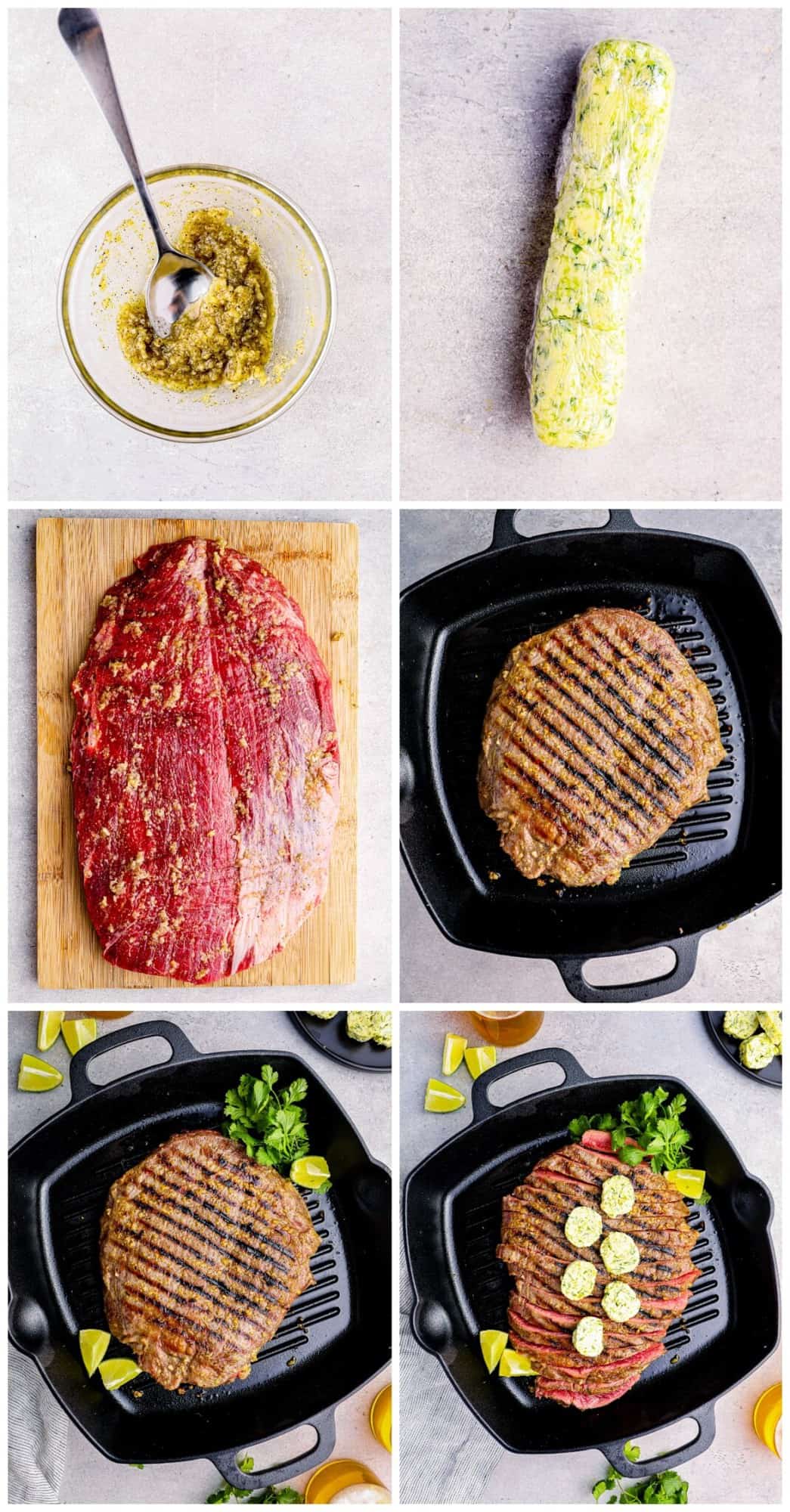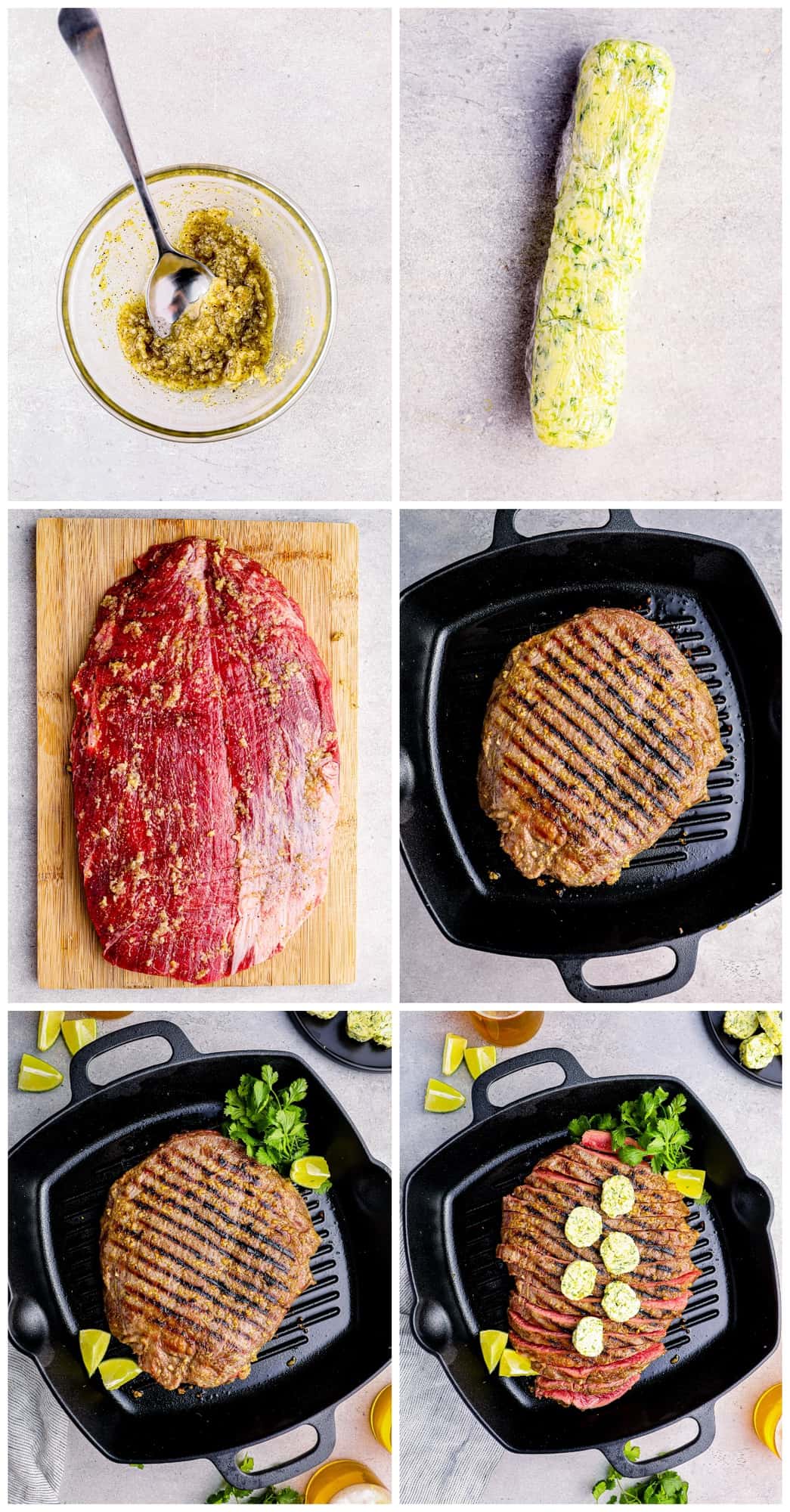 Is flank steak the same as skirt steak?
They are similar in size and shape, and both are lean cuts. They aren't the exact same cut, but they are generally interchangeable in recipes. Both benefit from short cook times and thinly sliced cuts.
Can I use a different type of steak for this recipe?
The specifics of this recipe are ideal for flank steak. But you can absolutely grill another cut and use the cilantro steak butter!
How do you make flank steak more tender?
The trick to keeping your flank steak tender, is to cook it only briefly. I recommend cooking it to medium, no more, because the longer it cooks, the tougher it will get. Cutting it nice and thin, against the grain, also helps to give it a tender bite while eating.
Can I make this recipe indoors?
Yes! You can use a grill pan on the stove if you want to cook indoors.
Is flank steak lean?
Yes, flank steak is a very lean cut. That means it doesn't have a lot of fat on it, which puts it at risk of becoming tough if it's overcooked.
Can you grill frozen steak?
I don't recommend cooking thin, lean steaks straight from frozen. So if you're using frozen steak, be sure to fully defrost it before grilling.
What's the best way to cook flank steak?
It's best to keep the cook time as short as possible, so high heat cooking methods work best. That means grilling flank steak is ideal!
Serving Suggestions
Grilled flank steak makes such a great dinner! Just add some veggies, potatoes, a salad, or any of your favorite sides.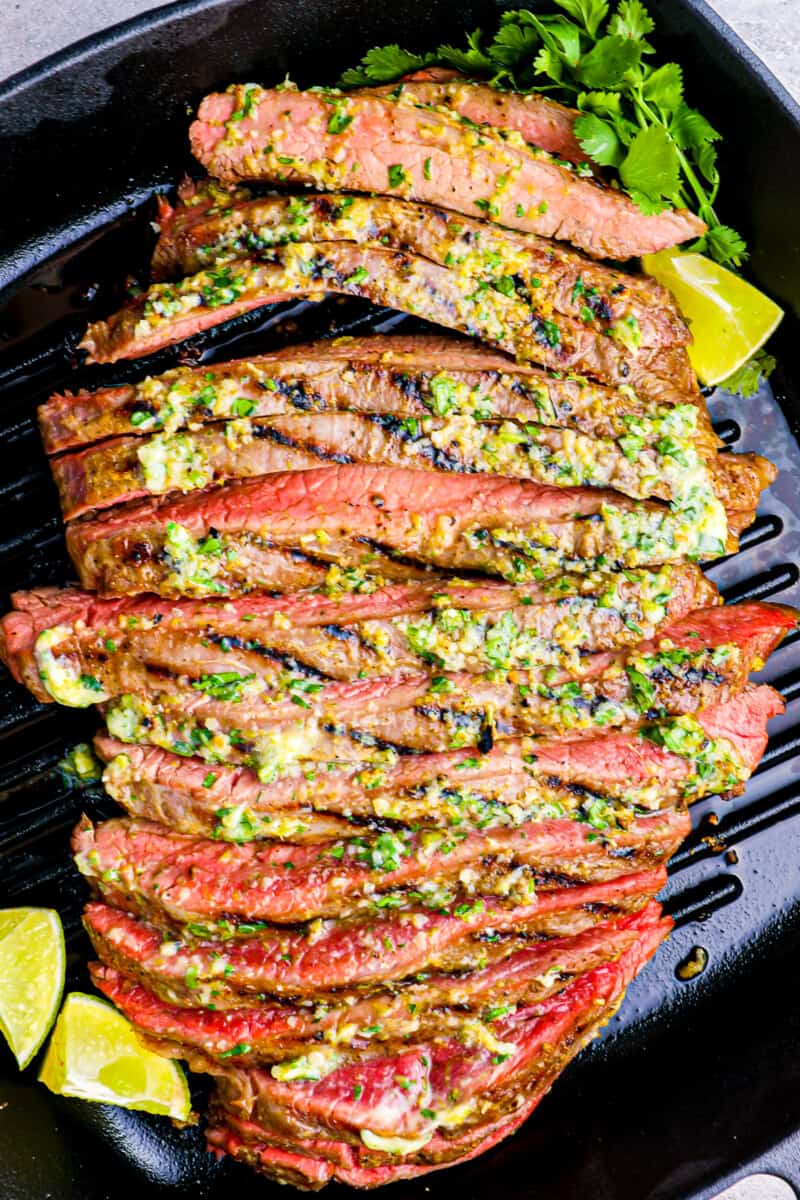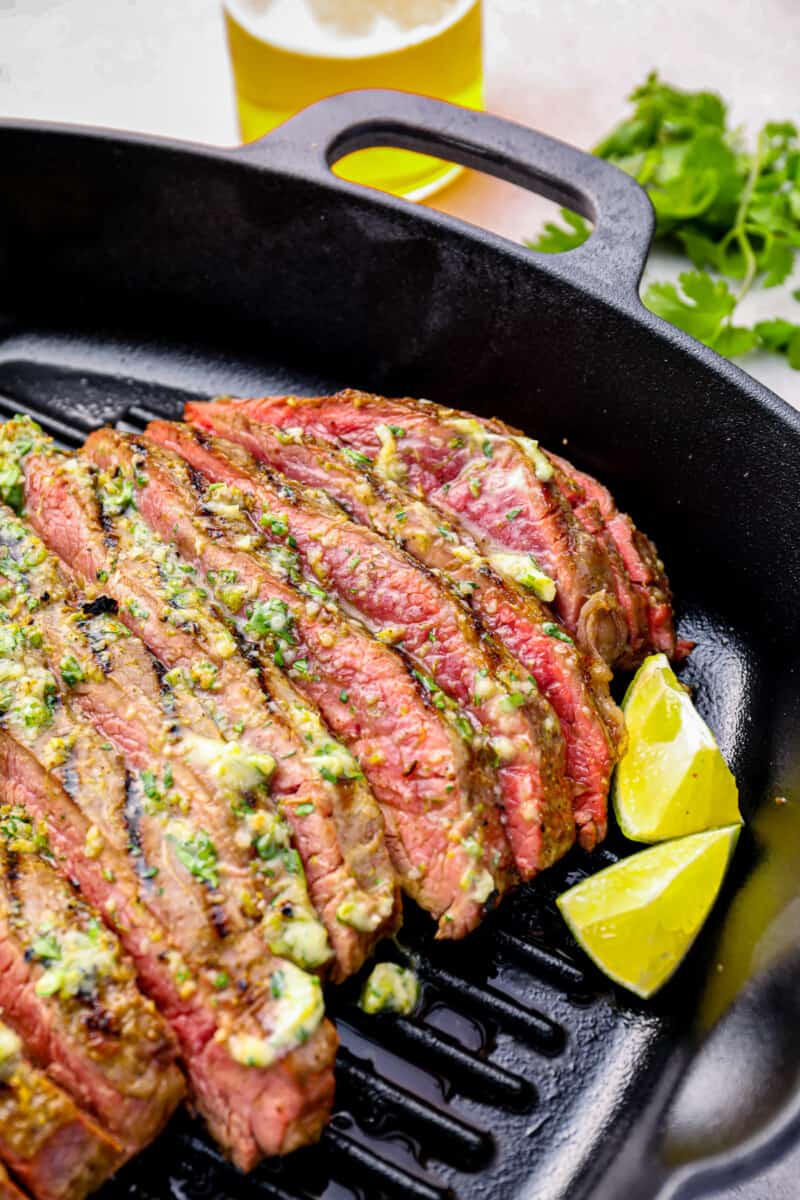 How long do you grill flank steak?
It doesn't take long to grill flank steak, but exactly how long depends on how done you want your steak (see below for more info).
Grilling it for about 6 minutes on each side will cook it to rare, while cooking closer to 9-10 minutes per side will give you a well-done steak (although I don't recommend cooking to well-done). Keep your meat thermometer by the grill, as that's the best way to know when it's ready!
Grilled Steak Internal Temperature
When cooking steak (or any meat), make sure you have an instant-read thermometer handy to check the internal temperature. This is the best way to make sure it's cooked perfectly and safe to eat.
You can grill this flank steak to whatever your preferred temperature is: Rare (130-135°F), Medium (150-155°F), or Well-done (165°f). Because this cut of meat is a bit tough, well-done will mean a chewy, tough texture. I recommend cooking to medium-rare (140°F) for this recipe!
Check this internal meat temperature chart to keep in your kitchen.
How to Cut Flank Steak
Flank steak is a lean cut with a lot of muscle fibers, which means it's naturally-inclined to become tough. So the way you slice it does make a difference to the final texture when you eat it.
You should cut flank steak against the grain, at a slight diagonal angle. And you want to make thin slices. This method will make sure each slice is as juicy and tender as possible!
Against the grain means cutting through the fibers, not parallel (or between) them. This means you'll be getting more of the tender, juicy parts in each bite, and less of the fibrous parts.
Luckily, when you buy flank steak at the store, it will already be cut in a way that makes it easy for you to slice at home. Generally you'll just be slicing across the width of it.
You'll also want to hold you knife at a slight diagonal, slicing down and forward, rather than straight down.
Tips!
The best way to soften the butter is to let it sit out at room temperature for an hour (or until it's soft enough to mix with other ingredients).
You want a HOT grill for best results, so that it will cook quickly.
This grilled cilantro flank steak is PERFECT for fajitas.
Be sure to cut flank steak against the grain, and slice it thinly. This is the most enjoyable way to eat it!
The steak butter can easily be made ahead of time, stored in the fridge, and used for other things if you have leftovers.
Start with a steak marinade to make it even more tender.
This flank steak is such a great recipe to grill for summer!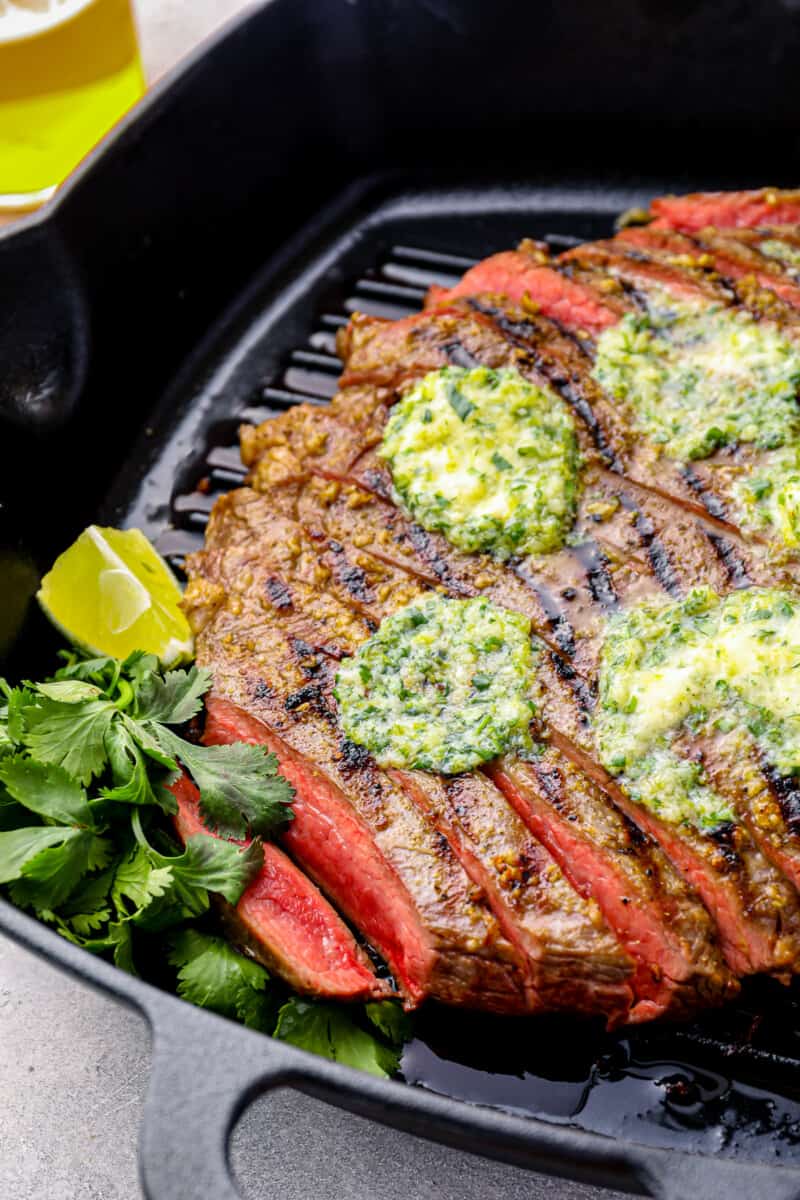 Look no further than this grilled flank steak recipe with cilantro lime butter for an easy and delicious meal. Everyone will love it!
If you make this recipe be sure to upload a photo in the comment section below or leave a rating. Enjoy!