The classic Bloody Mary is a brunch-time favorite that happens to be really easy to make. This spicy cocktail is delicious any time of day! We make ours on the stovetop so it's easily made for a crowd!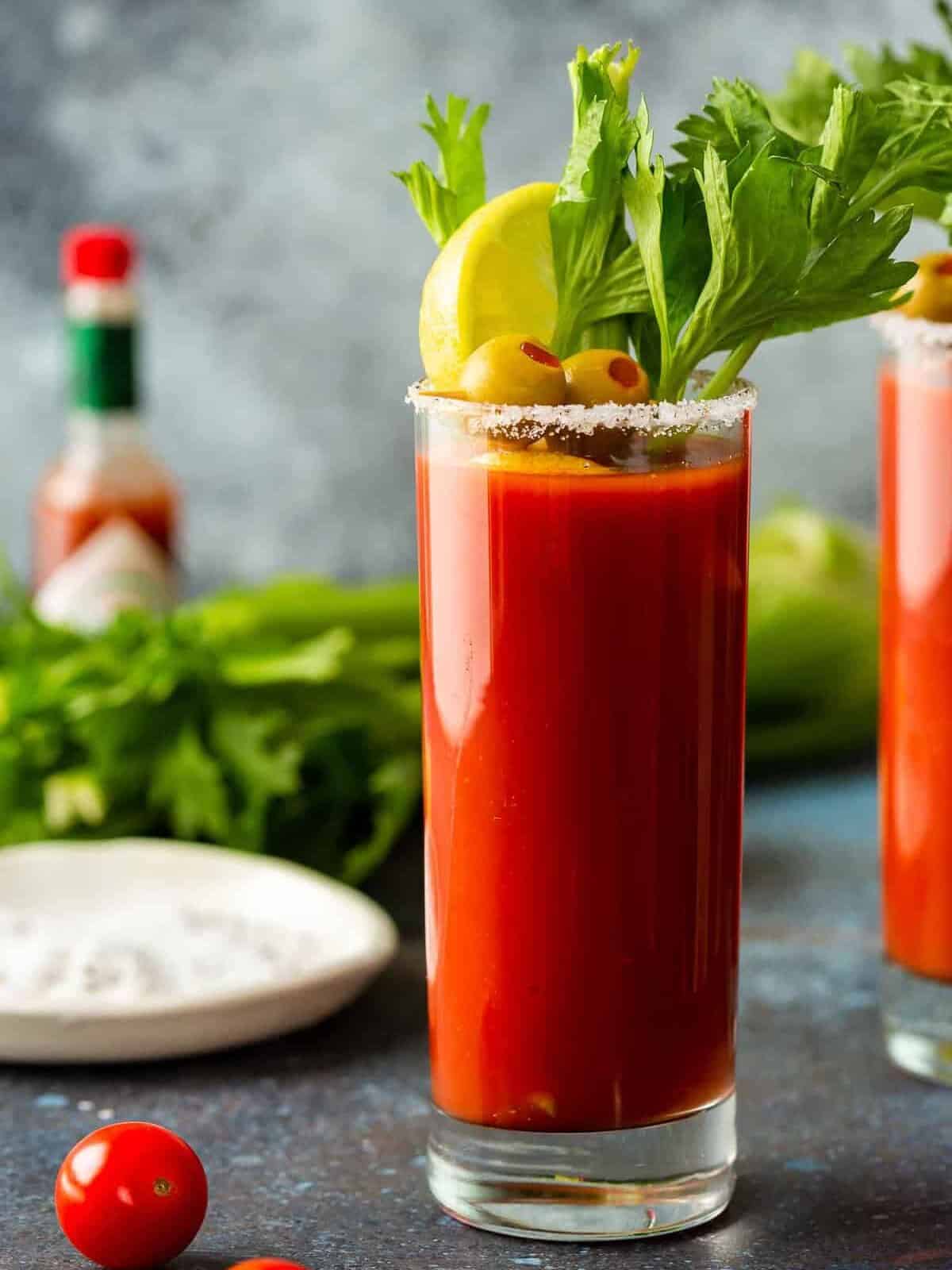 What's in this Bloody Mary Recipe?
We're using V8 vegetable juice, Worcestershire sauce, vodka, and all the other classic Bloody Mary ingredients to make this cocktail, but we've got one element that might surprise you: the stove! Yes, making Bloody Marys on the stove is the easiest way to make it, and I think it's the best method around!
Vegetable Juice: I like to use low-sodium vegetable or tomato juice because this recipe already has a lot of added salt. V8 makes a great low sodium 100% vegetable juice, and they also make their own bloody mary mix as well!
Worcestershire Sauce: Adds a touch of umami flavor and extra saltiness.
Tabasco Sauce: Gives these bloody marys a kick! Use more or less as desired.
Celery Salt: Adds a nice vegetal saltiness.
Seasoning Salt: Adds a nice depth of flavor and more saltiness. I like Lawry's, but any brand will work. For lower-sodium bloody marys, look for a salt-free seasoning blend instead. Look for something that includes sugar, paprika, turmeric, and onion!
Beef Bouillon Cubes: Add a great depth of flavor without diluting the vegetable juice. You could also use an equivalent amount of bouillon paste. Again, you can opt for a lower-sodium version.
Vodka: Use a good-quality vodka you know you like the taste of. I love Tito's because it's a little bit sweet which balances out all of the savoriness of these bloody marys.
Garnishes: You could garnish these bad boys with so many different things. I chose celery, lemon, olives, and pickles. I think making them look nice is part of the fun of this drink!
I got this recipe from my friend Chris at work. This was Chris's grandma's secret recipe for the perfect Bloody Mary. One sip, and you'll agree. We are all very, very lucky to be in on the secret!
Variations on Bloody Marys
A classic bloody mary is made with vodka, but you can swap out the alcohol for something that's more up your alley. I've seen a bloody mary with tequila, a bloody mary with gin, a bloody mary with whiskey, and even a bloody mary with rum!
Make a batch and try a different shot of alcohol in each glass to see what you like best. You could also try making a bloody mary with beer for a low-ABV drink.
For a clamato bloody mary, swap some or all of the V8 for clamato juice. For a spicy bloody mary, swap the V8 for V8 Spicy Hot 100% Vegetable Juice or add more tabasco. You could also add a few jalapeño slices for garnish or add some cayenne pepper to the salt rim.
For a bacon bloody mary, garnish with a slice of sweet and spicy bacon. And for a kimchi bloody mary, add a heaping scoop of kimchi to your bloody mary before serving.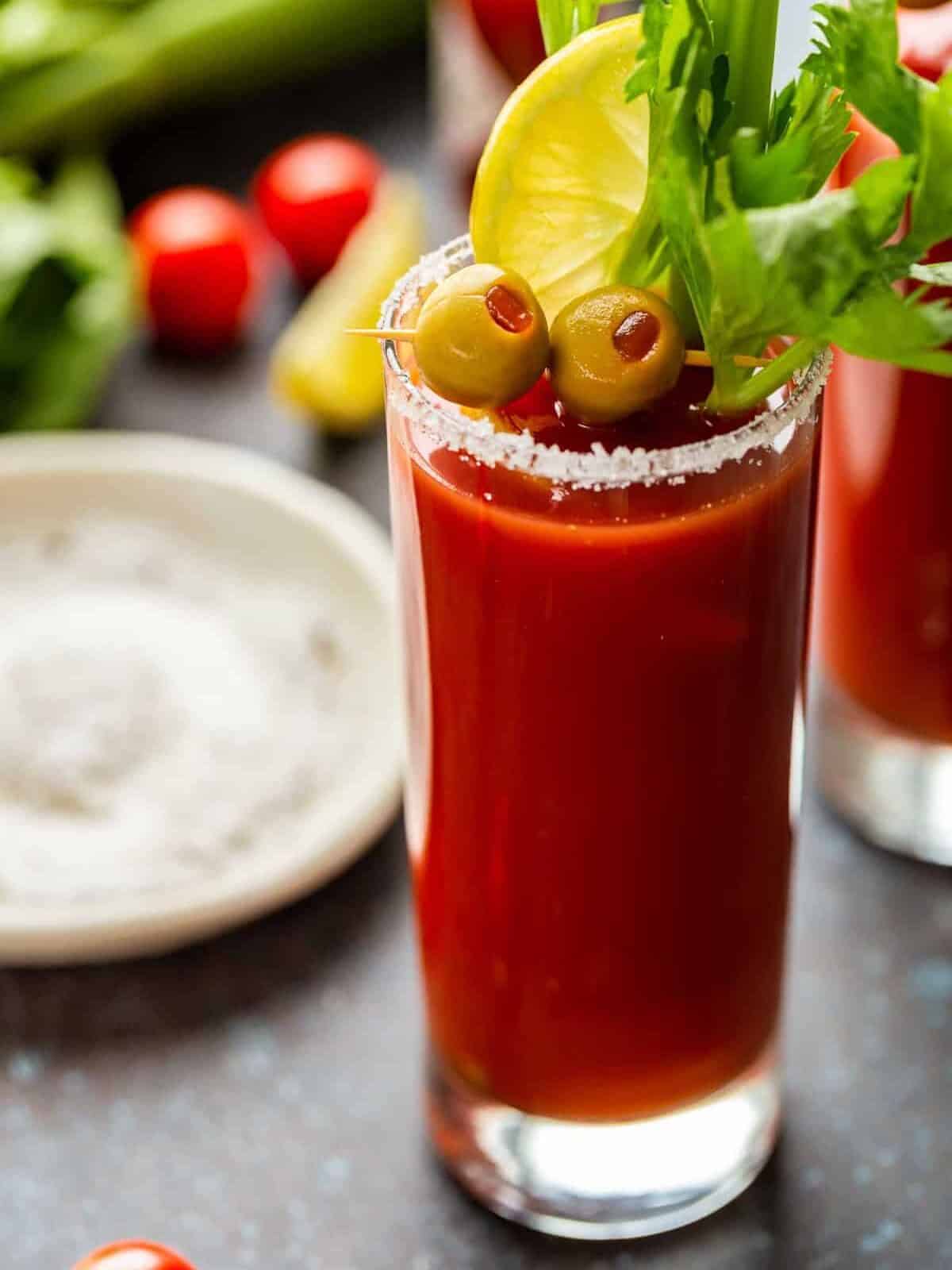 Trademark note: In the spirit of transparency, I want to note that some of these ingredients are trademarked products. V8 and Tabasco are proprietary brands that I want to acknowledge and give credit to.
What alcohol is in a bloody mary?
A bloody mary typically contains vodka, but I've seen it made with all kinds of alcohols, so feel free to experiment!
Who is Bloody Mary?
Bloody Mary, also known as Queen Mary I (or Mary Tudor), was the first ever queen to rule over England in her own right. She earned the nickname "Bloody Mary" because of how many Protestant heretics she burned at the stake during her reign. This drink is said to be named for her mostly due to its bright red color.
What does a Bloody Mary taste like?
The flavor might catch you off guard if you don't know what to expect. It's spicy, salty, and overall a savory flavor. It reminds me of vegetable soup and salsa, all rolled into one. For some, it's an acquired taste; I've had a couple of Bloody Marys in my life and, to be honest, I didn't always love them.
I think this stovetop version changed that for me because the flavors really blend well by being cooked together. It's definitely a unique cocktail, but I think that's what so many people love about it.
How many calories in a bloody mary?
A bloody mary has about 120 calories. This may vary depending on the brands and types of ingredients you choose to use in yours.
Are bloody marys healthy?
Yes and no. Bloody marys are high in potassium, vitamins A and C, and calcium; however, they are also notoriously high in sodium. Enjoy bloody marys in moderation.
How many carbs in a bloody mary?
This particular recipe contains 11 grams of carbohydrates, not including any garnishes. Garnishes will increase the final carb count.
How do you make a virgin bloody mary?
To make this recipe non-alcoholic, simply omit the vodka. You could add a bit more V8 to make up for the loss of volume if desired.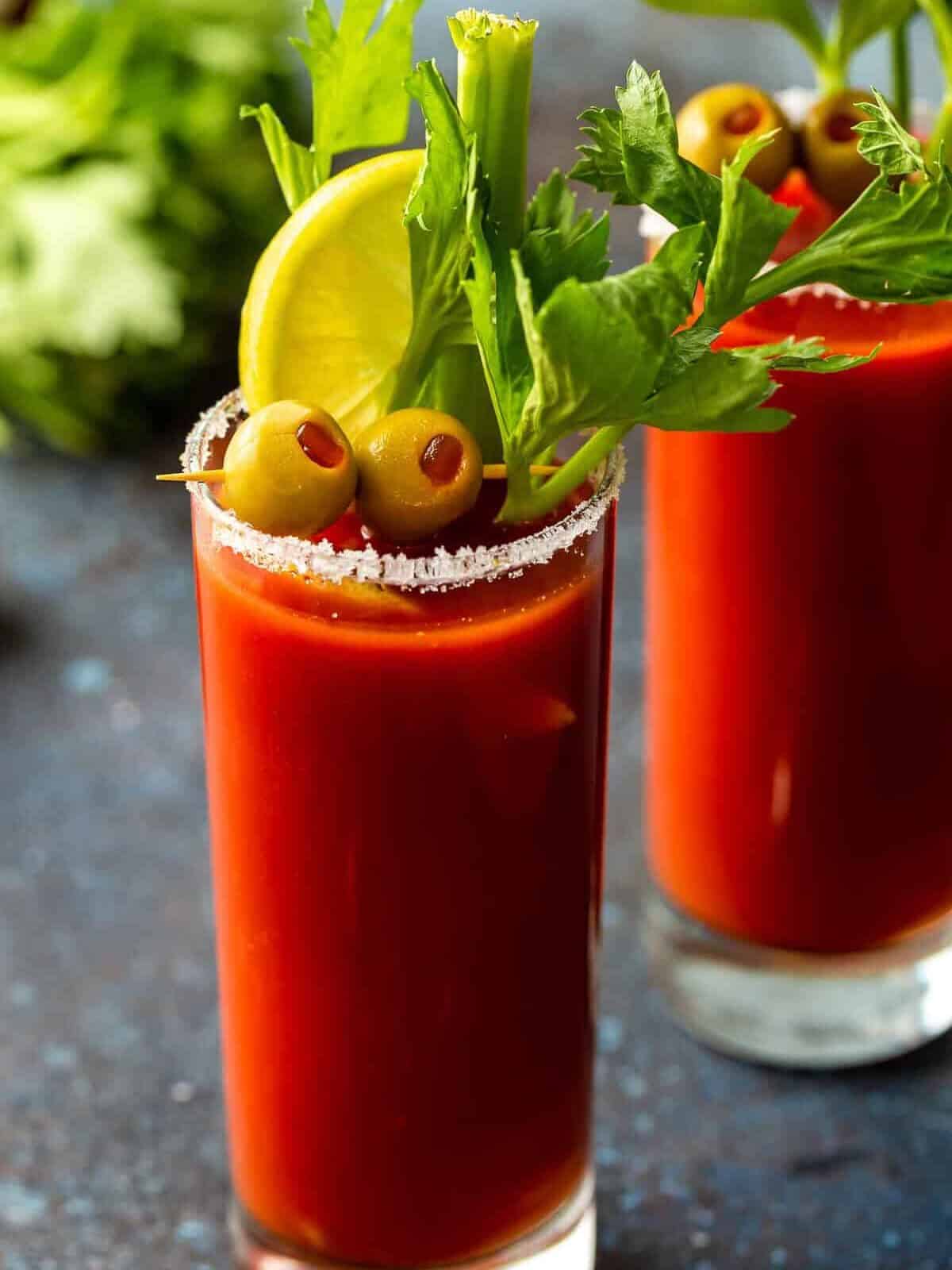 How to Store a Bloody Mary Cocktail
Store leftover bloody marys in an airtight container in the refrigerator for up to 3 days. Enjoy chilled or at room temperature.
What to Serve with a V8 Bloody Mary
You can't go wrong with this classic cocktail. Serve it up at brunch alongside quiche lorraine, breakfast casserole, or eggs benedict. It's also great in the evenings for cocktail hour. You can set up a bloody mary bar with tons of appetizers, like reuben egg rolls, pizza pinwheels, ham roll ups, jalapeño poppers, or pigs in a blanket!
Grab your toothpicks and garnish these bloody marys with some delicious one-bite snacks, like bacon wrapped shrimp, blistered sweet peppers, blue cheese stuffed olives, or herb marinated mozzarella; or add a mini meal, like antipasto skewers or mini chicken and waffles. The possibilities are unlimited!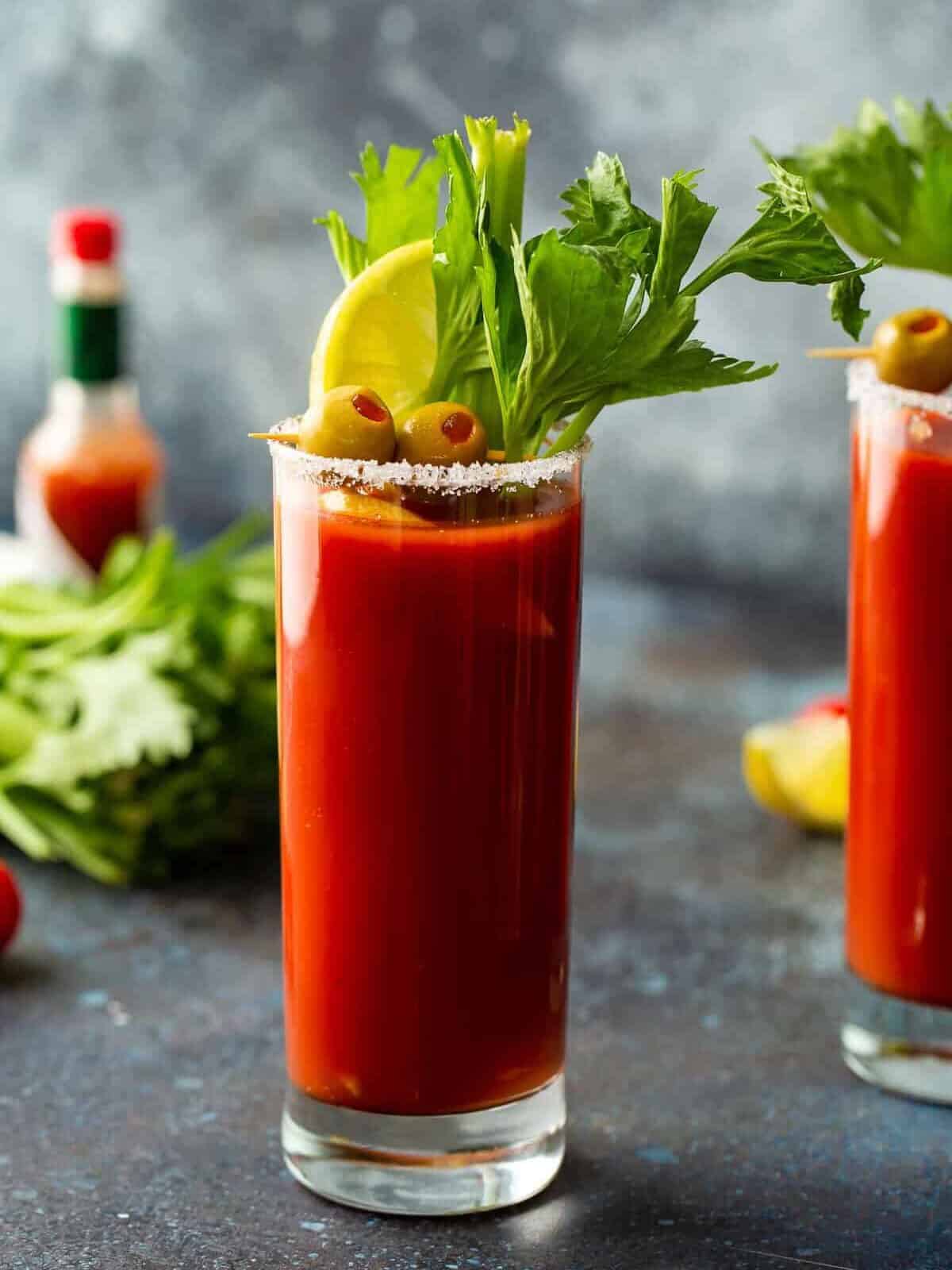 More Savory Cocktail Recipes We Love