A Bloody Mary is a classic cocktail most of us have heard of, but aren't quite sure how to make. This is the BEST Bloody Mary recipe, and it happens to be really easy. Enjoy this drink with brunch (or use it to cure that hangover). This spicy cocktail is so delicious either way!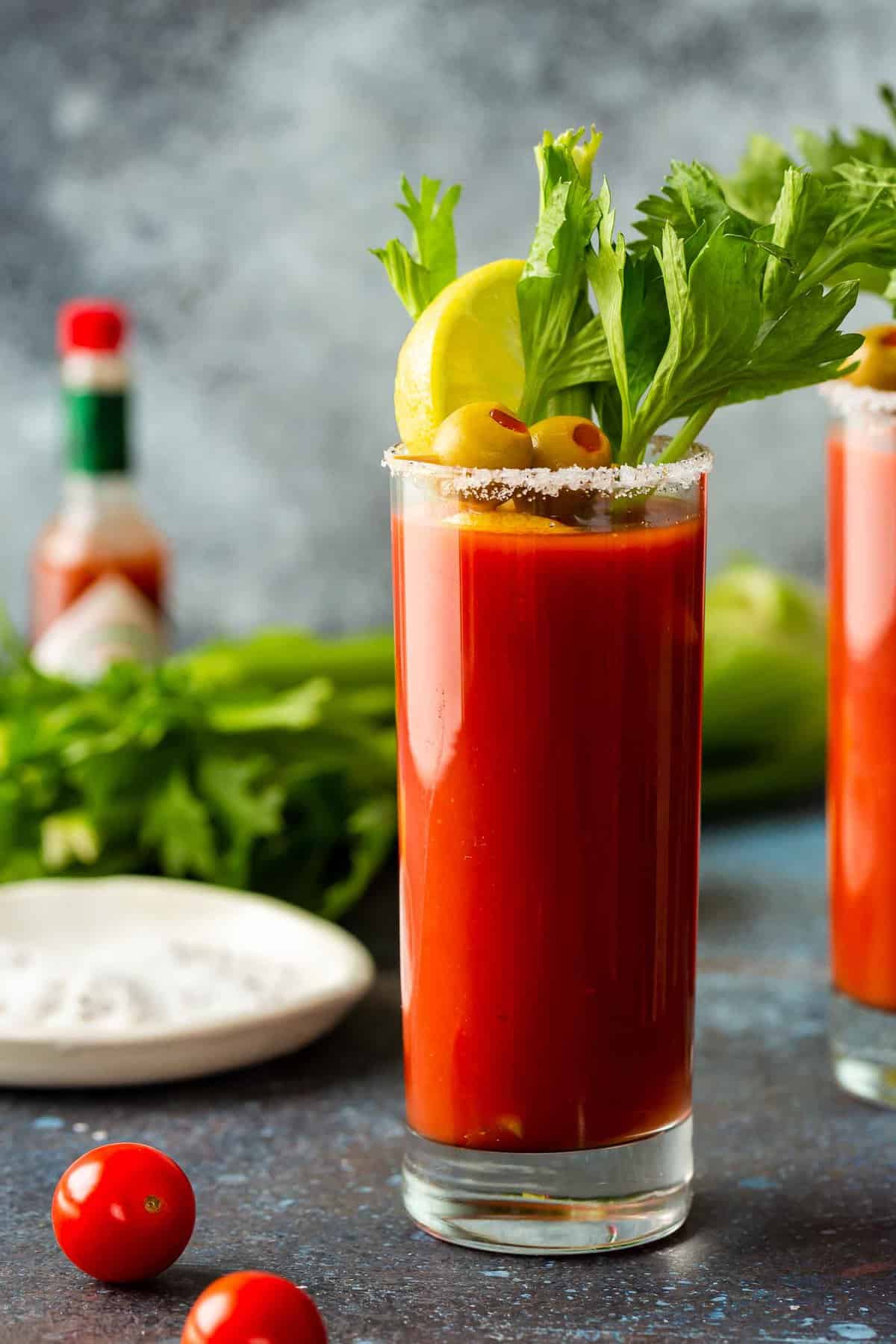 Bloody Mary
This easy Bloody Mary recipe is a must for anyone and everyone to learn. Use V8 to make your own mix on the STOVE, and you'll have the most perfect drink!
I love a good cocktail, and I really love making classic cocktails easy. A good spicy Bloody Mary is definitely a favorite for Sunday brunch, and this simple recipe makes it easy to make at home.
You don't need a store-bought Bloody Mary mix with this recipe, because it's easy to make from scratch. We're using V8 as our tomato juice, Worcestershire sauce, Vodka, and all the other classic Bloody Mary ingredients, to make this cocktail on the stove. It's the easiest way to make it, and it's SO good.
Whether you're looking for a good brunch drink, a cure for that hangover, or just a nice evening cocktail, this recipe will definitely come in handy.
Learn how to make a Bloody Mary with this easy homemade cocktail recipe!!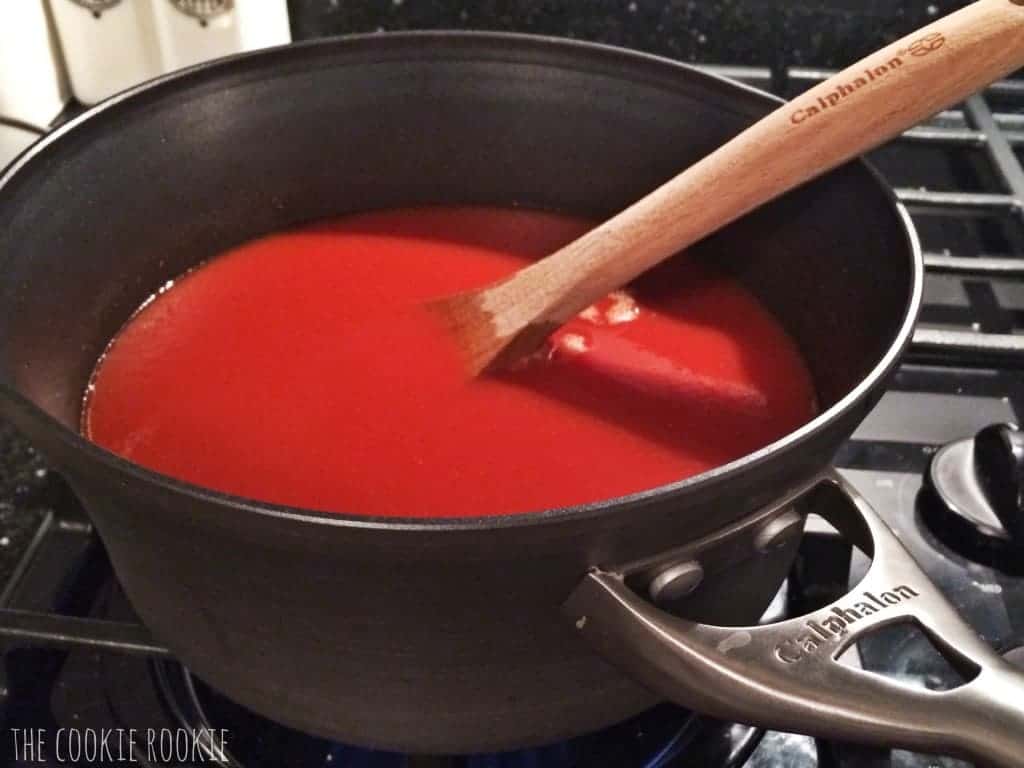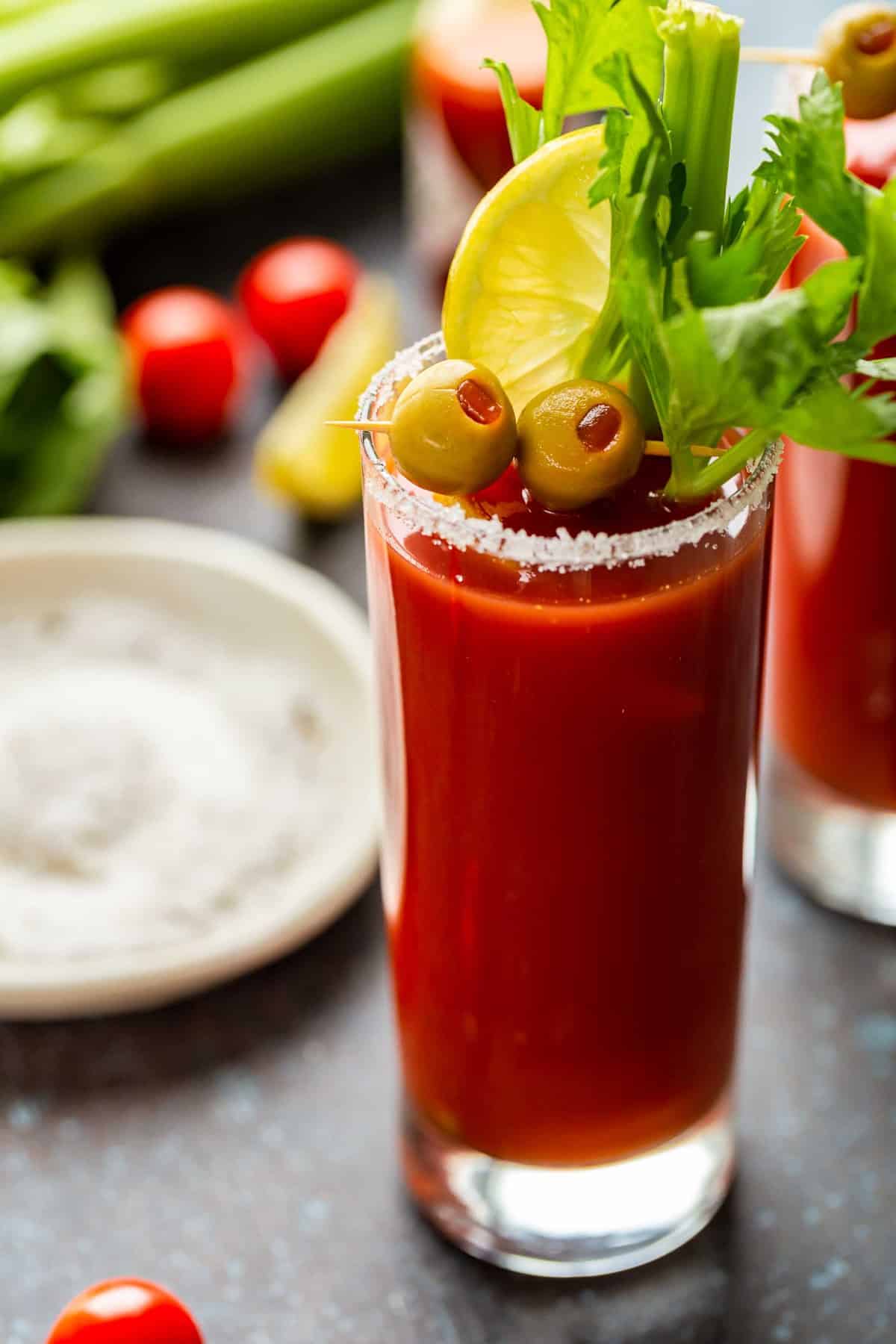 Bloody Mary Ingredients
If you've never had this drink before, you might be caught off guard when you read the list of Bloody Mary ingredients. It looks more like a soup recipe than a cocktail! But it's a classic for a reason, and that reason is that it's sooooo flavorful.
What's in a Bloody Mary:
V8 (tomato/vegetable juice)
Worcestershire Sauce
Tabasco Sauce
Celery Salt
Seasoning Salt (like Lowry's)
Beef Bouillon Cubes
Vodka
It's such a creamy, spicy, savory flavor.
Easy Bloody Mary Recipe
This is one of those drinks that actually seems like it might be difficult to make. There are so many ingredients, and they always look so nicely garnished, you just assume it should be left to the professional bartenders of the world. Making a GOOD Bloody Mary can be difficult, but not with this recipe!
The trick to making this drink from scratch? Making your own mix by combining everything in a pot and heating it together on the stove. Homemade Bloody Mary Mix that will make your drinks come out super smooth and delicious!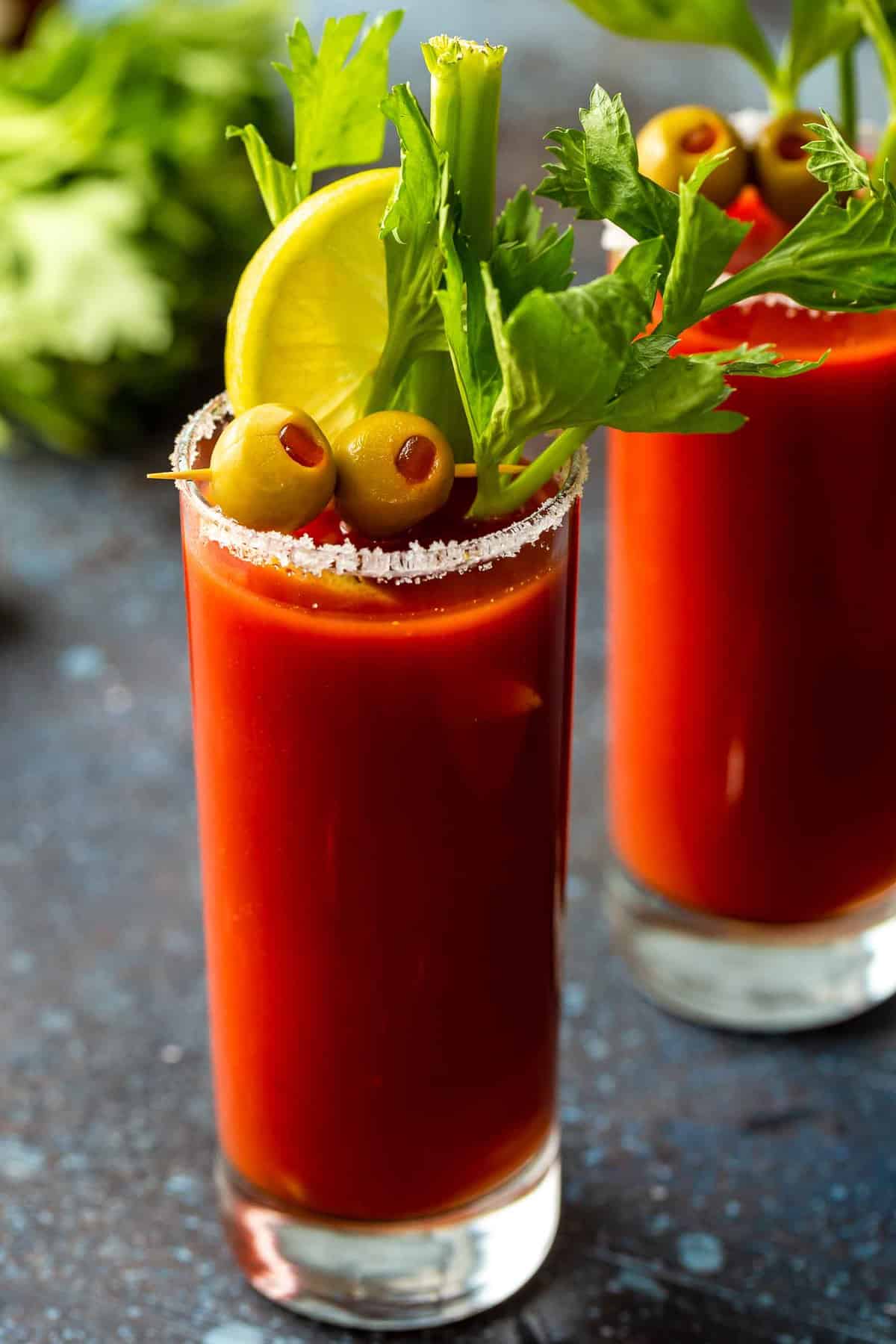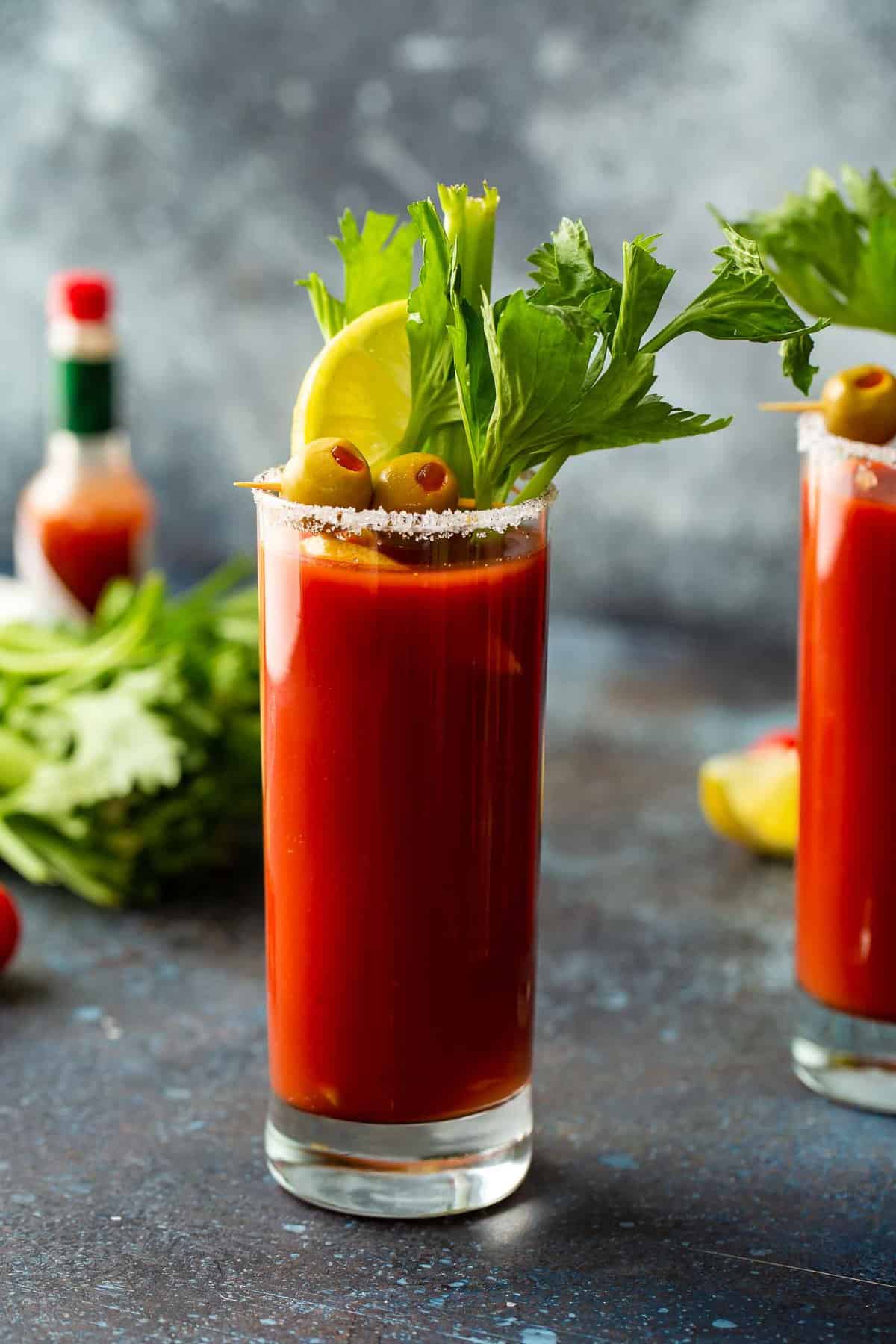 How to Make a Bloody Mary on the Stove
I got this recipe from my friend Chris at work. This was Chris's grandma's SECRET recipe for the PERFECT Bloody Mary. I have to agree that it IS perfect. We are all very very lucky to be in on the secret!
How to Make it in 4 simple steps:
Combine V8 juice, Worcestershire sauce, Tabasco sauce, celery salt, seasoning salt, and beef bouillon cubes in a pot.
Heat it on the stove over low-medium heat, stirring occasionally until the bouillon cubes have fully dissolved.
Set the mixture aside to cool before making the drinks.
To make the cocktails, add vodka to your glasses, then pour in the Bloody Mary mixture and stir.
You could garnish these bad boys with so many different things. I chose tomato, lemon, olives, and pickles. I think making them look nice is part of the fun of this drink!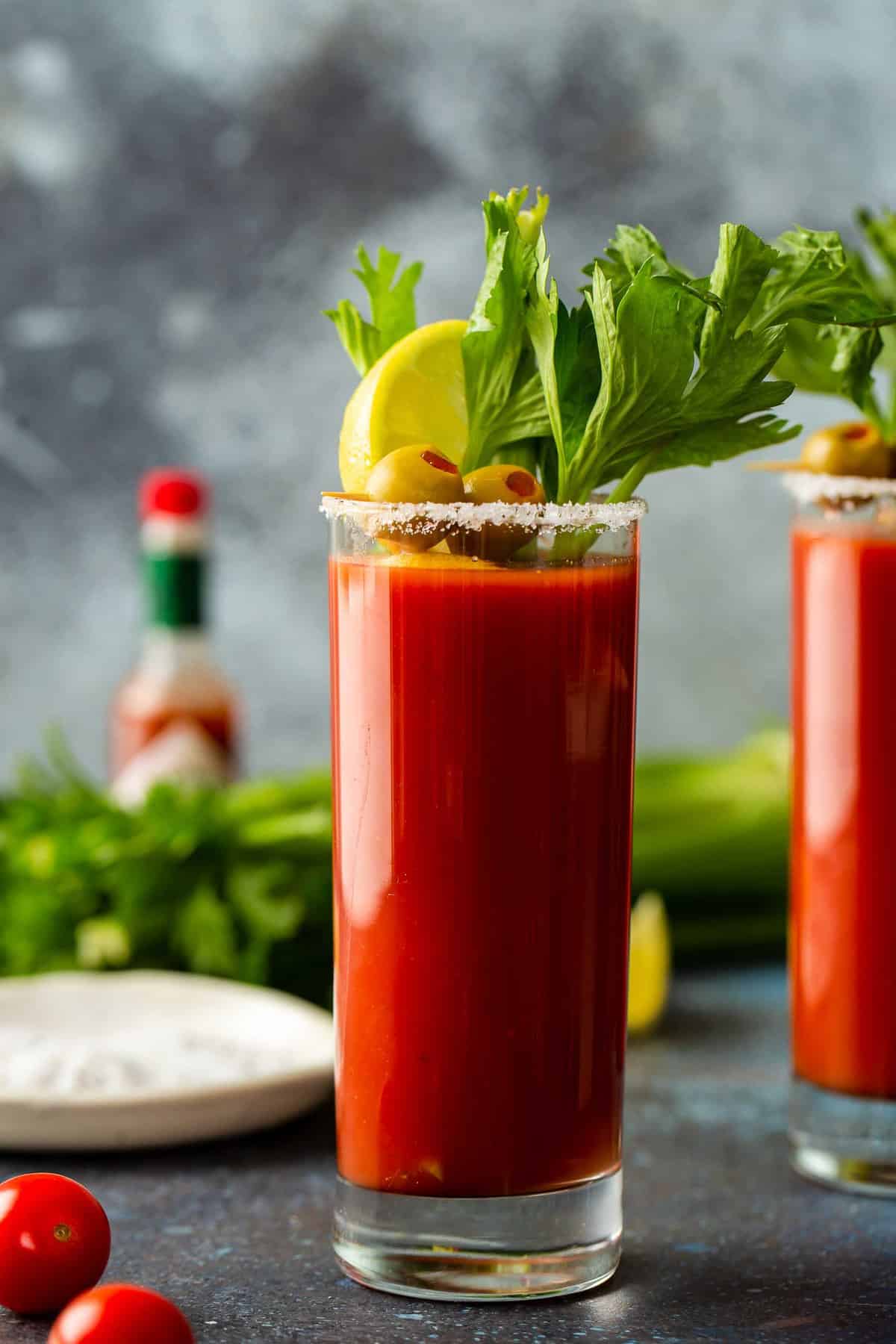 What alcohol is used in a Bloody Mary?
Vodka. I like Tito's for an expensive but smooth option. But you can use any type of vodka you like.
What does a Bloody Mary taste like?
The flavor might catch you off guard if you don't know what to expect. It's spicy, salty, overall a savory flavor. You get the taste of tomatoes and hot sauce, along with all the other ingredients.
For some, it's an acquired taste; I've had a couple Bloody Marys in my life, and to be honest, I didn't always love them. I think this stove top version changed that for me because the flavors really blend well by being cooked together.
It's definitely a unique cocktail, but I think that's what so many people love about it.
If you like this drink, you'll definitely love my Roasted Tomato Margaritas too!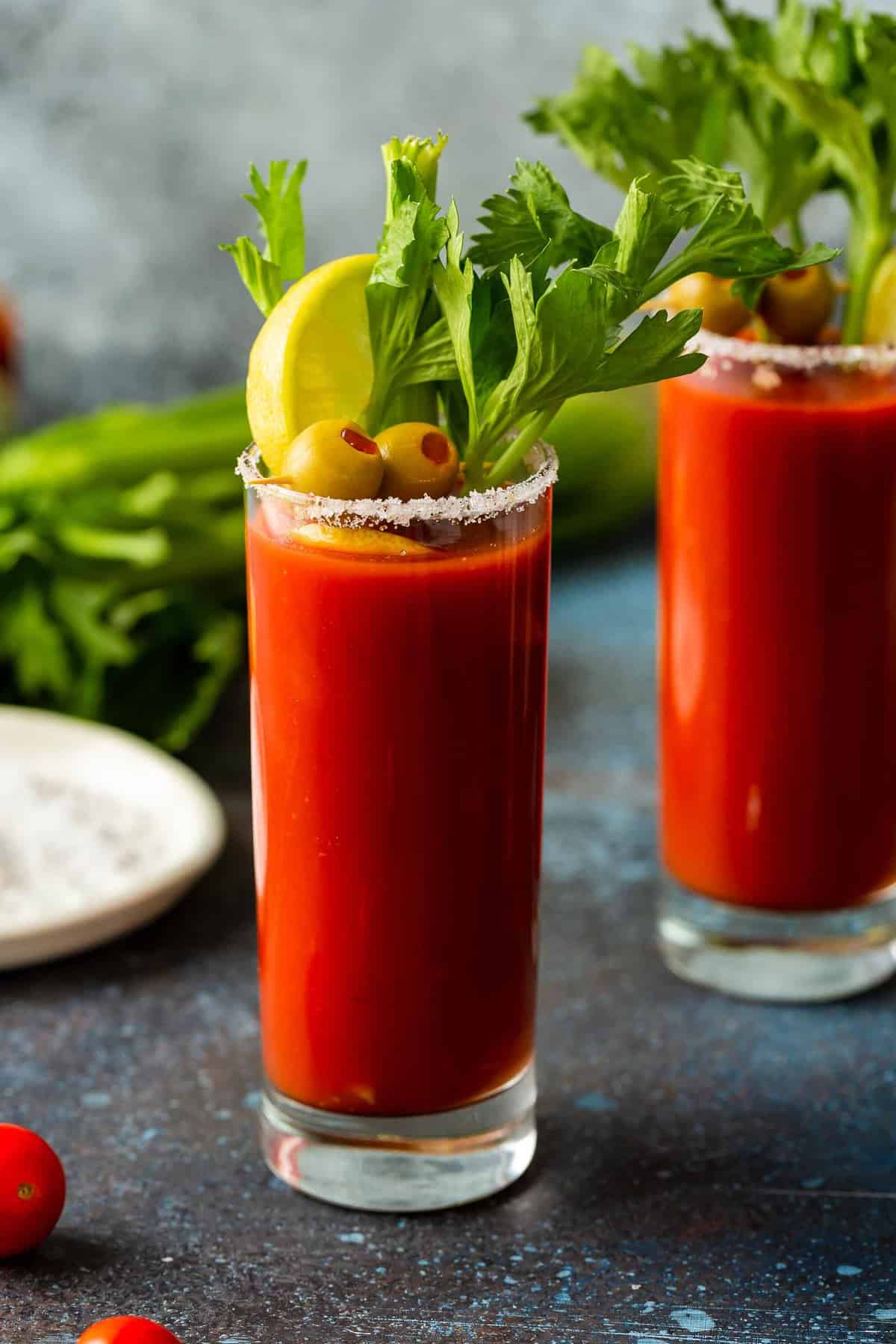 You can't go wrong with this classic cocktail. Serve it up at brunch or make it in the evenings for cocktail hour (that will make it sound fancy). I can't wait for you to try this recipe and see how easy and DELICIOUS it is!
Watch the Video and check the recipe card for details on how to make a Bloody Mary at home. Enjoy!
Try these other classic cocktail recipes: