The classic Bloody Mary is a brunch-time favorite that happens to be really easy to make. This spicy cocktail is delicious any time of day! We make ours on the stovetop so its easily made for a crowd!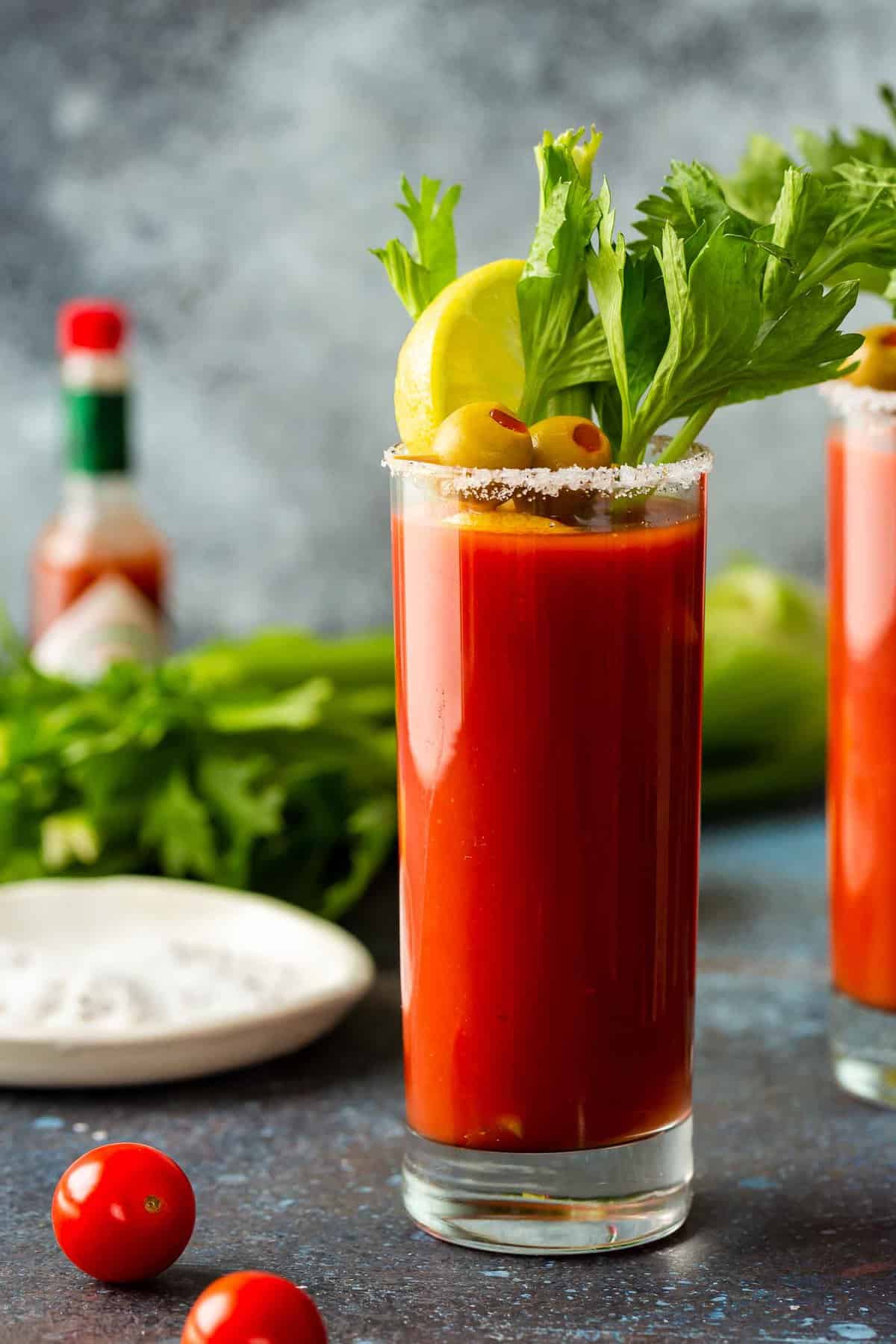 Best Bloody Mary
Whether you're looking for a good brunch drink, a cure for that hangover, or just a nice evening cocktail, this recipe will come in handy. You don't need a store-bought Bloody Mary mix because it's so easy to make it from scratch.
We're using V8 vegetable juice cocktail, Worcestershire sauce, vodka, and all the other classic Bloody Mary ingredients to make this cocktail, but we've got one element that might surprise you: the stove!
Yes, making Bloody Marys on the stove is the easiest way to make it, and I think it's the best method around!
Learn how to make a Bloody Mary with this easy homemade cocktail recipe!!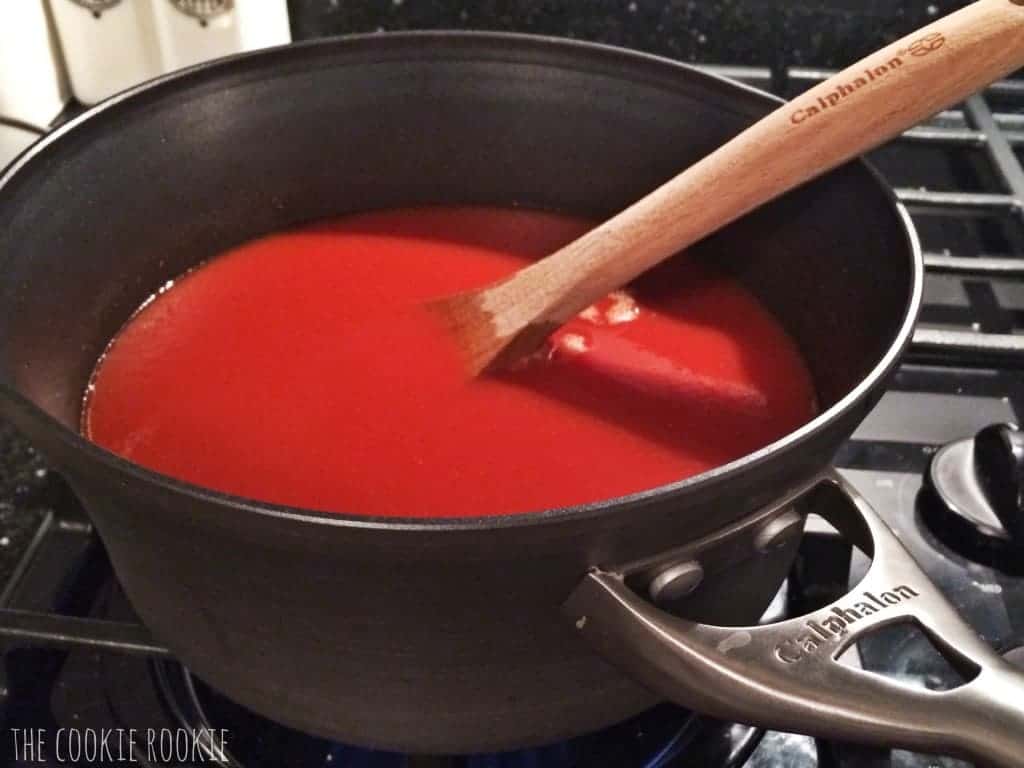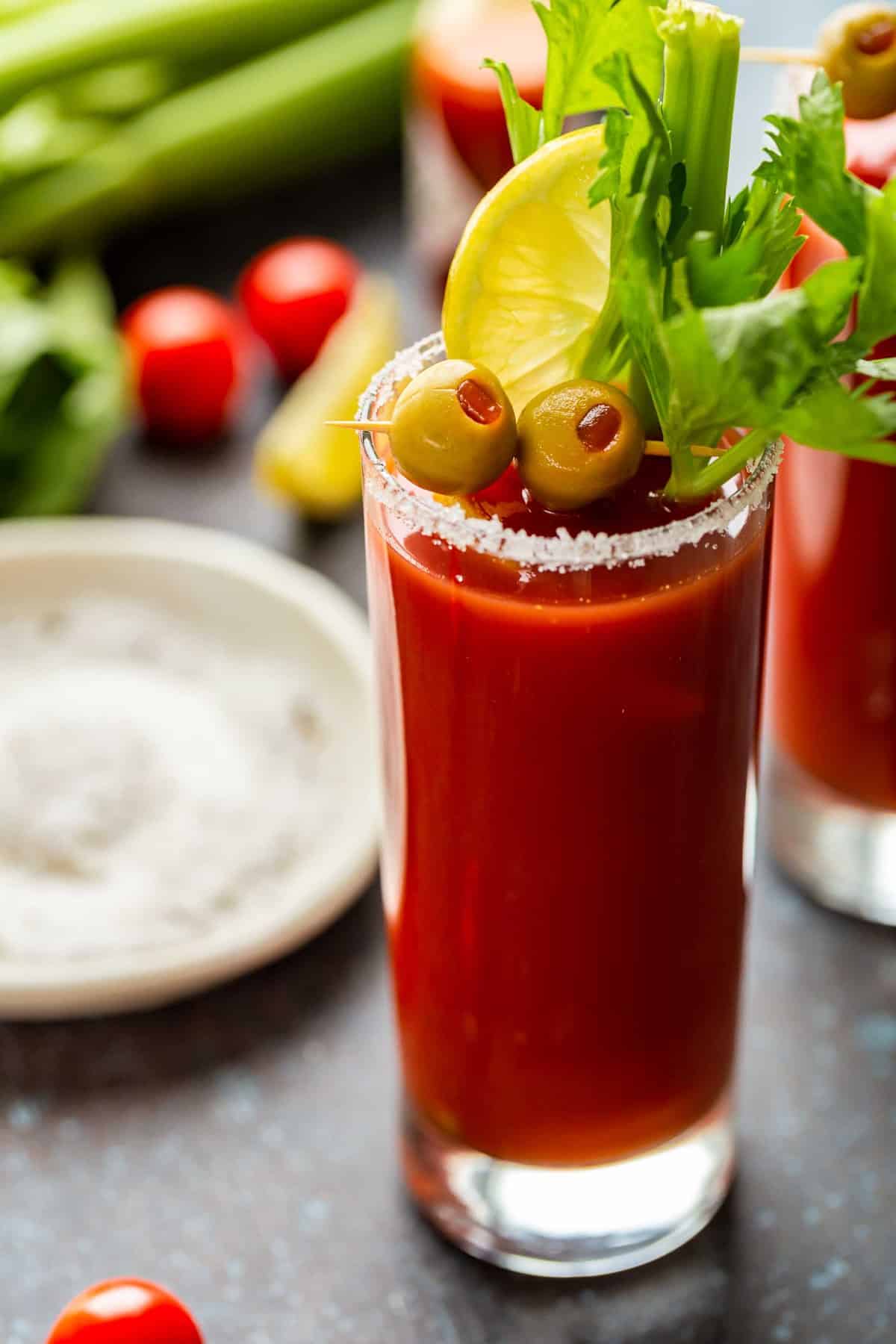 Why You'll Love this Bloody Mary Recipe
It's a classic: Every host should know how to make a Bloody Mary. And now you do!
It's actually kind of healthy: With all those veggies in the V8, plus the celery and olive garnishes, it's practically a salad!
You can make it in advance: Once you mix up a batch of this Bloody Mary recipe, put it in the fridge and it'll be ready when you are.
Bloody Mary Ingredients
If you've never had this drink before, you might be caught off guard when you read the list of Bloody Mary ingredients. It looks more like a soup recipe than a cocktail! But it's a classic for a reason, and that reason is that it's sooooo flavorful.
What's in a Bloody Mary:
V8 (tomato/vegetable juice)
Worcestershire sauce
Tabasco sauce
Celery salt
Seasoning salt (like Lowry's)
Beef bouillon cubes
Vodka
It's such a creamy, spicy, savory flavor.
Trademark note: In the spirit of transparency, I want to note that some of these ingredients are trademarked products. V8 juice, Tabasco, Lowry's, and Tito's are proprietary brands that I want to acknowledge and give credit to.
Easy Bloody Mary recipe
This is one of those drinks that actually seems like it might be difficult to make. It's a complex flavor blend, and they always look so nicely garnished, you just assume it should be left to the professional bartenders of the world. Making a good Bloody Mary can be difficult, but not with this recipe!
The trick to making this drink from scratch? Make your own mix by combining everything in a pot and heating it together on the stove. Homemade Bloody Mary Mix will make your drinks come out super smooth and delicious!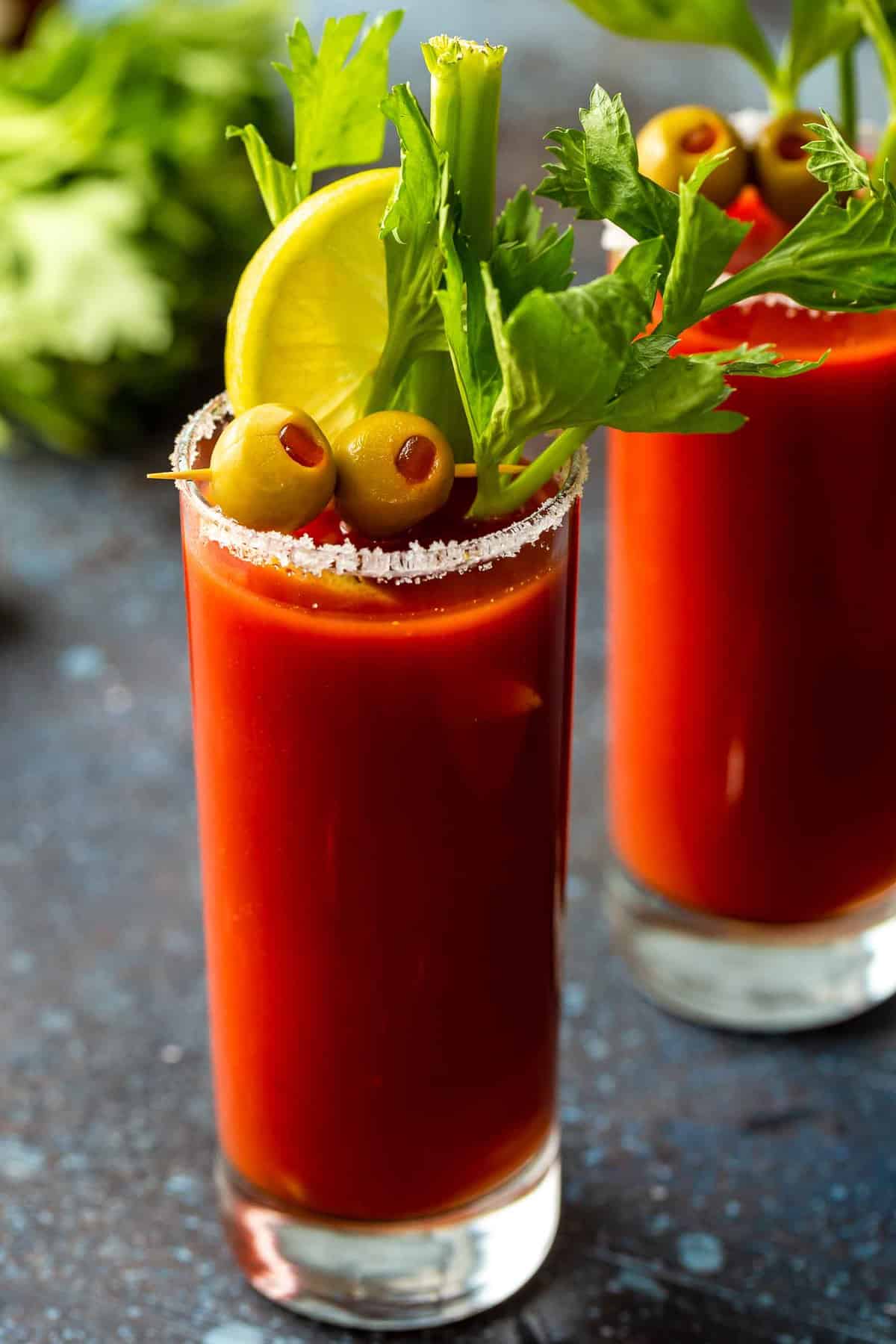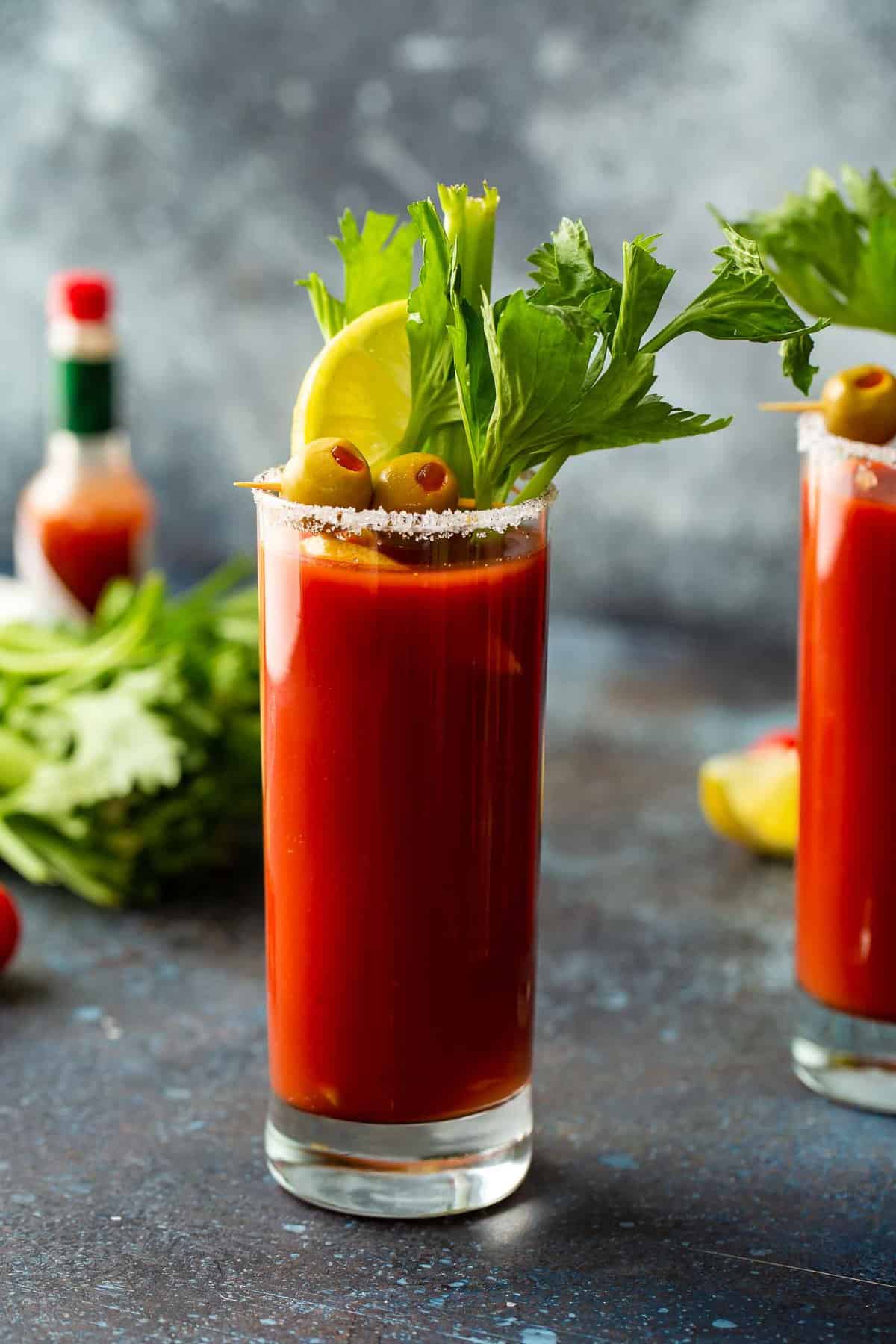 How to Make a Bloody Mary on the Stove
I got this recipe from my friend Chris at work. This was Chris's grandma's secret recipe for the perfect Bloody Mary. One sip, and you'll agree. We are all very very lucky to be in on the secret!
Combine all the ingredients in a pot and heat it on the stove.
Heat and stir occasionally until the bouillon cubes have fully dissolved. Set aside to cool.
To make the cocktails, add vodka to your glasses, then pour in the Bloody Mary mixture and stir.
You could garnish these bad boys with so many different things. I chose celery, lemon, olives, and pickles. I think making them look nice is part of the fun of this drink!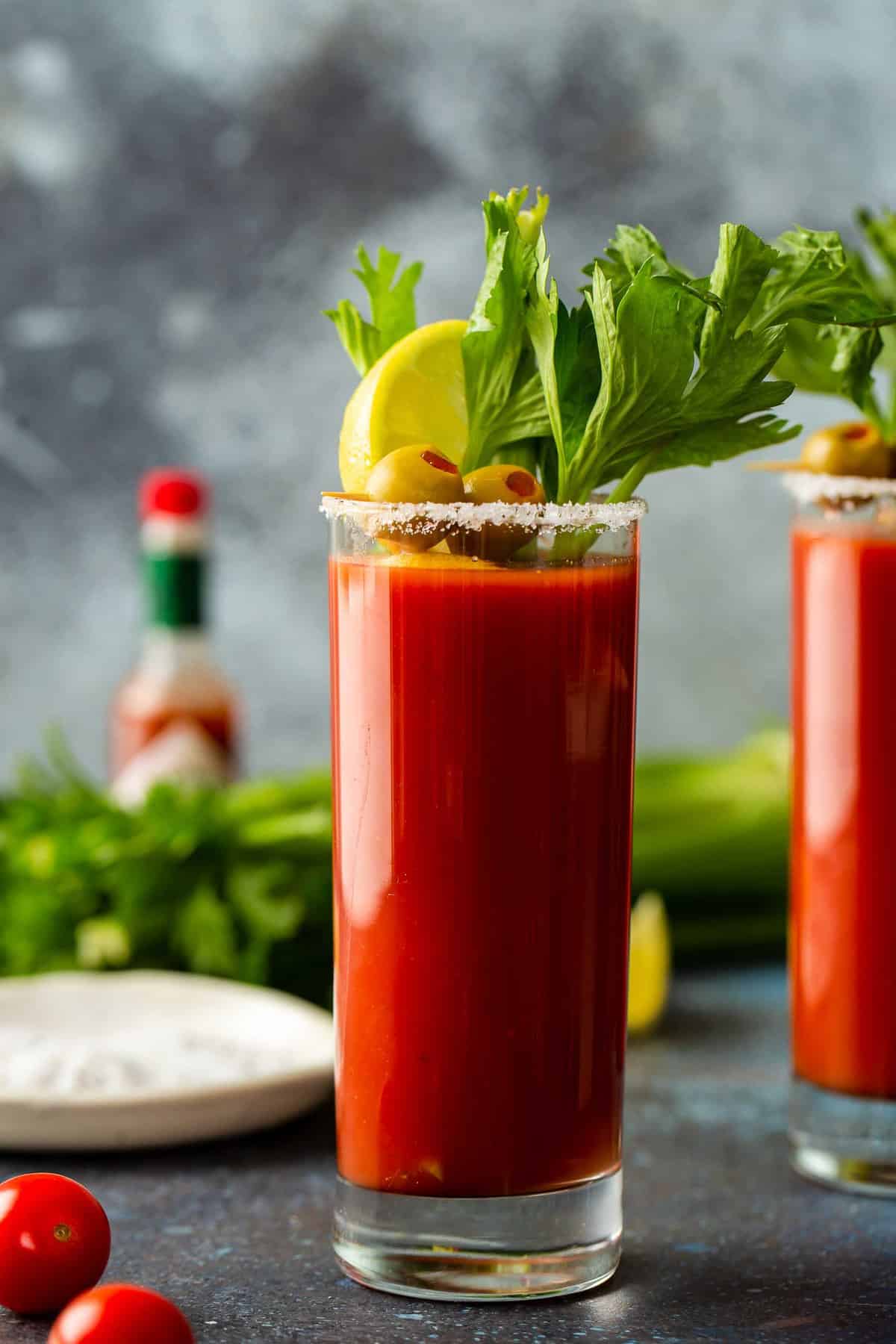 What alcohol is used in a Bloody Mary?
Vodka. I like Tito's for a lovely smooth option. But you can use any brand of vodka you like.
Does it take a long time to make?
Not at all. Stir everything together and heat until the bouillon dissolves. Just a few minutes and it's done!
What does a Bloody Mary taste like?
The flavor might catch you off guard if you don't know what to expect. It's spicy, salty, and overall a savory flavor. You get the taste of tomatoes and hot sauce, along with all the other ingredients. It reminds me of vegetable soup and salsa, all rolled into one.
For some, it's an acquired taste; I've had a couple Bloody Marys in my life, and to be honest, I didn't always love them. I think this stove top version changed that for me because the flavors really blend well by being cooked together.
It's definitely a unique cocktail, but I think that's what so many people love about it.
If you like this drink, you'll definitely love my Roasted Tomato Margaritas too!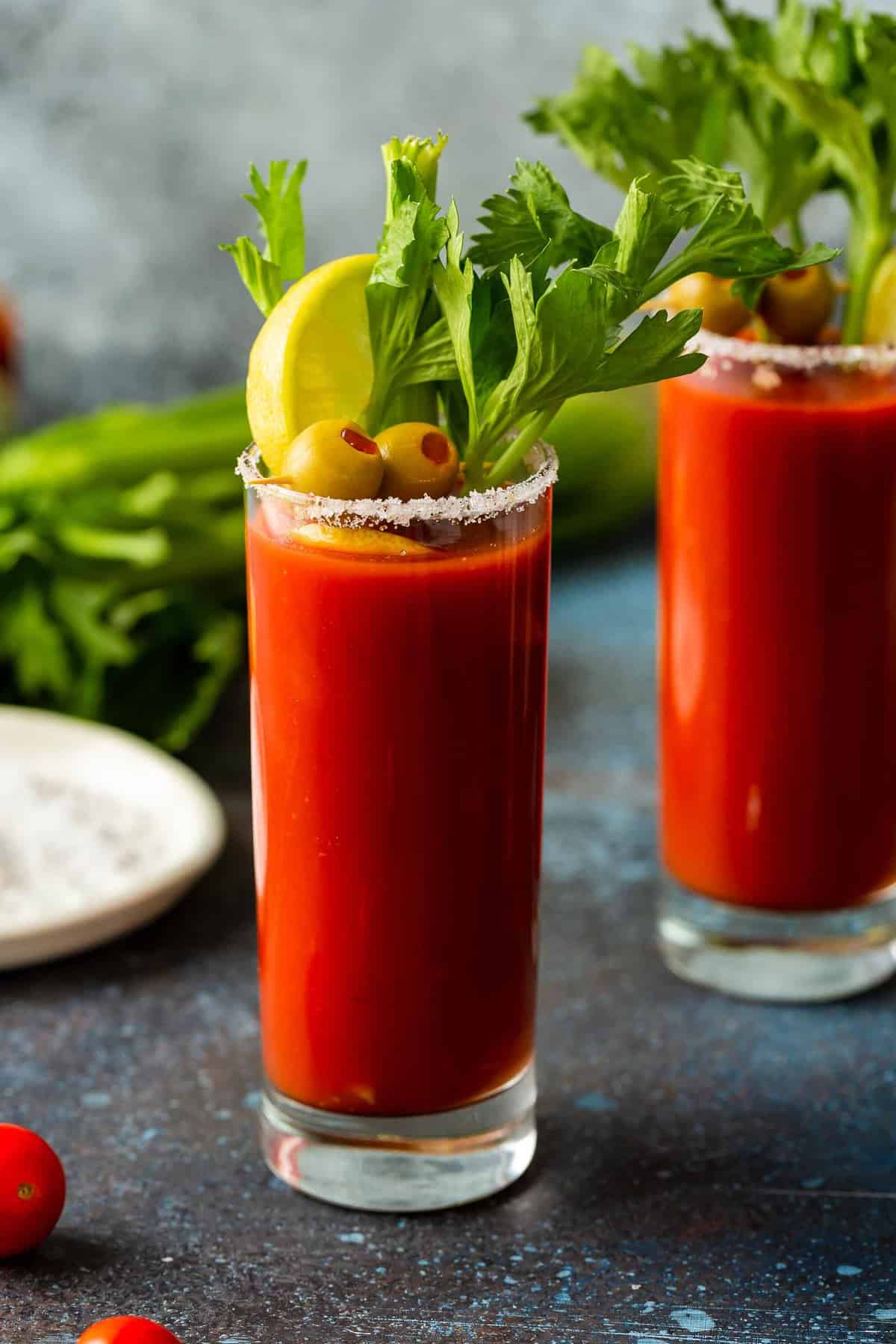 You can't go wrong with this classic cocktail. Serve it up at brunch or make it in the evenings for cocktail hour (that will make it sound fancy). I can't wait for you to try this recipe and see how easy and DELICIOUS it is!
Try these other classic cocktail recipes:
If you make this recipe be sure to upload a photo in the comment section below or leave a rating. Enjoy! You can also jump to recipe.