Easy Cheese Fondue with Grilled Bread is such a fun, quick, and EASY appetizer to make on the grill this Summer! There's nothing more satisfying that toasted bread dipped in cheese dip…especially if the cheese dip only have THREE INGREDIENTS! This easy fondue recipe with grilled bread is my idea of the ultimate and perfect appetizer!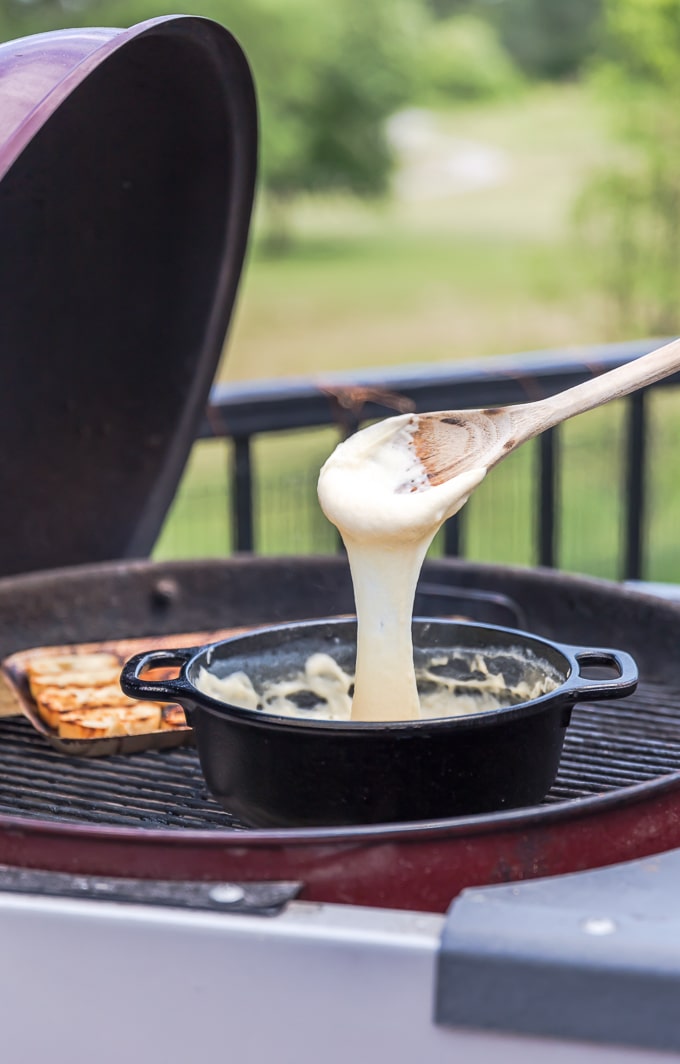 Easy Cheese Fondue Recipe
Cheese Fondue is up there on my list of very favorite things. There's nothing better than melted cheese! It's only made better by dipping toasty grilled bread right in and eating to your heart's content.
I have a cheese obsession. I'm happy to admit it. When it's Winter, I make queso on the stove or bake cheese dips. When it's Summer I bread out the grill and make 3 Ingredient Cheese Fondue right on the deck! I love to throw on some bread for dipping and cook everything together. This Easy Cheese Fondue is the ultimate simple cheese dip for all you dairy lovers, and I cannot wait for you to try it! Fire up those grills, we are about to get toasty (literally)!
If you're a lover of cheese, this EASY Cheese Fondue with Grilled Bread is a must make. We love to enjoy this appetizer on our deck with a nice glass of wine!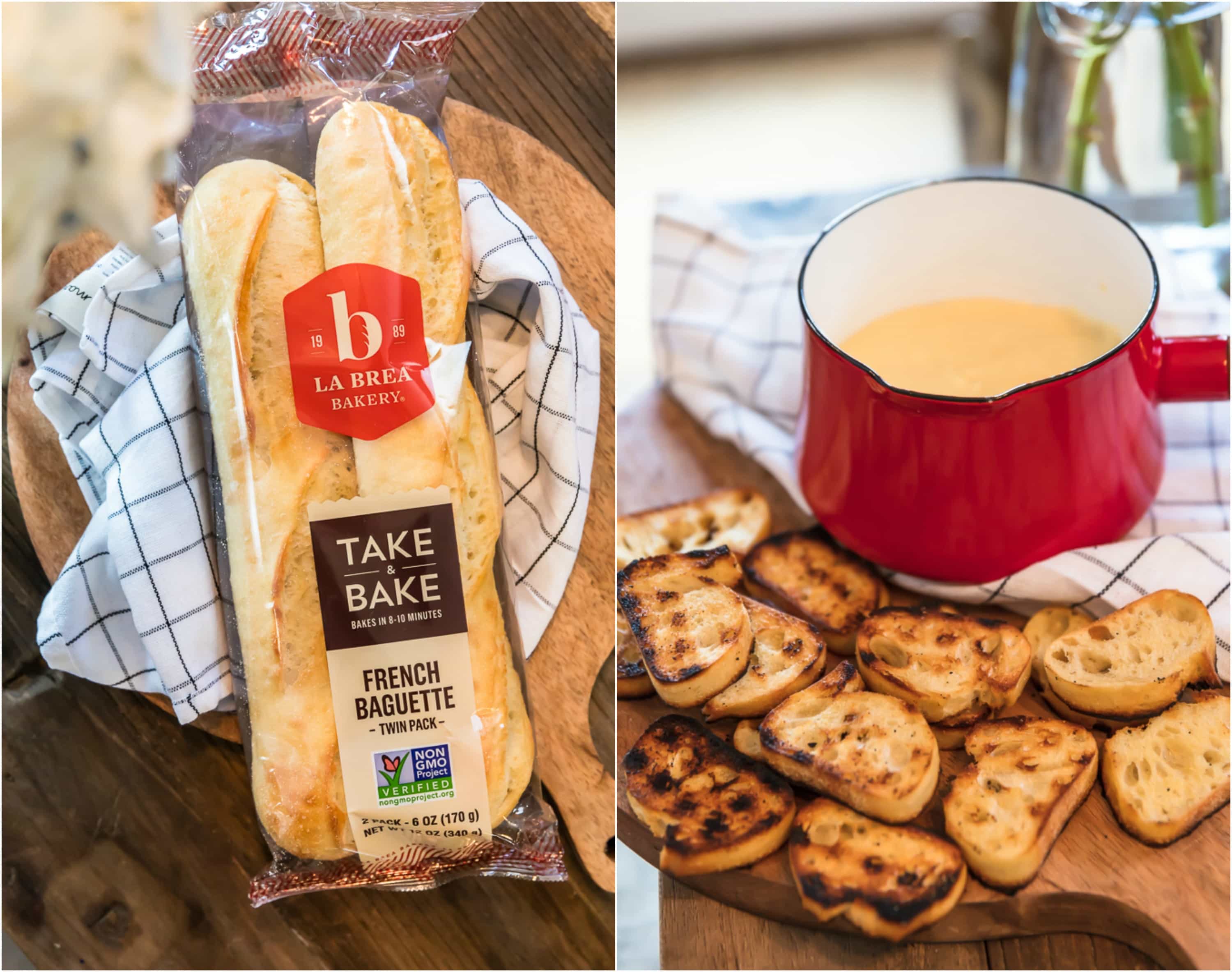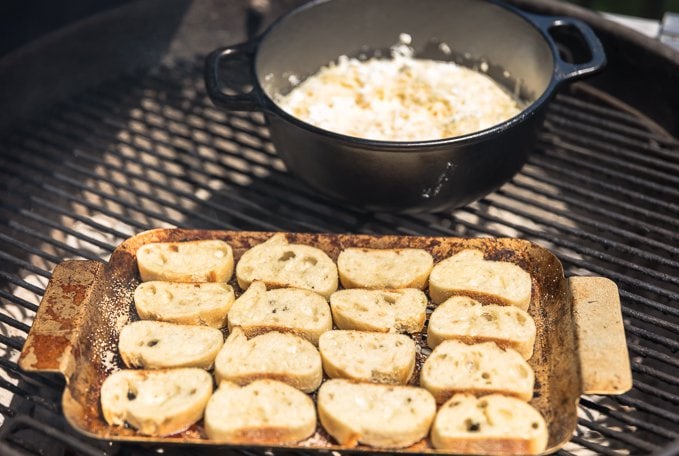 What do you dip in Cheese Fondue?
GRILLED BREAD OF COURSE! For this Easy Cheese Fondue Recipe we grilled up some of our favorite bread to serve as dippers. We always use La Brea Bakery (GRAB A COUPON NOW!) Take and Bake French Baguettes. La Brea Bakery Bread is crispy on the outside and tender on the inside, and when grilled it becomes even better. La Brea's quality is second to none and I just love that it can be found at your local grocer.
We have used La Brea in several recipes before and I'm always blown away by the texture and flavor. Their Take and Bake line truly tastes like homemade bread fresh out of the oven. I could not love it more! It's the ultimate when toasted to perfection on the grill and dipped in this easy cheese dip. LOVE!
Other recipes featuring La Brea Bakery Breads: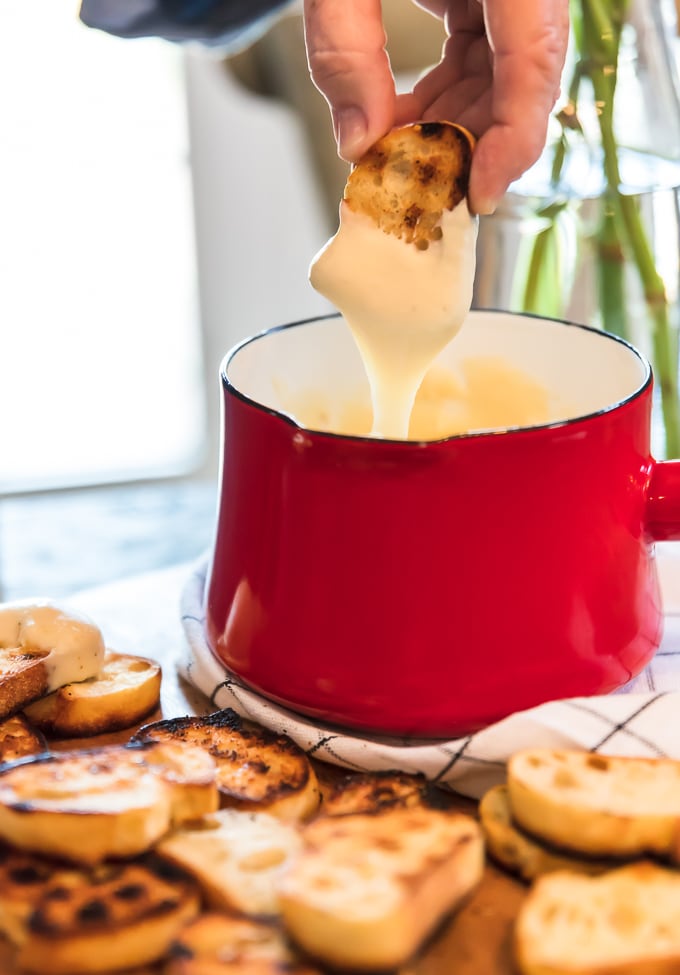 What kind of cheese do you use in Fondue?
You can really get creative when it comes to what kind of cheese works best in cheese dips. Traditionally, Swiss is used in fondue, but you can use gruyere, cheddar, pepper jack, whatever you'd like! I love creating new flavors when it comes to fondue.
Can you make this Cheese Dip on the stove?
You can! You cook it on the stove exactly the same as you would the grill, or you can even make this easy fondue recipe in the microwave! YES, you heard that right! Just microwave all ingredients on high for 30 seconds at a time, stirring as you go, and repeating until fully creamy and melted. YUM!
Even if you cook the cheese fondue on the stove or in the microwave, I still recommend grilling the bread to perfection on a charcoal or gas grill for dipping. So much extra flavor!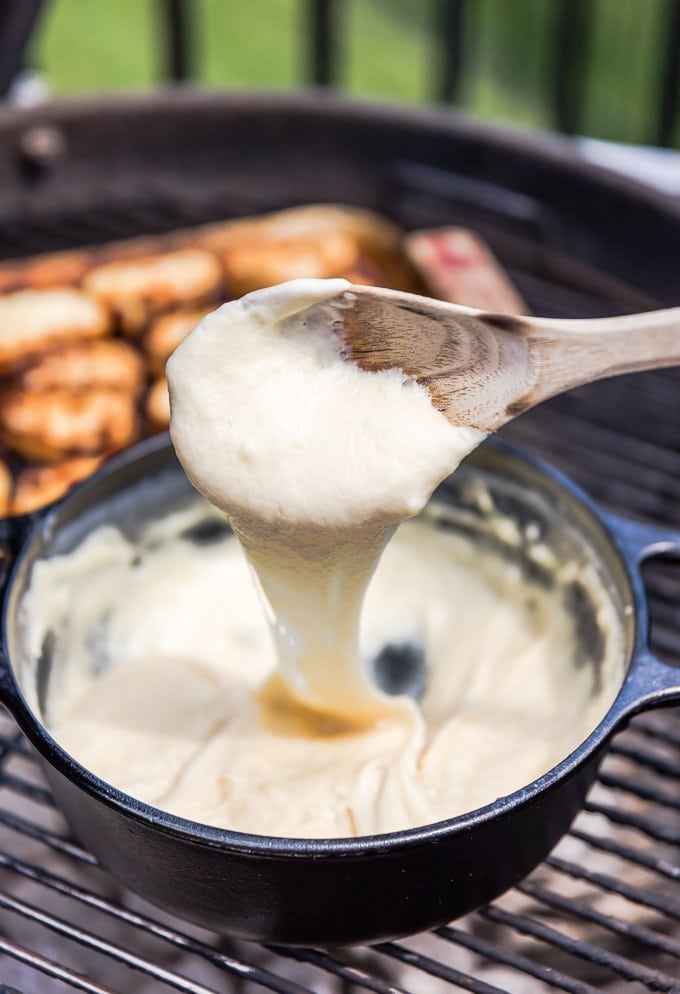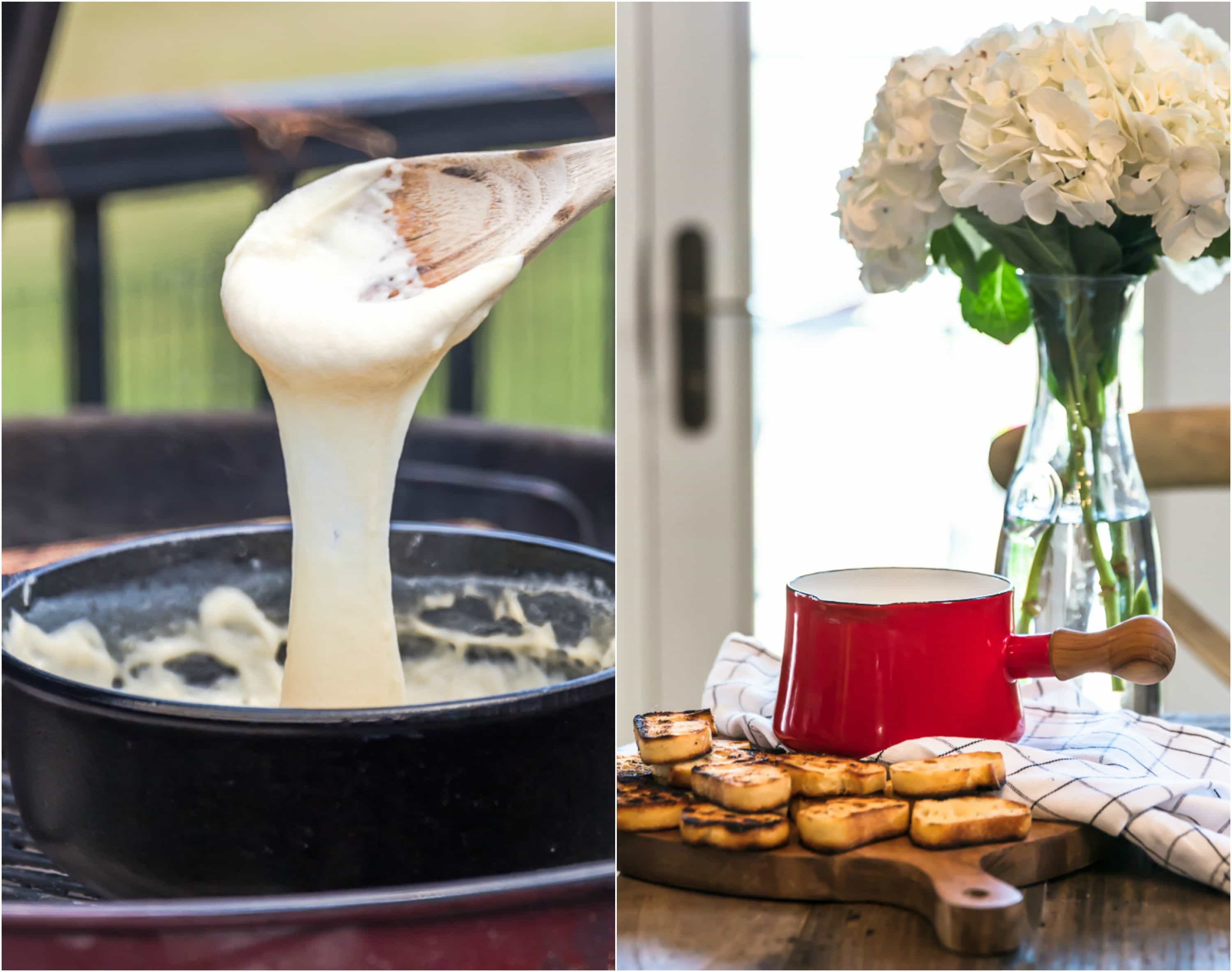 How to make Easy Cheese Fondue
YOU GUYS. This Easy Cheese Dip could NOT BE EASIER to make. You only need three ingredients:
Shredded Cheese
Evaporated Milk
Cornstarch
And making it is as simple as melting the three ingredients together. BOOM! GOES. THE. DYNAMITE. Is your life changed? I know mine is! Any recipe with less than 5 ingredients is a yes in my world!
If you're in the market for amazing and easy Summer Recipes for a crowd, you've come to the right place! Here are some favorites: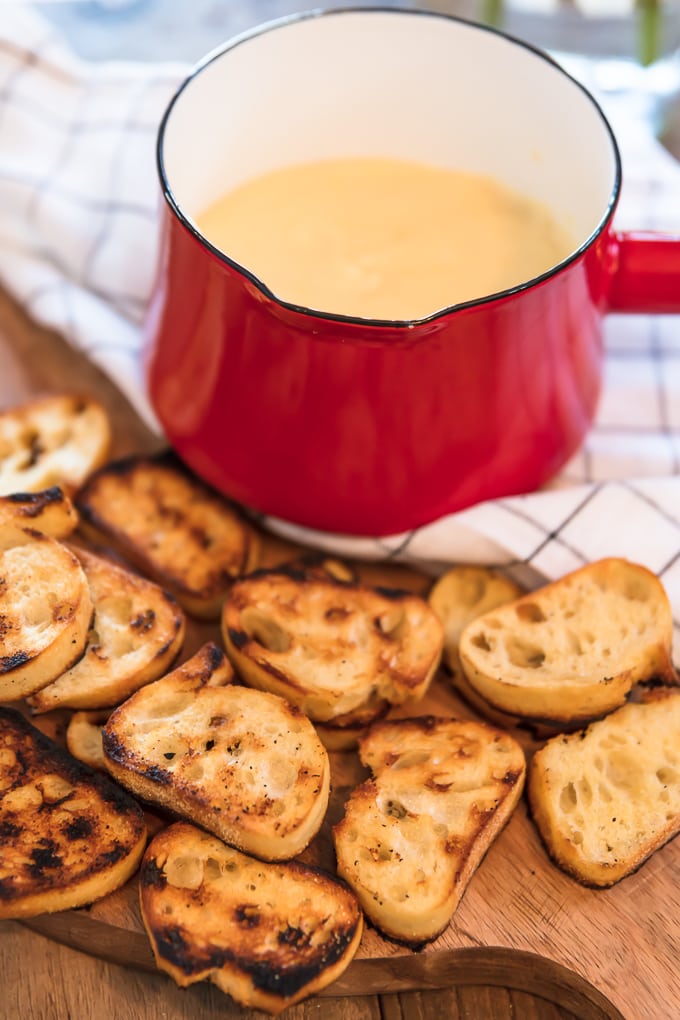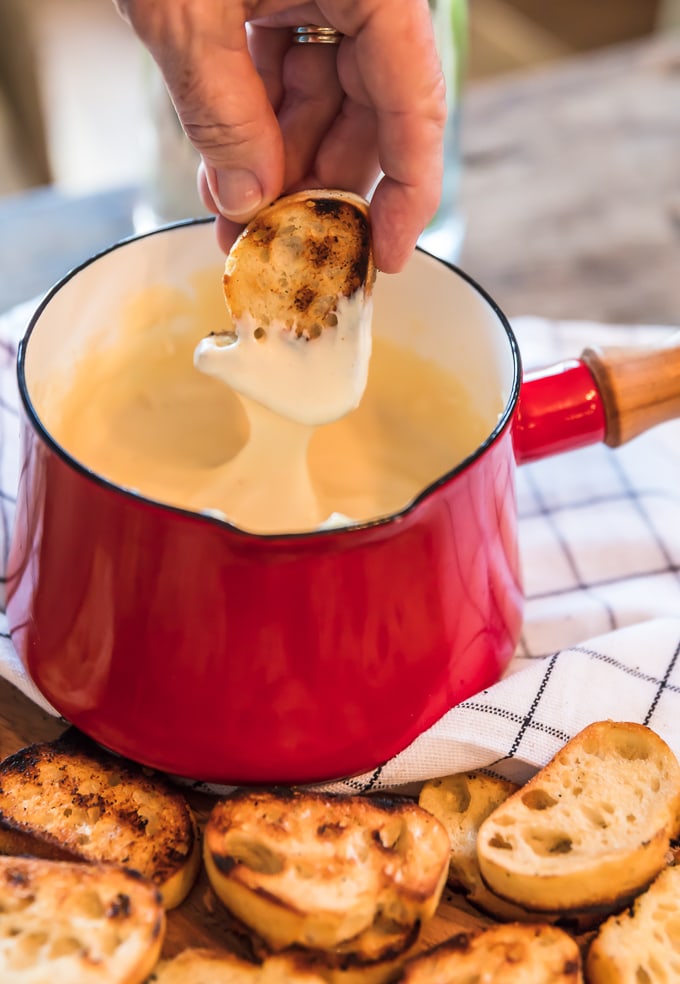 I'm just so excited for you guys to try this legendary THREE INGREDIENT Cheese Fondue Recipe with Grilled Bread. Invite the neighborhood over, this is a cause for celebration. Be sure to pick up your La Brea Bakery Take and Bake French Bread because that's the only way to enjoy this cheese dip! Head over to La Brea Bakery's Summer Grilling Page (CLICK TO GRAB A COUPON!) to see a ton of other fun Summer Recipe options!
See the recipe card for full instructions on how to make EASY Cheese Fondue with Grilled Bread. Enjoy!
Looking for more cheese dip? You've come to the right place! Here are our favorites: