This Cheese Fondue with grilled bread is such a fun, quick, and easy appetizer to make on the grill this Summer! There's nothing more satisfying than toasted bread dipped in melty cheese… especially if the cheese dip only has 3 ingredients! This easy fondue recipe with grilled bread is my idea of the ultimate and perfect appetizer!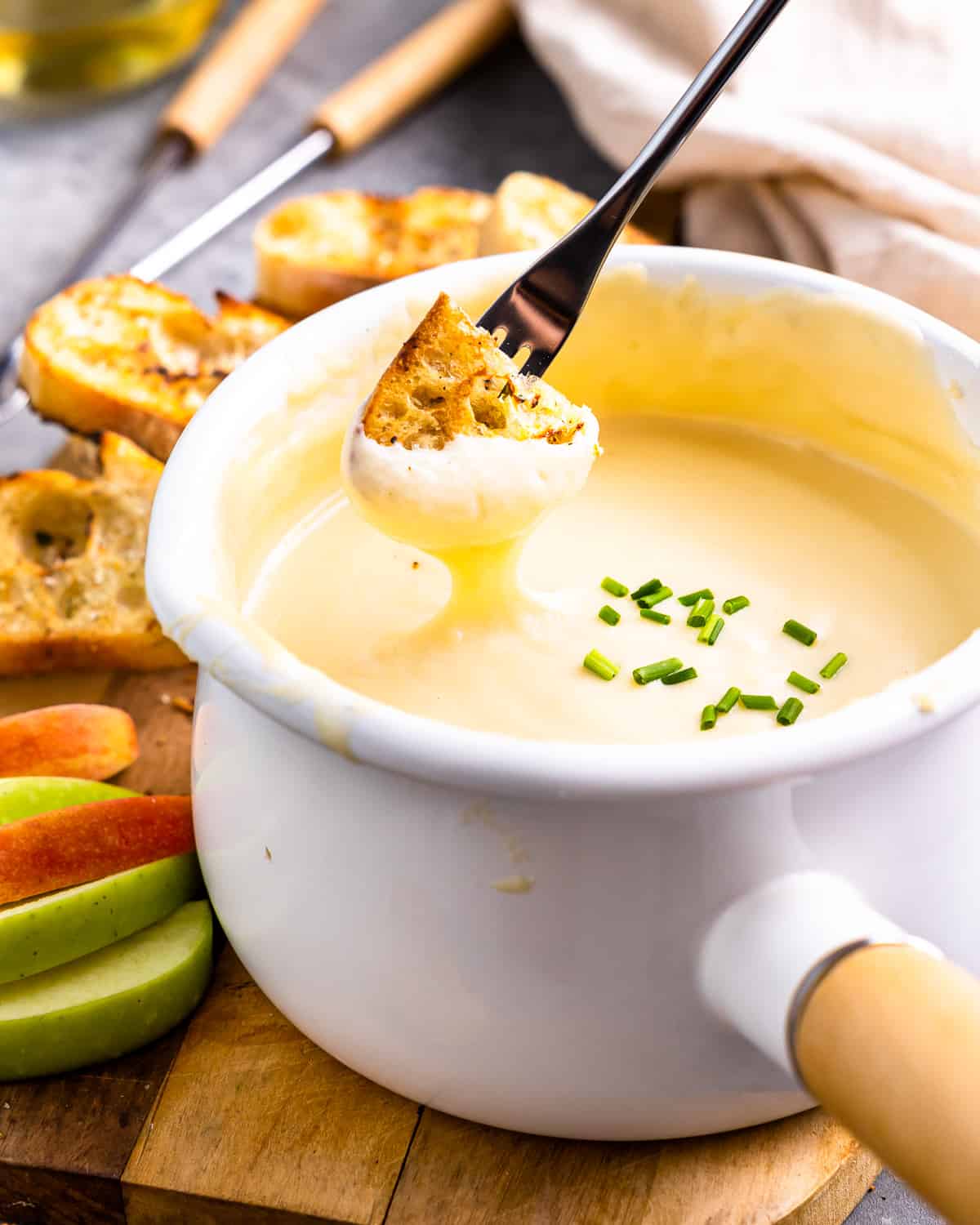 What's in this Fondue Recipe?
Cheese Fondue is up there on my list of very favorite things. There's nothing better than melted cheese! It's only made better by dipping toasty grilled bread right in and eating to your heart's content.
Swiss Cheese: The original cheese of choice for authentic fondue.
Cornstarch: Thickens the fondue to a dippable consistency.
Evaporated Milk: Helps to thin the cheese to a dippable consistency without making it runny.
Grilled Bread: A simple French baguette slathered with butter or olive oil and garlic salt is the perfect accompaniment for this simple fondue!
Pro Tip: Grate your own cheese for the smoothest fondue. Pre-shredded cheeses are coated in starch that can cause them to melt unevenly.
Variations on Fondue
If Swiss isn't your thing, you can swap it out for gouda, fontina, gruyère, comté, emmental, raclette, vacherin, or cheddar cheese. Mix multiple kinds of cheese together and play with the proportions to get the perfect mix for your tastes. Just be sure to use 10 ounces total.
What is fondue?
Fondue is a Swiss melted cheese dip that is served in a communal pot, called a caquelon. It's traditionally eaten by dipping bread into the cheese using long-stemmed forks.
What is the best cheese for fondue?
Swiss is the classic choice for fondue, but you can make it with other cheeses you like. Don't use pre-grated cheeses, as these often have a coating that can be harder to melt. Either grate by hand or cut the cheese into small cubes.
Do I have to add cornstarch to fondue?
No, but I highly recommend it. Cornstarch helps to further stabilize the cheese and thickens the fondue as it cooks. Without it, your fondue may turn out runny.
Can I make this fondue on the stove?
You can! You cook it on the stove exactly the same as you would the grill, or you can even make this easy fondue recipe in the microwave! Yes, you heard that right! Just microwave all ingredients on high for 30 seconds at a time, stirring as you go, and repeating until fully creamy and melted. Yum!
Why is my fondue clumping?
Over-stirring the cheese mixture could allow the proteins to bond and create a stringy or clumpy texture, so take care not to stir for too long once everything has come together.
Can I make fondue ahead of time?
This fondue needs to be served straight away so that the cheese is gooey and dippable. You can keep it warm for a little while, but on a low heat so that the cheese doesn't burn. Whenever possible, make it as close to serving as you can.
What do you dip in cheese fondue?
Grilled bread, of course! It's also tasty with crackers, veggies, or even fruits!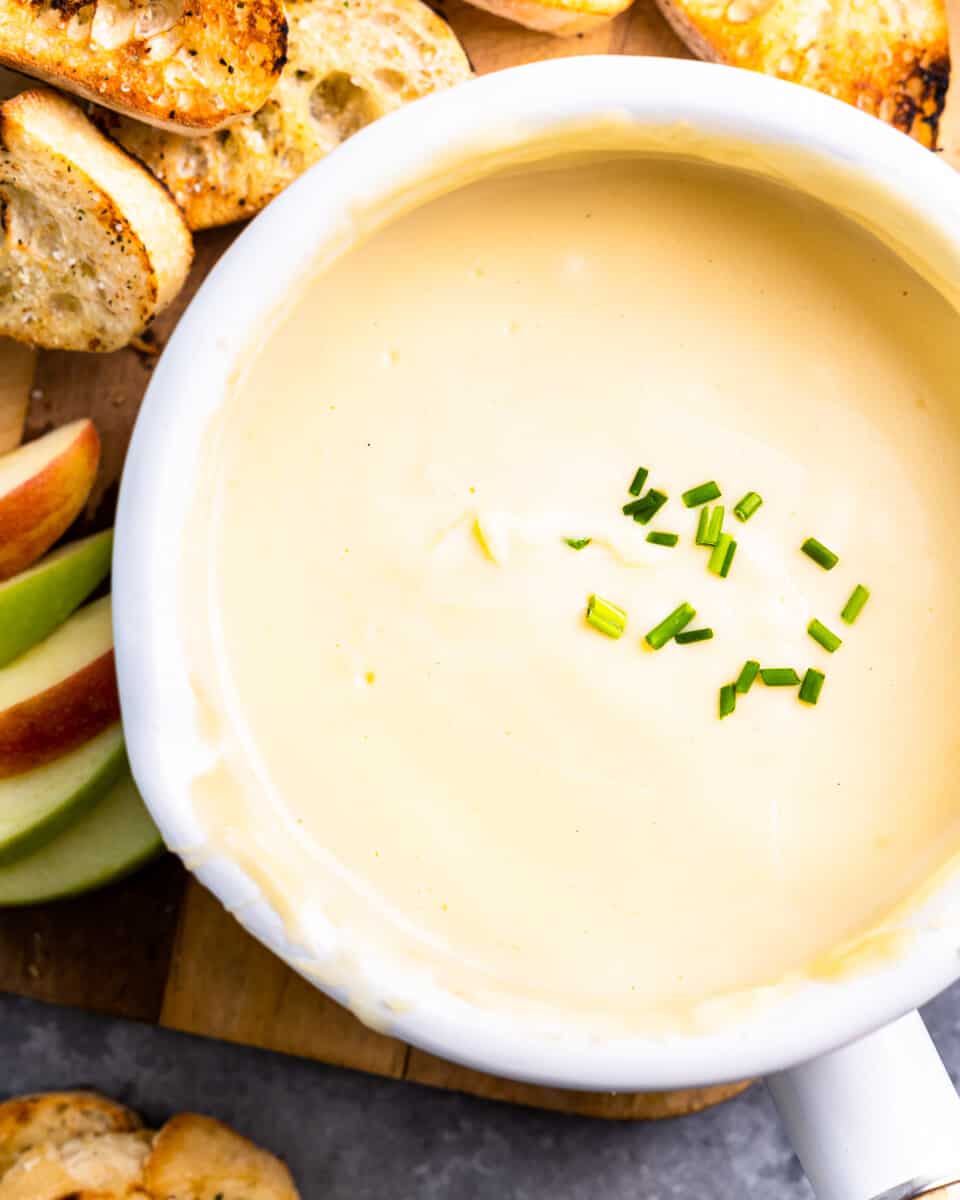 How to Store and Reheat
Store leftover cheese fondue in an airtight container in the refrigerator for up to 3 days. Reheat in a saucepan set over medium-low heat until warmed through.
How to Freeze
To freeze fondue, let cool to room temperature or chill in the refrigerator until hard. Once hard, cut into chunks and place in an airtight container or Ziplock bag to freeze for up to 2 months. Let thaw overnight in the refrigerator before reheating.
Serving Suggestions
The obvious choice here is to keep it simple and serve this fondue with the grilled bread from the recipe. But there are just so many options for dipping! Apple slices, grapes, grilled veggies, or even chips would be delicious. For a full meal, I like to dip poached chicken, grilled steak, or air fryer shrimp.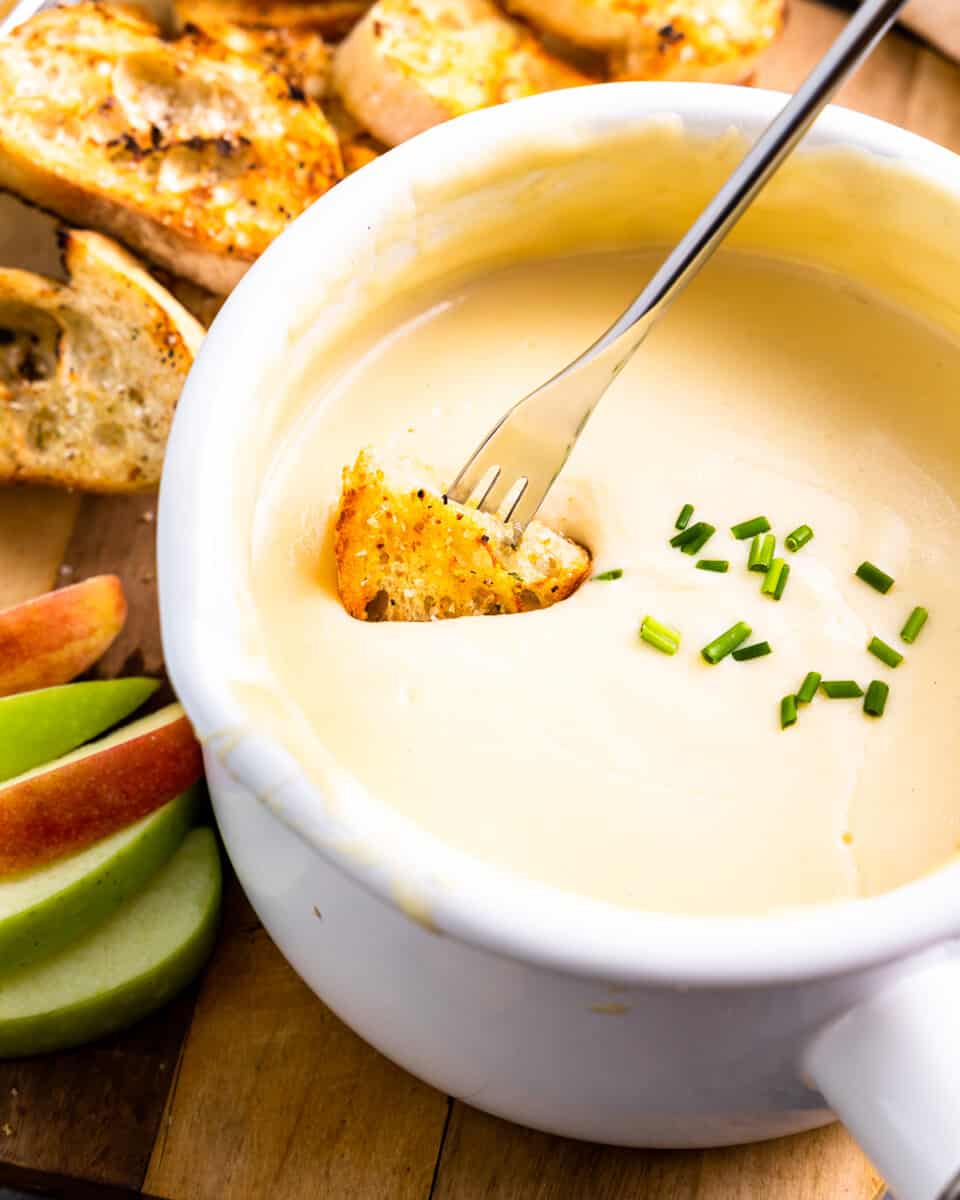 More Cheese Dip Recipes We Love