This Short Ribs Recipe (Honey Bourbon Short Ribs) has quickly become one of our favorite dutch oven recipes! This is the kind of comfort food I crave on the regular. I love the fall off the bone flavor, especially with this Honey Bourbon Sauce! If you've never made Short Ribs in Oven, you're missing out. This is the most tender Short Ribs Dutch Oven recipe you will ever taste!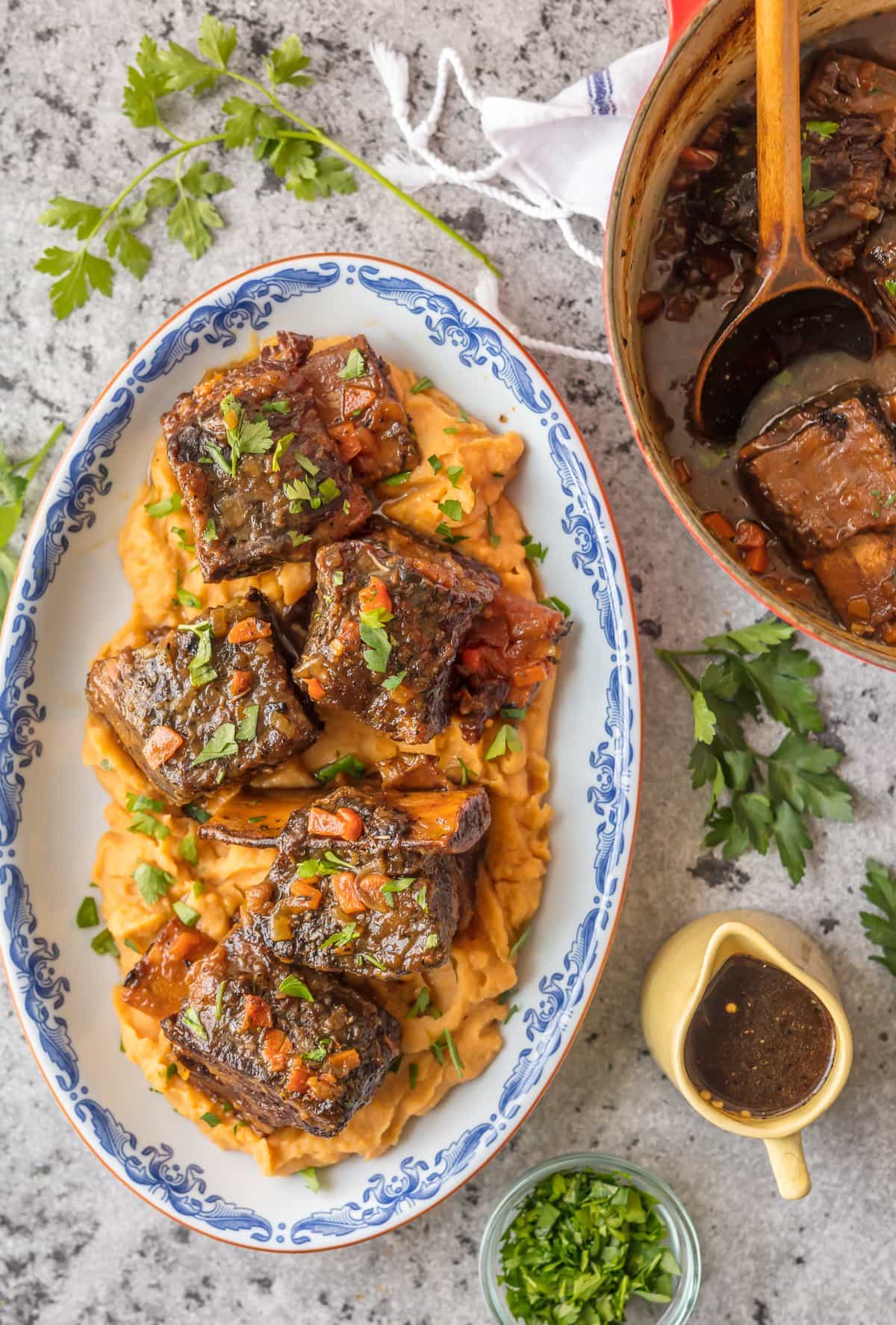 Tender Short Ribs Recipe
Honey Bourbon Short Ribs Recipe…yum! I love these dutch oven short ribs because they are full of flavor!
If you haven't ever had the pleasure of eating Dutch Oven Short Ribs…today is your chance. Short ribs get the rich marbling of fatty steaks with the deep rich flavor of a chuck roast. They are a decadent treat for any meat lover. You must make them, especially with this Honey Bourbon Sauce!
Mom and I actually made these AMAZING and unbelievably yummy Dutch Oven Honey Bourbon Short Ribs and photographed them when I was 9 months pregnant with Henry, way back in late February of last year! My intention was to have it go out to you all during my relaxing time at home when he was a newborn (insert wide-eyed emoji) and somehow (how? lol) I totally forgot and it has sat in my drafts folder for over 6 months. TRAVESTY!
Summer came and went and since this is more of a cool weather recipe anyway, I felt like I needed to push it out to the world. These short ribs and baby Henry…my two contributions to the world. :) I wanted to make sure you saw these because they're fall off the bone tender, full of flavor, and made in your dutch oven which is SO convenient.
You're going to love this tender Honey Bourbon Short Ribs dutch oven recipe!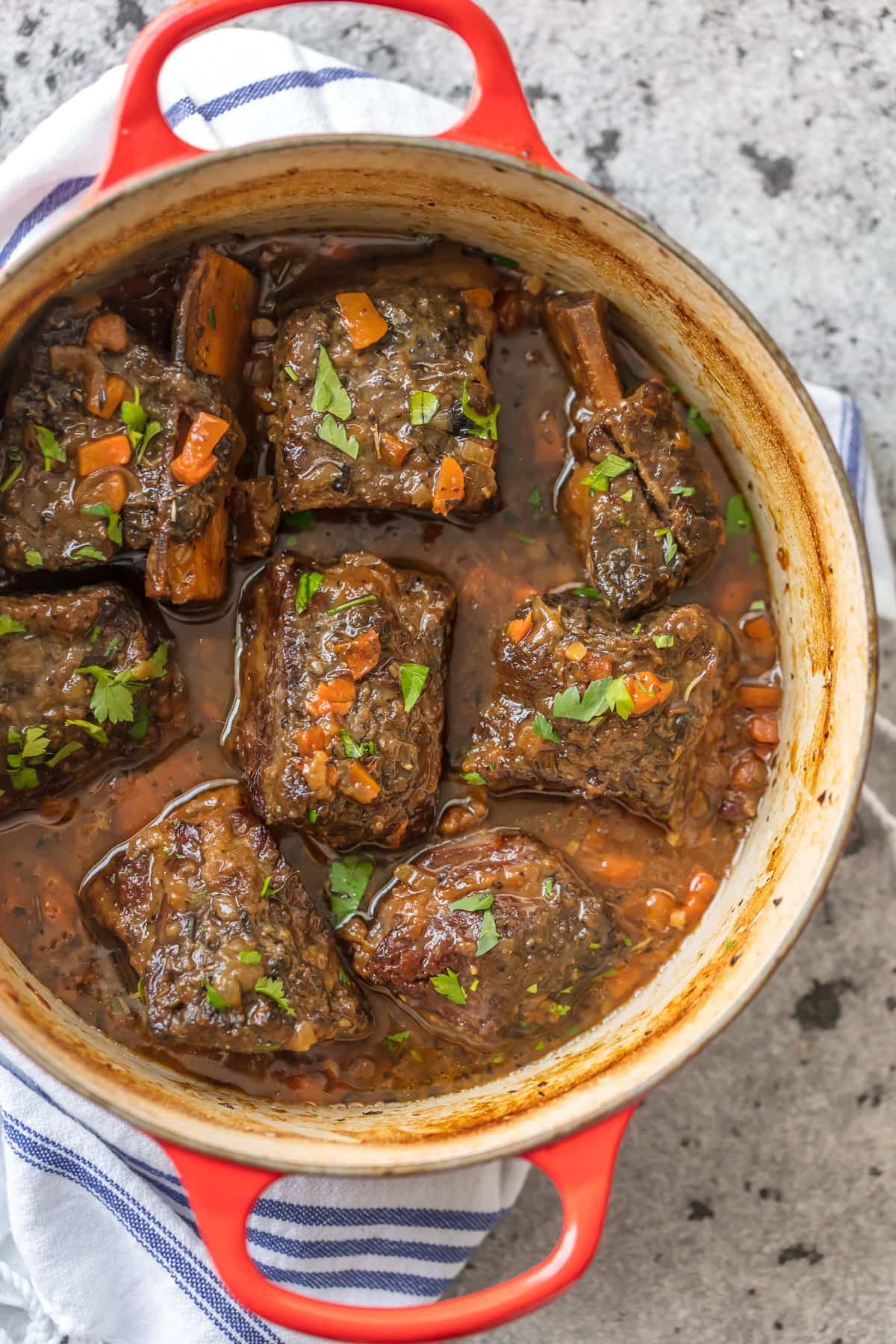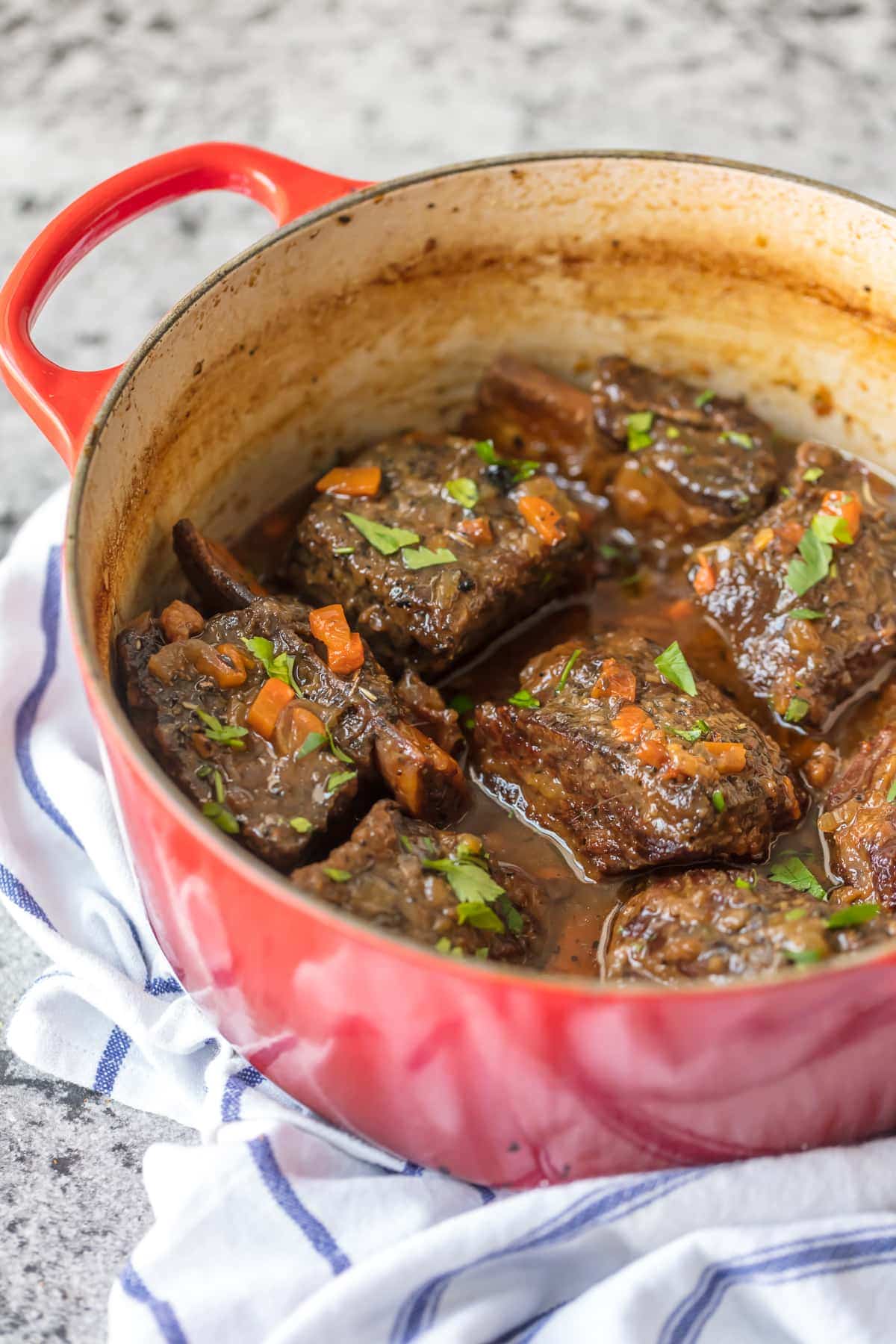 Short Ribs made in Dutch Oven
If you're in the mood for comfort food, this Honey Bourbon Short Ribs recipe is the way to go. Every time.
We served this Honey Bourbon Short Ribs Recipe over mashed sweet potatoes and WOW were they amazing. My 9-month pregnant self LOVED THEM SO MUCH. I can still remember tasting that sauce for the first time. Like I said…9 months pregnant. We served them with pre-made mashed sweet potatoes but they would have been AMAZING with Garlic Mashed Cauliflower, Slow Cooker Mashed Potatoes, or Brussels Sprouts with Pear and Blue Cheese.
I'm going to have to make this dutch oven Short Ribs Recipe again asap because looking at these pictures all this time later has me drooling and remembering. This is such a great comfort food recipe sure to please as the weather gets cooler and cooler. Don't you just want to pull up a set in front of a fire and dig in?!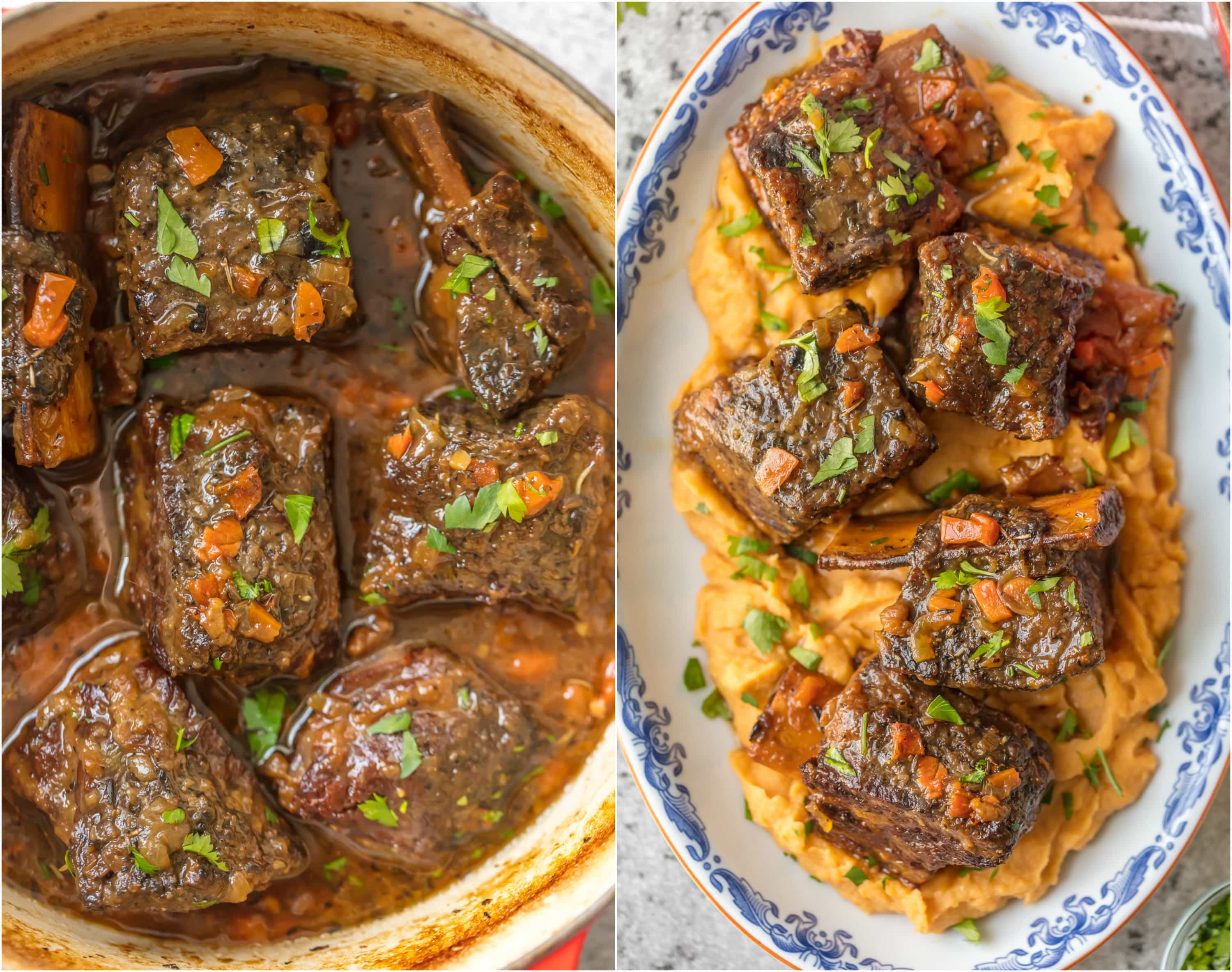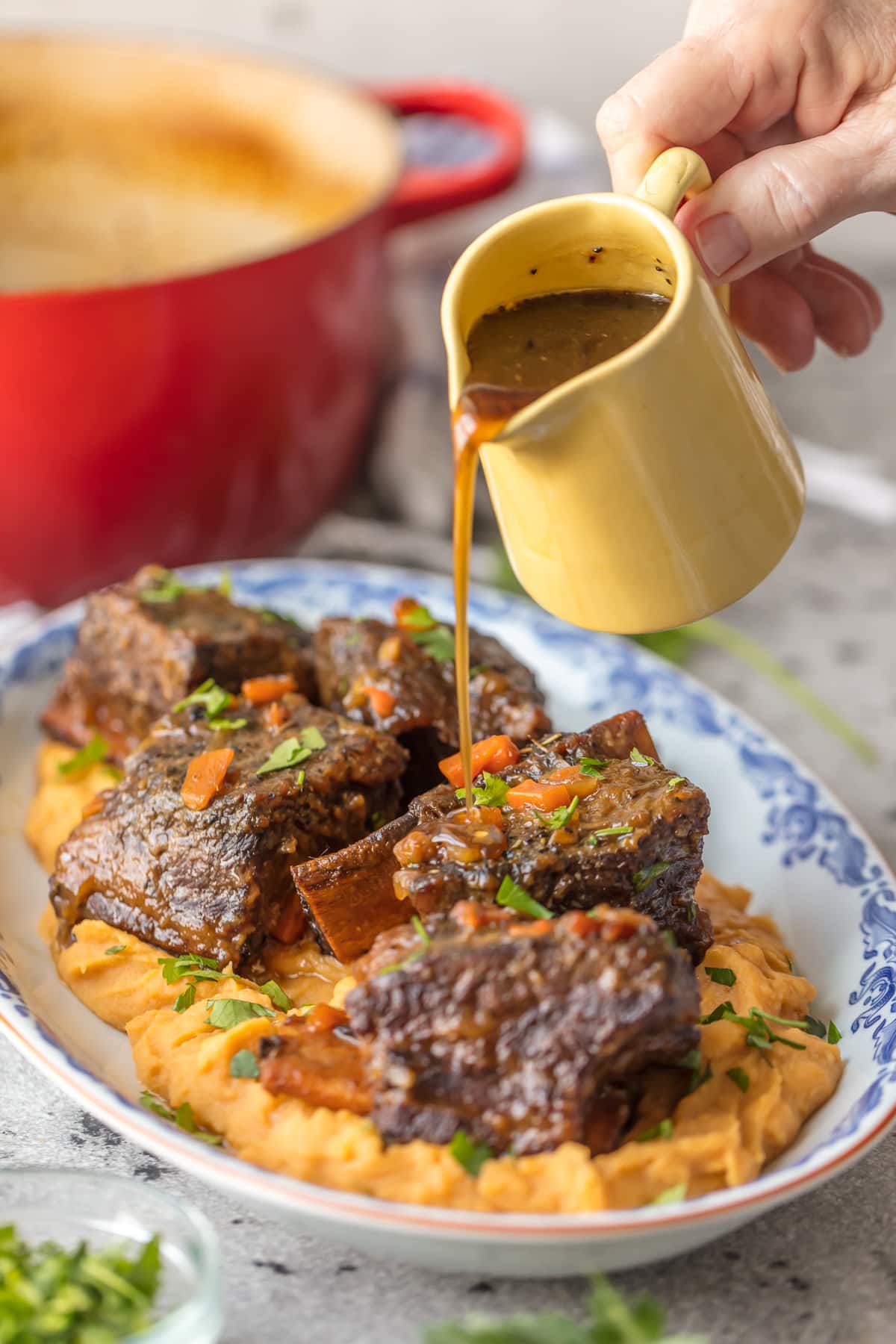 Dutch Oven Honey Bourbon Short Ribs
This short ribs recipe is one of the recipes Pat requests most from the blog. Let me tell you something. That Honey Bourbon glaze is the stuff dreams are made of. Don't fix this meal for a first date because manners go out the window when honey bourbon glaze is involved. Or do make it for a first date…as long as you want to marry the person.
Because they are going to want to marry you IMMEDIATELY after tasting your cooking. Trust and believe.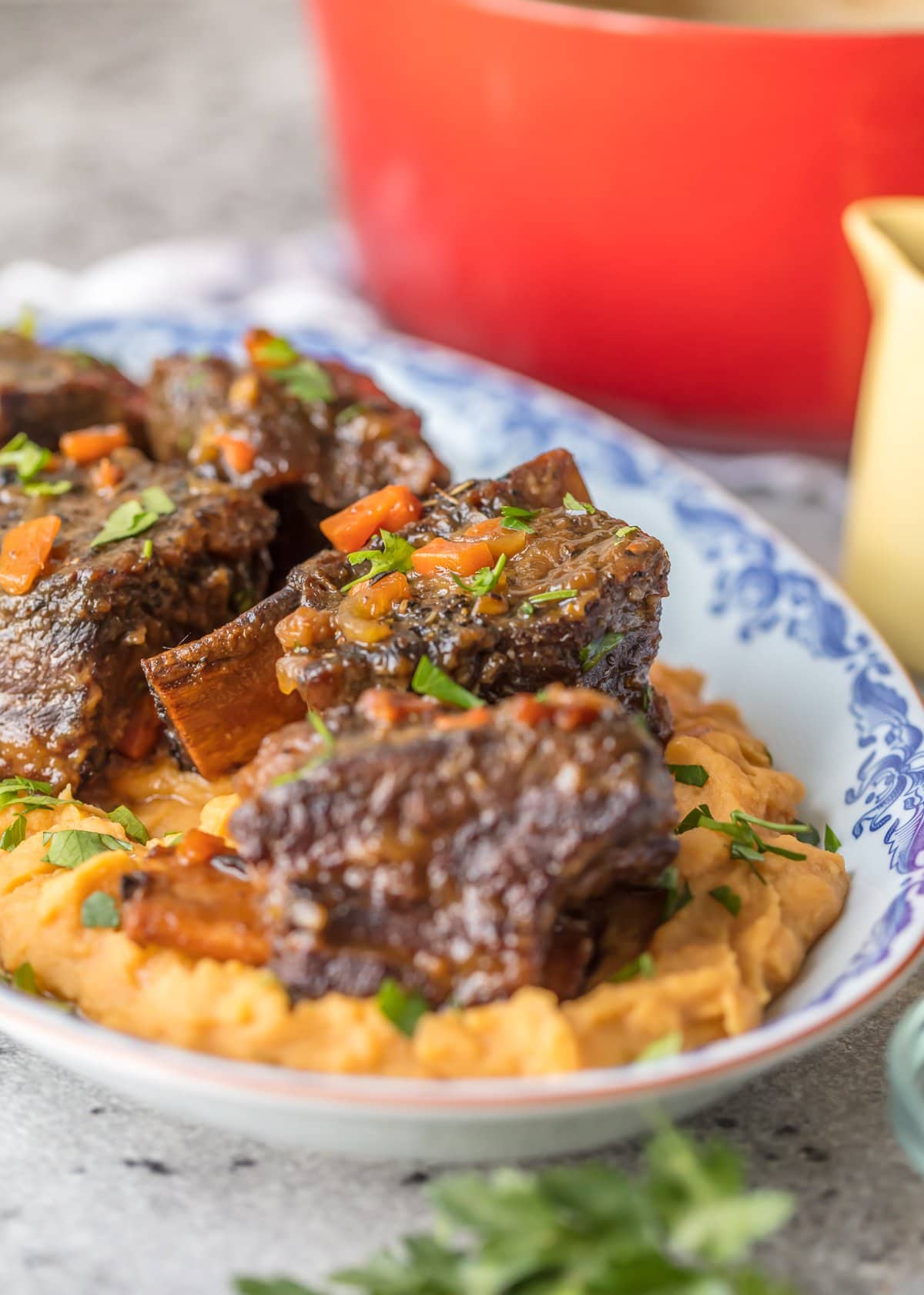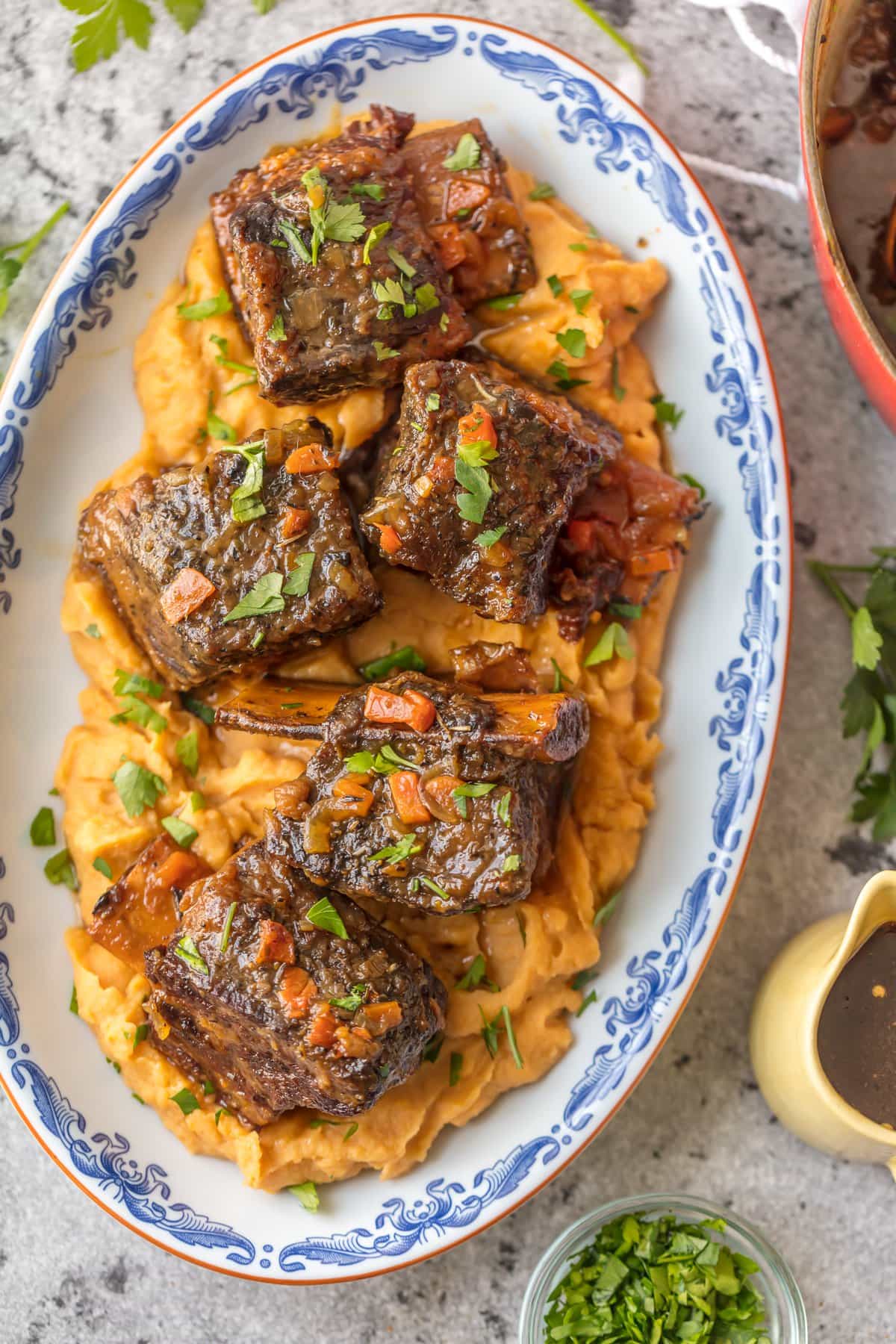 This Oven Baked Short Ribs Recipe makes a beautiful holiday meal, or a delicious easy weeknight supper for your family. Aren't these babies beautiful? Not as beautiful as the real baby I created, but I'm pretty proud of these short ribs as well. They may look complicated and stuffy, but they are anything but. You're going to love this easy dutch oven recipe!
See the recipe card below for full details on How to Make Short Ribs in a Dutch Oven. Enjoy!
If you like this short ribs recipe, try these other tasty dishes:
Learn How to Cook Ribs in every style with this guide!