Pizza Casserole is the perfect cheese-filled dish to serve for a fun dinner! This pepperoni pizza casserole recipe is made with layers of cheese, sauce, and pepperonis, then topped with balls of pizza dough and brushed with garlic butter. You're left with a DELICIOUS garlic bread pizza bake that everyone will love!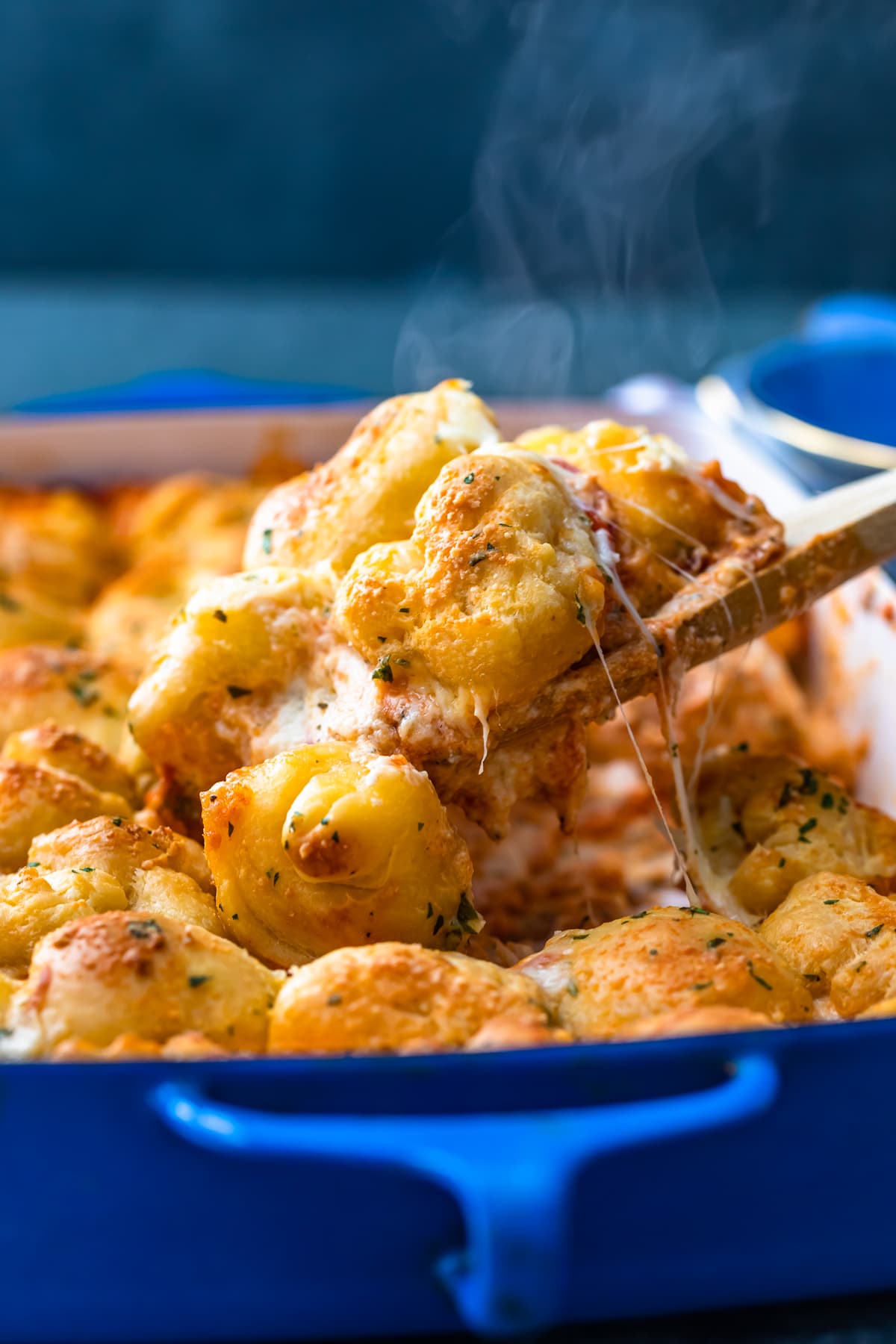 Pizza Casserole Recipe
This pizza casserole recipe is beyond tasty. Cheese, pepperoni, pizza sauce, and garlic bread pizza dough make one delicious dinner!
Pizza…in a casserole? Have you ever heard of anything so amazing? This pizza casserole recipe combines all the flavors and ingredients of a regular slice of pizza (cheese, sauce, dough), but adds a twist. Everything bakes together in a casserole dish and melts together into something incredibly delicious!
Casseroles always make for an easy weeknight dinner. Just layer up the ingredients and let it bake. This dish is soooooo cheesy, and it's filled with plenty of sauce and pepperonis. Then we made a garlic bread pizza dough topping to finish it off.
So if you're craving pizza, but want something a little different, try out this pepperoni pizza casserole. It's easy to make, and everyone will love it!
This Garlic Bread Pizza Casserole recipe is the perfect weeknight alternative to pizza delivery!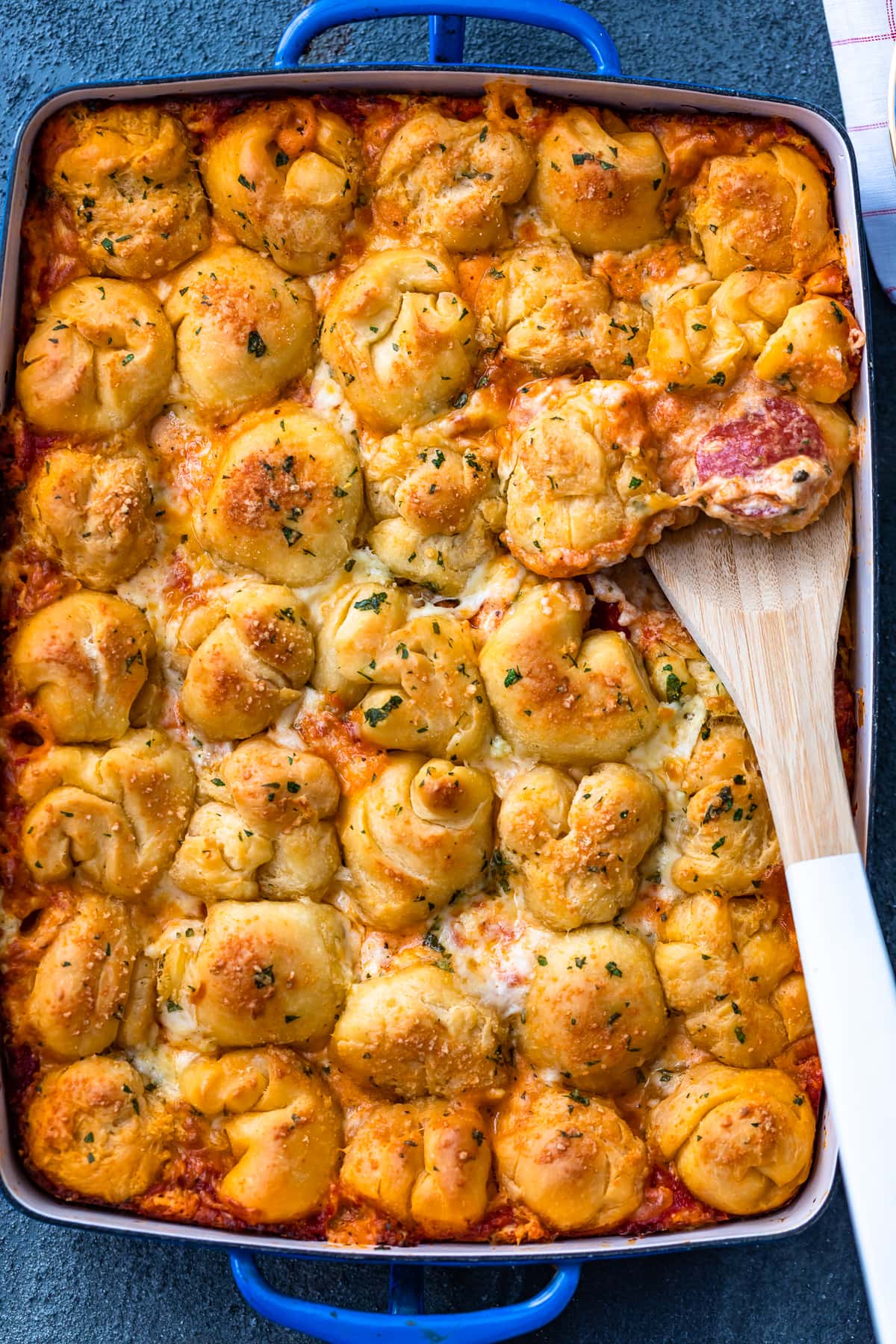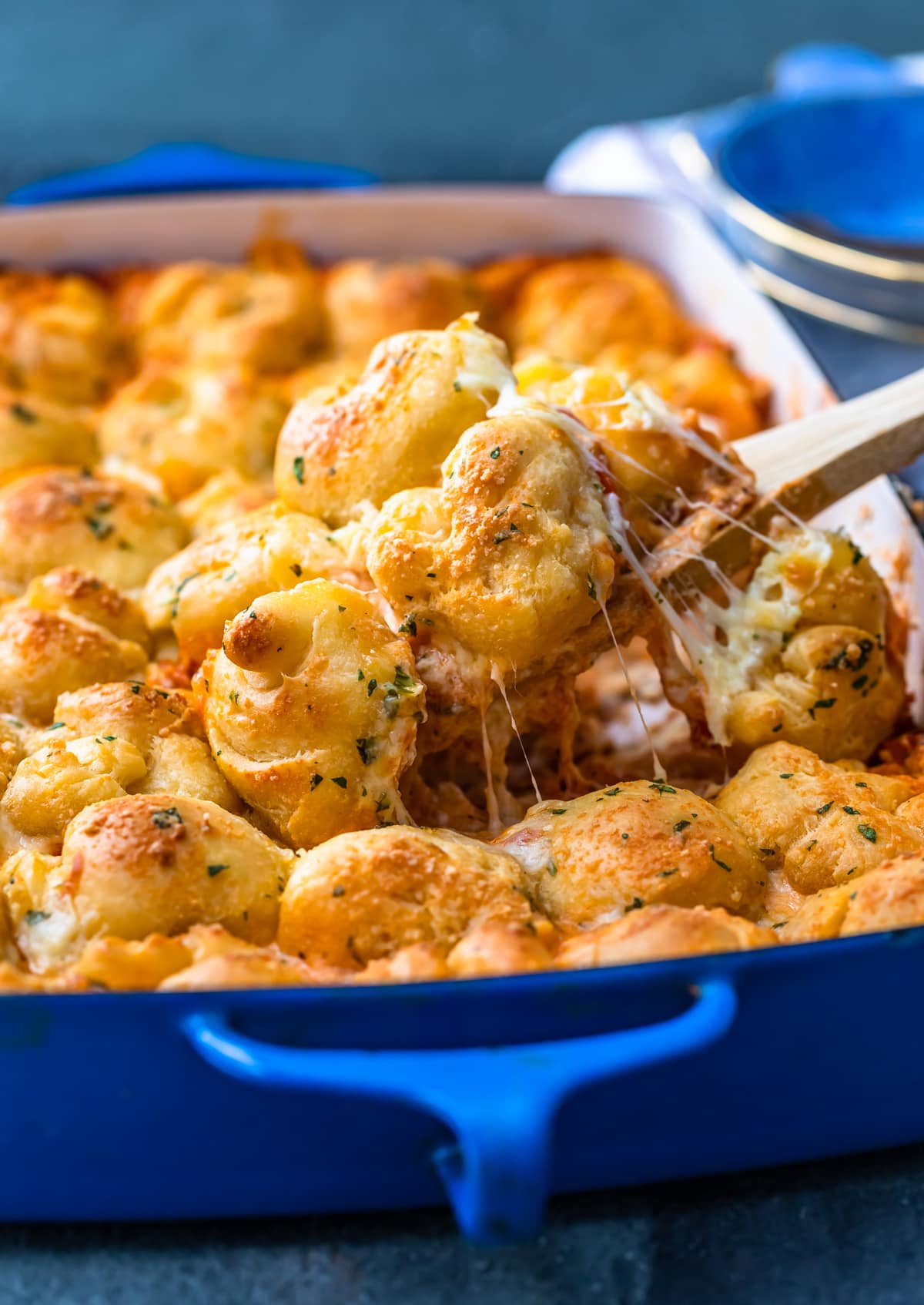 Garlic Bread Pizza Casserole
The trick to the garlic bread topping on this pizza casserole? We're using pizza dough, but instead of spreading it over the casserole in a single layer, we created little balls of dough to place on top. Then we brush each ball of dough with a delicious garlic butter mixture!
The garlic bread pizza dough is what really takes this pizza casserole recipe to the next level. And beneath the dough is alllllll the cheese and sauce and pepperonis…yum! The cheese layer is super creamy thanks to the mix of mozzarella, Parmesan, and cream cheese. Dig in and make sure you get a nice big bite with everything in it.
Ingredients:
Pizza Dough
Pizza Sauce
Pepperonis
Cream Cheese
Mozzarella Cheese
Parmesan Cheese
Red Pepper Flakes
Garlic
Butter
Ground Pepper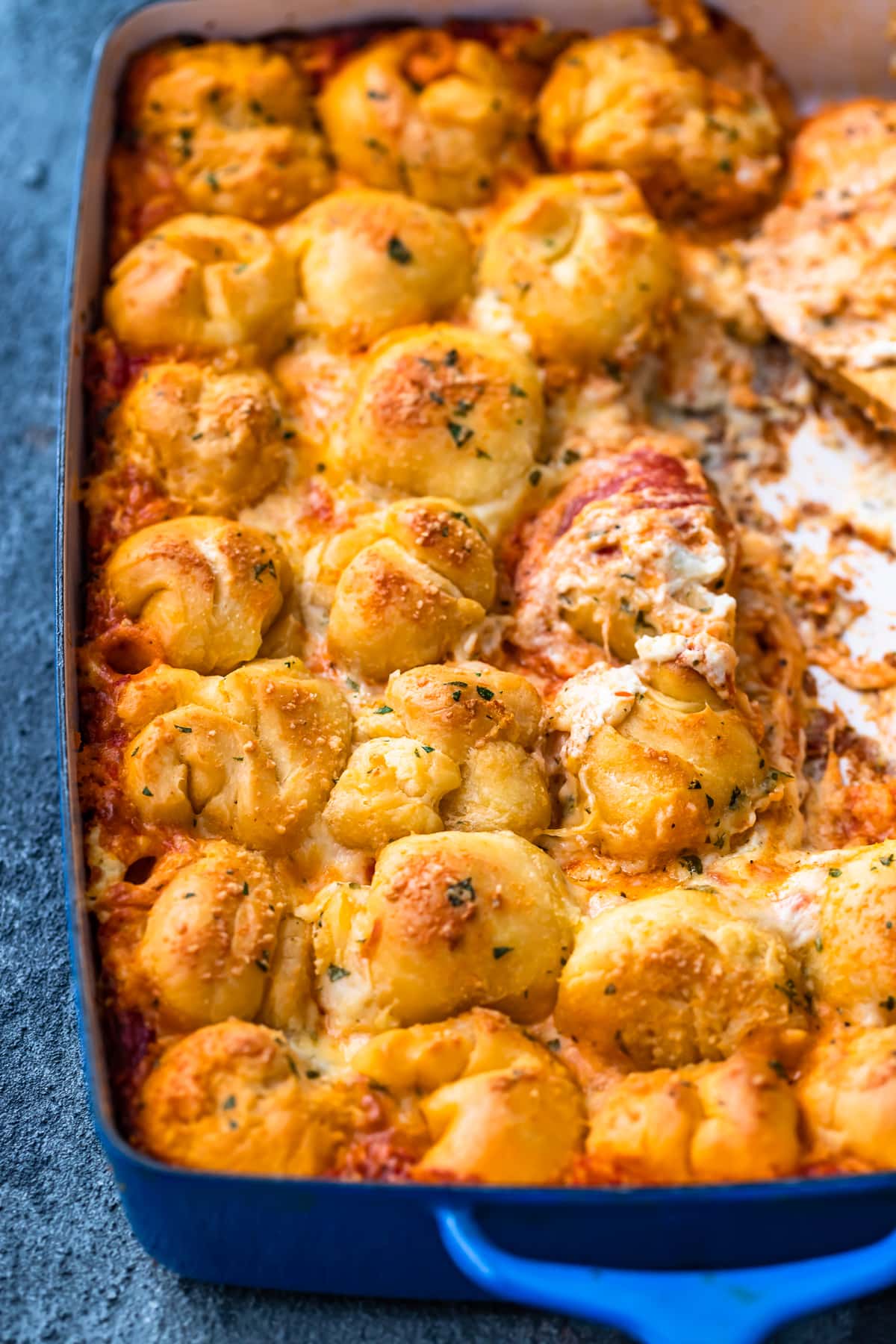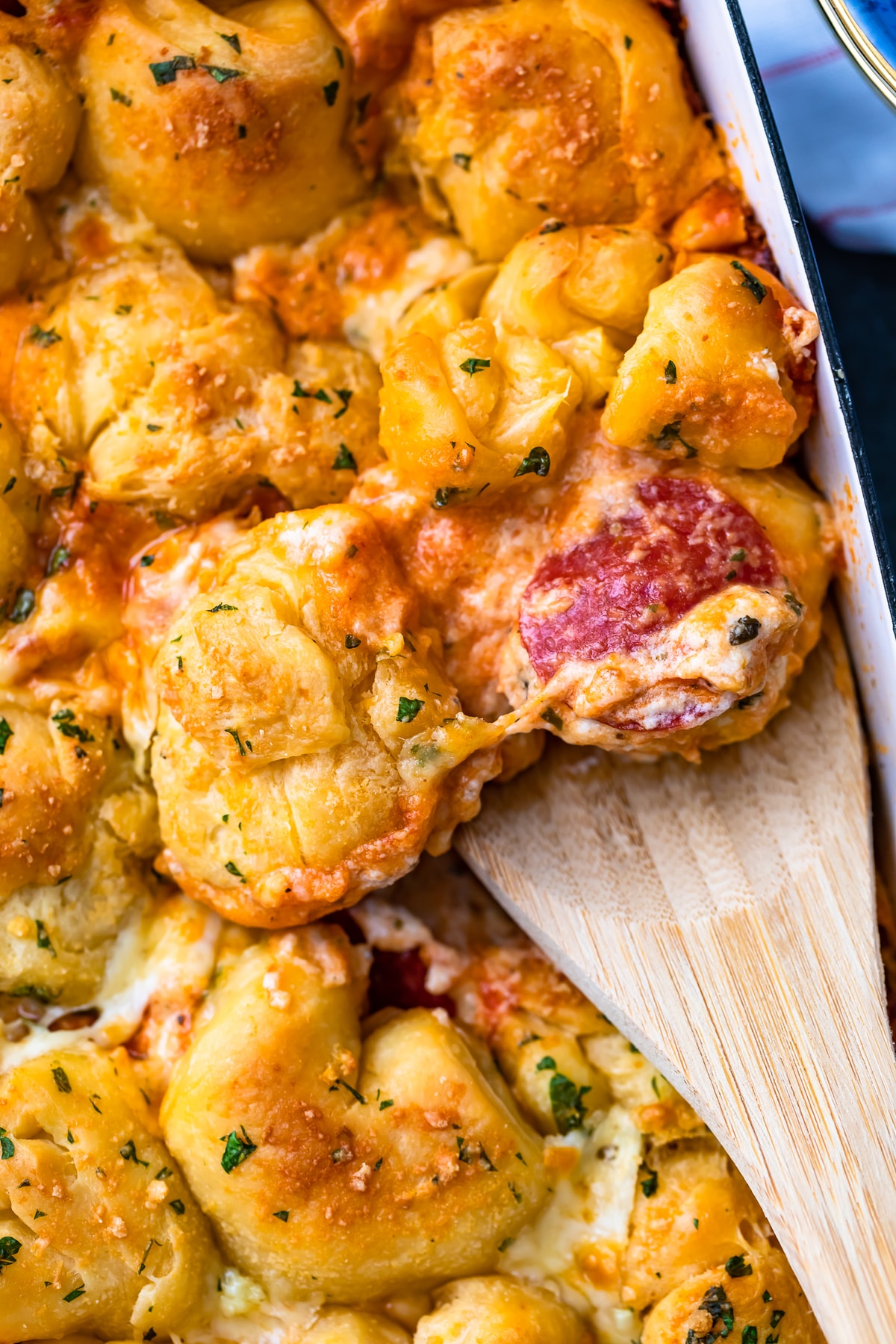 How to Make Pepperoni Pizza Casserole
Making a pizza casserole is simple. Mix a few things together, layer everything into a casserole dish, and bake! Prep time is quick, so you can throw it all together when you get home in the evening, let it cook while you finish some things around the house, and then dinner is ready! Your family is going to LOVE this dish.
Make the garlic butter (whisk together butter, garlic, and parsley) and set it aside.
Mix the Mozzarella cheese, cream cheese, Parmesan, Italian seasoning, red pepper flakes, and black pepper. Then spread the mixture into the casserole dish.
Spread the pizza sauce in an even layer over the cheese mixture; sprinkle the remaining Mozzarella over the sauce; then top with pepperoni slices.
Divide the pizza dough and make small dough balls (they should be roughly the same size as the pepperonis). Then place the dough on top of the pepperonis.
Brush each ball of dough with the garlic butter, and sprinkle the rest of the Parmesan cheese on top.
Bake for 35-45 minutes at 350°F. The pizza dough will turn golden brown, and the cheese will start to bubble.
Let it cool 10-15 minutes before serving (it will be hot!).
Just scoop a big helping of it onto your plate and enjoy! Be sure to check the recipe card below for more detailed instructions. This is a great freezer meal idea to make ahead of time.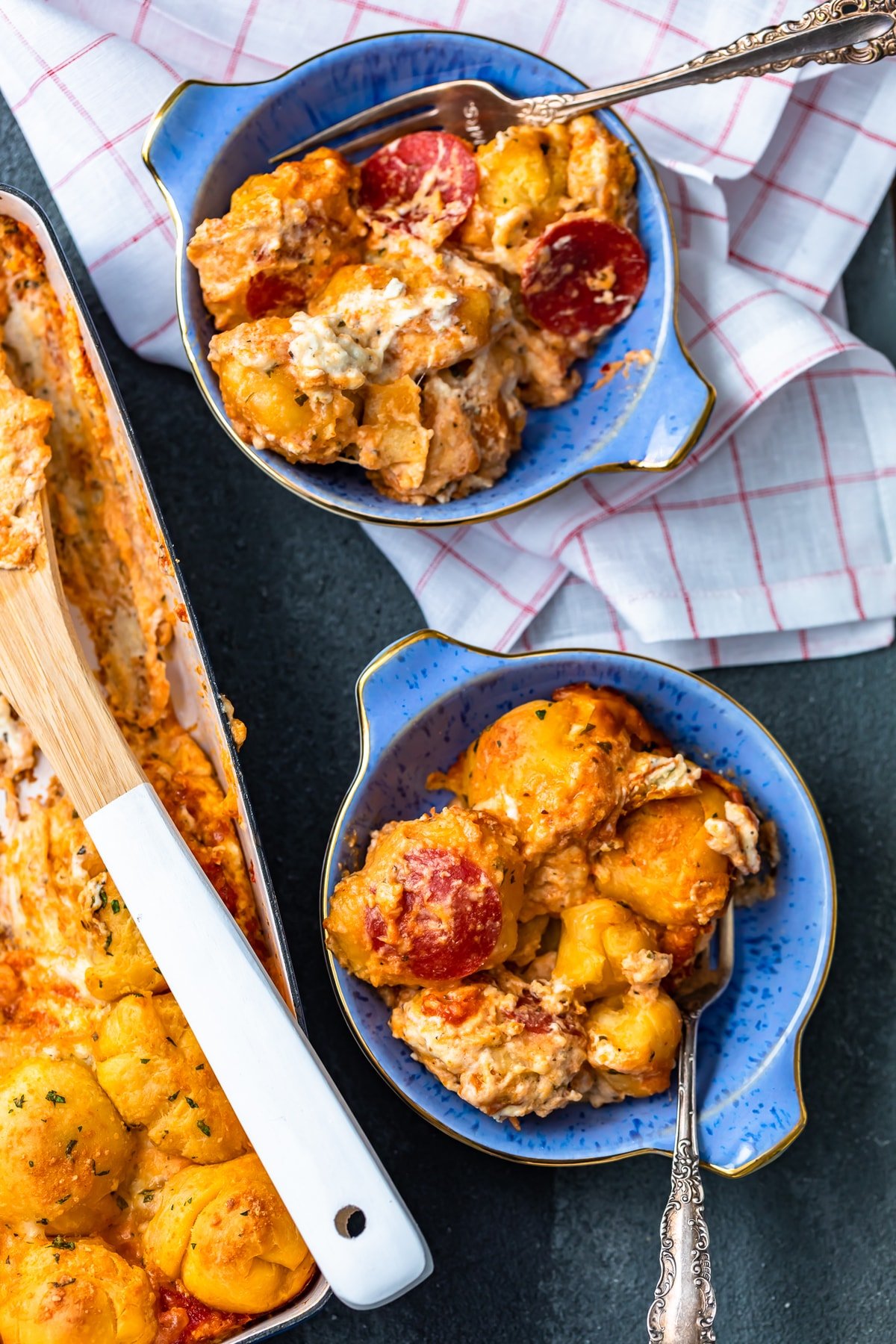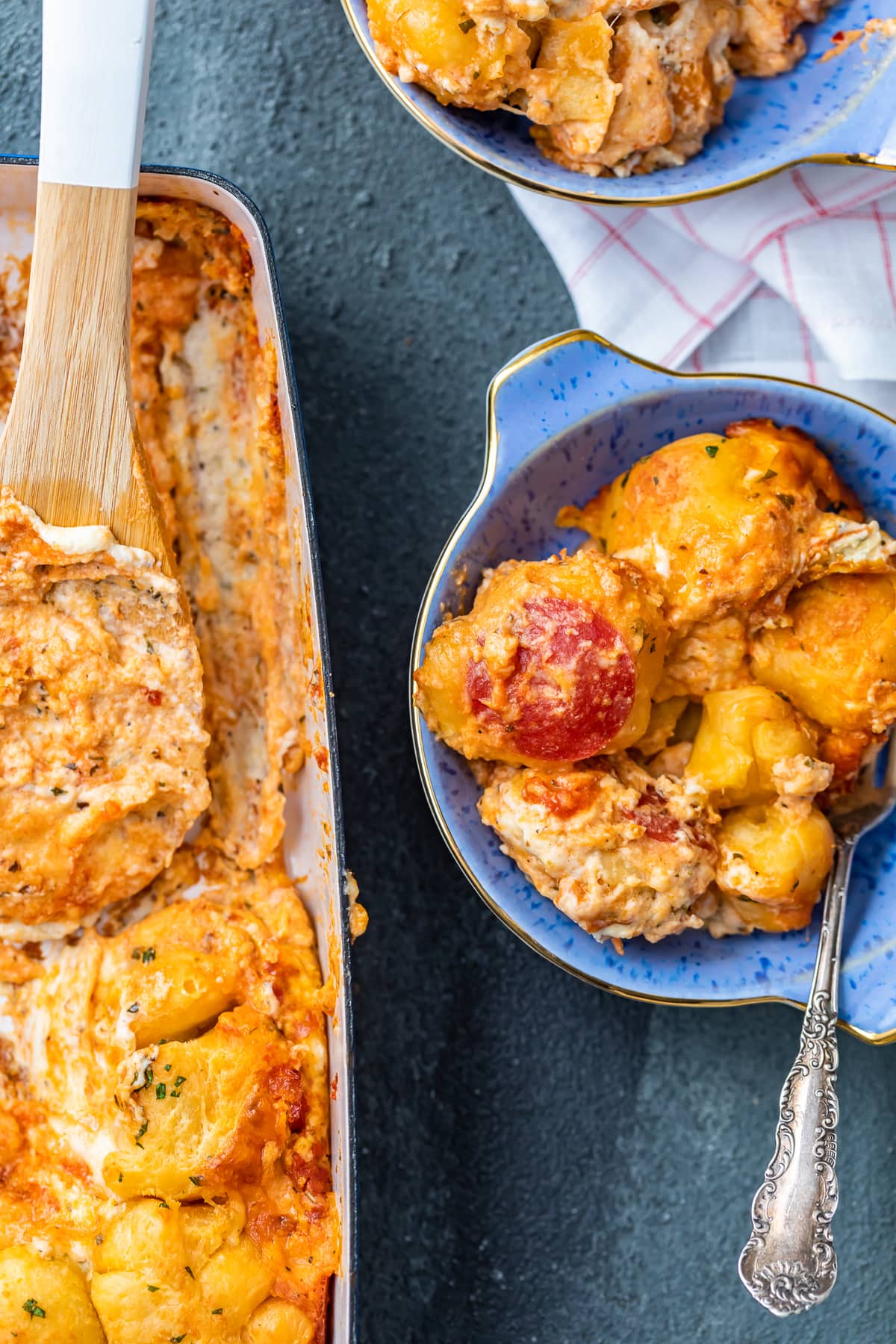 When the word pizza is involved, you know it's going to be amazing! This garlic bread pizza casserole is PROOF. Sure, a regular pizza is good, but a fun recipe that switches things up is ever better. Pizza bites, pizza rolls, pizza dip…there is no wrong way to eat pizza if you ask me!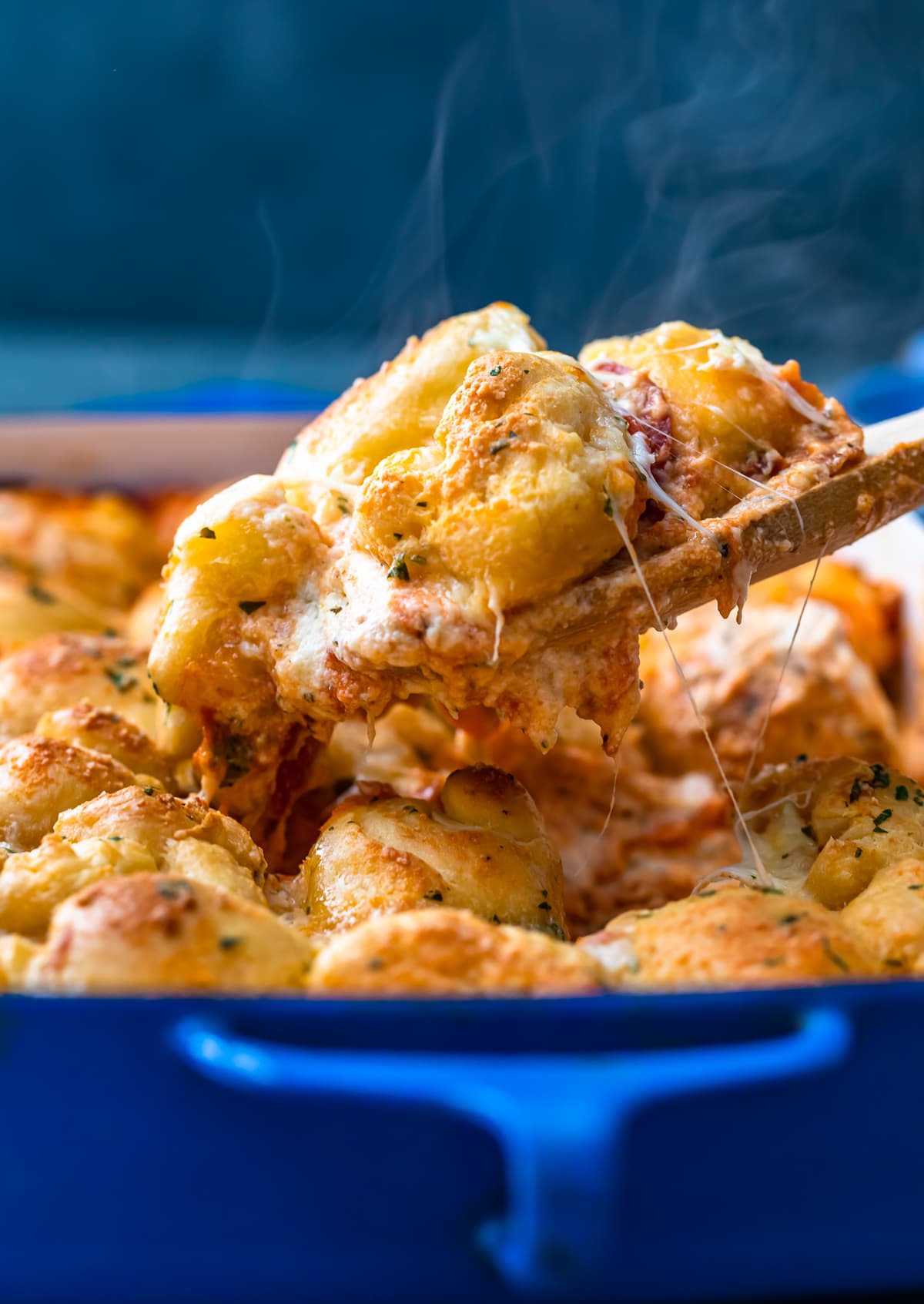 This Pepperoni Pizza Casserole recipe with garlic bread pizza dough topping is the perfect weeknight meal. Try it out this week and let me know what you think!