Chicken and Rice Casserole with Broccoli and TONS of Cheese is a favorite comfort food recipe. This Cheesy Chicken Broccoli Rice Casserole is loaded with everything that makes you think of home, and you'll be shocked how easy it is to put together. This Chicken Rice Casserole is the type of cheesy recipe your family will request time and time again.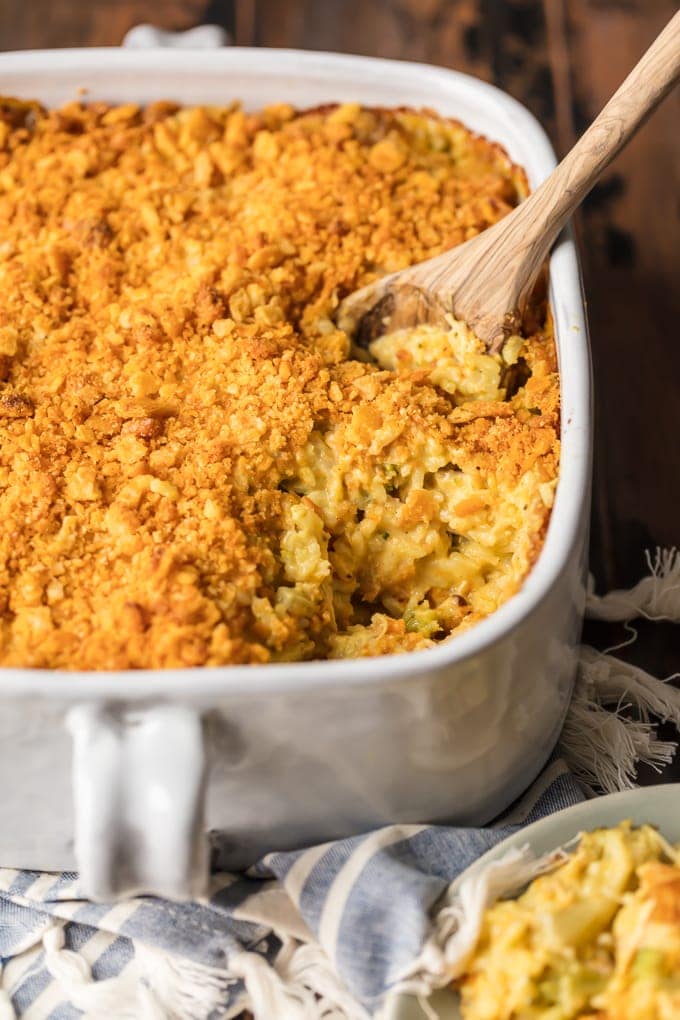 Easy Chicken and Rice Casserole
Chicken and Rice Casserole with Broccoli (and CHEESE) is the ultimate easy comfort food casserole.
Chicken and Rice Casserole is one of my favorite dinner recipes. Everyone has a favorite casserole recipe, so I doubt I'll be blowing anyone's minds today. But if you're in need of a comforting, easy, CHEESY meal to make your family this week, can I please suggest this CHEESY CHICKEN BROCCOLI RICE CASSEROLE?! I love that Pat and I ate it up happily but it also worked like a charm on Henry. Boy has a great appetite and devoured this goodness.
There's just something so homey about rice, broccoli, chicken, and cheese. Seems like something ole Marie Callendar would make, but so much better. Get to cookin' this tasty Chicken Rice Casserole!
Chicken and Rice Casserole is the perfect go-to comfort meal. This cheesy Broccoli Rice Casserole will surprise you with it's incredible flavor!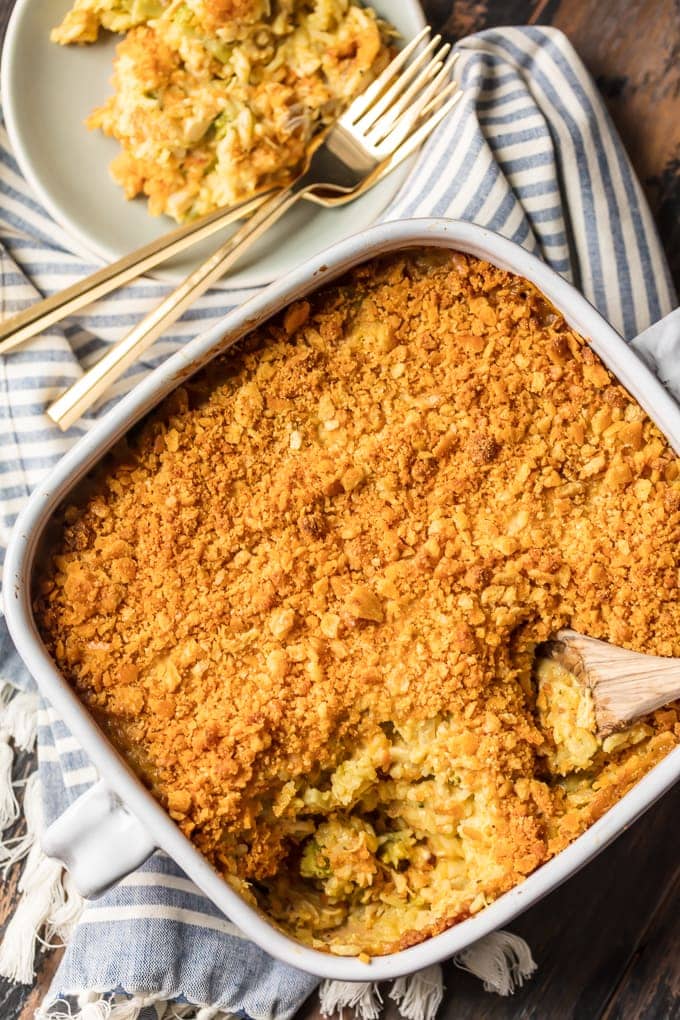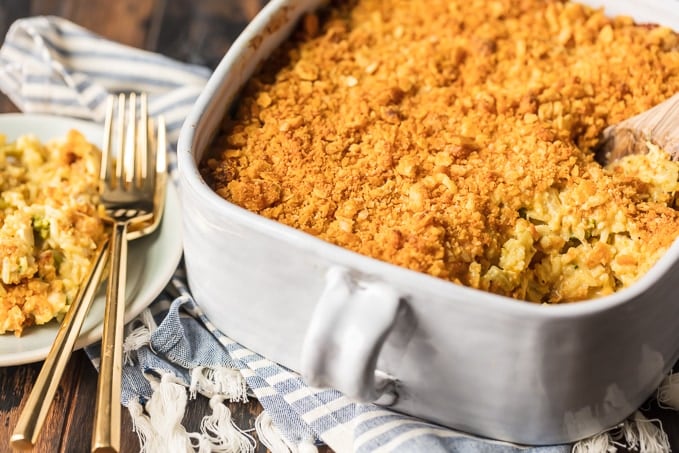 Broccoli Rice Casserole with Chicken
Broccoli Rice Casserole is SO simple to throw together, great for making and ahead and freezing for a friend, or reheating for lunch throughout the week.
I love casseroles because they're an entire meal in one. We have made so many casseroles on TCR and some of our faves include Chicken Pot Pie Casserole, Ham and Cheese Breakfast Casserole, and Enchilada Stuffed Pepper Casserole.
When you make this for dinner, you don't need an extra side dish. This is main course and side dish in one. And let's just pretend this chicken broccoli rice casserole is super healthy because of the broccoli…yes? I realize it's not so please don't send me hate mail…but I like to live in a fantasy land.
This Chicken and Rice Casserole is the type of recipe that warms the soul while it fills your belly. Its the kind of meal you'll make again and again when you're just not sure what to make for dinner. You'll likely have all the ingredients in your kitchen already, so it's just a matter of tossing them together and baking them to perfection. I wish I would have realized years ago that recipes like this existed. I would have eaten a lot less frozen dinners!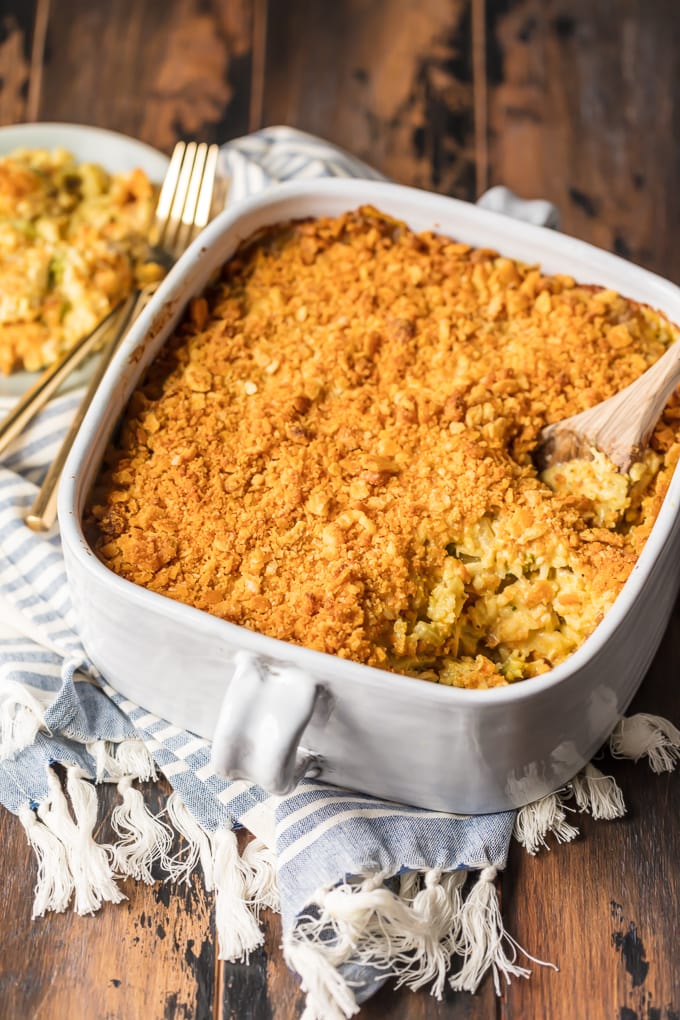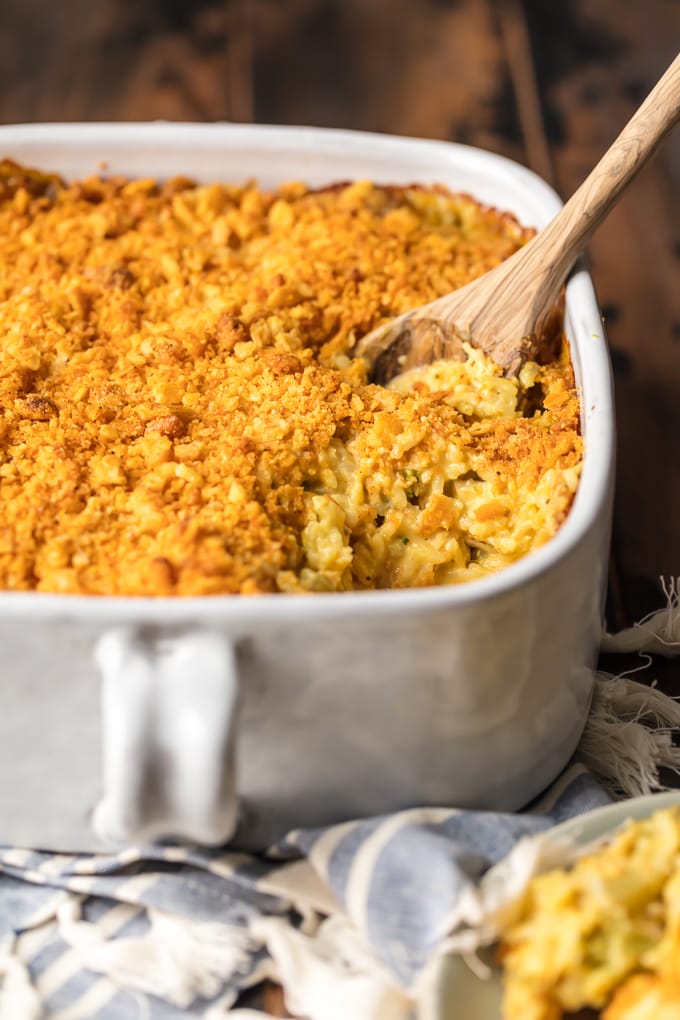 FREE CHICKEN EBOOK
The Cookie Rookie is practically famous for amazing Chicken Recipes, mostly due to this Chicken Broccoli Rice Casserole. We have so many other chicken favorites that I hope you check out, and even have a FREE EBOOK for subscribers (click to find out more). I'm here for all your easy chicken recipes needs!
If you've never tried Chicken and Rice Casserole it is TIME…tonight! This EASY casserole recipe is a must make for anyone who loves comfort food.
I hope this Cheesy Broccoli Rice Casserole warms your home this Winter! It's a cold one! We all need some easy casseroles in our lives for seasons like this. Looking for some good bread pairings to serve alongside this Chicken and Rice Casserole? Be sure to check out our Icebox Dinner Rolls or Beer Bread Muffins. YUM!
See the recipe card below for details on How to Make Chicken and Rice Casserole. Enjoy!
Looking for more chicken comfort food recipe? Try these favorites: