French Onion Chicken is an easy go-to meal the entire family will love! This skillet chicken recipe tastes just like your favorite soup in main course form. French Onion Soup Chicken is chicken breast topped with Swiss cheese, french onion soup, croutons, and more cheese!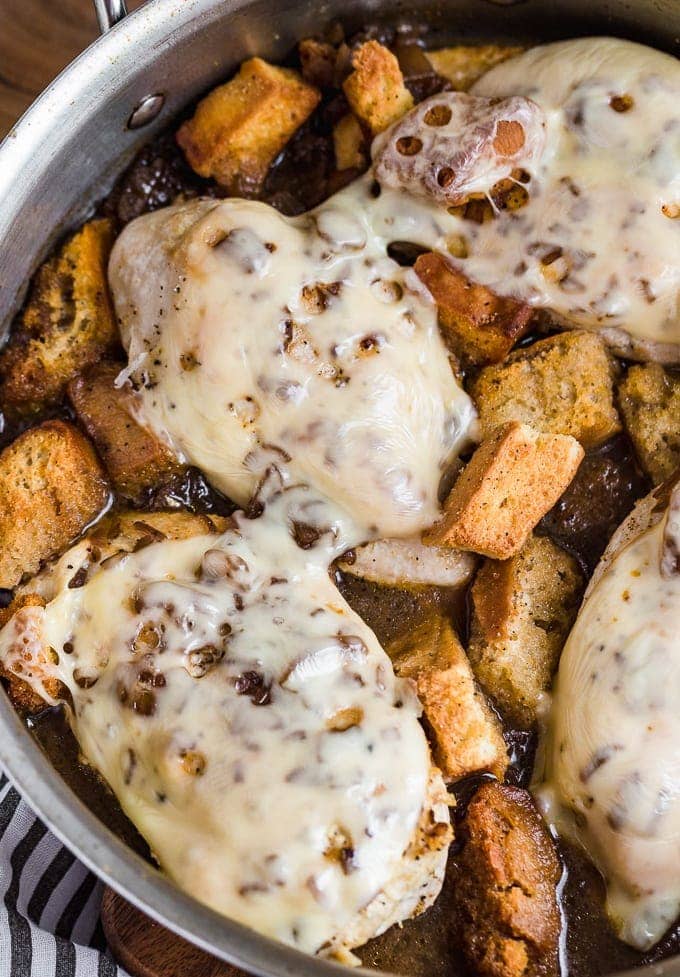 French Onion Chicken
French Onion Chicken is just the perfect blend of flavors. This skillet chicken recipe is just like the classic soup, but served as a tasty chicken recipe!
Chicken is always my go-to for easy dinners. Not only is it delicious, but you can do so much with it. I have about a million easy chicken recipes here on the site to choose from. While they're all kind of my favorite, this French Onion Chicken is today's favorite recipe.
This French Onion Soup Chicken is a simple skillet chicken recipe that can be made any night of the week. It's just 5 ingredients, it's made in one pan, and it only takes about 25 minutes from start to finish. That's my kind of recipe!
It tastes just like the classic soup, but as a delicious chicken recipe that's perfect as a main course. Chicken cooked in French Onion Soup, covered in Swiss cheese, and with lots of crunchy croutons thrown in. Yum!
Make this simple recipe for dinner tonight, or any night. It tastes gourmet but is secretly the easiest dinner you'll ever make!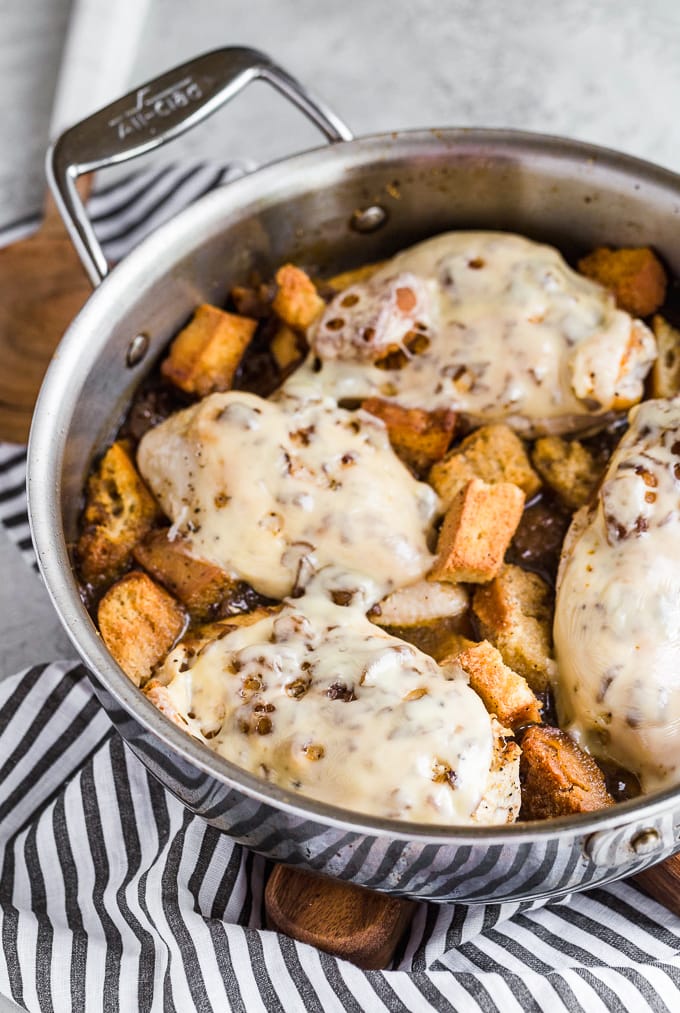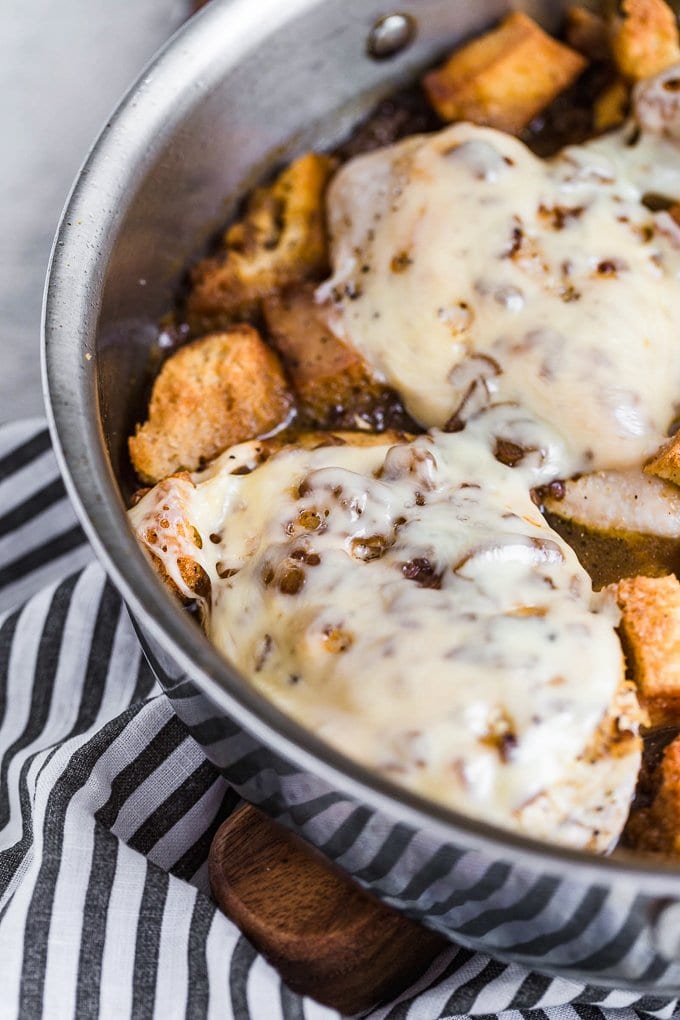 French Onion Soup Chicken
French Onion Soup is such a classic, and it's one of my favorite soups. I just love the rich, savory flavor of it, and onions are one of my favorite ingredients. But the BEST part about the soup is the bubbly, melted layer of cheese on top, and the crunchy croutons to go along with it. I'm never one to leave good enough alone though, and I knew this combination would make the most amazing chicken recipe ever.
So this French Onion Chicken Skillet was born! Chicken breast cooked in french onion soup, topped with a layer of melted Swiss cheese, and plenty of croutons to add in the hearty crunch. It's like the soup but better, and it's so easy to make. You only need one pan and you're good to go!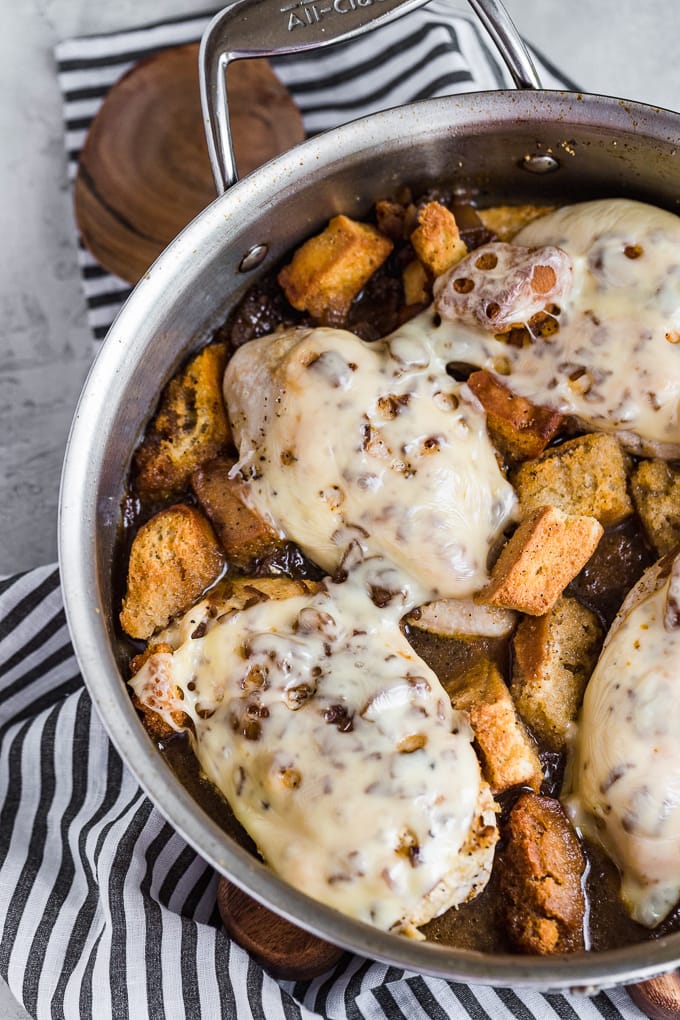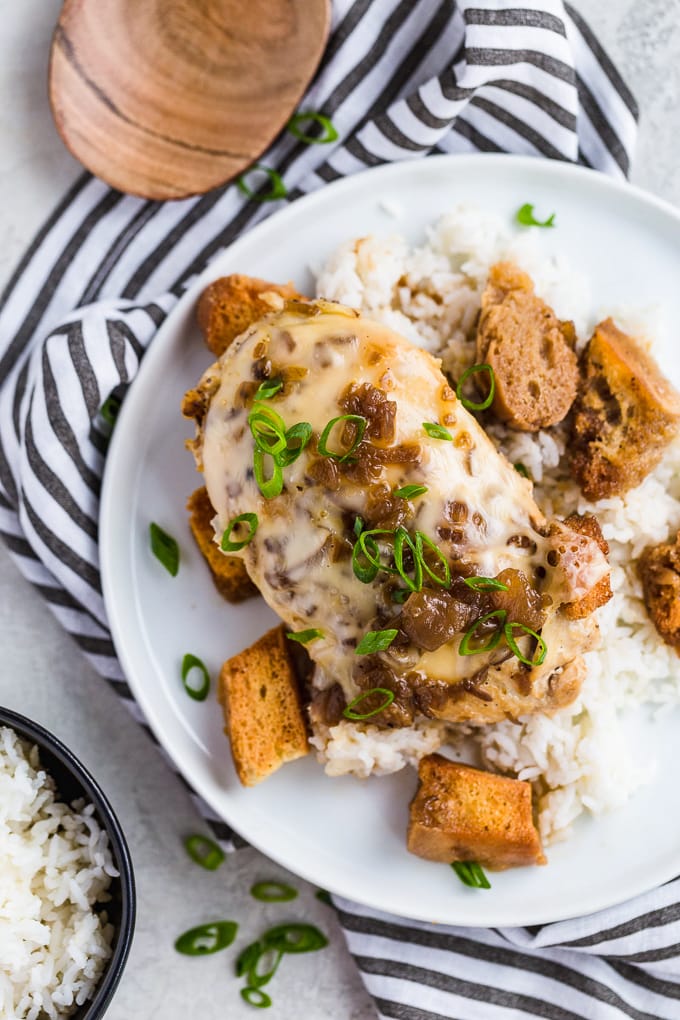 How to Make French Onion Chicken
A recipe with just 5 ingredients, one skillet, and less than 30 minutes? This easy chicken recipe is like a miracle. Why can't every recipe be like this?! I don't want to stress out while trying to cook dinner, and this French Onion Chicken Skillet is STRESS-FREE. A delicious dinner ready in a pinch!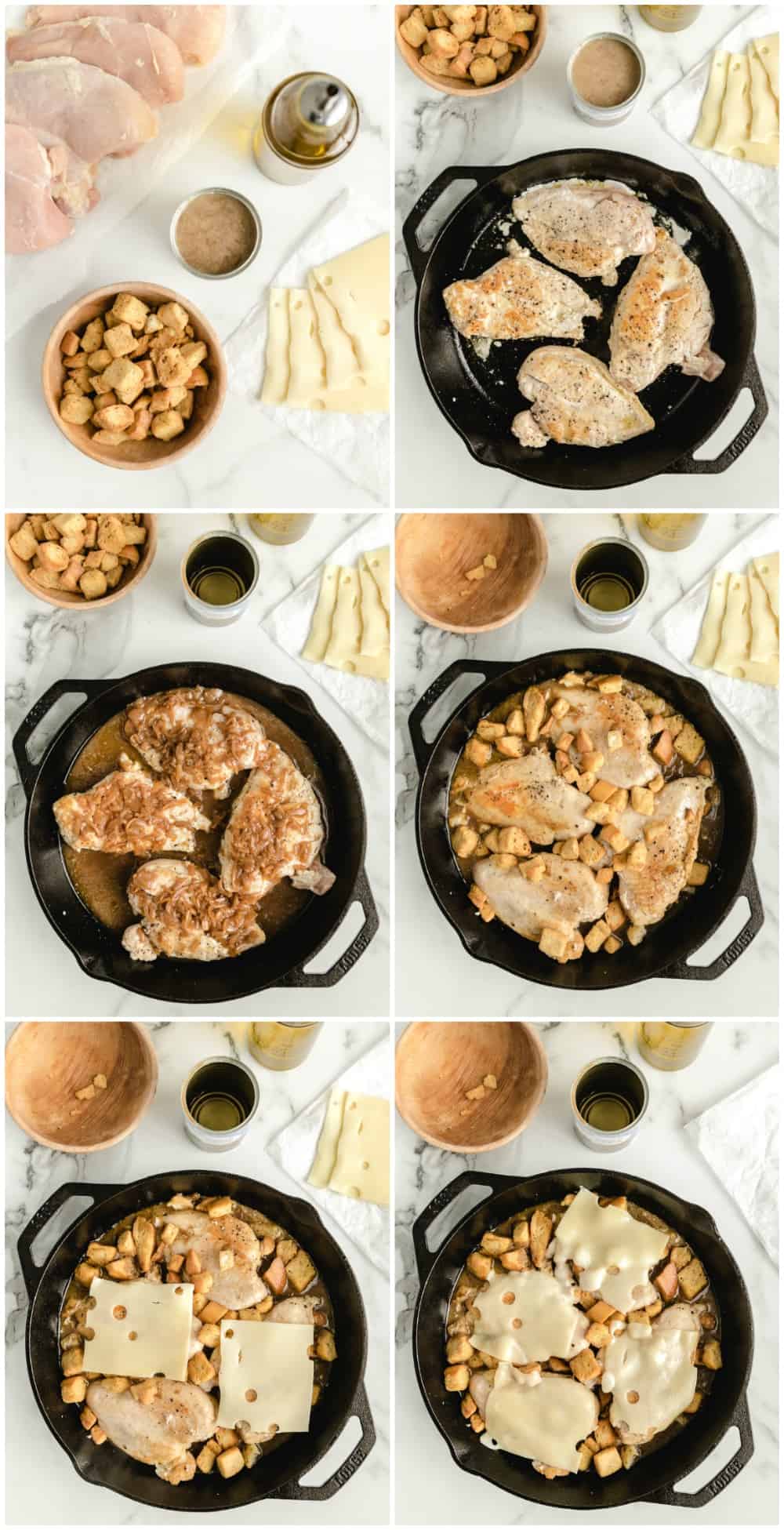 How to Make it:
Heat olive oil in a skillet.
Add the chicken breasts and cook 3-4 minutes on each side.
Pour in the French Onion Soup and cook the chicken another 4-5 minutes on each side.
Add in the croutons when you flip the chicken.
Once the chicken is fully cooked, turn off the heat and top each chicken breast with a slice of cheese. Allow it to melt into the chicken.
The chicken is the star of the show, so keep the side dishes simple. Just serve it over a bed of rice or add in a vegetable mix. For an extra flavor kick, try adding in some caramelized onions.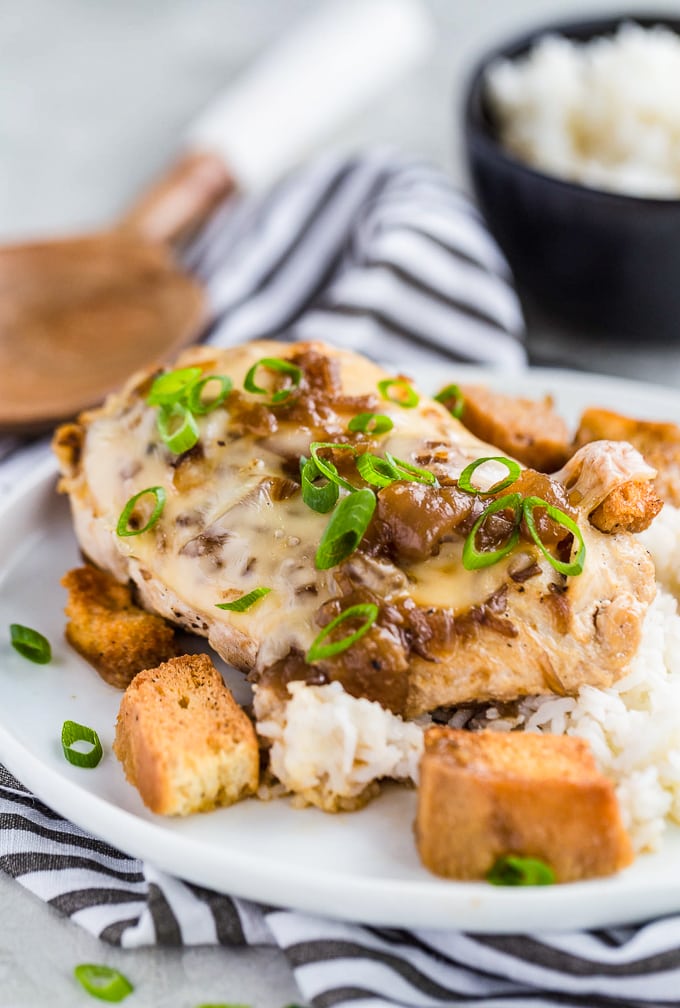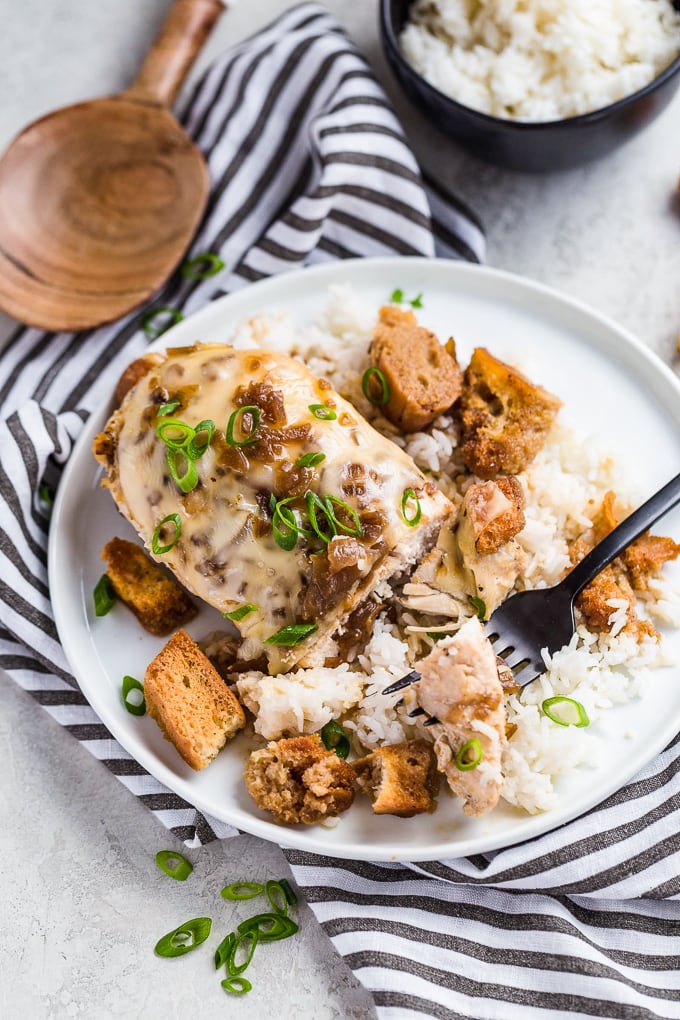 One Pan Skillet Chicken Recipes
I'm a big fan of one pan recipes. Nothing is easier than cooking a nice meal in one pan! This skillet chicken recipe is so simple and so delicious. Cooking chicken in a skillet is such an easy method. This French Onion Chicken recipe is so full of flavor with the cheese and french onion soup…I'm kind of obsessed!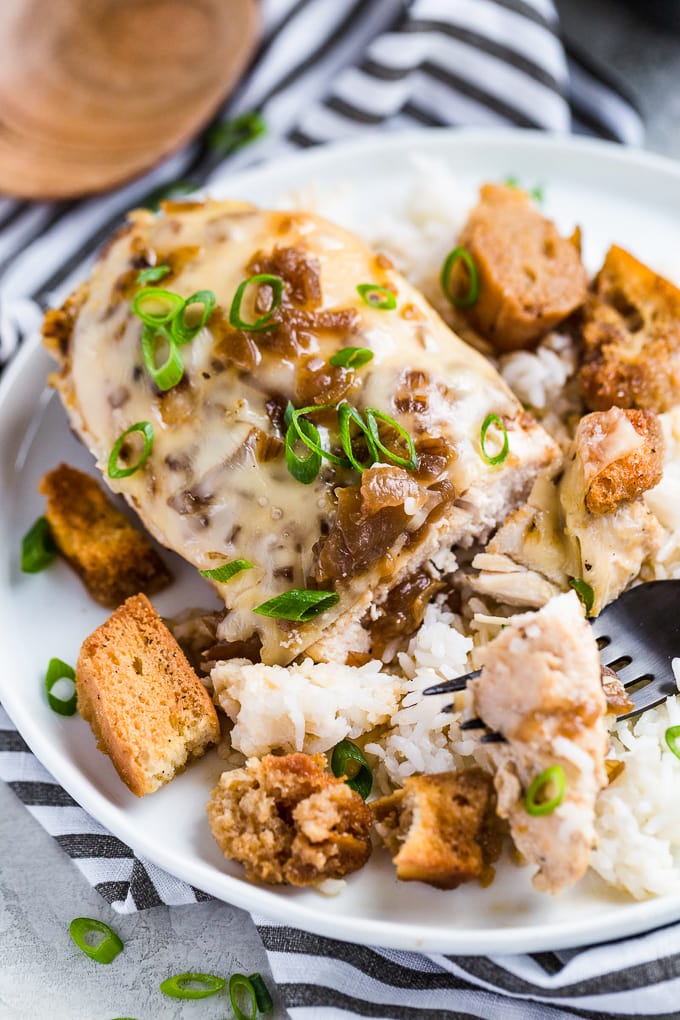 You have to try this French Onion Chicken Skillet recipe! It's so cheesy, savory, and flavorful. I love the added crunch from the croutons and the soup cooks into the chicken so perfectly. Make this easy chicken recipe any night of the week, hassle free!
Watch the Video & See the recipe card for details on how to make French Onion Chicken. Enjoy!
If you enjoyed this recipe, try these other easy chicken recipes: