French Onion Chicken is an easy go-to meal the entire family will love! This skillet chicken recipe tastes just like your favorite soup in main course form. French Onion Soup Chicken is chicken breast topped with Swiss cheese, french onion soup, croutons, and more cheese!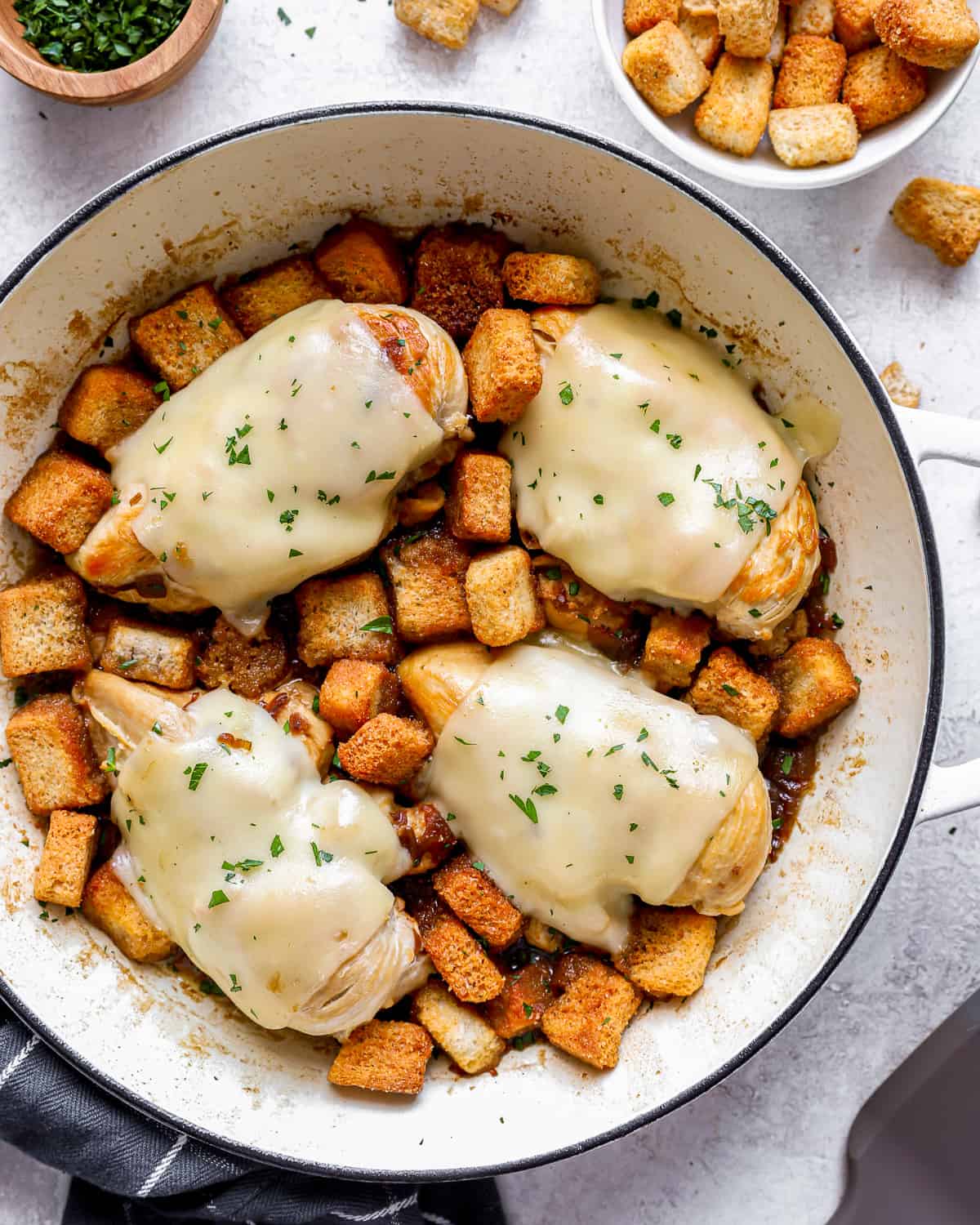 What's in this French Onion Chicken Recipe?
Chicken breast cooked in French onion soup, topped with a layer of melted Swiss cheese, and plenty of croutons to add to the hearty crunch. It's like the soup but better, and it's so easy to make. You only need one pan and you're good to go!
Olive Oil: Helps the chicken cook without burning.
Chicken: I used boneless, skinless chicken breasts, but thighs would also work!
French Onion Soup: For an easy hack, use a can of French onion soup. For a homemade touch, make your own.
Croutons: Add that classic crunchy-gone-soggy texture. You can use store-bought or homemade.
Swiss Cheese: The classic topping for French onion soup!
Pro Tip: Place the chicken under the broiler for a few minutes (watch closely!) to get the cheese extra browned and bubbly!
Variations on French Onion Chicken Casserole
The best cheeses for French onion chicken are nutty, rich melting cheeses. I like Swiss, but Gruyere also works well. For the croutons, you can use store-bought or make your own from leftover no knead bread!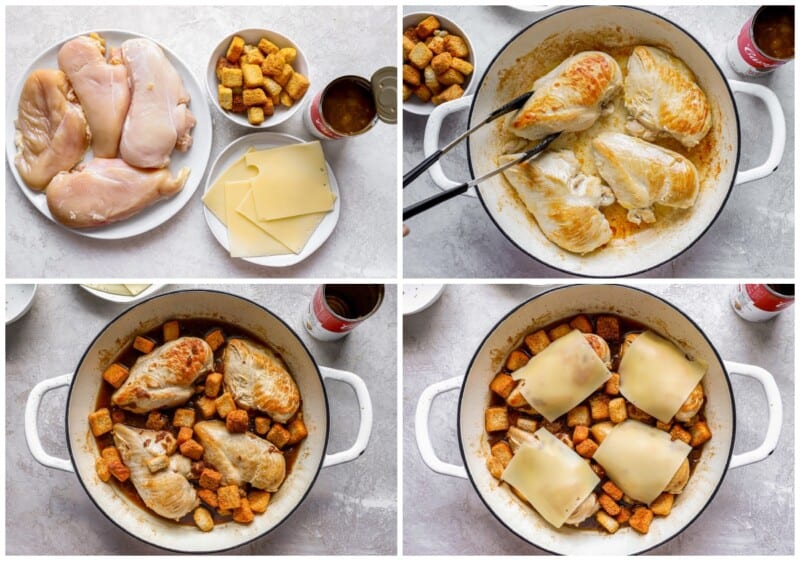 Is French onion chicken healthy?
This chicken is high in protein and potassium. However, it is also high in fat, sodium, and cholesterol, so enjoy it in moderation.
How many calories are in French onion chicken?
One serving of this chicken is just 315 calories.
How can I tell when chicken is cooked through?
Properly cooked chicken should be firm, no longer pink, and register 165°F on an instant-read thermometer inserted into the thickest part.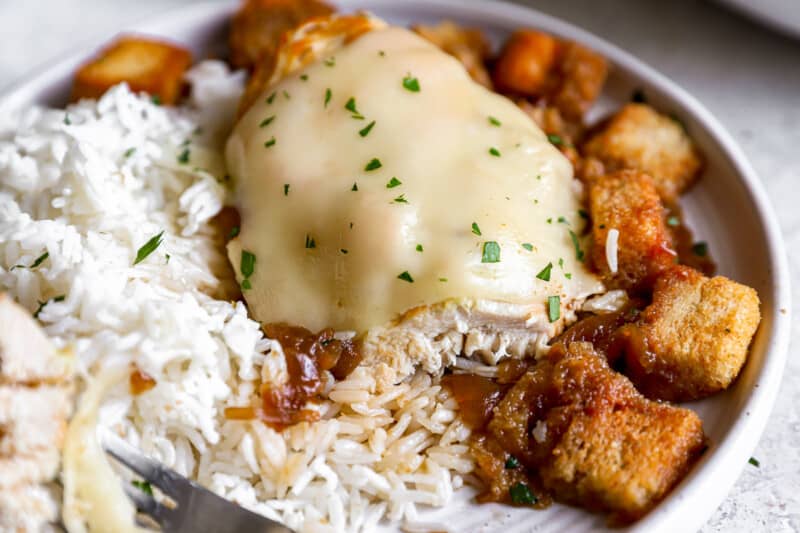 How to Store and Reheat
Store leftover French onion chicken in an airtight container in the refrigerator for up to 3 days. To reheat, place in a cast-iron skillet or baking pan in a 350°F oven for 20-30 minutes, until heated through. You may place it under a broiler for a few minutes to remelt the cheese.
How to Freeze
Freeze French onion chicken in an airtight container for up to 3 months. Let thaw overnight in the refrigerator before reheating.
Serving Suggestions
The chicken is the star of the show, so keep the side dishes simple. Just serve it over a bed of basmati rice or add in a roasted vegetable mix. For an extra flavor kick, try adding in some caramelized onions.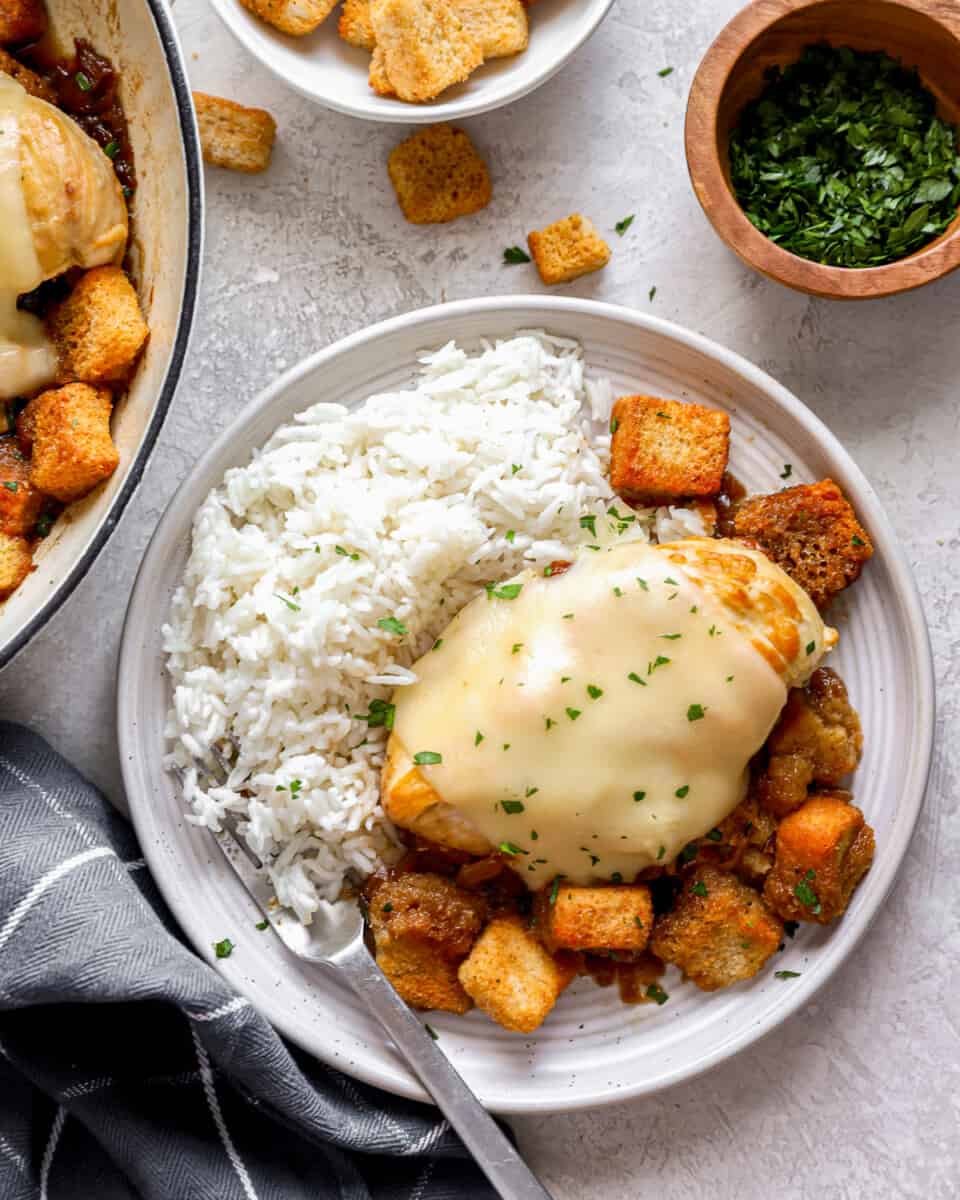 5-Star Review
"This is amazing! So simple, yet delicious. My son was checking that there was more before I even got to sit down. If you love French Onion soup, you will love this recipe." – Michelle Cohen
More One Pan Chicken Recipes We Love