King Ranch Casserole is a classic Tex-Mex inspired dish. It's creamy, cheesy, and sooooo delicious! King Ranch Chicken Casserole is the perfect dish to prepare for potlucks, to bring to a friend, or to make for dinner any night of the week. This King Ranch Chicken recipe is made without canned soup or Velveeta, but still just as cheesy and creamy!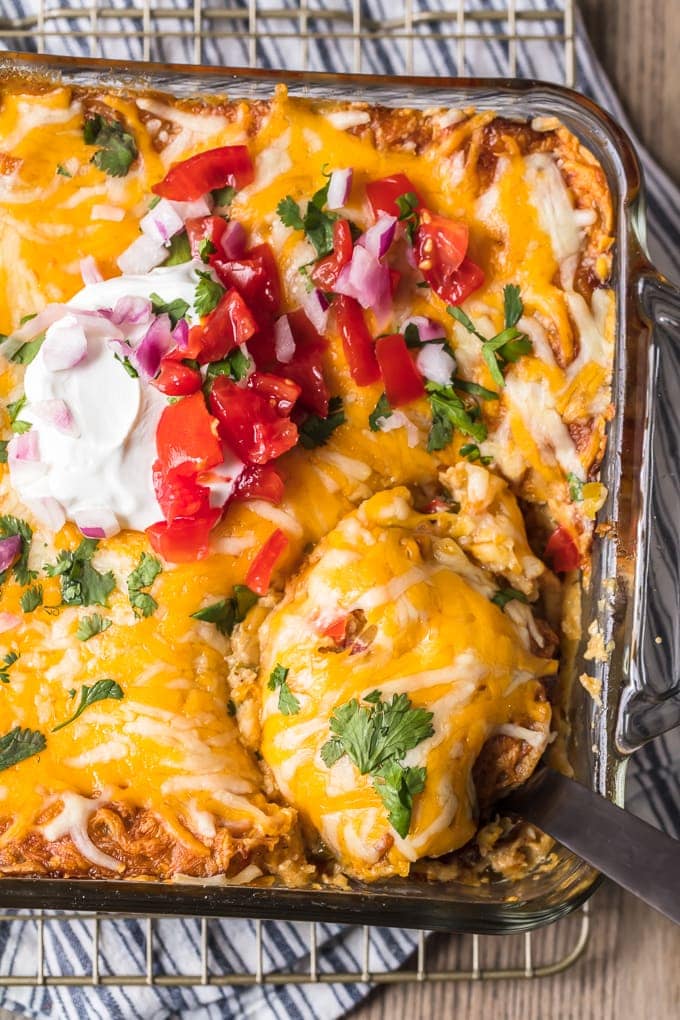 King Ranch Casserole
King Ranch Casserole is one of those classic, cheese-filled recipes I can't get enough of! I've made a few King Ranch Chicken recipes (King Ranch Mac and Cheese, King Ranch Chicken Dip) in the past, but I had to bring it back to the classic casserole dish.
This King Ranch Chicken Casserole is filled with allll the best ingredients, like chicken, cheese, sour cream, green chiles and tomatoes, peppers, onions, and more. And I skipped the Cream of Mushroom soup and Velveeta that you'll usually find in King Ranch Casserole recipes. I could never get tired of how delicious this recipe is, and it's pretty nostalgic too, so it's the definition of comfort food.
This casserole is a great thing to make for family dinners, and it's easy to make ahead of time and freeze. I just love casseroles because they are a whole meal all in one dish, with all of the flavors melting together. You guys know I love chicken recipes and this is a favorite! So good!
This is the best King Ranch Casserole recipe. Lots of cheese and amazing ingredients, with no canned soup or Velveeta in sight!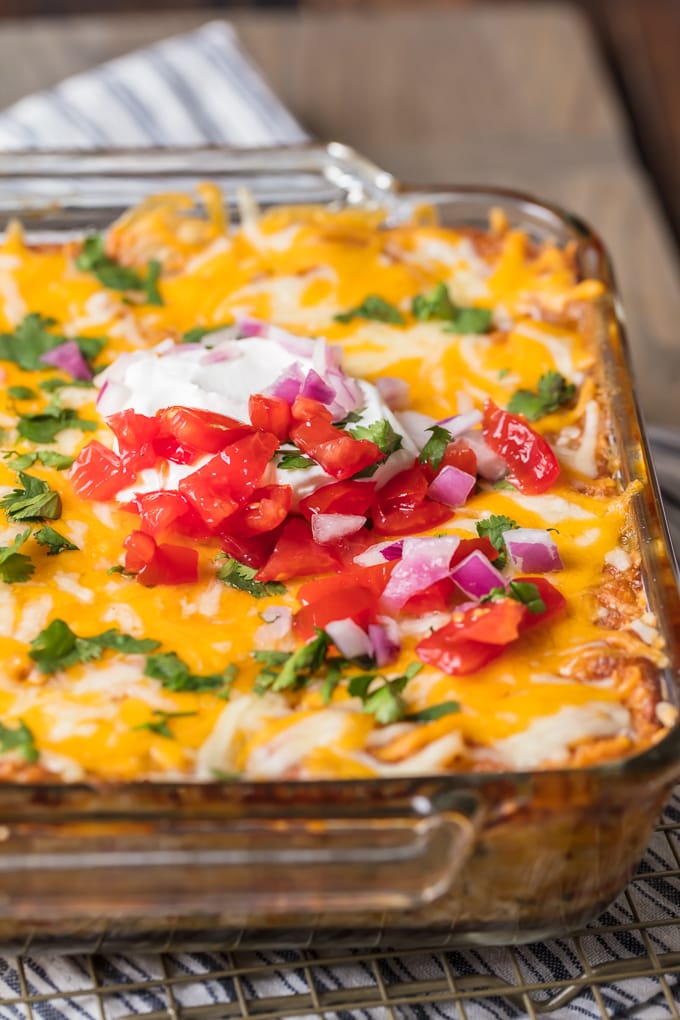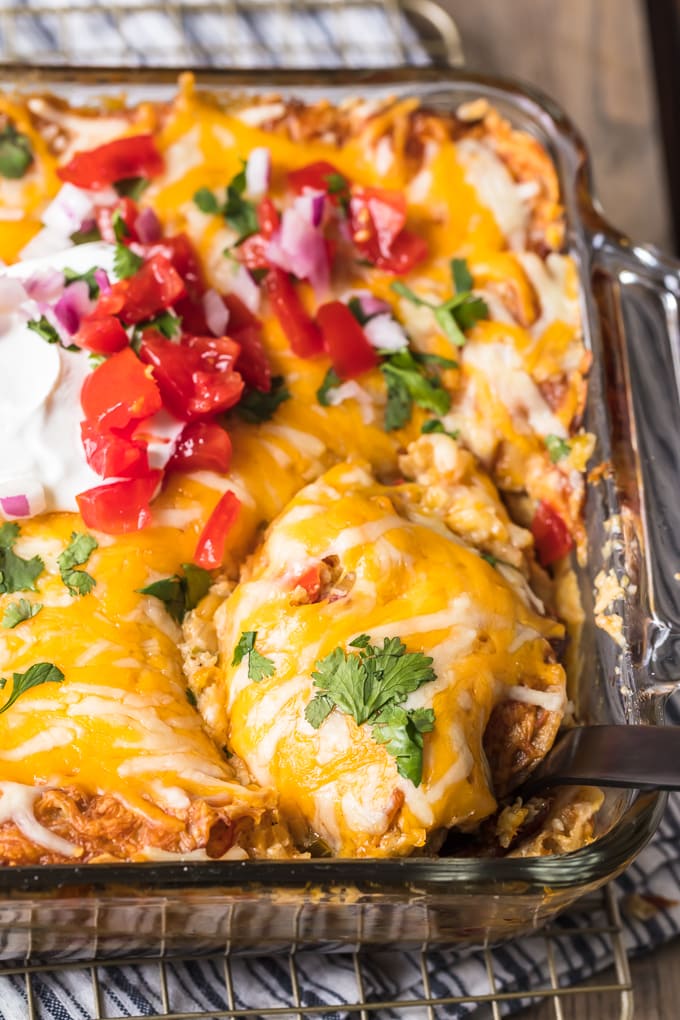 What is King Ranch Chicken?
King Ranch Chicken is basically the best thing in the world. It a creamy, cheesy chicken dish with all of the best ingredients. It's a wonderful Tex-Mex style dish, so it's like eating Mexican food in casserole form!
King Ranch Casserole Ingredients:
Diced Tomatoes
Green Chiles
Onions
Shredded Chicken
Jalapeno
Bell Pepper
Sour Cream
Tortilla Chips
LOTS. OF. CHEESE.
Those are the classic king ranch casserole ingredients we love, but there's also lots of spices, seasonings, and a few other ingredients in there as well.
Click here to check out our full Baked Chicken Guide for more EASY baked chicken recipes!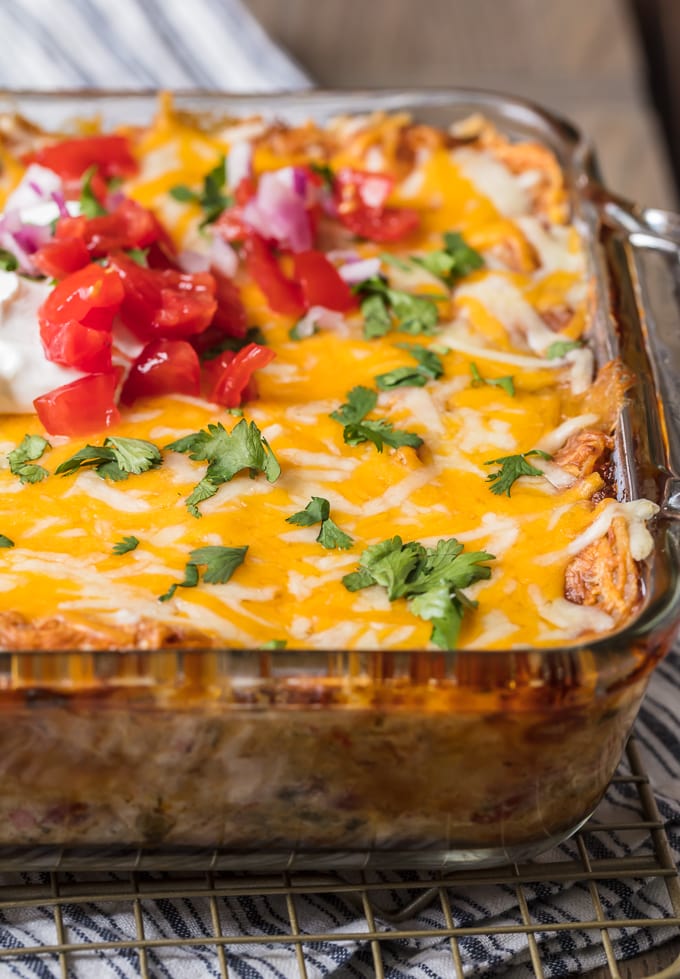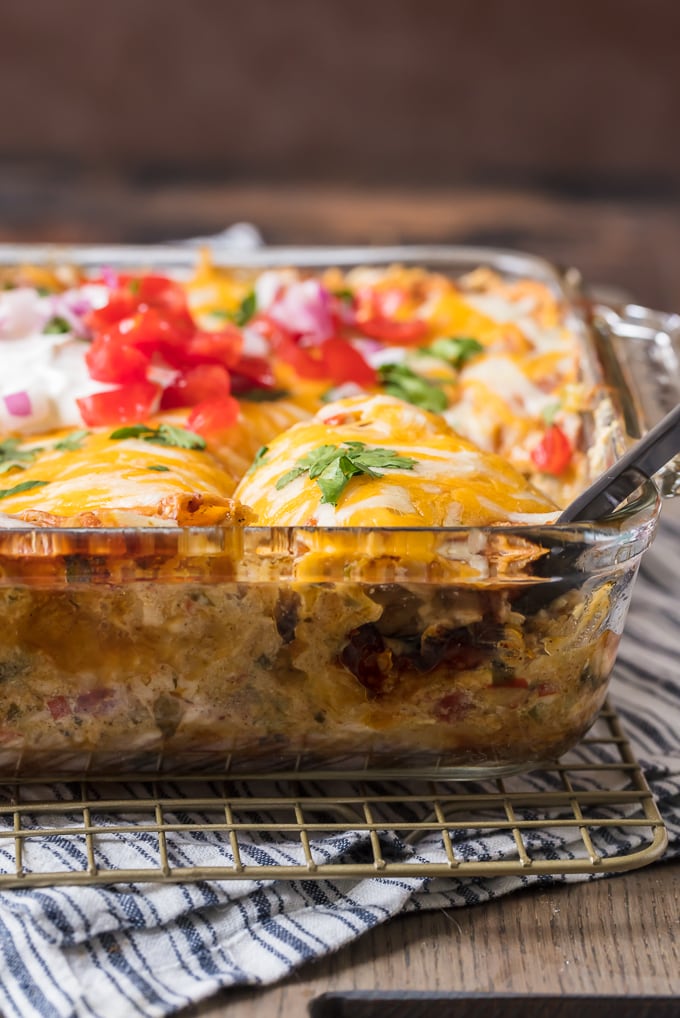 King Ranch Chicken Casserole (without Canned Soup or Velveeta)
The classic King Ranch Casserole recipe has two ingredients in it that some people seem to have an issue with: Velveeta and canned Cream of Mushroom soup. I've got no issues with them; they make life easy and delicious if I'm being honest. But I made this king ranch chicken casserole recipe without canned soup or Velveeta anyways.
I used lots of Monterey Jack and Sharp Cheddar cheese instead, and the casserole is plenty creamy without the cream of mushroom. So if you don't like those 2 ingredients, then this recipe is perfect for you!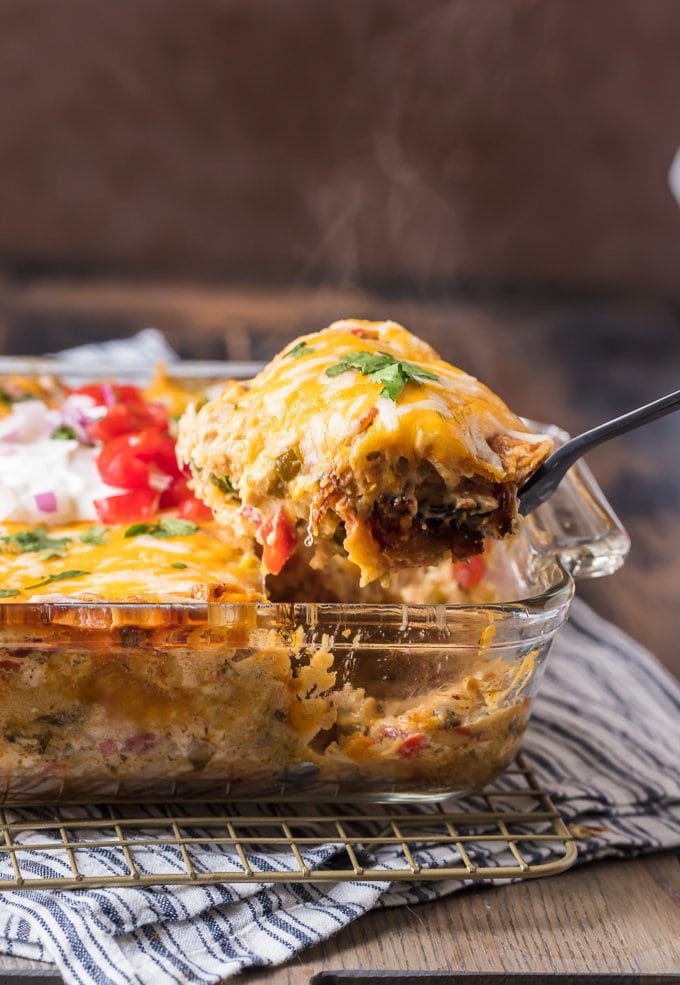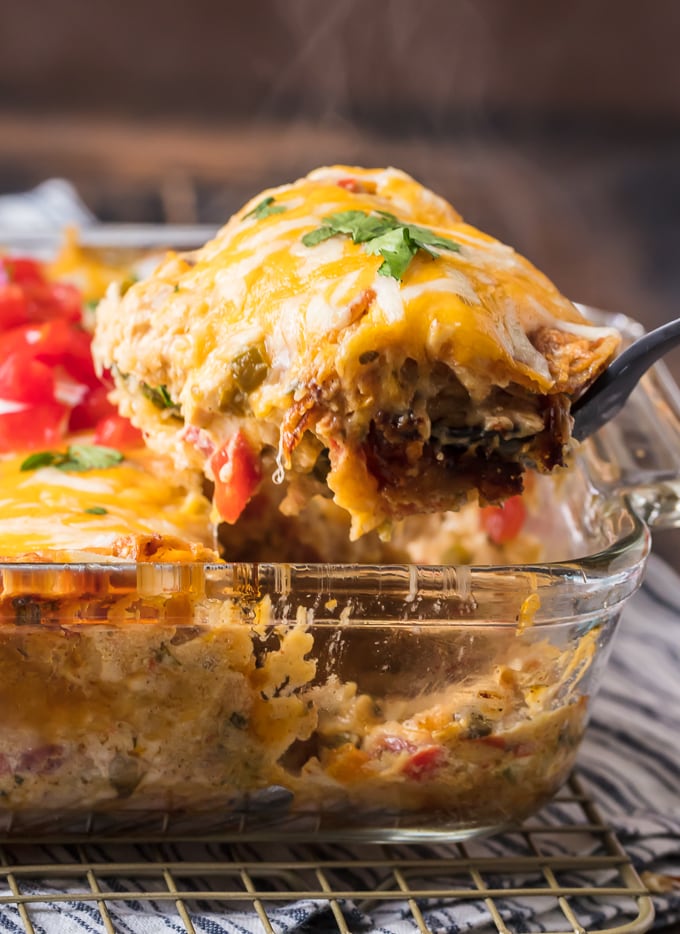 How to Make King Ranch Casserole
King Ranch Casserole is the perfect weeknight dinner or potluck dish. It has a lot of ingredients, but overall it's pretty simple to make.
Start by making a vegetable mixture (peppers, garlic, chicken broth, onion) in a skillet, and prepare the chicken.
Then layer the ingredients into the casserole dish & cover with aluminum foil.
Bake king ranch casserole at 375° for 30 minutes.
Uncover the dish and bake another 10-15 minutes.
See the recipe card at the bottom of this post for full instructions and details!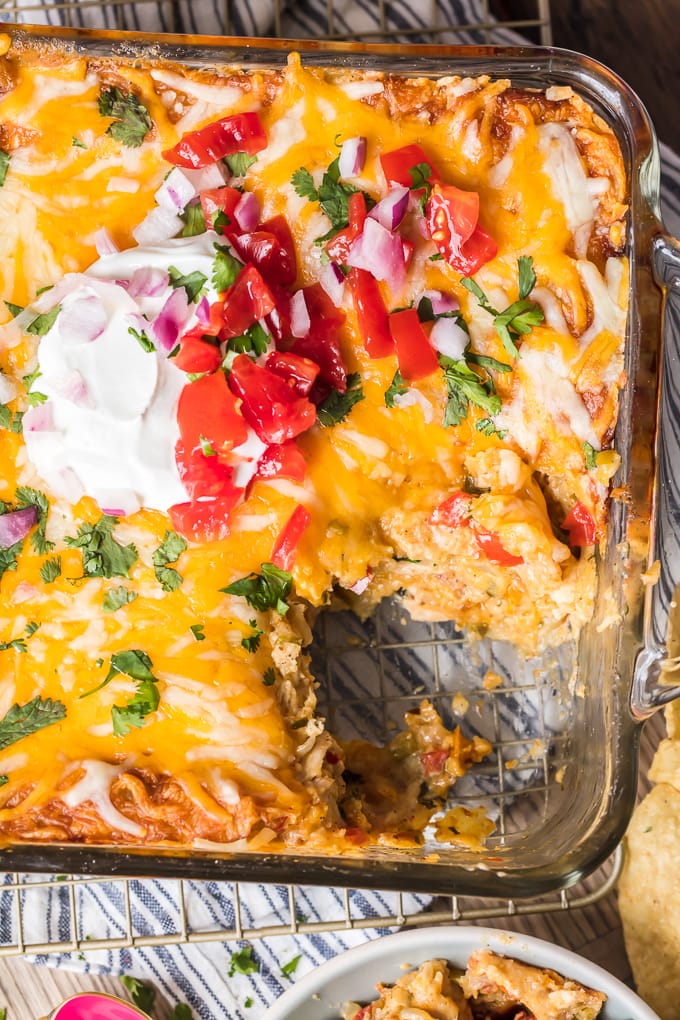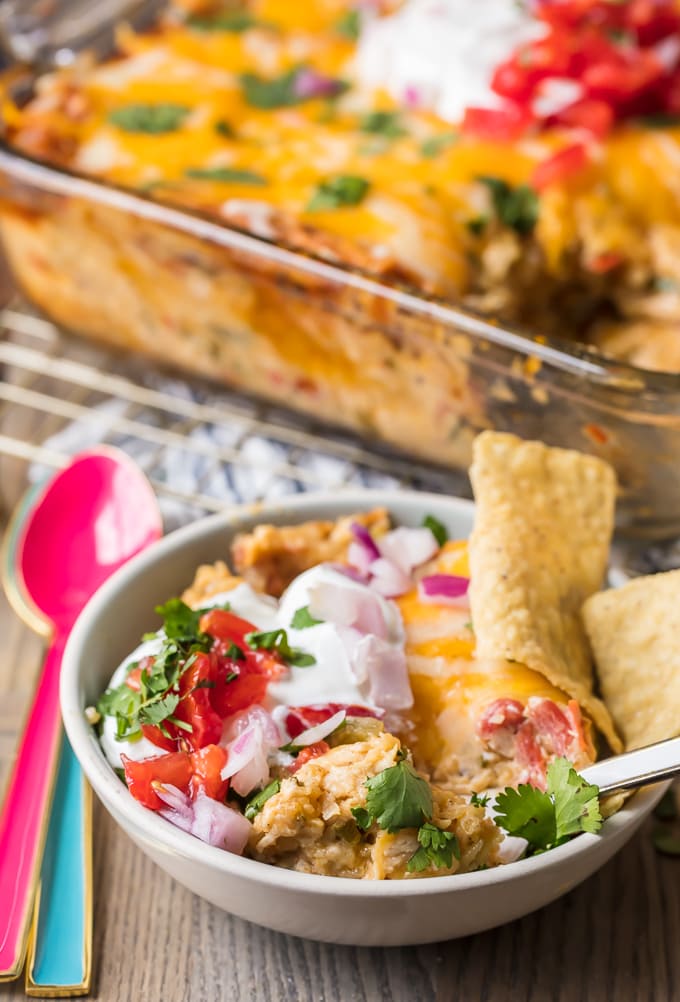 Can King Ranch Casserole be made ahead?
You can easily make King Ranch Chicken Casserole ahead of time if you want to prepare it for a party, or even just prepare some meals for your family. Follow the recipe without baking it, and then freeze it until you're ready to reheat and eat. You could also store it in the refrigerator for a couple of days, then grab it and bake it when it's time for dinner.
If you just want to prep ahead of time to make meal time easier, here's what you can do:
Cook and shred the chicken
Make the vegetable mixture in a skillet
Store both in the refrigerator
Then just layer everything together in a casserole dish when it's time to cook
Can King Ranch Casserole be frozen?
Yes, you can freeze a whole casserole or any leftovers you have for up to 1 month. Just be sure it's in a freezer-safe container. When you're ready to reheat it, you can either let it thaw overnight in the refrigerator and cook according to the instructions. If you don't have time to let it thaw, bake it for 45 minutes to 1 hour.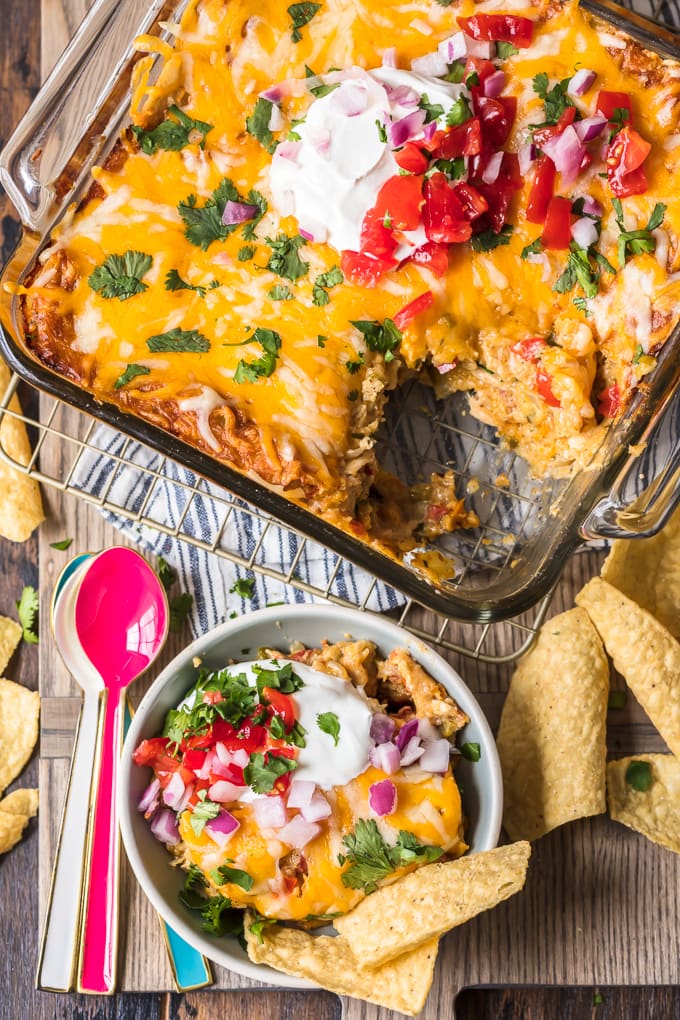 You are going to love this creamy, cheesy King Ranch Chicken Casserole! Make it for dinner any night of the week, and your family will devour it.
Watch the video or see the recipe card for details on how to make King Ranch Casserole. Enjoy!
If you like this king ranch casserole recipe, try these other casseroles too: