This Christmas Sangria recipe is just perfect for the holiday season! It combines a simple syrup with red wine, juices, fruits, and more. Orange Cranberry Sangria is fresh, fun, and festive, great for parties.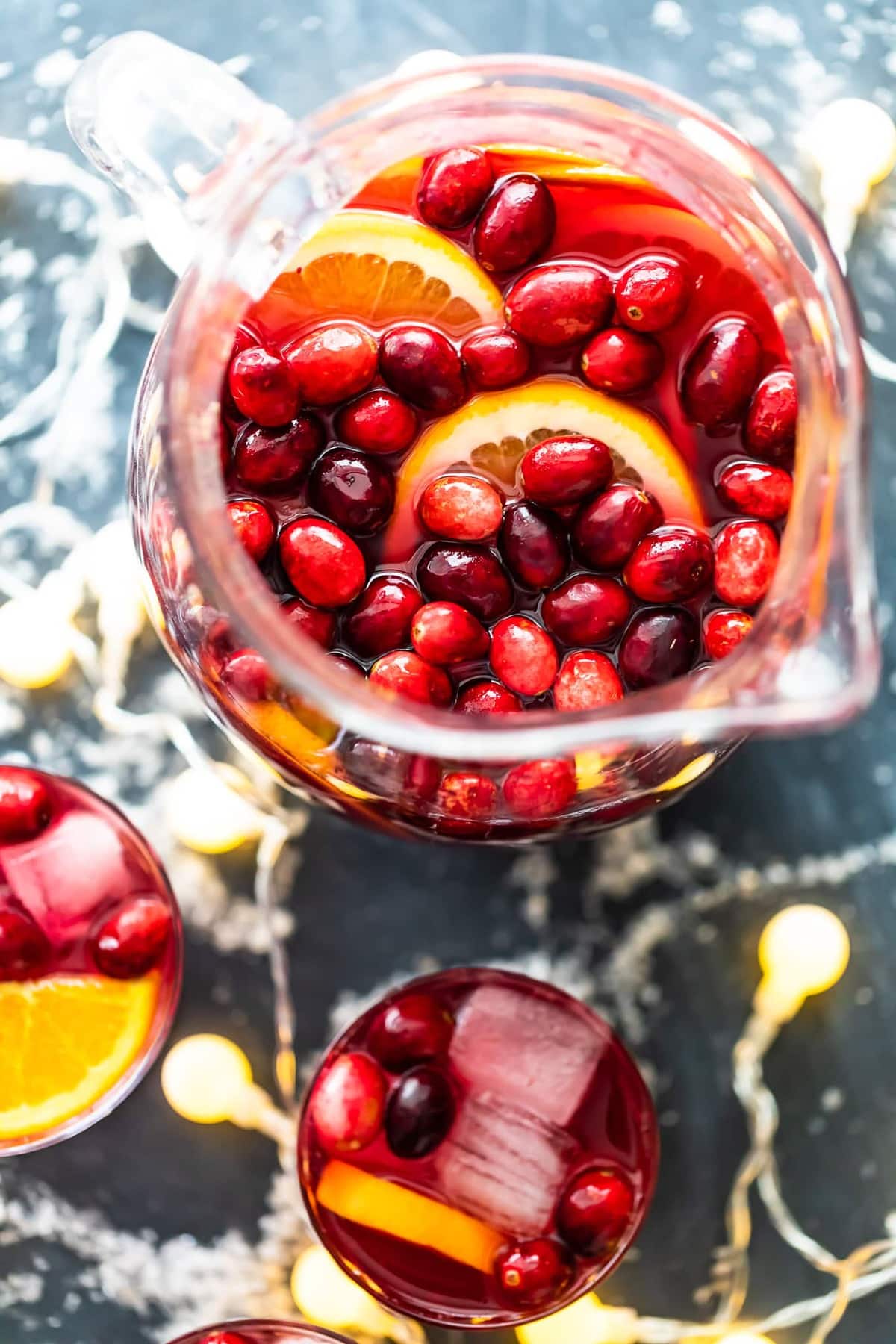 Orange Cranberry Sangria
You all know how much I love sangria. Any flavor, served warm or chilled, it doesn't matter, I'm always happy with a nice glass of sangria. It's the perfect cocktail for all occasions, including Christmas!
I've made a Holiday Sangria recipe before, but one just isn't enough. And after making an Orange Cranberry Pork Loin just before Thanksgiving, I realized it was such a festive flavor combination! So mix all those ideas together and I came up with this beautiful Orange Cranberry Sangria for the holiday season.
This is the best Christmas Sangria recipe and it tastes absolutely delicious. It's a chilled sangria which makes it extra refreshing and perfect for parties. Serve it at your holiday parties, on Christmas Eve, or on Christmas Day.
Why You'll Love this Christmas Sangria Recipe:
Easy: Sangria is such an easy drink to make. Whip up a quick simple syrup, then mix everything together and serve.
Festive: Cranberries are the perfect fruit to celebrate the holiday season, and they're featured heavily in the flavor of this cocktail.
Party Drink: A pitcher of this sangria serves 8, and you can easily make more for larger gatherings.
Orange Cranberry Sangria is a tasty cocktail that's perfect for the holidays. Make this your go-to Christmas sangria recipe and enjoy!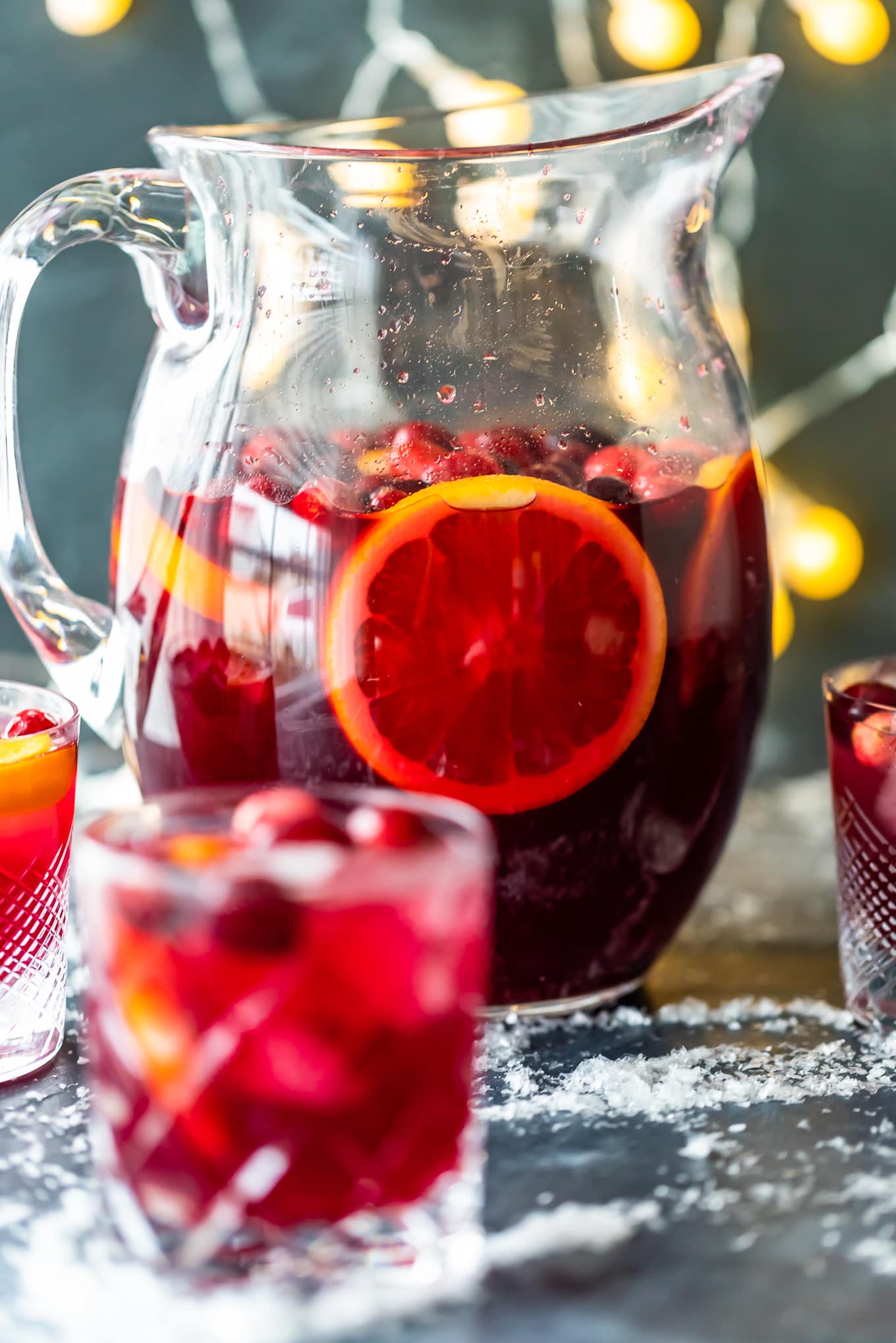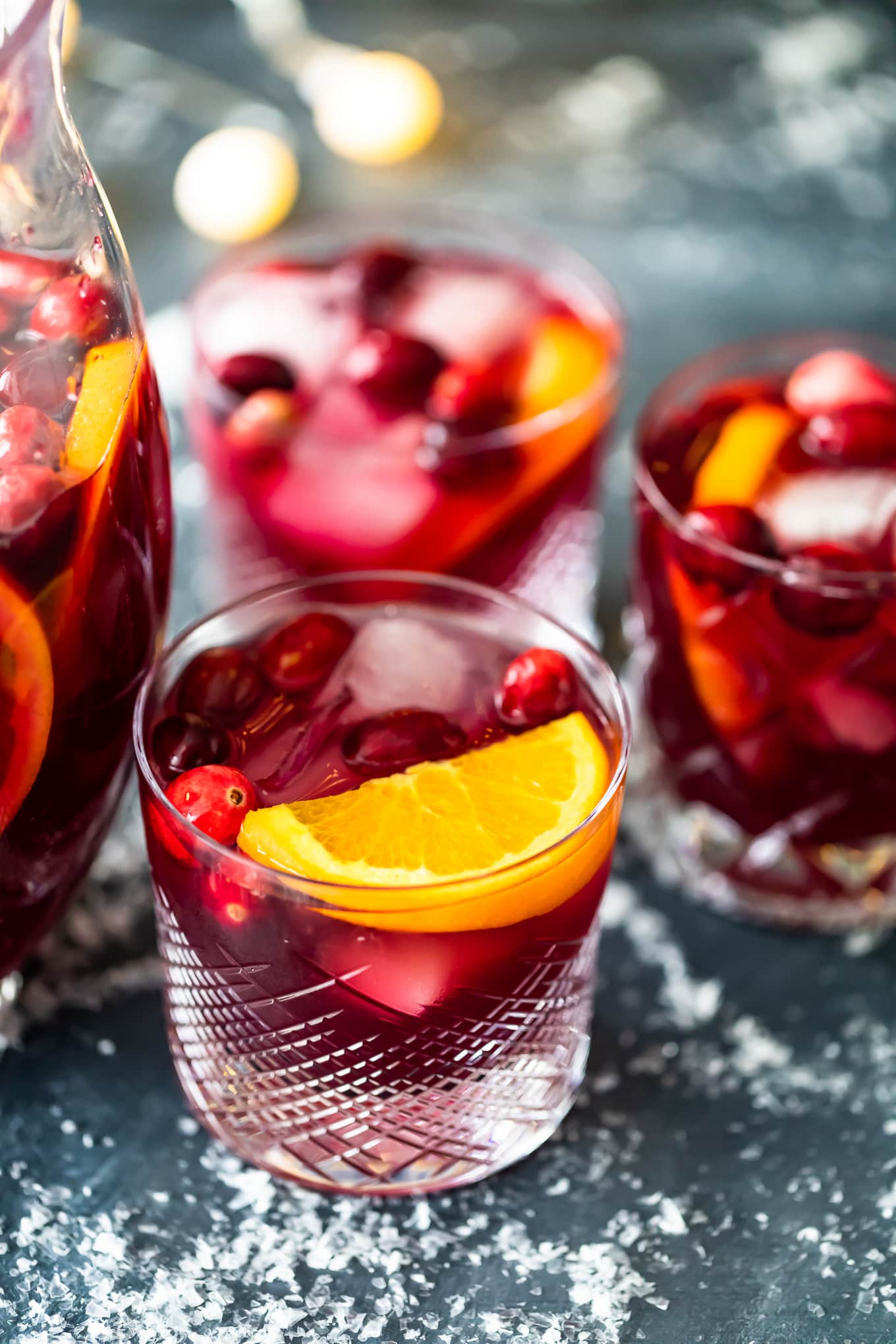 Festive Christmas Sangria Recipe
With Christmas just around the corner, I knew it was time for another holiday cocktail! My favorite holiday punch is a mix of cranberry and orange juice, and that combination translates perfectly to this Christmas sangria recipe. It's flavorful, it's festive, and it's so much fun!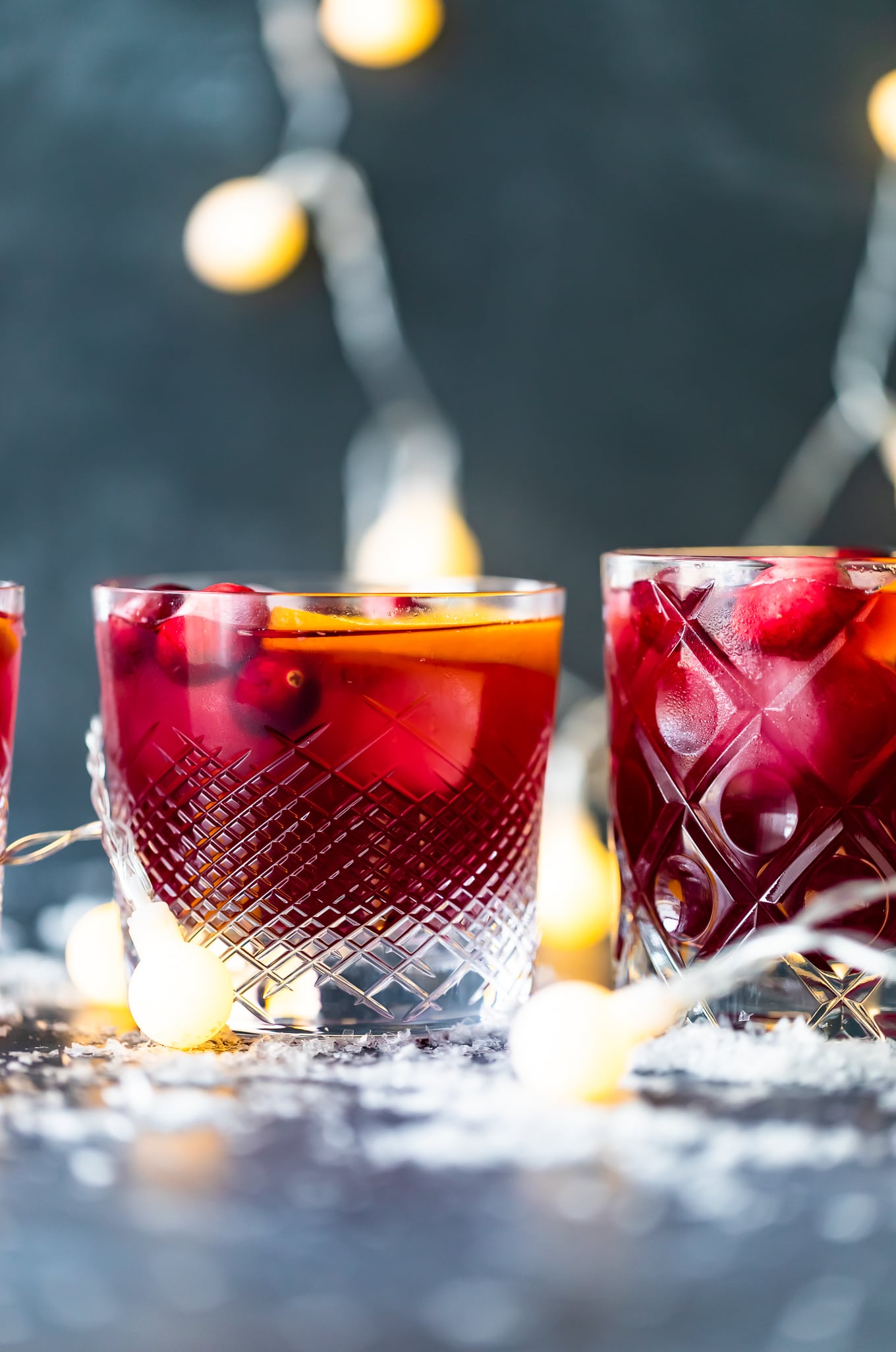 Cranberry Sangria Ingredients
Red Wine: Use Merlot, Cabernet Sauvignon, or your favorite dry red.
Cointreau
Cranberry Juice
Orange Cranberry Simple Syrup: I'll show you how to make this in the recipe card, and you can save extra for other drinks and cocktails.
Lemon Juice
Cinnamon Sticks
Orange Slices
Cranberries: Fresh or frozen cranberries both work.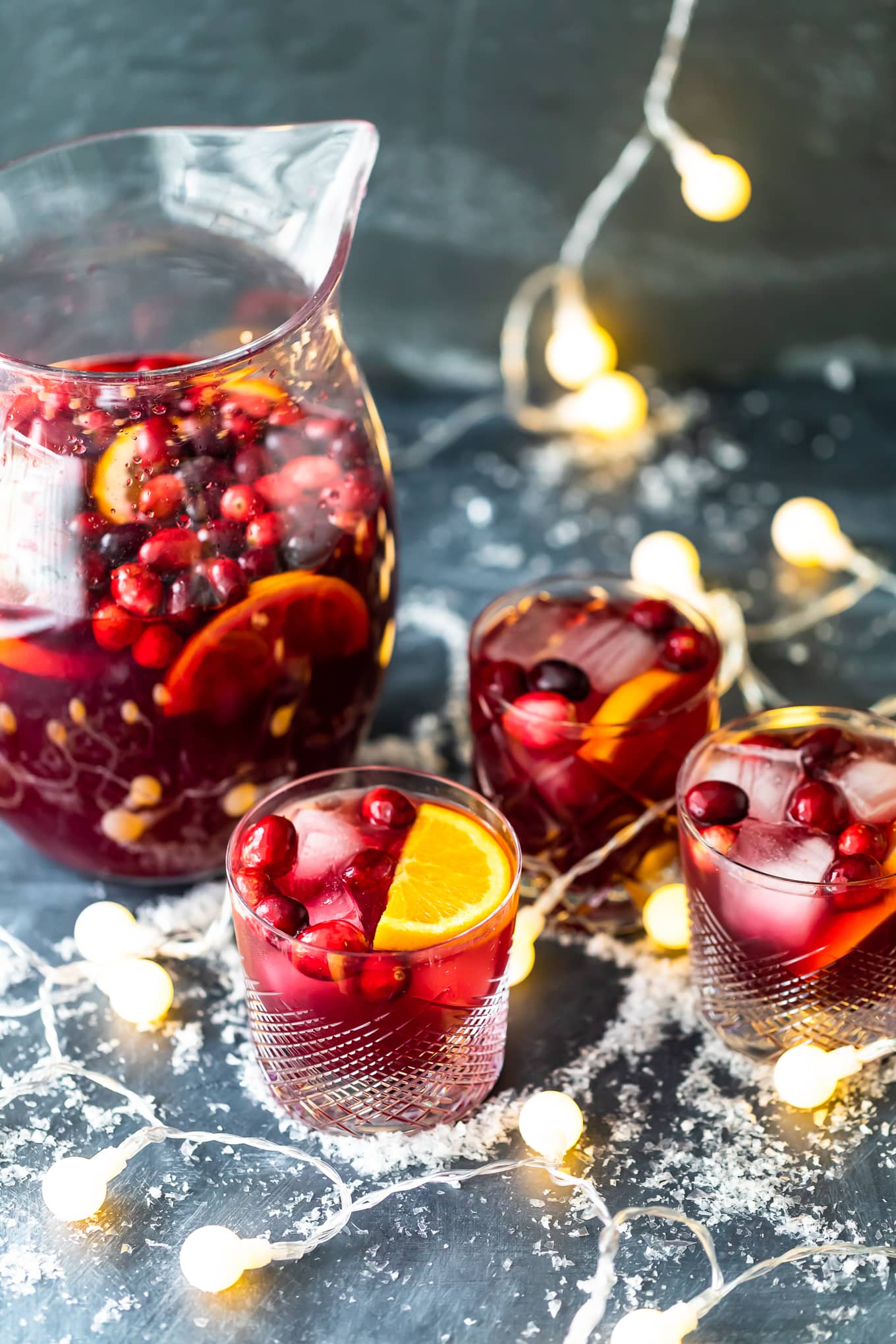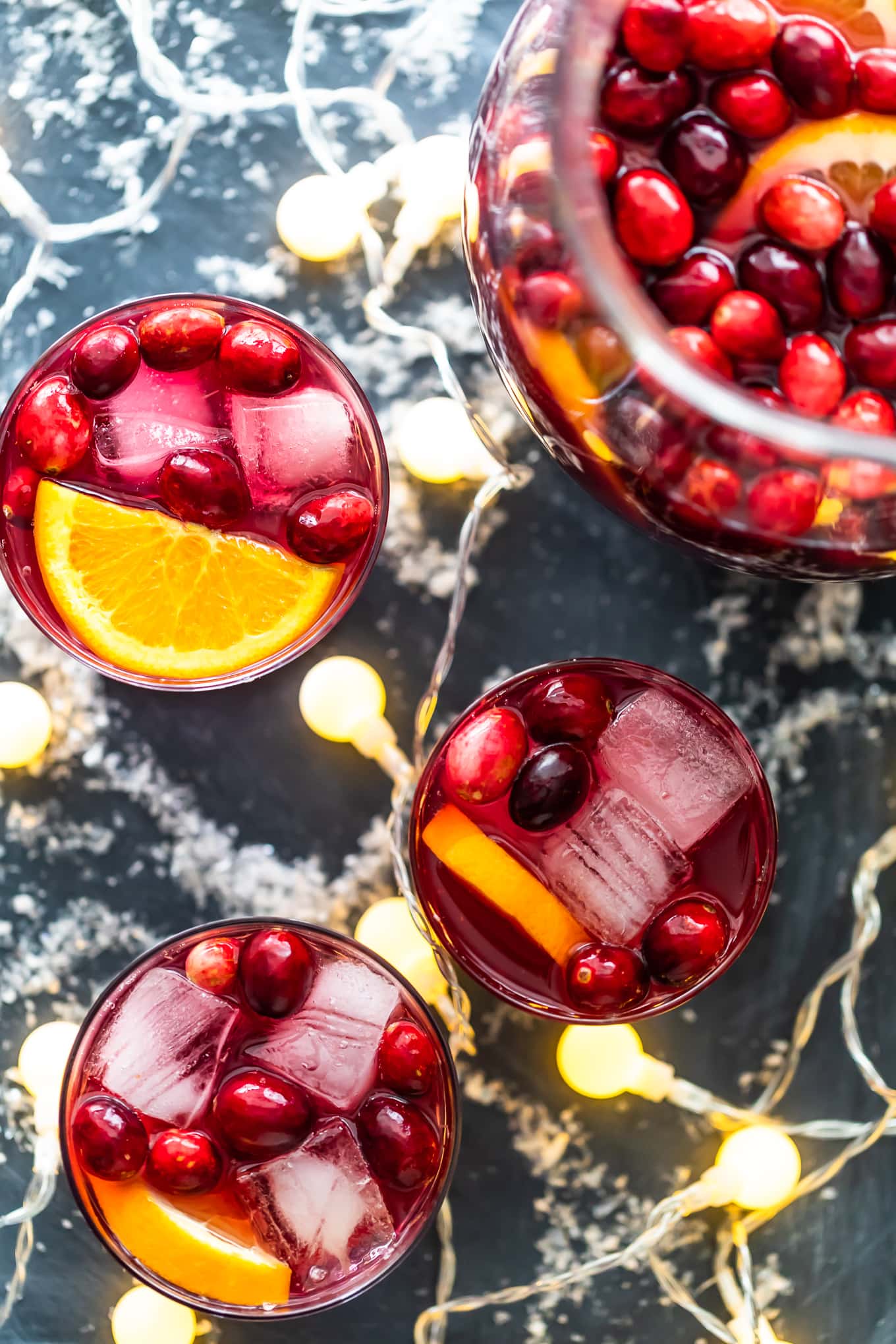 This cranberry sangria is so simple to make. We start by making an orange cranberry simple syrup, then just mix that in with the other ingredients and let the sangria chill. Pour it over ice and it's ready to serve!
How to Make Christmas Sangria
You can jump to the recipe card for full ingredients & instructions!
To make the simple syrup:
Combine water, sugar, cranberries, orange zest, and cinnamon sticks in a saucepan.
Bring the mixture to a boil, then reduce heat and let it simmer until the cranberries soften (about 5-7 minutes).
Pour the syrup mixture through a fine mesh strainer to separate the liquid from the solid ingredients.
Set the syrup aside to cool.
To make the sangria:
Mix the simple syrup, red wine, cranberry juice, Cointreau, lemon juice, cinnamon sticks, orange slices, and cranberries in a pitcher. Stir well.
Refrigerate the Christmas sangria until ready to serve.
Super easy to make and so delicious! This sangria will keep in the refrigerator up to 3 days, so you can easily store your leftovers or make it a bit ahead of time.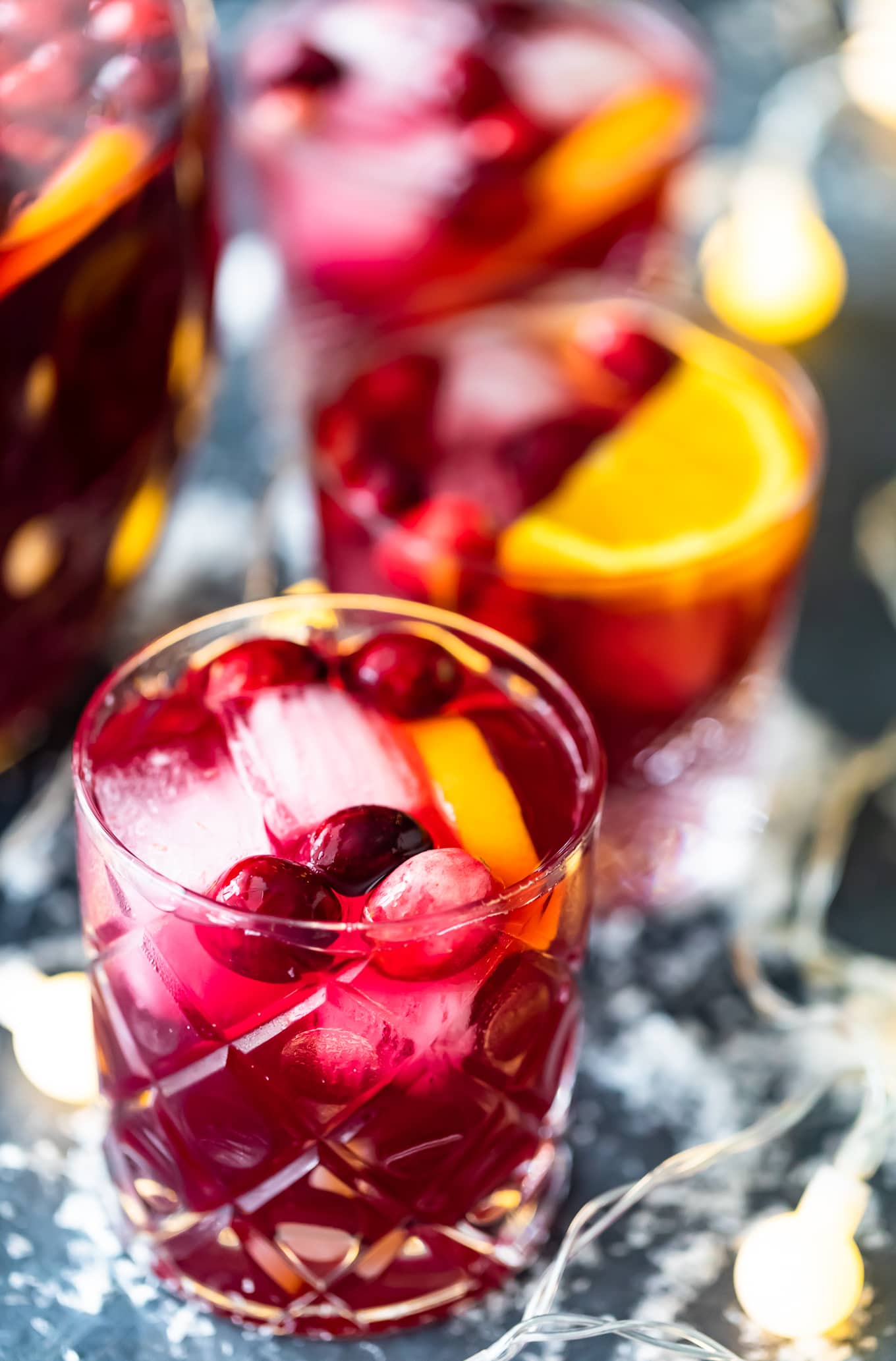 What is sangria?
At its most basic, sangria is red wine mixed with chopped (often spiced) fruits. But recipes will typically contain other liquors and sprits as well, in addition to spices, fruits, or juices.
What kind of wine is best for sangria?
I recommend using a dry red wine since the other ingredients will really sweeten things up. Cabernet, Pinot noir, or Merlot would all work fine.
Can I make Christmas sangria ahead of time?
Yes! Mix and refrigerate all ingredients, and it will keep in the fridge up to 3 days.
Can I use frozen cranberries?
Yes, you can use fresh or frozen cranberries to make this recipe.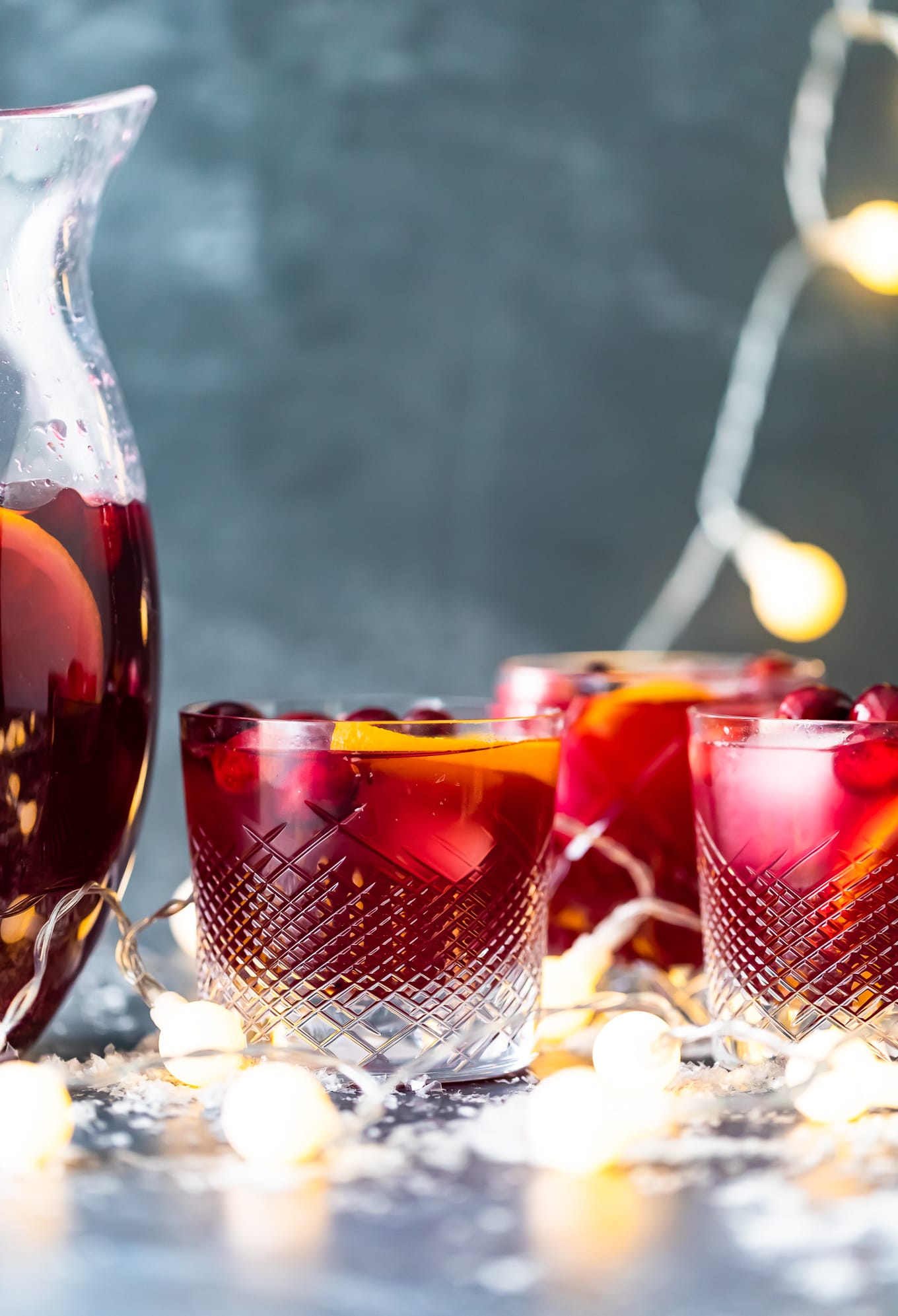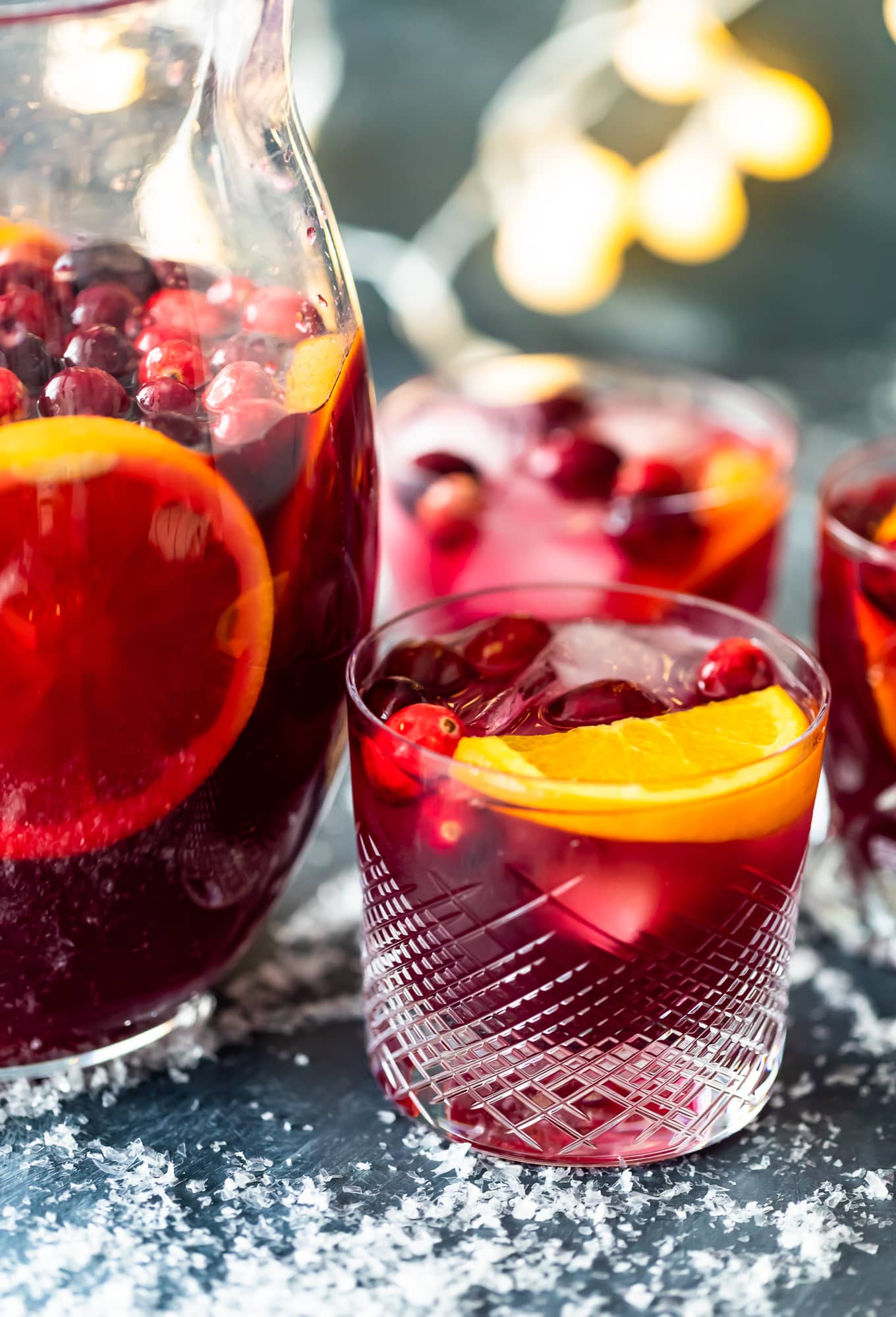 There is never a bad time for this fruity cocktail, so of course I have a sangria recipe for every season. Any holiday, any party, any season, any reason, I've got the perfect recipe for you. After you try out this Orange Cranberry Sangria, start testing out some of my other favorites!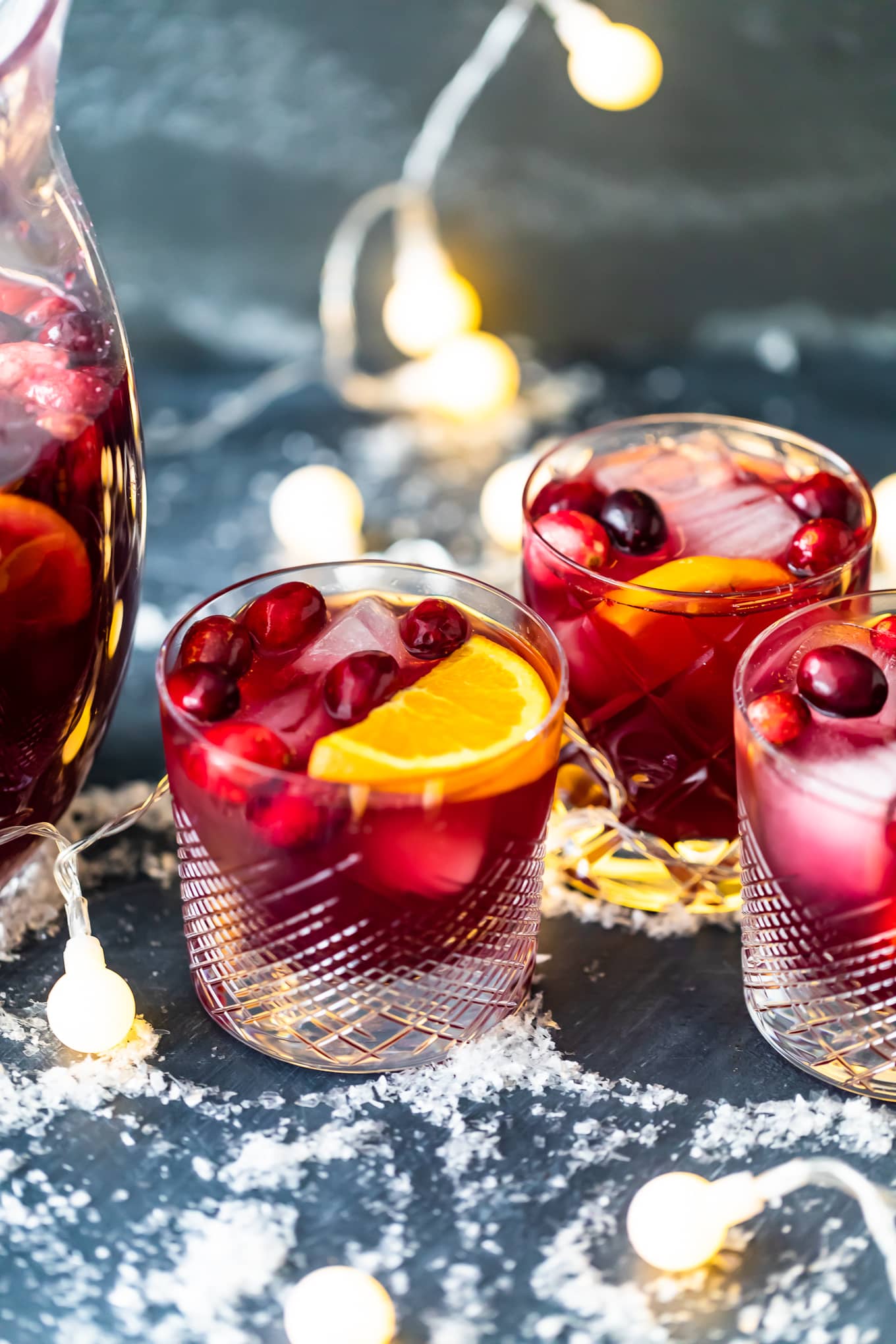 Try this delicious Christmas Sangria this holiday season and let me know what you think of it! I'm sure the orange cranberry flavor will impress anyone who tries it.
If you make this recipe be sure to upload a photo in the comment section below or leave a rating. Enjoy! You can also jump to recipe.