This easy to make Apple Pie Drink is sweet, spiced, and everything nice! It can be served chilled, hot, and with or without alcohol. This is the ultimate fall drink recipe that has all of your favorite apple pie flavors!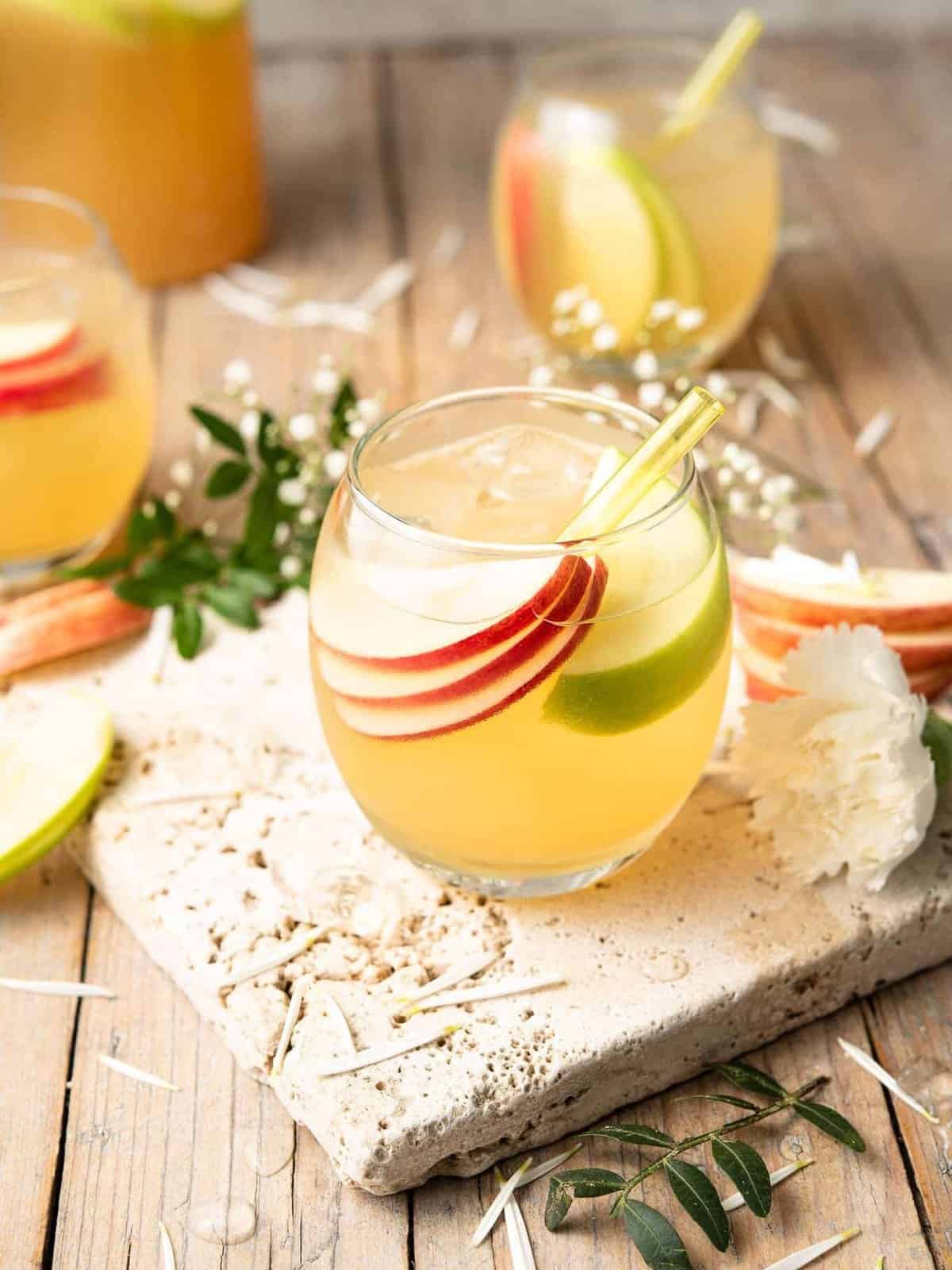 What's in Apple Cider Punch
This recipe tastes great with or without alcohol, so you can make it to fit the occasion. Talk about a crowd pleaser!
Apple: Use your favorite apple – just be sure to slice it.
Apple Cider: Buy it at the store or make your own! I have recipes for both Crockpot apple cider AND Instant Pot apple cider.
Pear Nectar: You should be able to find this in the juice aisle of your local grocery store. It adds the best fruity touch of sweetness!
Ginger Ale: This adds a delicious sparkling element.
Apple Pie Vodka: If you can't find this, no worries! Just swap it with caramel vodka.
PRO TIP: If you're looking to liven up your holiday this year, just splash a little Apple Pie Vodka in your glass. You guys…this vodka. I am NOT a shot girl, but that vodka is AMAZING.
What type of apple works best in this drink?
You can use pretty much any type of apple in this drink. Depending on your preferences, here are some ideas:
Tart: Granny Smith, Macintosh, Pink Lady apples
In-between: Gala, Jazz, Delicious
Sweet: Honeycrisp, Fuji, Envy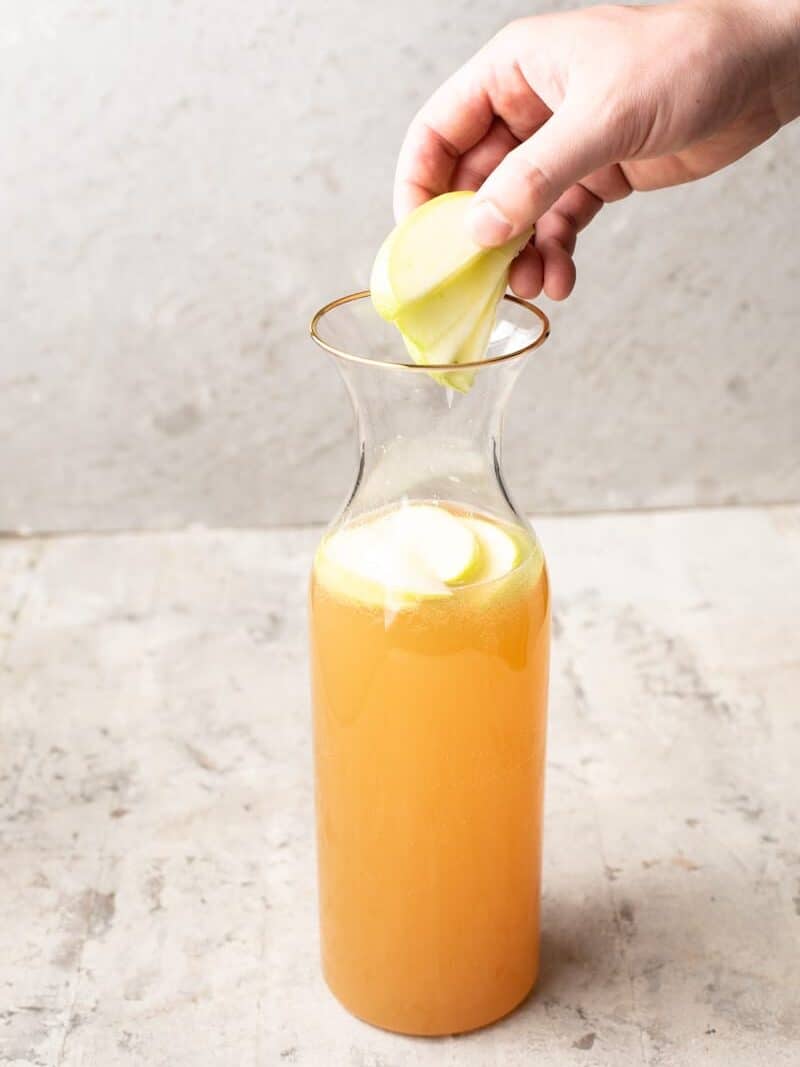 Can I make this drink in advance?
Sure thing! Mix most of the ingredients and refrigerate until you're ready to serve. Just save the ice and ginger ale for serving time. The ice will melt and water down the drink, and the ginger ale could lose its fizz.
Do I need to cook the apples?
Nope! Although it's an apple pie inspired drink, this recipe calls for fresh apples only.
Where can I buy apple pie vodka?
Check your local liquor store! If you're struggling to find some, consider making my favorite apple pie vodka recipe (it's super quick and easy). You can always replace it with caramel vodka if needed.
Serving Suggestions
If you're serving this apple pie drink at parties or when you have a few friends around, then you'll need some nibbles to serve it with.
Here are some recipes that would go perfectly: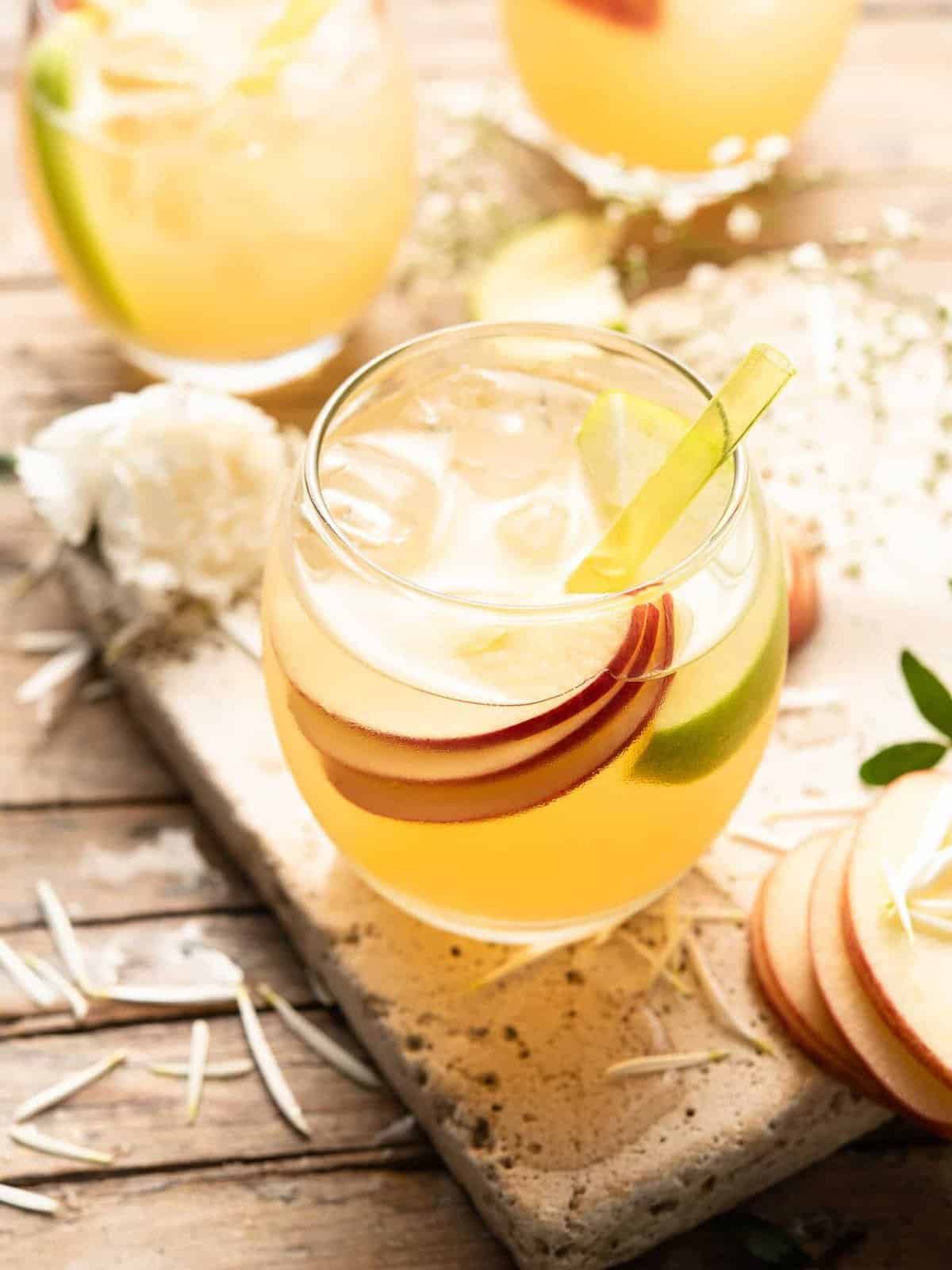 5-Star Review
"I just tested this (non-alcoholic version) for a work event next week – it was delicious and easy to make! Thanks for the recipe!" – Julia R.
More Apple Drink Recipes We Love