Get all the flavors you love about apple pie in one delicious and easy drink! Serve this drink hot or cold, with or without alcohol. It's perfect for everyone!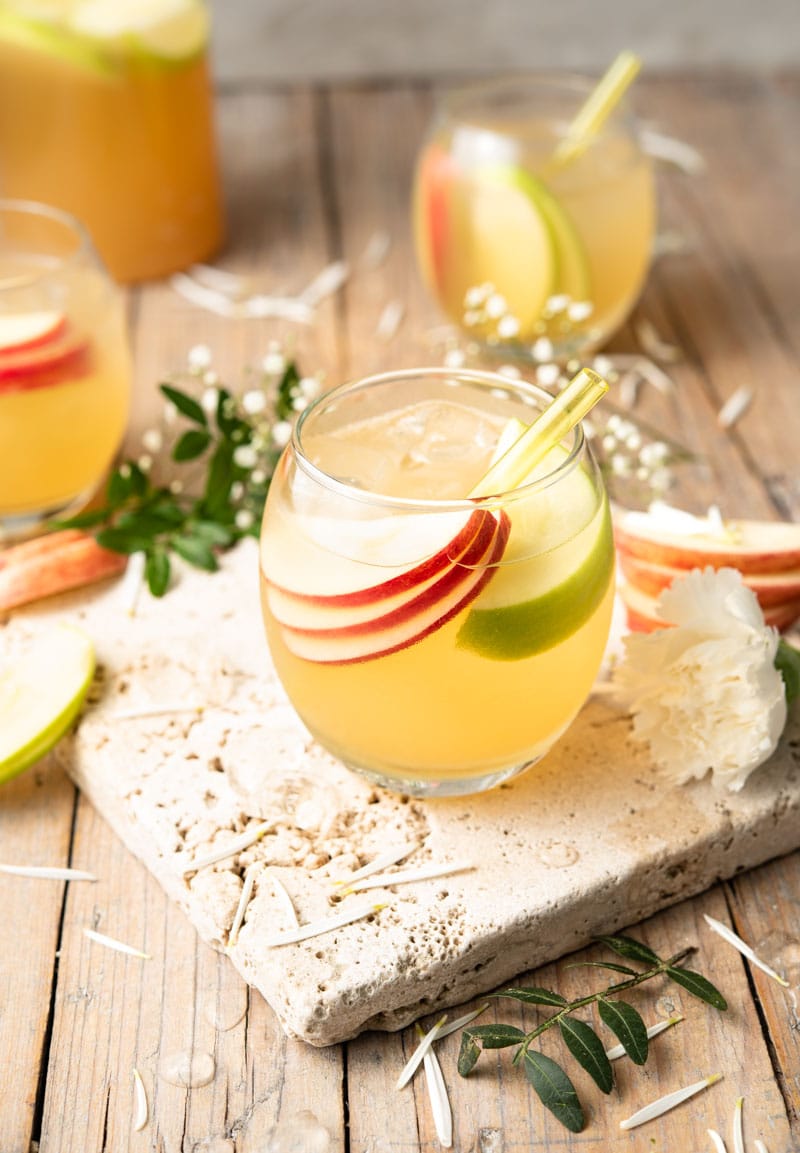 Apple Pie Punch Recipe
Apple Cider Punch has everything I love about fall. It's filled with warm spices and fruity flavors, plus it can be served chilled or warm. It means you can serve up a batch for parties or just heat up a mug for yourself and cozy up on the sofa.
With my Apple Pie Sangria being such a hit, I decided to create a new fall-inspired drink that was easier to make, and you can serve it up with or without alcohol.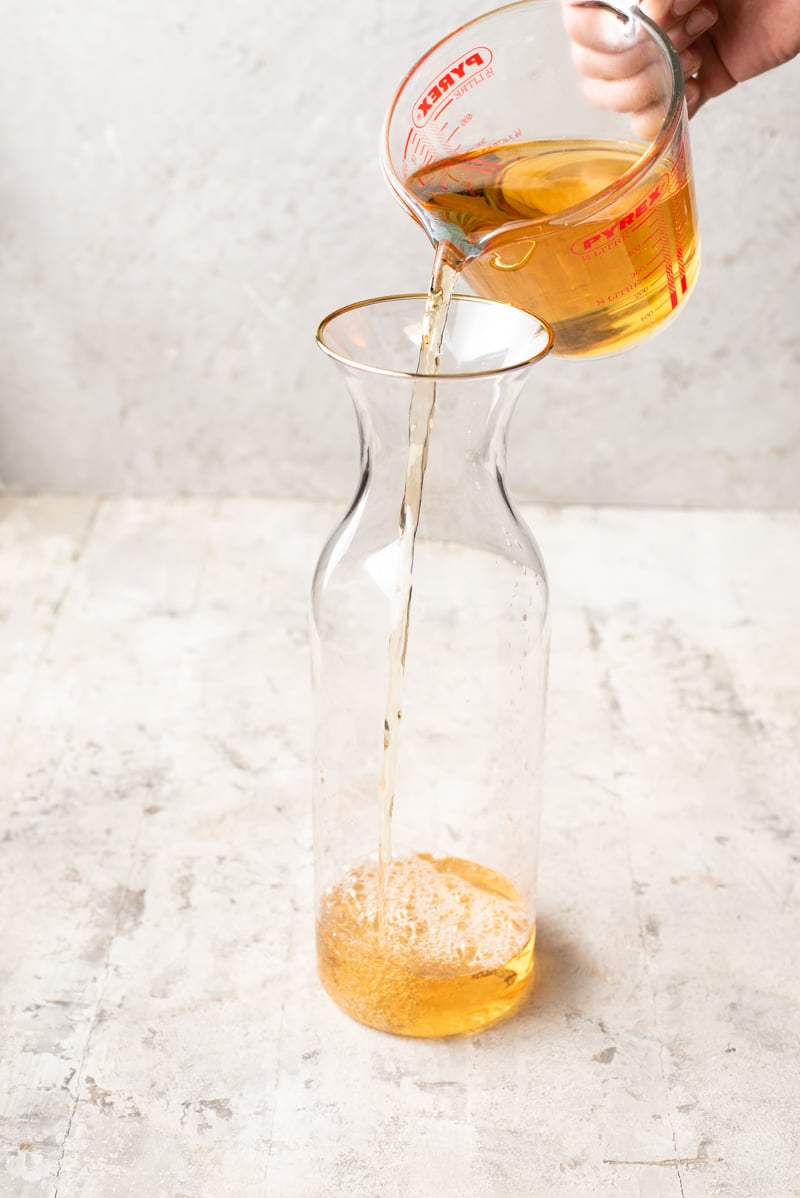 Why You'll Love Apple Pie Drink
Fall Flavors: Apples are the flavor of autumn, so what could be more festive than this?
Make it a Mocktail: This recipe tastes great with our without alcohol, so you can make it to fit the occasion. Talk about a crowd pleaser!
Hot or Cold: Serve it over ice or steaming hot in a mug.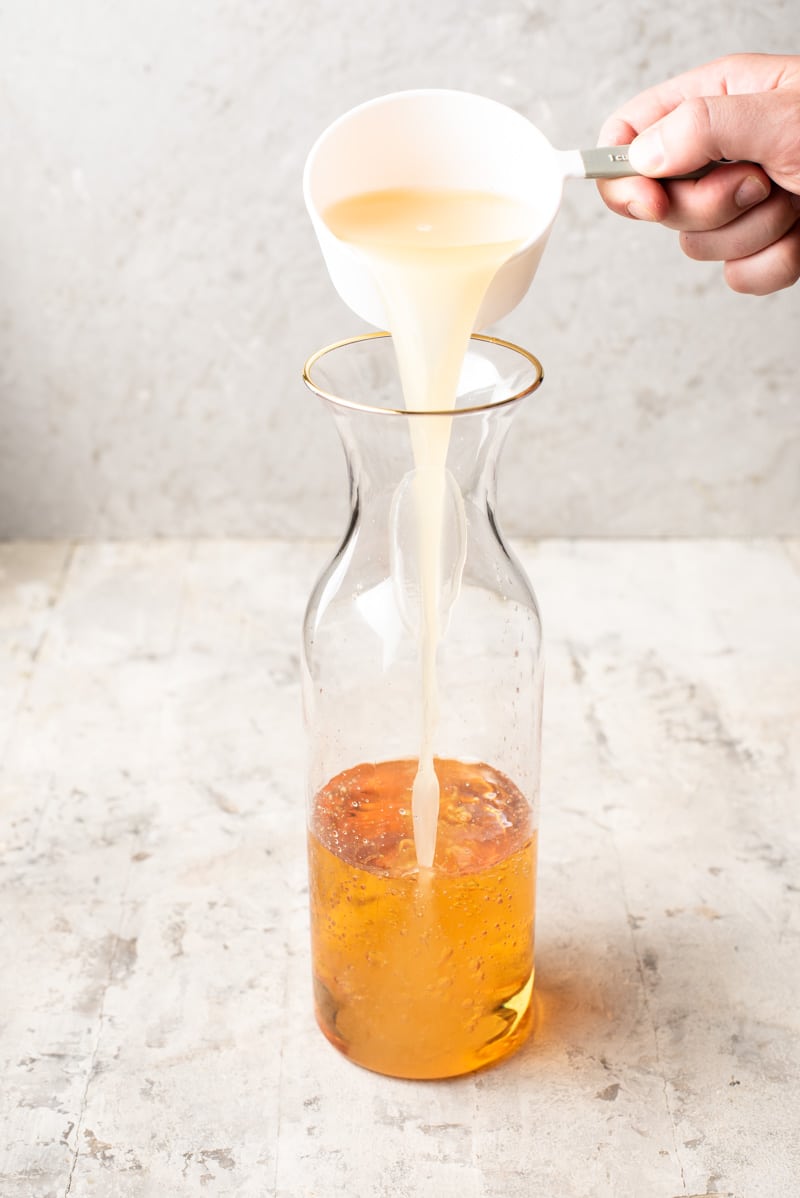 Ingredients
This drink is so easy to make. Here are the ingredients you need:
Fresh apple – cut into slices
Apple cider
Pear nectar–rounds out the flavors and adds a touch of sweetness
Apple pie vodka – if you can't find it, it's super easy to make your own (check out my recipe here)
Ginger ale–adds sparkling flavor
How to Make Apple Pie Punch
Chilled:
Combine cider, pear nectar, vodka, and ginger ale. Stir well.
Place apple slices in a pitcher.
Add the liquids and serve over ice.
Warm:
Heat the cider, pear nectar, vodka, and ginger ale over low heat.
Simmer a few minutes; add in apple slices.
Serve in mugs.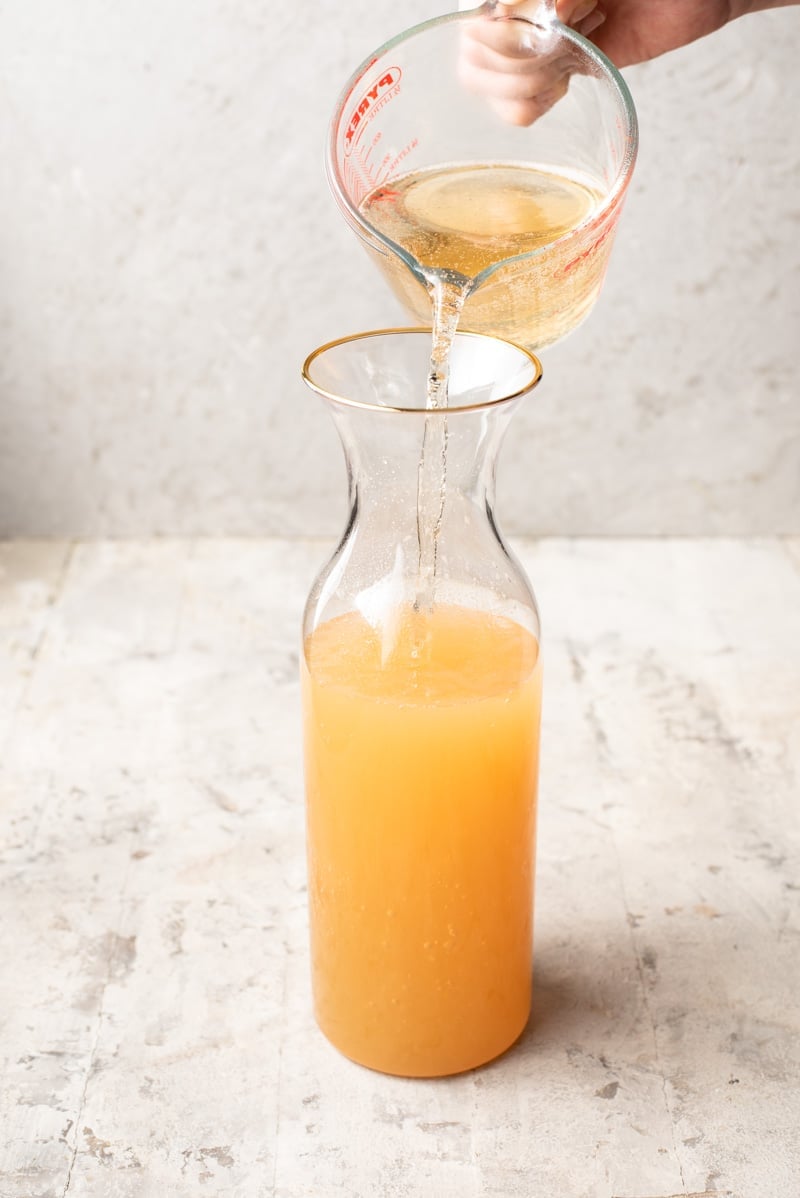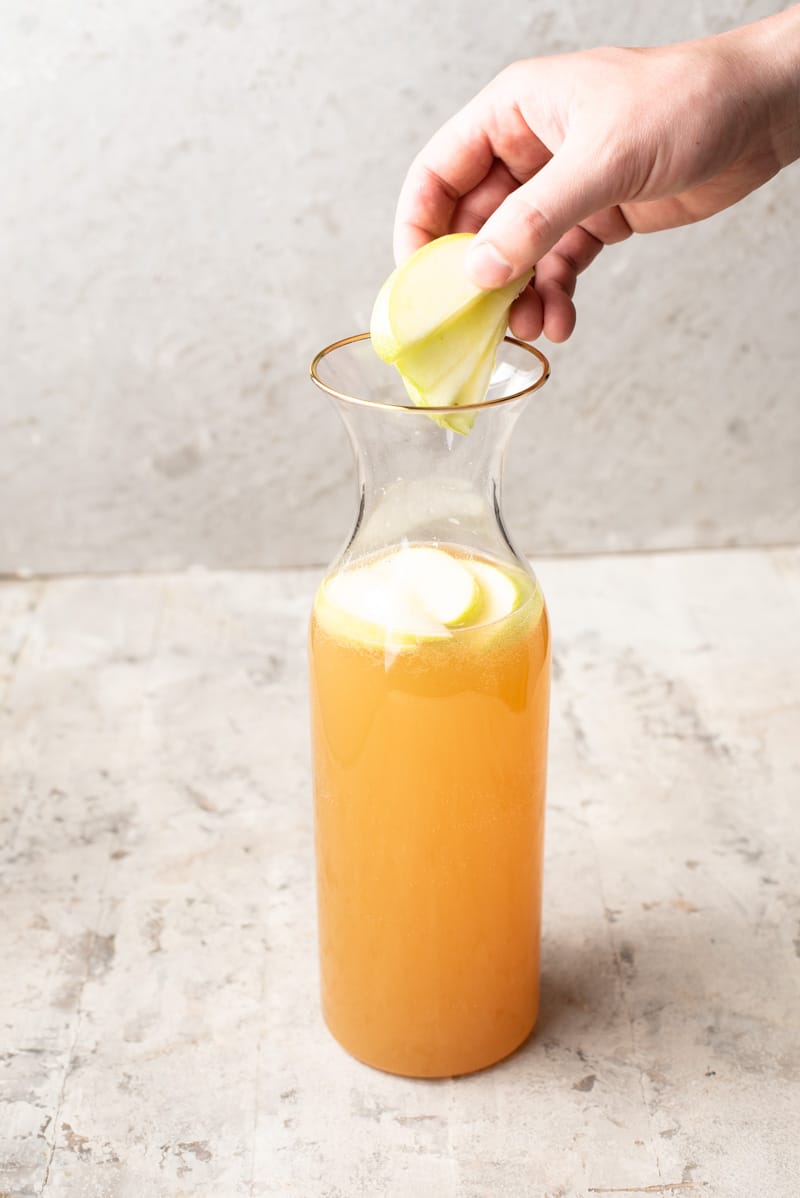 Alcoholic or Non-Alcohol Apple Punch
This is the perfect drink for Thanksgiving! Make two pitchers–one for the kids and teetotalers, and one for the imbibers (clearly marked of course).
It's easy, refreshing, and delicious and everyone loves it. This tastes just like one of my favorite desserts, Apple Pie Cupcakes, but in cocktail form. It doesn't get better than that!
If you're looking to liven up your holiday this year, just splash a little Apple Pie Vodka in your glass. You guys…this vodka. I am NOT a shot girl, but that vodka is AMAZING.
It's the perfect complement to the juices in the drink, and you'll feel like you're sipping a dessert for sure.
What Type of Apple Works Best in This Drink?
You can use pretty much any type of apple in this drink. Depending on your preferences, here are some ideas:
Tart: Granny Smith, Macintosh, Pink Lady apples
In-between: Gala, Jazz, Delicious
Sweet: Honeycrisp, Fuji, Envy
Can I Make This Drink in Advance?
Sure thing! Mix most of the ingredients and refrigerate until you're ready to serve. Just save the ice and ginger ale for serving time. The ice will melt and water down the drink, and the ginger ale could lose its fizz.
What Can I Serve With Apple Cider Punch?
If you're serving Apple Pie Drink at parties or when you have a few friends around, then you'll need some nibbles to serve it with.
Here are some recipes that would go perfectly: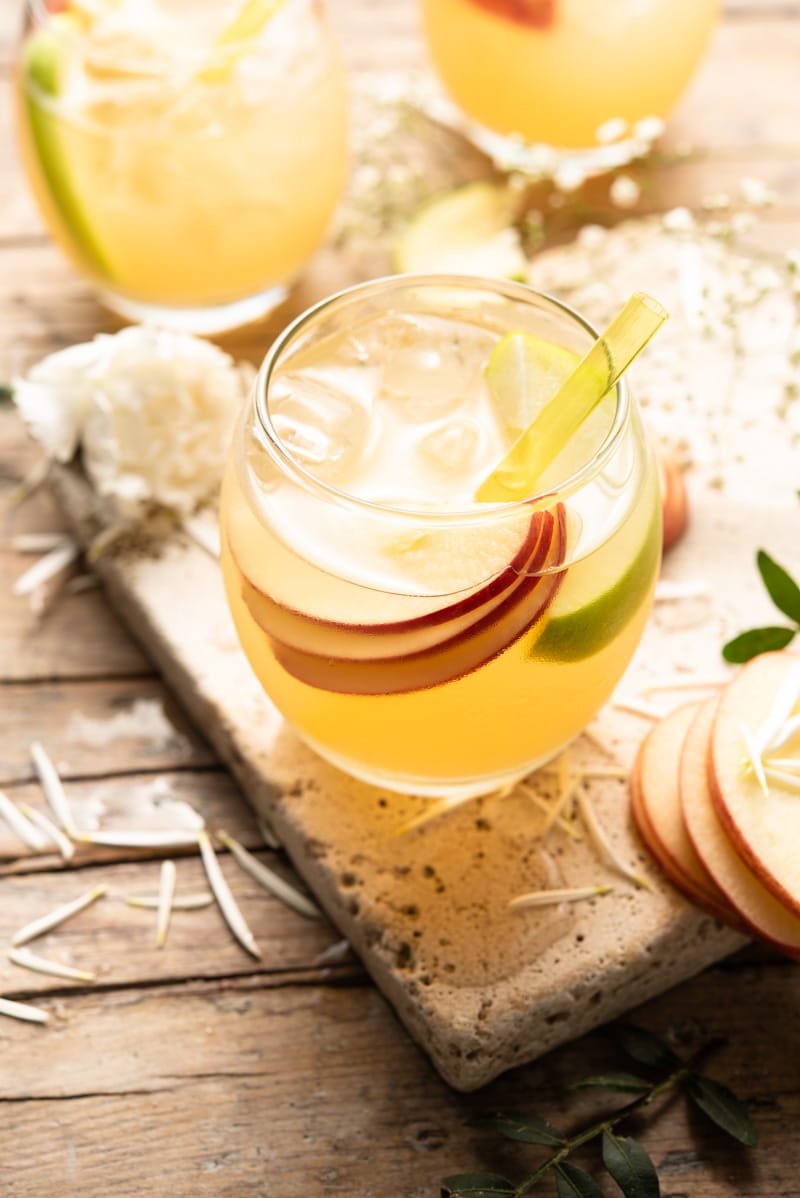 If you make this recipe be sure to upload a photo in the comment section below or leave a rating. Enjoy!