This Apple Pie Drink is just perfect for fall. It's bursting with the warm, fruity flavor of apple pie, made into a cocktail! It can be served chilled over ice, or serve it warm in a mug. You can also make it non-alcoholic for the whole family.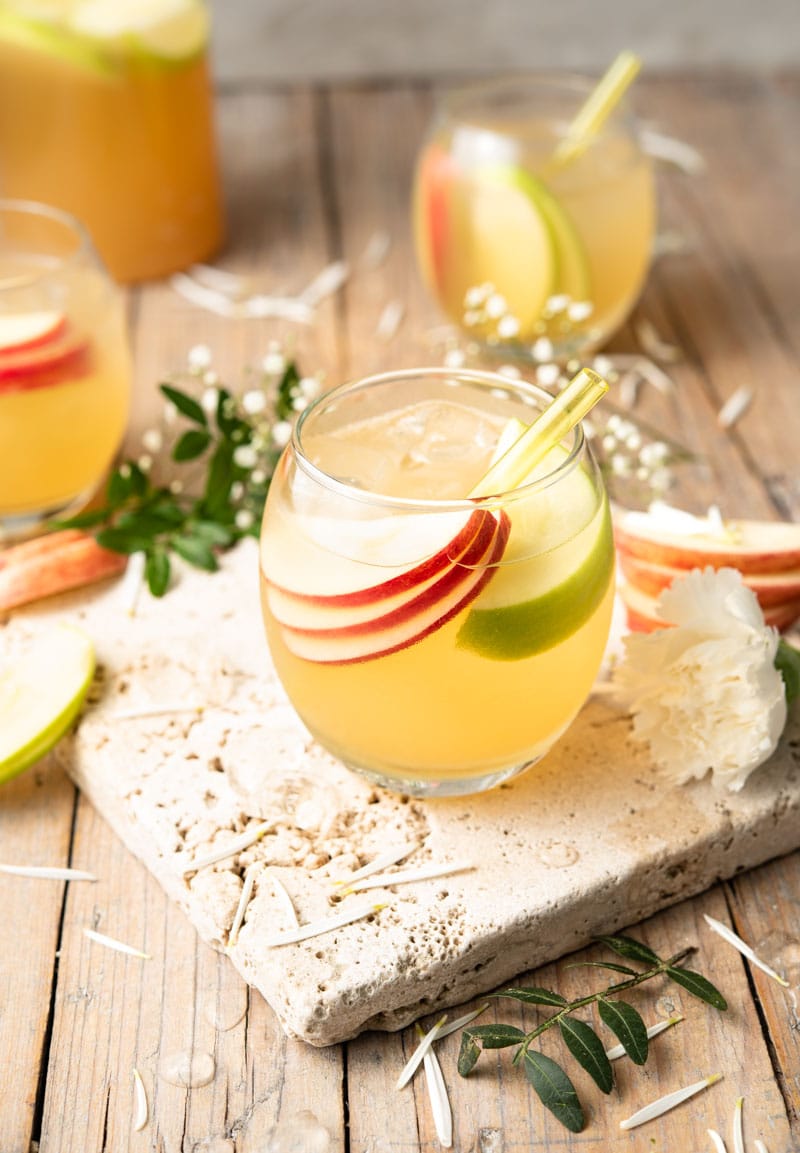 Apple Pie Drink
Get all the flavors you love about apple pie in one delicious and easy drink! Serve this drink hot or cold, with or without alcohol. It's perfect for everyone!
With my Apple Pie Sangria being such a hit, I decided to create a new fall-inspired drink that was easier to make both alcoholic and non-alcoholic, but still be just as yummy and simple.
This Apple Cider Punch has everything I love about fall. It's filled with warm spices and fruity flavors, plus it can be served chilled or warm which is a huge bonus. It means you can knock up a batch for parties or just heat up a mug for yourself and cozy up on the sofa.
How to Make Apple Pie Punch
This apple pie drink is so easy to make. Here are the ingredients you need:
Fresh apple – cut into slices
Apple cider
Pear nectar
Apple pie vodka – if you can't find it it's super easy to make your own (check out my recipe here)
How to Make It:
Chilled: Combine apple cider, pear nectar, vodka and ginger ale. Stir well. Place apple slices inside pitcher. Pour over ice and serve!
Warm: If you're wanting to serve it warm, heat all of the liquid ingredients in a pot over a stove on low heat. Simmer for a few minutes until warm, place apple slices in the pot, and serve in mugs.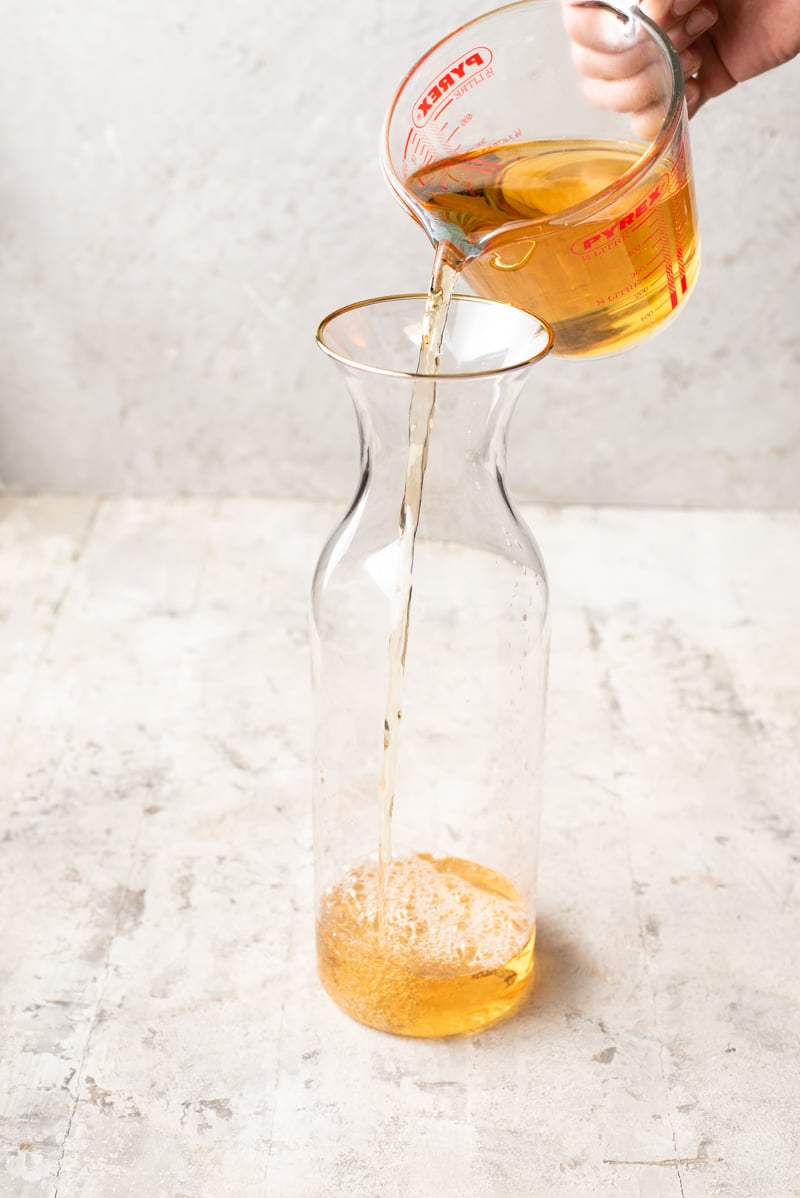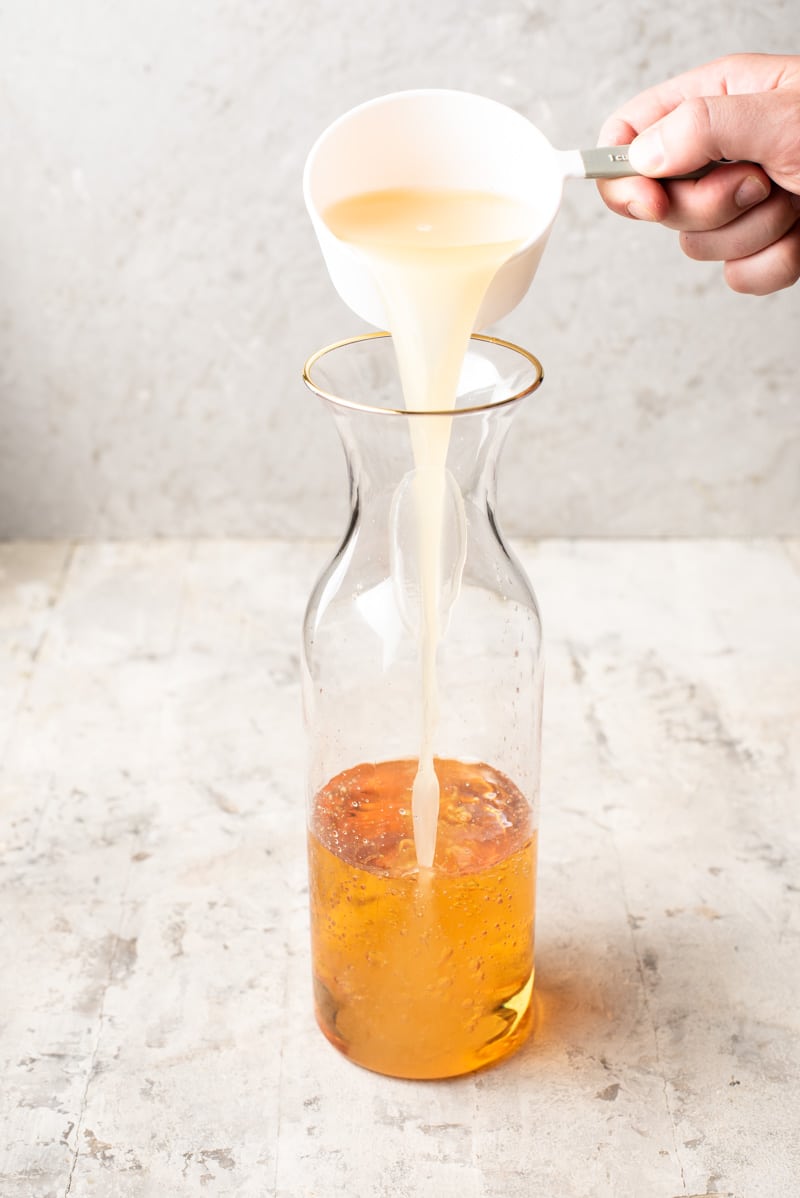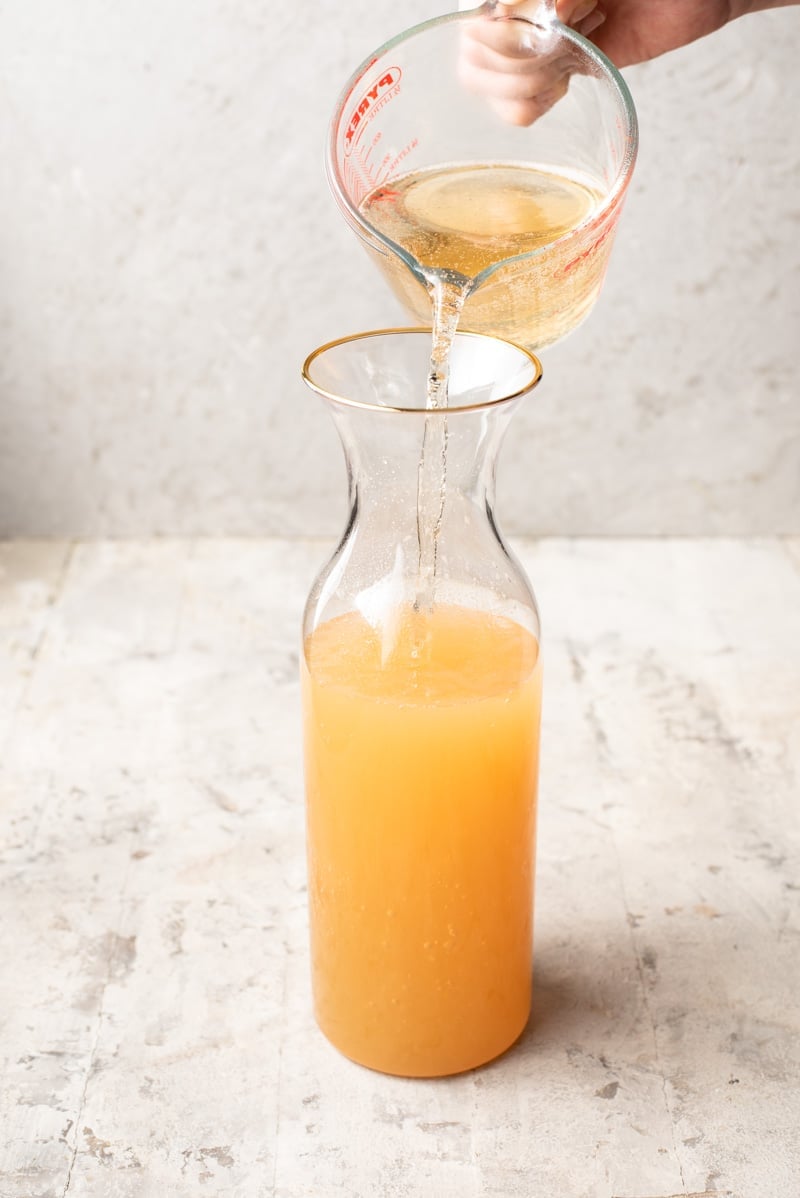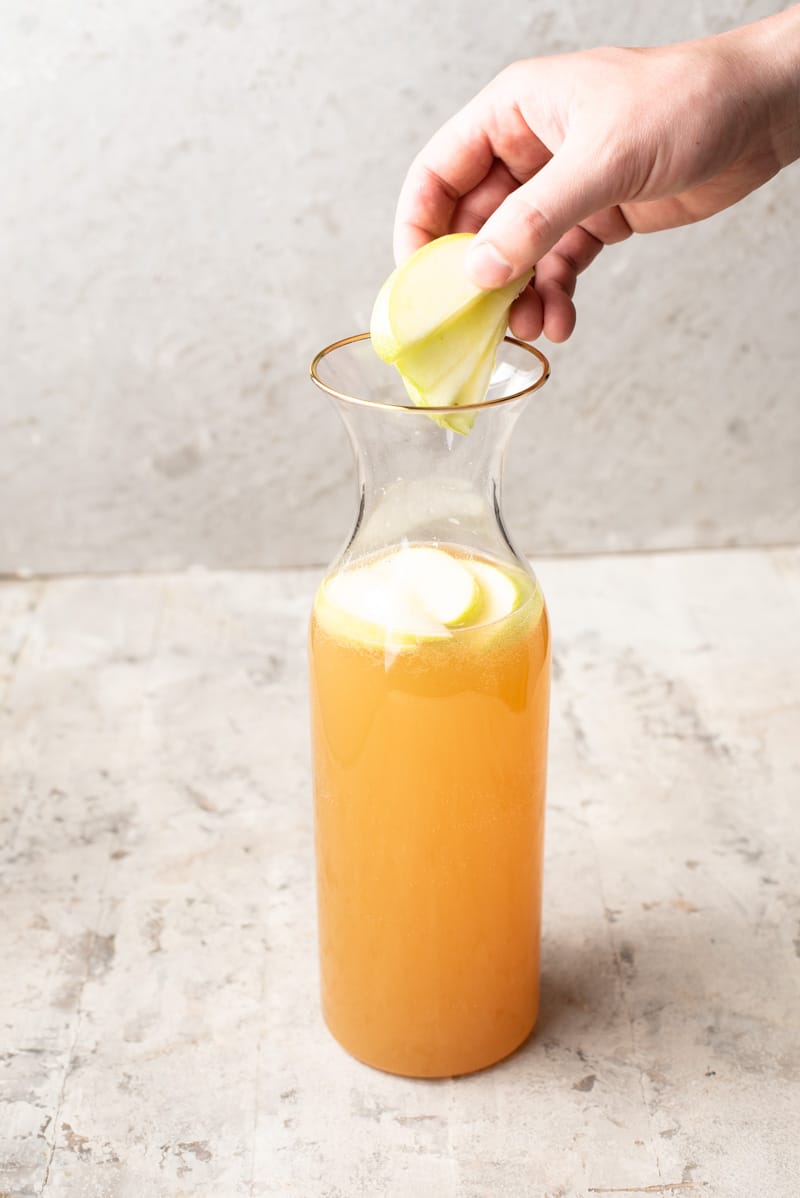 Alcoholic or Non-Alcohol Apple Punch
This apple pie drink is the perfect drink for Thanksgiving! Make two pitchers, one for the kids and one for the adults (clearly marked of course). It's easy, refreshing, and delicious. Just like one of my favorite desserts, Apple Pie Cupcakes, but in cocktail form. It doesn't get better than that!
If you're looking to liven up your holiday this year, just splash a little Apple Pie Vodka in your glass. You guys…this vodka. I am NOT a shot girl, but that vodka is AMAZING. It's the perfect compliment to the juices in the drink, and you'll feel like you're sipping a dessert for sure.
What to Serve with Apple Cider Punch
If you're serving this apple pie drink at parties or when you have a few friends around, then you'll need some nibbles to serve it with.
Here are some recipes that would go perfectly: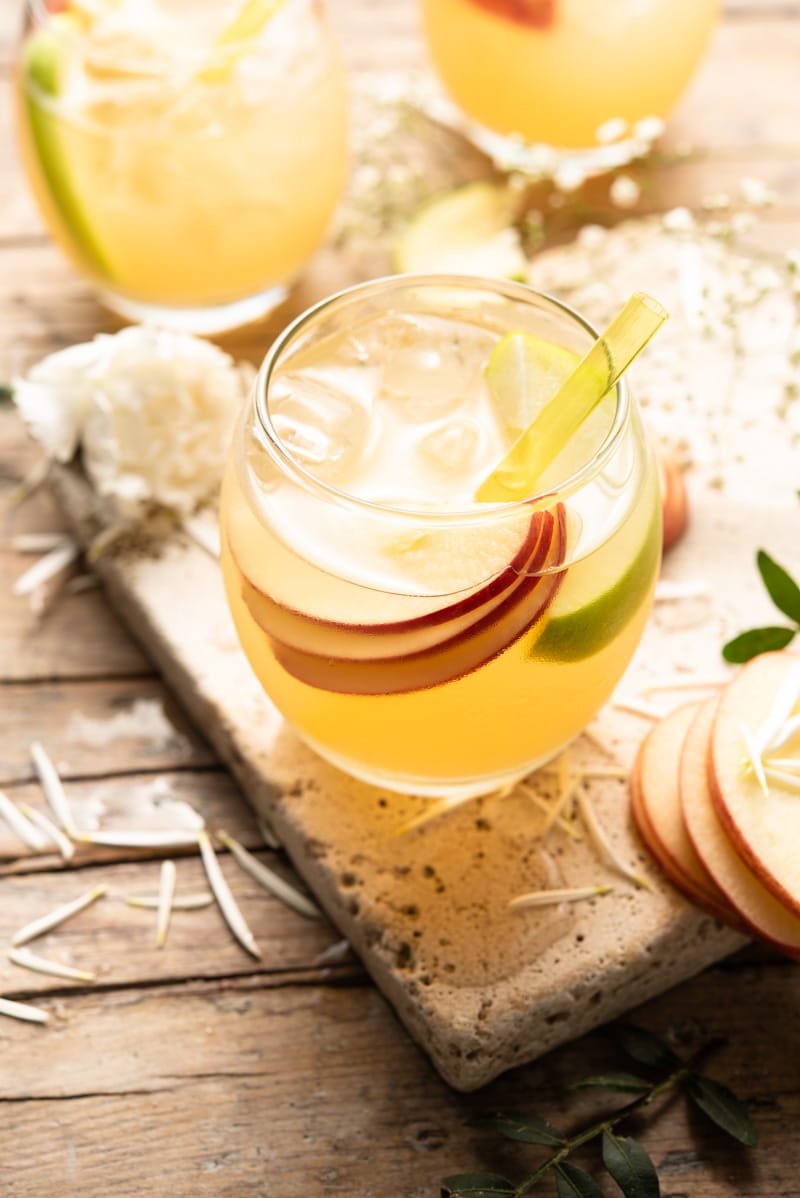 Helpful Tips for Making this Apple Pie Drink
You can use any fresh apple to put in this cocktail (avoid cooking apples).
If you're in a pinch and can't find apple pie vodka you can use regular apple vodka, which should be easier to find.
If you have more time, try making your own Apple Pie Vodka it's super easy and can be used in so many different cocktails.
You can easily prep this cocktail in advance. Just make sure to add the ice right before serving so it doesn't melt and water down the drink.
See the recipe card for details on how to make this Apple Pie Drink. Enjoy!
More fall cocktail recipes you will love: