Chunky Apple Bundt Cake is the perfect way to say hello to autumn! Apple cinnamon cake is topped with a delicious cinnamon-cream cheese icing and some cinnamon chips to spice up the flavor. This apple cake is made with a cake mix, so it's super easy and so fun to eat!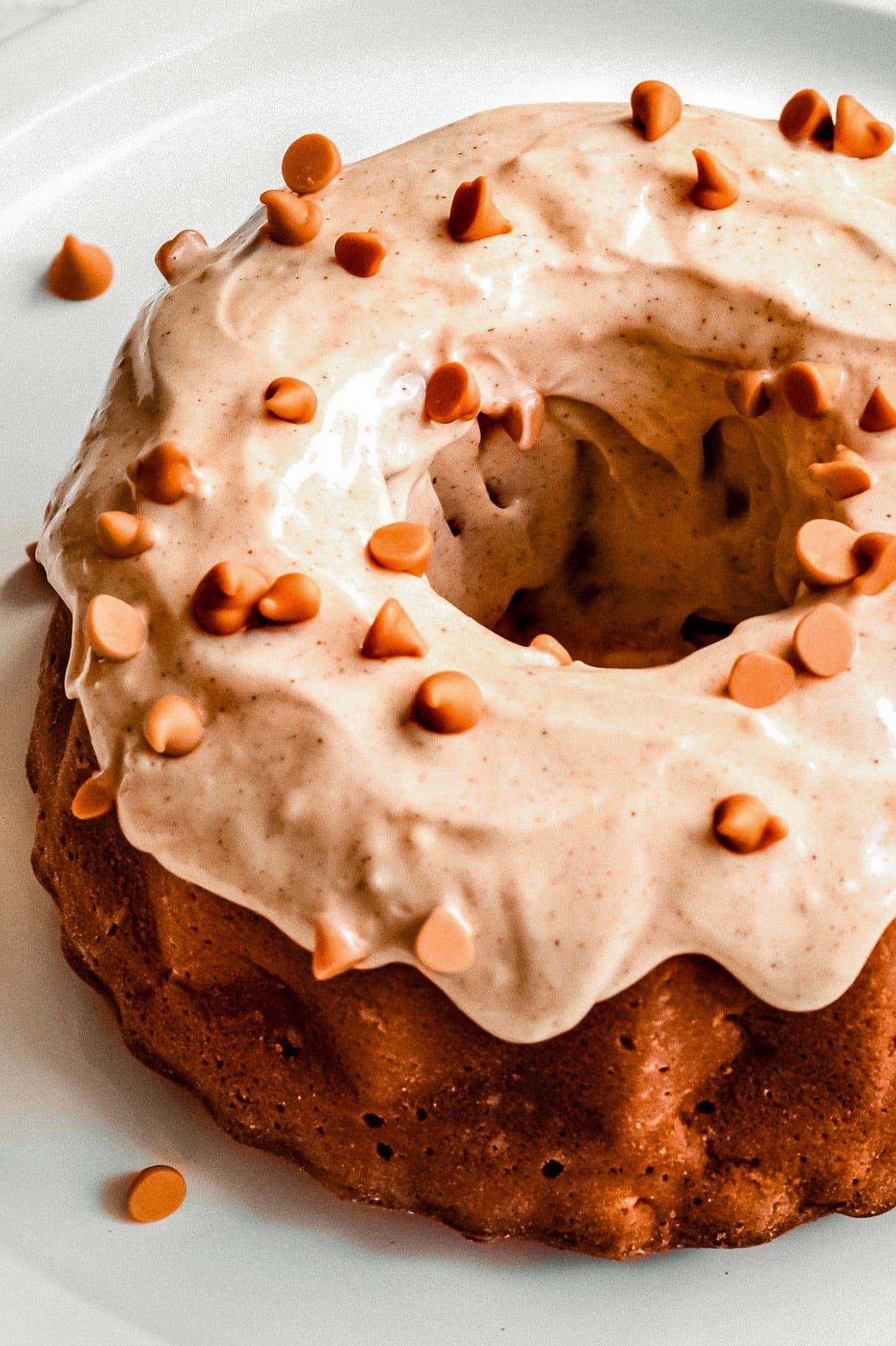 Chunky Apple Bundt Cake
Can you believe that it's August already? That means back-to-school season, saying goodbye to pool days, and (most importantly) HELLO to fall. I have to admit, I'm pretty ready to move on from summer and fall is my favorite time of year.
This apple-y cinnamon cake recipe is my way of ringing in the season. I love apple picking in the fall, which means I need lots of apple recipes! This Chunky Apple Bundt Cake is just the thing, and since it's topped with cinnamon cream cheese icing, it's extra tasty.
We're making this apple cake with cake mix (YUP, a box of cake mix can go a long way) so that it's super easy and quick to put together.
I can't wait for you to try this easy and delicious Apple Bundt Cake for a fun fall treat!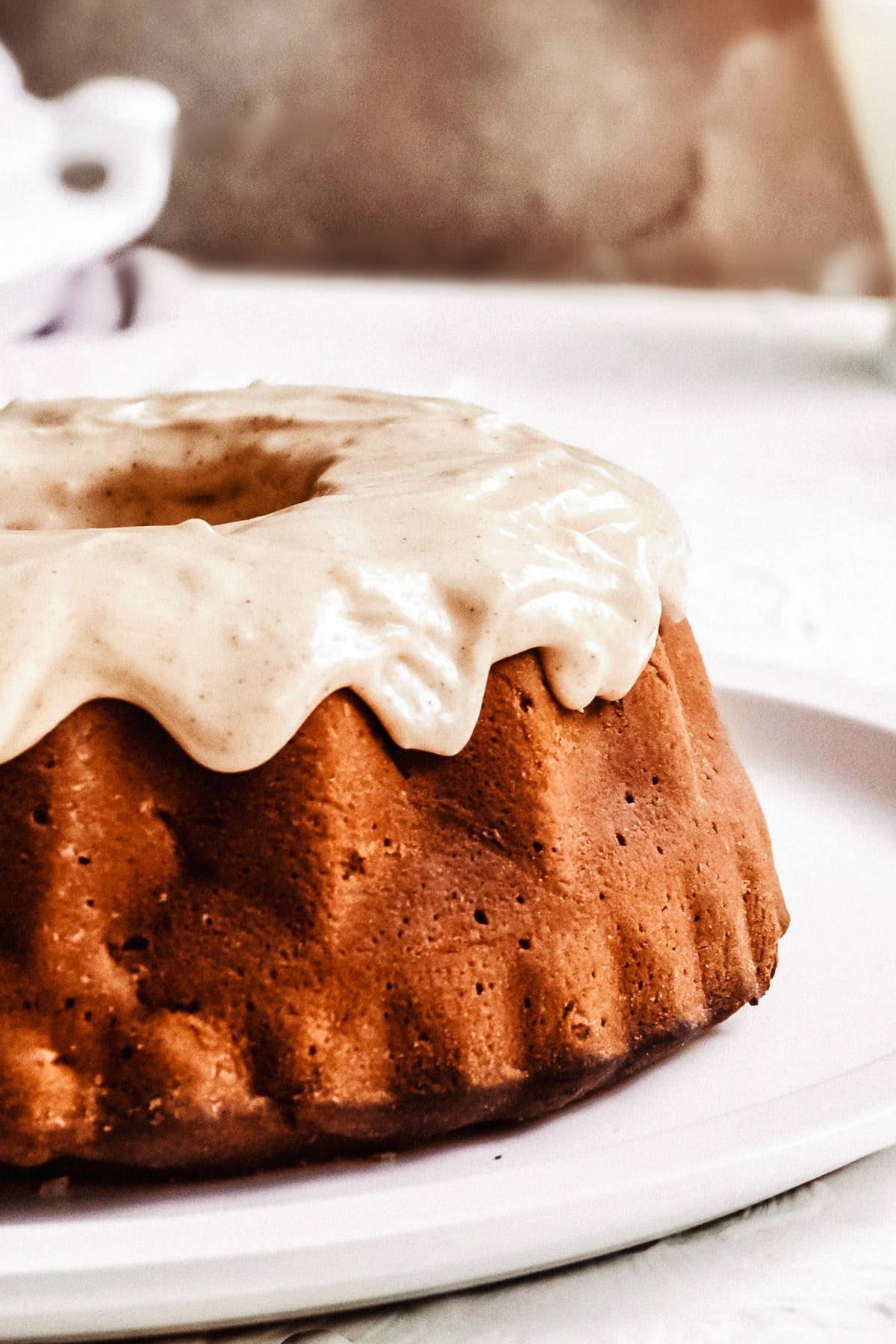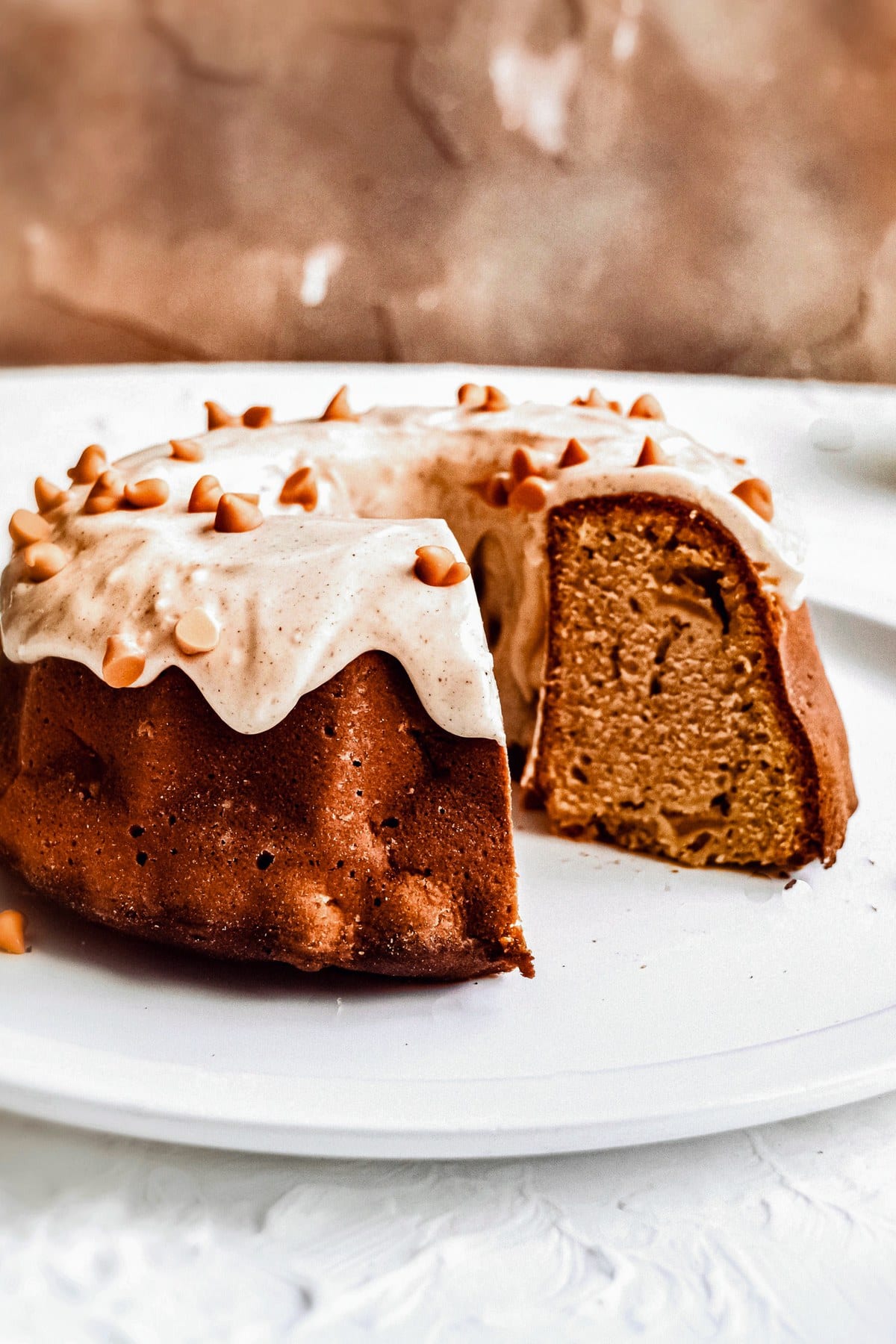 Why You'll Love this Chunky Apple Bundt Cake with Cinnamon Icing:
EASY: I love that this cake is so simple to prepare. I adapted this recipe from one of my favorite sites, Mix and Match Mama. She created 100 different Bundt cake recipes using cake mix, which is pure GENIUS.
THE ICING: So you can easily make this apple cake with cake mix, a few extra ingredients, and the amazing cinnamon cream cheese icing. It all comes together so perfectly, and makes the perfect dessert!
SEASONAL: Apples and cinnamon always make me think of fall–how about you? And since fall is my favorite season, apples and cinnamon are comfort aromas!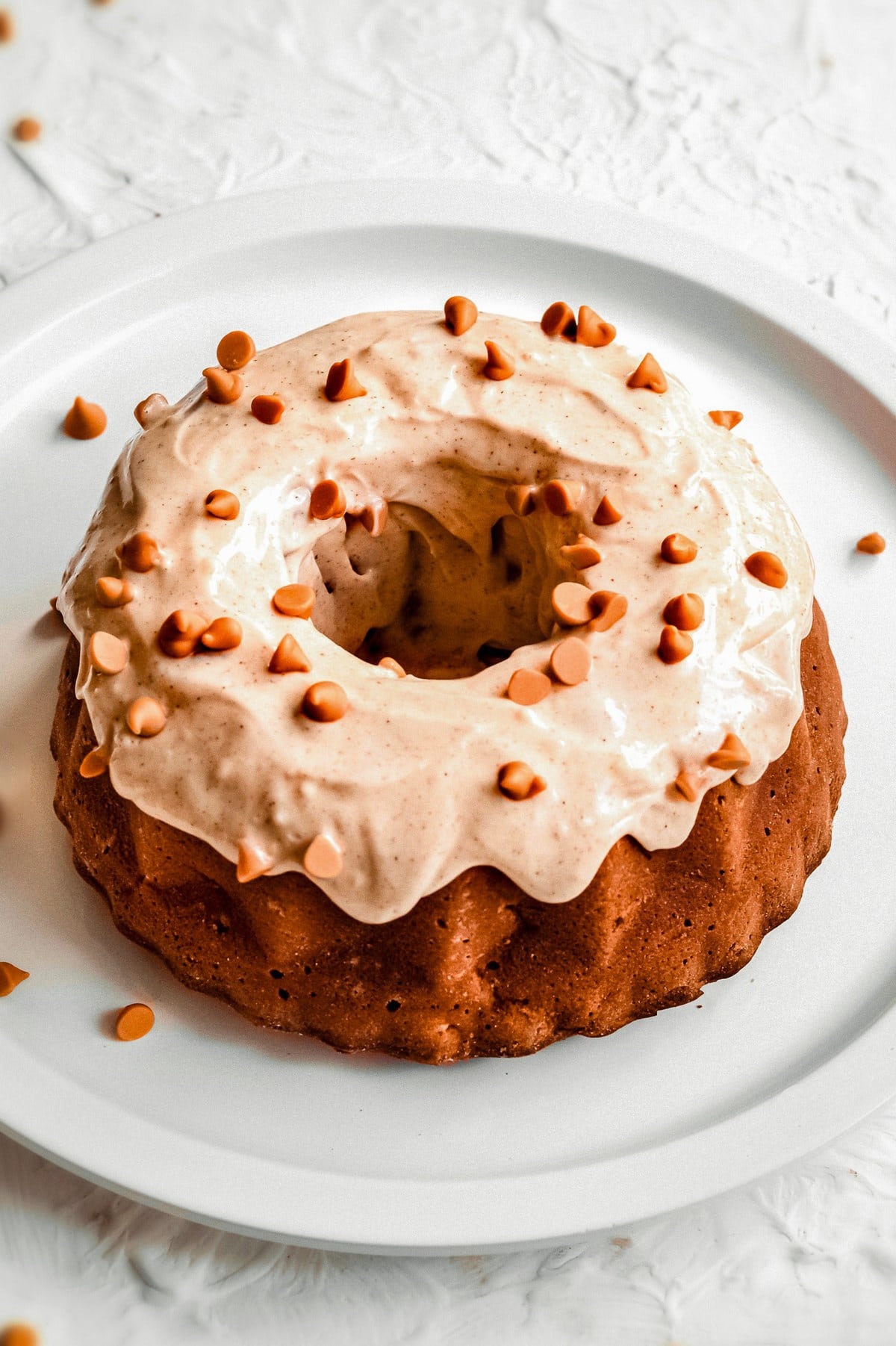 Ingredients
Besides the standard-sized box of yellow cake mix (about 15 ounces) and the usual additions shown on the package (vegetable oil, eggs, water), here's what you'll need to add to it:
Instant vanilla pudding
Diced apples
Applesauce
Cinnamon
Cinnamon baking chips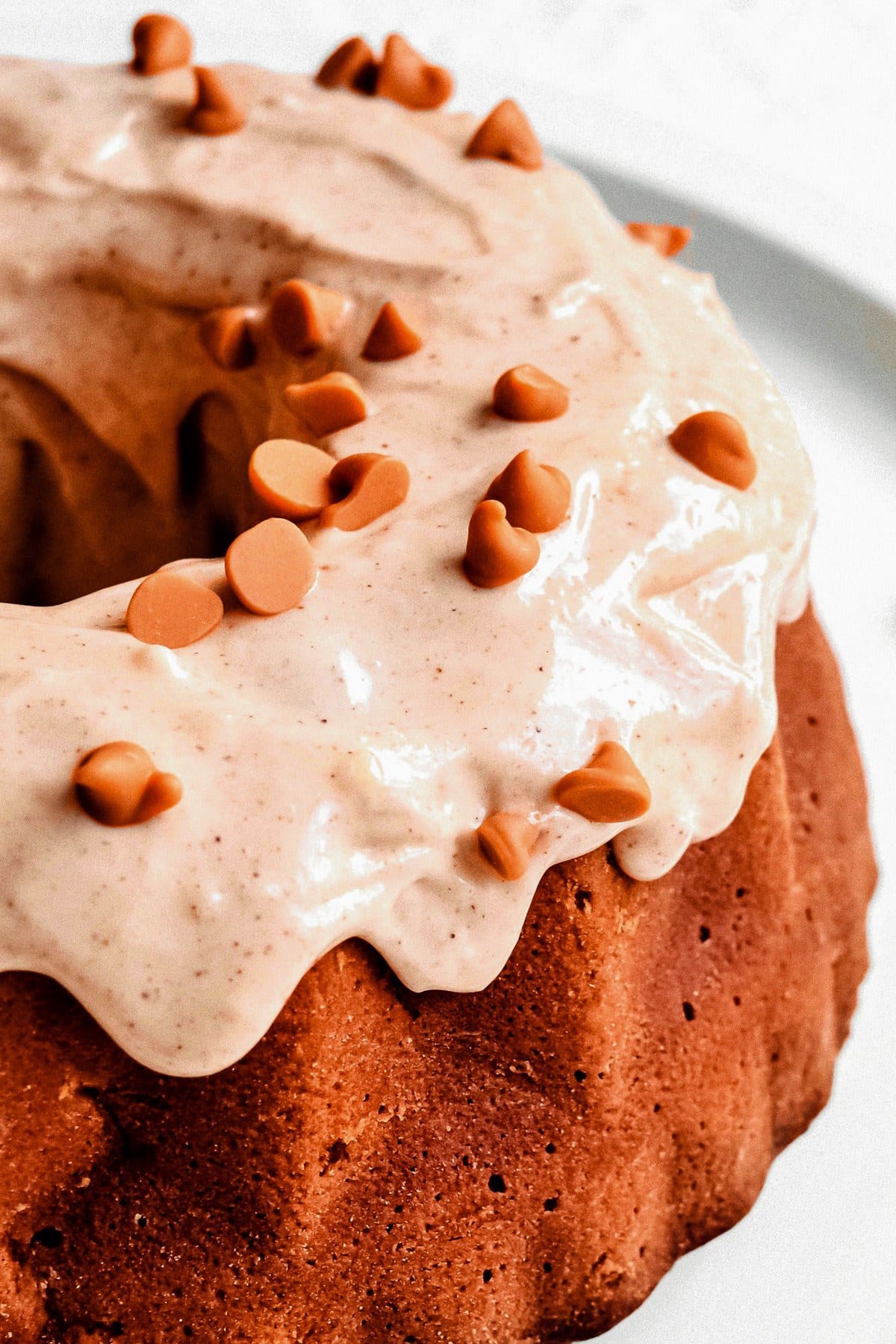 How to Make Apple Cake with a Cake Mix
Chunky Apple Bundt Cake has become one of my favorite easy cake recipes for fall. It's such a great flavor and it comes out looking so impressive! So if you already have a box of cake mix sitting in your pantry and you want to try something different, this has your name written all over it!
Combine all of the cake ingredients with an electric mixer, and then pour the batter into a Bundt pan. (Didn't I say it was easy?!)
Bake 40-45 minutes.
When it's done (check with a toothpick), let it cool for 10 minutes before inverting it out of the pan and onto a plate.
Whip up the icing while it cools: Blend the cream cheese, butter, milk, cinnamon, and powdered sugar. (Again: easy!!)
Top off the cake with the icing (let it creep down the sides and into the middle) and some cinnamon chips, and it's ready to serve!
No matter how much baking I do, I'll never get tired of cake mixes for quick and easy cakes. If you can make something as delicious as this with a mix, then who needs the extra hassle of measuring out dry ingredients, amiright?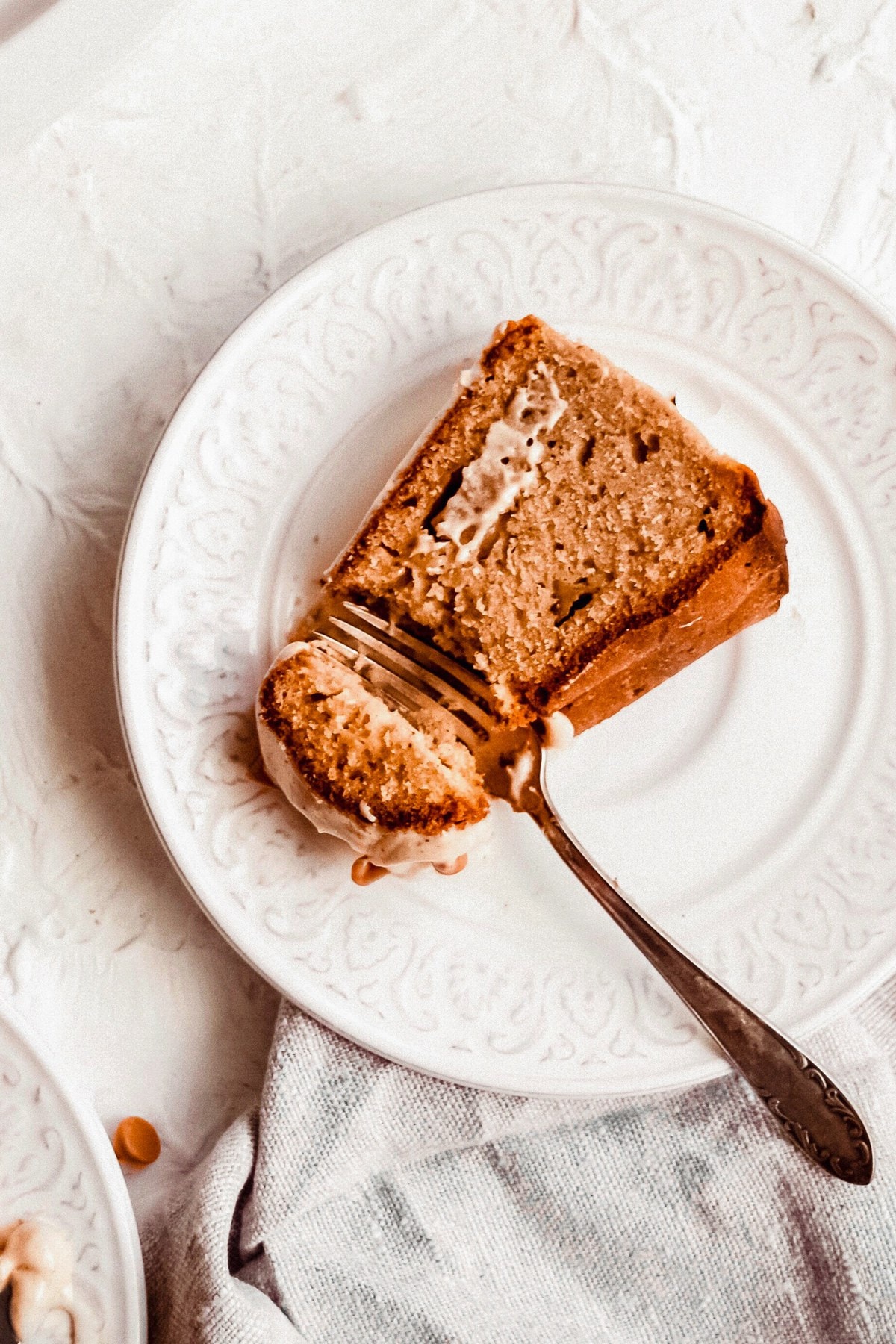 What Type of Apple Works Best in This Recipe?
That's the debate of the ages, isn't it? The truth is that pretty much any type of apple will work, but some varieties are really well-suited to baking. Cooks argue about whether sweet apples or tart ones are best, but the bottom line is that firm apples are the top priority. That means golden and red Delicious apples are not a wise choice–they really get mushy. For a tart flavor, try a Granny Smith apple. For sweeter tastes, go with Gala or Fuji. To split the difference, consider going with a Honeycrisp. And if you're brave and adventurous, mix it up and add a combination of several types! Remember: this is a cake, not rocket science!
What is a Bundt Cake, any way?
There really isn't an all-purpose recipe for Bundt cake, just like there isn't a single recipe for a pie. Bundt cakes are named for the pan they're baked in! Bundt pans produce a tall cake with a hole in the center–somewhat resembling a large donut.
Bundt cake pans have a few differences from other pans, and most obviously, it's the hole in the center. That allows more batter to touch the hot edges of the pan, which gives the cake crispy, caramelized edges.
Bundt pans are often quite heavy. They can be quite ornately decorated, as well. That creates a beautiful cake, but you should take care to grease the pan well so that none of it sticks when you invert the pan onto a plate.
What About the Icing?
The icing is optional, but to me, it's the crowning glory for this moist and tasty cake. If you'd rather not have the cinnamon, you can make a plain cream cheese frosting, and if you like, top it with some toffee chips. It might just be me, but I don't think chocolate chips would be a good accent.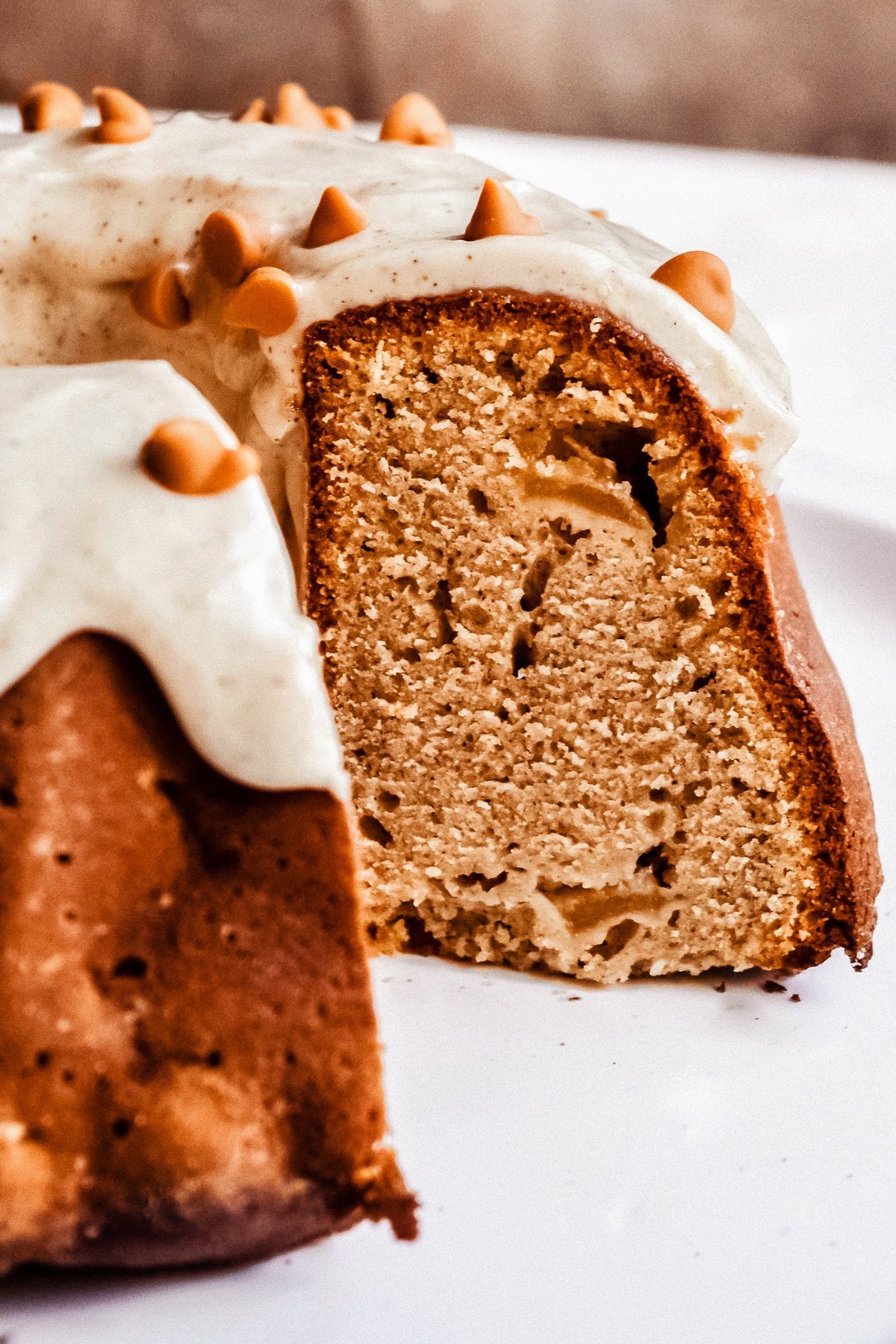 Chunky Apple Bundt Cake is perfect for breakfast, brunch, after-lunch snack, dessert, and everything in between. You get the picture! It's easy, it's delicious, and since it's made with real apple chunks, you can pretend it's healthy too. Perfect!
Celebrate autumn with these other apple recipes!