These spinach stuffed mushrooms are so easy to make and they are always a popular appetizer during the holiday season. Mushrooms are stuffed with a spinach, artichoke and parmesan filling and topped with breadcrumbs.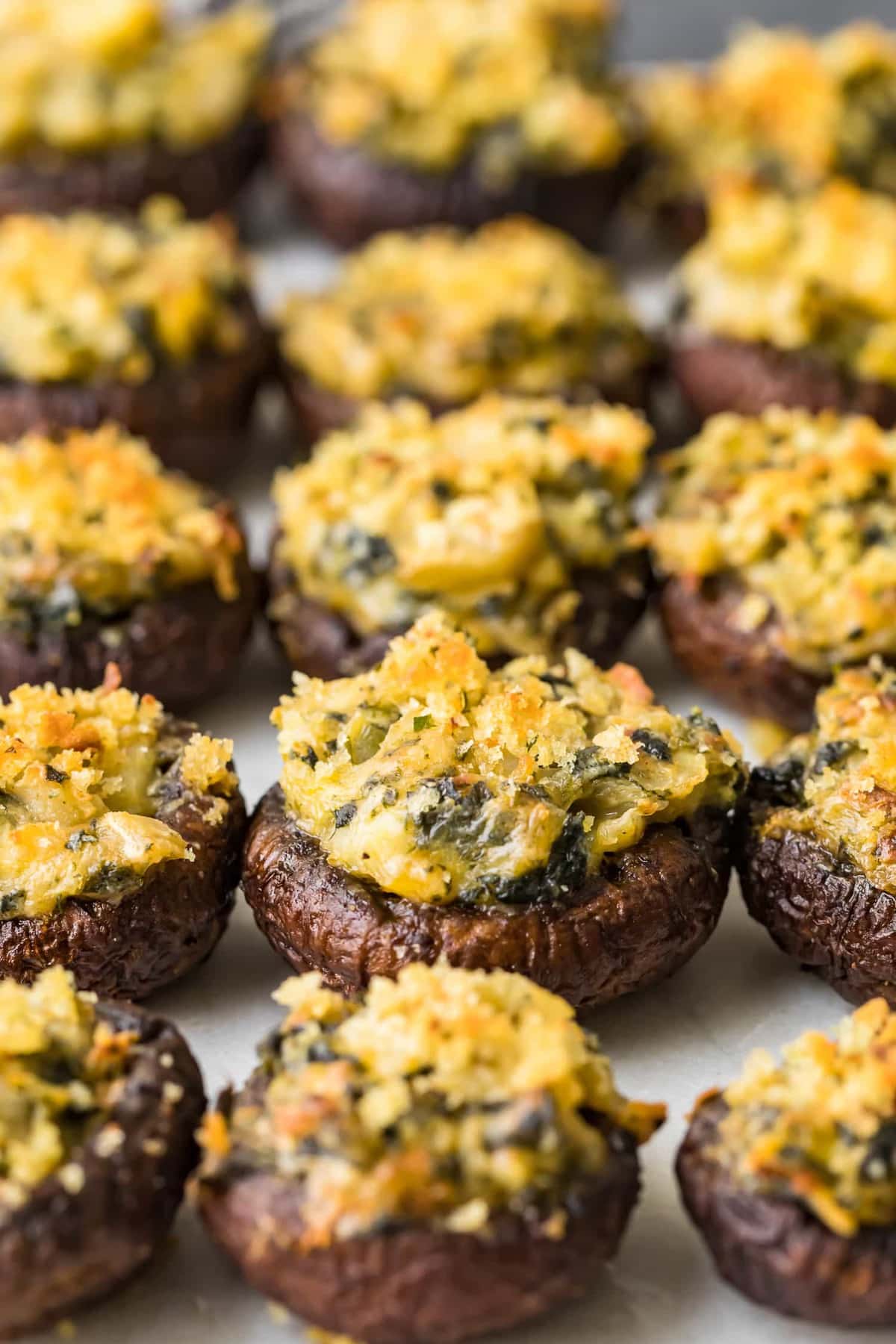 Stuffed mushrooms are always a hit over the holidays, they are so full of flavor and dead easy to make. They are a great option when you are entertaining as they can be prepped ahead of time.
How to Make This Easy Spinach Stuffed Mushrooms Recipe
Heat oven to 350°F and adjust oven rack to middle position.

Line a rimmed baking sheet with parchment or aluminum foil and set a wire rack inside (or covering the toand spray the rack with nonstick cooking spray.
FOR THE TOPPING:
Place bread, panko crumbs and Parmesan in a food processor fitted with the metal attachment. Pulse the bread 3-4 seconds. Drizzle in the oil and pulse 1-2 times. Set aside.
FOR THE MUSHROOMS:
Pat the mushrooms dry with paper towels.

Brush them lightly with melted butter and set them on the prepared baking sheet 1-2 inches apart. Set aside until filling is ready.
FOR THE SPINACH ARTICHOKE FILLING:
Heat large skillet over medium heat and add 1-tablespoon butter and 1-tablespoon oil.

When the oil/butter are heated (before butter burns), add onions and cook, stirring often, until onions are softened, 4-5 minutes.

Add artichokes and cook, stirring often, 4-5 minutes or until they have a lightly browned.

Add garlic, stir and cook another 30 seconds.

Add remaining 1 tablespoon butter and stir until melted.

Sprinkle the flour over the vegetable mixture and cook 1 minute, stirring continuously.

Slowly stir in the half-and-half, Parmesan, lemon juice, hot sauce, Worcestershire Sauce and salt.

Reduce heat to low and simmer, stirring occasionally, 3 minutes or until thickened.

Remove from the heat, add spinach and stir well.

Spoon the artichoke/spinach filling into the mushroom caps, packing down and rounding over the tops of the mushrooms.

Top the filled mushrooms with the topping mixture, pressing down lightly so the topping sticks to the filling.

Bake 20-25 at 350°F or until the tops are golden brown and mushrooms are cooked through.

Remove from oven, let rest 4 minutes and serve.

Enjoy!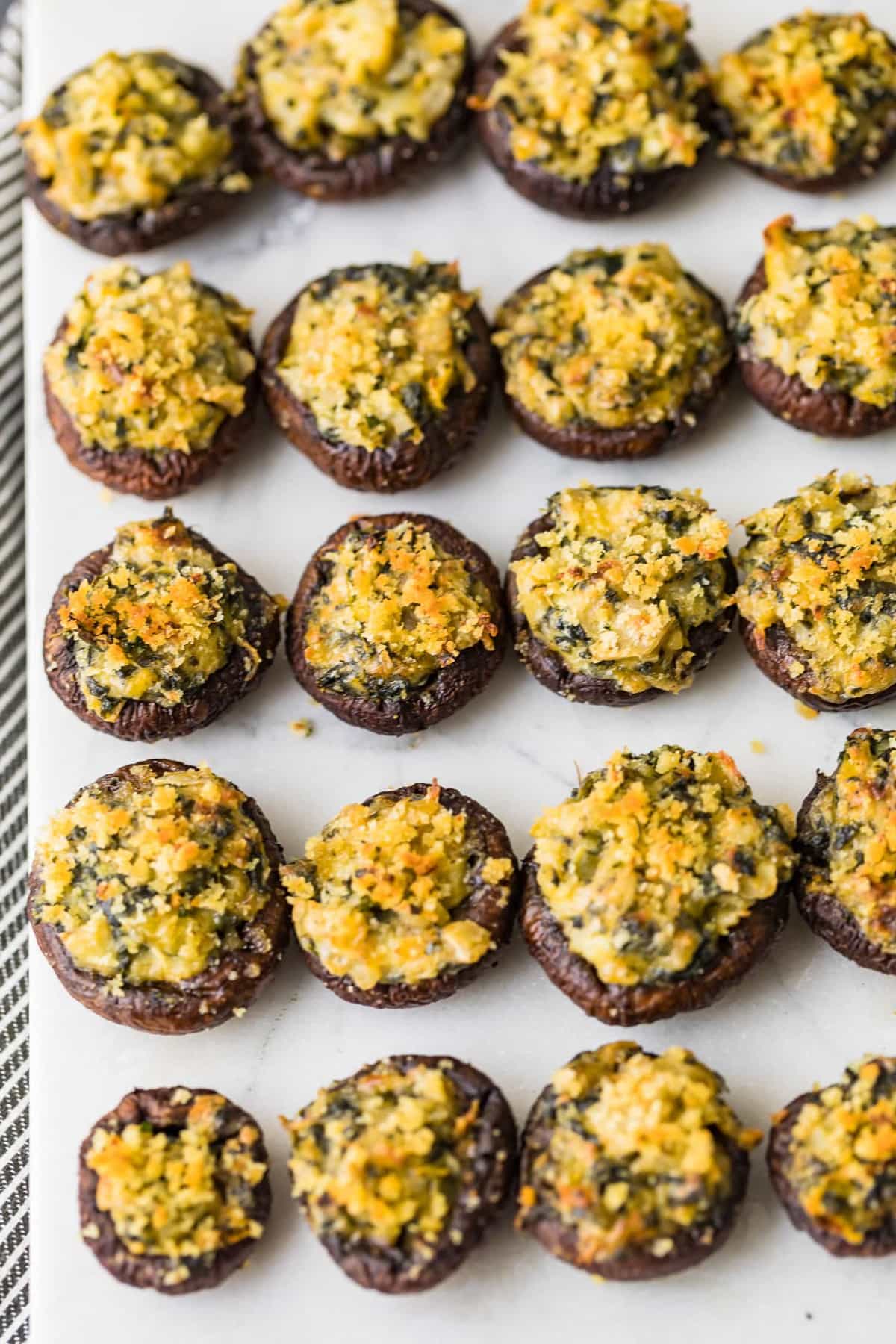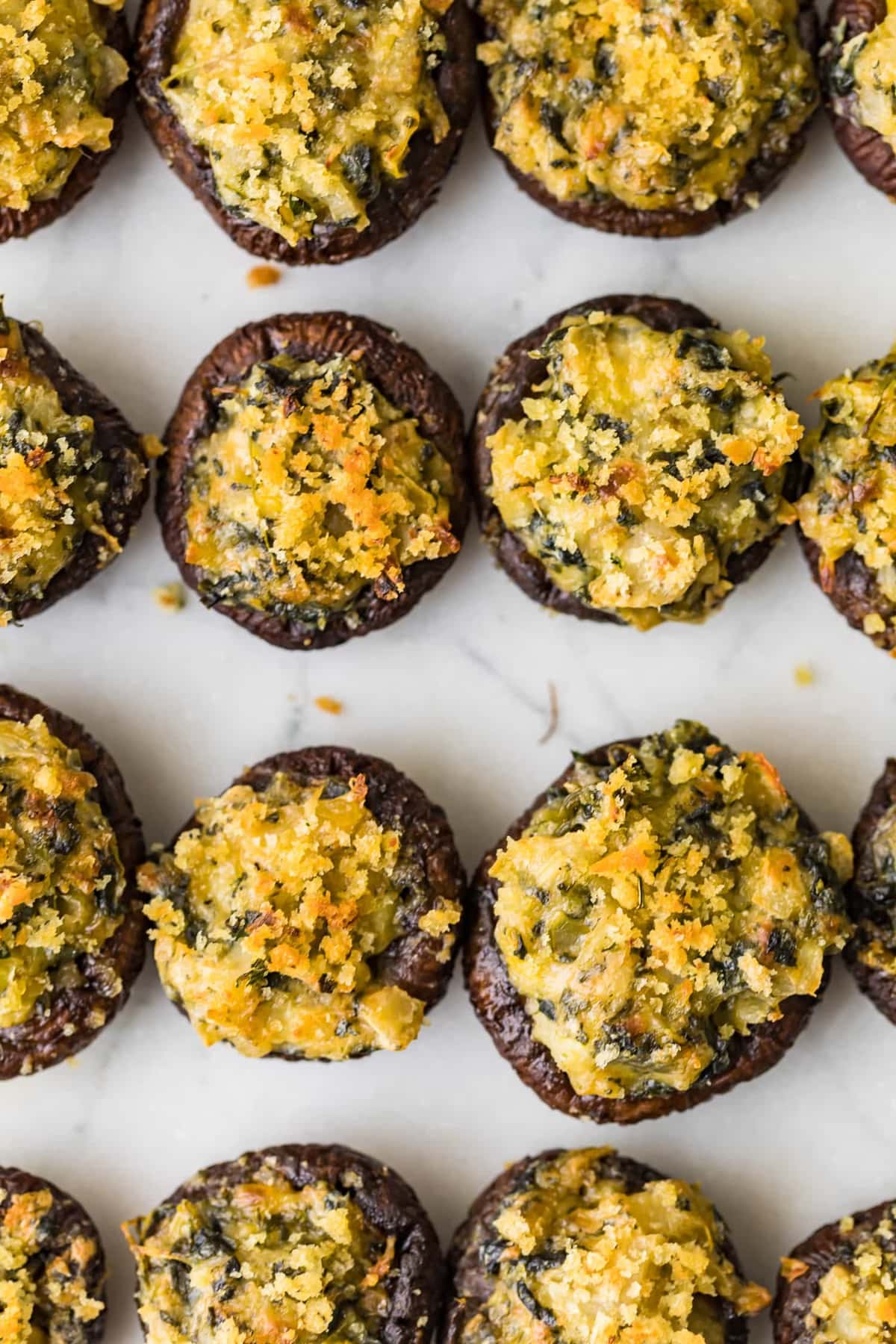 Vegetarian Party Appetizer
These spinach stuffed mushrooms are full of flavor, some may even say a little decadent! The filling is rich and creamy, and I promise you that one isn't enough! I always serve stuffed mushrooms at some point during the holiday season, and I think these ones are my favorite! To make these mushrooms vegetarian, omit the Worcestershire sauce.
Can you make these stuffed mushrooms ahead of time?
Yes! These mushrooms are perfect for fuss free entertaining. You can make the spinach filling, stuff the mushrooms and then cover and keep them in the fridge until you are ready to cook them. You can also freeze the unbaked stuffed mushrooms and cook them from frozen.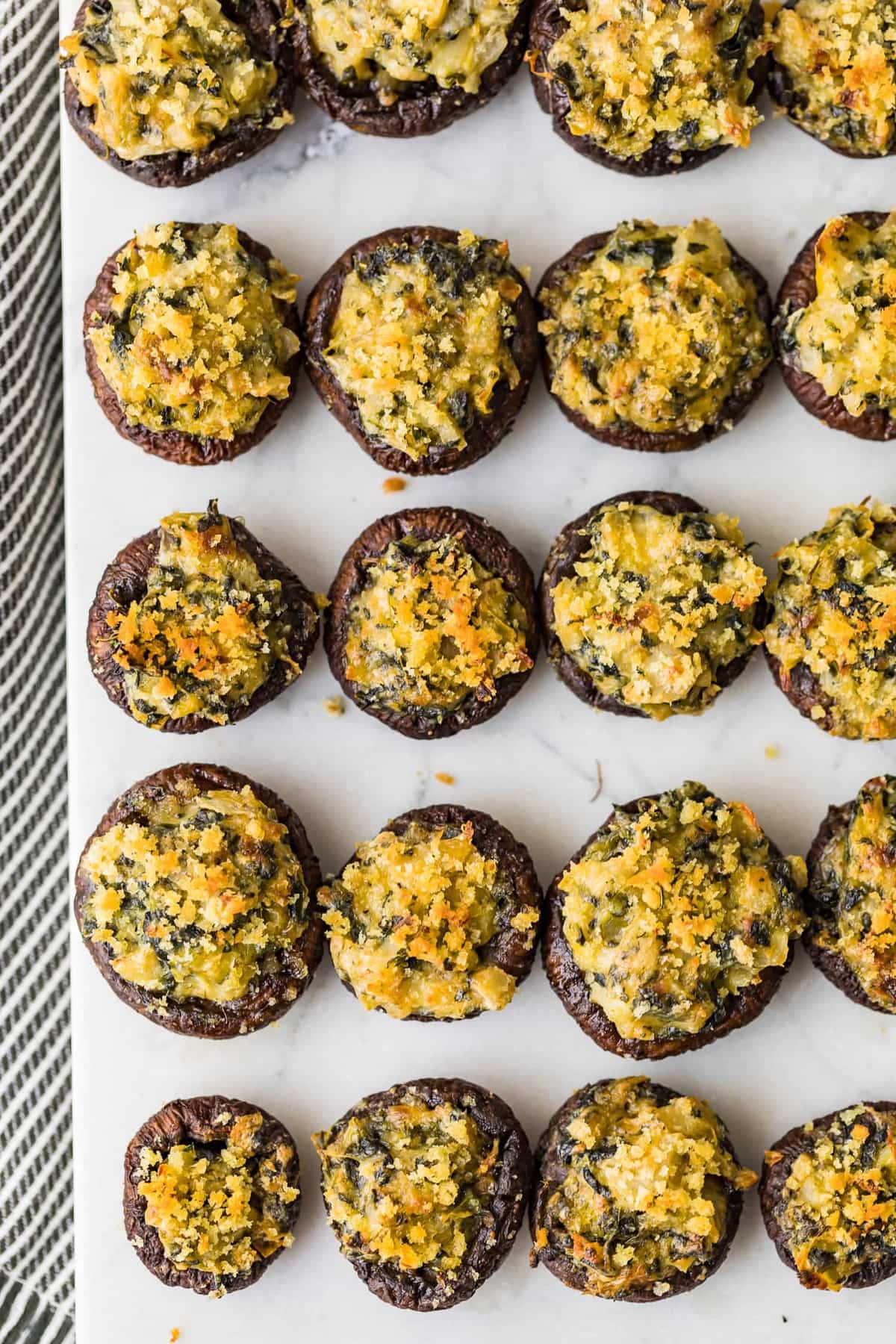 What so you serve with spinach stuffed mushrooms?
You could also serve these up as a sit down appetizer with a side salad, but for me, these stuffed mushrooms make the perfect finger food. I place them on a large serving plate and let everyone help themselves. Serve them alongside some of these recipes for a real feast!
Top Tips to Make Spinach Stuffed Mushrooms
Use white button mushrooms for this recipe. You could also make these in portobello mushrooms for a heartier appetizer.
Place the filling right to the bottom of the mushrooms.
Let the mushrooms cool ever so slightly before serving as they will be very hot!
If you like mushrooms as much as me, check out these other recipes!