This easy white wine fondue is made with Swiss, gouda, and of course white wine. Perfect for a crowd-pleasing appetizer, I for one can't possibly have enough cheese in my life!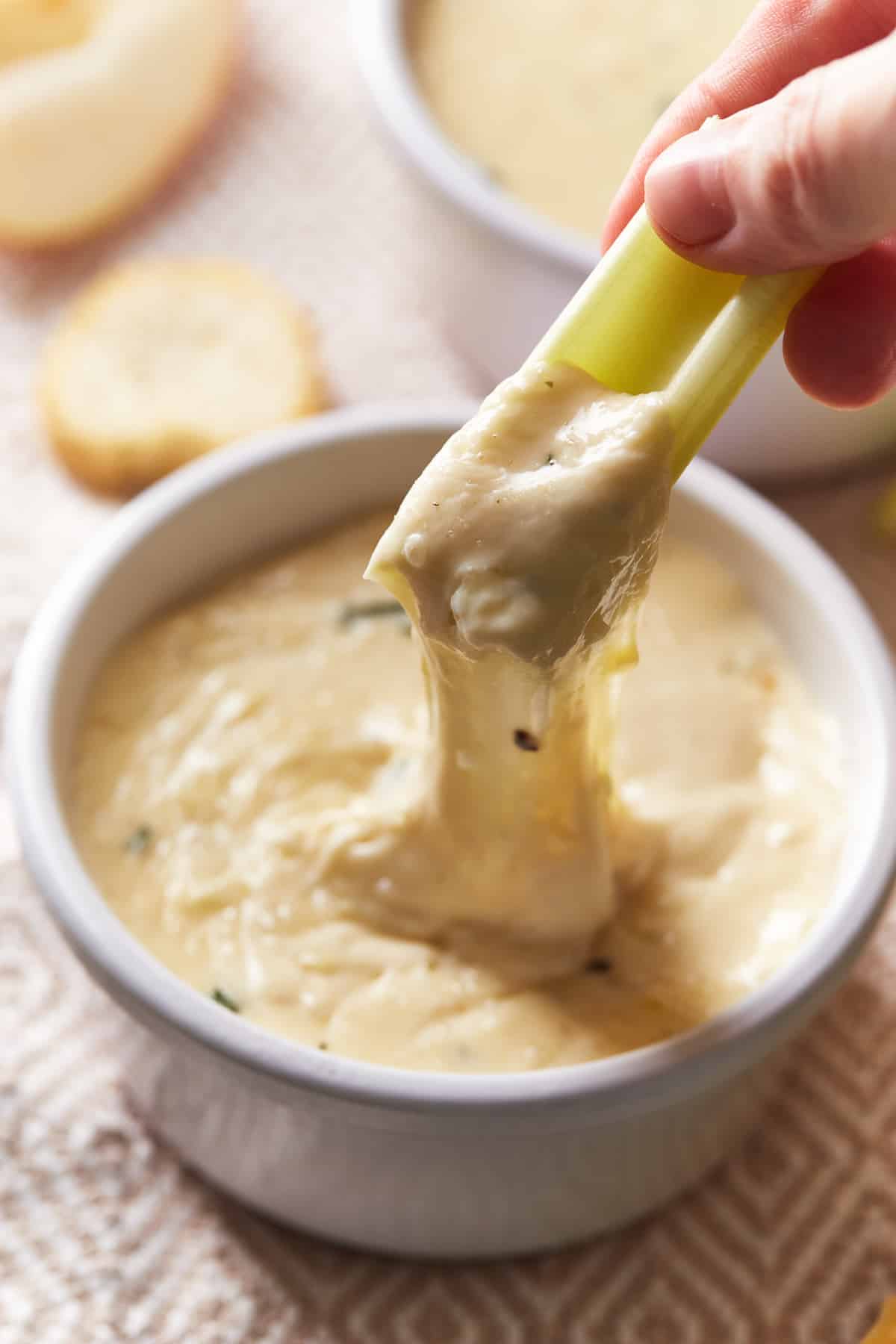 What's in Wine Fondue?
This super easy white wine fondue is made in minutes and checks all the boxes for a simple and delicious appetizer. You just need some cheese, garlic, wine, and some seasonings, and you have one yummy treat on your hands.
Garlic: Adds delicious garlic flavor to the dip, enhancing the cheesy flavors.
White Wine: Helps bind the cheese sauce together, creating a smooth, creamy fondue. I used Chardonnay, but you could also use Sauvignon Blanc or Pinot Gris.
Cornstarch: Helps to bind the dip and thicken it.
Cheese: Gouda and Swiss are sweet, mild, and creamy. They both melt well and have a classic fondue flavor. You can use any kinds of cheese you like, though!
Sherry: Adds a bit of acidic flavor and helps to thin out the fondue if needed.
Basil: Adds a sweet, pungent, and herbaceous flavor! You can use a different herb, like rosemary or thyme if you prefer.
Pro Tip: Grate your own cheese for the smoothest fondue. Pre-shredded cheeses are coated in starch that can cause them to melt unevenly.
Variations on Fondue with White Wine
If gouda and Swiss aren't your thing, you can swap them out for fontina, gruyère, comté, emmental, raclette, vacherin, or cheddar cheese. Mix multiple kinds of cheese together and play with the proportions to get the perfect mix for your tastes. Just be sure to use 16 ounces total.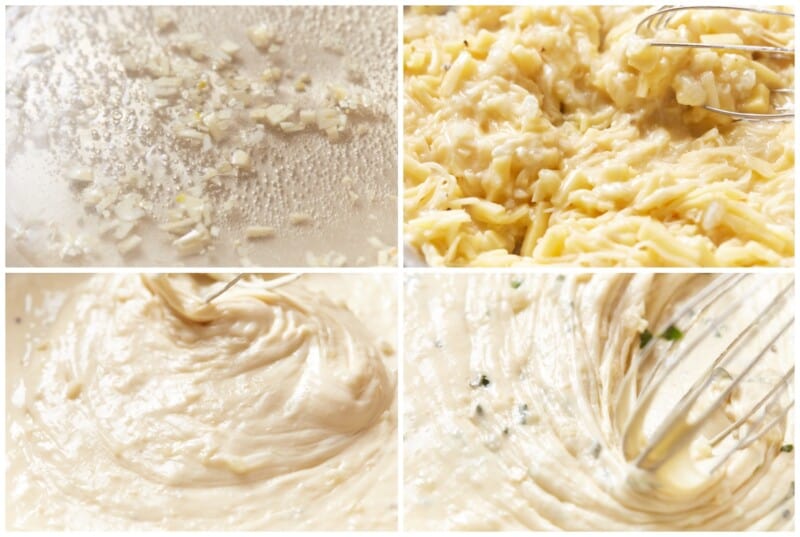 What's the best cheese to use?
I used a mix of gouda and swiss for this fondue, but you can make it with other cheeses you like. Don't use pre-grated cheeses, as these often have a coating that can be harder to melt. Either grate by hand or cut the cheese into small cubes.
What does wine do in fondue?
Wine contains natural tartaric acid, which prevents the cheese proteins from clumping together and breaking the sauce. It also adds delicious flavor. This is one recipe where I don't recommend leaving out the wine.
What kind of white wine is best for fondue?
The best white wines for fondue are Pinot Gris, Sauvignon Blanc, or un-oaked Chardonnay. I chose chardonnay, but use whichever you have on hand.
Does the alcohol cook out of fondue?
Most of the alcohol from the wine will have cooked out by the time the fondue is ready. If you're worried about it, you can try using a non-alcoholic wine or a light beer.
Can kids have fondue made with wine?
USDA guidelines dictate that any dish containing alcohol should be simmered for at least 2½ hours to remove all of the alcohol. I do not recommend feeding this fondue to children.
Do I have to add cornstarch to fondue?
No, but I highly recommend it. Cornstarch helps to further stabilize the cheese and thickens the fondue as it cooks. Without it, your fondue may turn out runny.
Why is my fondue clumping?
Over-stirring the cheese mixture could allow the proteins to bond and create a stringy or clumpy texture, so take care not to stir for too long once everything has come together.
Can I make fondue ahead of time?
This white wine fondue needs to be served straight away so that the cheese is gooey and dippable. You can keep it warm for a little while, but on a low heat so that the cheese doesn't burn. Whenever possible, make it as close to serving as you can.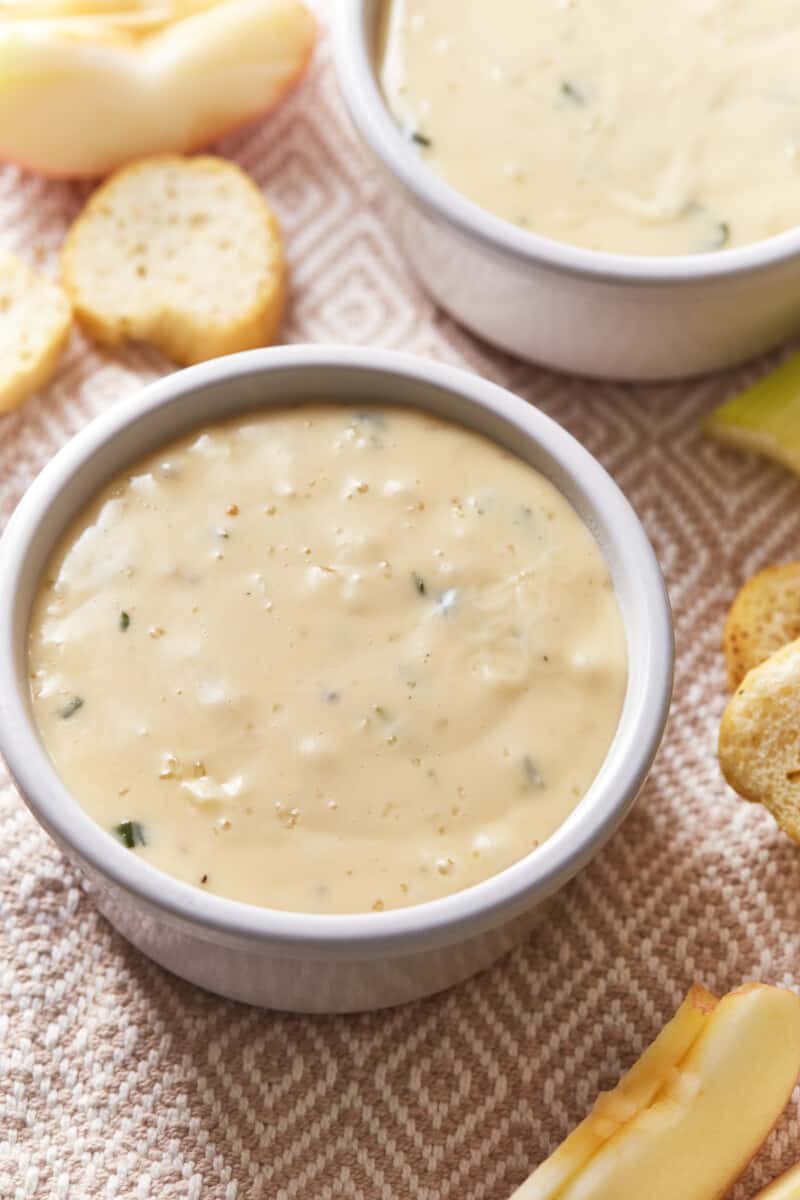 How to Store and Reheat White Wine Fondue Cheese
Store leftover white wine fondue in an airtight container in the refrigerator for up to 3 days. Reheat in a saucepan set over medium-low heat until warmed through.
How to Freeze Gouda Swiss Fondue
To freeze white wine fondue, let cool to room temperature or chill in the refrigerator until hard. Once hard, cut into chunks and place in an airtight container or Ziplock bag to freeze for up to 2 months. Let thaw overnight in the refrigerator before reheating.
What to Serve with Easy Cheese Fondue with Wine
The hardest part when making this easy white wine fondue is deciding what to use as dippers. There are so many delicious options. I chose to dip crostini and celery sticks, but you could use any number of things, from cubed bread to apples, veggies, or even chips. For a full meal, I like to dip poached chicken, grilled steak, or air fryer shrimp.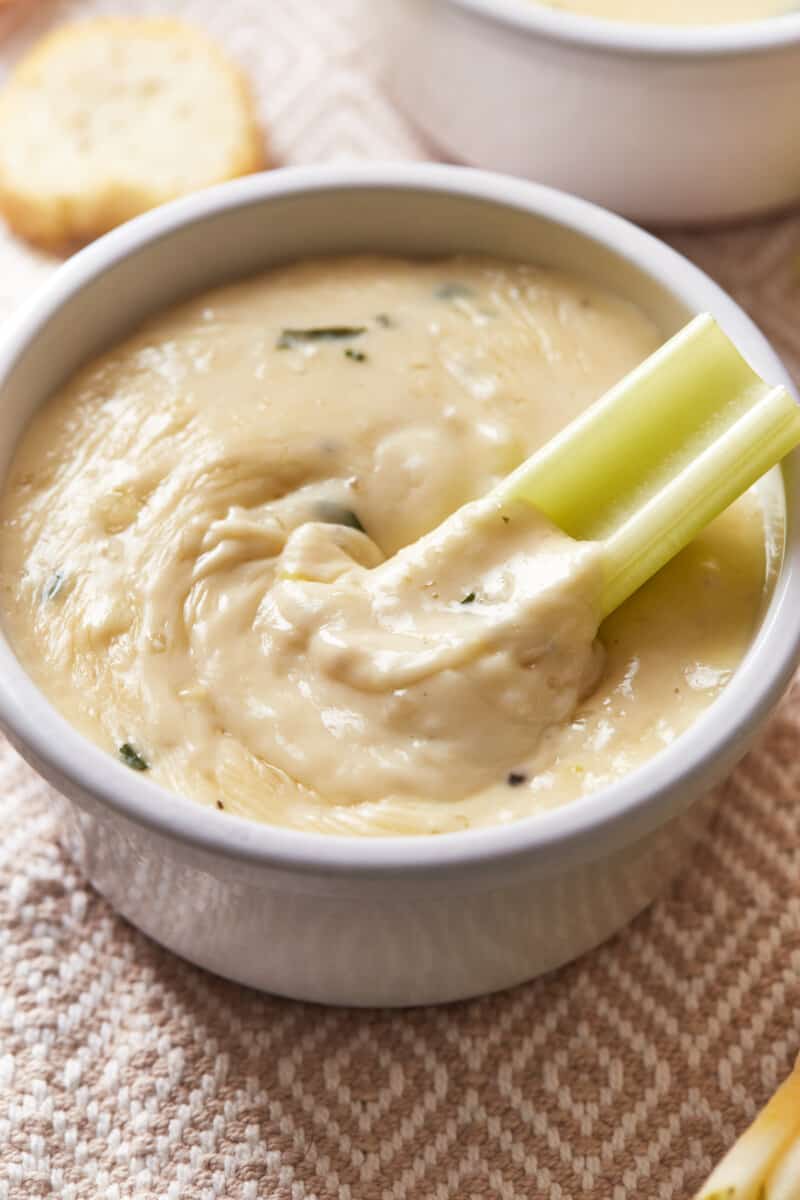 More Cheesy Dip Recipes We Love