This easy white wine fondue is made with swiss, gouda, and of course white wine. Perfect for a crowd pleasing appetizer, I for one can't possibly have enough cheese in my life!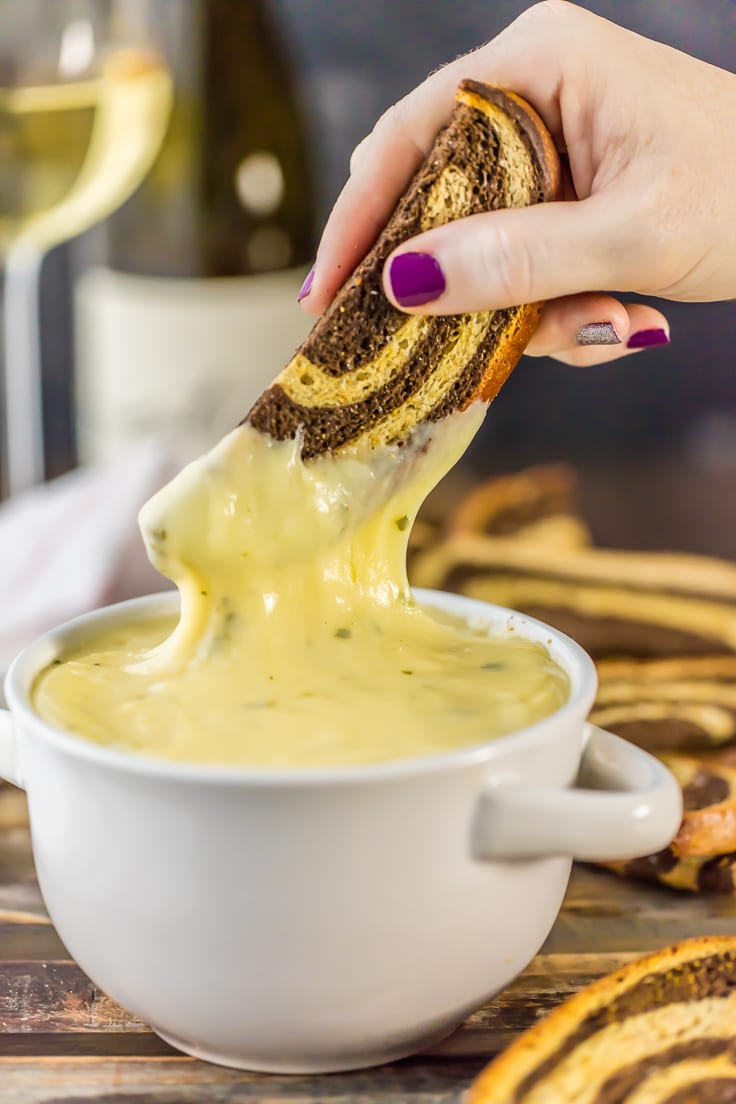 Homemade Cheese Fondue
Cheese has always been a love in my life. Long before I learned to cook, cheese was still a favorite. Cheesy pastas, cheese smothered recipes, and if you want to be healthy, cheese on salads :)
For me, it doesn't get better than cheese dips as appetizers. There's just nothing better than a melty bowl of cheese ready for dipping.
This SUPER EASY WHITE WINE FONDUE is made in minutes and checks all the boxes for a simple and delicious appetizer. It's perfect for game day, the holidays (NEW YEARS EVE!), or just an everyday appetizer dinner at home.
Be sure to check out my Beer Cheese Dip and Rotel Dip too!
Why you will love this recipe!
Quick and easy: This cheese dip is ready to enjoy in just 15 minutes!
Simple ingredients: You just need some cheese, garlic, wine and some seasonings, and you have one yummy treat on your hands.
Perfect for a crowd: This recipe easily serves 6 and it's easily doubled if you are hosting more.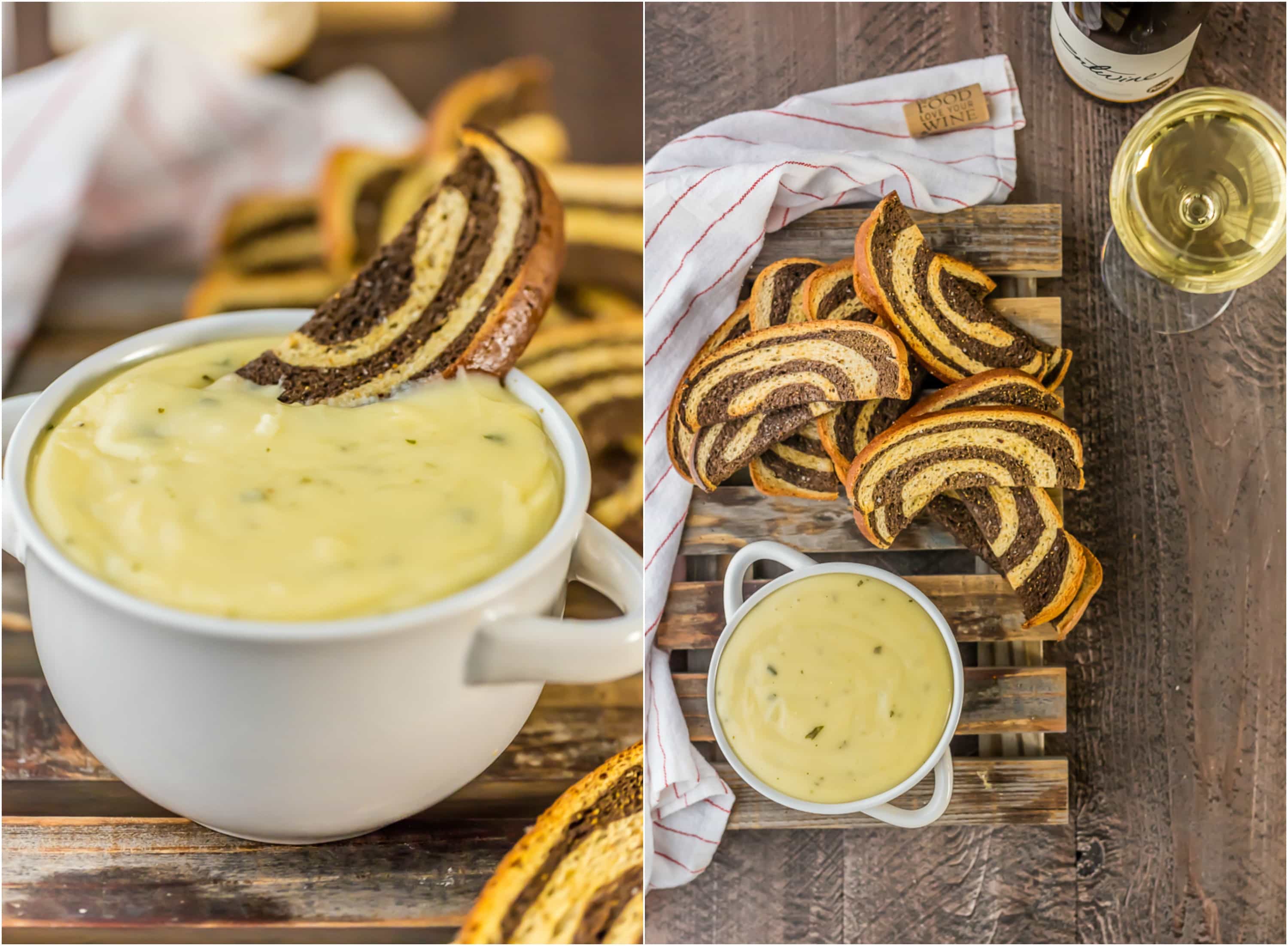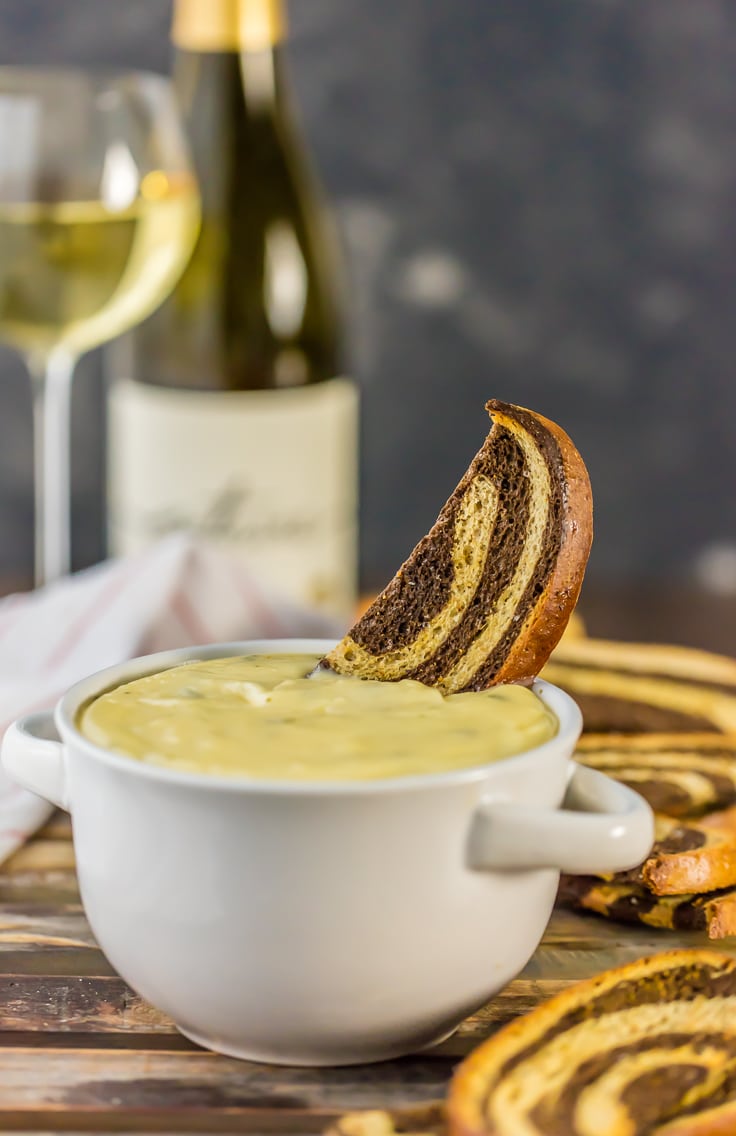 How to make white wine fondue
Be sure to scroll down for the full recipe!
Saute the garlic and add the white wine.
Add in the cornstarch, cheeses, salt and pepper and vinegar. Whisk to combine.
Stir in the basil and serve.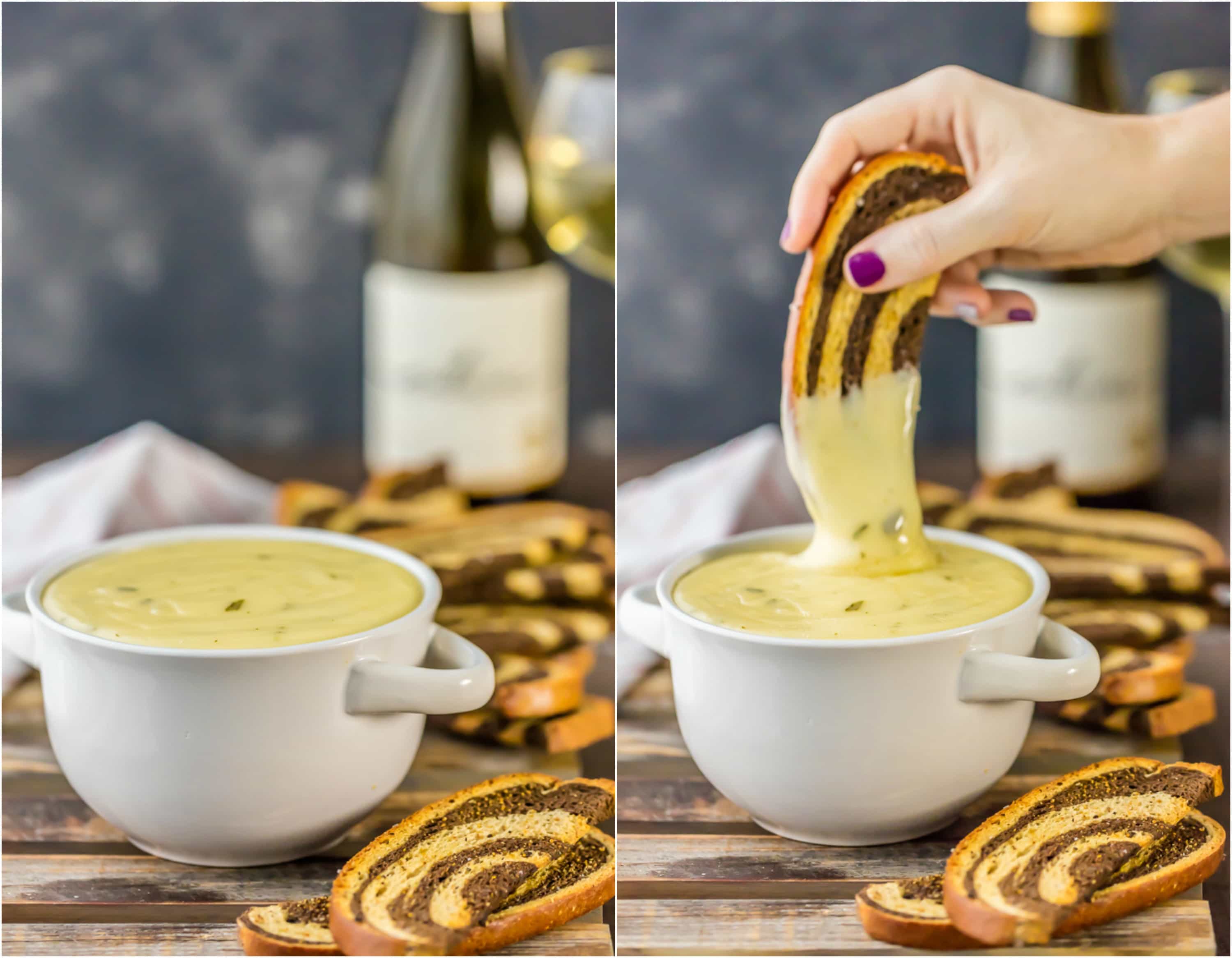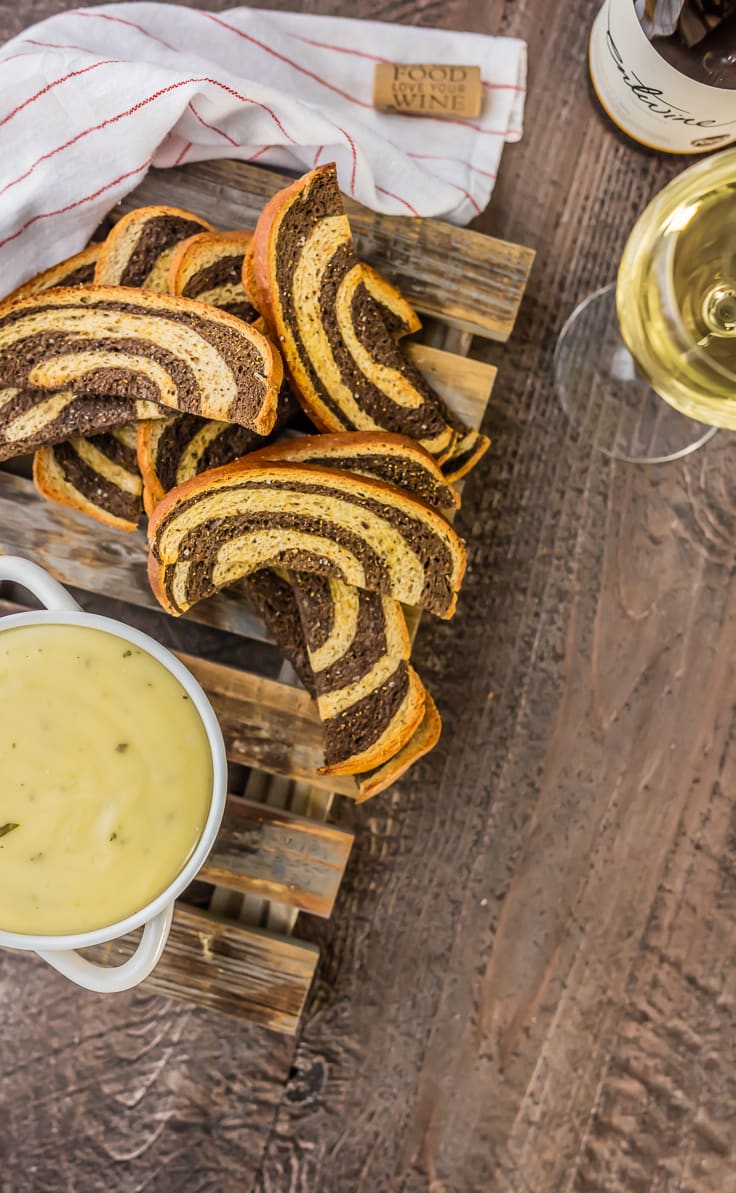 Can you make it ahead of time?
This white wine fondue needs to be served straight away so that the cheese is gooey and dip-able. You can keep it warm for a little while, but on a low heat so that the cheese doesn't burn. Whenever possible, make it as close to serving as you can.
What's the best cheese to use?
I used a mix of gouda and swiss for this fondue, but you can make it with other cheeses you like. Don't use pre-grated cheeses, as these often have a coating that can be harder to melt. Either grate by hand or cut the cheese into small cubes.
What to serve with fondue
The hardest part when making this Easy White Wine Fondue is deciding what to use as dippers. There are so many delicious options. I chose to make super simple marbled rye crostini, but you could use apples, veggies, or even chips. Anything goes!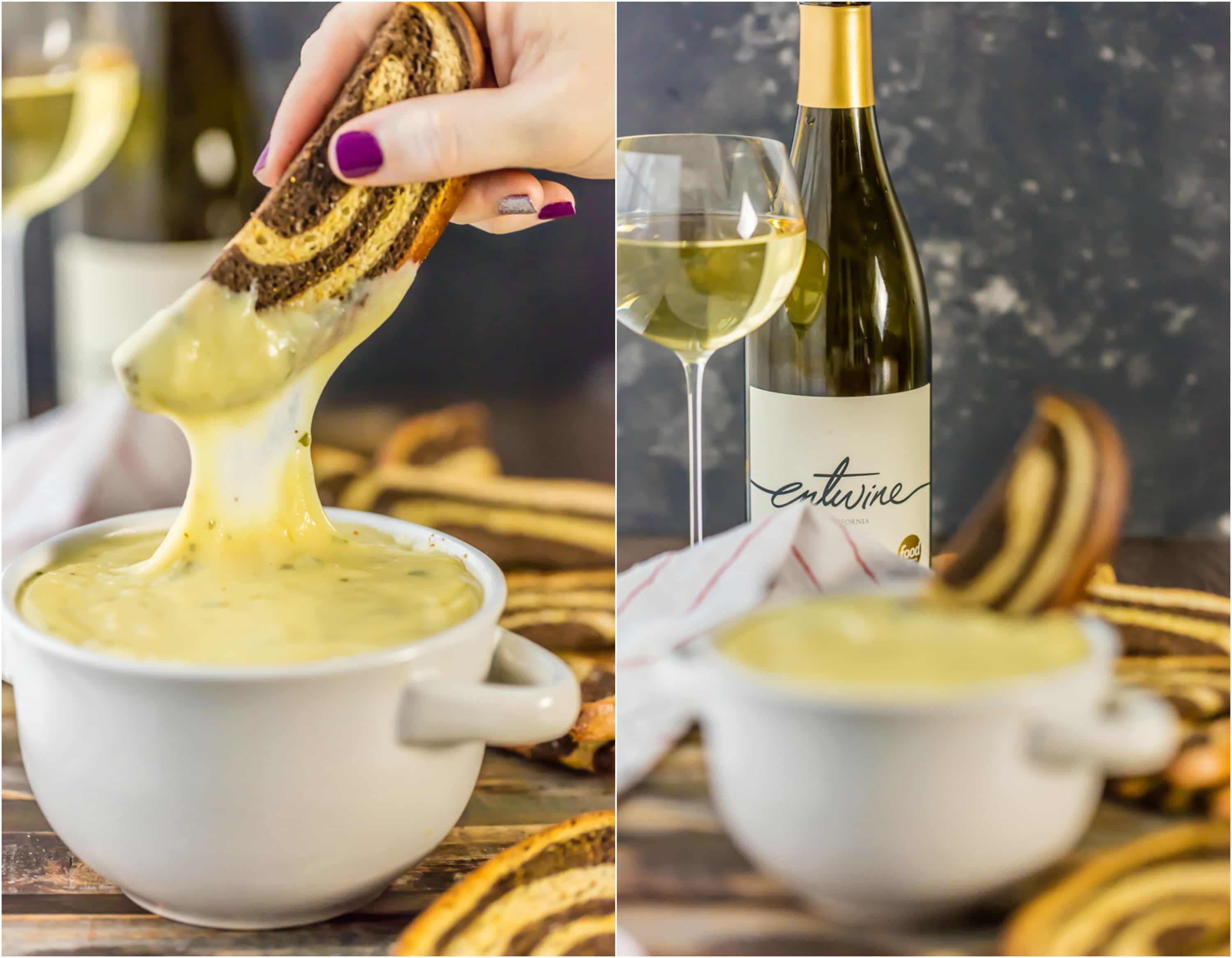 Recipe Notes and Tips
Use a whisk to mix the ingredients together. It will combine more easily than if using a spoon.
Don't have the pot on too high of a heat or the cheese at the bottom can burn. Keep stirring so that it doesn't catch.
Once the cheese has all melted, you can add in more wine or more cheese to make it your preferred consistency.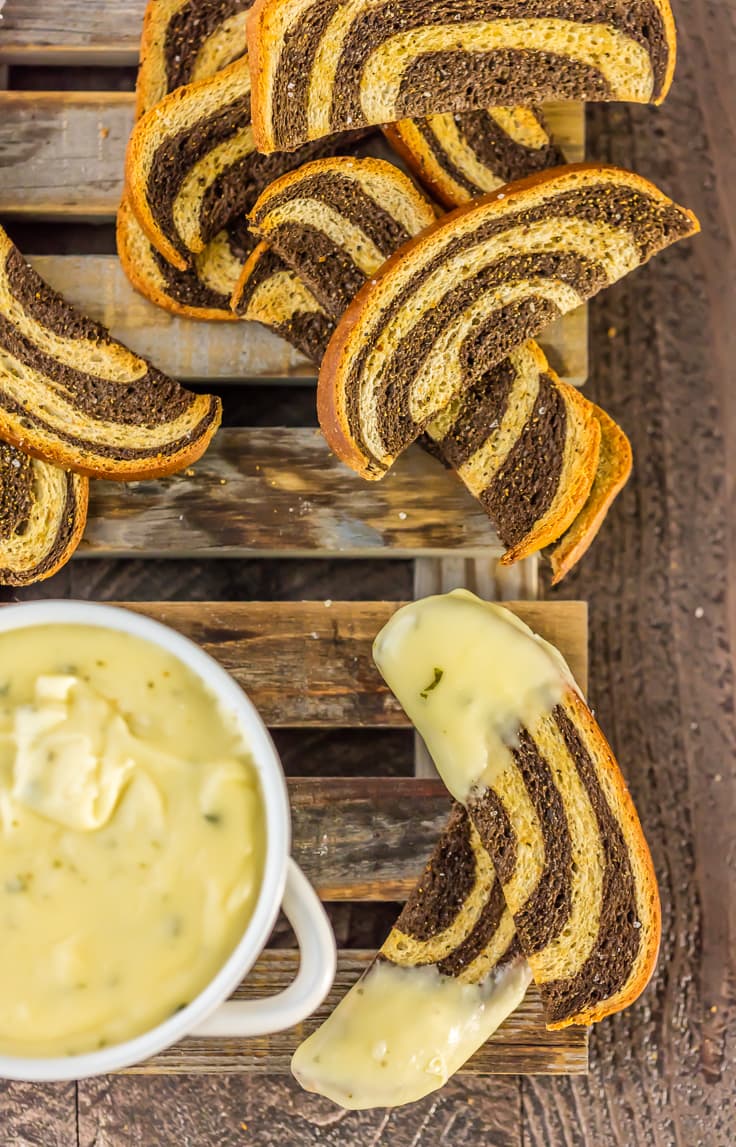 So there you have it. Wine and cheese are a match made in heaven, and this SUPER EASY WHITE WINE FONDUE proves it beyond a reasonable doubt!
More Cheese Appetizers