These SLOW COOKER BBQ PORK SANDWICHES are the ultimate fun finger food for any party! Use the meat for sliders, stuff them into quesadillas, or eat it over rice. The possibilities are endless!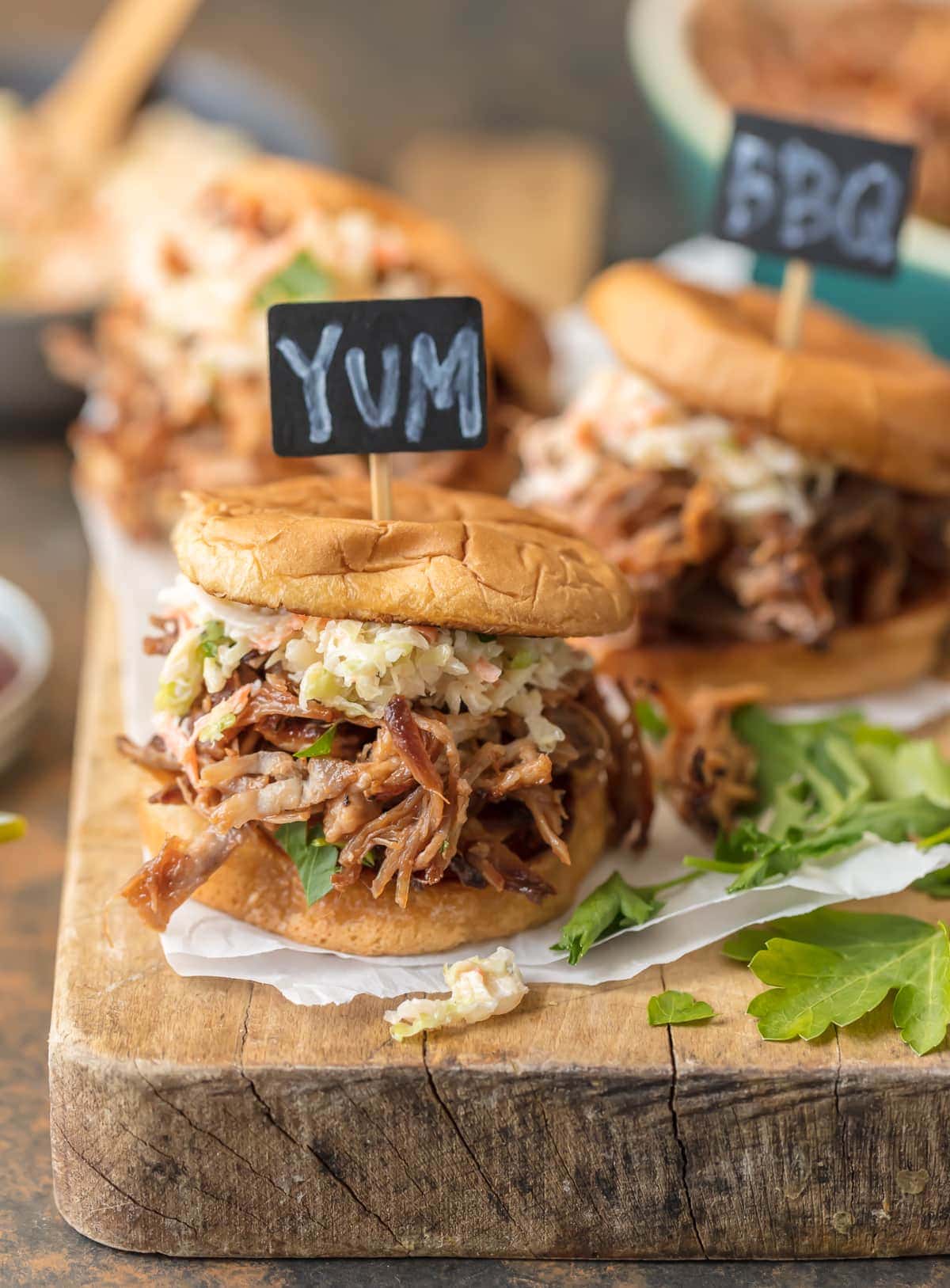 I might be inching closer to too little too late with all this game day food…but I don't plan on stopping anytime soon. I'm determined to show you guys allll my favorite Super Bowl eats and treats! When it's time to sit back and watch Justin Timberlake…I mean football…you'll be ready with all the great drinks, apps, and party food for the ultimate day of tailgating. It's what appetizer lovers such as myself look forward to all year long. Commercials and food. Repeat.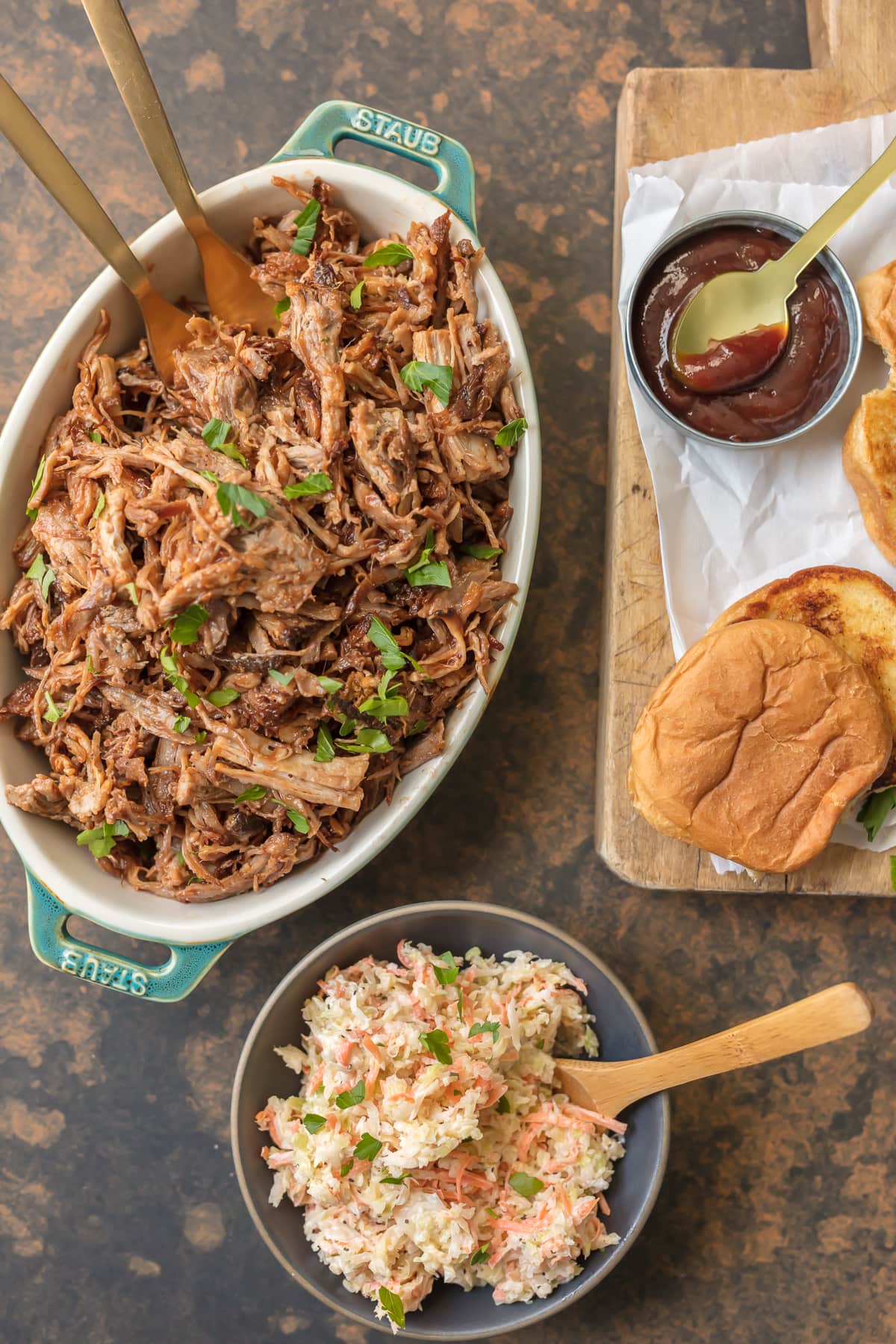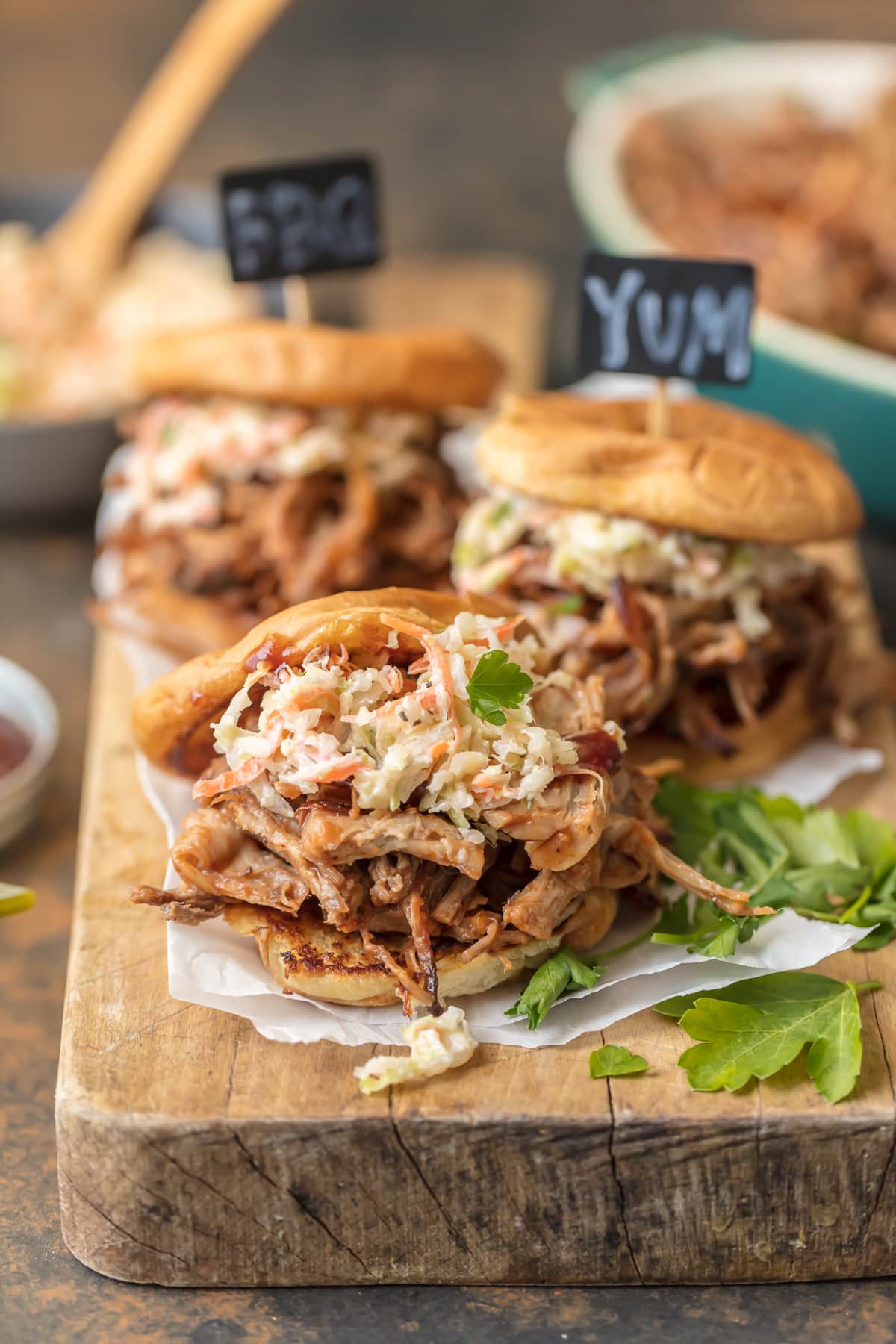 Everyone under the sun needs a really good slow cooker bbq pork recipe. Most people have tried it before in one way or another. I love this easy breezy recipe because it's fool proof and sure to please. I also LOVE the slaw we piled on top. It makes these little bbq pork sliders feel a authentic, unique, and fun. I cannot get enough.
We like to eat something like these sandwiches as the main course on game day. You can set them and forget it, remember them, and then enjoy them. It's that easy.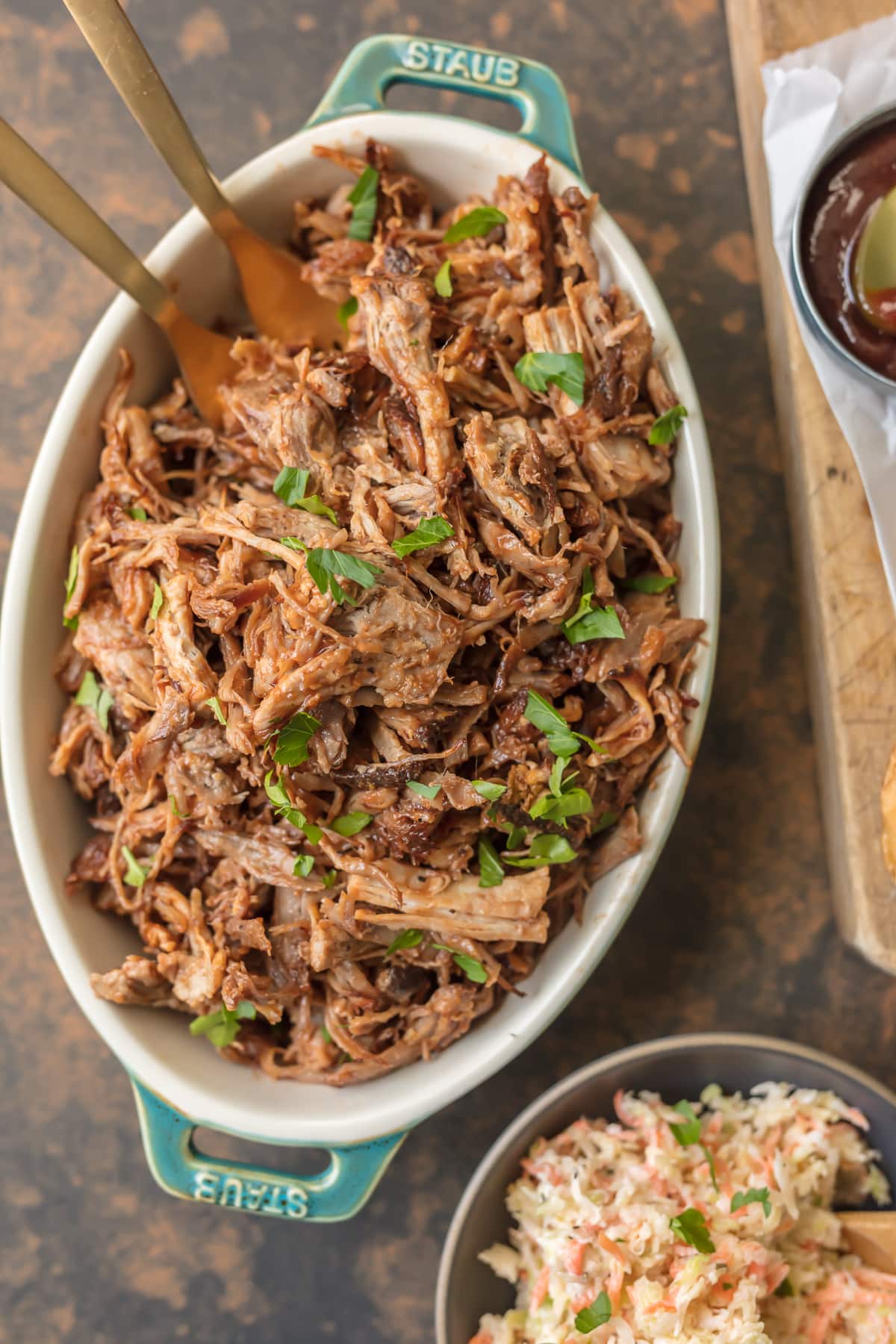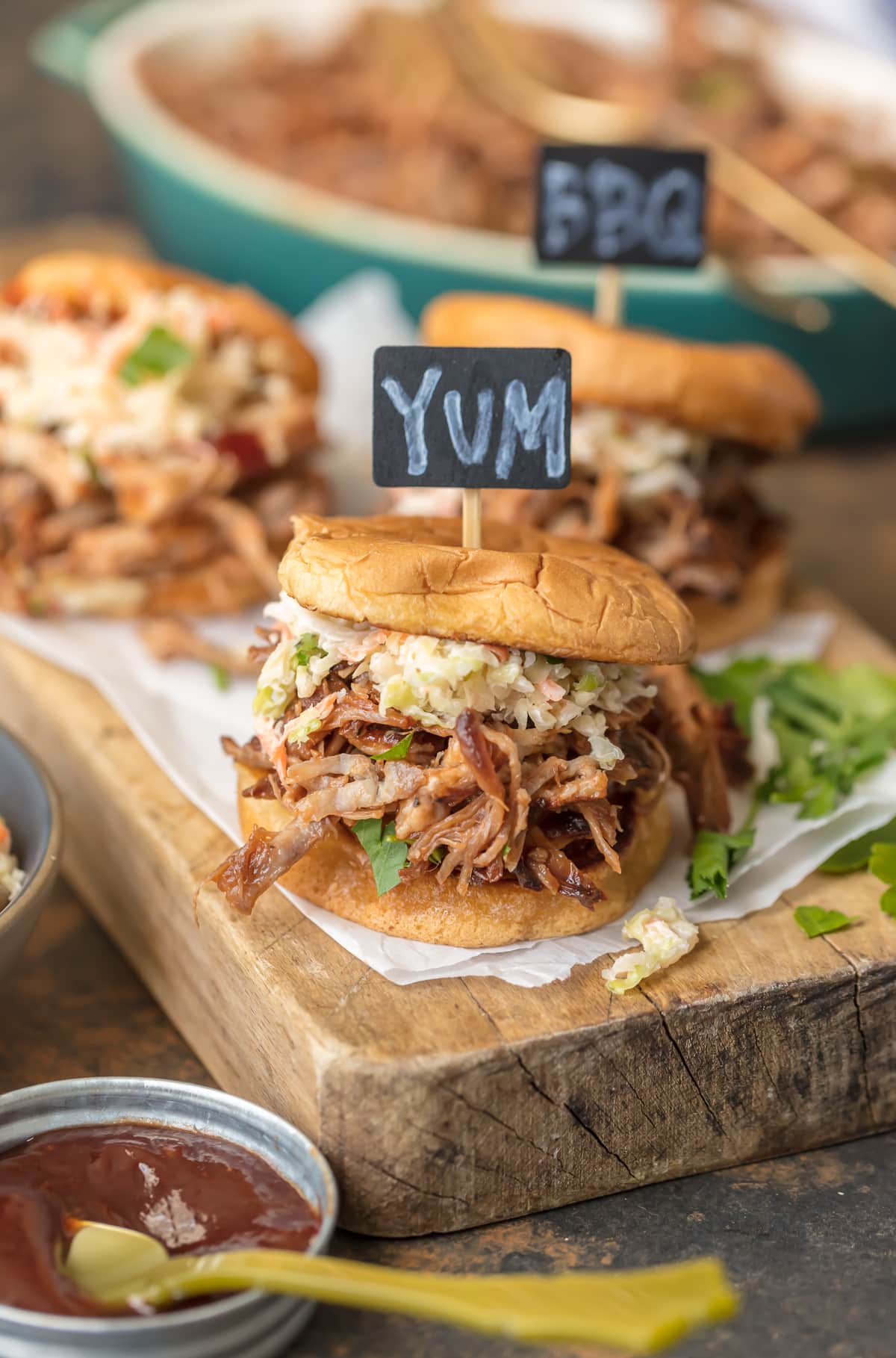 We like to keep our Crockpot BBQ Pork Sandwiches simple. Just the bbq sauce, the pork, the classic coleslaw, and the bun. Sure you can pile on things like onions, pickles, or whatever you heart desires…but I think simple is best. Let the flavors shine!!
I also feel like we like to make sliders more than big sandwiches because it leaves room on the menu for lots of game day appetizers. You need your dips, nachos, and wings when tailgating, you just do.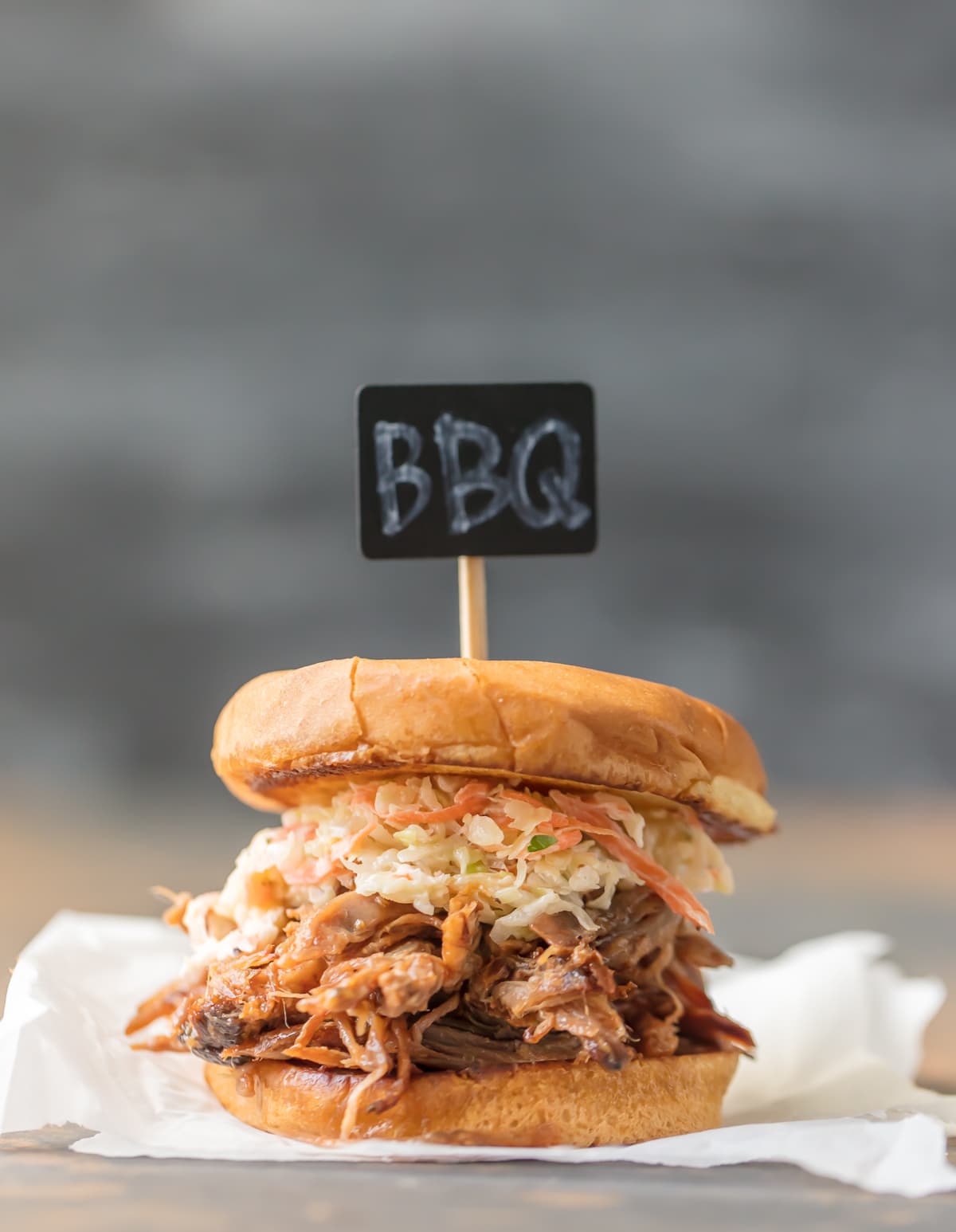 I'm so excited for Justin's return to halftime, aren't you! I think Henry is going to love some Justin Timberlake music. We are about to find out!
Enjoy :)
Slow Cooker BBQ Pork Sandwiches
These SLOW COOKER BBQ PORK SANDWICHES are the ultimate fun finger food for any party! Use the meat for sliders, stuff them into quesadillas, or eat it over rice. The possibilities are endless!
10 minPrep Time
8 hrCook Time
8 hr, 10 Total Time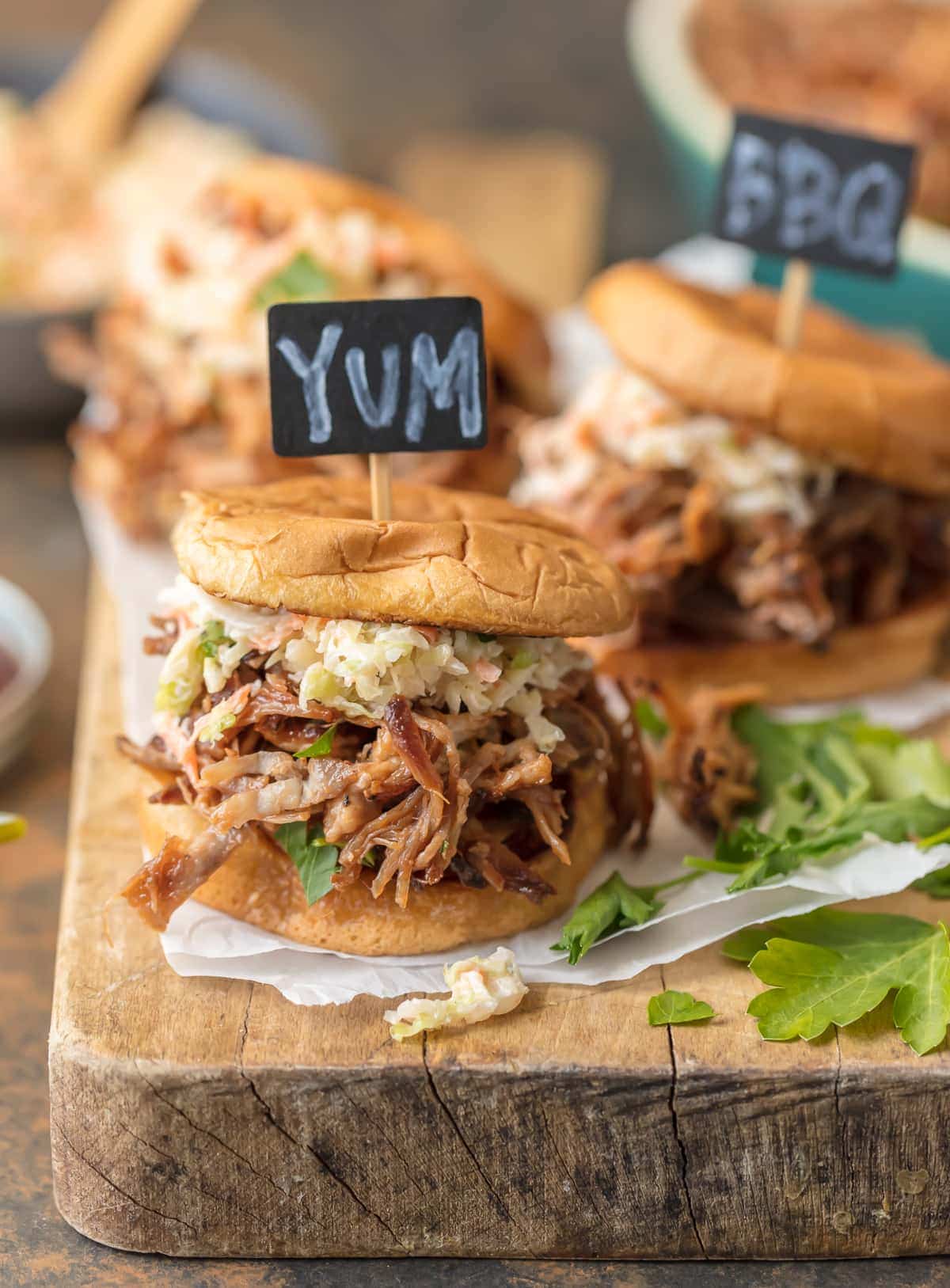 Ingredients
For Pulled Pork

6 pound bone-in, skin-on pork shoulder or pork butt roast
16 oz. jar BBQ sauce, divided *See Note. (Blue's Hog BBQ Sauce is my personal favorite)
*Half the sauce will be used cooking the roast and the reserve used to mix with the shredded, cooked pork or to serve alongside.
1 yellow onion, peeled & quartered

For Classic Coleslaw:

½ head of cabbage
2 medium carrots, peeled & trimmed
½ cup mayonnaise
¼ cup apple cider vinegar
¼ cup granulated sugar
1 teaspoon kosher salt
½ teaspoon ground black pepper
¾ teaspoon celery seed
1 teaspoon dried chives, or 2 teaspoons fresh, minced
Instructions
Directions for Pulled Pork:

Spray inside of slow-cooker with non-stick cooking spray.
Pour an inch of barbeque sauce into the bottom of the slow-cooker crock.
Score the fat on top of the roast in a crisscross pattern, being sure to cut through the fat layer.
Place the roast in the slow-cooker and pour 8 ounces of BBQ sauce over the roast.
Place the onion wedges around the roast.
Cover the slow-cooker with the lid. Set the temperature to HIGH and cook the roast (unopened) for 6 hours or until the meat can easily be pierced with a fork.
Transfer the roast to a cutting board, remove the fat layer, and use two forks to pull it apart. (Thus, the name, 'Pulled Pork")
Serve on buns and extra BBQ sauce or, if desired, place the pulled pork into a large bowl and mix it together with extra BBQ sauce to taste.
Serve pulled pork with coleslaw on sandwich buns.

Directions for Classic Coleslaw:

Remove the core and outer layers from the cabbage. Cut the cabbage into pieces sized to fit into a food processor. Grate the cabbage in the food processor or with a grater. If no food processor is available, slice the cabbage very thin, and chop it until the pieces are very small.
Grate the carrots the same size as the cabbage.
Combine the grated cabbage and carrots and season with salt. Place the vegetables in a colander/strainer and set it over a large plate to drain for an hour.
After an hour, squeeze the cabbage by twisting it in a clean dishtowel to remove as much moisture as possible.
Combine the sugar and apple cider vinegar. Whisk together until sugar has dissolved. Add mayonnaise, celery seed, black pepper and chives. Whisk again, taste and adjust seasonings, if needed. *See note.
Squeeze the cabbage again and add it to the dressing. Mix until well combined.
Serve.
*Note: If serving the coleslaw the next day, place the cabbage/carrot mixture, over a paper towel, in a lidded container. Place the mayonnaise mixture in a different lidded container, and refrigerate both overnight in the fridge. The next day, mix the pork and mayo mixture together before serving.
Serve coleslaw with pulled pork on sandwich buns.
Enjoy!
7.6.7
2517
https://www.thecookierookie.com/slow-cooker-bbq-pork-sandwiches/