Crockpot BBQ Pork Sandwiches are a must make recipe for any busy family. These SLOW COOKER BBQ PORK SANDWICHES are the ultimate fun finger food for any party! Use the meat for sliders, stuff them into quesadillas, or eat it over rice. The possibilities are endless!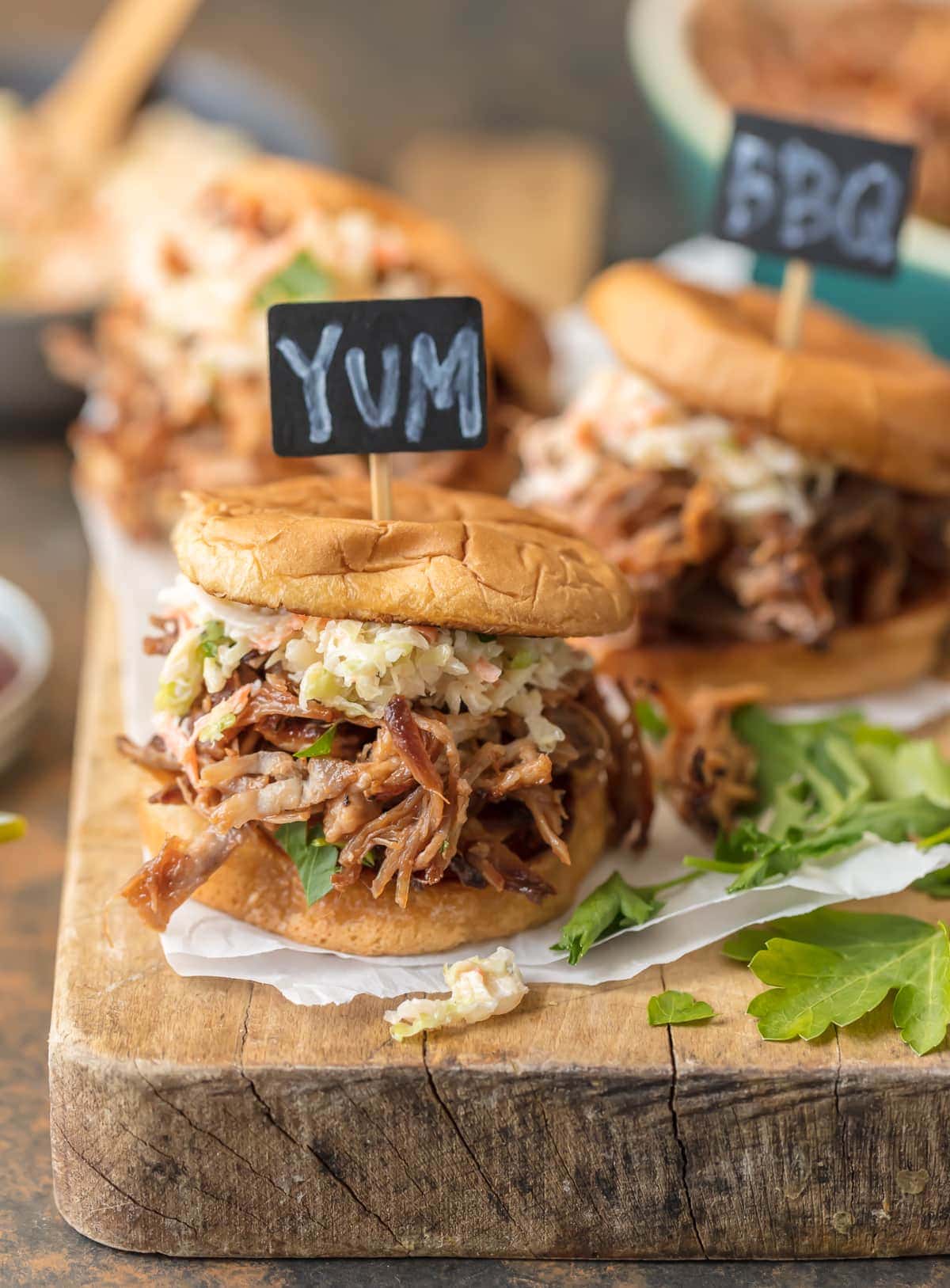 Crockpot BBQ Pork Sandwiches
Crockpot BBQ Pork Sandwiches are perfect for game day!
I might be inching closer to too little too late with all this game day food…but I don't plan on stopping anytime soon. I'm determined to show you guys allll my favorite Super Bowl food ideas! When it's time to sit back and watch Justin Timberlake…I mean football…you'll be ready with all the great drinks, apps, and party food for the ultimate day of tailgating. It's what appetizer lovers such as myself look forward to all year long. Commercials and food. Repeat.
I love how easy it is to cook up these slow cooker BBQ pork sandwiches for any party or event.
Slow Cooker BBQ Pork Sandwiches are the perfect game day food!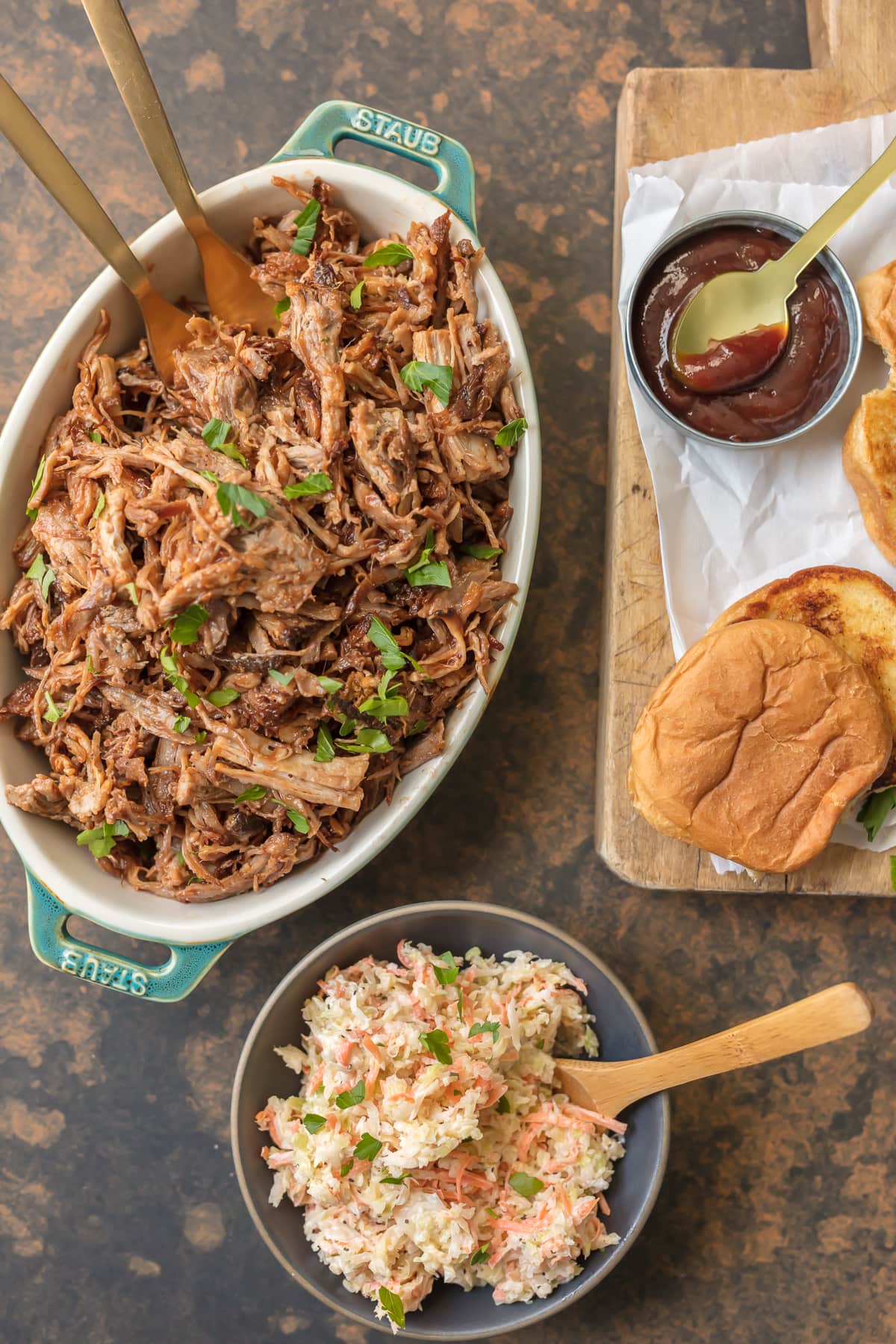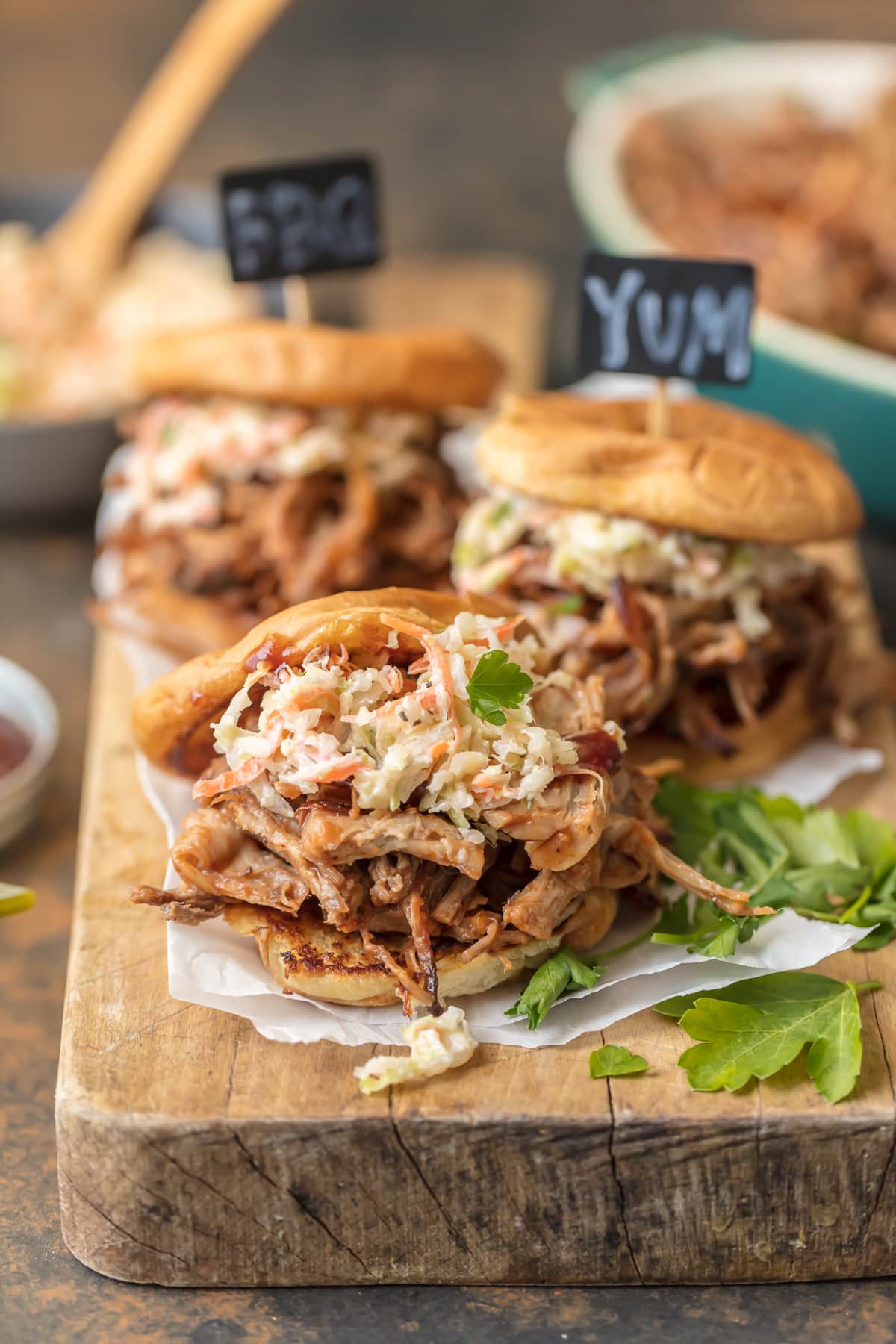 Best Slow Cooker BBQ Pork Sandwich Recipe
Everyone under the sun needs a really good crockpot bbq pork sandwich recipe. Most people have tried it before in one way or another.
I love this easy breezy slow cooker BBQ pork recipe because it's fool proof and sure to please. I also LOVE the slaw we piled on top. It makes these little pulled pork sandwiches feel more authentic, unique, and fun. I cannot get enough.
We like to eat something like these BBQ pork sandwiches as the main course on game day. You can set them and forget it, remember them, and then enjoy them. It's that easy!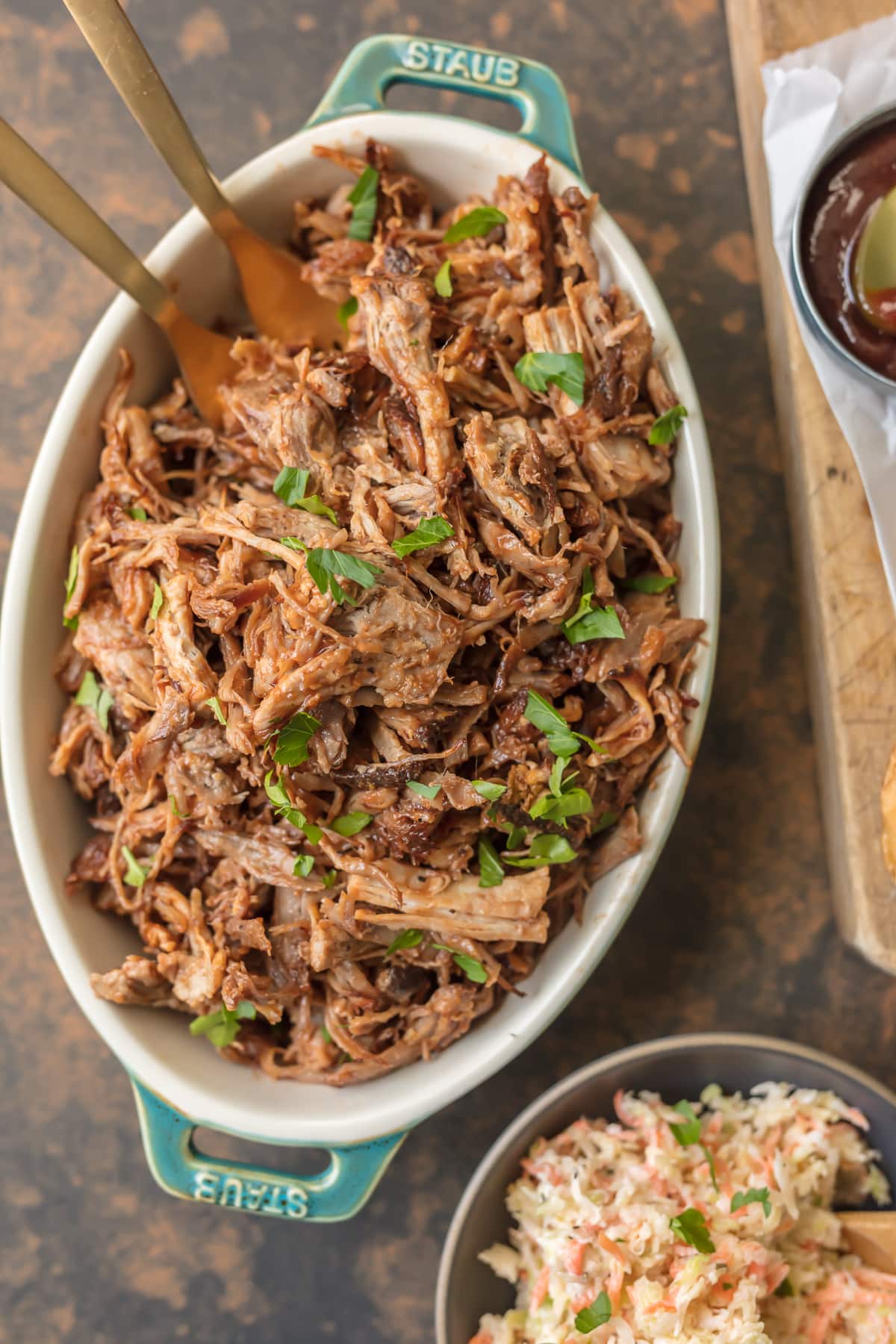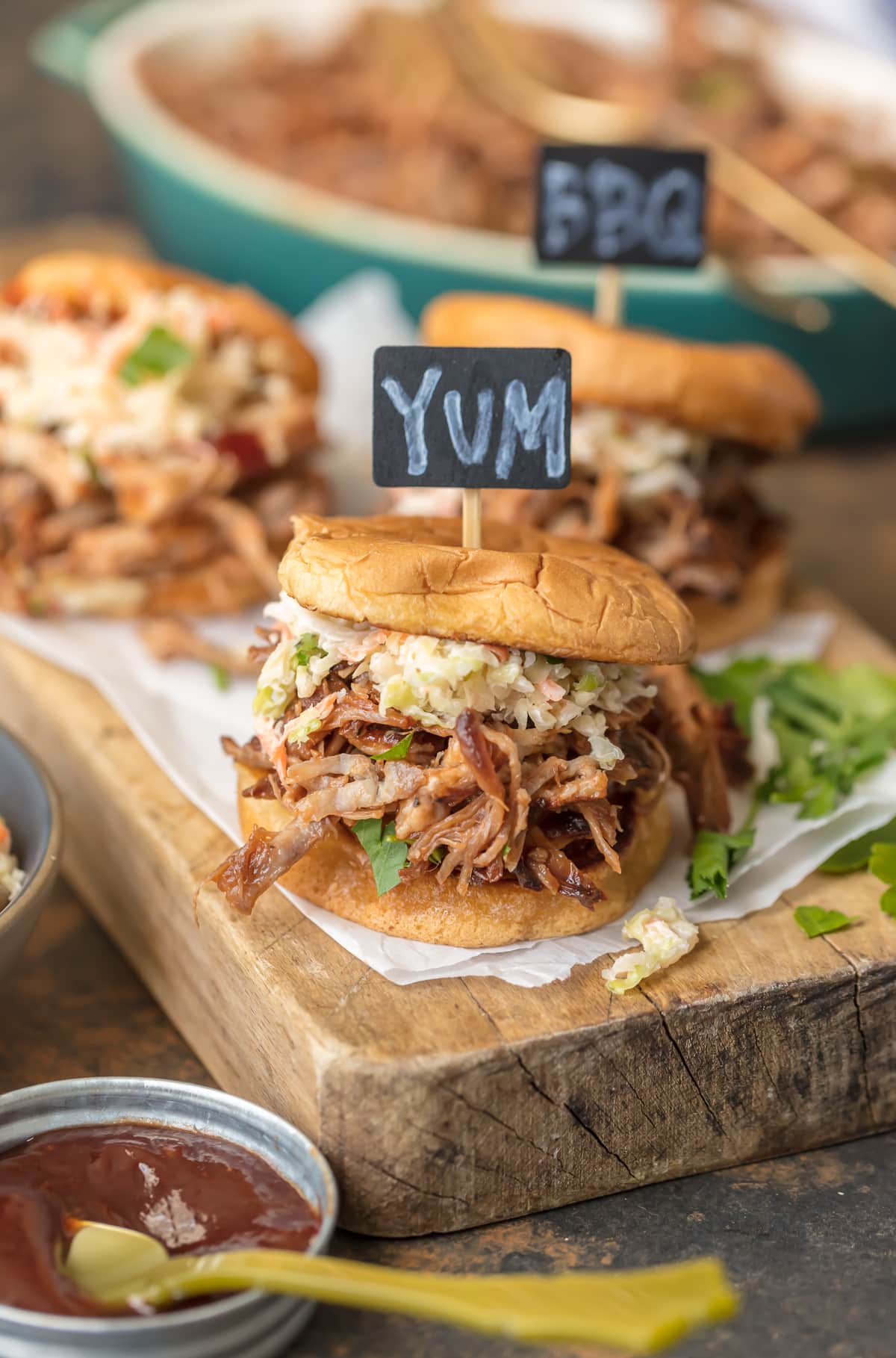 What to serve with BBQ Pulled Pork Sandwiches
We like to keep our Crockpot BBQ Pork Sandwiches simple. Just the bbq sauce, the pulled pork, the classic coleslaw, maybe a side of BBQ baked beans, and the bun. Sure, you can pile on things like onions, pickles, or whatever you heart desires…but I think simple is best. Let the flavors shine!!
I also feel like we like to make sliders more than big sandwiches because it leaves room on the menu for lots of game day appetizers. In addition to the crockpot BBQ pork sandwiches, you need your dips, nachos, and wings when tailgating too!
And be sure to try this Pulled Pork Grilled Cheese too!
How long do you cook pulled pork?
BBQ pork sandwiches are such a great thing to make for parties, but pulled pork does take a while to cook. That's what's so genius about making it in a crock pot!
By cooking the pulled pork in a slow cooker, you can prepare your meat, throw it in, and let it cook without thinking about it. These slow cooker BBQ pork sandwiches will take about 6 hours to cook in the crockpot, giving you plenty of time to prepare other game day snacks and appetizers for the party.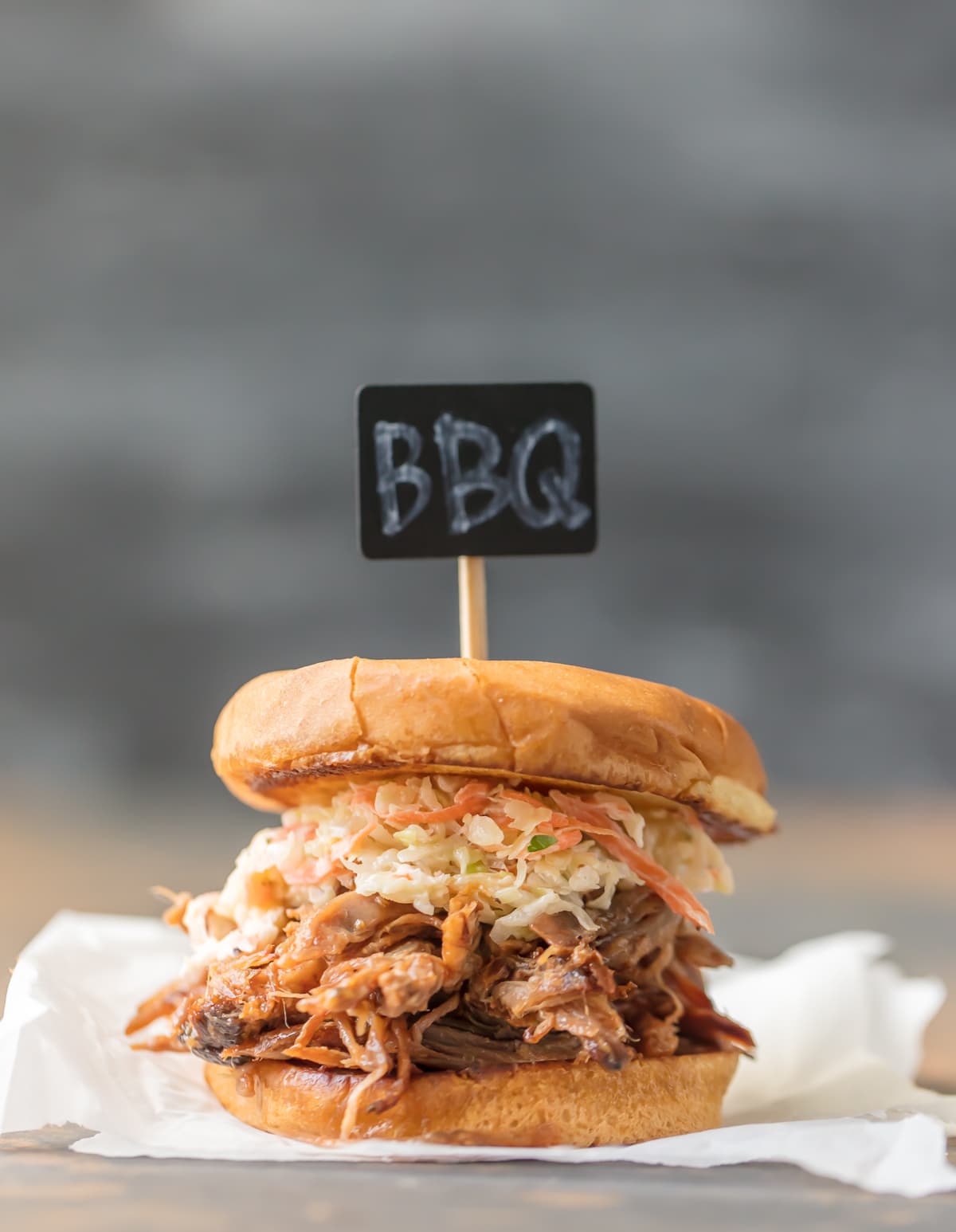 I'm so excited for Justin's return to halftime, aren't you? I think Henry is going to love some Justin Timberlake music. We are about to find out!
You and your guests will absolutely love these Crockpot BBQ Pork Sandwiches for game day. I can't wait for you to try them!
See the recipe card below for full details on how to make Crockpot BBQ Pork Sandwiches. Enjoy!
Be sure to try these other slow cooker sandwich recipes:
Enjoyed this Crockpot BBQ Pork recipe? Want more slow cooker recipes? We have you covered with Slow Cooker Pecan Pie, Slow Cooker Thai Chicken, and Slow Cooker Tex Mex Quinoa.