Chicken Rotel Sandwiches are the ultimate way to tailgate for the Super Bowl! These Slow Cooker Rotel Dip Chicken Sandwiches are the perfect mix of flavors. Spicy Cheesy Chicken Sandwiches made in the crock pot. So easy and so addicting!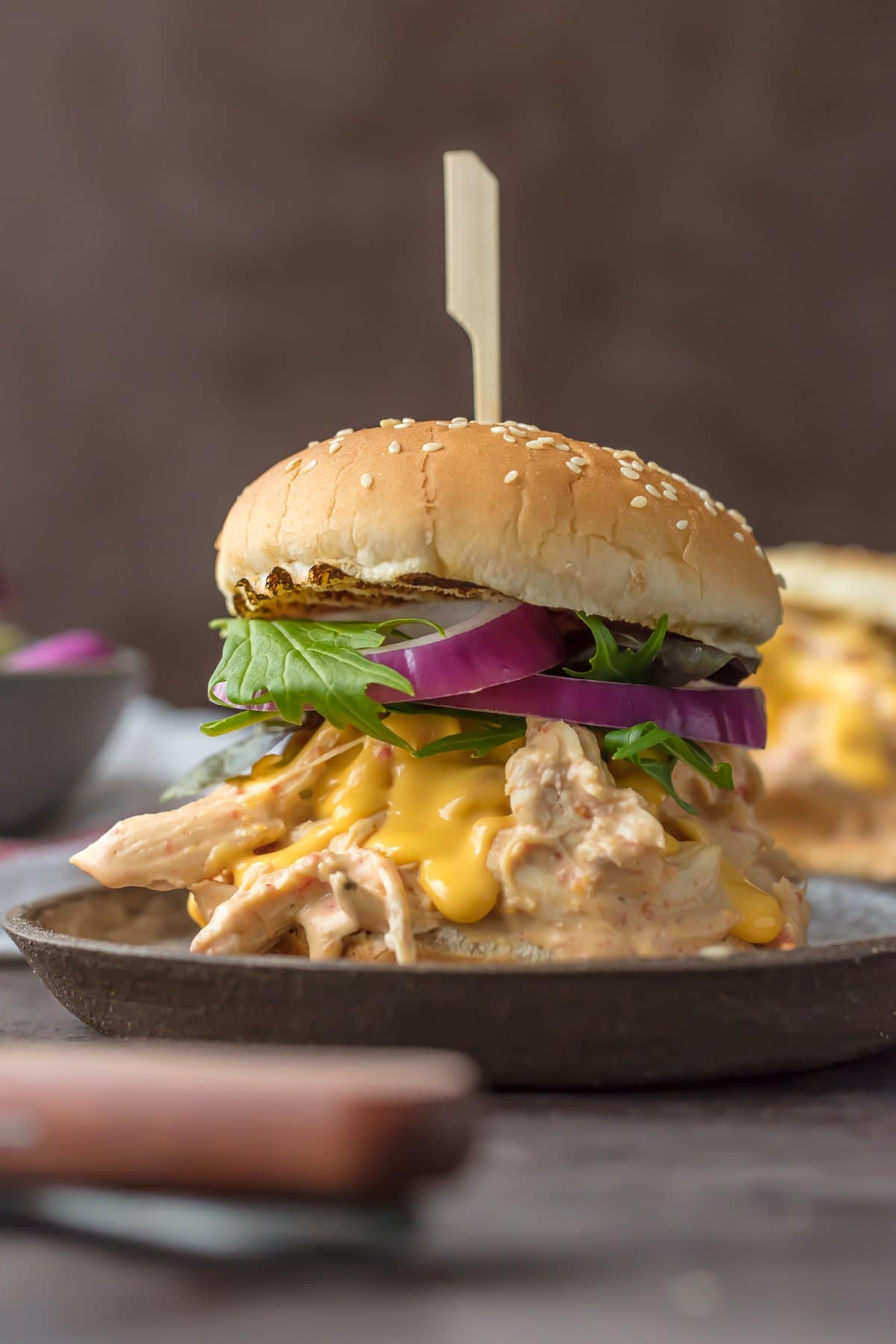 Crock Pot Chicken Sandwiches
Chicken Rotel Sandwiches are the perfect game day food. Easy slow cooker rotel dip filled with chicken on hamburger buns. So simple yet so delicious!
I'm SO DANG EXCITED about these SLOW COOKER ROTEL DIP CHICKEN SANDWICHES! It's an idea that popped into my head one day when I was dreaming about cheese (that's very typical for me), which led me to think about how much I love Rotel Dip (Rotel melted together with Velveeta).
And that led me to think about HOW CAN I EAT THIS AS AN ENTIRE MEAL, which led me to this recipe.
These Chicken Rotel Sandwiches are sure to be a family favorite. They are made in a crock pot, which means they are incredibly easy.
These Rotel Dip Chicken Sandwiches are perfect for every day meals, but they're also perfect for holiday parties or THE SUPER BOWL! It will be here before we know it and we better be ready! I plan to have both cheese dip AND these sandwiches. Can you blame me?
Serve these Chicken Rotel Sandwiches any time, and eat all the leftover dip with chips…because you can't waste any of that delicious Rotel dip! That would be a crime…
Slow Cooker Chicken Rotel Sandwiches are the best game day meal to serve for all your guests. They're easy to make and incredible delicious. Rotel Dip on a sandwich…yes please!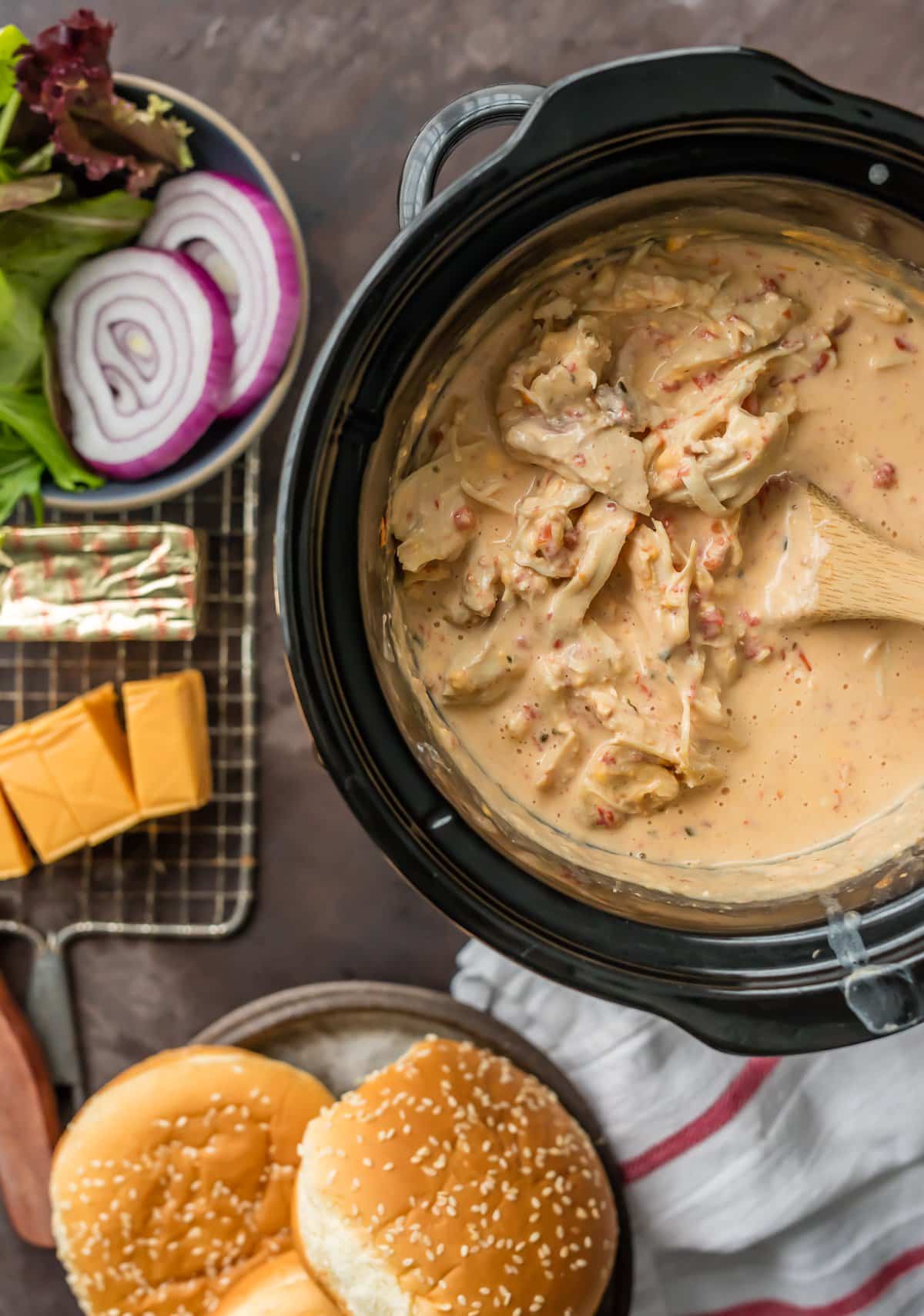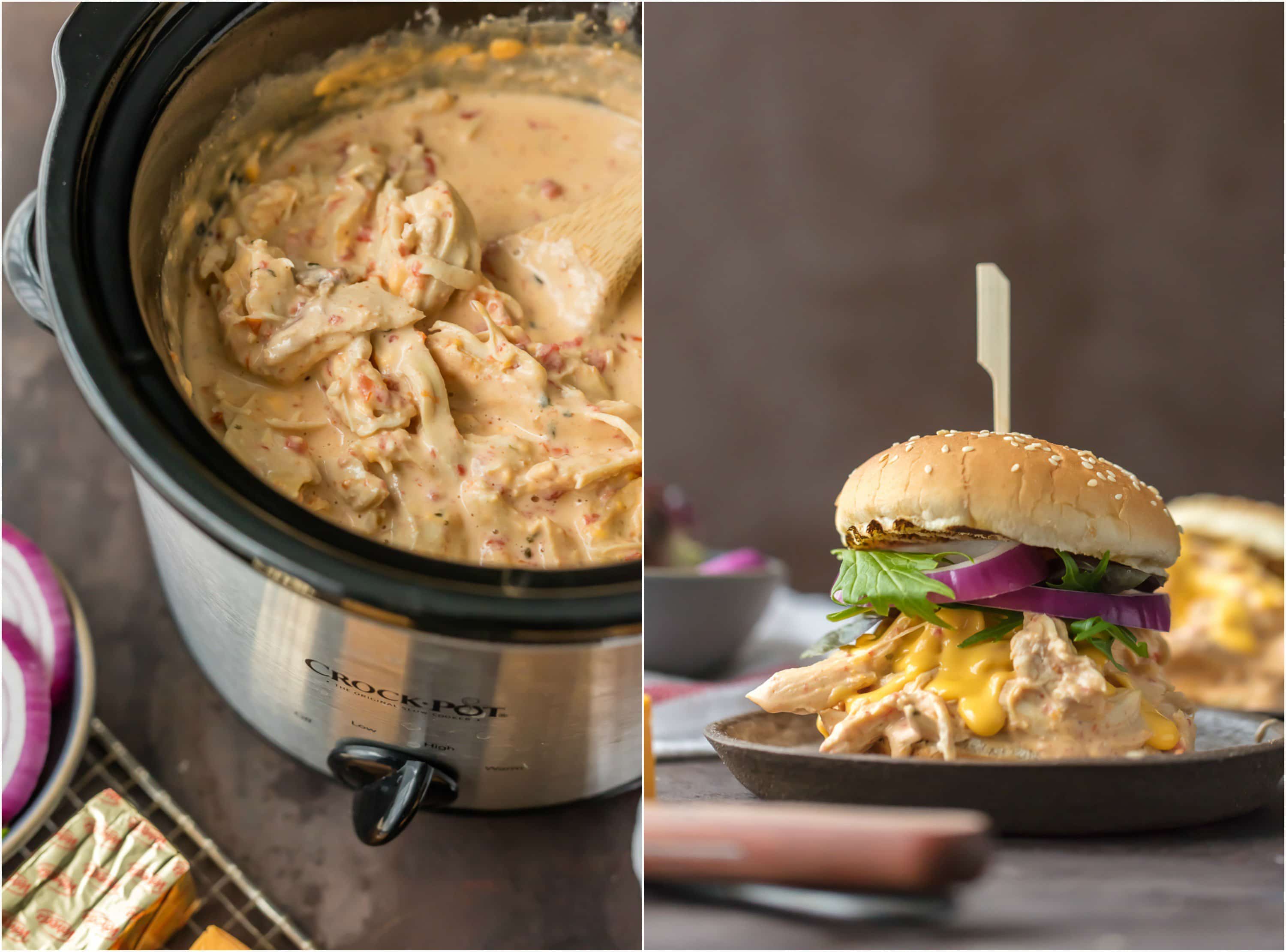 Crock Pot Rotel Dip with Chicken
These sandwiches are everything that you already love about classic rotel dip. Super cheesy, creamy, and just the right amount of spice.
Those flavors lend themselves so perfectly to chicken. To say these sandwiches are crave-worthy are an understatement. And anything made in a slow cooker is an automatic step up in my opinion. I mean just look at all that cheese!
Rotel Dip Recipe
I'm a big fan of Rotel (tomatoes with green chiles). Besides these Chicken Rotel Dip Sandwiches, I use it in a lot of my dips and other recipes. It just might be one of my favorite ingredients!
Try some of my other favorite recipes using Rotel: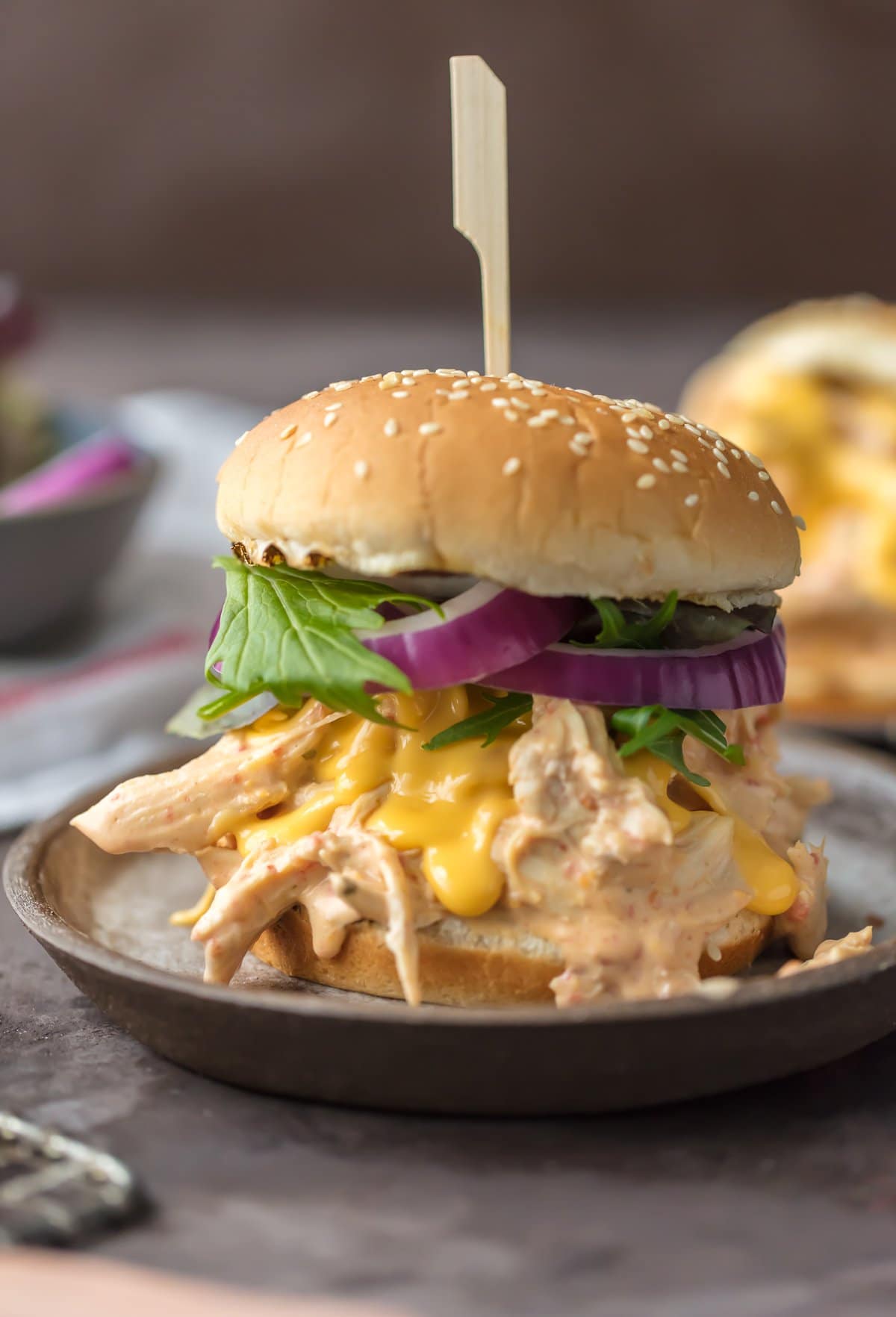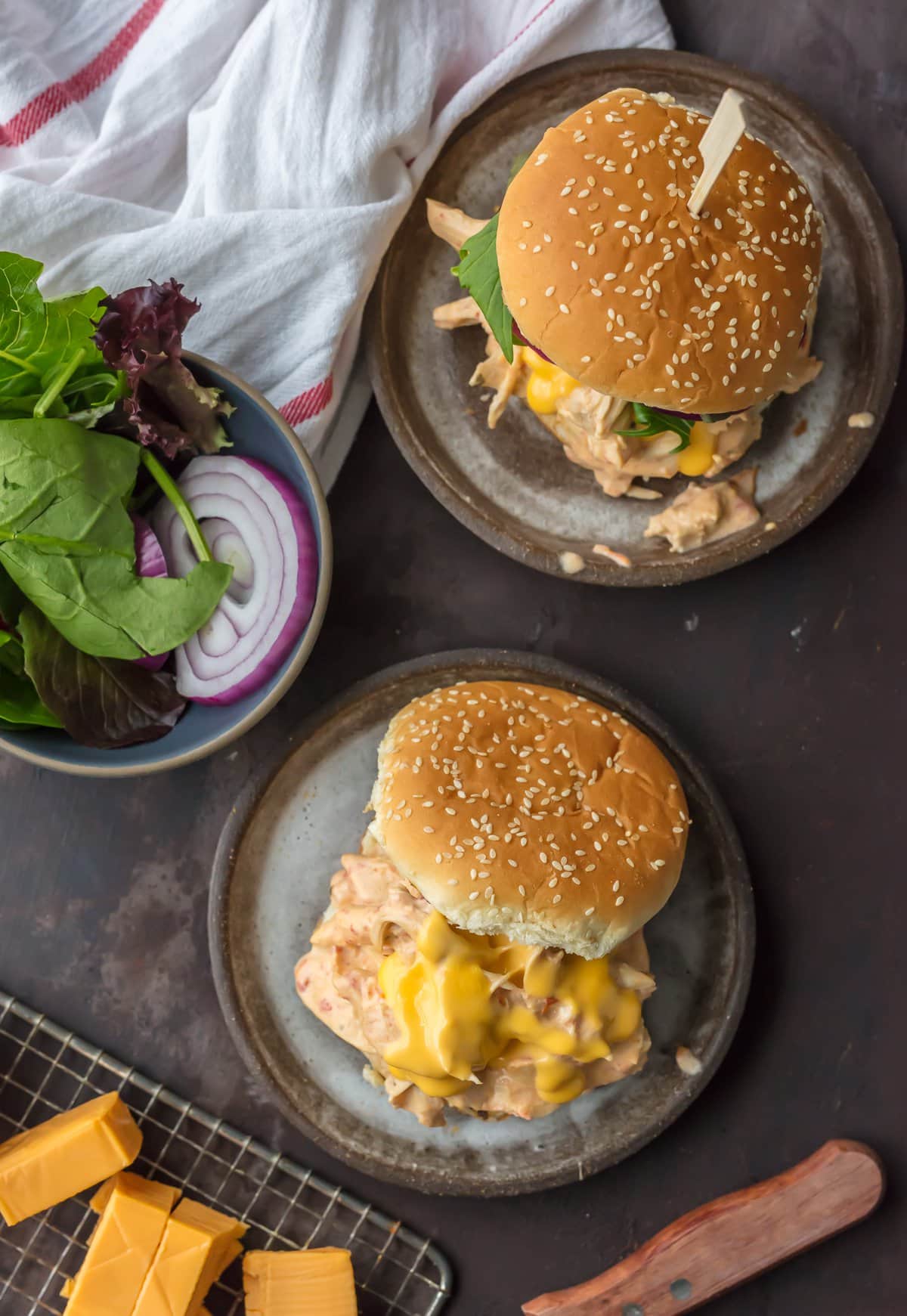 How to Make Chicken Rotel Sandwiches
Obviously this recipe takes quite a bit of time in the slow cooker, but prep is short and the recipe overall is super simple. Make the chicken rotel dip, put it on a bun, top with cheese and condiments, and done!
The extra cheese on the top is an add-on and totally optional…but you guys know how I feel about cheese. The more the better! I just can't say no.
How to Make Rotel Dip Chicken Sandwiches:
Place cream cheese, chicken, Rotel, and Velveeta in slow cooker.
Cook on high 3-4 hours OR on low 6-8 hours, stirring occasionally.
When chicken is done cooking, remove the chicken, shred it, then place it back in the slow cooker and stir.
Keep slow cooker on Warm until ready to serve.
To make the sandwiches: Use a slotted spoon to remove shredded chicken from dip & place on bun. Add your preferred condiments, and more Velveeta if desired.
Don't forget to eat any leftover Rotel dip with chips! No need to waste it once the chicken is gone. :)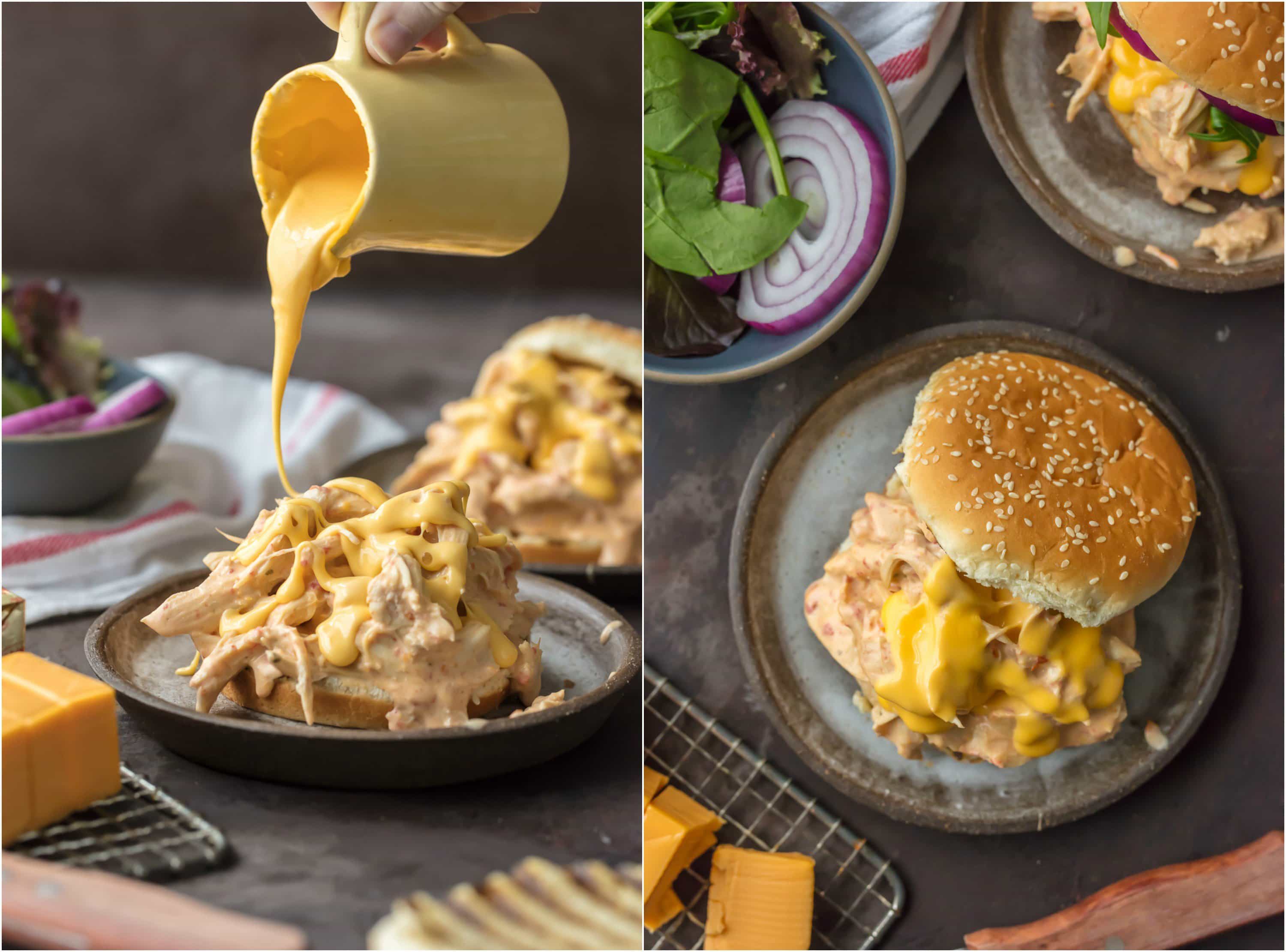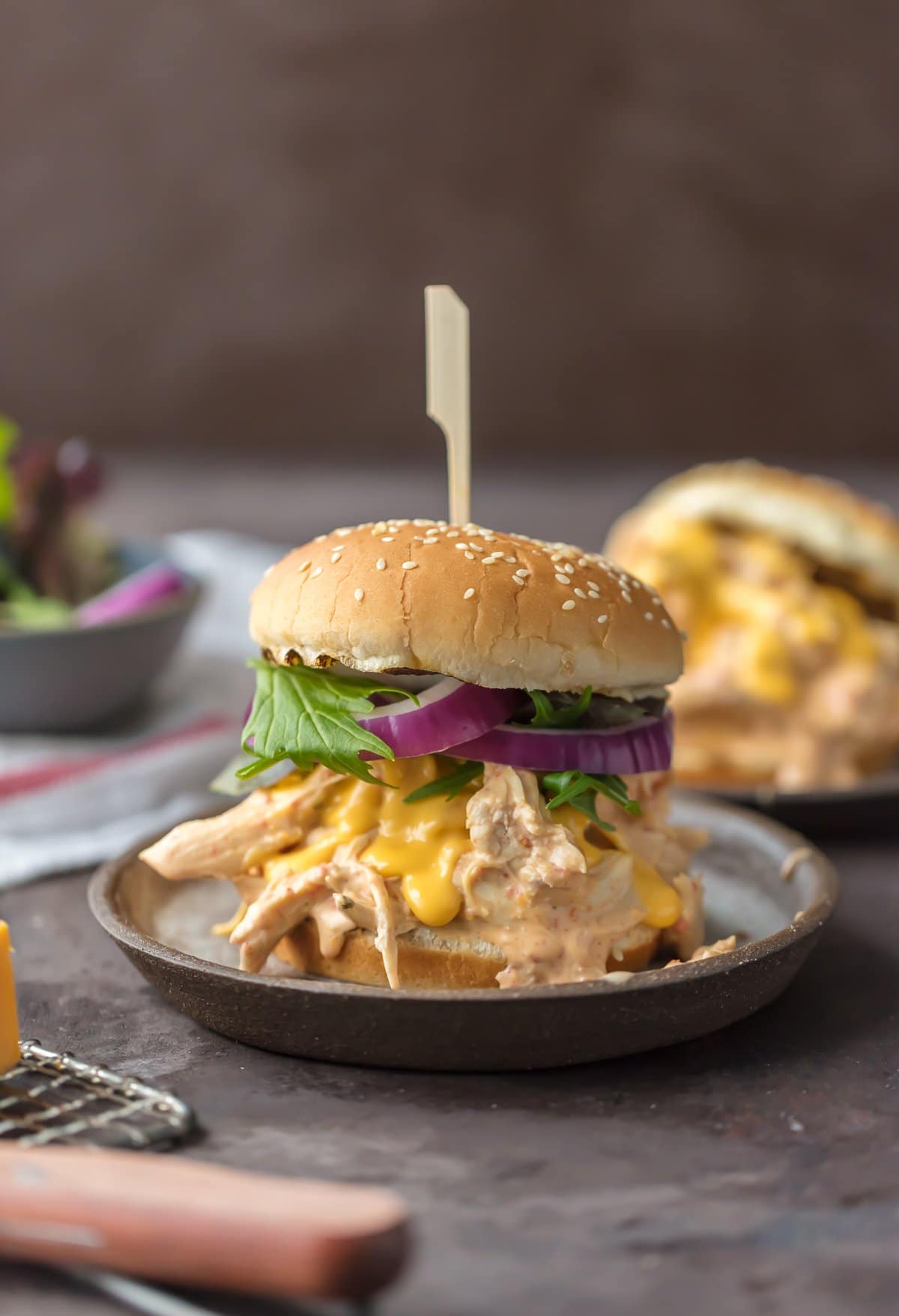 I hope these Slow Cooker Rotel Dip Chicken Sandwiches grace your table for the Super Bowl, but also any other occasion, or for an easy meal around your home. For us that is ALL THE TIME. Chicken Rotel Sandwiches for the win!
If you like these Chicken Rotel Sandwiches, you'll love these other tasty sandwiches too:
If you make this recipe be sure to upload a photo in the comment section below or leave a rating. Enjoy! You can also jump to recipe.