French Dip Sandwich, or French Dip Au Jus, is a delicious and easy way to enjoy crockpot beef! We create a Beef Au Jus sandwich with tender beef, provolone cheese, toasty bread, and of course the dipping sauce. Such a simple crockpot french dip recipe that the entire family will love. This French Dip Sandwich Recipe is a winner!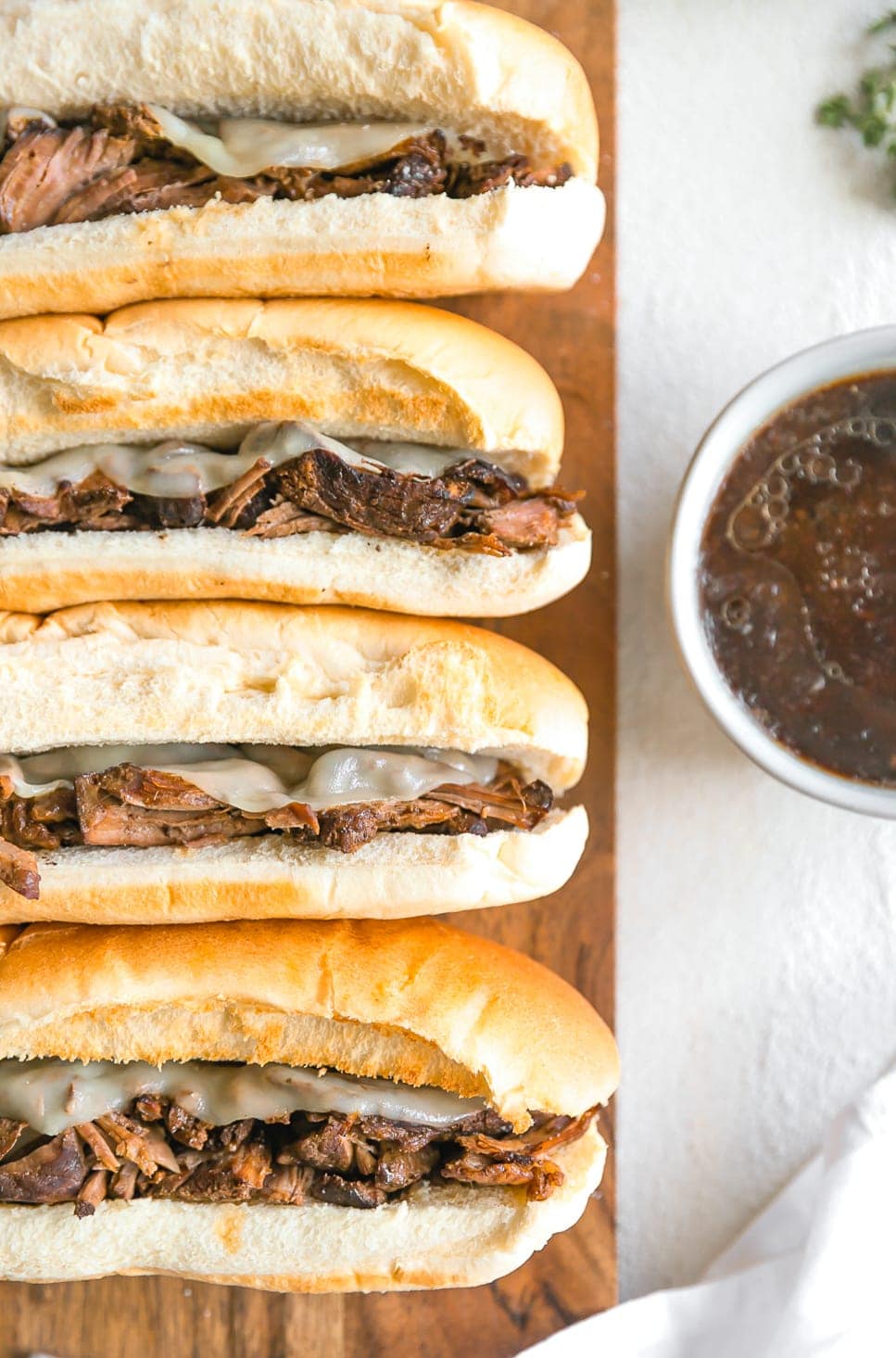 French Dip Recipe
This Crockpot French Dip Sandwich recipe is so delicious, so easy, and so flavorful! Find out how to make French Dip Au Jus in a slow cooker for the best sandwich ever!
French Dip Sandwiches are so good! They definitely hit the spot when I'm craving comfort food. The tender roast beef, the melted cheese, and that amazing au jus. Yum!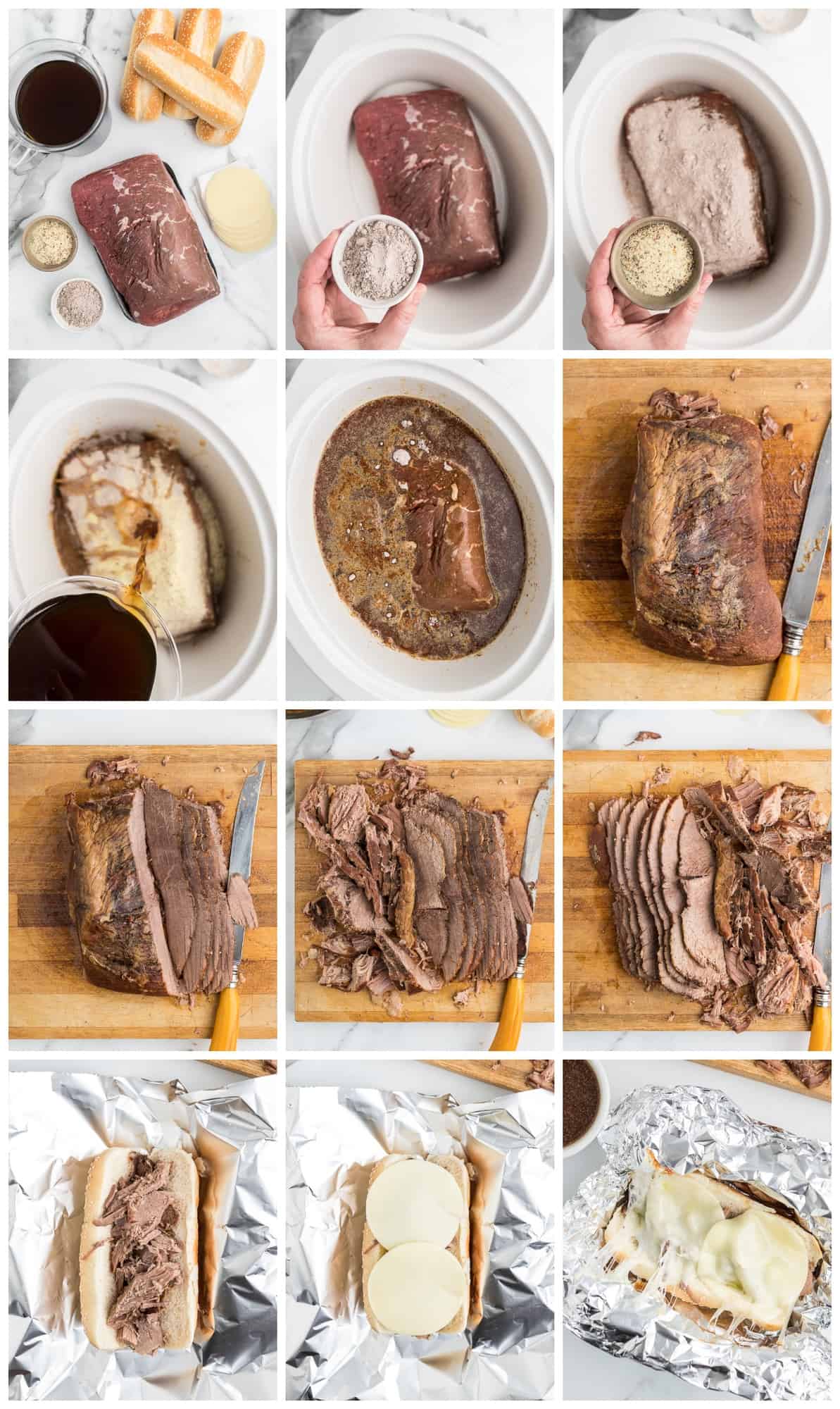 This Crockpot French Dip recipe makes is super easy to make these sandwiches. The roast beef gets so tender from cooking in the slow cooker and all those juices make it extra tasty! It is a great meal to throw in the crockpot before work, so that dinner is ready by the time you get home. Talk about easy!
If you've always wondered how to make au jus or French Dip Sandwiches, today is the day you learn. You're going to love this Slow Cooker French Dip!
Make a classic French Dip Au Jus in a Crockpot for an easy and delicious dinner!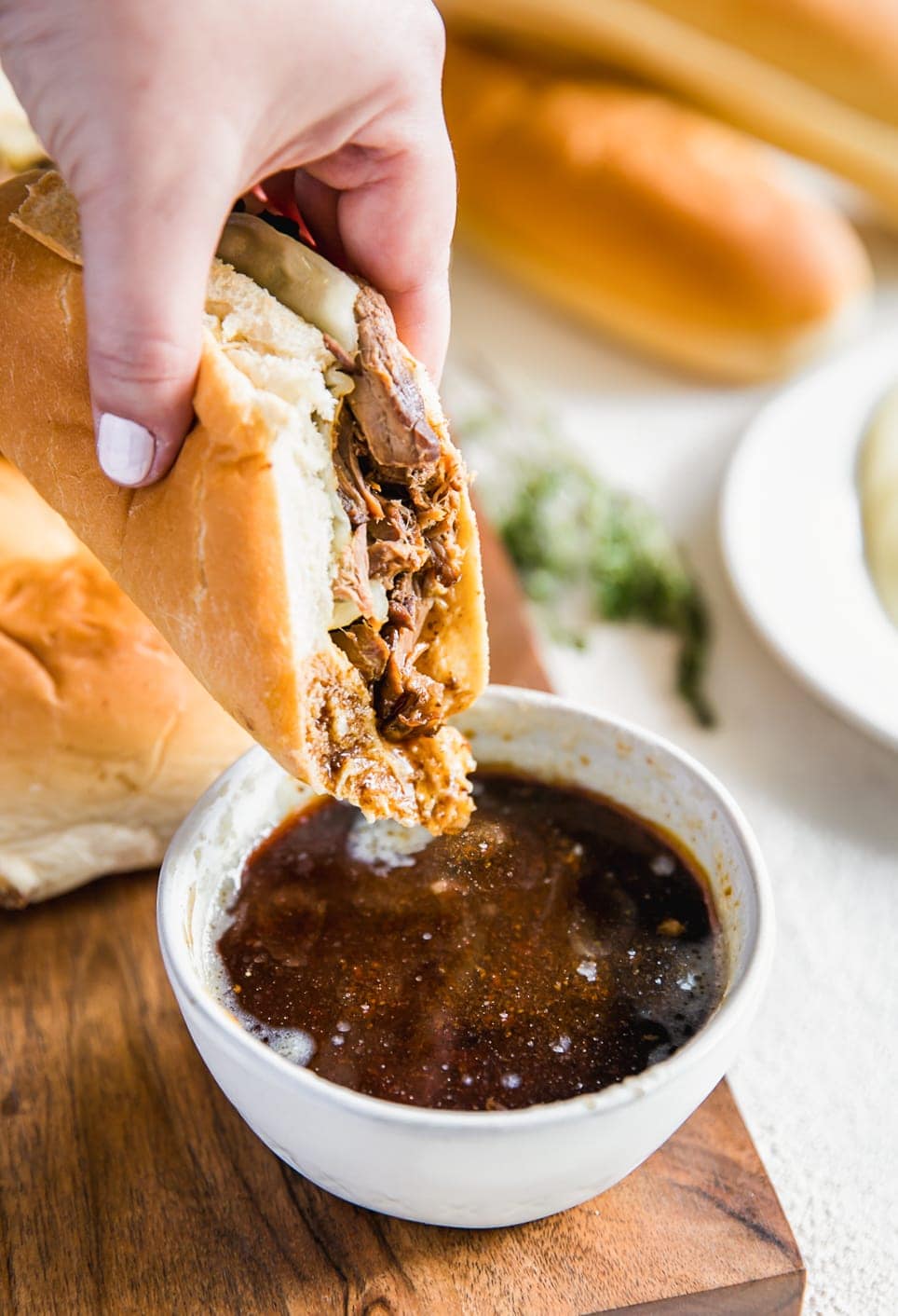 Crockpot French Dip Sandwich Recipe
French Dip Au Jus has a special place in my heart because it was one of the first things my mom taught me to make when I began this cooking journey. She always had these warm, toasty French Dip Sandwiches, and I just had to learn to make them for myself. They're so good!
Luckily this Crockpot French Dip recipe is super easy, so even as a beginner, I was able to get these just perfect. I love how moist roast beef au jus is, with that amazing sauce for dipping.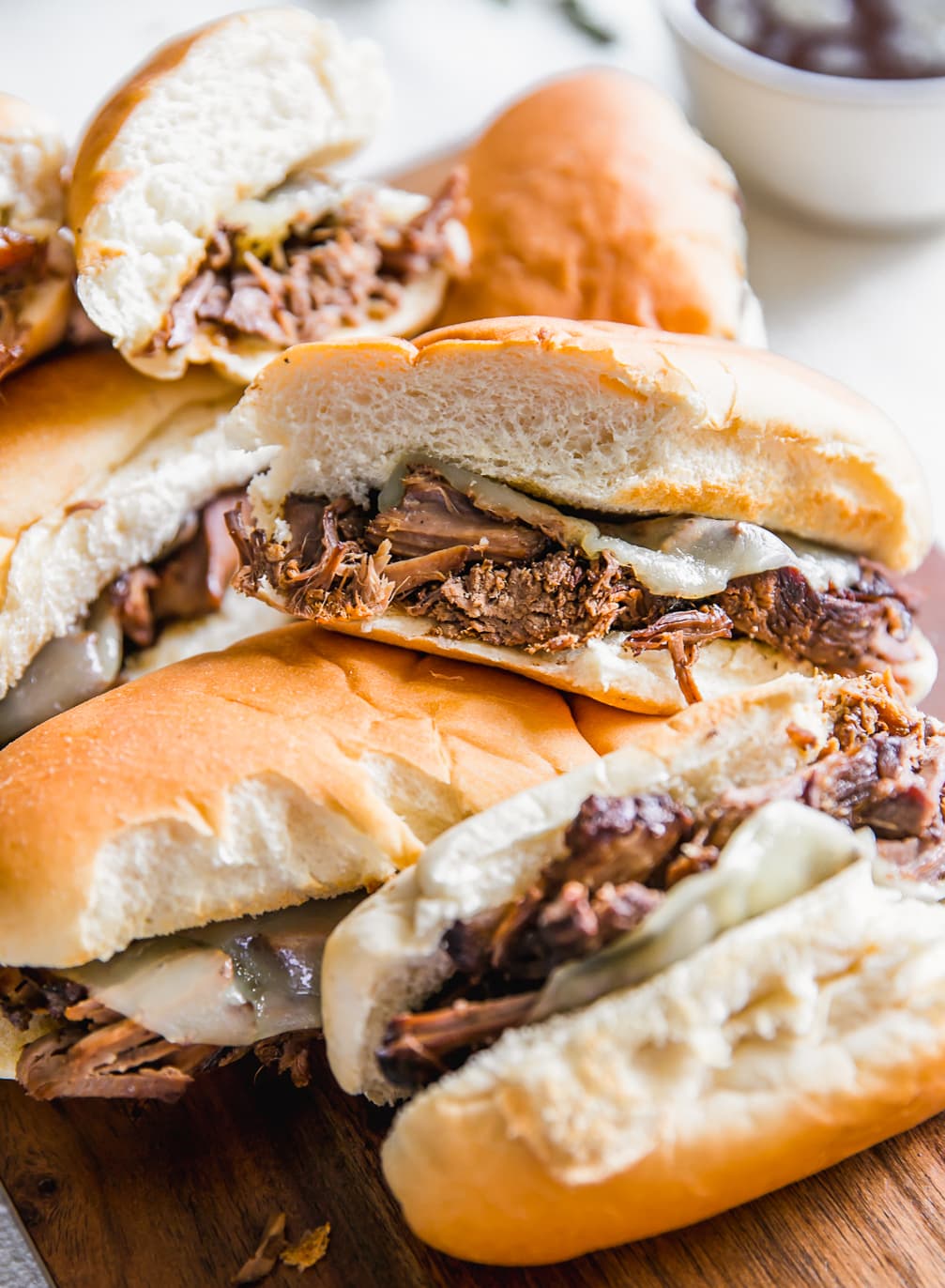 Slow Cooker French Dip Au Jus
A slow cooker will be your best friend if you're new to cooking, or if you're just a busy person (aren't we all?). It made this French Dip recipe super easy, so all you really have to do is let the roast beef cook while you're away, then make the sandwiches and eat!
Plus you only need 6 things to make these sandwiches:
Roast Beef
Beef Broth
Au Jus Sauce Mix
Italian Dressing Mix
Provolone Cheese
Hoagie Buns
The perfect French Dip sandwich!
How to make French Dip Au Jus
For this easy Crockpot French Dip Recipe, start by making the beef roast. This is the easy part because all you need is a slow cooker!
You can jump to the recipe card for full ingredients & instructions!
You simply put the au jus packets, Italian dressing packets, beef broth, and a 5 lb. beef roast into your crockpot and cook on low for 6-8 hours.
After the beef is fully cooked, remove it from the crock pot and strain the broth with a metal strainer. The broth can be used for dipping sauce for the sandwiches.
Then you just slice up the beef, place it on the hoagie buns along with cheese, and then warm the sandwiches in the oven for 10 minutes at 400°F.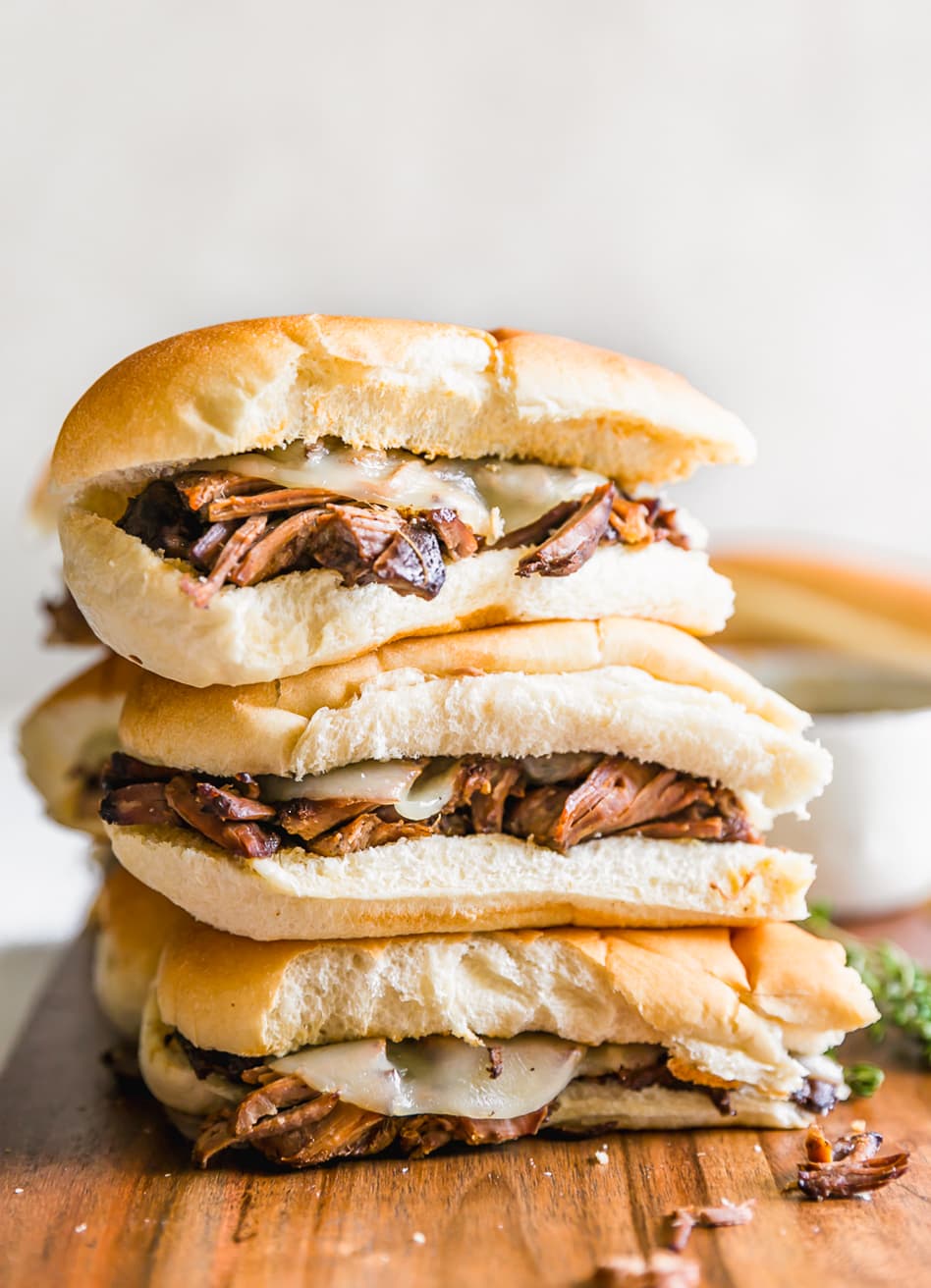 Why do they call it French Dip?
Because it's traditionally served on a French roll. That was easy…huh? We like it on a hoagie because you can really hold on while you dip in that amazing sauce.
What kind of cheese is on a French Dip Sandwich?
For this French Dip recipe, you want a creamy white cheese such as mozzarella, provolone, or if you live in St. Louis like me, provel is an awesome option!
How do you make Au Jus for French Dip Sandwiches?
The au jus sauce will automatically be made in the slow cooker as the beef cooks. If you need more sauce you can always prepare extra according to package instructions on an au jus packet. But you should have plenty of sauce made in your crockpot as your beef cooks.
What kind of beef is best for roast beef au jus?
We use a top or bottom round roast (boneless chuck roast) for this French Dip Au Jus Recipe. It's okay to use a tougher cut for this recipe because it will get super tender in the crockpot.
Be sure to try these other slow cooker sandwich recipes:
If you make this recipe be sure to upload a photo in the comment section below or leave a rating. Enjoy! You can also jump to recipe.