Frozen Caramel Hot Chocolate is the perfect dessert drink! Blend hot chocolate with ice, add some toppings, and you've got the most delicious, decadent drink. Frozen hot chocolate is icy, rich, and so chocolatey!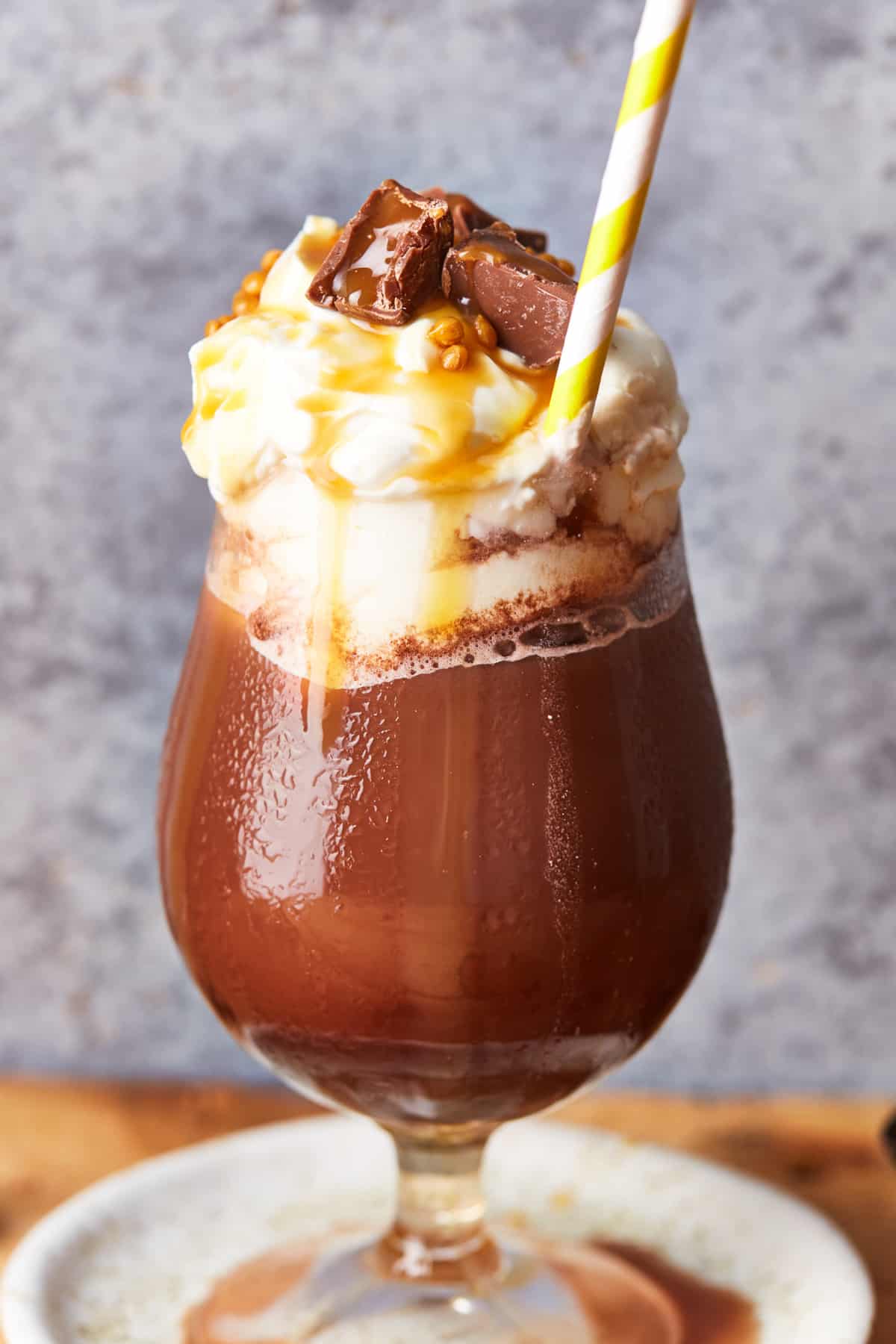 Easy Frozen Hot Chocolate
This frozen caramel hot chocolate is so delicious, so decadent, and so EASY to make. It's a fun date night dessert, but just as fun for the whole family. Trust me, the kids will love this chocolate-y treat!
Do you ever find yourself craving hot chocolate when it's still pretty hot outside? Or you just want something a little…icier? Well that's the perfect time to make this frozen hot chocolate recipe! You get the rich chocolatey flavor, and a comforting drink, but it's also cool, creamy, and icy. It's indulgent AND refreshing!
Caramel and chocolate is the perfect combination. Don't forget to top it off with some whipped cream an extra candies or chocolate!
Why You'll Love this Frozen Caramel Hot Chocolate Recipe:
DRINKABLE DESSERT: An indulgent dessert and a icy drink in one? This frozen hot chocolate is the best of both worlds!
EASY: All you need is 3 basic ingredients (and some optional extras) plus 3 simple steps to make this delicious dessert drink.
VERSATILE: There are lots of ways to make this drink just how you like it. From the flavor, to the type of hot chocolate, to the toppings, you can really make it your own!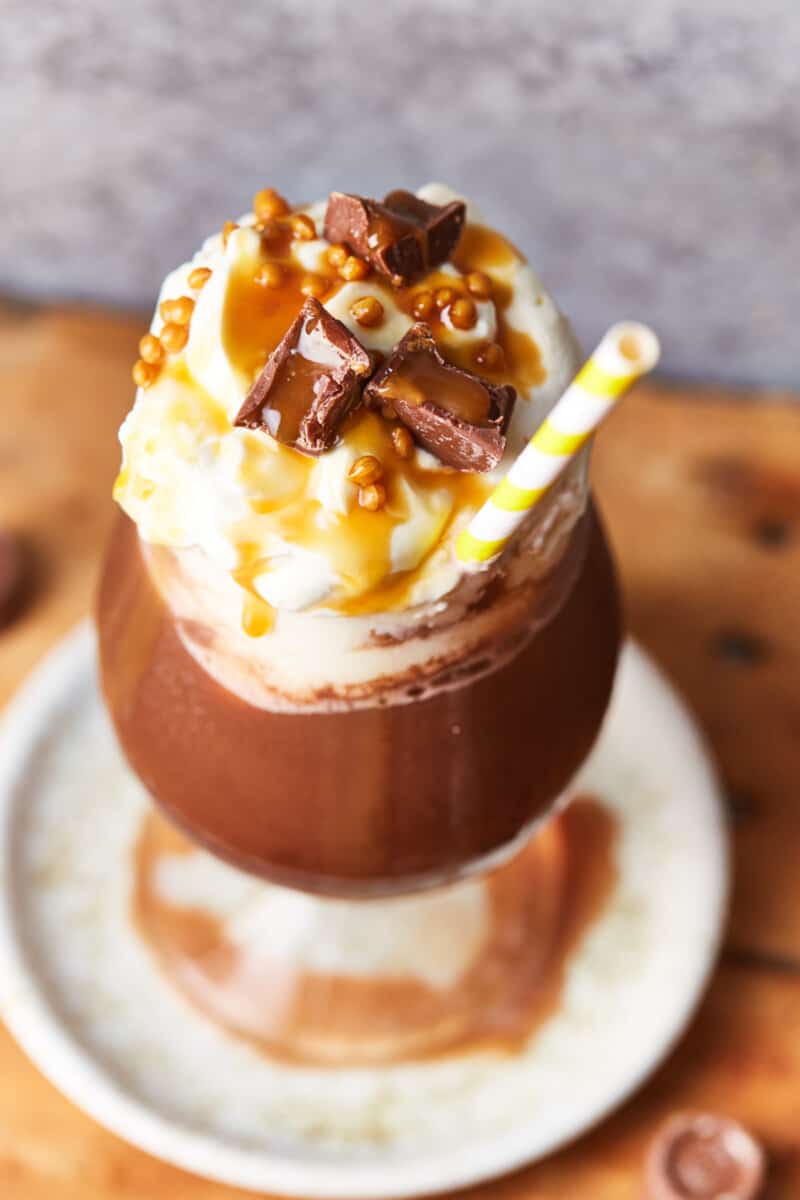 What is frozen hot chocolate?
This drink is simply hot chocolate that's been blended with ice. So think of your favorite blended drinks, and you can expect a similar consistency. It's a bit thicker and creamier than your typical chocolate milk, but not as thick as a milkshake. It tastes like hot chocolate, of course, but it's cool and icy instead of hot!
How to Make Frozen Hot Chocolate
Be sure to see the recipe card below for full ingredients & instructions!
Place hot chocolate and ice in the blender.
Blend until fully combined, to your desired consistency. Add more ice to make a thicker drink.
Pour into cups and top with Cool Whip, caramel sauce, and optional toppings.
Trademark note: In the spirit of transparency, please note that some of these ingredients are trademarked products. Rollos, Cool Whip, Silk, Fannie May, Starbucks, Land o Lakes, and Ghirardelli Chocolates are proprietary brands that I want to acknowledge and give credit to.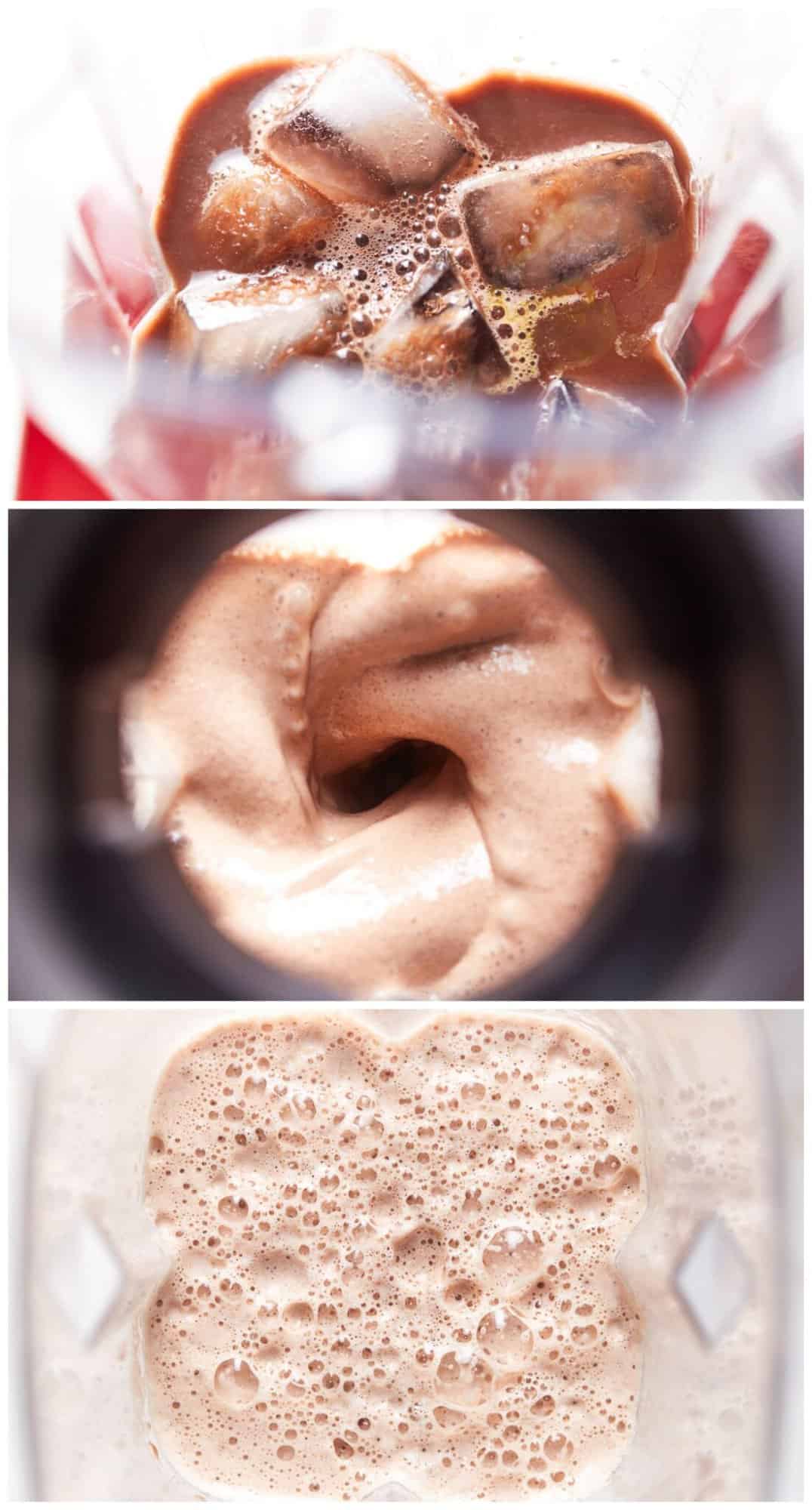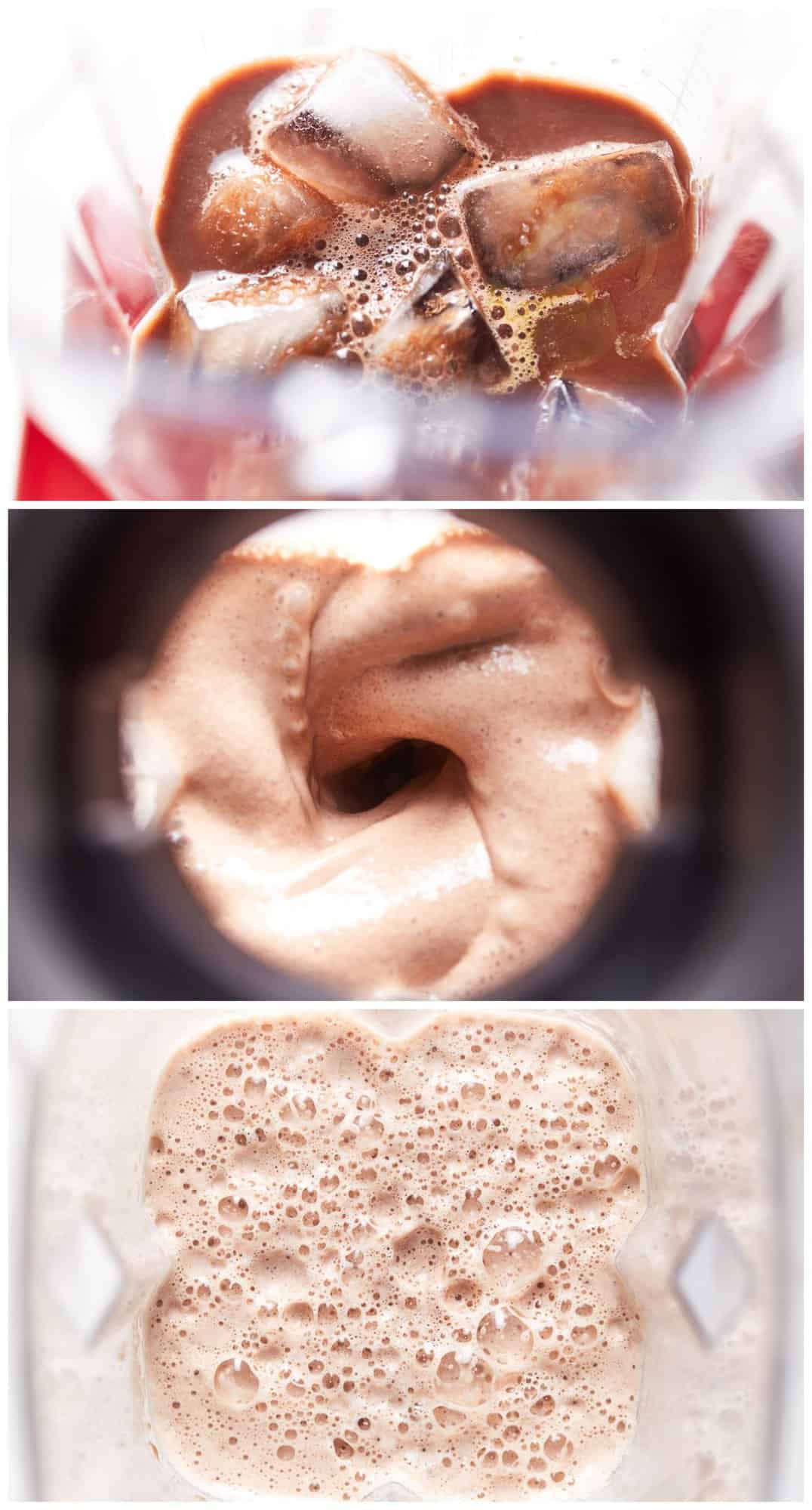 How do you cool the hot chocolate?
You can make it ahead of time and keep it in the fridge until you're ready to use it. Or you can pop it in the freezer for a few minutes to speed up the process.
What toppings can I add?
For this frozen caramel hot chocolate, I like to add some whipped cream or Cool Whip, some Rollos, and extra caramel sauce. You could also add chocolate syrup, chocolate sprinkles, chocolate chips, or top it off with a cherry!
How much ice should I use for frozen hot chocolate?
1 cup of ice per cup of hot chocolate is a good place to start. More ice will create a thicker consistency.
Can I make this boozy?
Yes! Blend in a bit of Bailey's or rum (or whatever you prefer) for a boozy (adults-only) frozen drink.
I just love how rich, chocolatey, and tasty this frozen hot chocolate is. It's always a hit after dinner, and it's perfect any time of year. It's the perfect drink to serve on Christmas.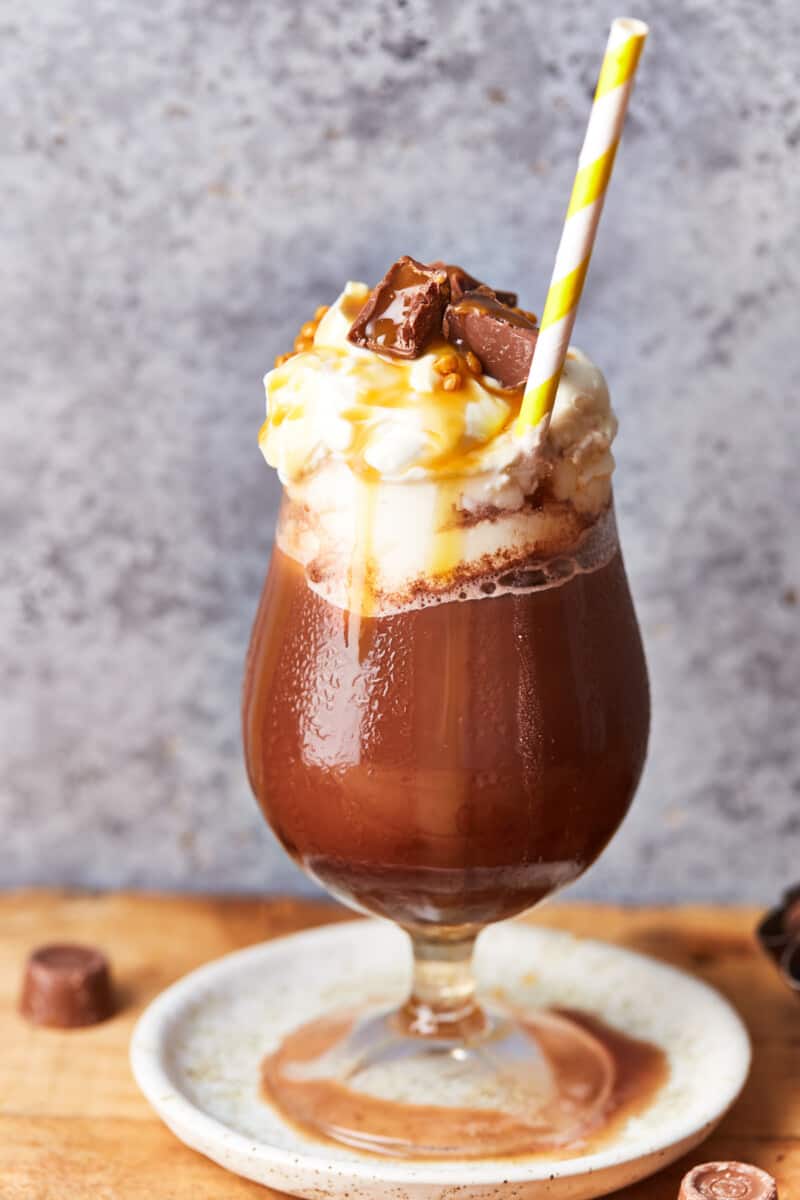 Tips!
Blend up the frozen hot chocolate to your desired consistency. Make it icy or make it smooth and creamy.
If you are using a lower-powered blender, you might want to use crushed ice to get that smooth consistency.
This recipe is highly adaptable to many different flavors and brands of chocolate milk. The results will be a little different (flavor/texture/sweetness/etc) depending on what you use.
Can I make other flavors of frozen hot chocolate?
Yes, absolutely! This frozen caramel hot chocolate is one our favorites at my house, but it's so easy to make other flavors. Just skip the caramel sauce, and you'll have a base recipe to start with (which already tastes great!). Then try adding whatever you like: peppermint, hazelnut, pumpkin, and more.
What kind of hot chocolate should I use for this recipe?
The great thing about this frozen hot chocolate recipe is that you can use any kind of hot chocolate you like. You can melt your own drinking chocolate, or use your favorite powdered mix. You can use mixes that are already flavored too, or use a dark chocolate or white chocolate if yo prefer.
This frozen caramel hot chocolate will surely be a favorite for the whole family. It's just so easy to make, but it tastes like a gourmet treat!
More Hot Chocolate Recipes We Love
If you make this recipe be sure to upload a photo in the comment section below or leave a rating. Enjoy!