SPIKED PUMPKIN SPICE HOT CHOCOLATE is the ultimate Thanksgiving cocktail! This tasty spiked hot chocolate is made in a slow cooker and it's perfect for serving a crowd. This creamy twist on a classic is a must make for the holidays. Nothing is easier than slow cooker hot chocolate!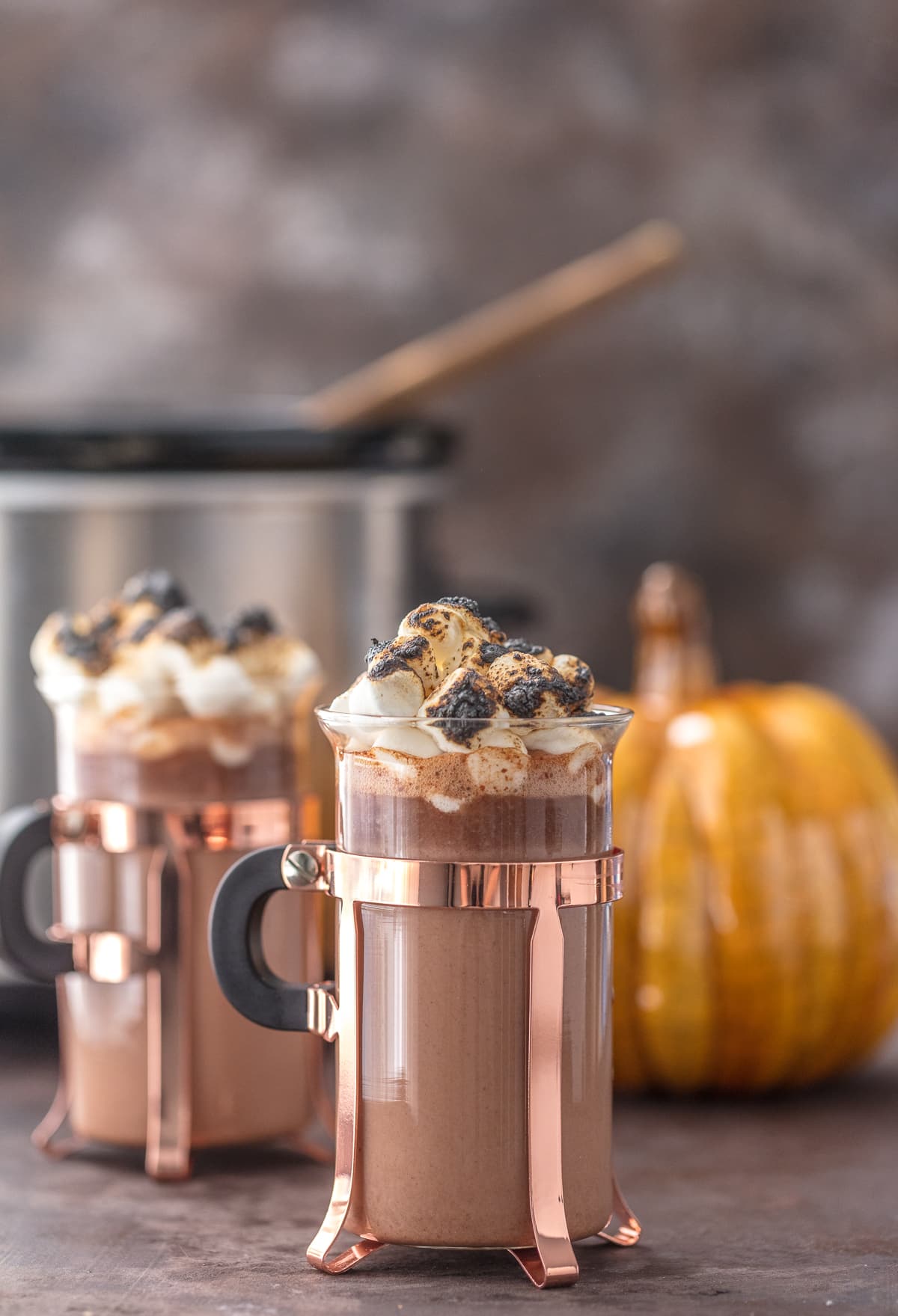 Pumpkin Spice Hot Chocolate Recipe
Pumpkin Spice Hot Chocolate is a creamy, delicious fall treat. This spiked hot chocolate is perfect for holiday parties. And since it's slow cooker hot chocolate, it's so easy to make and serve for a large crowd!
This Spiked Pumpkin Spice Hot Chocolate is the perfect holiday treat! I'm a big believer that every holiday should have a fun big batch cocktail sitting by, waiting to be enjoyed. It doesn't have to be something fancy, but it should be something that is cozy, easy, and delicious!
I've made a couple party drink recipes in the past that have been big hits, like this Apple Pie Sangria I made during my first year of blogging, and these Apple Cider Mimosas that I made last year. Now that my family is hooked on having something unique and tasty to sip throughout the holiday season, I know I have to get creative every Thanksgiving. This year I think I've topped them all with this PUMPKIN SPICE SPIKED HOT CHOCOLATE!
Yup, SPIKED hot chocolate, made in a slow cooker no less. It's ultra-creamy, dreamy, and so EASY to make. It's made right in a slow cooker and ready whenever anyone wants some. This pumpkin slow cooker hot chocolate is full of comfort and holiday spirit, and it is just the most amazing flavor combination ever. Can you tell I'm excited?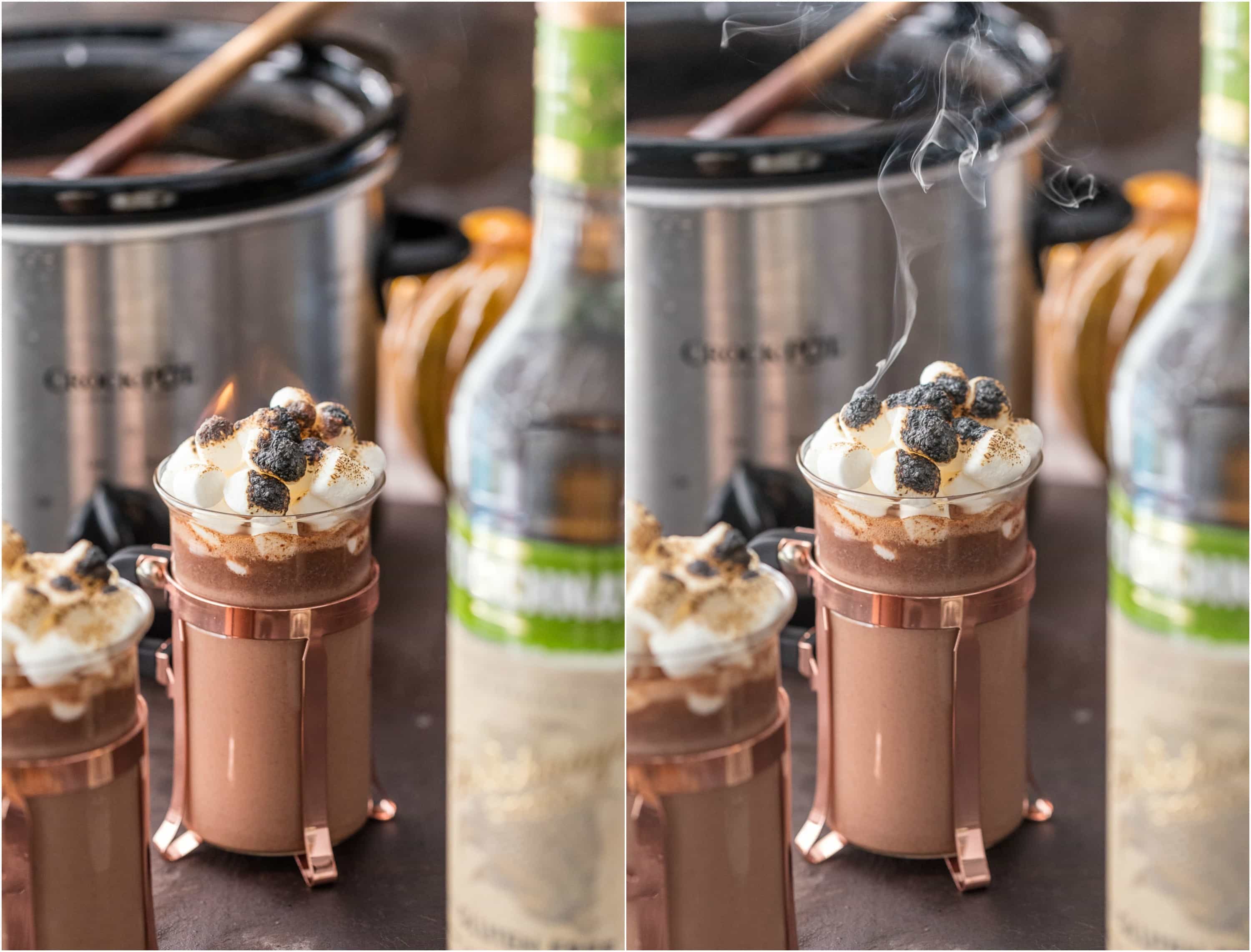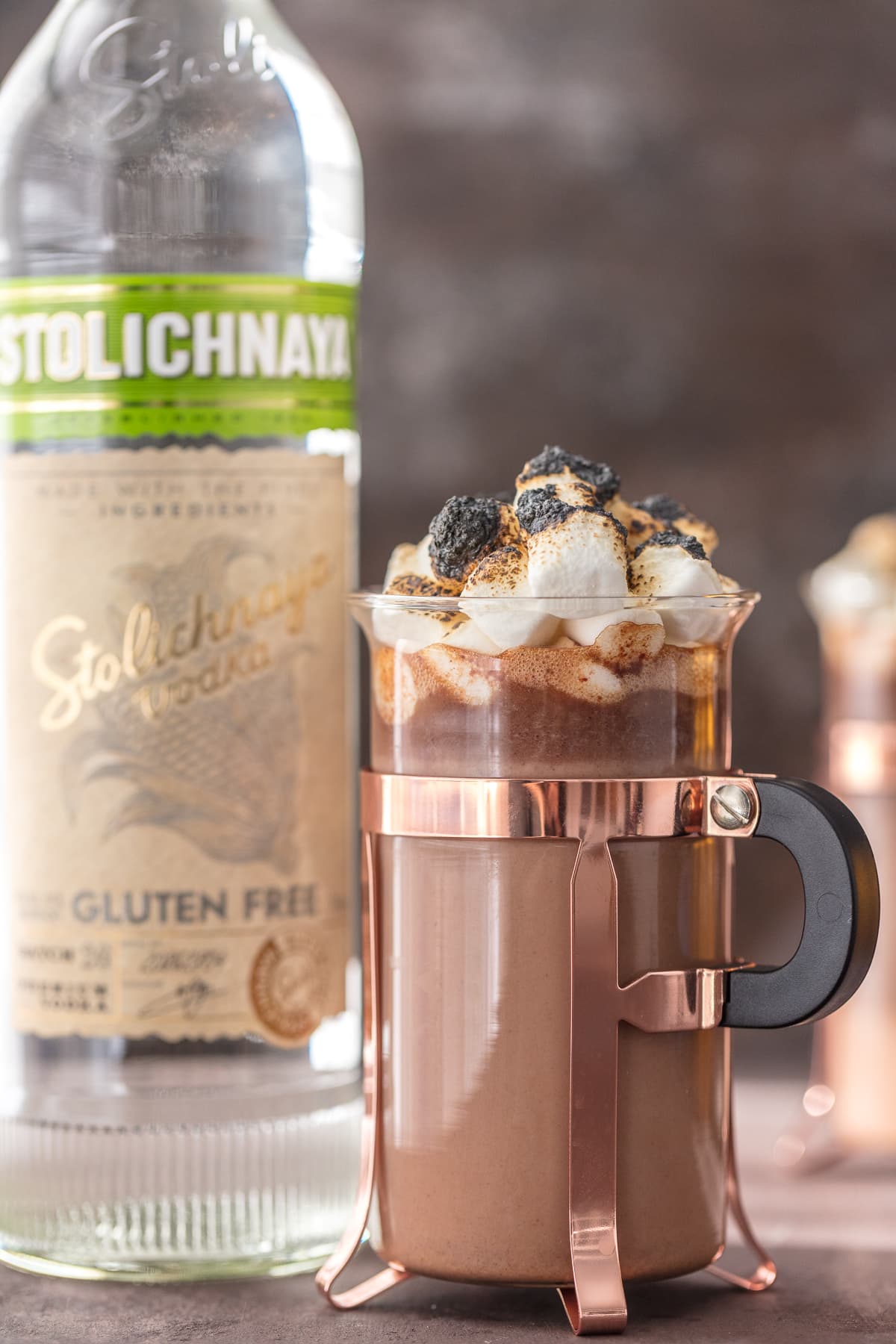 Spiked Hot Chocolate
Besides the fact that we're talking about a deliciously flavored spiked hot chocolate, this year's Thanksgiving cocktail is also EXTRA special because it will be GLUTEN FREE! You heard that right folks, Stoli has recently launched their new Stoli Gluten Free Vodka and it's just in time for the holidays. So this year, everyone can enjoy your cute and delicious themed cocktail, even those with gluten allergies!
This stuff truly is a holiday miracle. Stoli Gluten Free Vodka was the perfect mixer for this Slow Cooker Pumpkin Spice Hot Chocolate because it's such a clean and crisp vodka, and because it's GLUTEN-FREE! I'm just so excited about that.
Slow Cooker Hot Chocolate
We've got spiked hot chocolate, we've got an amazing pumpkin spice flavor, and we've got a gluten-free cocktail…what could possibly make this perfect drink any better? How about something that makes it really easy to make and really easy to serve to a crowd? Slow cooker hot chocolate! Make this tasty Pumpkin Spice Hot Chocolate in a slow cooker so that you can keep it nice and hot throughout the party, and serve everyone that wants a glass (or two) without hassle. Was this drink sent from heaven?!
Want more fun and easy pumpkin recipes for fall? Try our Pumpkin Gooey Butter Cake, these Pumpkin Brownies, or this Pumpkin Pie Punch!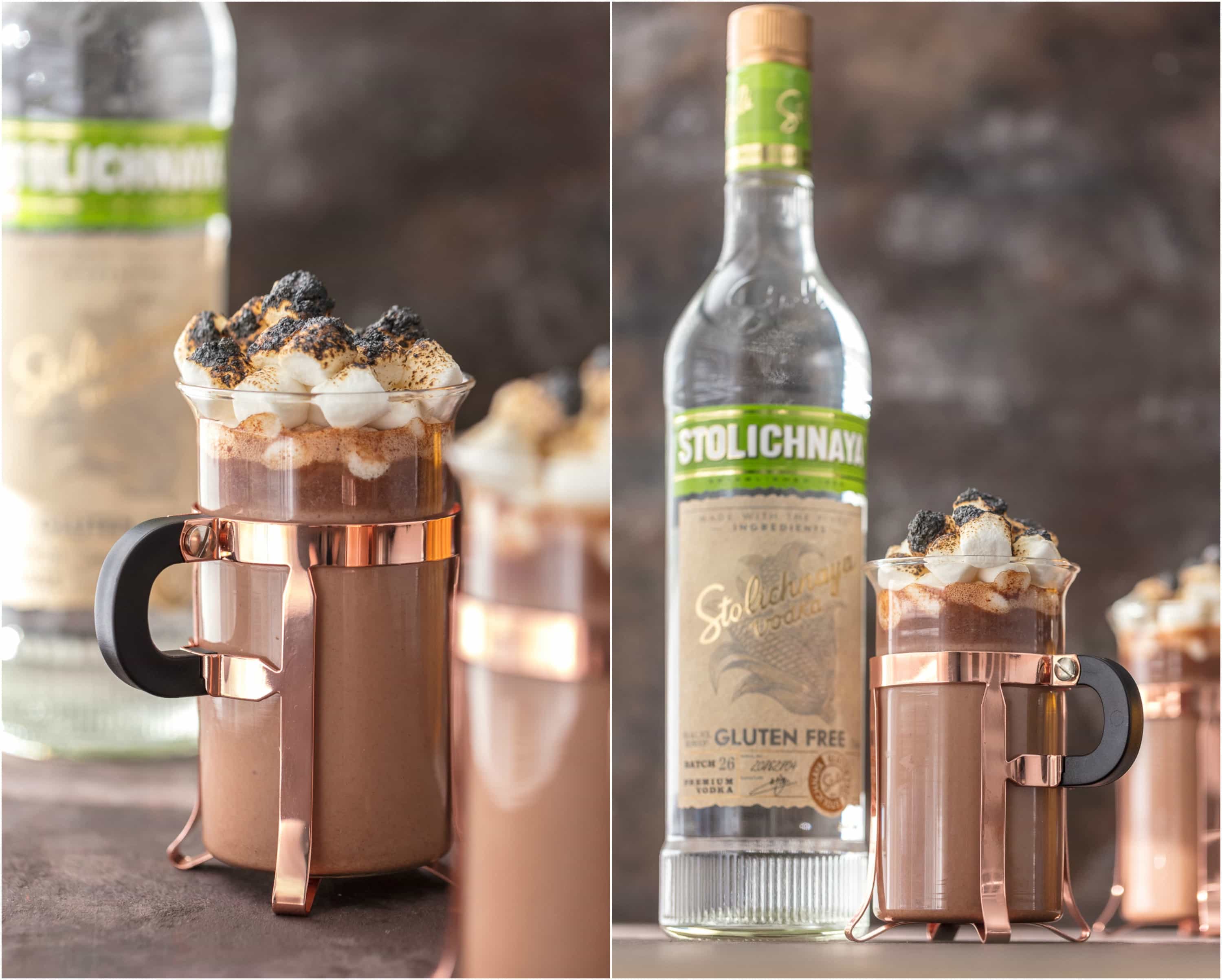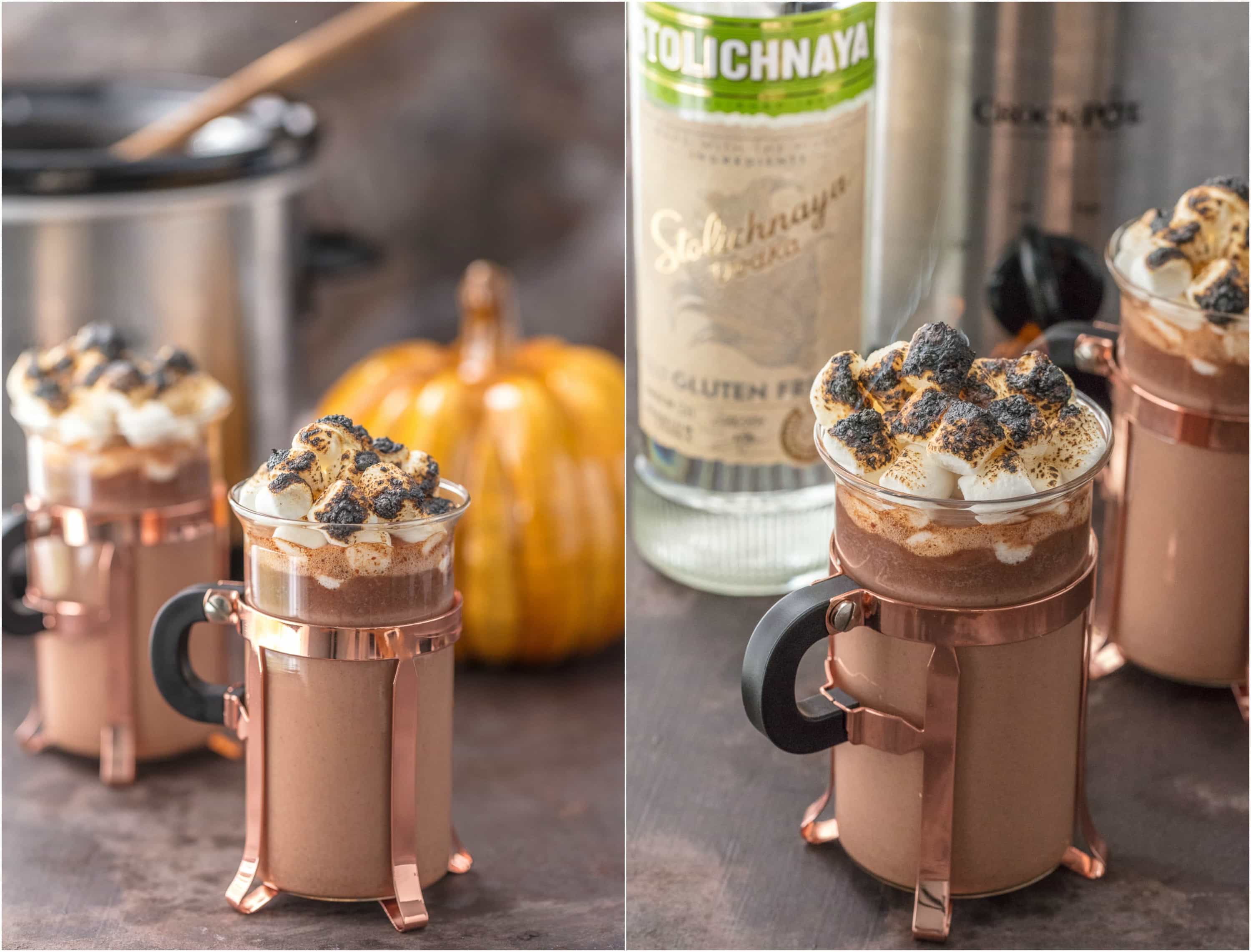 How to Make Pumpkin Spice Hot Chocolate (in a Slow Cooker)
EASY is my favorite word when it comes to cooking and party prep, so this slow cooker hot chocolate recipe is a life saver. Spiked Pumpkin Spice Hot Chocolate is the perfect drink to serve throughout the fall season, especially for Thanksgiving. Pour in the ingredients, turn on the slow cooker, and let that chocolatey mixture heat up into the perfect drink!
How to Make Pumpkin Spice Spiked Hot Chocolate:
Add heavy cream, milk, sweetened condensed milk, pumpkin puree, pumpkin pie spice, & vodka into slow cooker.
Using a whisk, gently mix it all together.
Pour in chocolate chips.
Set the slow cooker to Low and let it cook for 2 hours.
I topped my Pumpkin Spice Hot Chocolate with toasted marshmallows, but in the tradition of pumpkin pie it would also be great with some whipped cream! I love the subtle pumpkin flavor from the puree and spices, while also letting the chocolate shine through.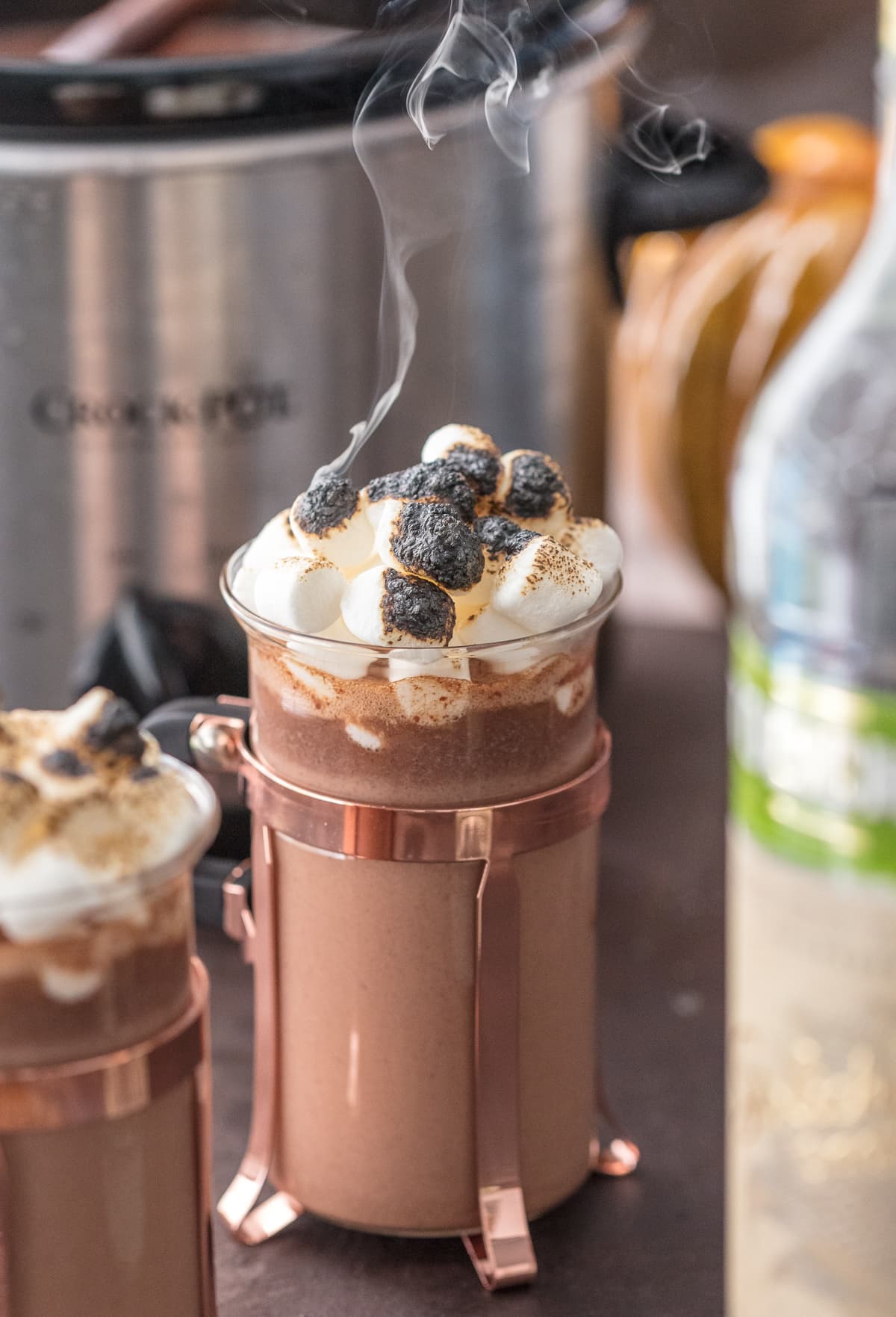 This spiked hot chocolate is just the right cocktail for this cooler weather. PERFECT for the holiday season. And thanks to Stoli for making it GLUTEN FREE! I hope your family enjoys this pumpkin spice hot chocolate as much as we are did. Happy Holidays!
And if you like this drink, be sure to try this homemade Pumpkin spice latte too!
If you like this slow cooker hot chocolate recipe, try these other hot chocolate favorites: