Chicken Marsala is an Italian favorite, and now you can make it at home AND make it healthier. This GLUTEN FREE Chicken Marsala recipe is easy, healthy, and delicious. This one pot skillet healthy Chicken Marsala is made with almond meal and no cream. It's the perfect family meal you can feel good about!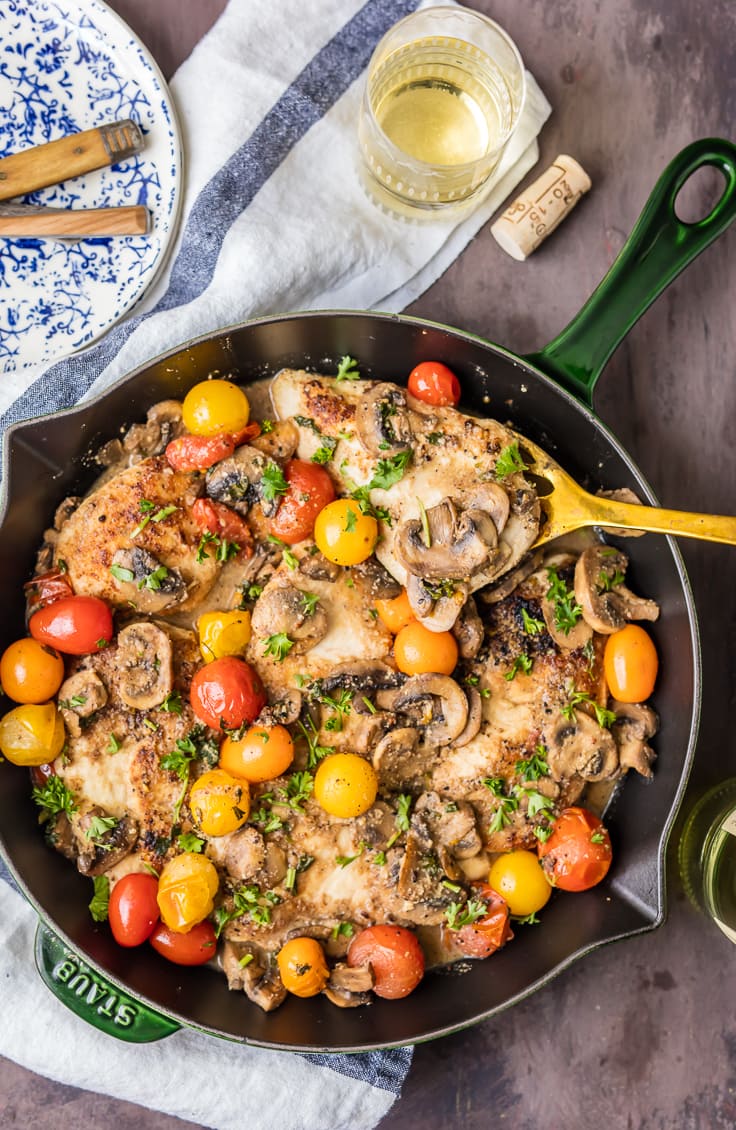 Chicken Marsala (Gluten Free!)
This chicken marsala recipe is my healthier take on a classic. It's gluten free, made without cream, and easier than ever.
You guys know that I'm a huge fan of decadent recipes. On a typical day, you'll see lots of cheese, cream, and bread in every recipe! But that doesn't mean I don't like the lighter fare from time to time. I'm a big believer in balance, especially with food. I love to splurge once in a while, but typically at our house we try to make healthy choices.
I love to tweak favorite recipes to make them a bit better for you, without sacrificing on flavor. Some of my favorite healthy twist recipes have been Skinny Baked Fajitas, Low Carb Pepperoni Pizza, Slow Cooker Chicken Tortilla Soup, and Fajita Black Bean Burgers. You would never guess that those recipes are secretly better for you, because they are BURSTING with flavor.
My ULTIMATE healthy take on a rich favorite is this gluten free Chicken Marsala recipe! While being skinnier in calories, portion, and carbs, it's also a fully gluten free recipe. Light on the stomach and heavy on the flavor. The best type of recipe!
This easy gluten free chicken recipe is a favorite dinner for any night. Chicken Marsala CAN be easy, healthy, and still delicious!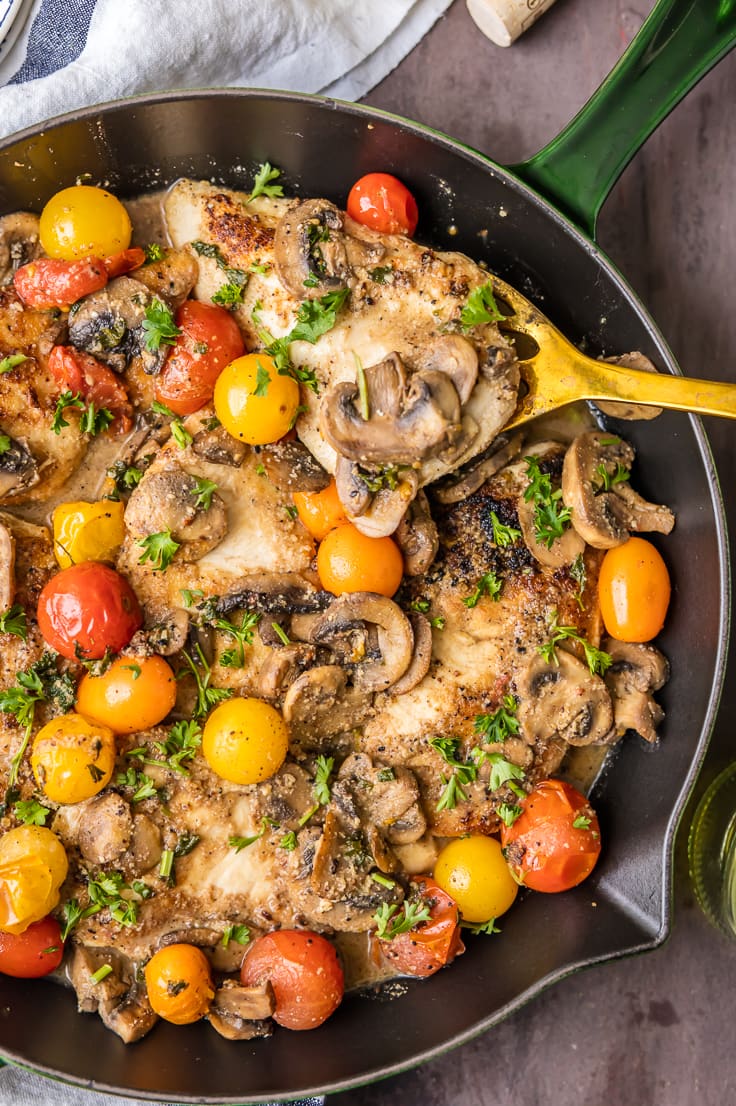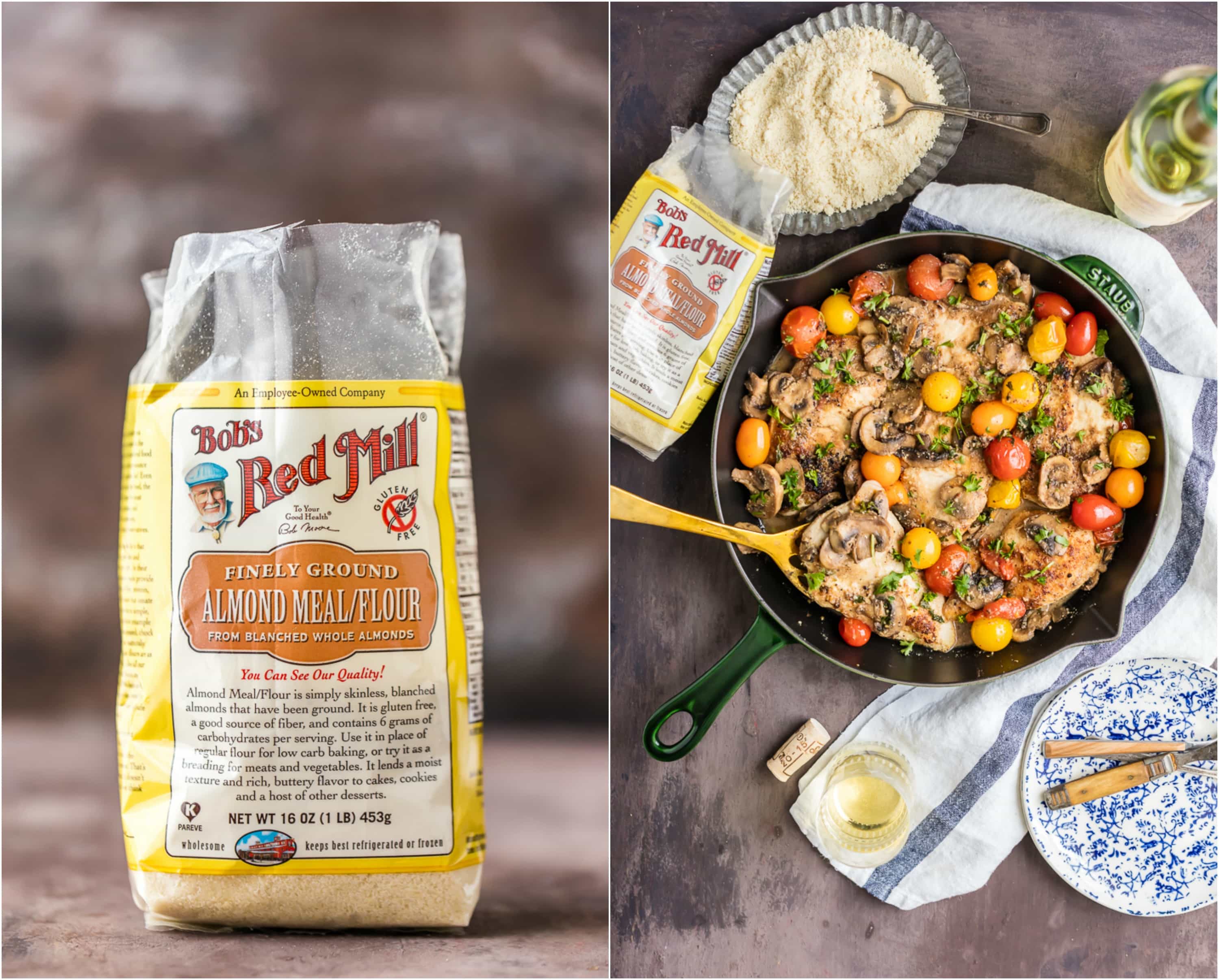 Gluten Free Chicken Recipe
GLUTEN FREE Chicken Marsala? Yes it's possible! The secret to making this Italian favorite Gluten Free is Bob's Red Mill Almond Meal Flour!
If you haven't used it before, YOU MUST! It's the absolute perfect way to achieve great GF baking, sauces, and especially a tasty coating for meats like I did with this dish. It creates a delicious and buttery breading when cooking the chicken, you'll never miss the traditional flour.
I am OBSESSED. I'm so honored to be working with Bob's Red Mill this year, and this Almond Meal Flour is a big reason why. It's a staple in my pantry and I hope you give it a try! You can click HERE to find out where to buy near you.
Healthy Chicken Marsala Recipe
Chicken marsala isn't the worst dish for you as it is traditionally, but any rich, pan-fried dish like this can typically be high in calories and sodium. I made a few tweaks to the original to make it just a bit healthier, so you can feel better about making it at home for dinner on a regular basis.
Here's what I did to make this easy chicken marsala healthier:
We made it GLUTEN FREE of course, by using almond meal flour
We used a low sodium chicken broth
There's no cream in this version (but trust me you won't miss any flavor)
Definitely one of our favorite gluten free chicken recipes to make for dinner!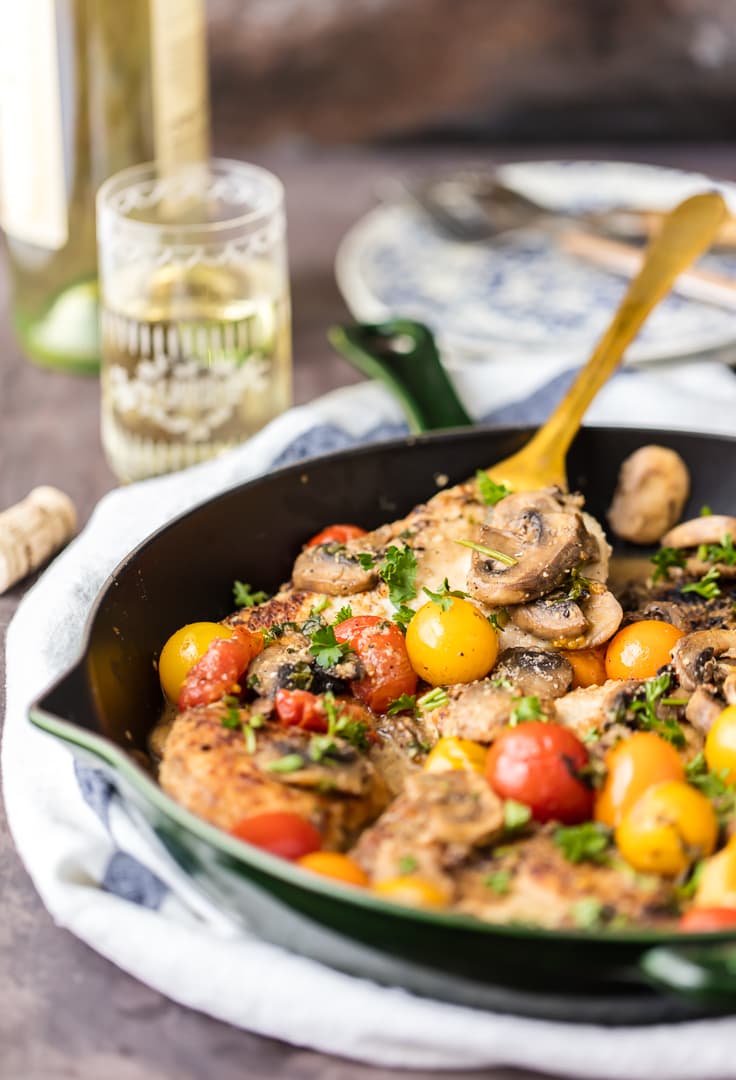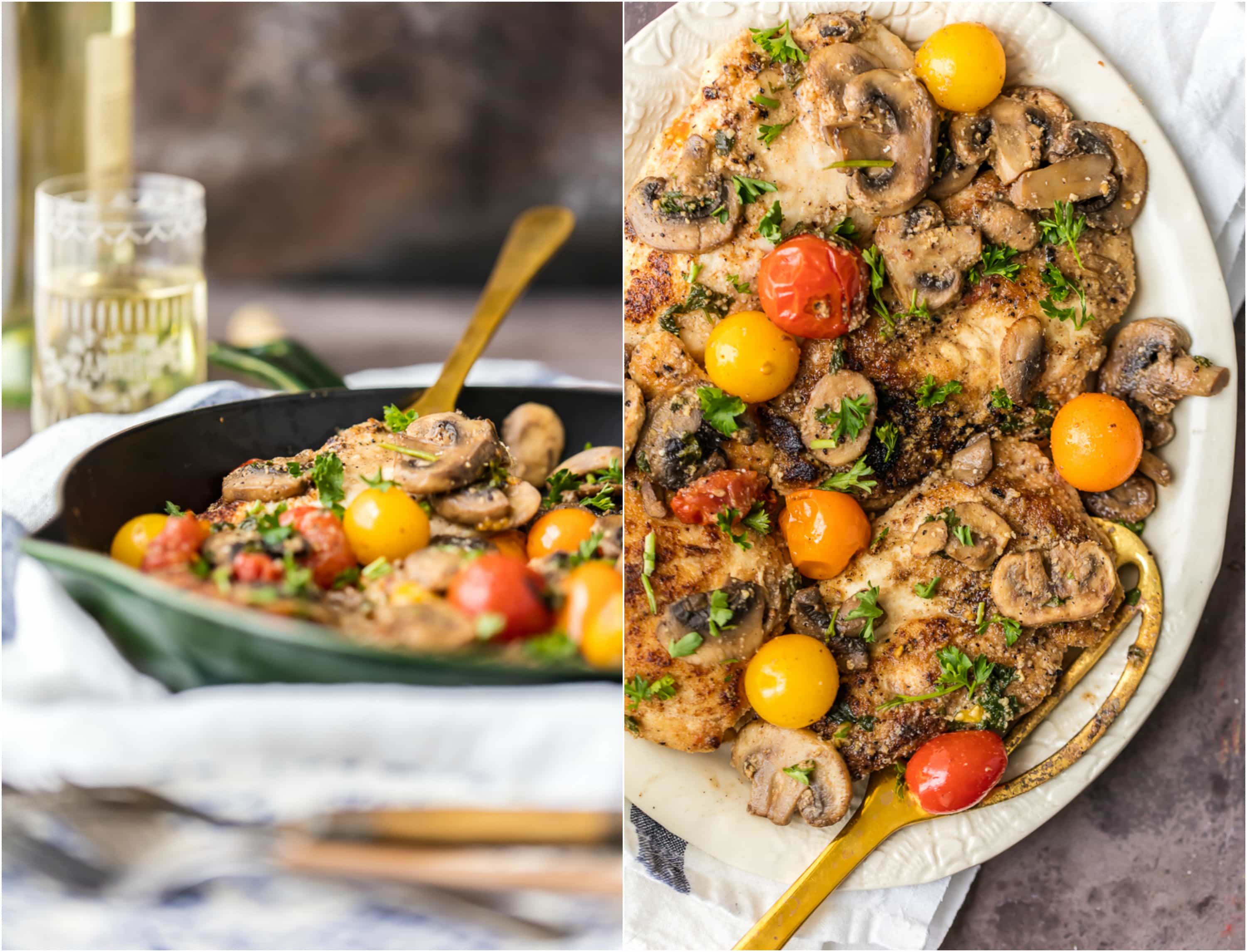 How to Make Gluten Free Chicken Marsala
This easy chicken marsala recipe is so simple.
Slice chicken breasts lengthwise to make 4 thin chicken cutlets. Season each with salt and pepper to taste.

In a shallow bowl, mix together 1/4 cup almond meal flour and the garlic powder. Dredge each chicken cutlet in the flour mixture and set aside,

In a large skillet, heat 1 tablespoon butter with 1/2 tablespoon olive oil over medium/high heat. Swirl the butter around to make sure the entire base of the skillet is coated. Place the four chicken breasts into the skillet and cook for 2-3 minutes per side or until fully cooked through and browned. Remove the chicken from the skillet and set aside.

Add the remaining 1 tablespoon butter and 1/2 tablespoon olive oil to the skillet and swirl to melt, scraping the brown bits off the bottom (that's where all the flavor lives!) Add the garlic and cook for approximately 2 minutes until fragrant and translucent.

Add in the mushrooms and tomatoes and stir to cover in the butter and oil. Add a splash of chicken broth and cook for about 5 minutes, until the mushrooms are browned and the tomatoes are cooked but still retaining their shape. Season with salt and pepper to taste. Add the remaining 1/4 cup almond meal flour and stir to combine.

Add in the rest of the chicken broth, marsala, oregano, and parsley. Stir to combine. Bring to a boil and then reduce to a simmer, cooking/reducing for 2-3 minutes.

Add the chicken back to the skillet, nesting in the sauce and vegetables. Cook for 4-5 minutes until the chicken is fully heated through and the sauce is bubbly.

Serve hot, sprinkled with more chopped parsley. Enjoy!
What is chicken marsala served with?
This chicken marsala recipe has delicious tomatoes and mushrooms mixed in, but to make it a more full meal, serve it with a simple grain like brown rice or cous cous. It's often served with pasta at restaurants, or you can serve it with more veggies and roasted garlic.
What is the best marsala wine for chicken marsala?
You'll want to pick a DRY Marsala wine for this recipe. I wouldn't recommend using a sweet one for this savory dish.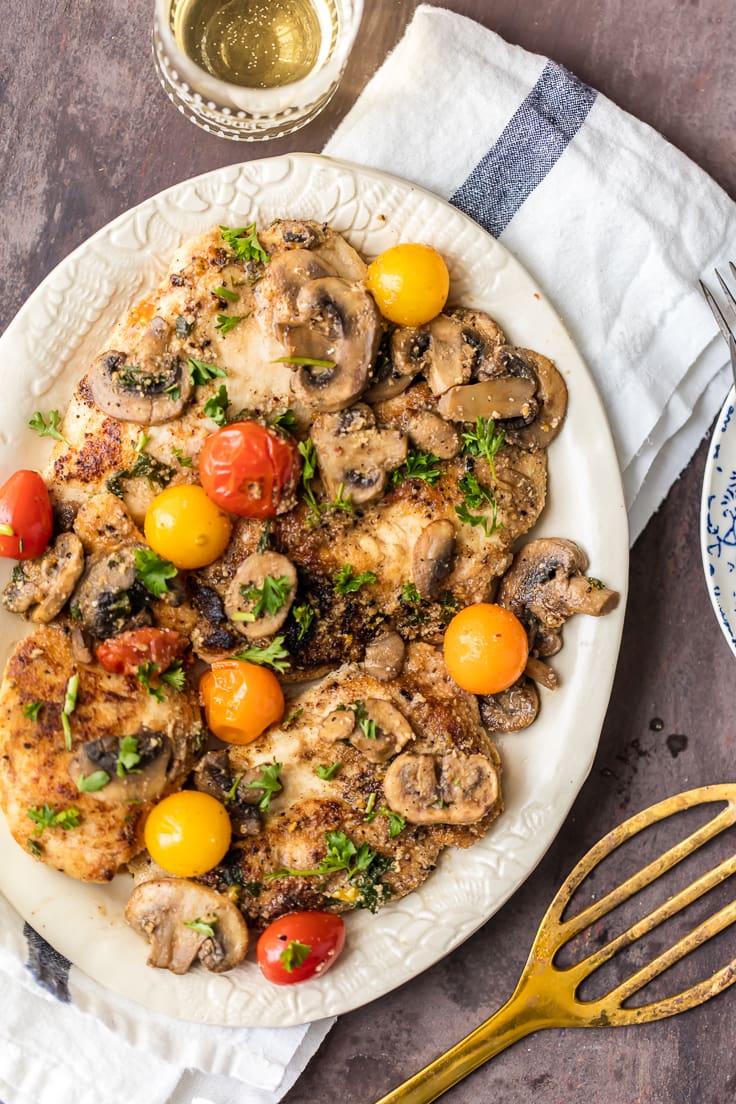 Comfort food doesn't have to be bad for you, and this healthy Chicken Marsala is proving that one bite at a time!
I know you'll be hooked, just like us. One of the best chicken recipes! It's nice to feel good about what we eat, I think it seems to make things even tastier somehow.
See the recipe card for details on how to make chicken marsala (healthy and gluten free!). Enjoy!
Be sure to try these other easy chicken recipes: