This creamy chicken florentine pasta recipe is an easy and tasty weeknight recipe that the whole family will love. On the table in half an hour, this Italian inspired dish comes together easily and is packed full of flavor. Make this easy pasta recipe for a fun and festive pasta party this Fall!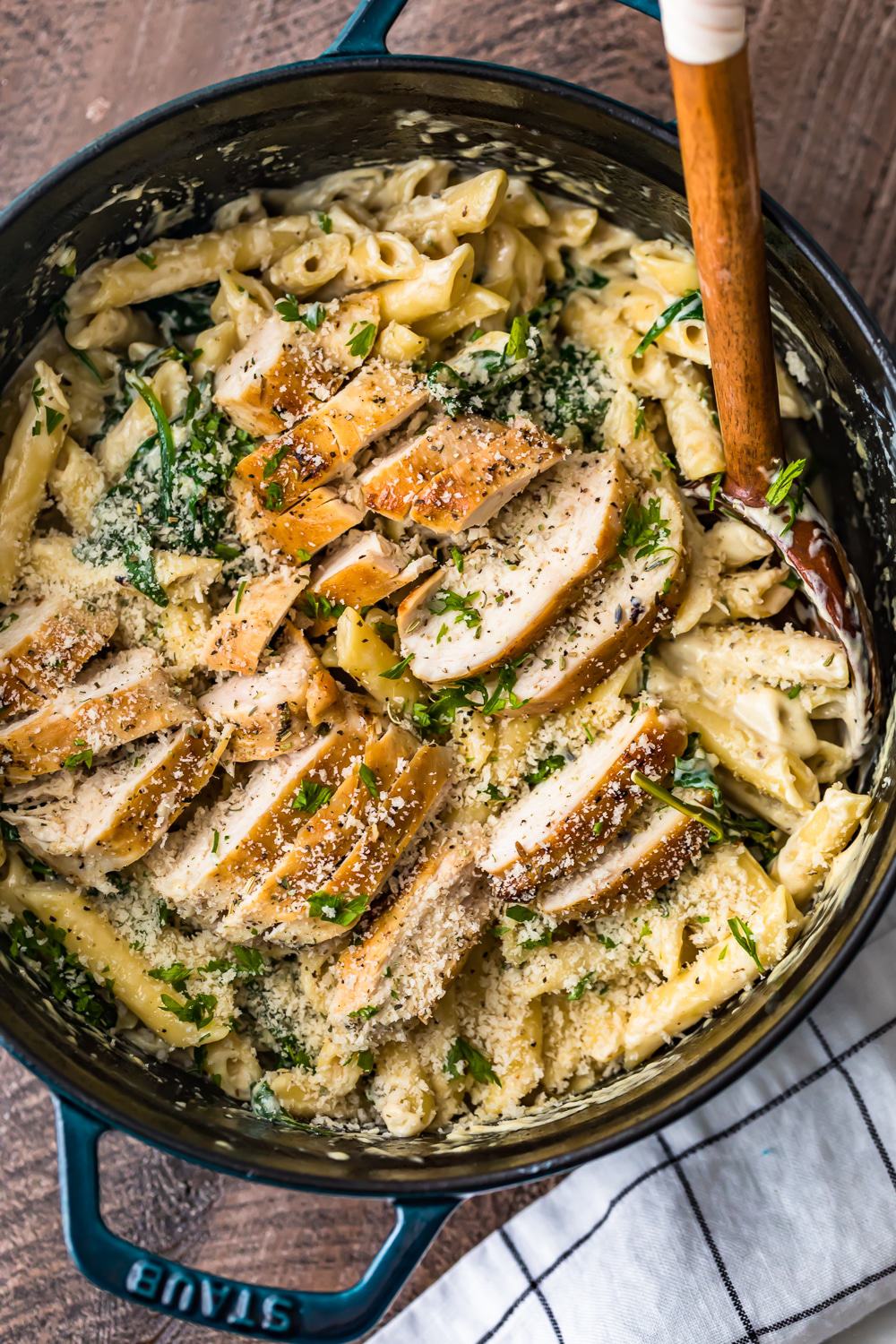 When it comes to getting dinner on the table quickly, pasta is a great option. Quick and easy and something the whole family will enjoy. This creamy chicken pasta recipe is so tasty and on the table in 30 minutes.
How to Make Chicken Florentine Pasta
Cook pasta according to package directions. Drain and set aside.

In a 6-qt. Dutch oven, melt 2 tablespoons butter over medium-high heat. Add garlic; cook and stir 30 seconds. Add spinach; cook and stir just until wilted, 1-2 minutes. Remove from pot and set aside.

In same pot, add olive oil over medium/high heat. Season each side of each chicken breast with salt, pepper, and oregano. Cook on each side for approximately 8 minutes or until fully cooked. Set aside and allow to rest for 5 minutes; slice into thin strips.

In the same dutch oven, add the white wine to deglaze the pan. After wine is simmering, scrape all the chicken bits to the center, they hold a ton of flavor! Add in the heavy cream and bring to a simmer. Slowly stir in the mozzarella, parmesan, and cream cheese. Stir in the salt, pepper, and cayenne pepper. Heat through until all the cheese is melted and smooth.

Add pasta to the sauce, tossing to fully coat. Stir in the spinach mixture and the chicken. Sprinkle with the bread crumbs. Serve the chicken florentine pasta immediately. Enjoy!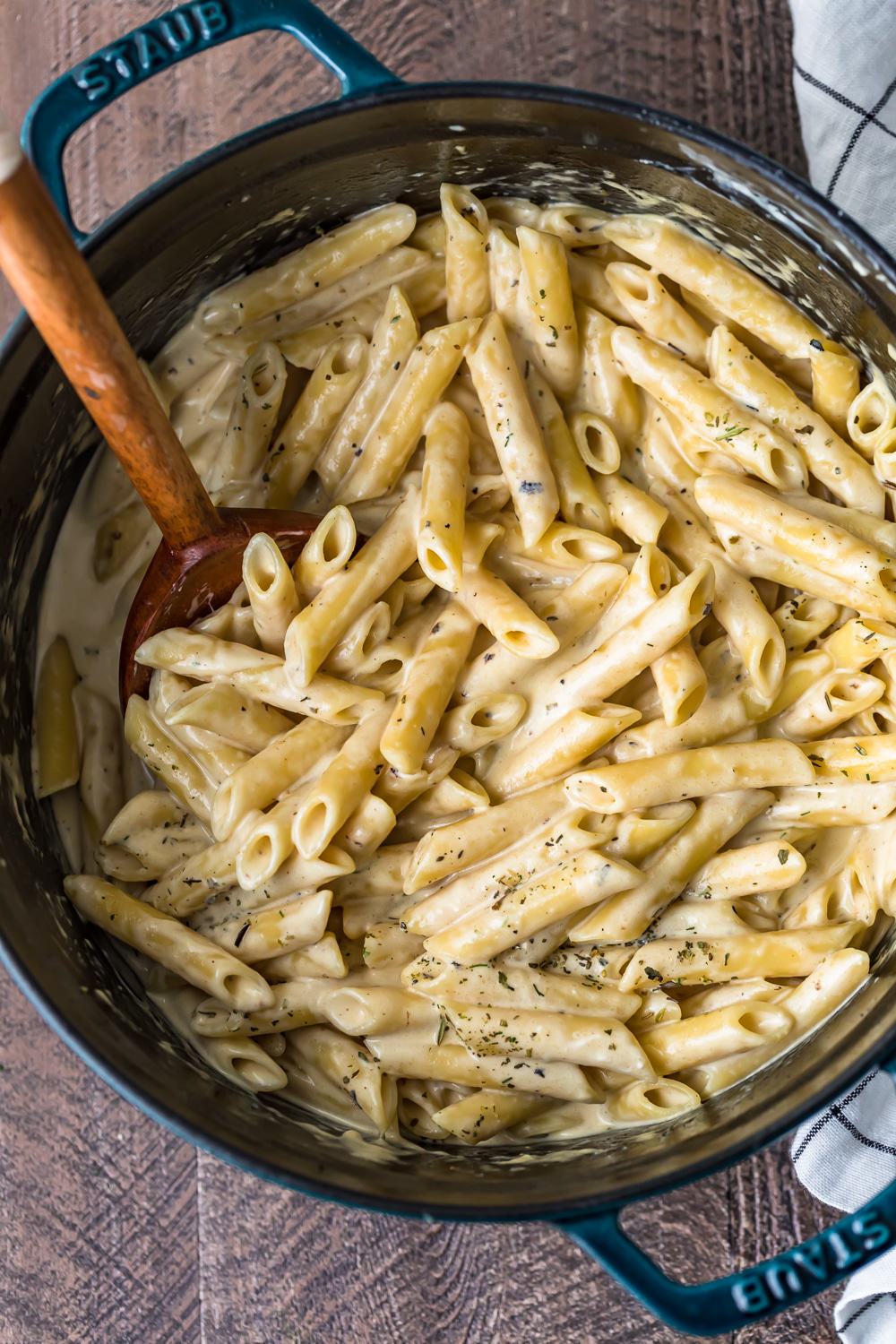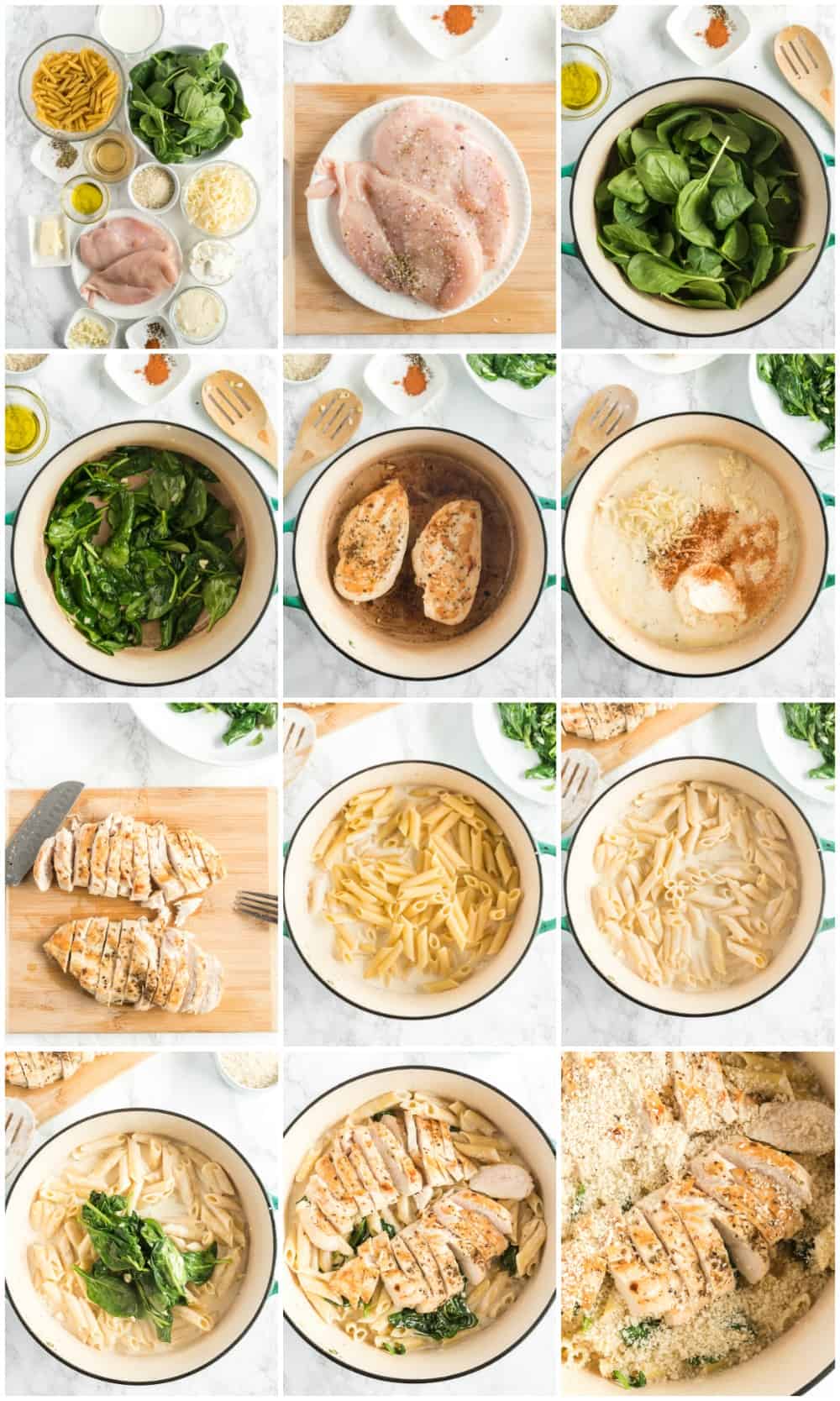 Which pasta should I use for this recipe?
You guys know that I'm a HUGE fan of Delallo!!! I got to visit one of their plants last year and the quality is BEYOND your possible expectations. They make the most amazing Italian foods, and their quality is second to none. Their fresh and quality ingredients ensure that when you make your favorite Italian dishes at home, they'll be restaurant quality each and every time. I'm so honored to be working with Delallo this year and I hope you'll check out their line of amazing products.
Delallo launched a new line of pastas this Fall and…you guys. I have no words. So delicious, almost like I made fresh pasta in my kitchen. You can count on Delallo for making your family feel extra loved every time you cook with their products. For this Chicken Florentine Pasta Recipe I used Delallo's new Penne Ziti. It was the perfect size and really soaked up all that delicious sauce!!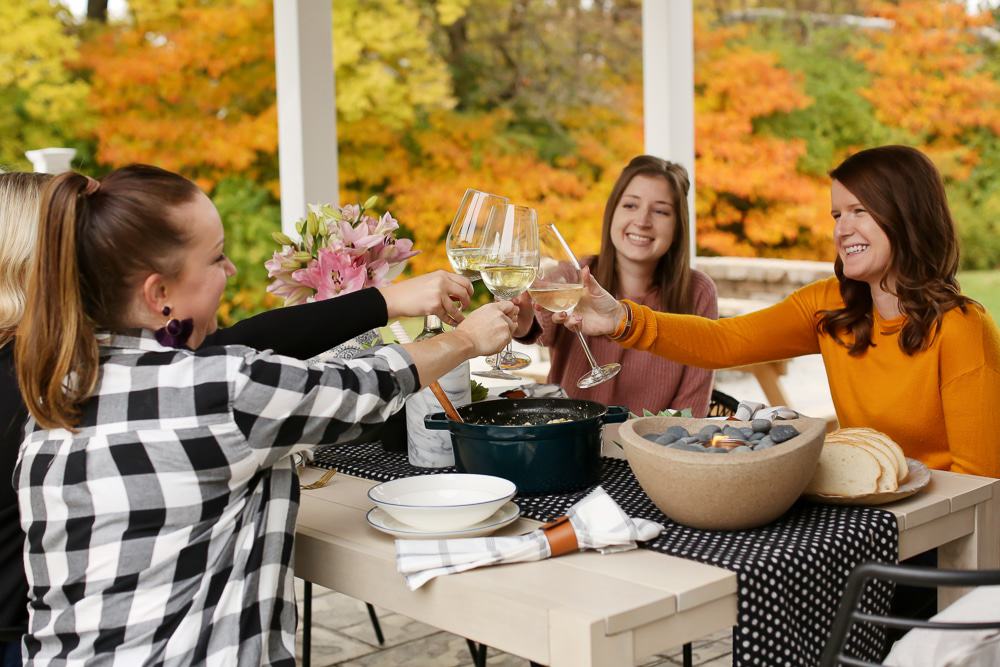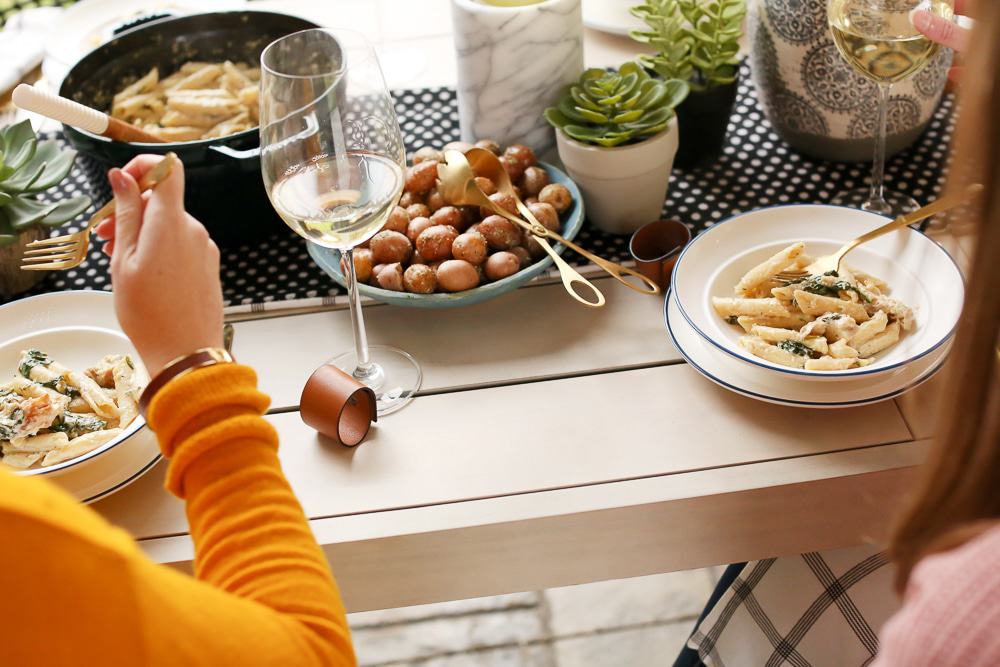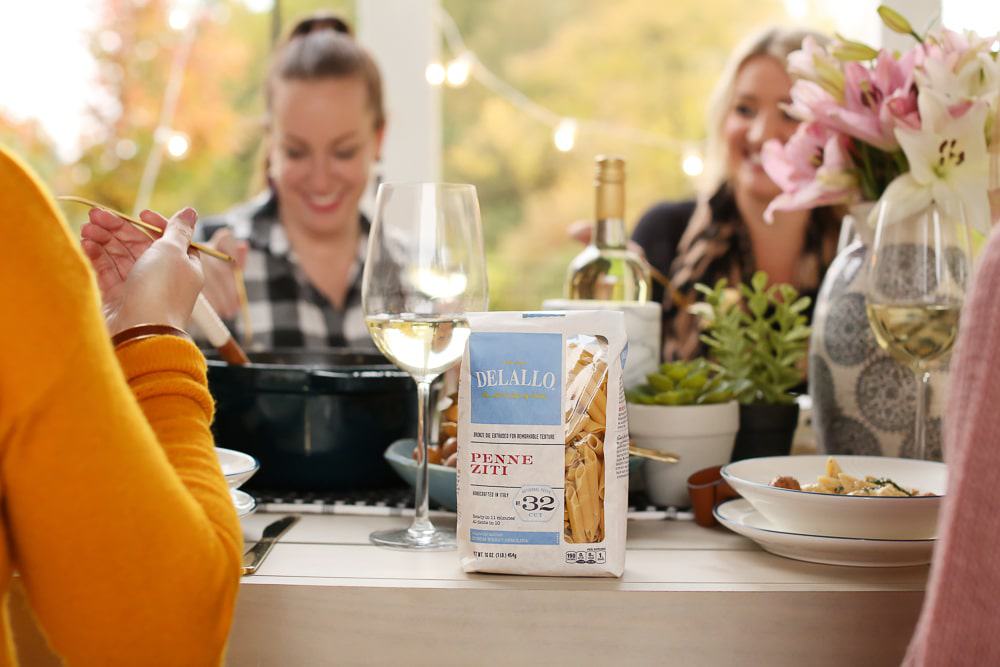 Pasta Party
To celebrate the new pasta launch from Delallo, I held an intimate little Pasta Party on our patio with some of my favorite girlfriends. We don't need an excuse to party if it involves wine and carbs, so this Pasta Party was right up our alley! Good food, good friends, good weather. I love Fall!
Tips for throwing an Easy Pasta Party
I truly believe that keeping things easy and breezy for parties is the way to go! I chose simple string lights, fresh flowers, and some small succulents to dress the table. Pretty and easy. The Fall leaves added so much color, and we had to leave space on the table for wine! For me, there's no reason to stress when getting together with friends. Let the good food and good company shine, and keep things easy.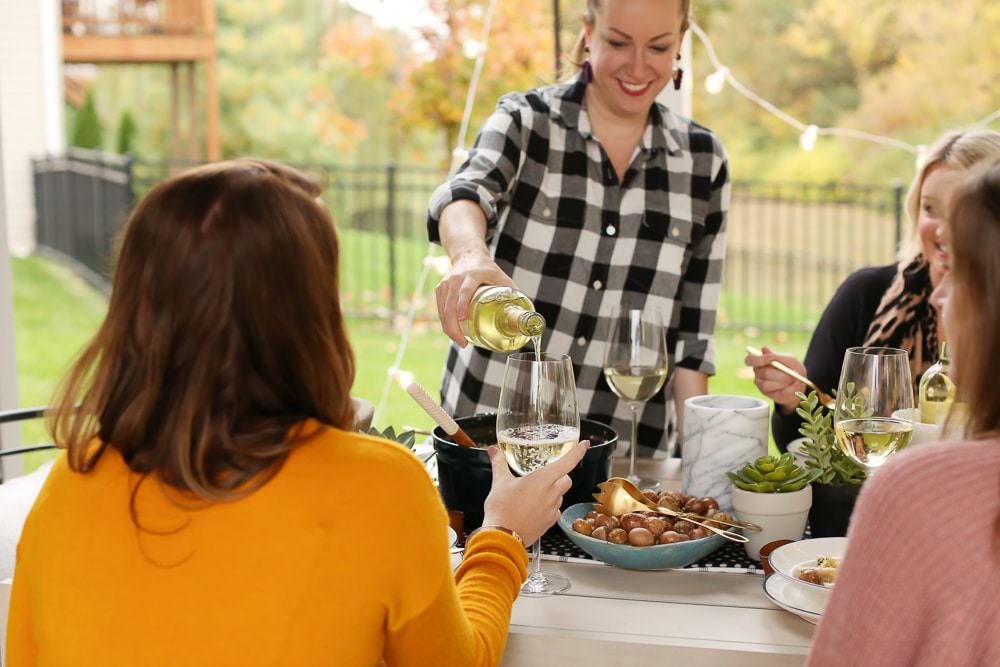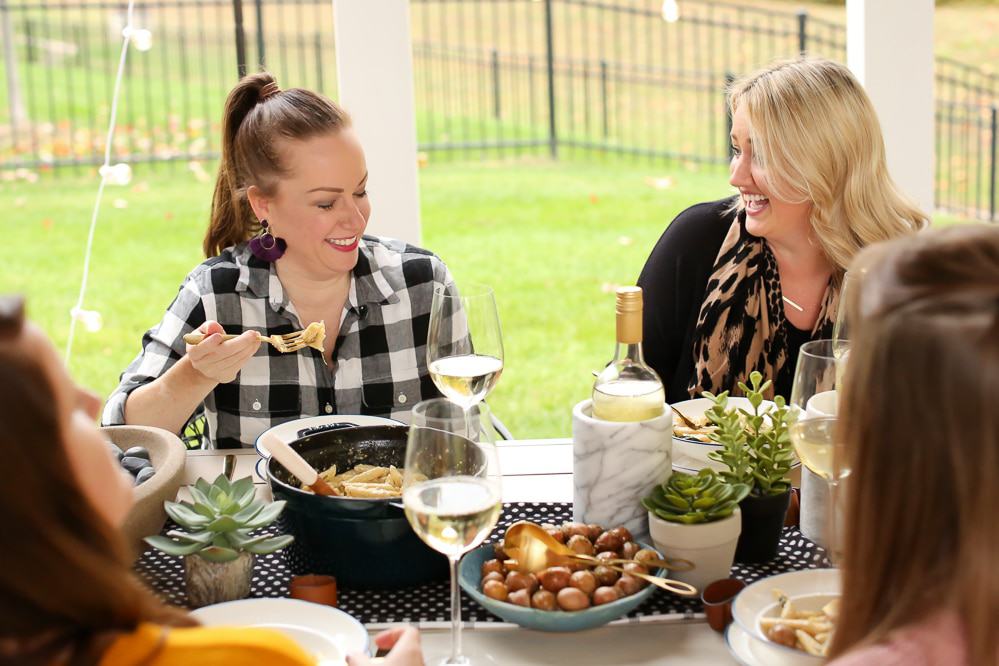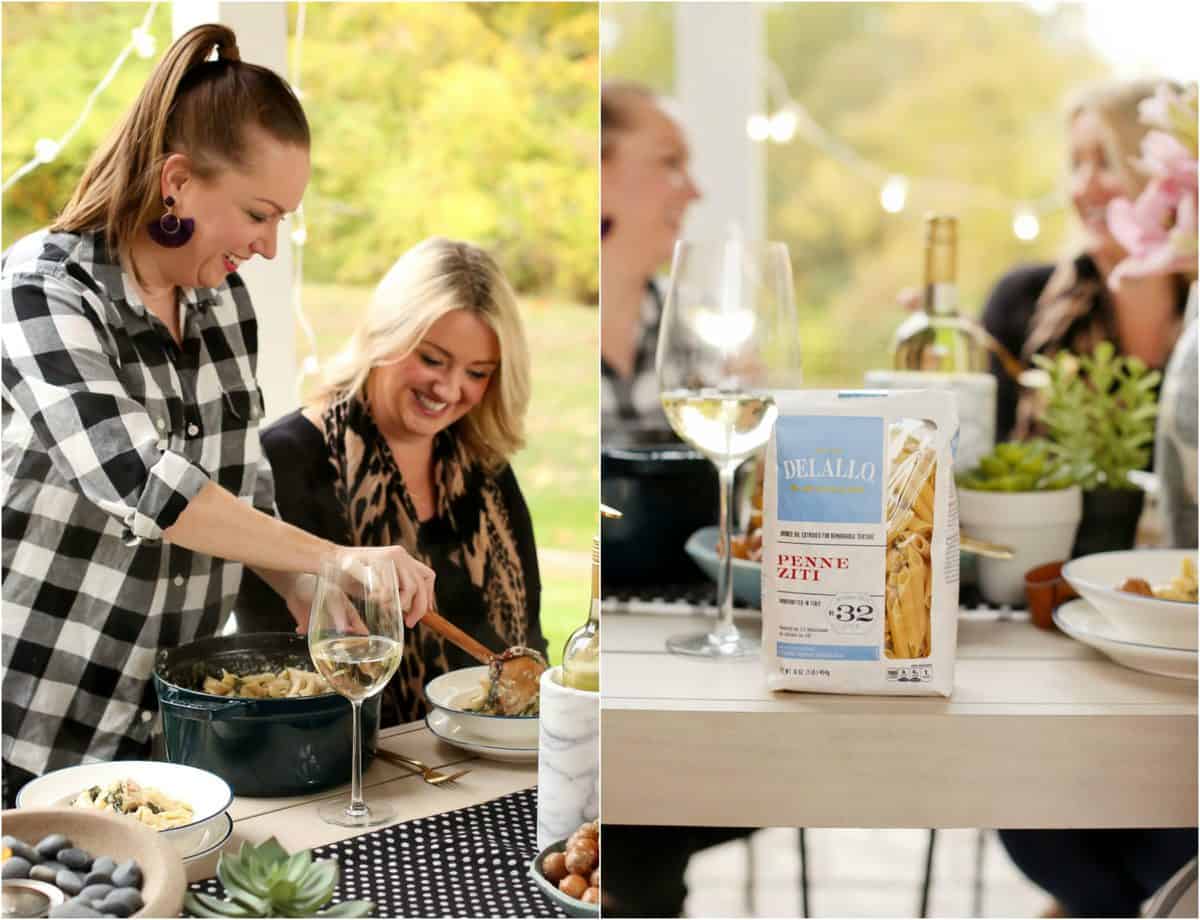 How To Cook The Perfect Pasta
To make this chicken florentine pasta recipe, follow these top tips to cook the perfect pasta:
Cook the pasta in a large pot with lots of water – you want to give the pasta room to move around so that it cooks evenly and doesn't stick together.
Salt the water to add flavor to the pasta.
Ad the pasta to the water when it's at a rolling boil.
Stir the pasta when you first add it to prevent it sticking together.
Check when the pasta is ready by tasting it. It should be al-dente / have a slight bite to it. The pasta will continue to cook once it is drained.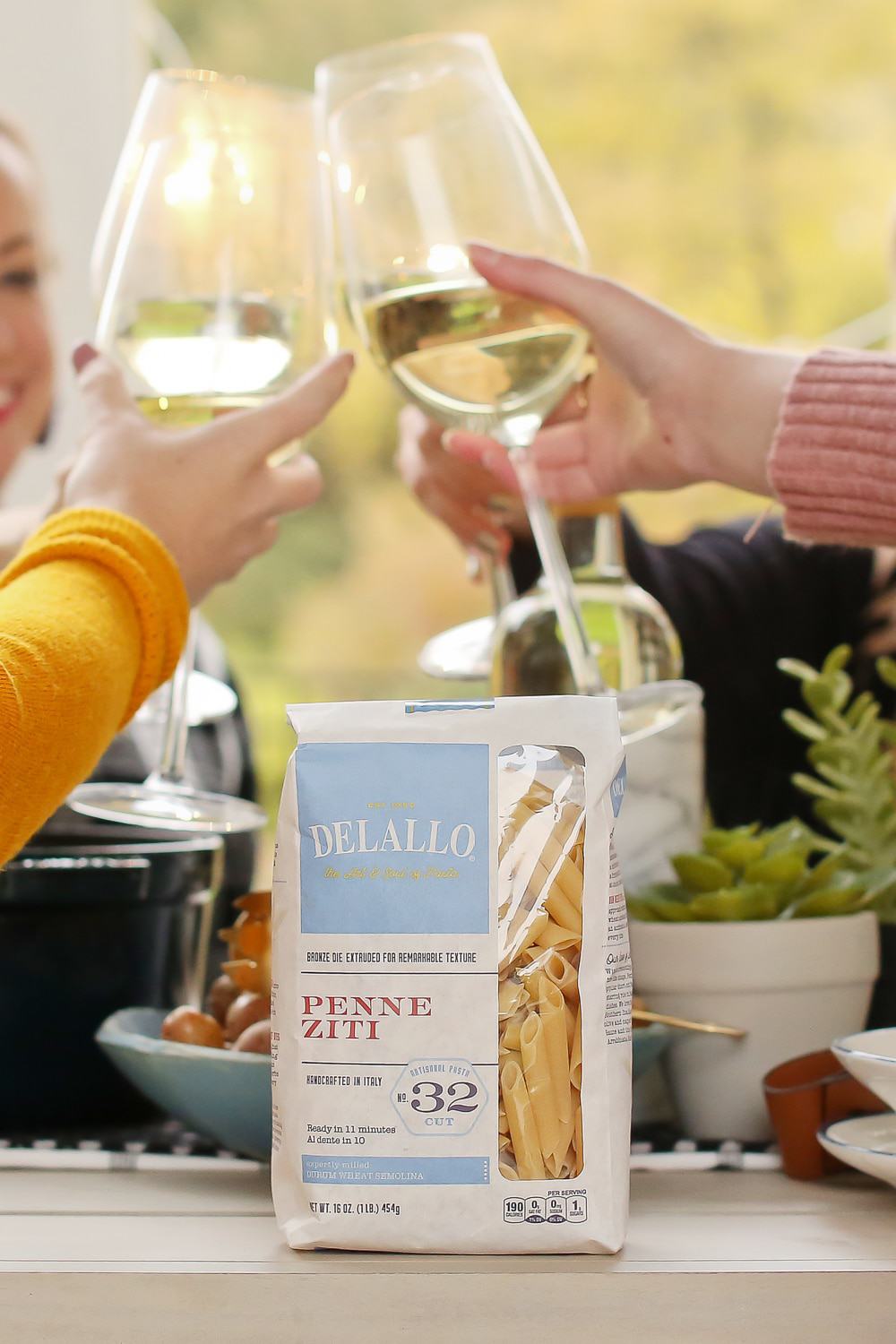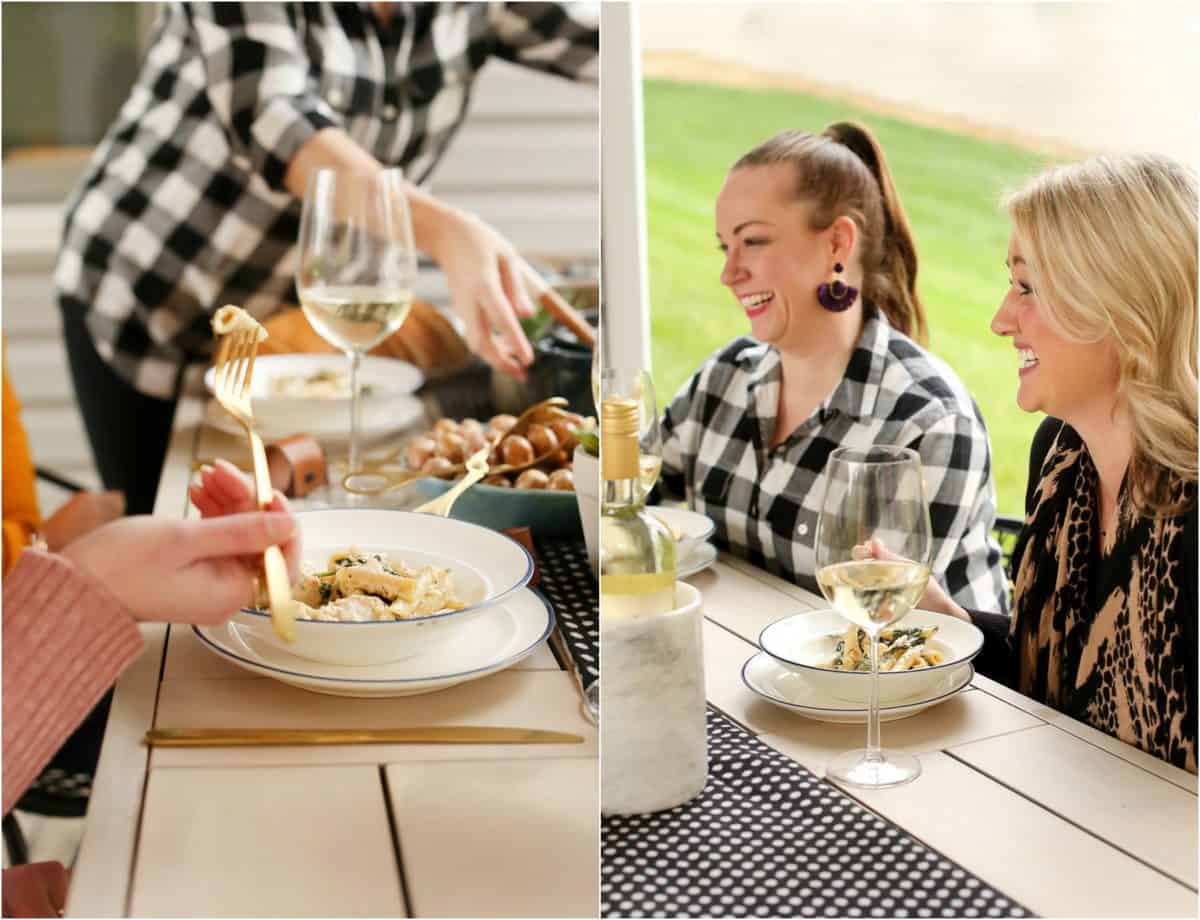 What is Florentine?
Florentine refers to a recipe that has its origins in Florence, Italy. A florentine dish will often feature spinach, cheese and a protein such as fish or chicken. In this recipe, I have used classic ingredients from a chicken florentine and incorporated it into a delicious pasta dish that is perfect for a weeknight meal.
Serving Suggestions
For the pasta party, I kept things simple. I served roasted potatoes and fresh Italian Bread, and that was truly all we needed! This pasta dish is just so perfect by itself, but you could also serve it alongside a fresh salad, roasted vegetables, or some crusty garlic bread. Try it with some of these tasty recipes: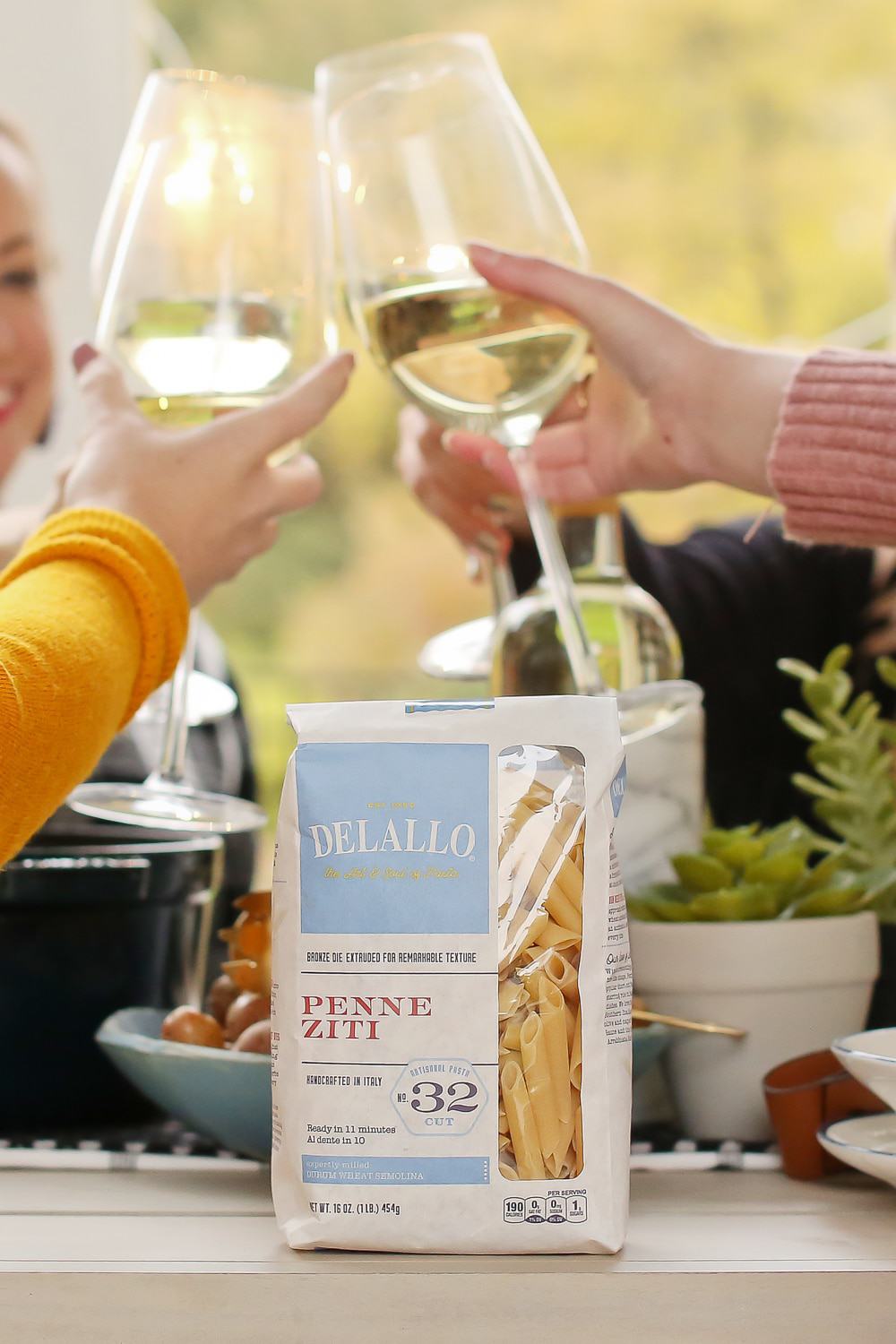 A Creamy Chicken Pasta Recipe
This chicken florentine pasta recipe is so deliciously creamy and cheesy and so flavorsome. This really is a restaurant quality dish that you would find in your favorite Italian. It's so quick and easy to put together, what more could you ask for after a busy day?
Chicken Florentine Recipe Tips
Cook the pasta al-dente.
Use free run / organic chicken if possible.
You can substitute the white wine for grape juice or chicken stock if you prefer.
Serve the pasta immediately while it's hot and fresh.
You can store any leftovers in an airtight container in the fridge and reheat once.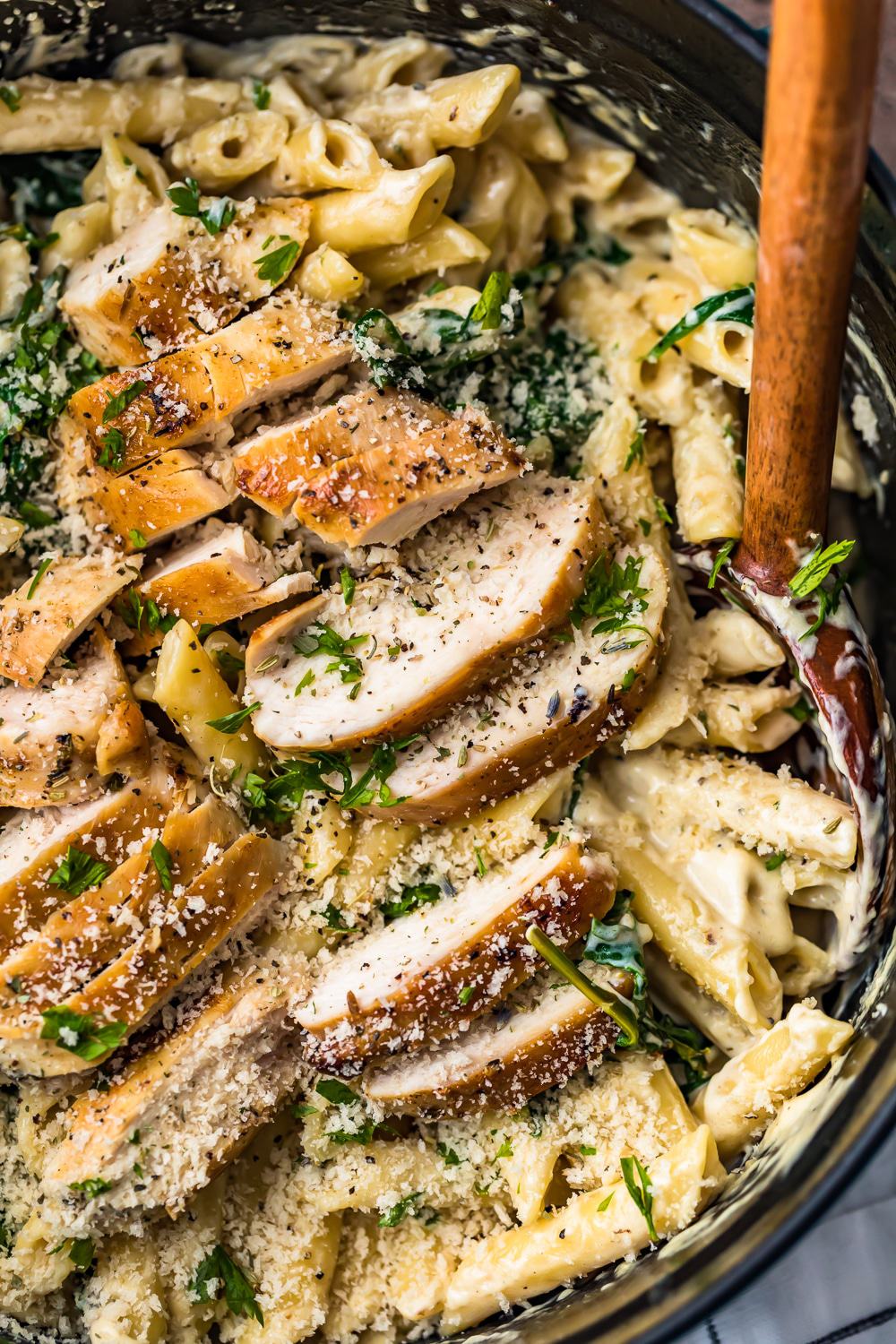 For More Easy Pasta Recipes:
Thank you Lissy from Miss Prissiness Photography for capturing pics from our Pasta Party!