This creamy Chicken Florentine Pasta recipe is an easy and tasty weeknight recipe that the whole family will love. On the table in half an hour, this Italian-inspired dish comes together easily and is packed full of flavor. Make this easy pasta recipe for a fun and festive pasta party this Fall!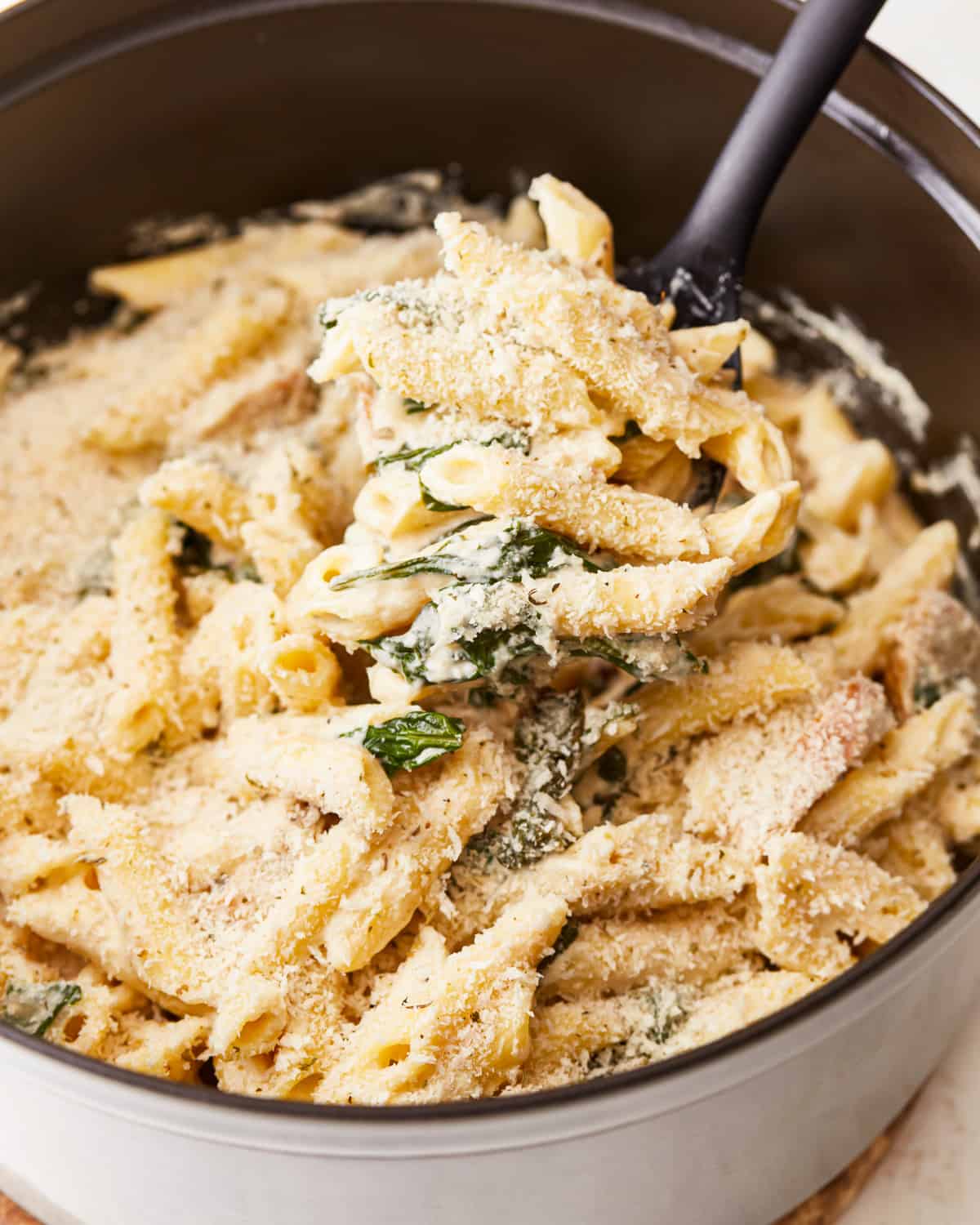 What's in this Chicken Florentine Pasta Recipe?
This chicken florentine pasta recipe is so deliciously creamy and cheesy and so flavorsome. This really is a restaurant-quality dish that you would find in your favorite Italian. It's so quick and easy to put together, what more could you ask for after a busy day?
Pasta: I used penne, but another tubular or shaped pasta will work!
Unsalted Butter: Helps the garlic and spinach cook without burning and adds a rich flavor.
Garlic: Adds an earthy flavor to the dish.
Baby Spinach: Makes this dish truly Florentine!
Olive Oil: Helps the chicken cook without burning.
Chicken: I used boneless, skinless chicken breasts, but thighs will also work.
Salt + Pepper: Enhances the natural flavor of the chicken and the sauce.
Oregano: Adds a spicy flavor to the chicken.
White Wine: Helps deglaze the pan and adds balancing acidity to the sauce.
Heavy Cream: Makes the sauce creamy and rich.
Cheese: A combination of mozzarella, Parmesan, and reduced-fat cream cheese makes this dish super creamy and cheesy!
Cayenne Pepper: Adds just a hint of spice to the dish.
Breadcrumbs: Add a little bit of crunch!
Pro Tip: If you're not a drinker, swap out the white wine for chicken broth!
Variations on Chicken Florentine Pasta
This delicious florentine pasta dish is so easy to change up. Try adding some mushrooms, sun-dried tomatoes, artichoke hearts, or goat cheese for a slightly different flavor. Or swap out the chicken for a different protein, like shrimp or sausage.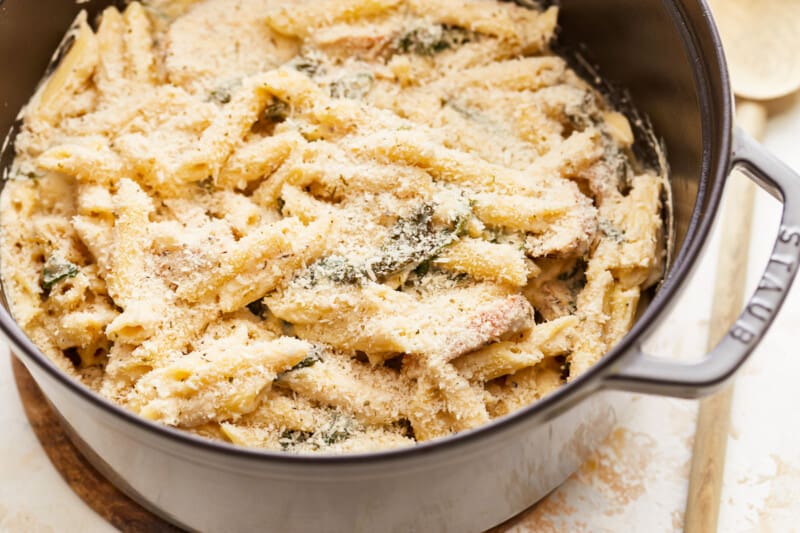 What is chicken florentine?
This dish consists of penne pasta and cooked chicken coated in a rich and creamy cheese sauce filled with spinach!
Is chicken florentine from Florence?
Although it sounds like this dish must be from Italy, Florentine actually refers to a traditional French sauce.
What's a Florentine?
Florentine is a term in French cuisine that refers to a dish that includes cooked spinach, a protein, and a Mornay sauce, which is a cheese-based sauce.
What do you serve chicken Florentine with?
This dish pairs well with bread, vegetables, and salad.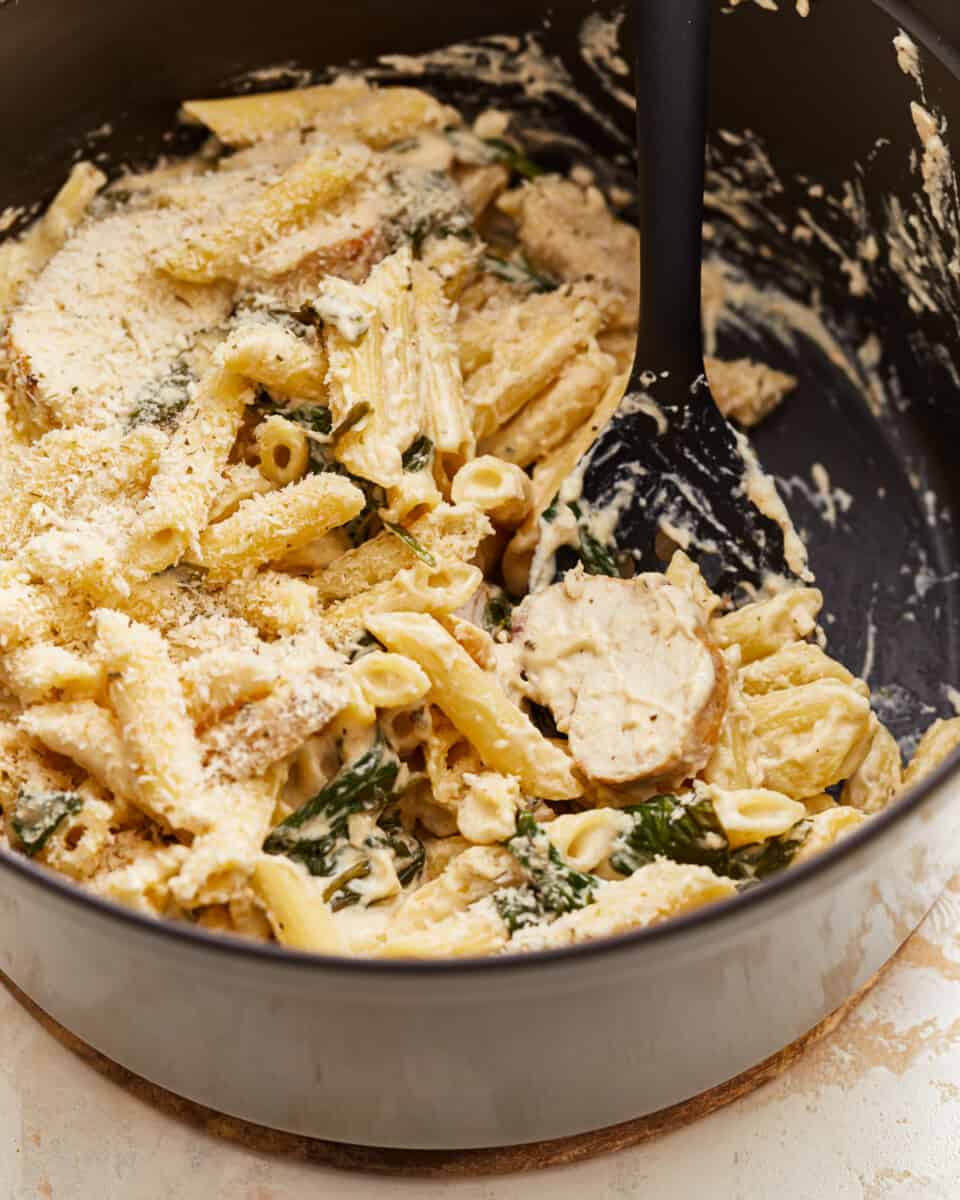 How to Store and Reheat
Store leftover chicken florentine in an airtight container in the refrigerator for up to 3 days. Reheat in a saucepan set over medium-low heat until warmed through.
I do not recommend freezing this dish, as the sauce has a tendency to separate once thawed.
Serving Suggestions
This florentine pasta is such a hearty dish, so keep it simple and serve it with some Dutch oven bread or garlic knots, roasted vegetables, and a spinach berry salad.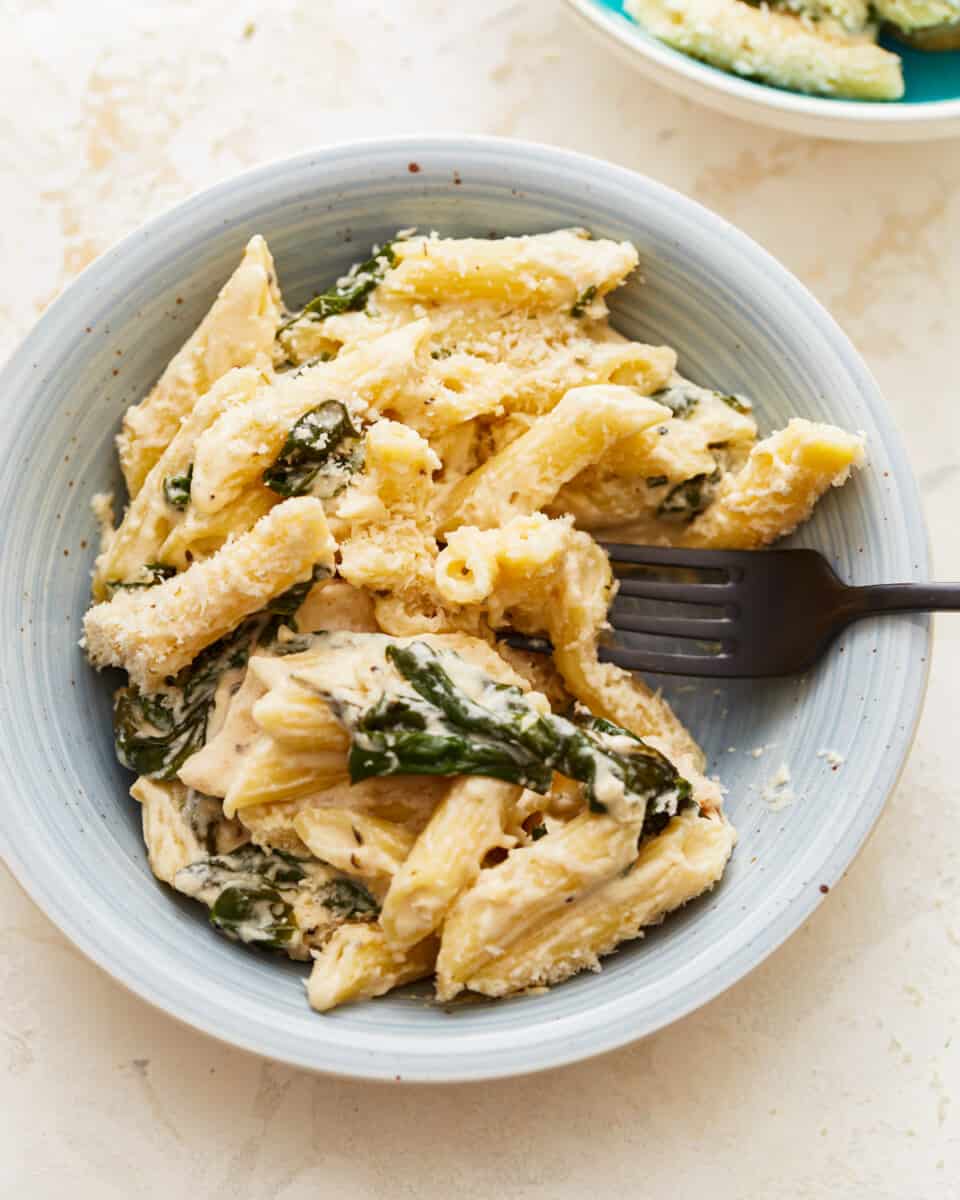 5-Star Review
"Love this recipe! So easy to make and my family completely polished off the pot!" – Stephanie
More Chicken Pasta Dishes We Love