Strawberry Pretzel Salad is an absolute must make during the holidays (or even the New Year!), especially when you can make it SUGAR FREE (optional) but just as delicious as the traditional version! This Sugar Free Strawberry Pretzel Salad recipe is made with layers of salty and buttery pretzels, low fat cream cheese/whipped cream, and of course and tangy strawberry jello topping. It's a delicious side dish or even dessert for Christmas, Easter, Thanksgiving, and beyond!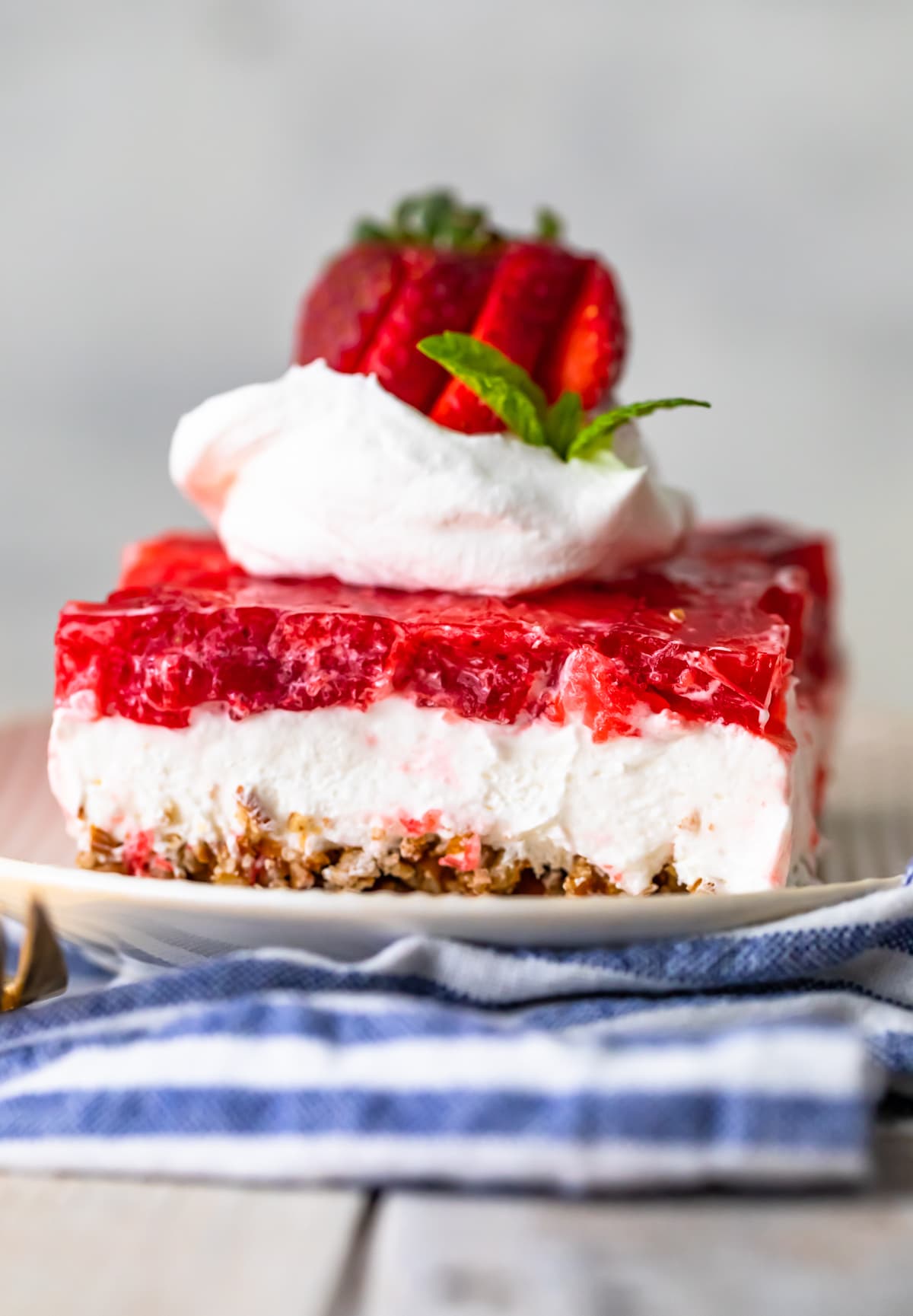 Strawberry Pretzel Salad (Sugar Free!)
Strawberry Pretzel Salad your Grandma used to make is good, but Sugar Free Strawberry Pretzel Salad is even better! You'll never miss all that sugar.
To me, every holiday table needs a layered salad or sweet side to balance all the main courses like Honey Baked Ham, Roasted Turkey, or Brisket. This Strawberry Pretzel Salad Recipe is one of my all-time favorites, but with a twist! I've swapped out the sugar for stevia, and am so excited to share how tasty this recipe can be when made a bit healthier. It's just as delicious, trust me!
I love that you can easily make Classic Strawberry Pretzel Salad a bit healthier with a few tweaks. Its the perfect side dish year round. See below for tips!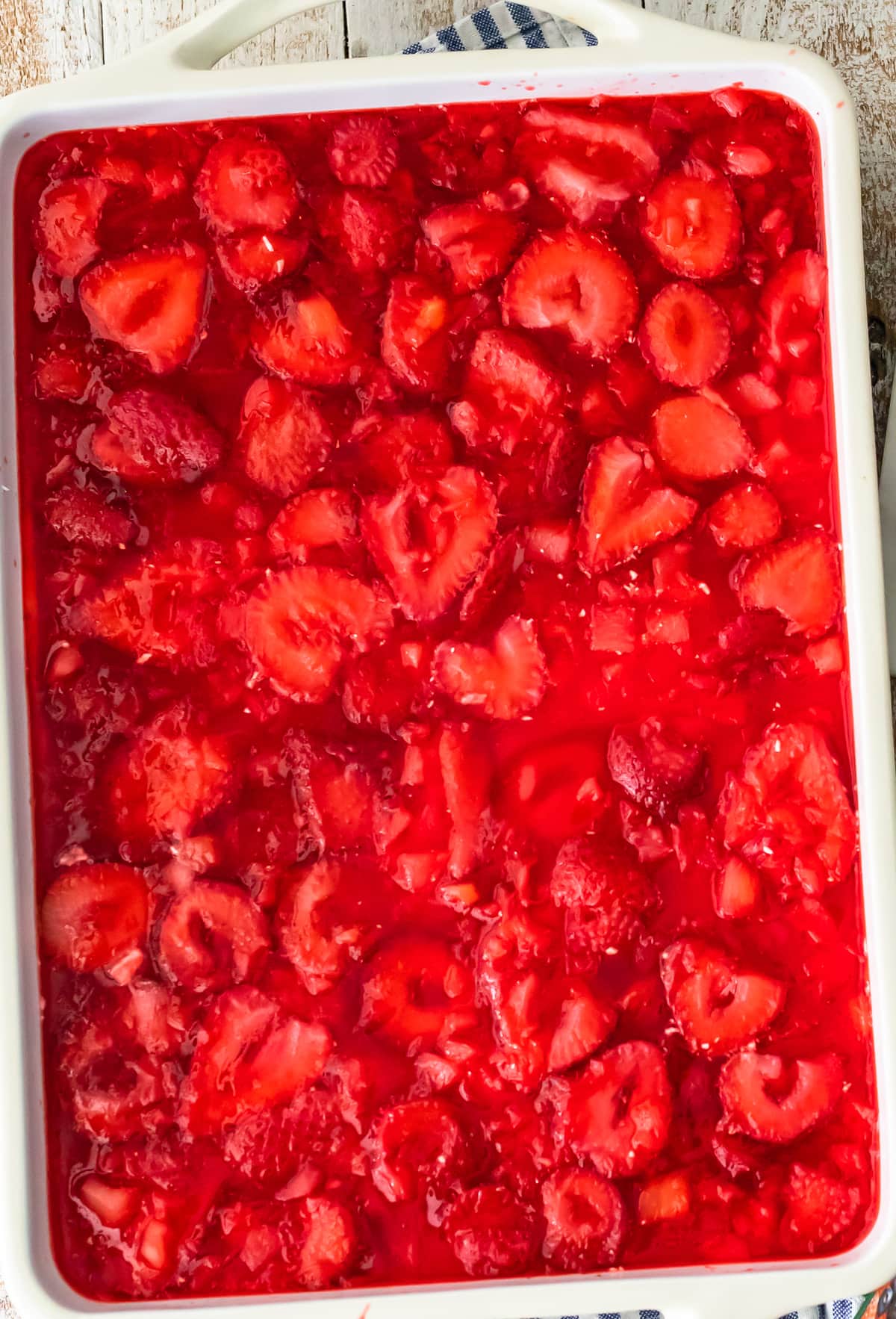 How to make Strawberry Pretzel Salad Sugar Free
For this Sugar Free recipe, I'm not counting natural fruit sugars into the equation. I'm talking about added sugars, which is the kind we sometimes want to avoid.
Traditional holiday Strawberry Pretzel Salad has a LOT of added sugar…some in every layer of this classic side dish/dessert. I've got some good tips for making this recipe a bit healthier. There's enough calories already surrounding Christmas, so some simple substitutions can really make a big difference!
Use canned pineapple that is in 100% juice. CHECK THE LABEL. Make sure the ingredients say "pineapple" and "pineapple juice" and that's it. A lot of canned fruit will be in sugary syrup and there's just no reason for that!
When buying frozen strawberries, take care to make sure the bag says "NO SUGAR ADDED". Again, a lot of companies will freeze in a syrup loaded in extra, unnecessary sweetness. Strawberries are tastiest on their own, so pick a frozen kind void of any added sweeteners.
Buy Sugar Free Whipped Topping. There's a difference here between sugar free and lite or low fat. We want the sugar free option here. Again, its just not needed!
Those tips are all great, but the MOST IMPORTANT step in making this Strawberry Pretzel Salad sugar free is swapping out the sugar for Stevia In The Raw® . You guys might remember me making over a few of my traditional holiday favorites this year, like Iced Gingerbread Loaf and Pumpkin Crumble. Making these traditional recipes sugar free has been SO FUN and I think I'm addicted.
Stevia In The Raw® is a zero-calorie sweetener made from the sweet leaves of the stevia plant, and is absolutely perfect for all your baking needs.
Stevia In The Raw® Bakers Bag makes cooking 1:1 with stevia instead of sugar sooo easy, and can save on average 700 calories per recipe. SAY WHAT?! Such an easy way to make our very favorite recipes a bit healthier.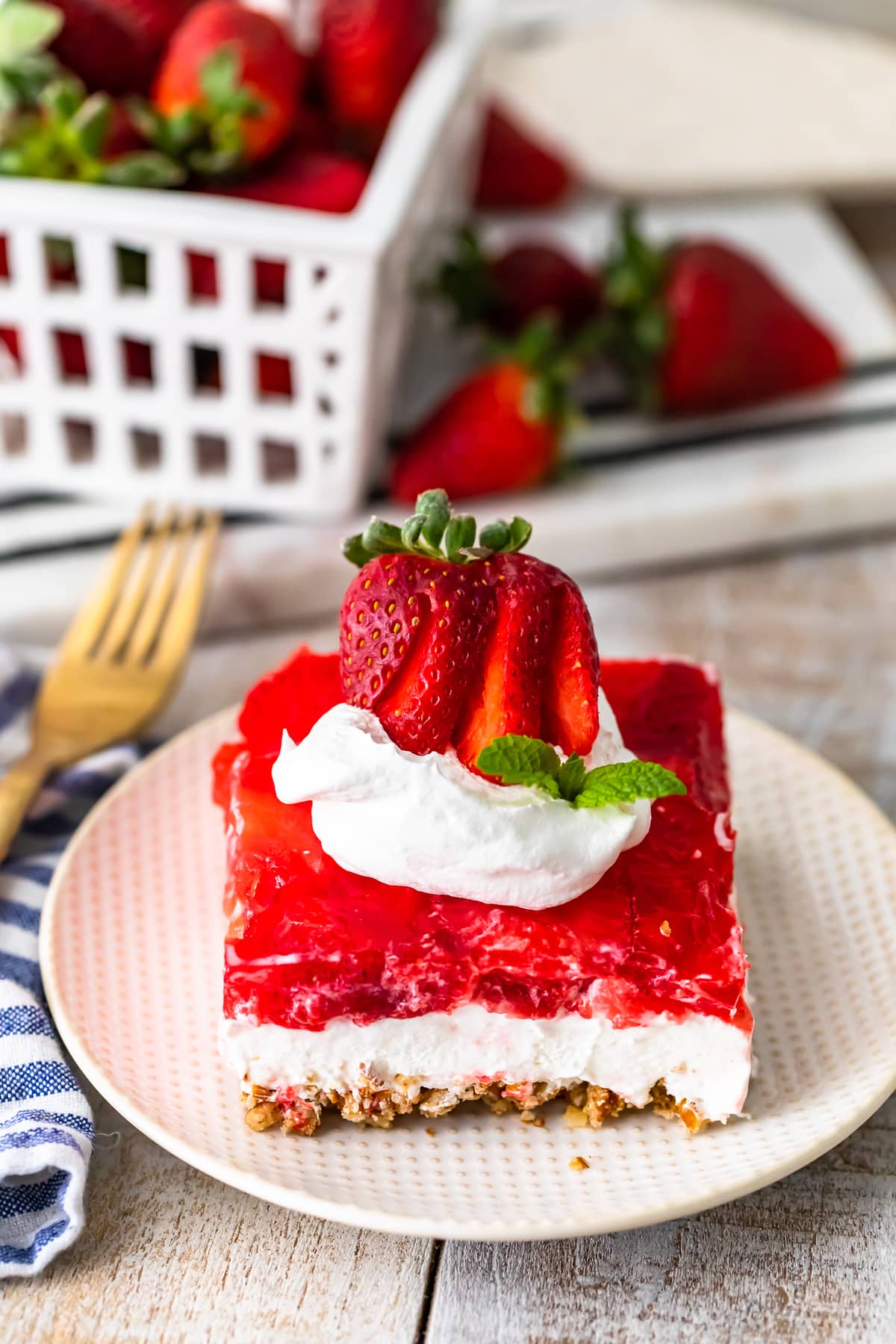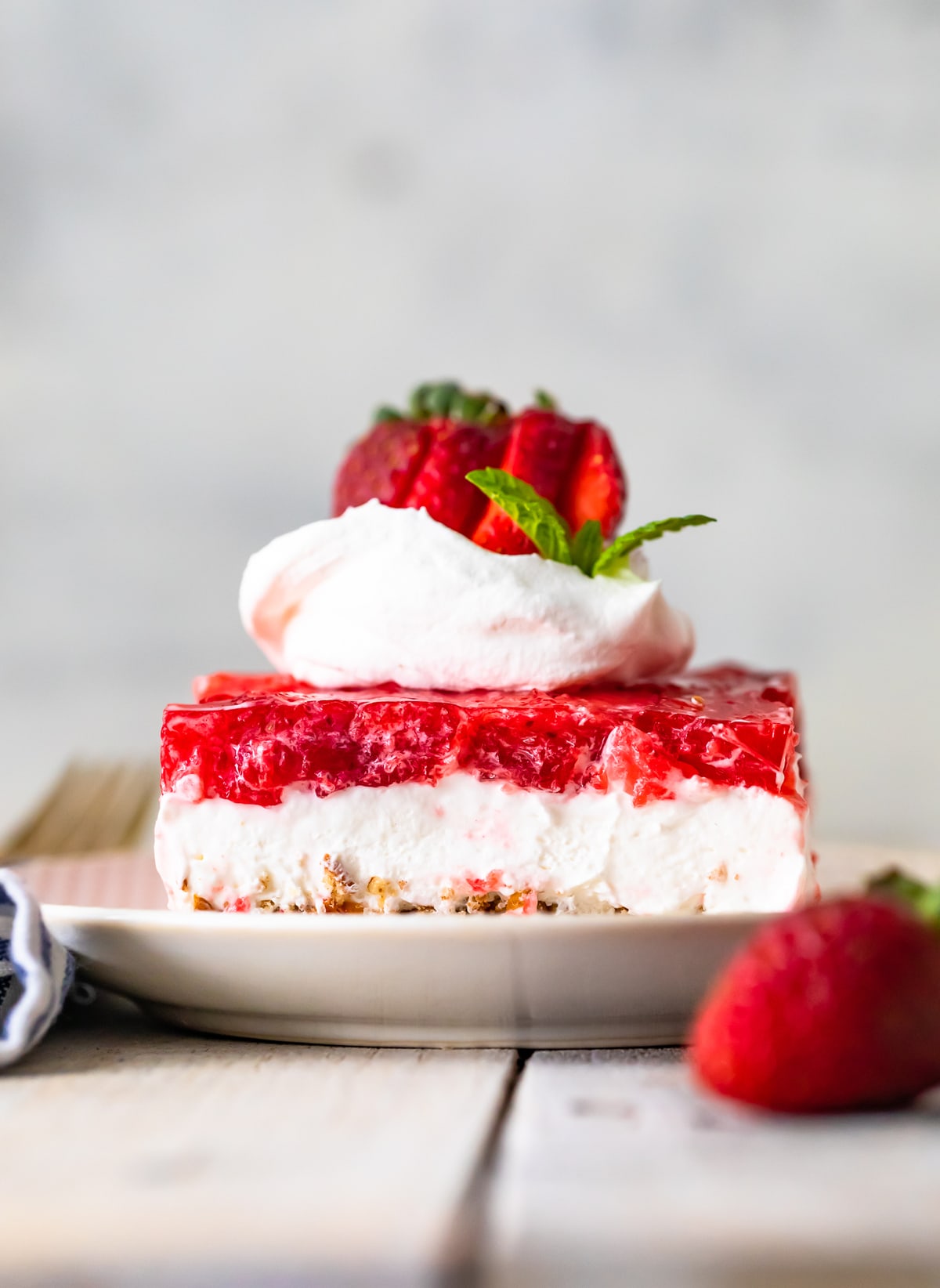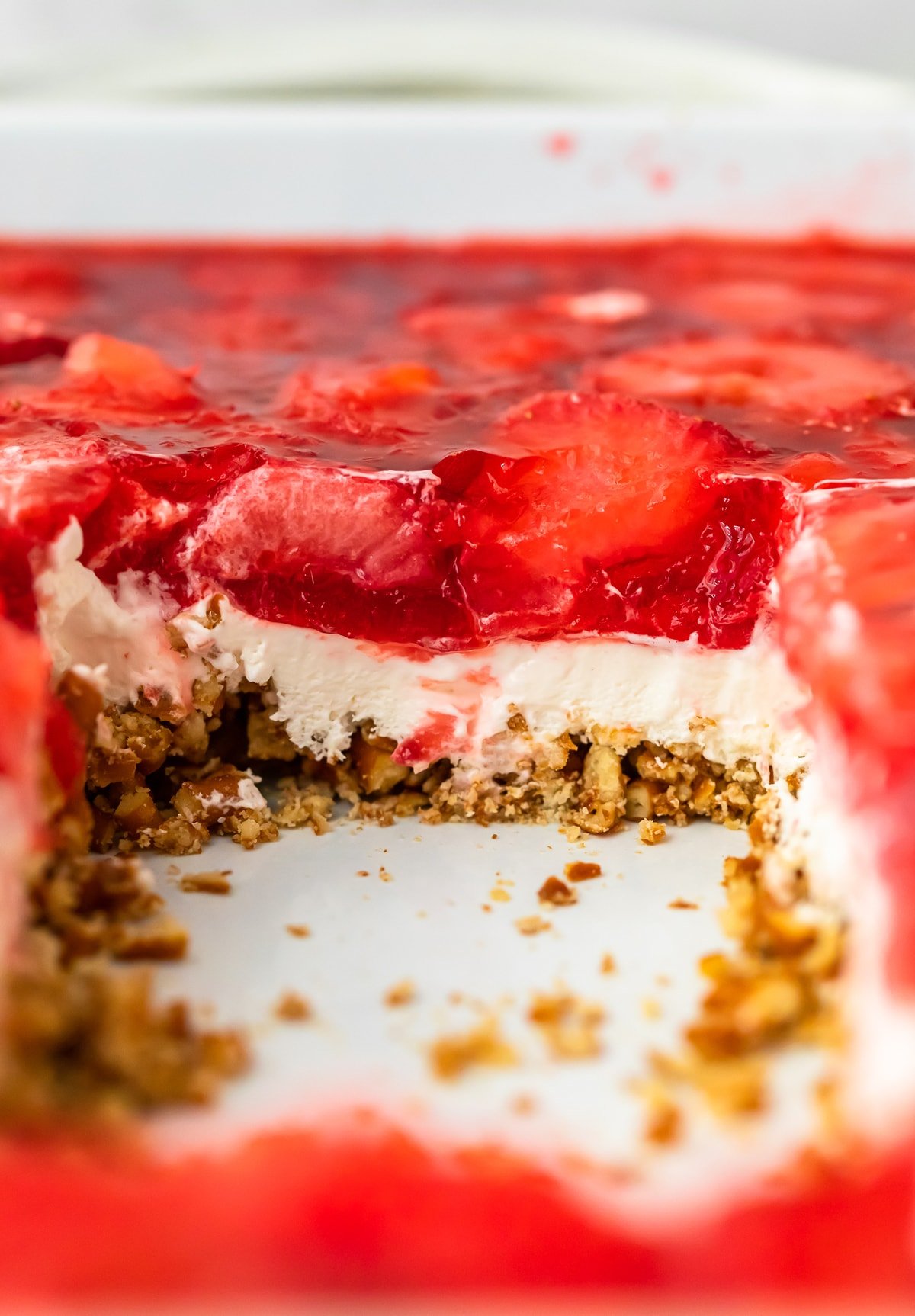 Other amazing Holiday Side Dish Recipes
Is this a dessert? Is it a salad? Is it a side dish?? I'm not sure to be honest! In our family, we eat it as a side dish. Then I eat it for dessert. Then I usually eat more for breakfast the following day. Can you blame me??? Strawberry Pretzel Salad is DELICIOUS! Here are some other sweet side dishes we love:
What to pair with Strawberry Pretzel Salad
I'm SO excited about all of our holiday main courses we have been churning out lately! Some favorites (that would be SO tasty with this Strawberry Salad for Christmas, Easter, or Thanksgiving) include: Beef Tenderloin, Orange Cranberry Pork Loin, Sweet Tea Pork Tenderloin, Instant Pot Pot Roast, Classic Prime Rib, or even Thai Beef Brisket!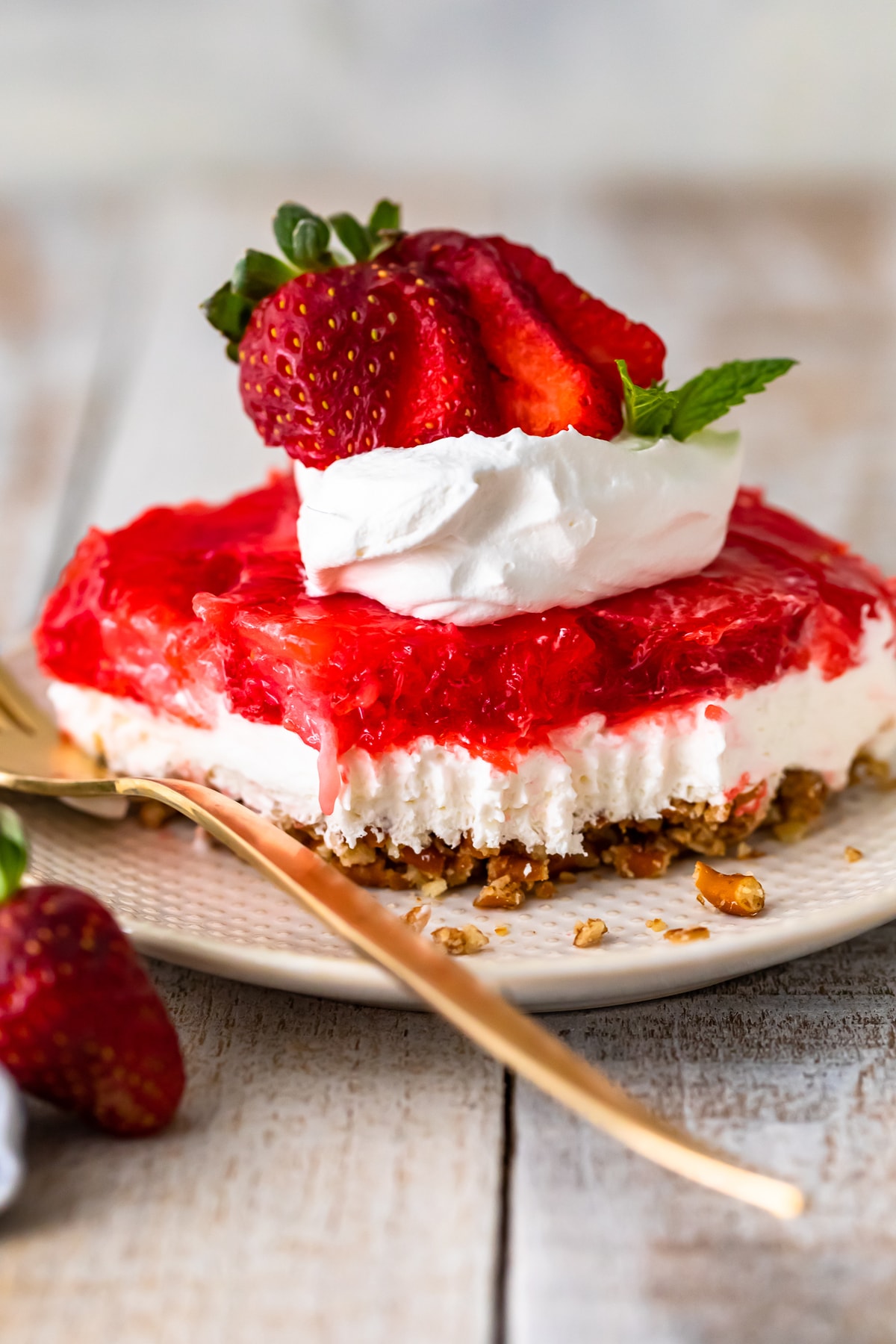 Don't mind me, I'll just be eating this Sugar Free Strawberry Pretzel Salad for breakfast, lunch (I actually did eat a huge square for lunch today, shhh!), dinner, AND dessert until Christmas. Don't you want to just dive right in?? Do it!!!
See the recipe card for full instructions on how to make Sugar Free Strawberry Pretzel Salad.
If you like this Sugar Free Strawberry Salad, check out some of our other favorite strawberry recipes!