Waldorf Salad with Poppy Seed Dressing is a delicious, fresh, and healthy twist on a classic side dish. There's something about this Waldorf Salad recipe–fresh fruit topped with creamy Waldorf Salad dressing and crunchy candied walnuts–that makes this easy recipe a family favorite for every holiday. I love the addition of Poppy Seed dressing for some extra zip and creaminess.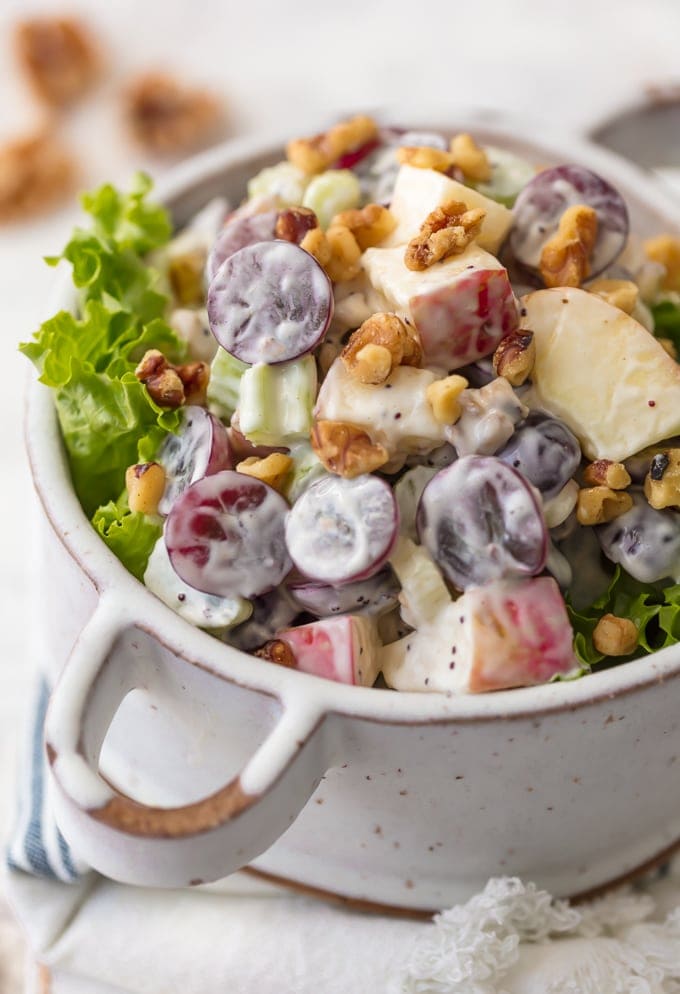 Waldorf Salad
Waldorf Salad is a classic salad recipe filled with light and bright flavors. You'll love this creamy salad for holidays or a light lunch!
I'm always a fan of the classics. You can't beat a time tested, classic recipe. When I'm in the mood for comfort food, I want Classic Pot Roast. If I'm wanting to have a quiet night by the fire, I want Classic Ham and Bean Soup. When coming to your house for Cinco de Mayo, I better get Classic Skinny Margarita.
And you better believe if we are spending the holidays together, I'm hoping someone will make a Waldorf Salad. Actually, I'm hoping they make THIS Waldorf Salad Recipe, a welcome twist on the traditional recipe. I've made it with Poppy Seed Dressing and CANDIED walnuts. Yum!
So yes, I do love the classics, but more often than not, I want to put my own spin on it. A little bit of change never hurt anyone.
Make this creamy, fruity salad for Easter, Christmas, or Thanksgiving!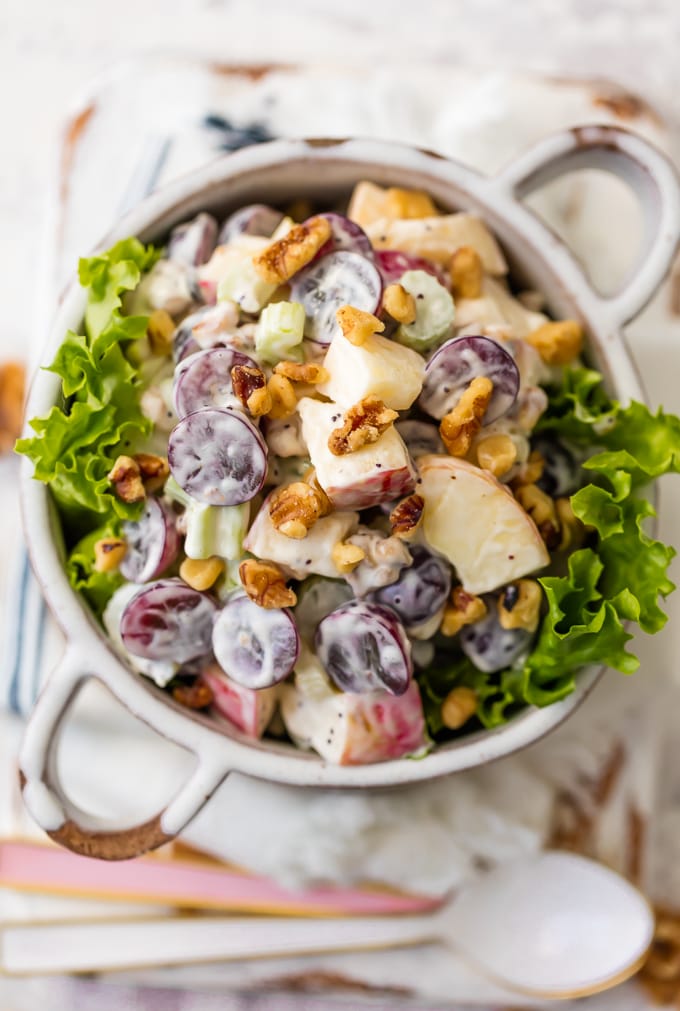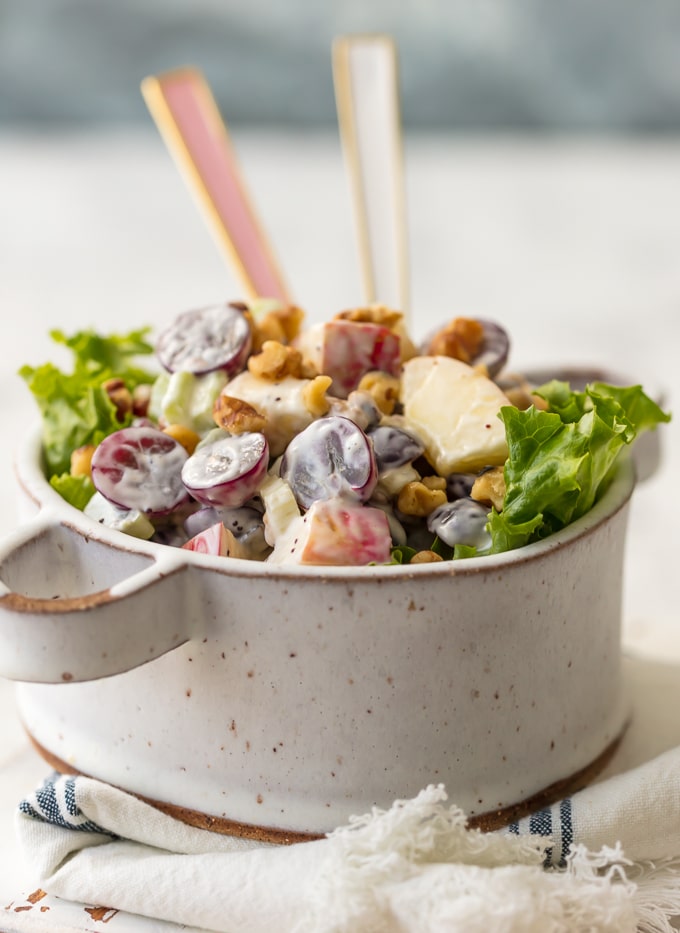 Creamy Waldorf Salad Recipe
This Poppy Seed Waldorf Salad recipe is loaded with crisp apples, fresh celery, juicy grapes, and crunchy candied walnuts. Although it can be made with plain walnuts or even slightly toasted walnuts, I happen to be OBSESSED with candied walnuts. It adds just the right touch of sweetness to this perfect recipe to add a little bit of magic; making this recipe standout on your Easter table.
This Waldorf Salad pairs beautifully with other holiday favorites like Honey Baked Ham, Pineapple Pretzel Salad, French Silk Pie, and Roasted Brussels Sprouts. Your holiday table simple won't be complete without it! What are you waiting for…let's get cooking.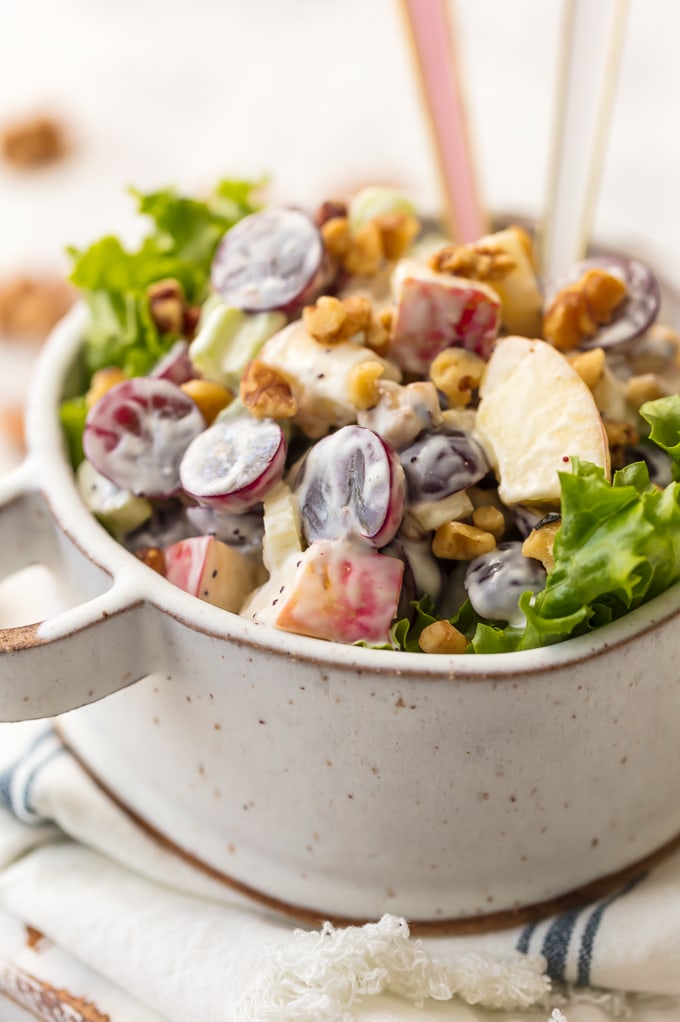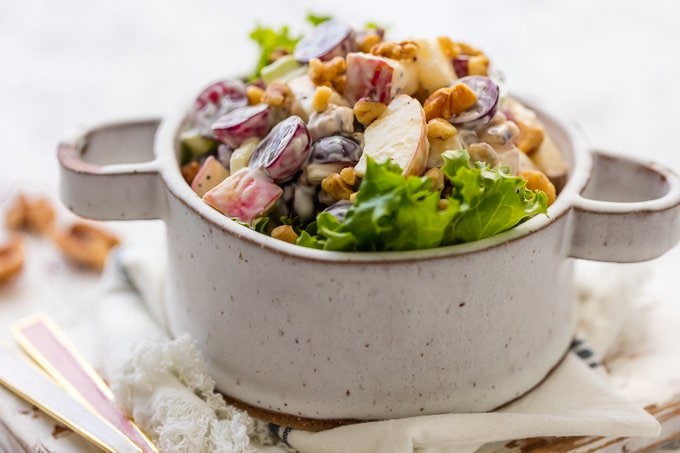 Waldorf Salad with Walnuts
What would a Waldorf Salad be without walnuts? These little guys are rich, crunchy, healthy, and DELICIOUS!
I'm so excited to be partnering with California Walnuts this year, and this favorite holiday side dish is my 3rd of 6 recipes for the year.
Did you know just 1 ounce of walnuts is packed with 4 grams of protein, 2 grams of fiber, and 2.5 grams of plant based omega alpha-linolenic acid (Walnuts are the only nut that contain significant amounts of this beneficial nutrient!)
I love their rich flavor and versatility. You can use walnuts as a flour in baking, as an add in to starters like my baked cheese, or eat them on their own. So much love to go around.
Adding them to this salad has made it one of the best Waldorf Salad Recipes I have ever tried!
How to Make Waldorf Salad
Making a Waldorf Salad is so so so easy. It's the perfect quick lunch or easy salad to add to the holiday table. Literally all you do is gather your ingredients, toss everything together in a bowl, then serve the fruit mixture over a bed of lettuce. And done!
Waldorf Salad Ingredients:
Plain Greek Yogurt
Poppy Seed Dressing
Fresh Lemon Juice
Salt & Pepper
Diced Apples
Seedless Grapes
Celery
Raisins
Candied Walnuts
What does this Waldorf Salad recipe have in it?
Traditionally, Waldorf Salad ingredients include: fresh apples, celery, grapes and walnuts, dressed in mayonnaise, and usually served on a bed of lettuce as an appetizer or a light meal. I've swapped the walnuts for candied walnuts and the mayo for greek yogurt and poppy seed dressing. Yum!
Why do they call it a Waldorf Salad?
The maître d'hôtel of the Waldorf-Astoria created this salad back in 1896, and it became an instant success! When you taste it, you will understand why. It has bright flavors, a crisp crunch, and an unforgettable creaminess.
Is Waldorf Salad good for you?
Traditionally this salad contains mayo or heavy cream, which means it can be pretty heavy on the calories. This version is a bit lighter and a bit better for you due to the Greek Yogurt substitutions–you'll never miss the Mayonnaise! If you can find a healthy poppy seed dressing that you love, you're in business!
The other ingredients are all great for you, of course. Lots of fruit = Winning! And those walnuts are packed with nutrition.
Waldorf Salad Recipe for Holidays
I hope this Waldorf Salad Recipe with Poppy Seed Dressing makes an appearance on your Easter table, and becomes a staple dish for all the holidays for years to come. I know it was an instant winner in our family.
If you haven't already, hop over to see all of our favorite holiday recipes, and especially our Easter Recipes! This Waldorf Salad is a must make for any family holiday, especially Easter, Thanksgiving, and Christmas.
I love this creative twist on a classic and can't wait for you to let me know how your family liked it. I have a feeling it will be the hit of the holidays. But it's also amazing for Summer BBQs…so be sure you make it year round!
See the recipe card below for details on How to Make Waldorf Salad. Enjoy!
Try these other delicious salad recipes: