Yogurt Marinated Chicken Thighs are a quick and tasty recipe for weeknight dinners. This easy grilled chicken thighs recipe uses boneless, skinless chicken thighs and a delicious garlic, ginger, yogurt chicken marinade. Such an easy, healthy dinner idea for summer evenings!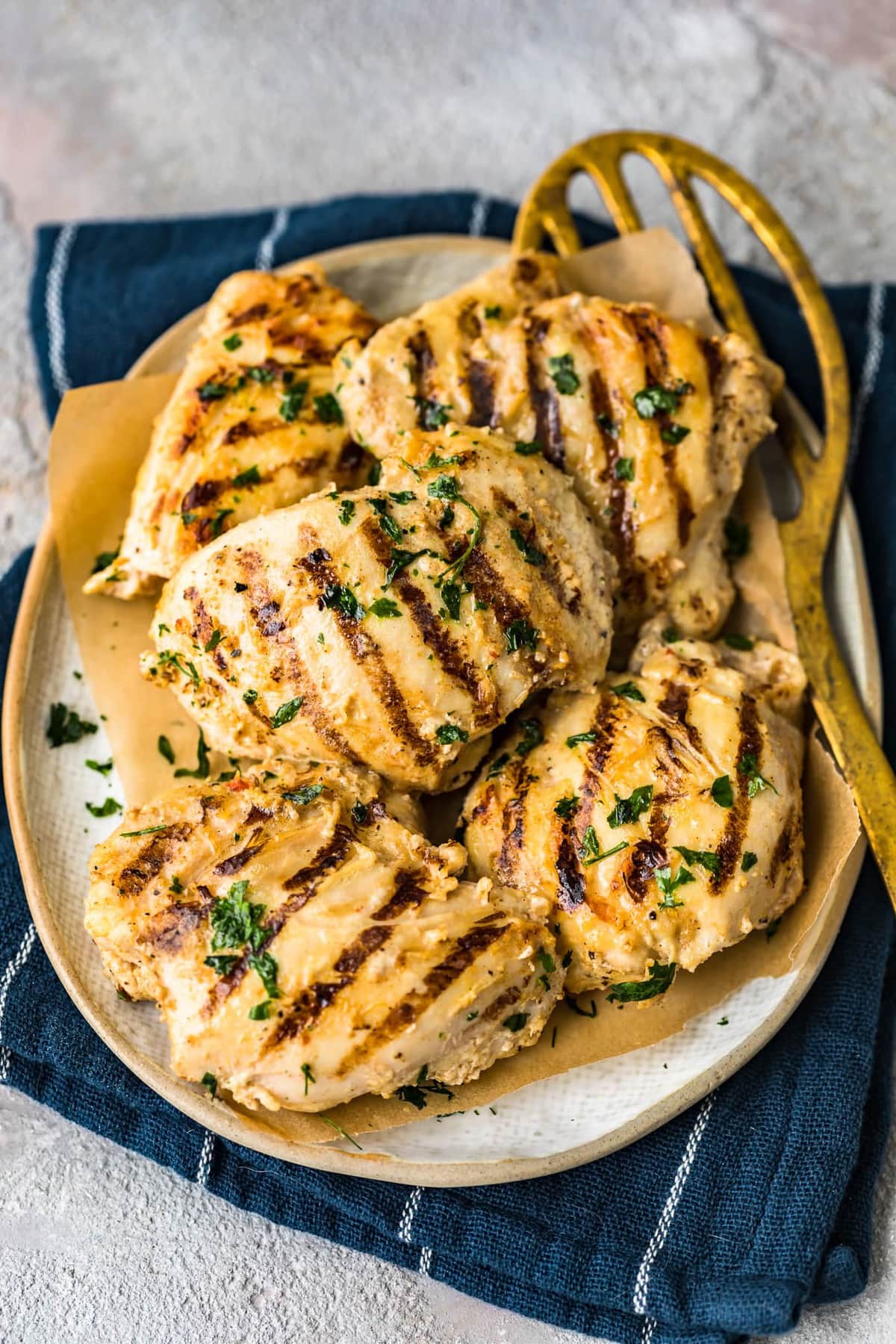 Yogurt Marinated Chicken Thighs
This yogurt marinated chicken recipe has such a nice flavor, and it's so easy to make thighs on the grill!
I think I tend to favor chicken breast for my best chicken recipes, but today we've got an easy grilled chicken thighs recipe instead! This boneless skinless chicken thigh recipe is just as healthy and just as delicious.
Before grilling, we're starting off by making a yogurt chicken thigh marinade. It's a simple mixture of yogurt, garlic, ginger, and some other tasty spices to infuse the chicken with lots of flavor before cooking. Such a great recipe for summer, and it's easy to pair with your favorite vegetable side dish (this would go perfectly with our roasted cauliflower and chimichurri sauce!).
I'm so excited to be able to use the grill more often now that summer is here, so recipes like this are here to stay. Yum!
Make this grilled chicken thigh recipe your go-to chicken recipe for summer!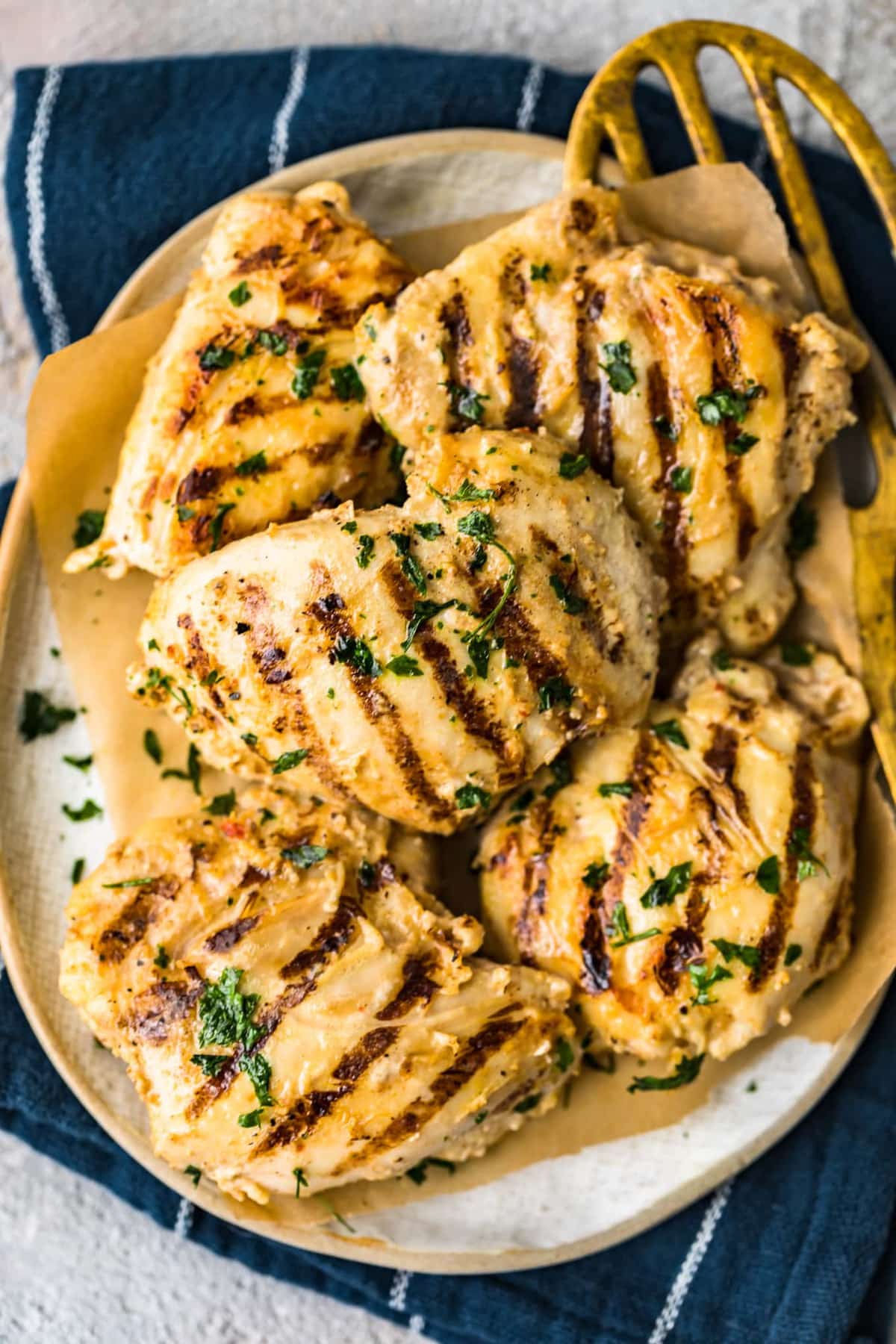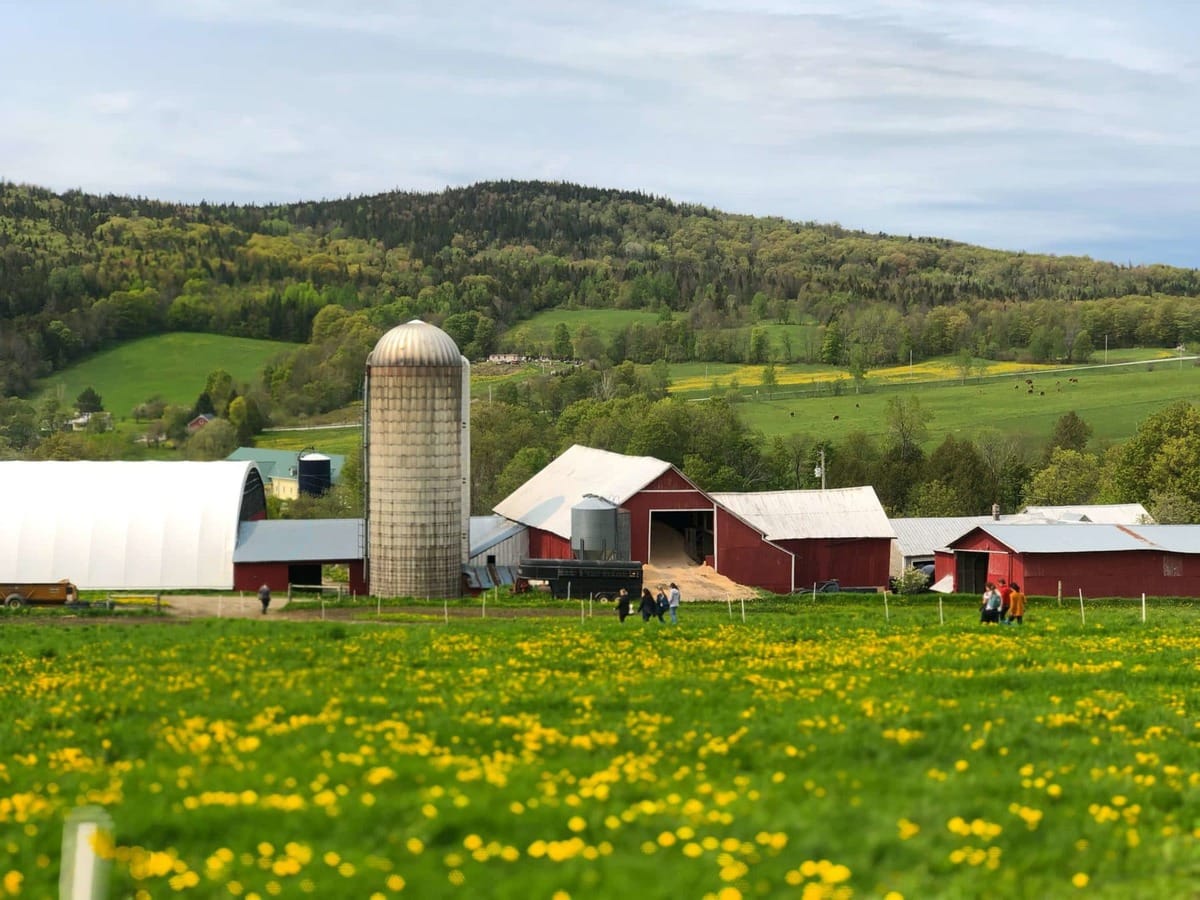 Organic Dairy Farming with Stonyfield
Before my trip to Vermont to visit some Stonyfield Farm, I'll admit that I didn't know a whole heck of a lot about what it meant to be an organic farmer. I bought organic food when possible, but didn't give it the thought and attention it deserved. I walked away from a week with Stonyfield with the utmost respect for the farmers, owners, innovation, and more. From now on, whenever possible I'll be only purchasing organic produce as well as dairy and meat. My mind was blown and then blown again!
"Organic Farming" is classified and regulated by the USDA. That in itself makes a difference to me. There are strict requirements for a product to be labeled as organic. When you choose to buy organic, you are ensuring that the foods you're feeding your family are free of the following:
toxic pesticides and chemicals
genetically modified organisms (GMO's)
growth hormones
antibiotics
artificial colors or flavors
sewage sludge or irradiation
How animals are treated on Organic Farms
One of the biggest draws to me about organic farming is the animal welfare. "Happy Cows" isn't just a phrase, it's a way of life.
The cows we saw at two different organic farms are put out to pasture a minimum of 120 days a year, and have a minimum of 50% of their diet coming from actual grazing in the fields. They can come and go as they please out of their barns, having as free of a life as physically possible.
As we stood with the cows in the pasture I was amazed at how right it felt. Organic milk has been found to have a higher fat content as well as Omega-3s, but the cows are happy, healthy, and free of things that might harm us. It's also a huge thing for the environment, because as cows graze they return carbon to the earth…working with that whole "carbon footprint" issue. Truly amazing. Healthy cows stay happy and produce an amazing product.
These farmers KNOW their cows. As we were in the pasture they would call out their cows by name, or more often nicknames. They knew their personalities, what was going on with their bodies, and had genuine affection for them. I believe all farmers care about their animals deeply. I've visited non-organic farms and been blown away by their love and care for their animals as well. But there is something truly beautiful and right about being on the land with the cows and nature being able to be as it should. As it always has been.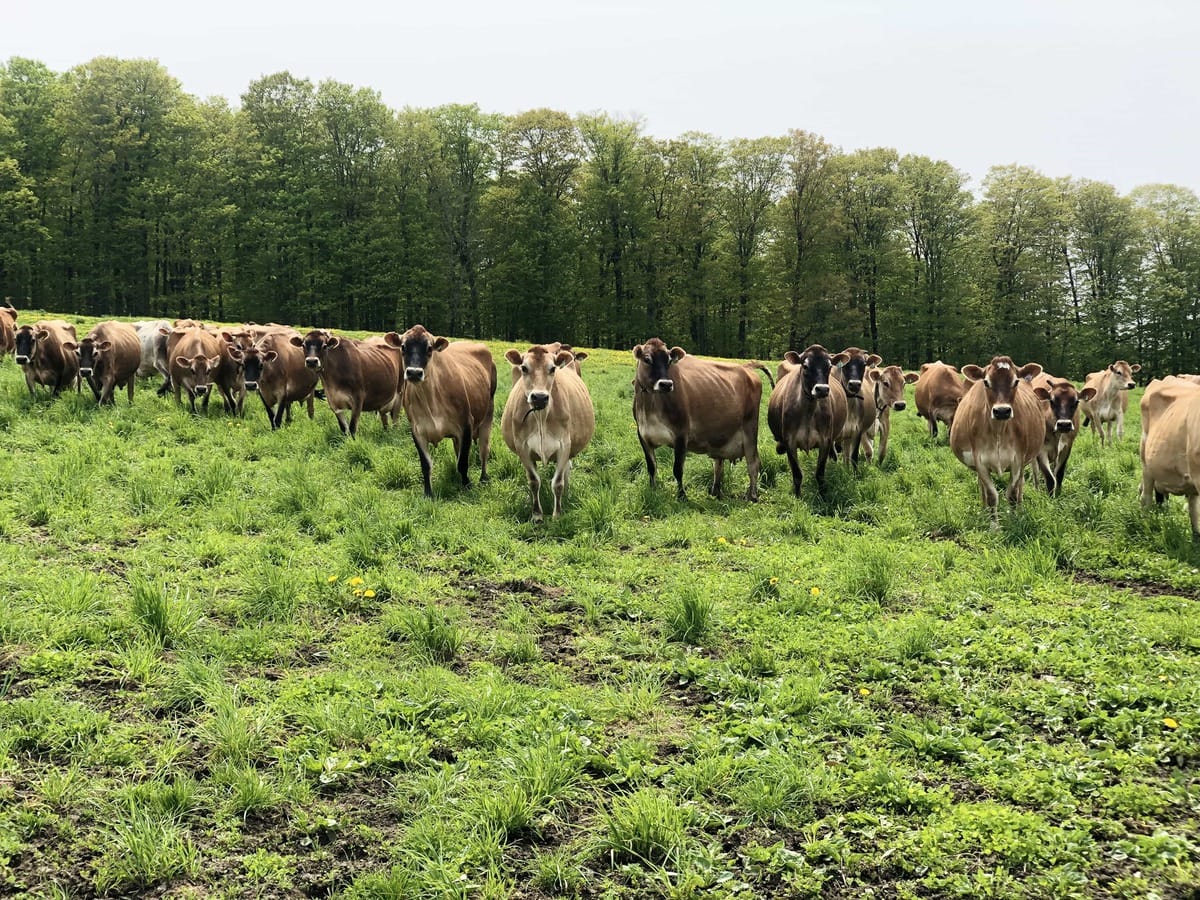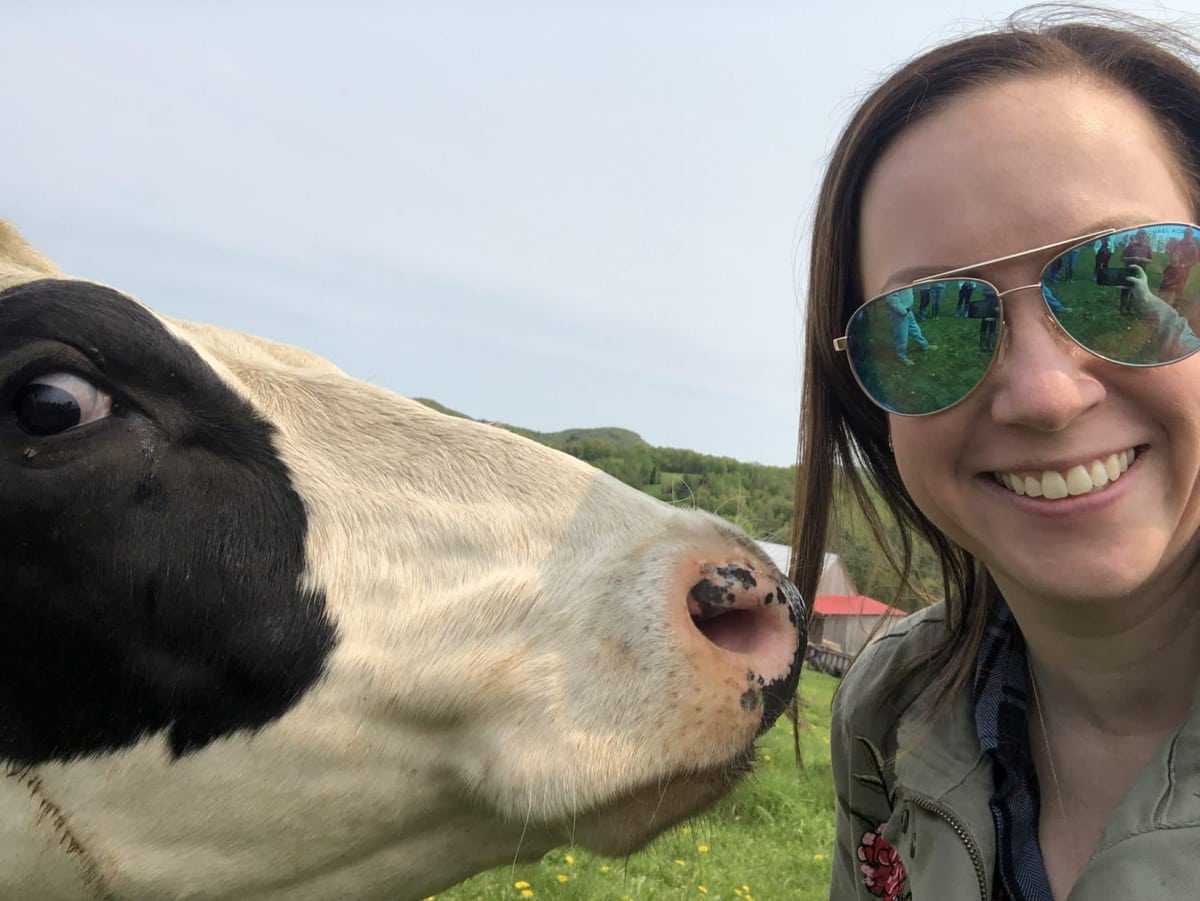 Stonyfield Organic
I knew I loved Stonyfield already. I've been feeding Henry their Baby and Kid products since he started eating solid foods. We have a CONSTANT supply of their yogurt pouches on hand at all times. But now I know WHY I love Stonyfield.
It's not enough to love a company just for the delicious products (and they do have wildly delicious products!), I also want to be able to stand behind their ideals and mission statements. Right on the Stonyfield website, you can see their mission front and center: "Thirty-six years ago, we were organic mavericks, dedicated to the idea that healthy food means healthier people, healthier business, and a healthier planet. Today that idea has caught on. And we're happy to lead — and feed — the charge."
Stonyfield was founded with the idea that we can do better, and they do better every day.
They pay their farmers the best, treat their employees the best, and give us as consumers the best products on the market. They care DEEPLY about the environment and it shows at every turn. One of the most exciting things we talked about on the tour is their initiative called "StonyFIELDS" where they are transitioning playing fields and parks across the country to organic. Did you know that a lot of soccer/baseball fields, or city parks, are treated with pesticides we don't even know about? It doesn't have to be that way!
I want the grass our children to play on to be safe, and they CAN BE. Click HERE to find out more about StonyFIELDS and how you can help.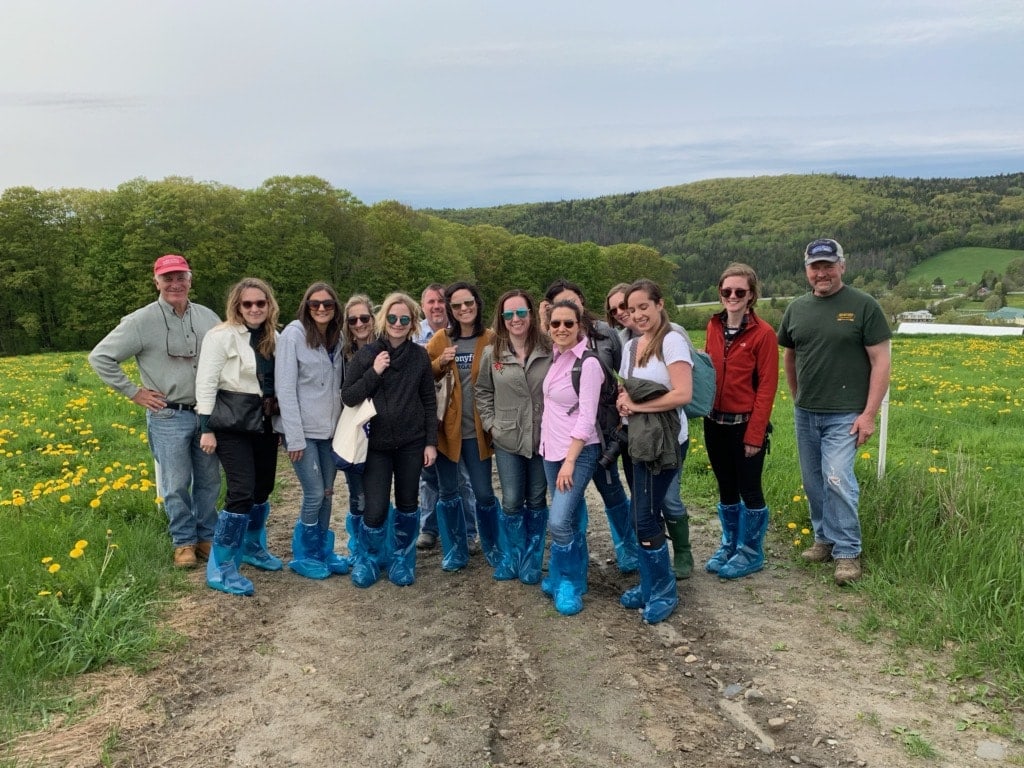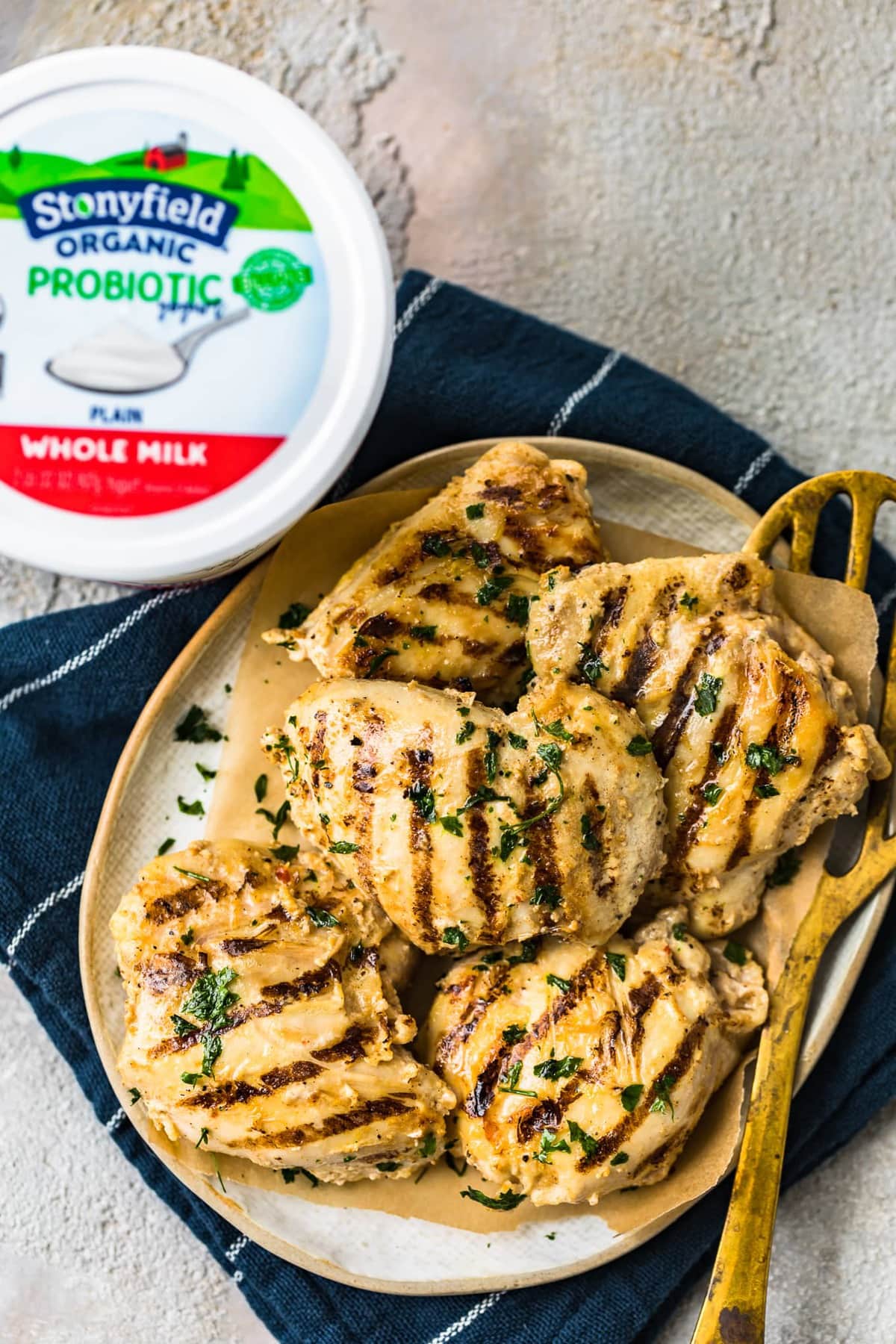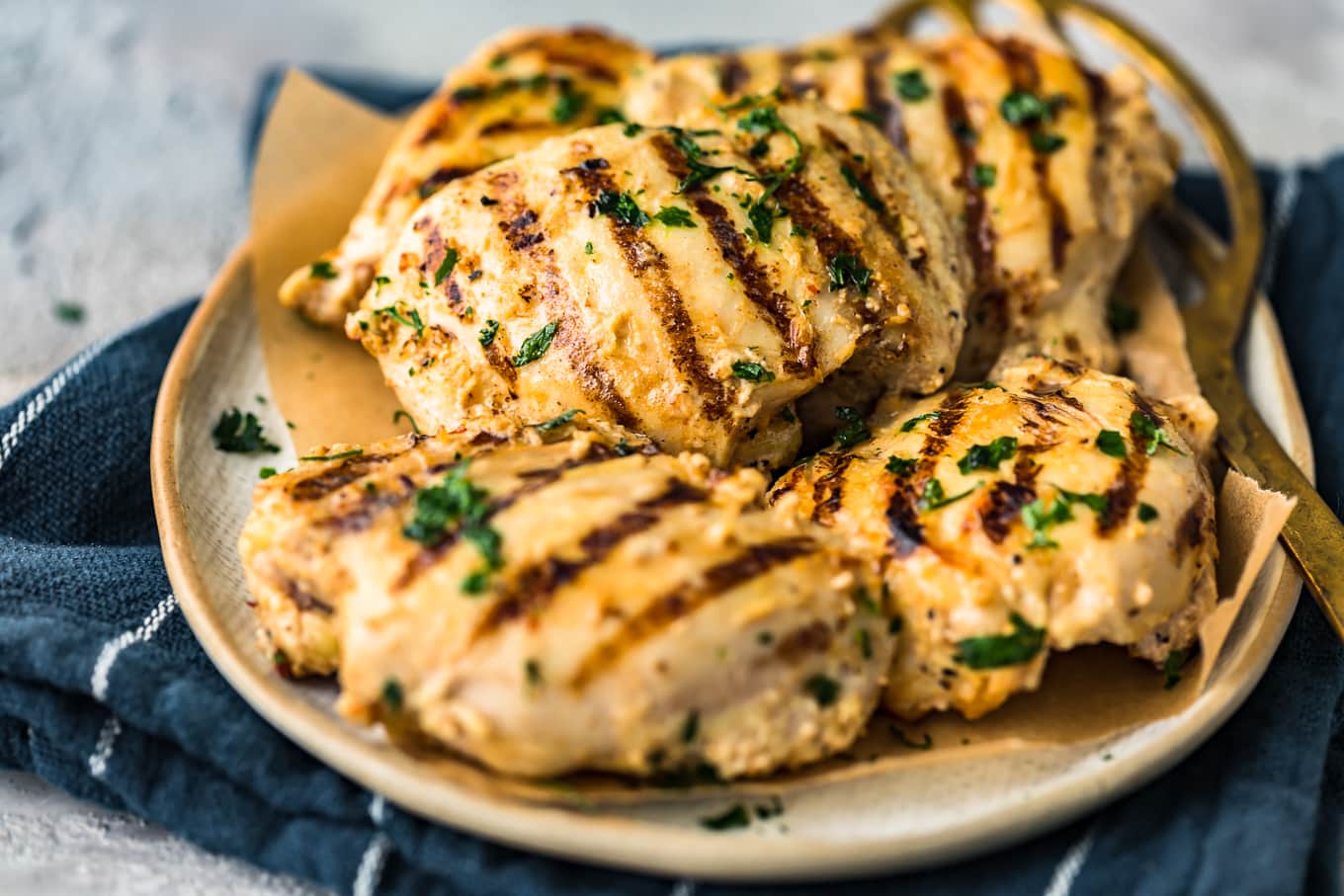 Grilled Chicken Thighs with Organic Yogurt Marinade
This grilled chicken thigh recipe is super easy. Make the marinade, let the chicken sit in the refrigerator, grill, and done! Nothing complicated here, just plan for a bit of marinating time and you're good to go.
How to make yogurt marinated chicken:
To make the yogurt marinade, combine yogurt, garlic paste, ground ginger, red pepper flakes, Garam Masala spice mix, and salt & pepper.
Place the chicken into the yogurt mixture and toss to make sure it's well-coated.
Cover and let the chicken marinate in the refrigerator for 2-4 hours.
When ready to grill, remove the chicken from the yogurt and place on the grill. Cook for 5-6 minutes on each side.
It's all done and ready to serve. Easy!
How long to grill chicken thighs
These grilled chicken thighs only need about 10 minutes of cook time. Grill for 5-6 minutes on each side to get the perfect flavor. Use an instant-read thermometer to make sure the internal temperature reaches 165°F.
If you want more chicken thigh recipes, try these Air Fryer Chicken Thighs and this Cuban Mojo Chicken recipe.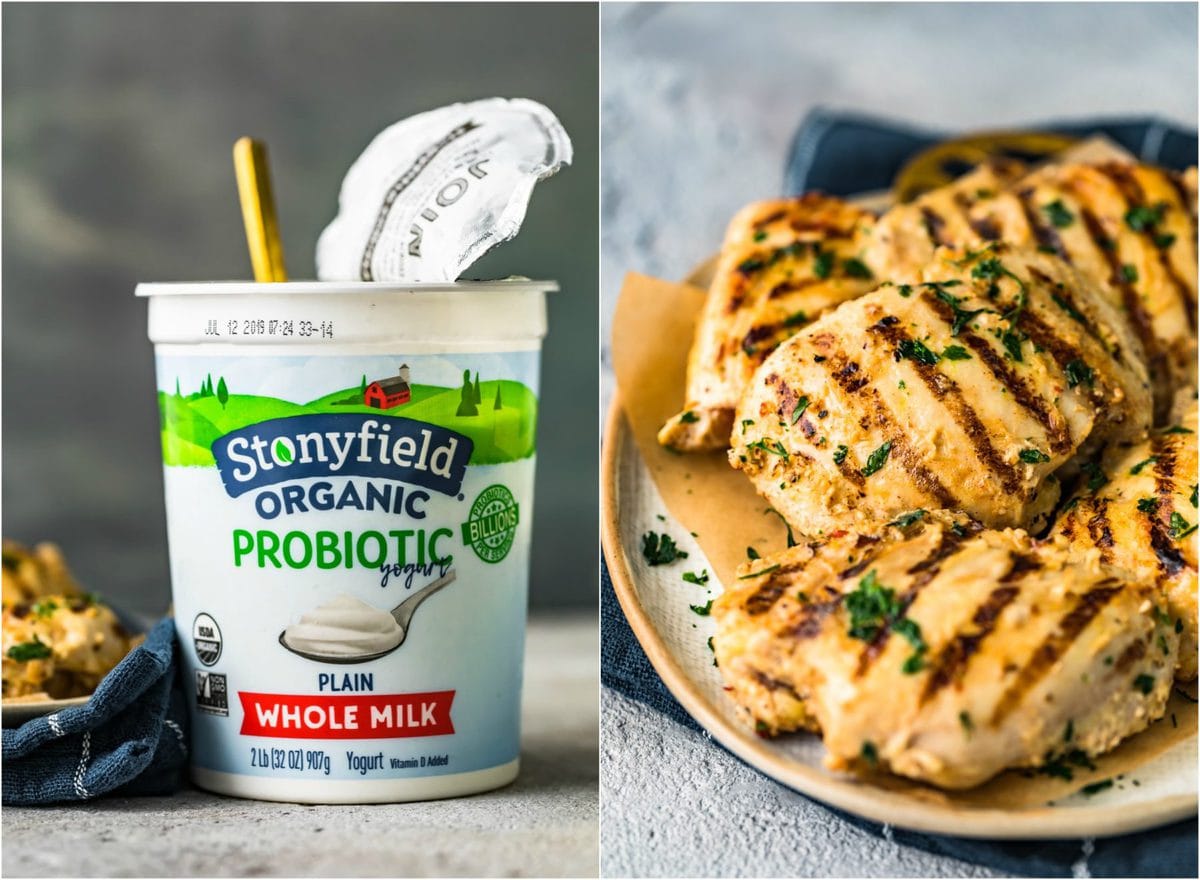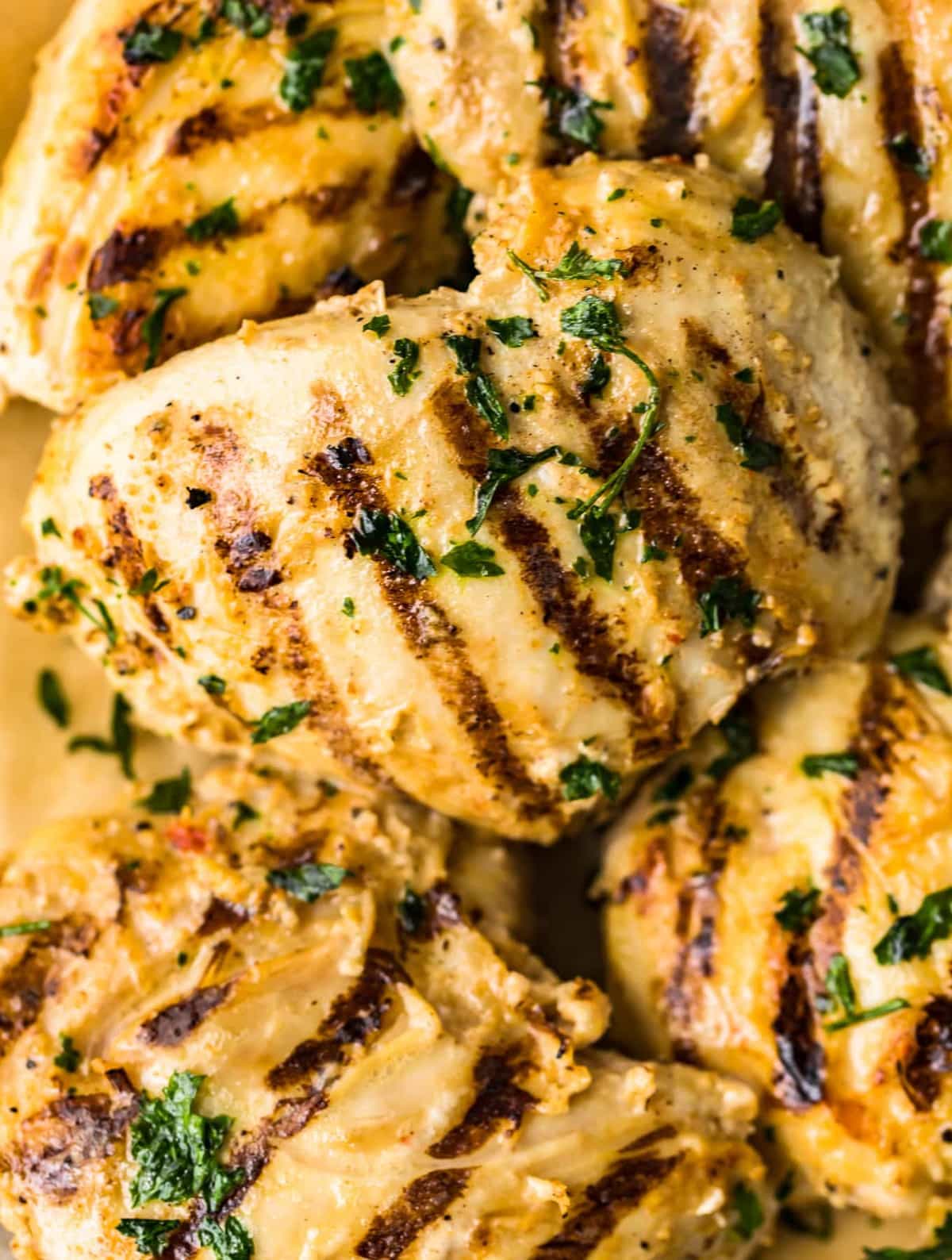 So get your grills out and try this amazing grilled chicken thighs recipe. That yogurt chicken marinade really is SO delicious. Check all of our favorite summer grilling recipes right here too!
See the recipe card for details on making Yogurt Marinated Chicken Thighs on the Grill. Enjoy!
If you like this grilled chicken thighs recipe, try these other easy chicken recipes: