These juicy Grilled Chicken Thighs are made with the most delicious, sweet and spicy chicken thigh seasoning. Grab a few things form your spice cabinet, including brown sugar, paprika, and chili powder, and then cook the perfect chicken thighs on the grill in about 20 minutes!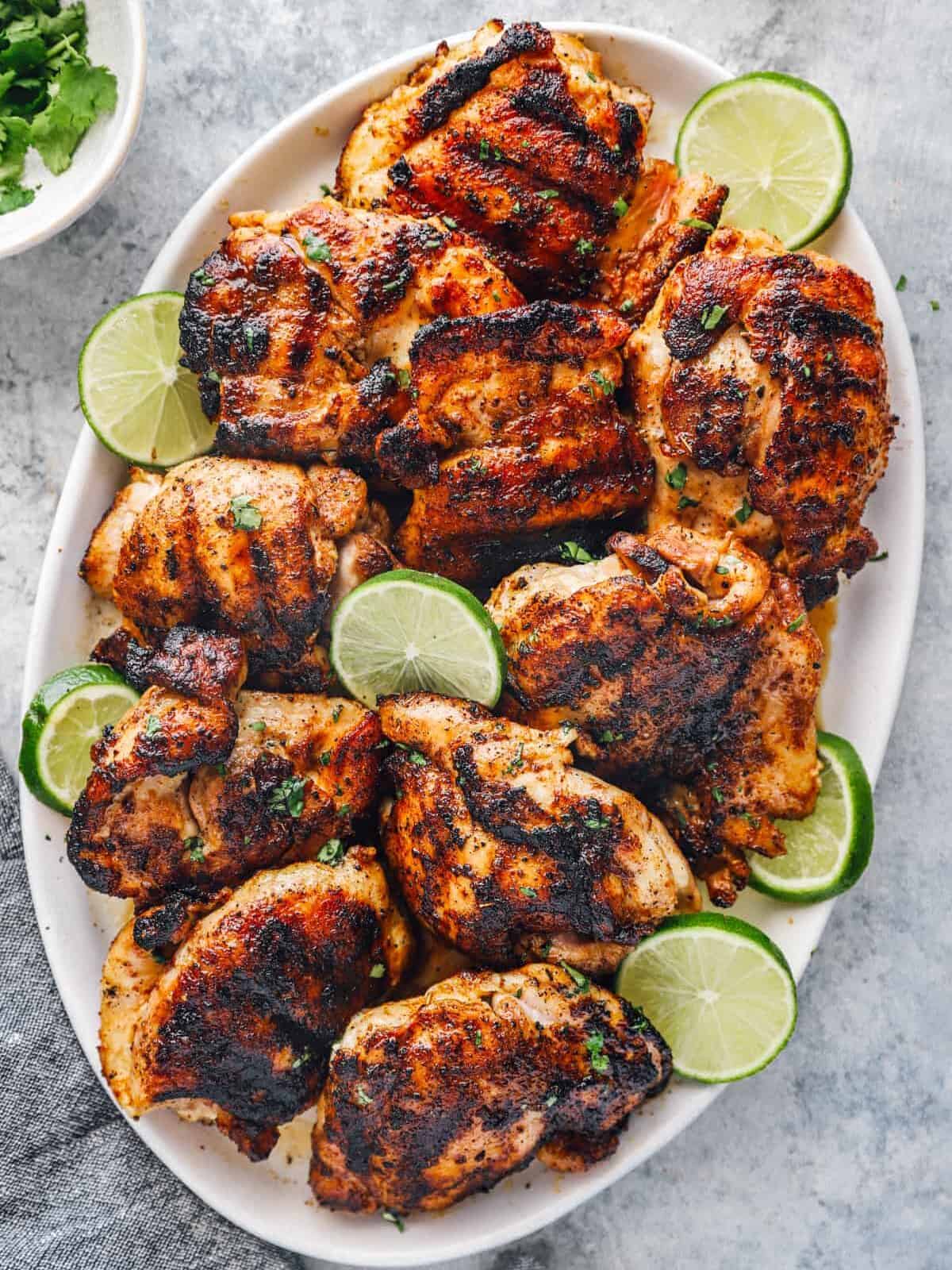 What's in Chicken Thighs on the Grill?
Chicken thighs are coated in a sweet, savory, and slightly smoky spice blend that goes well with any and every style of cuisine. Get the grill out for summer and make this recipe in just 20 minutes!
Chicken Thighs: Thighs are perfectly juicy for grilling! I like bone-in, skin-on for maximum moisture retention and flavor.
Brown Sugar: Adds just a touch of sweetness to the thigh seasoning, and helps the chicken to brown beautifully.
Salt: Enhances the flavors of the spices.
Chili Powder: Adds just a touch of heat.
Smoked Paprika: Adds smokiness and enhances that fresh-from-the-grill flavor. If you don't have smoked paprika, regular will also work.
Cumin: Earthy, warm, and slightly citrusy.
Onion Powder: Adds super-concentrated onion flavor.
Garlic Powder: Adds super-concentrated garlic flavor.
Oregano: Adds an herbal, peppery flavor.
Olive Oil: Keeps the chicken from sticking to the grill and burning.
Pro Tip: If you'd like to use boneless chicken thighs (or chicken breasts), you'll need to reduce the cooking time.
Variations on Grilled Chicken Seasoning
Personally, I think this grilled chicken thigh seasoning is absolutely perfect as is! However, if you're looking to change it up a bit, there are a few things you can try. If you're watching your sugar or sodium, you can leave out the sugar and/or salt, but the rub won't be as flavorful.
To make it a bit spicier, add more chili powder or a pinch of cayenne pepper. You could also try using ground coriander instead of cumin for a slightly different flavor profile! And this dry rub is so versatile, great to use on seasoned chicken breast or Air Fryer chicken thighs as well.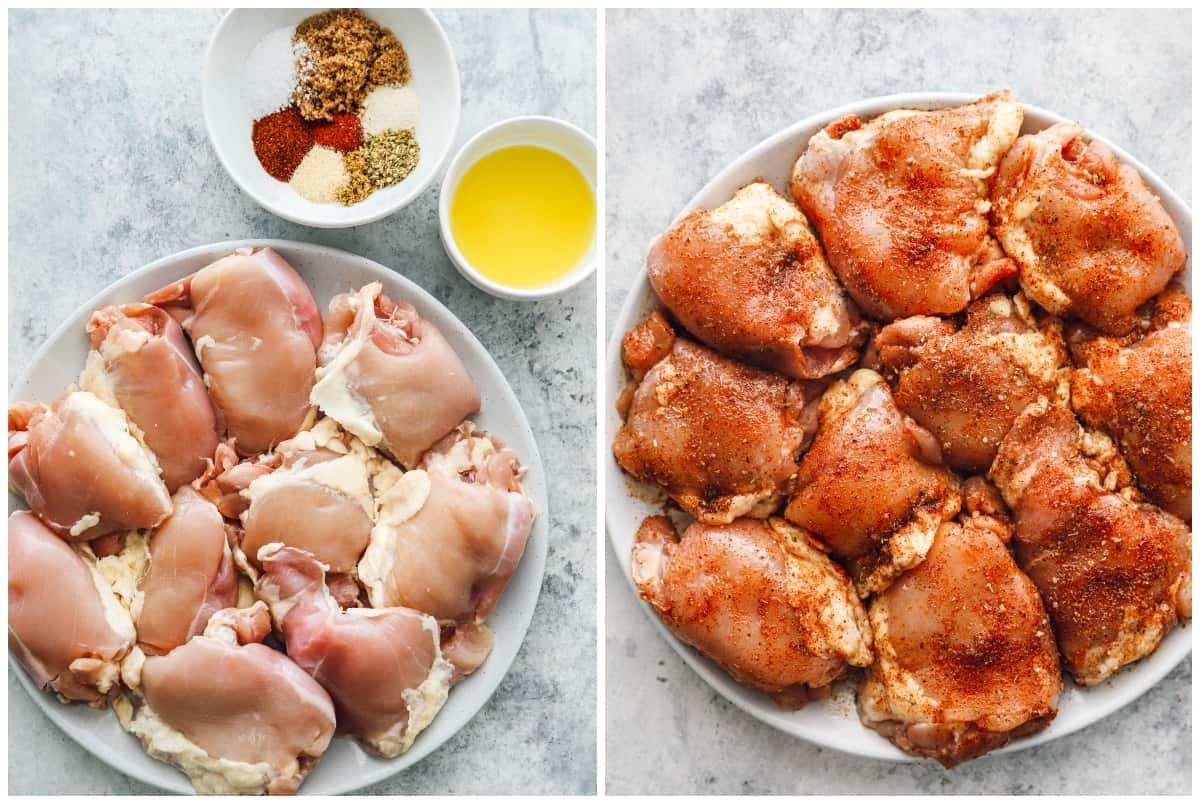 How long do you grill chicken thighs?
Chicken thighs take about 10 minutes to cook on the grill.
At what temperature do you grill chicken thighs?
You should grill chicken thighs over medium-high heat, or about 400-450°F.
How do you grill chicken thighs without drying them out?
To grill chicken thighs without drying them out, grill them quickly, for about 4-5 minutes per side. If they haven't reached 165°F yet, move them to a cooler part of the grill to finish cooking. This will ensure they remain juicy!
How often do you flip chicken thighs on the grill?
You should only need to flip the thighs once during the grilling process.
Can you make grilled chicken thighs in the oven instead?
Yes! To make these thighs in the oven, place the thighs in an even layer on an oven-safe grill pan and bake in a 425°F oven for about 10-15 minutes, flipping halfway through. To get that extra char, you can broil the thighs for 2-3 minutes at the end of the cook time.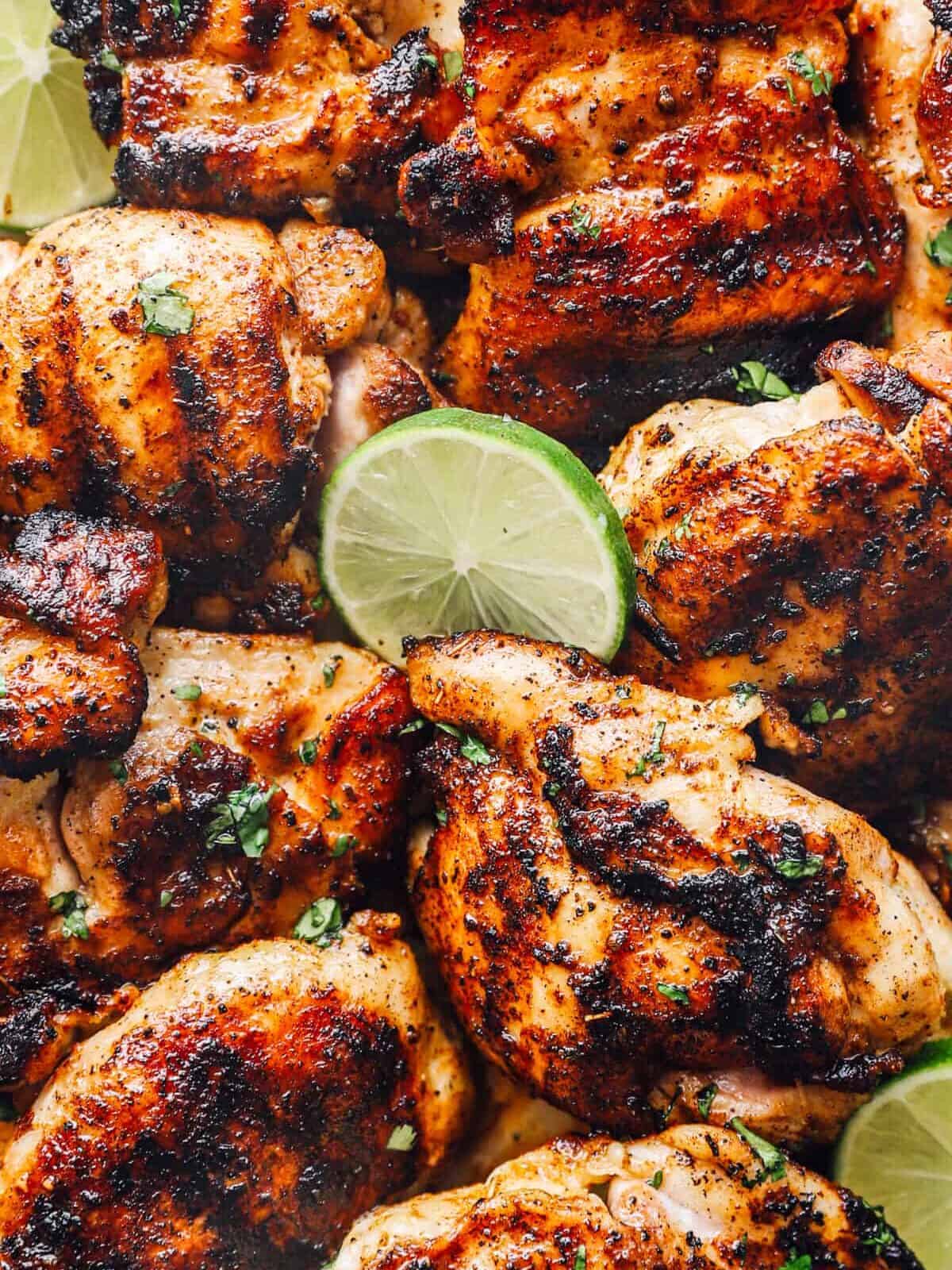 How to Store and Reheat
Store leftover grilled chicken thighs in an airtight container in the refrigerator for up to 3 days. To reheat, place them on a wire rack set in a rimmed baking sheet in a 400°F oven for about 15 minutes.
You can also make up a batch (doubled, tripled, or more) of the chicken thigh seasoning ahead of time, and store it in an airtight container, Jair, or resealable bag. Store it in your spice cabinet or pantry until you're ready to use it.
How to Freeze Grilled Chicken Thighs
Freeze chicken thighs in an airtight container or Ziplock bag for up to 3 months. Let thaw overnight in the refrigerator before reheating.
What to Serve with Seasoned Chicken Thighs
These seasoned grilled chicken thighs go well with just about anything you can think of! I love to serve them with a starch and a veggie. They're perfect with creamy mashed potatoes, quick mac and cheese, corn casserole, or Instant Pot basmati rice.
Add a vegetable, like roasted Brussels sprouts, air fryer broccoli, or creamed green beans for a balanced meal. They're also great added to an Olive Garden salad or a classic chicken Caesar salad.
More Grilled Chicken Recipes We Love