These Crispy Chicken Thighs are breaded in a seasoned breadcrumb mixture and baked in the oven until golden brown. Dredging boneless thighs in panko breadcrumbs give them a beautifully crunchy, oven-fried texture. This easy recipe yields juicy, ultra crisp, and flavorful chicken thighs every time!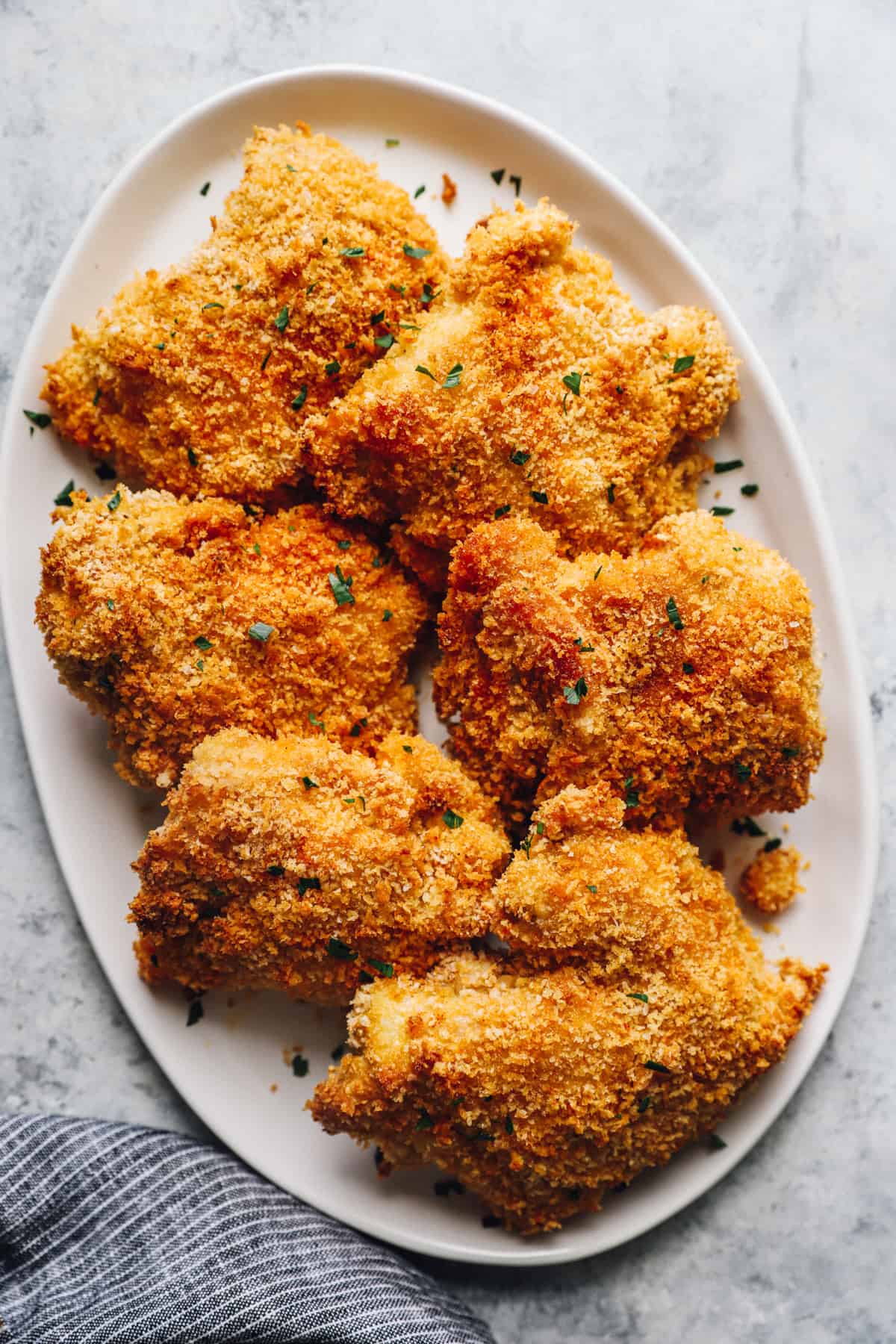 Why We Love This Crispy Chicken Thighs Recipe
I love making baked chicken thighs for easy dinners, and when I want them extra crispy, I start by dredging and coating them in an herb-filled breading.
Crispy. These baked chicken thighs are just as crispy as if they were deep fried!
Juicy. The chicken stays so moist throughout cooking.
Less Mess. No messy frying oil to contend with!
Variations on Crispy Oven Baked Chicken Thighs
This chicken thigh recipe starts with a breadcrumb mixture that includes paprika, garlic powder, and onion powder. This leaves you with a simple but savory flavor that's perfect for everyday dinners.
You can easily add your preferred spices and herbs into the breading mixture before dredging. Try a mix of dried rosemary, oregano, and sage, or just add Italian seasoning. Chicken seasoning will create a savory flavor, or add dry ranch mix (the kids love this!). For a kick of heat, add ½ to 1 teaspoon of cayenne pepper with the other ingredients listed in the recipe card.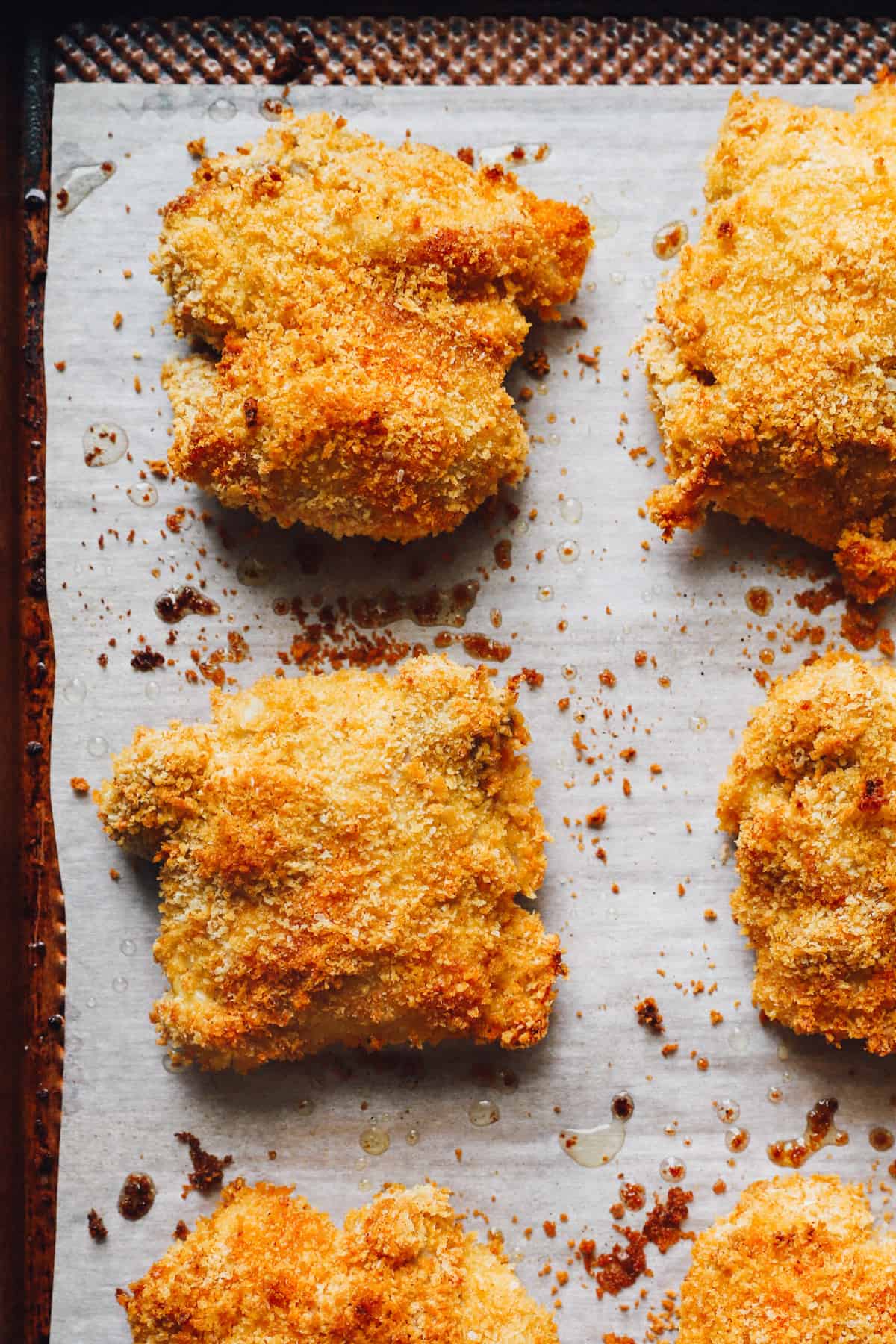 How to Store and Reheat
These breaded chicken thighs will be at their crispiest if served straight out of the oven. But if you have leftovers, store them in an airtight container in the refrigerator for up to 3 days. Reheat in the oven at 350°F until warmed through.
How to Freeze
Let thighs cool to room temperature, then store them in resealable, freezer-safe bags. Freeze up to 3 months, and defrost in the fridge before reheating in the oven. They will not be as crispy as if you served them fresh, but they will still be flavorful.
Serving Suggestions
Serve these crispy, oven-baked chicken thighs with all your favorite, comforting side dishes. They pair well with creamy mashed potatoes, cheesy macaroni casserole, creamed corn, and Air Fryer ranch broccoli.
Can I use another cut of chicken?
Instead of chicken thighs, use 2-2 ½ pounds of boneless, skinless chicken breasts. Adjust the bake time as needed (chicken breasts don't take as long to cook as thighs).
Can I use frozen chicken thighs?
Yes, but make sure the frozen thighs are fully thawed before using them. Let them defrost in the refrigerator overnight.
Is it better to use skinless or skin-on thighs?
My goal with this recipe is to make a much healthier version of "fried" chicken thighs by baking. Since skin adds more fat and calories, I prefer to use skinless thighs. The breading adds plenty of crispiness!
How long do chicken thighs take to bake in the oven?
Bake these chicken thighs for 20-25 minutes at 400°F.
How do I know when the chicken thighs are cooked through?
Chicken thighs are cooked through when a meat thermometer inserted into the thickest part of a thigh reads 165°F.
Can I make crispy breaded chicken thighs in an air fryer?
Prepare the thighs as directed (dredge and bread), then cook them in the air fryer for 12 minutes at 380°F. Make sure to flip them half way through cooking!
What kind of breadcrumbs should I use for these chicken thighs?
For best results, use Panko breadcrumbs as instructed. Other breadcrumbs will work, but the coating just won't be as crispy.
Why aren't my chicken thighs getting crispy?
Be sure to pat chicken thighs dry before dredging. This removes extra moisture, so that the breadcrumbs stick better.
How do you dredge chicken thighs?
Dredging is the process of breading chicken by dipping or coating it in various ingredients. First, coat it in seasoned flour; second, dip it in a beaten egg mixture too; and lastly, coat it in breadcrumbs. The flour and egg is what allows the breadcrumbs to bind and stick to the chicken.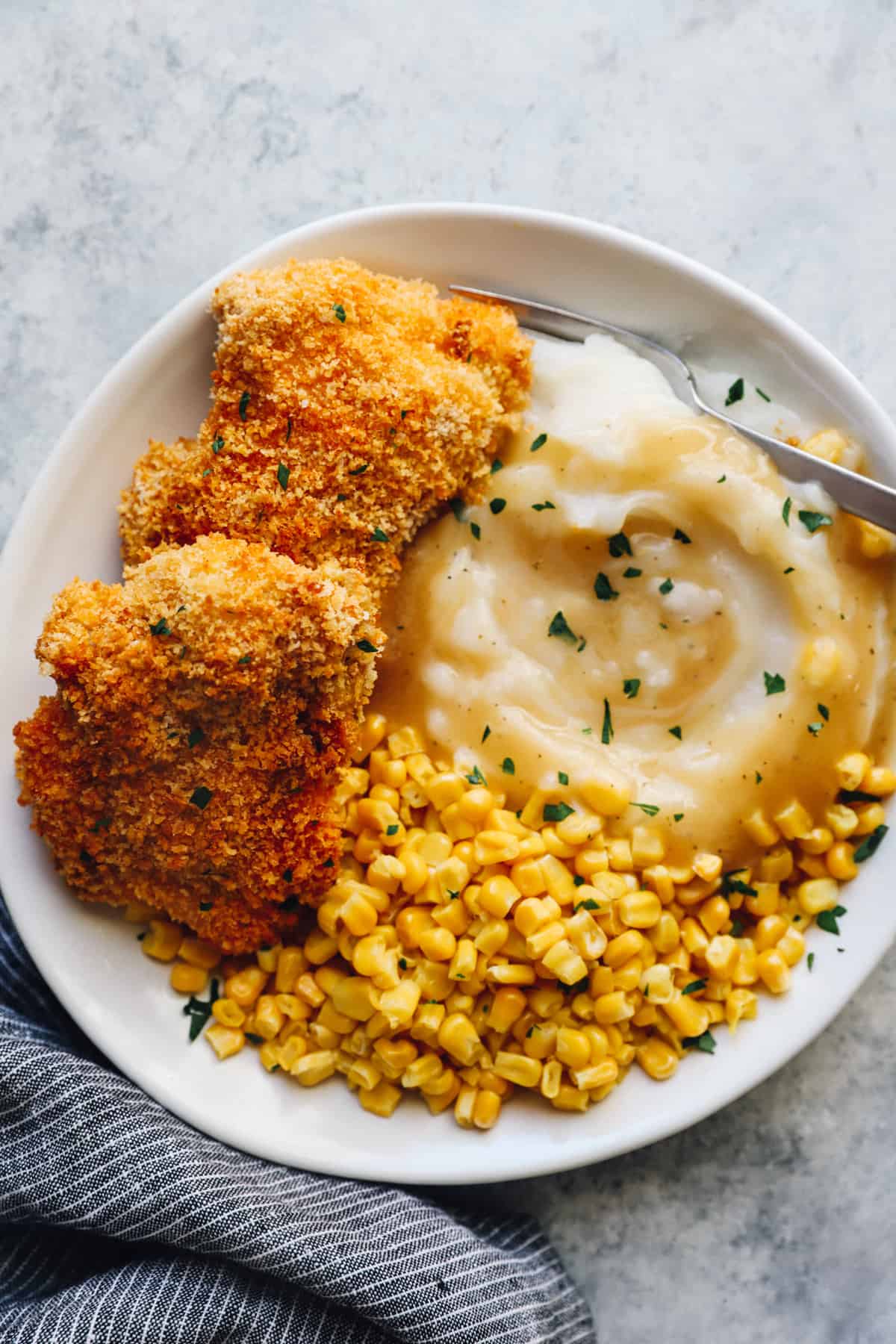 More Chicken Thigh Recipes To Try
5-Star Review
"Awe man these are some awesomeness! Steps are easy, eating them is bliss. Healthier version of fried chicken." – Laurette
How to Make Crispy Chicken Thighs Step by Step
Dredge the Chicken: Preheat your oven to 400°F. Line a baking sheet with parchment paper. Set aside. Set out 3 separate bowls to create a breading station for the chicken. In the first bowl, combine 1 cup of all-purpose flour, ½ teaspoon of kosher salt, and ¼ teaspoon of ground black pepper. In the second bowl, beat 2 large eggs and 2 tablespoons of water together. Finally, combine 2 cups of Panko breadcrumbs, the remaining 1 teaspoon of kosher salt, 1 teaspoon of paprika, ½ teaspoon of garlic powder, and ½ teaspoon of onion powder in the third bowl. Dredge 2 pounds of chicken thighs in the flour mixture. Make sure each thigh is fully coated. Dip the chicken thighs in the egg mixture and then in the seasoned bread crumbs.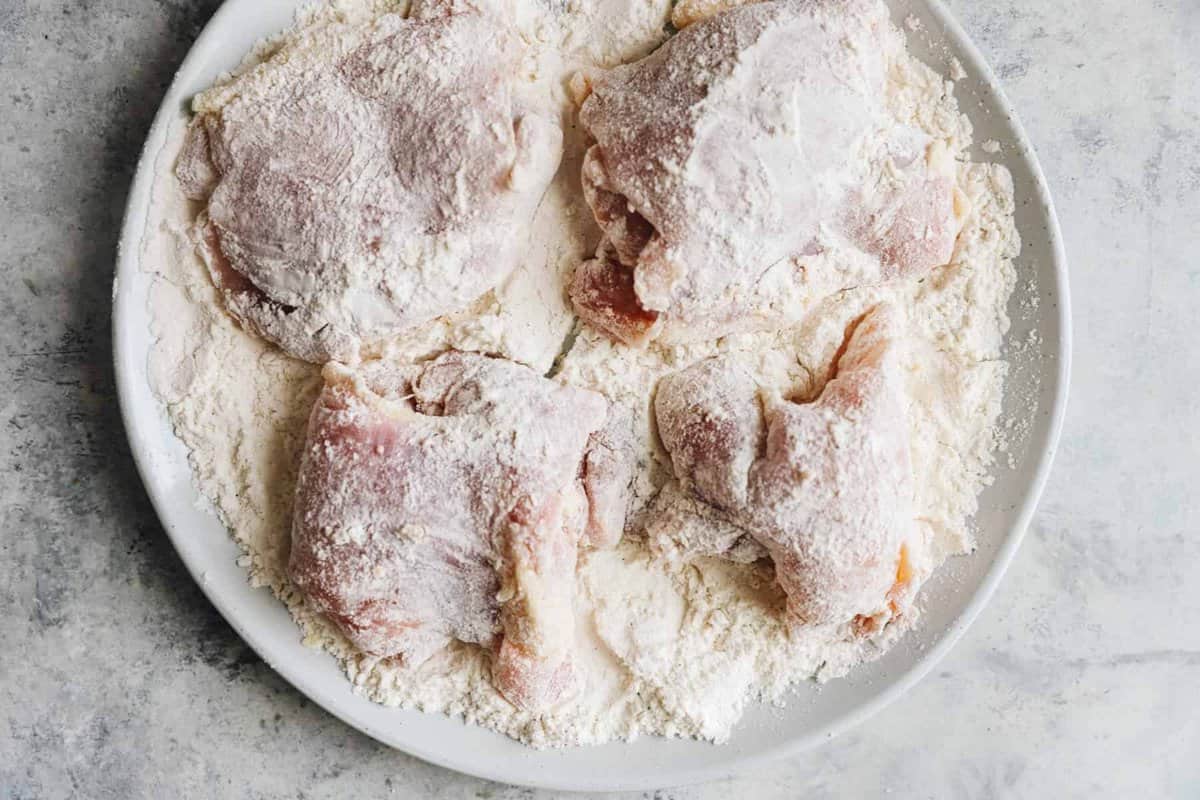 Drizzle with Oil: Place the chicken thighs onto the prepared pan. Drizzle 2 tablespoons of olive oil on top of the thighs.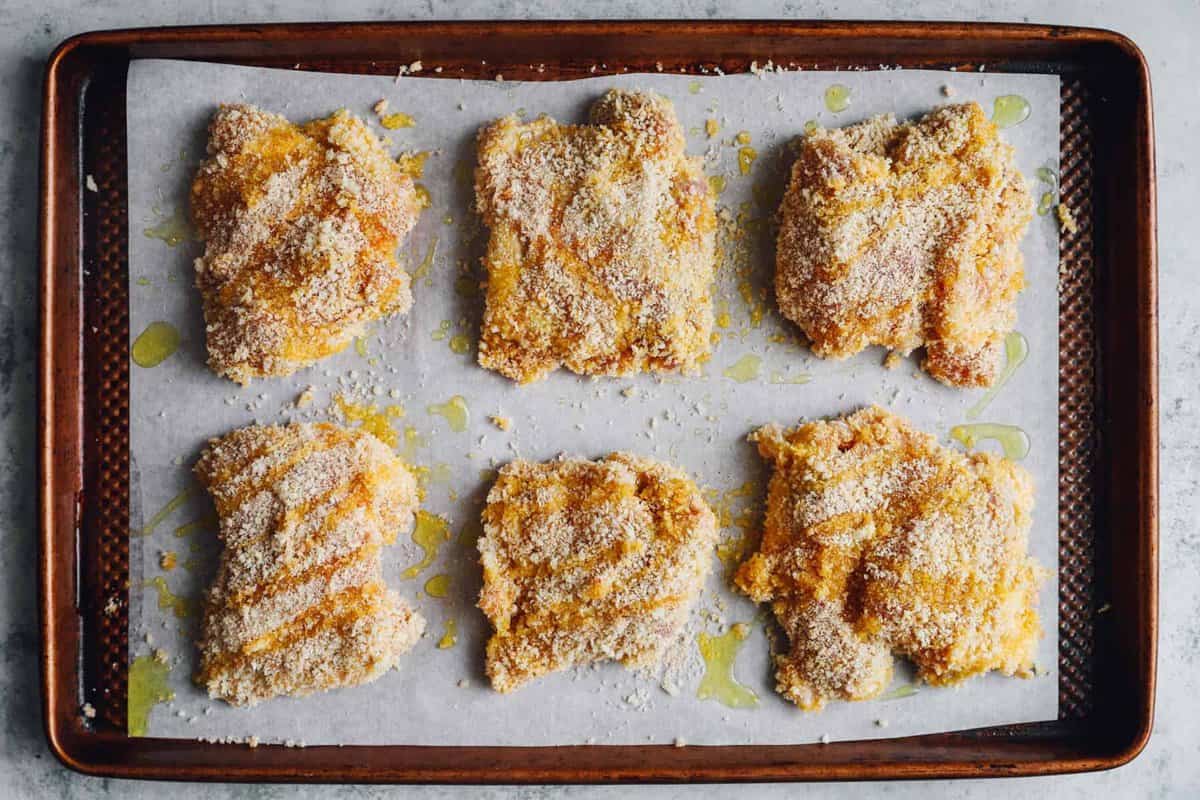 Bake the Chicken: Bake for 20-25 minutes until the chicken is crispy and golden brown on the outside and the internal temperature of the chicken reaches 165°F. Serve and enjoy!