All the flavors of your favorite Sloppy Joe Casserole recipe in the form of a pasta casserole, what's not to love?! Simple to make and hearty and filling, this is a great family weeknight meal that everyone will love.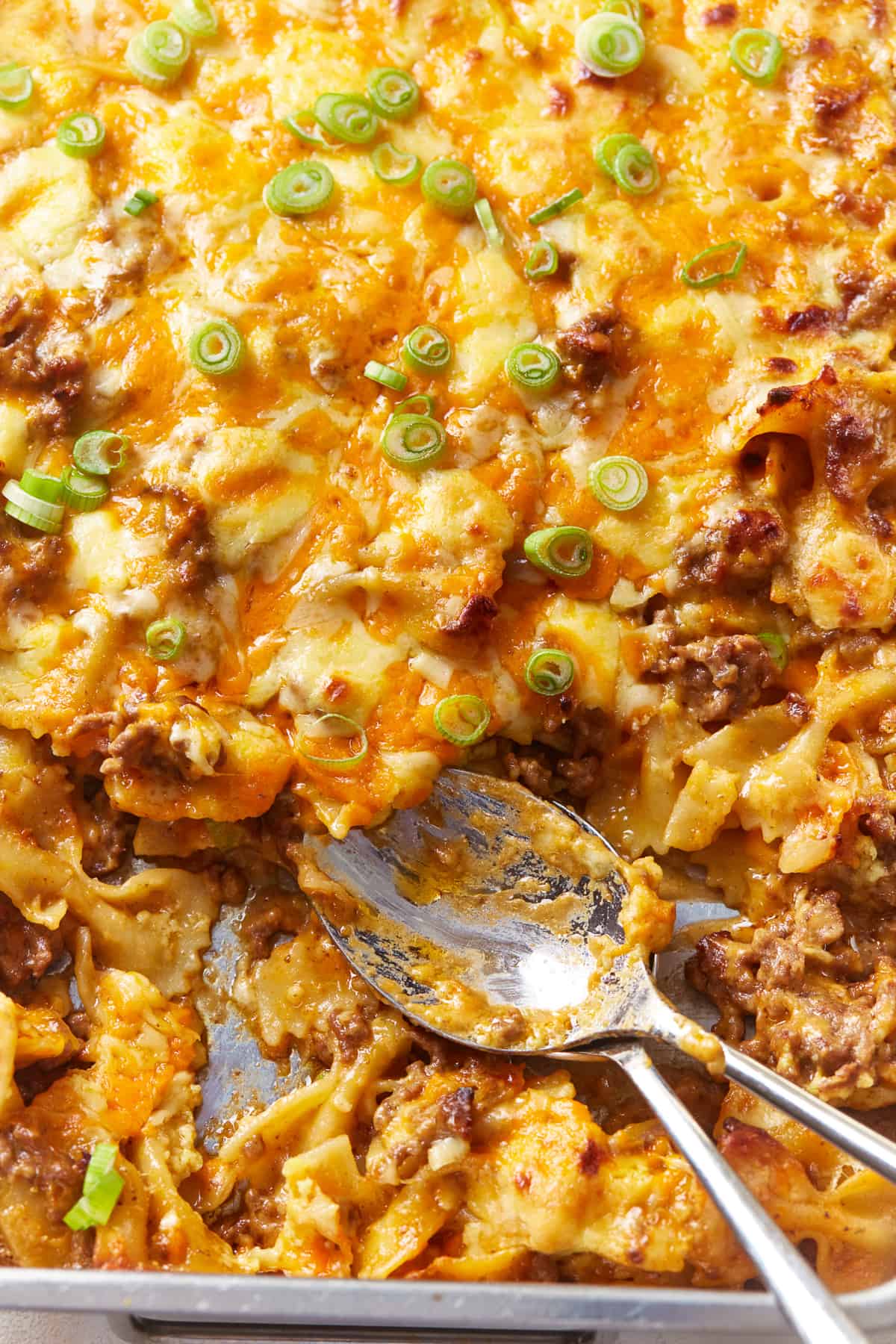 What's in Sloppy Joes Casserole?
This sloppy joe casserole brings together tons of pantry staples into an easy weeknight dinner. Here's a rundown of the ingredients:
Oil: Olive oil helps keep the onions from burning in the pan. You could use vegetable, canola, or avocado oil if you prefer.
Onion: I like to use white onion in this dish because they're mild and sweet, but a yellow onion would also work.
Garlic: Adds a rich depth of flavor to the dish. Feel free to increase or reduce the amount according to your tastes.
Ground Beef: I used 80% lean ground beef, but you could use leaner ground beef if you prefer. For sloppy janes, swap the beef for ground turkey!
Ketchup: Ketchup adds the classic tomato flavor to these sloppy joes. I like the balance of sweetness and acidity in this premade ingredient, but you could swap in tomato paste for more control.
Brown Sugar: Light brown sugar sweetens the sloppy joe sauce the perfect amount. For a richer, more molasses-y taste, you could use dark brown sugar.
Mustard: Yellow mustard adds tanginess to the sauce. For more texture, you could use a stone ground Dijon or whole-grain mustard.
Worcestershire Sauce: Worcestershire sauce is a holy grail ingredient for adding umami flavor.
Broth: You can use chicken, vegetable, or beef broth in this recipe, or you can simply use water. I like chicken broth for a lighter flavor.
Pasta: Bowtie pasta is the classic choice for this casserole, but any short-shaped pasta (like penne, rigatoni, or macaroni) will work.
Cheese: Colby jack is a mild-flavored cheese that helps boost the cheesiness of this dish, while Velveeta helps to keep the sauce smooth and creamy. If you're not a fan, easily swap the Velveeta for American, Swiss, cheddar, or more Colby jack!
Pro Tip: Cooking the pasta in chicken broth adds so much flavor! I don't recommend skipping it!
Spicy Sloppy Joe Casserole Recipe (Variation)
To make this cheesy sloppy joe casserole spicier, opt for a spicy brown mustard instead of yellow, add some crushed red pepper flakes or cayenne pepper to the ketchup sauce mixture, and swap some of the Colby jack for pepper jack!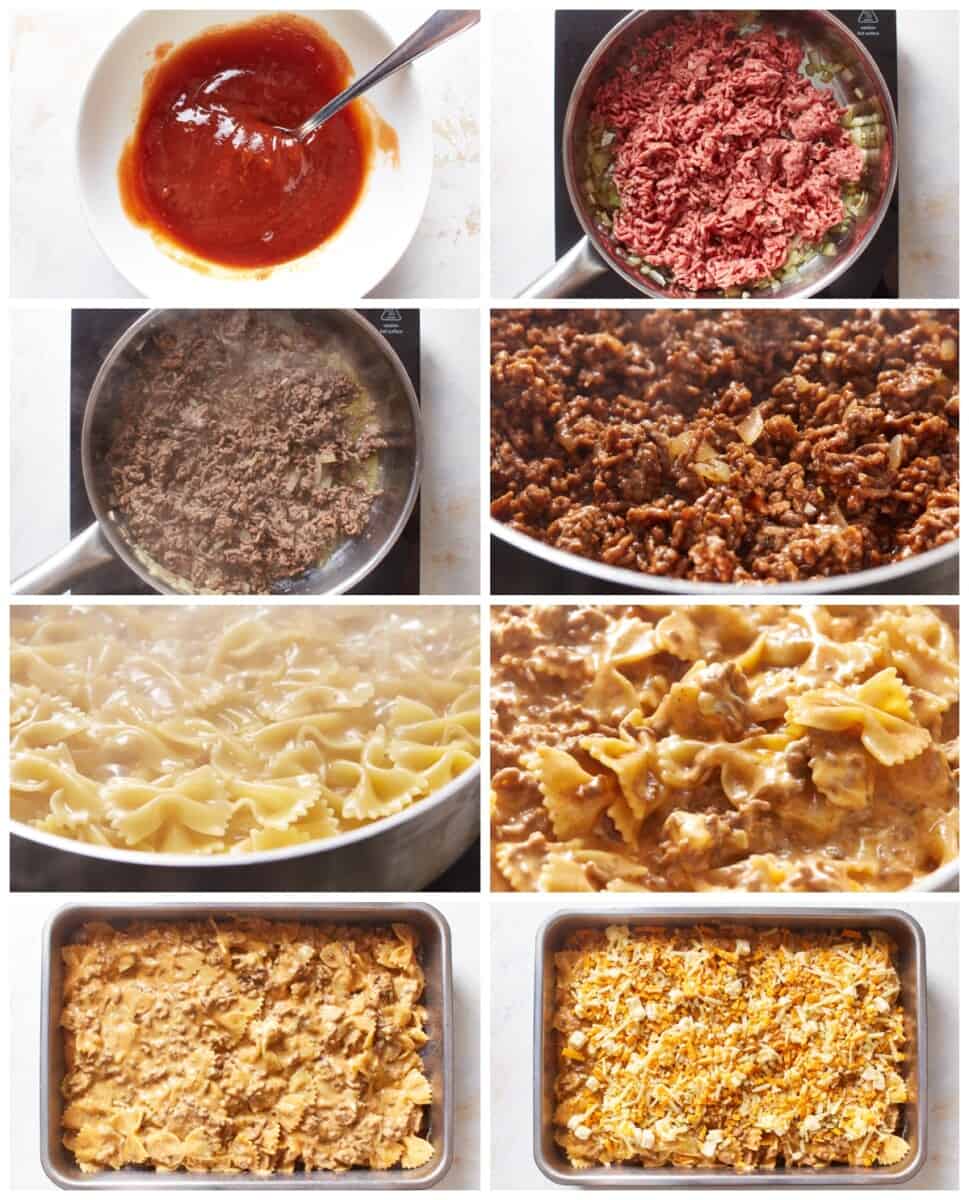 What's the best beef for sloppy joe casserole?
The best beef for sloppy joe casserole is lean ground beef. I used 80% lean, but you could go up to 90% lean if you prefer. Depending on how much fat renders out of the beef when cooking, you can drain the beef before adding it to the casserole.
Do I have to use Velveeta?
Nope! Velveeta is a great inexpensive time-saving product, but you can also use American cheese, Swiss cheese, cheddar cheese, or more Colby jack cheese if you prefer.
How long does it keep?
This sloppy joe casserole can be stored in an airtight container in the fridge for up to 3 days, and the leftovers are delicious! Reheat in the oven at 300°F, covered with foil, until warmed through. You can also microwave it for around 4 minutes on high heat.
Can you freeze it?
Yes, this makes for a great freezer meal and will keep for around 3 months. You can freeze it baked or unbaked. Make sure it is cooled fully before placing in a freezer bag. If unbaked, thaw in the fridge overnight before cooking as per instructions. If already baked, thaw and reheat in the oven.
Can I make it ahead of time?
Yes! Assemble the casserole through step 11, then cover and refrigerate for up to 3 days. Once ready to bake, let it come to room temperature for 30 minutes, then cover and bake according to the recipe.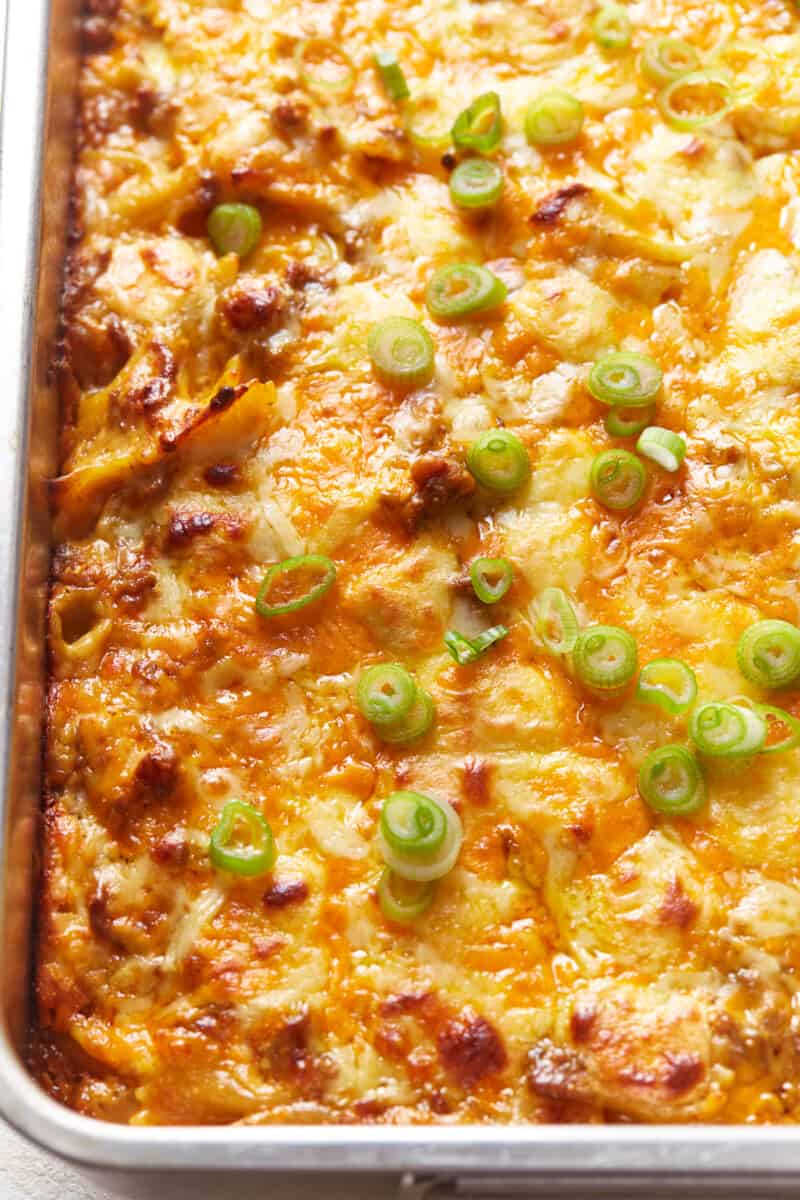 How to Store and Reheat Easy Sloppy Joe Casserole
Store leftover sloppy joe casserole in an airtight container in the refrigerator for up to 3 days. Reheat in a 300°F oven covered with foil until warmed through or microwave it for around 4 minutes on high heat.
How to Freeze Sloppy Joe Pasta Casserole
Freeze sloppy joe casserole baked or unbaked in an airtight container for up to 3 months. If unbaked, let thaw in the refrigerator overnight before baking according to the recipe. If baked, let thaw overnight in the refrigerator and reheat in the oven.
Serving Suggestions
This pasta and beef casserole is perfect to serve by itself or with a side of veggies. It also works great with some garlic bread. Try it with sauteed green beans, glazed carrots, roasted broccoli, or baked tomatoes.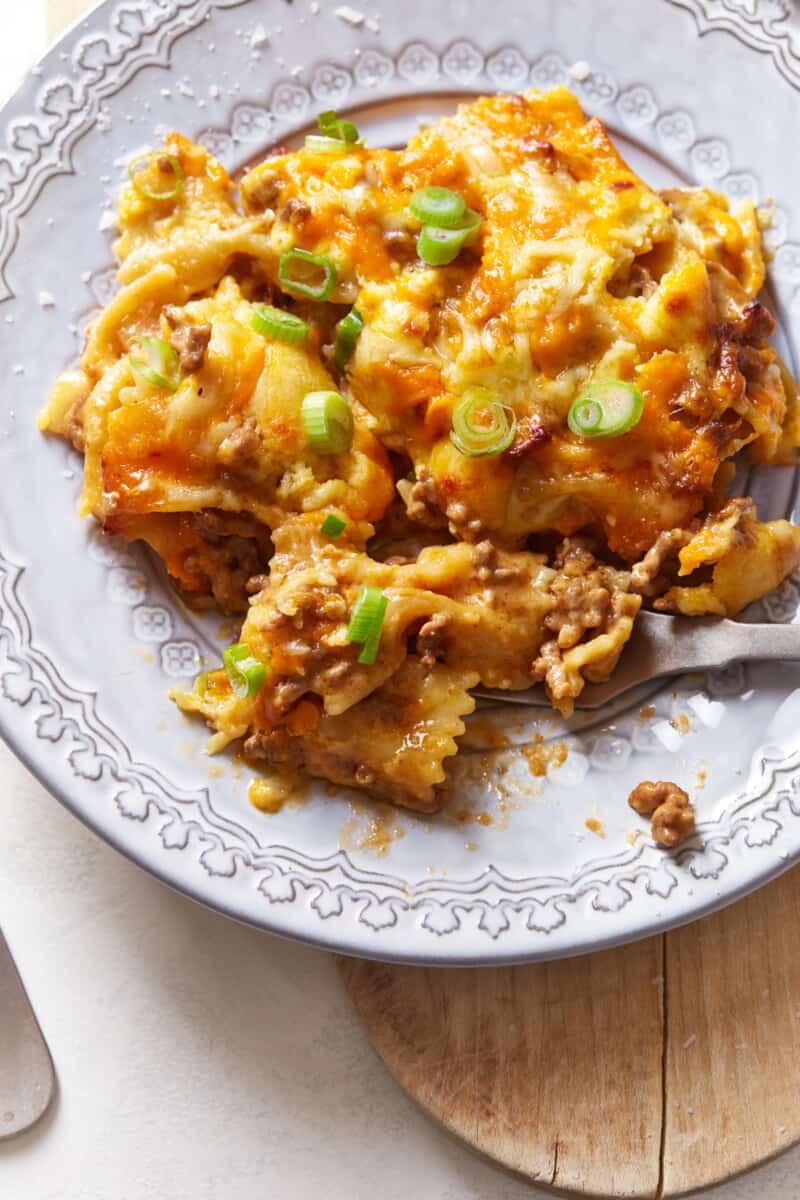 More Sloppy Joe Recipes We Love